UPDATE: Japan Airlines awards are now bookable online at AA.com!
The true power of points and miles isn't just using Delta SkyMiles to fly Delta or AAdvantage miles for a free flight on American. It comes when you leverage the partnerships between different airlines to book flights that might seem out of reach – and save miles in the process.
Case in point: You can use your American AAdvantage miles to fly to Tokyo and onward on Japan Airlines, one of the best carriers in the world. And with flights in business class for just 60,000 AAdvantage miles each way – and an extra 20,000 to fly in First Class – you can't ignore this opportunity.
Whether you book a standard seat in economy or splurge for first class, you can get more space and enjoy the long flight by booking with Japan Airlines, lovingly called JAL. Read on to learn how you can do it.
All About Japan Airlines
So why the fuss about Japan Airlines? Why go through the trouble rather than just finding a flight on American, which you already know?
When you're flying 10-plus hours across the Pacific Ocean, spacious seats are key. And no one gives you more room to stretch out than JAL. Even in economy, you'll get more legroom and a wider seat than you'll find on any competing airlines.
JAL calls these "Sky Wider Economy" seats, and they live up to the name. At 19 inches wide, these seats are substantially wider than what American itself flies on many of the same routes, where you'll get 16 inches to 18 inches of width. It may not sound like much, but trust us: You'll treasure that extra space. It means you don't need to scrunch inward to avoid rubbing shoulders with your neighbor.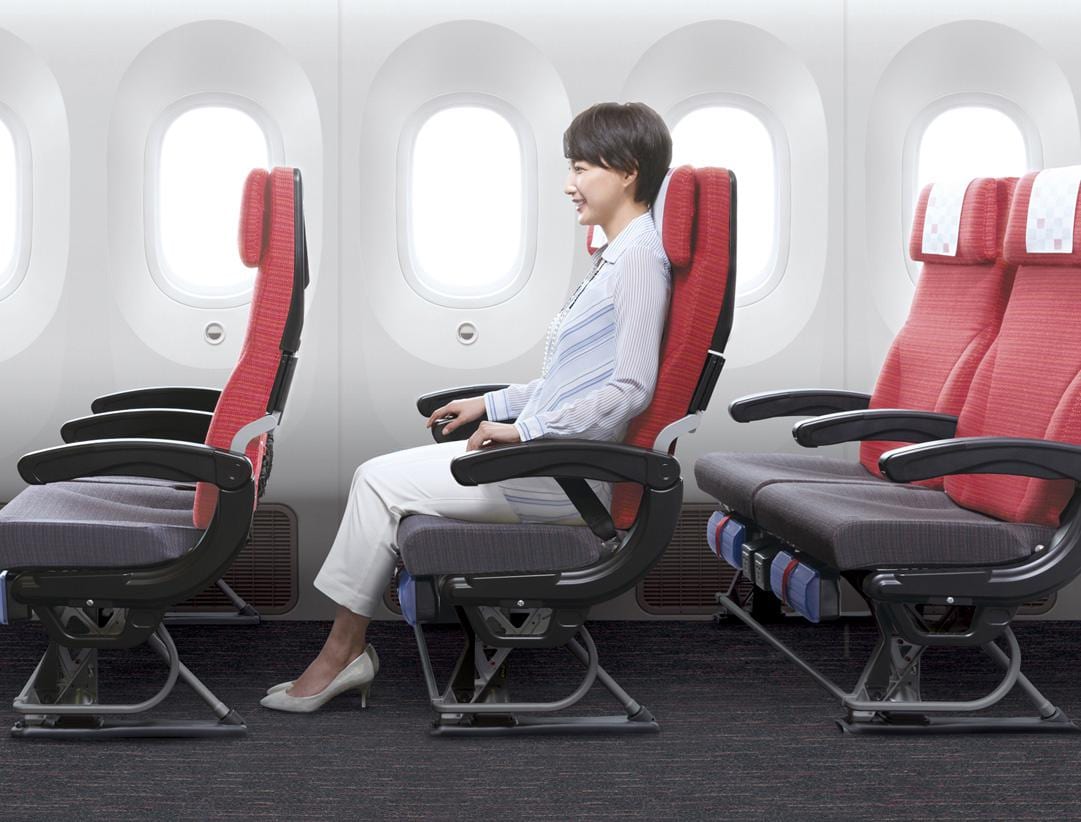 You also get 34 inches of legroom – the most of any airline flying across the Pacific. For many airlines on even those long-haul flights, you'll get 31-32 inches at most.
Up in business class, these aren't just seats: They're SkySuites. Not only do you get a lie-flat bed with endless legroom in your own little cocoon of privacy, but you'll also be eating outstanding chef-curated meals with impeccable service. And at just 60,000 AAdvantage miles to fly one-way from the U.S. to Japan, this could easily be the best business class seat available at that price. Read our full review of JAL's outstanding business class.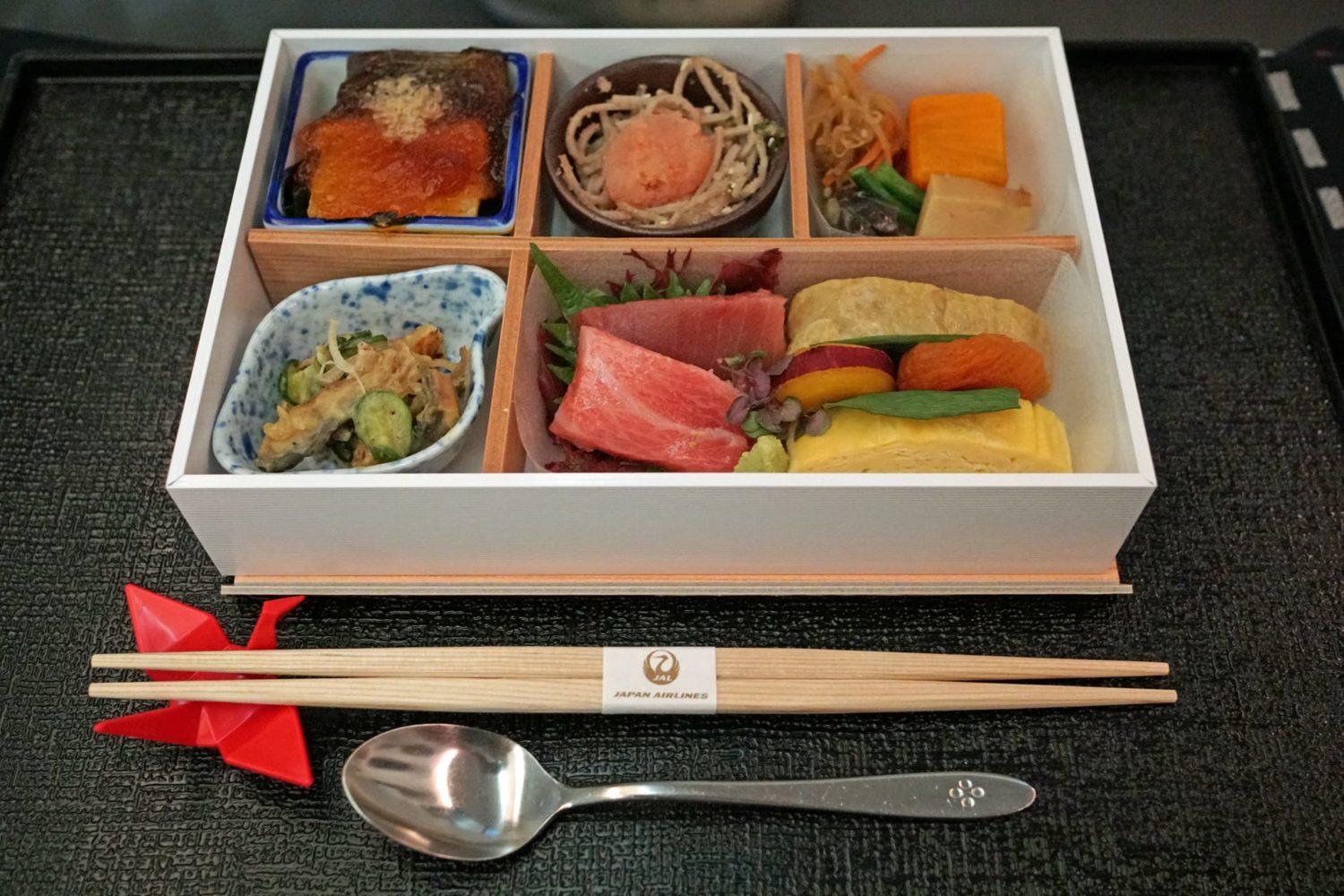 And then there's Japan Airlines First Class. While not the newest or glitziest first class cabin in the world, JAL still delivers in First Class with spacious and comfortable seats, some of the best meals you'll eat in the air and outstanding service. And if you're into sipping free champagne (let's be honest, who isn't?), JAL serves one of the most expensive bottles available in the sky: Cristal. And all that for just 80,000 AAdvantage miles each way.
You can hop on a JAL flight from eight different U.S. hub cities to Tokyo. And when booking through American Airlines, you can generally connect from any U.S. airport with AA service to one of these JAL outposts for the same amount of miles.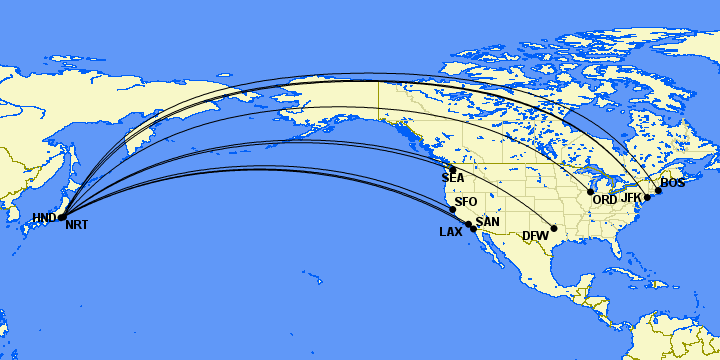 We don't need to tell you why you should visit Tokyo – it's one of the most popular cities in the world. Read our guide to Tokyo, but consider hopping on a shinkansen high-speed train down to Kyoto or farther south.
Thrifty Tip: Not sure which of Tokyo's two major airports to fly into? Head for Tokyo-Haneda (HND) if you can – it's much closer to the city than far-flung Tokyo-Narita (NRT).
The Basics of Booking JAL
It's easy to book some of American Airlines' other partners using AA miles. Even Qatar Airways was recently added to the online booking engine. JAL makes you work for it.
You can't simply head to AA.com and type in your dates to pull up flights on JAL using your AAdvantage miles. But these award tickets are still bookable through American. Think of it as a hidden secret.
At just 35,000 AAdvantage miles each way, flights in economy are pretty easy to find. If you're aiming for business class at 60,000 miles each way or first class for 80,000 miles, you may need to be flexible. Finding these seats can be spotty and unpredictable. Generally, the best window seems to be just a few weeks before departure – but that doesn't mean you can't lock in these seats earlier.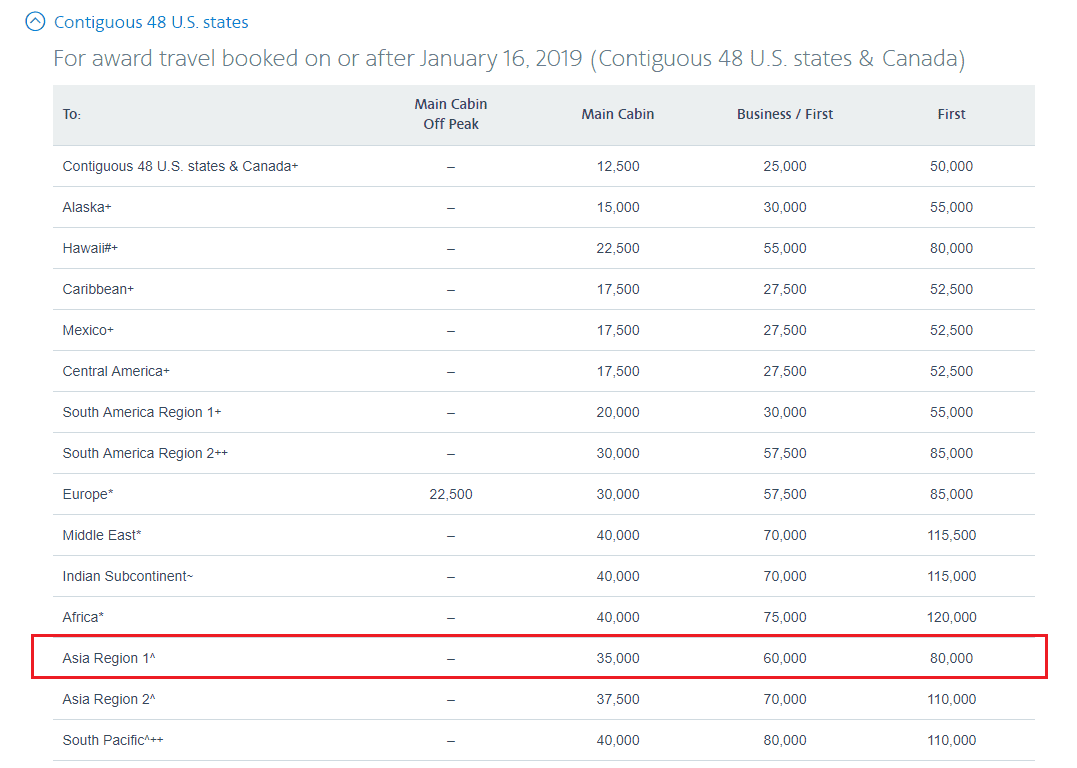 Finding Japan Airlines Award Seats
We use a two-step process to zero in on the flights that work.
Start with Alaska Airlines, another partner of both American and JAL. Head to AlaskaAir.com and enter a date that would work for your travels and one of JAL's U.S. hubs. Don't worry yet about your connecting flight within the U.S. if you need to work in a flight to that departure city – we'll handle that later. Be sure to click the "Use Miles" box on the homepage before starting your search.
You'll get some initial results for that one date, but here's where Alaska comes in handy: Click the Calendar view. 

This way, you can pull up a full month of availability of award space for JAL flights. That's not available on some other sites. And if you're hunting for a seat in business or first class, this long-term view is critical to finding the award ticket you want.
Here's a look at business class awards for the rest of February 2019. The blank squares mean that date is available for the booking class you want. As you can see, it's relatively easy to snag a business class seat for the next few weeks.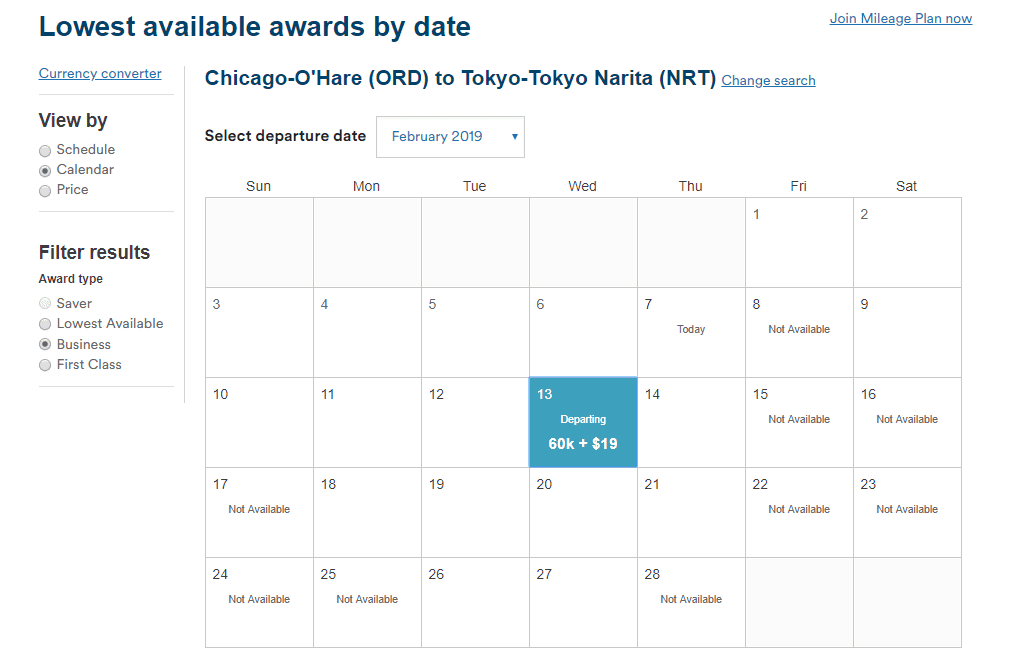 Farther out into the spring, it's not quite so easy.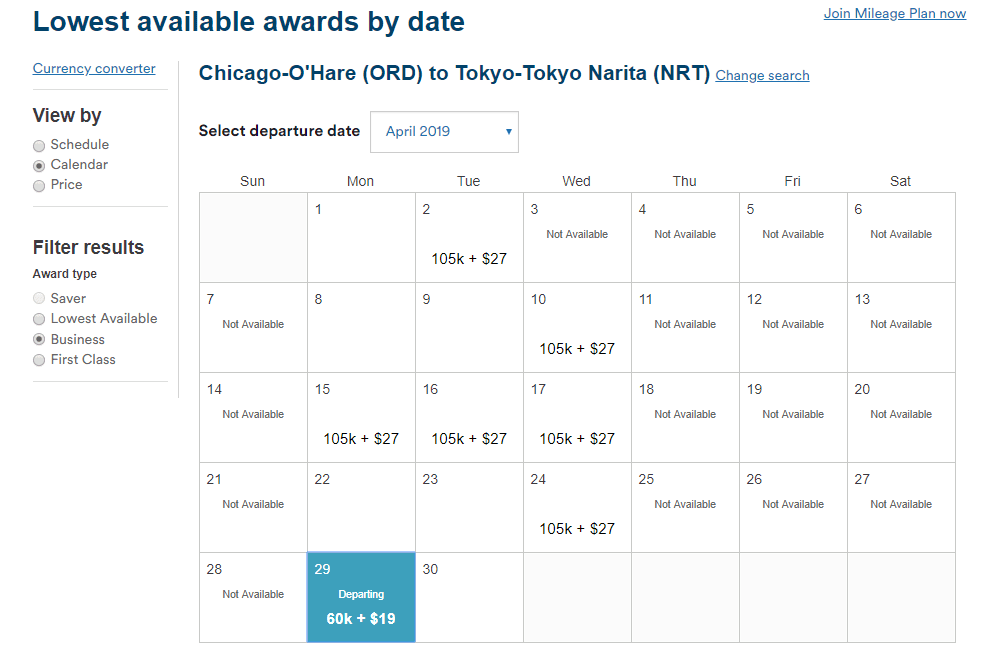 Click through on the date that appears to work and make sure it is, in fact, a Japan Airlines flight that's available.

Now, just because Alaska Airlines can see this award space doesn't mean you're going to be able to book it with your American AAdvantage miles. It's time to double-check. For that, we head over to British Airways at BA.com. If British Airways can see the same seat you found on Alaska, you should almost always be able to book it through American. 
Log in or create an account, and click "Book a flight with Avios." This is the part where you enter your connecting flight from your home airport if you need to get to the JAL outpost. Enter your home airport, your destination in Tokyo, and the date you found through Alaska.
With some luck, you'll get a screen like this. The seats you found should be available! If not, head back to Alaska and zero in on another date that works.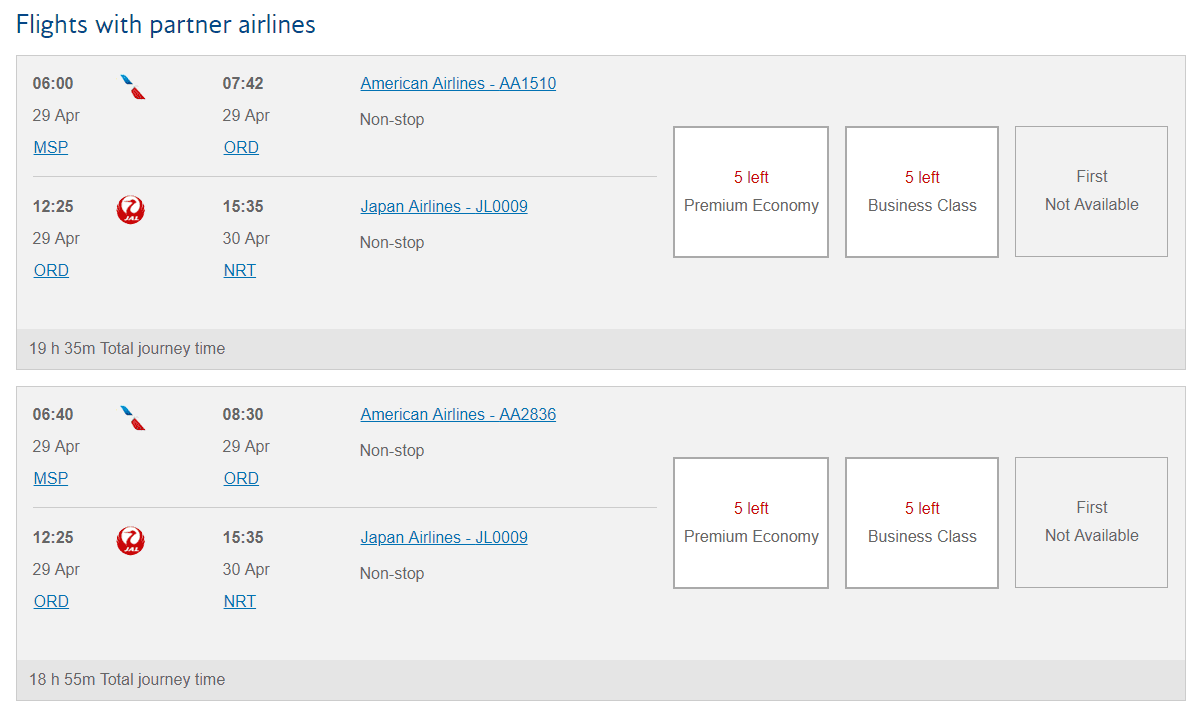 Write those flight numbers down. You'll need them for the final, and most exciting, step.
Booking Your JAL Flight with American Airlines
You're actually going to need to pick up your phone and make a call to make this trip happen.
Armed with the flight number – or numbers – you now know are available, ring up American Airlines at 1-800-882-8880 and ask to make an award booking. Once you get an agent on the phone, explain that you'd like to make an award booking on an American partner airline that isn't available online. Give that agent the date and flight number(s) that you found above.
Most AA agents are pretty skilled and won't have a problem finding the flights you want. If they strike out, you may need to prod them in the right direction. Here are the fare classes agents need to search for when trying to book JAL awards.
Economy: T
Business: U
First: Z
If your agent is still struggling, don't be afraid to hang up and call again. Some agents are better than others, after all. Once they've found the fare, they'll deduct the points from your account and charge the fee to one of your cards – just $5.60 if you're leaving the U.S., but slightly more when departing Japan. Make sure the agent doesn't try to charge you a $40 phone booking fee – those are just for itineraries that can also be booked online.
Once that's settled, you're done! It's time to select your seat and start planning your trip.
Earning American Airlines Miles
In addition to partnerships like JAL, the best part about AAdvantage miles is how easy they are to earn. In fact, it's never been easier.
The AAdvantage Aviator Red World Elite Mastercard currently has an outstanding bonus. You can earn 50,000 AAdvantage miles by making a single purchase – no matter how much – and paying the card's $99 annual fee. That means you could buy a pack of gum, pay the fee and have enough miles to fly to Tokyo in business class.
Apply Here (for full disclosure, this brings you straight to Barclays and not one of our affiliate links)
Want even more AAdvantage miles? You're in luck because American has partnered with two different banks to offer co-branded credit cards. You could also add to your stash with the Citi AAdvantage Platinum Select Card, which is offering 60,000 miles after spending $3,00 on the card in the first three months.
To learn more about the Citi AAdvantage Platinum Select Card, visit the Airline Credit Cards section of our Top Credit Cards page.
Bottom Line
It may seem daunting, but workarounds like these aren't difficult – and they're worth the extra effort. There are few better ways to use AAdvantage miles than to hitch a more comfortable ride on a great airline like Japan Airlines.
Lead photo courtesy of Peter Russell via Flickr