Just last week, we saw Virgin Atlantic massively raise award rates to fly ANA First Class to Japan. Sadly, it appears Alaska Airlines is taking a page out of Virgin's book … and going even further.
With no warning or announcement, Alaska Airlines raised award rates to fly Japan Airlines between the U.S. and Tokyo by as much as 42% this week. And unlike Virgin's move last week, every seat from economy to first class is affected by these increases, though it depends on where you're starting from. These hikes were first spotted by members of Frequent Miler's Facebook group.
It's a big hit for one of the best ways to redeem points and miles to Japan, particularly if you want to fly the excellent Japan Airlines first class. Flights to and from the Midwest and East Coast saw the biggest jump in award rates while the increases are milder (or nonexistent) for shorter hops to or from West Coast cities like Los Angeles (LAX), San Francisco (SFO), and Seattle (SEA).
Here's how many Alaska Mileage Plan miles you'll now need for flights to and from Tokyo:
Flying Japan Airlines economy from the Midwest and East Coast now costs 45,000 Alaska miles – a 28% hike from the previous 35,000-mile charge. Rates from the West Coast are unchanged.
Japan Airlines business class has jumped from 60,000 miles to 80,000 Alaska miles – a 33% hike. Yet again, rates remain untouched from West Coast cities.
Japan Airlines First Class redemptions were previously just 70,000 miles to or from anywhere in the U.S. That's now up to 85,000 miles from the West Coast (a 21% hike) and a whopping 100,000 miles from the Midwest and East Coast – a 42% increase. 
It gets even worse if you're flying Japan Airlines from the U.S. through Japan and down into Southeast Asia, or vice versa. Business class redemptions that once cost 65,000 miles each way now clock in at 100,000 Alaska miles.
All of this without a peep from Alaska. It comes at a time when travelers are eager to make their way back to Japan after it finally reopened for international travel last fall, too.

With lower award rates than you'll find on almost any airline and unique features like the ability to add a stopover for free, Alaska Airlines Mileage Plan has arguably been the single-most valuable airline program on the planet. But, this is the latest sign that big changes are inevitable.
It was set in motion late last year when Alaska unveiled a new award chart to determine how many miles you need to get from point A to point B. The airline spun it as a positive, replacing separate charts for each of its 20-plus Oneworld alliance partners and other carriers with a single, "streamlined" award chart.
But, it's nowhere near as transparent. The airline's new pricing system only shows award rates "starting from," meaning that the same flight to Asia could cost you 50,000 miles each way in business class … or, down the line, much more.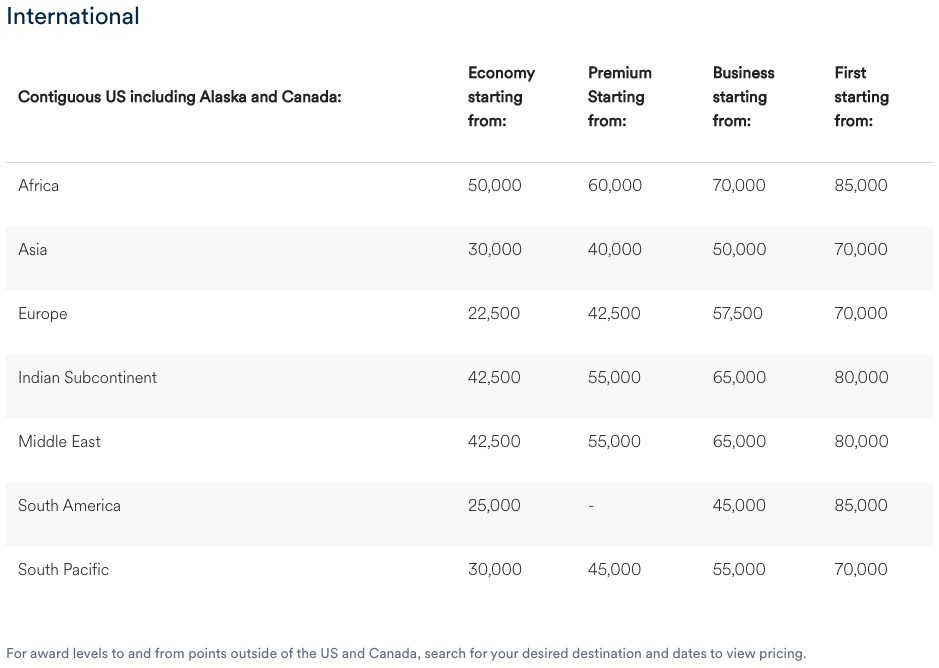 For a few months, award rates remained unchanged. Now the other shoe has dropped, starting with higher mileage rates for many Japan Airlines flights. And the door is wide open for similar increases to use Alaska miles on other great airlines like Qantas, Cathay Pacific, and more.
Now, travelers looking to fly Japan Airlines to Tokyo or beyond may want to turn instead to American Airlines AAdvantage miles. Not only are those miles much easier to pile up fast, but you can still book a one-way seat from almost anywhere in the U.S. to Japan for just 35,000 miles each way, fly a lie-flat business class seat for 60,000 miles, or splurge for first class for 80,000 miles each way.
Read more: Why You Should Earn AAdvantage Miles … Even if You Never Fly American
It's yet another reminder that travelers should stop waiting and start using their miles. As travel demand booms and Americans look to finally cash in the points and miles they hoarded throughout the pandemic, there's only one way for award rates to go: Up.
That's exactly what we've seen: The equivalent of inflation for points miles with a long, painful string of recent airline and hotel program devaluations that drastically raised how many points you need to book a flight or a free night stay.
Bottom Line
Alaska Airlines miles are losing some of their luster.
With little warning, the airline just raised award rates to use Alaska miles for Japan Airlines flights by 40% or more. And this could be just the first in a slew of painful devaluations coming for your stash of Alaska miles.