This summer, my brother and I are backpacking Eastern Europe with a goal to cover as many cities in a month as we can. Throughout the booking process, we compared prices for flying and taking the train. While transportation between cities in Europe is much cheaper than here in the United States, it was still making my bank account anxious just thinking about all the costs.
Shortly thereafter, my brother's study abroad coordinator suggested we look into a service called Busabout. Using this service, we're traveling between thirteen different European cities in four weeks this summer for $426 each.
What is Busabout?
Busabout is a travel company based out of Australia that seeks to provide flexible and affordable transportation throughout the world. They provide everything from island hopping boat tours in Greece to fixed itineraries for music festivals in Europe, and planned bus itineraries through Southeast Asia.
Itinerary Options
Here are some examples of the planned itineraries Busabout provides. These are a great option if you're looking to cross something specific off your bucket list, like sailing through Croatia, trekking over Christmas, or going to Lollapalooza in Berlin.

Hop-On Hop-Off
The Busabout program we are taking advantage of is the Hop-On Hop-Off flexible coach network. I think this is the best deal Busabout offers, and is a spectacular way to see multiple cities in Europe for cheap.
One of the things I was least excited about was the possibility of taking the train system in Europe. I have only used it a few times in Western Europe, and I was worried about high prices, limited availability, and whether the train was running on schedule.
I also wasn't thrilled with the idea of flying to each city. Flying seems faster than train travel oftentimes, but once you equate the time you need to check in, go through security, and arrive at the gate early to board, it isn't as fast as it may seem. Plus, oftentimes the airport is far outside of the city center, so you have to pay for a taxi to get to your hostel.
When I learned about the Hop-On Hop-Off system, their alternatives to these transportation problems sold me immediately. They leave at the same time from each city for every departure. Plus, they pick up and drop off at a recommended hostel in each of the city centers they travel to! This is so convenient as no taxi is needed.
How It Works
I like the concept of this style of travel, as it gives you the social atmosphere and benefits of a guided tour with the flexibility of traveling independently. I can create my own itinerary, but the drivers and guides will provide information on the bus about the next destination, as well as suggestions for the city we're headed to.
I personally like to make my own itinerary, but it will be so nice to hear from Europe travel experts what they recommend, and get to the heart of the city on the cheap.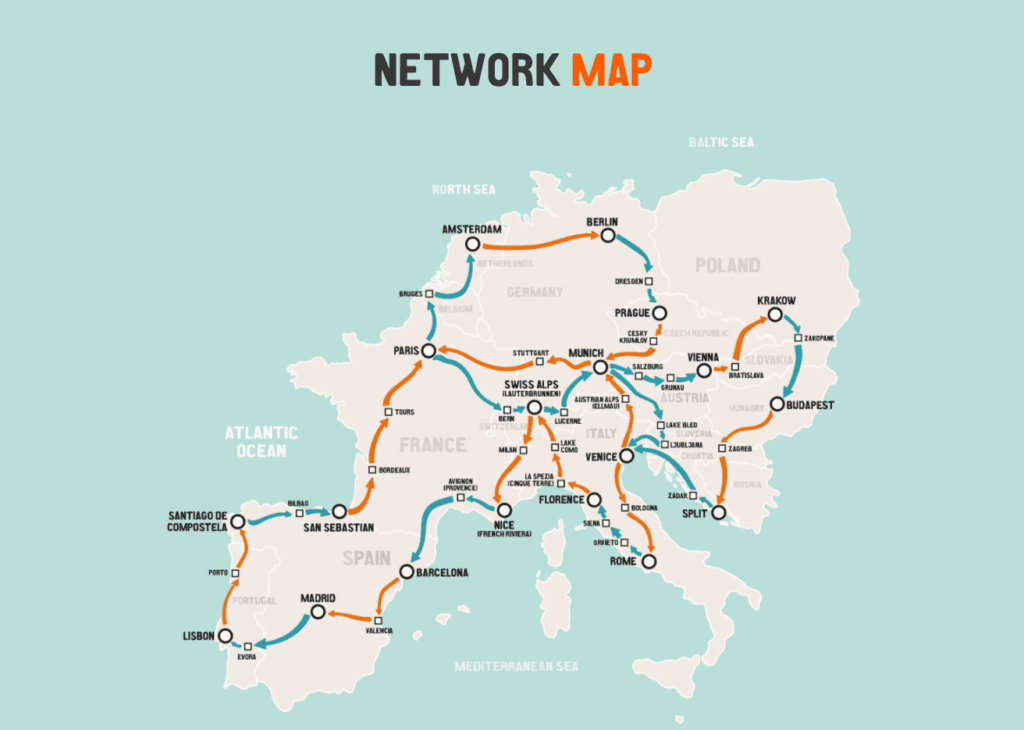 To book your own customized travel itinerary, use the Busabout Network Map to plan your route. They travel to a total of 47 destinations. Just follow the arrows around the map clockwise to see the different routes available.
Coaches depart each destination on every second day between May and October. Basically, Busabout splits the cities into main cities and smaller cities. The main cities are circles on their map, and you can choose to stay 1, 3, or 5 nights in those cities. The smaller cities are squares on their map, and you can choose to pass this city by, or opt for a 2 or 4 night stay there.
How Much Does It Cost?
When using Busabout, you will purchase a pass for an amount of time. For short weeks, you can choose between a 1 week, 2 week, or 1 month pass. For longer trips, you can do 2 months, 3 months, or buy the Unlimited Pass for unlimited travel between May and October.
As previously mentioned, my brother and I each got a 1 month pass for $426. Although the listed price on the website is $599, students (just need to have an ISIC card which can be purchased for $20 if you still have a college email account) get the pass for a discounted price.
Thrifty Tip: Busabout is frequently running promotions as well. Check online for promo codes, or sign up for their newsletter to get notification when tickets go on sale. You can also use our promo code THRIFTY to get your 10% off at Busabout!
Hop-On Hop-Off Itinerary Example
With our one month unlimited pass, we will be traveling the following itinerary:
Amsterdam
Berlin
Dresden
Prague
Cesky Krumlov
Munich
Salzburg
Grunau
Vienna
Bratislava
Krakow
Zakopane
Budapest
Now that's a packed schedule! We will stay 3 days in every large city (circles on the map), and 2 days in every smaller city (squares on the map). For each city, they give you the departure time, arrival time, and where the bus will pick up and drop off. To make it even easier, you can book a stay at the hostels they pick up and drop off at so you just pack your bags and walk out the door the morning you leave.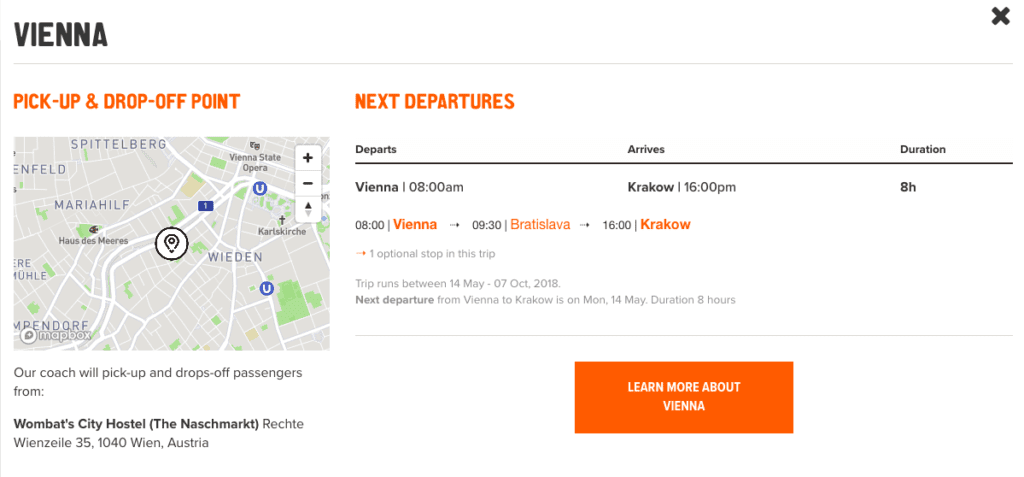 Bottom Line
For $426, we have transportation to 13 different European cities, right from our door in the heart of the city. To me, the convenience of not having to taxi to a train station or airport is so worth it. Plus, if something happens and we miss the bus, we can just wait until the next one comes around and hop on. There's no set ticketing or schedule. The flexibility this allows my brother and I while we are traveling is worth its weight in gold.
Want to try Busabout out? Get 10% off any trip you book with Busabout that's 3 days or longer! Book before September 31, 2018 and Travel before May 31, 2019. Use code THRIFTY to get your 10% off at Busabout!