Even in the best of times, any trip can make you nervous. Travelers lean on trip insurance to make sure they won't get stuck with big medical bills or can recoup costs if things get delayed or canceled.
After almost two years of the pandemic, COVID-19 has only amplified that. Now more than ever, travel insurance is in the limelight as would-be travelers worry their trip could be derailed as the pandemic continues upending travel plans.
But do you really need travel insurance? And if you do, what kind of policy do you need to make sure you don't get caught holding the bag if you decide to cancel an upcoming trip? What will it cover if you get sick – or get stuck abroad due to the ongoing requirement to get a negative COVID-19 test before flying back to the U.S? Is that $20 add-on policy when you buy your flights going to help you?
The answers to these questions aren't always simple, and there's rarely a one-size-fits-all solution when it comes to travel insurance. But, we've got you covered with some basics around travel as the pandemic and travel uncertainty drags on.

Do I Really Need Travel Insurance for a Trip?
Maybe. That's up to you. But when it comes to booking flights, keep in mind that any additional insurance could be redundant.
That's because all major U.S. airlines have done away with change fees on all but their cheapest basic economy fares.
That means so long as you buy a main cabin economy ticket or higher, you'll be able to change your flights without paying $200-plus change fees. Or cancel them and get an airline voucher to reuse later on.
So you could book a flight today for a trip this fall, winter, or even into the summer of 2022 and then cancel if need be, getting a voucher for the value of your ticket. If things are looking dicey or you aren't ready to travel yet, that flexibility means you won't be out a bunch of money.
Of course, there are other costs to consider like hotel bills. Luckily, many major hotel chains (and even Airbnb) are offering more flexible policies that allow you to book future trips and cancel down the road to get your money back.
Still, travel insurance may be on your mind. Just keep in mind that not just any travel insurance will do.
Read more: How to Book Travel Smarter as Pandemic Uncertainty Looms
What If I Get Sick Abroad? Do I Need Medical Insurance?
Maybe.
Some destinations require you to have medical coverage as a condition for entry. If your destination does not require it, it's simply a personal choice.
In the past, if you were a healthy adult without any medical issues, international medical coverage was largely unnecessary – barring a freak injury or accident. But with the uncertainty of COVID-19, you may want to give some sort of coverage a second look.
Before purchasing any additional medical insurance, check with your current policy to see what is covered. You may find that your personal health insurance policy includes some coverage for international travel. But you will want to make sure that it includes medical care or hospitalization due to COVID-19. If you do have some coverage, you'll want to compare it to any additional policy you could purchase.
Next, check the travel requirement in the country you're visiting. Besides a negative COVID-19 test, some countries including Costa Rica, Aruba, and the Bahamas also require that you have medical insurance that covers COVID-19. A few of them offer policies for travelers starting at just $10 a day.
If your destination doesn't require coverage, you will need to decide if you want to purchase coverage.
What If I Get Stuck Abroad?
New restrictions on international travel have put travel insurance back in the spotlight.
For more than a year, all travelers heading to the U.S. need a negative COVID-19 test before boarding their flight – including fully vaccinated U.S. citizens. And as of late last year, that requirement is even stricter: You need a test no more than one calendar day before flying back to the U.S. There's no sign of that requirement disappearing anytime soon.
Read more: Details on New, Stricter Testing Requirements for International Travel
Can't find a test abroad? Or, God forbid, test positive? You'll be required to quarantine in place for up to 10 days or more before returning home. And that means having a backup plan – and a way to cover some of the additional costs of quarantining abroad.
Read our guide with tips for finding a COVID-19 test abroad!
Some hotels and resorts (especially throughout Mexico and the Caribbean) have said they'll offer discounted rates, or even free extended stays, to guests who need to quarantine. But what will travel insurance cover? It depends on your policy.
Start by making sure the travel insurance policy you're buying has at least two things: trip delay coverage and an extension clause. 
Trip delay policies (also called travel delay) will cover some of the additional costs if your travel plans are delayed. Just check to be sure that's triggered in the event you need to quarantine – and that the daily and total maximums are going to be enough.
Here's a snippet from a good travel insurance policy, which can show you what to look for. A separate section of the policy spells out the daily and total maximum coverage you can get for travel delay expenses.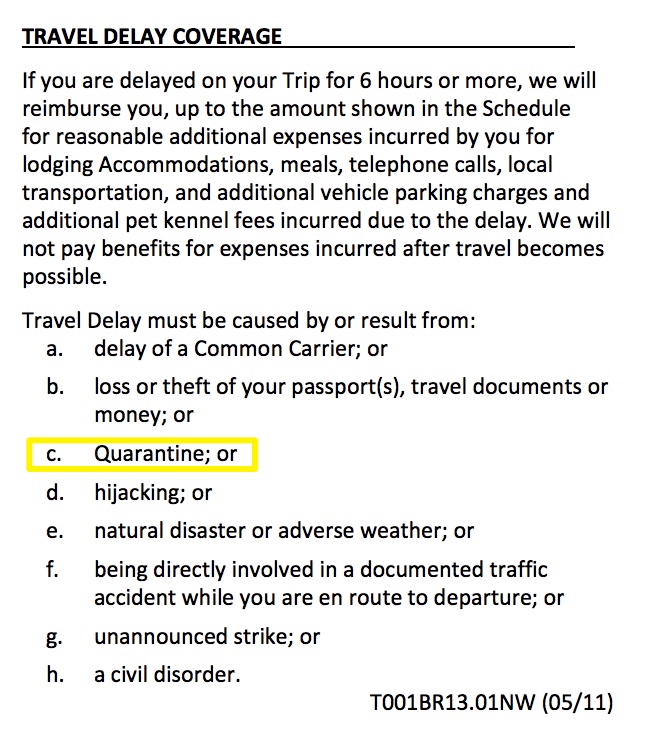 But you'll also need to make sure that policy can be extended beyond your originally scheduled return date – and that's important to look for, as some travel insurance plans can't be extended, period. Policies with an extension window typically can be extended by seven days maximum. That means it can cover some (but often not all) of your additional quarantine costs.

So how do you make sure the travel insurance policy you're buying will cover these costs? You have to read it.
Now more than ever, it's critical to read the fine print of your travel insurance. Don't assume your same-old policy will cover every possible hiccup or issue that arises. It probably won't.
Do Countries Require Insurance?
Some do. And it's up to you to do the research.
As countries around the world have reopened their borders, some have made proof of travel insurance mandatory as a way to limit their risk of foreigners contracting COVID-19 during their stay. But exactly what you need varies from country to country.
In most cases, you won't need a country-specific travel insurance plan. Countries may set a minimum coverage limit required for entry – or just that it will cover your medical expenses if you're hospitalized with COVID-19 during your stay.
But some countries sell their own travel insurance policies to visitors. Aruba, for example, requires all travelers to purchase a $30 insurance plan upon arrival. In Saudi Arabia, entry visas now include such an insurance policy.
What if I Want to Cancel My Trip Beforehand?
This is the key. If you get nervous about COVID-19 and want to cancel to get your money back, not just any policy will do.
With few exceptions, you need a policy with a "cancel for any reason" policy. That's because a standard trip insurance policy – like those you can add on at check-out directly with the airline – don't consider the coronavirus a "covered reason" for cancellation. Trip coverage you get from credit cards like the Chase Sapphire Preferred® Card or Chase Sapphire Reserve® also won't cut it.
These other, less-comprehensive policies may help cover some costs if your flights are changed or delayed due to the outbreak. But if you are concerned about traveling and decide to cancel, you need the right policy.
In most cases, you can simply add a "cancel for any reason" clause as an upgrade. Some more comprehensive travel insurance policies just include them in the fine print. And in this situation, you can't cut corners: You need to read the fine print of your policy to make sure you're getting what you think you're getting.
As you might have guessed, it doesn't come cheap. All travel insurance prices are based on the cost of your trip, but adding one of these "cancel for any reason" clauses can raise the cost of your coverage by as much as 30-80% or more.

One more thing: You likely won't get 100% of your money back. Most travel insurance, like this Travelex policy for an upcoming weeklong trip to the United Kingdom, would get you up to 75% of your non-refundable costs back. That 75% return is the norm for these policies.
Still, that's better than nothing.
What If I Only Want Medical Coverage?
If your destination requires medical coverage – or you simply want it – you can purchase it separately.
Without trip cancellation or interruption coverage, travel medical insurance's cost will still vary based upon your destination, age, and the number of travelers. We've seen prices as low as $17 for a week or two, with up to $50,000 in coverage. Note that these policies typically only offer secondary coverage – it will cover just the expenses that your primary health insurance won't.
And be sure to check what your destination requires in coverage.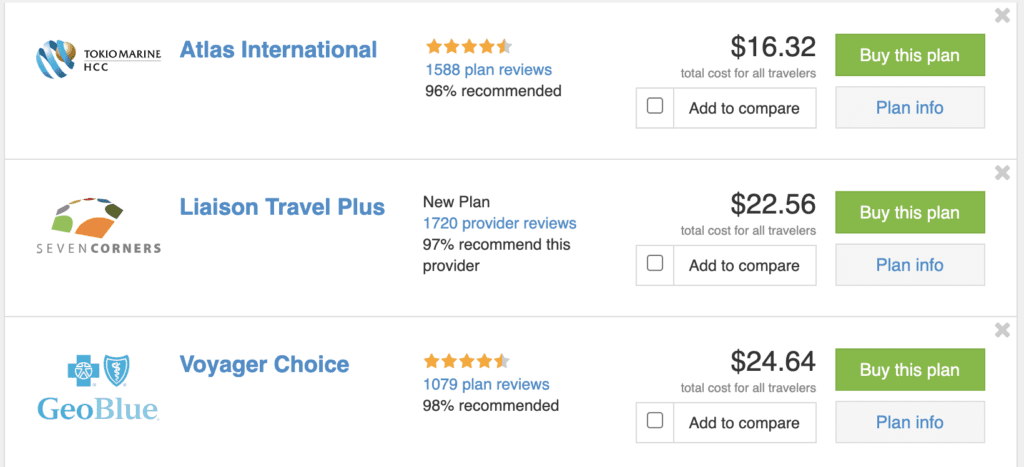 When & Where Should I Buy Travel Insurance?
If you've decided you need trip insurance, you can't just wait around.
Most (but not all) travel insurance providers require you to purchase your coverage within seven to 21 days of making your first non-refundable deposit on your trip. That means once you've bought your plane tickets, hotel, excursion, the clock is ticking. And that's especially true for "cancel for any reason" coverage.
When it comes time to buy, you can use sites like travelinsurance.com,  InsureMyTrip.com, or Squaremouth.com to search for a policy. These sites are simple and will pull up policies from dozens of different insurance providers. Most importantly, they make it easy to filter your results for a policy that comes with a "cancel for any reason" upgrade, medical insurance coverage, or both.
Another great option is AXA Travel Insurance, which has three tiers of plans: Silver, Gold, and Platinum. Only the Platinum Plan is eligible to upgrade for the add-on "cancel for any reason" policy. In the case of AXA, you have to buy that add-on coverage within 14 days of making your initial payment for your trip.

Click Here for More information on AXA Travel Insurance Policies
If you've already bought your trip insurance but didn't include a "cancel for any reason" upgrade, you might be able to go back and add it. But you'd need to do so within that same seven- to 21-day window.
How to Book a Trip So You Don't Need Trip Cancellation Travel Insurance
While having "cancel for any reason" trip insurance might make you feel more comfortable, it won't always make sense. If you cancel, you'll still lose out on some money.
So how can you plan a trip with no risk? It's becoming easier and easier.

As we mentioned, all major airlines have made it easier to book flights that you can cancel or change without a fee. If you eventually choose to cancel, you will get a voucher for the amount of the flight – you'll only get a cash refund if your airline cancels your flight (or changes it significantly).
That means you should focus on booking with airlines that you'll easily be able to use toward a future trip, if necessary. And in most cases, that means you should only buy main cabin tickets or higher.
Your flights are covered by the airlines, so the next big expense is accommodations. There are a few ways to go about booking your accommodations with no risk.
Wait a while to book accommodations. While this may be hard if you're a planner, you'll have more certainty that your trip is moving ahead. And remember that with fewer people traveling, you'll likely have more options even as your trip draws closer.
Focus on fully refundable accommodations – and this one is easier now than ever. Most major hotel chains offer fully refundable reservation rates. Airbnb has a new filter that allows you to only search for stays with flexible cancellation policies.
As for pre-paid tours, just wait to book those until you're close to your departure date. Use these tips and you won't be out any money if you need to cancel – and avoid paying extra for a costly insurance policy.
FAQs
There are a handful of scenarios that you will want to plan for. Here are some frequently asked questions.
Do I need travel insurance to cancel or change my trip? 
Not necessarily. With airlines offering flexible change and cancellation policies along with hotels, you may be able to change or cancel at no cost without any insurance. When you are booking your trip pay attention to the cancellation policies and chose airlines and hotels that allow you to cancel.
Will travel medical insurance cover the COVID-19 test cost I need to return to the U.S.?
No, travel medical insurance usually only covers medical costs related to sickness or injury during your trip. You will have to pay for the COVID-19 test out of pocket. However, there are some resorts and hotels offering free COVID-19 tests as a part of your stay. And you may be able to get reimbursed by your personal health insurance for the costs of your test – though that's hit-or-miss with testing services for travel.
Will my credit card cover cancellation due to COVID-19?
No, most credit card trip cancellation and interruption policies do not cover COVID-19 related cancellation or interruption.
Will my credit card cover medical expenses due to COVID-19?
No. Some credit cards like the Chase Sapphire Reserve do have some emergency medical coverage but costs related to COVID-19 do not qualify.
What if I need medical attention on my trip? 
Before you travel you'll want to check your own health insurance policy to see what is covered and then decide if you want additional coverage for your vacation. If you want it, make sure to get coverage before your trip because you will not be able to get coverage once you are on your trip.
What I test positive for COVID-19 and can't get home?
With the requirement of a negative COVID-19 test taken within three days of departure to return to the U.S., international travel has gotten more complicated.
There is always a chance that you or someone in your party could contract and test positive COVID-19. That means you won't be able to return to the U.S. for at least seven to 14 days, or when a doctor clears you for travel. Staying in place could add additional costs to your trip, and fast.
Make sure your travel insurance policy covers trip delay expenses in the event you need to quarantine. And ensure that your policy can be extended at least a week beyond your originally scheduled return date.
Make a plan ahead of time.
Bottom Line
Travel is still clouded by uncertainty. The ongoing COVID-19 pandemic continues disrupting travel. There's no telling when travel will return to normal.
While travel insurance can soothe your nerves and make sure you don't lose out on an expensive trip, not just any trip insurance policy will do in these times. Follow these guidelines and you'll be set.
And remember: You may be able to book a trip worry-free without an insurance policy. Airlines and hotel chains are still giving some major flexibility to travelers who want or need to change plans.