Over the weekend, Delta SkyMiles Shopping rolled out a new feature to make sure you never miss another opportunity to earn SkyMiles. With the quick click of a button, you can now install a web browser extension in Google Chrome that will alert you when shopping on a website offering a SkyMiles shopping bonus.
Thrifty Tip# 1: Not familiar with SkyMiles Shopping? It is one of the 12 Best Ways to Earn Delta SkyMiles.
Thrifty Tip #2: See our guide on how shopping portals work here.
How to Install the SkyMiles Shopping Button
In order to install the SkyMiles shopping browser extension button, you must first become a member of SkyMiles shopping. It is completely free and you can sign up for it here.
Once you are a member of the program, you can visit this link and click on the "Get the Button" box to get the browser extension installed. This browser extension will only work in Google Chrome currently. 

Once you have the browser extension installed, you will get reminders to activate SkyMiles shopping when you are shopping at online retailers offering a bonus through the program. As pictured below, you will be able to click the box and automatically activate the offer to earn bonus miles.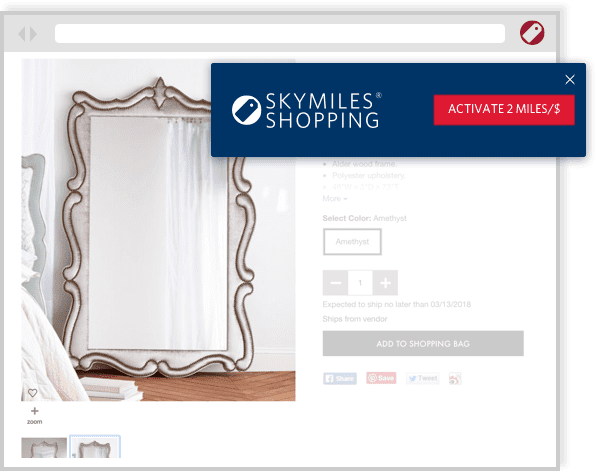 You will even be able to see bonus SkyMiles offers in your Google search results. This allows you to compare earning rates at different stores that may sell the same product.
Thrifty Tip #3: The points and miles you earn through the portals are in addition to the points and miles you earn on the credit card used to pay for the transaction! You do not have to use an affiliated credit card through the affiliated portal. This allows you to work towards spending requirements for credit card sign-up bonuses, stack category multipliers, or even utilize gift cards. Use whatever card you want!
Add the SkyMiles Browser Extension Today
Bottom Line
This is a great new feature that will make it hard to forget going through SkyMiles shopping to earn additional miles on the purchases you are already making. While the miles you earn through the SkyMiles shopping program aren't earth-shattering, maximizing every dollar you spend is one of the keys to being a Thrifty Traveler.