Airlines and hotel chains are constantly selling their points and miles, and it begs the question: Is buying airline miles ever worth it? Or is it a scam?
It can be alluring. Everyone wants a big stash of miles to fuel their travels, right? And buying the miles can be a much quicker way to make that happen than racking up miles by flying or even through a credit card bonus. It's even more tempting when airlines and hotels sell them with huge bonuses.
While we'd caution anyone against buying airline miles willy-nilly, there are situations where it can make plenty of sense. Let's cover some ground rules for buying points and miles.
The Principles of Buying Points & Miles
At face value, buying miles or hotel points is almost always a bad choice.
Why? Well, because you might be able to get all the points you need with the right travel credit cards in your wallet – earning points and miles on the spending you'd be doing anyhow. For example, it'd be much better to earn 80,000 points on the Chase Sapphire Preferred® Card after spending $4,000 in three months on your normal monthly expenses than to pony up an extra $1,200 to buy 80,000 airline miles or hotel points.
But it's not always that simple. Sometimes you need a few thousand more miles to book that (nearly) free award ticket. Other times, buying miles can be a great way to save money on an otherwise pricey fare.
How much you'll pay varies widely based upon whose points and miles you need. We'll get into some more specific pricing later, but the standard price per airline mile generally ranges between 2.5 cents to 3.5 cents per mile – with hotel points costing much less. Most airlines and hotel chains require you to buy in increments of 1,000 and many cap the number you can buy in a year.
Before we go any further, know this: You should only ever buy points directly through the airline or hotel. Steer clear of third-party vendors who sell miles in bulk. Doing so violates the terms and conditions of almost every airline, which can turn around and shut down your account as punishment – or worse. That's not worth the risk.
Skip Mileage Multipliers
When you're booking a flight, you might see an option like this to earn some additional miles on top of what you'd normally earn for taking the flight.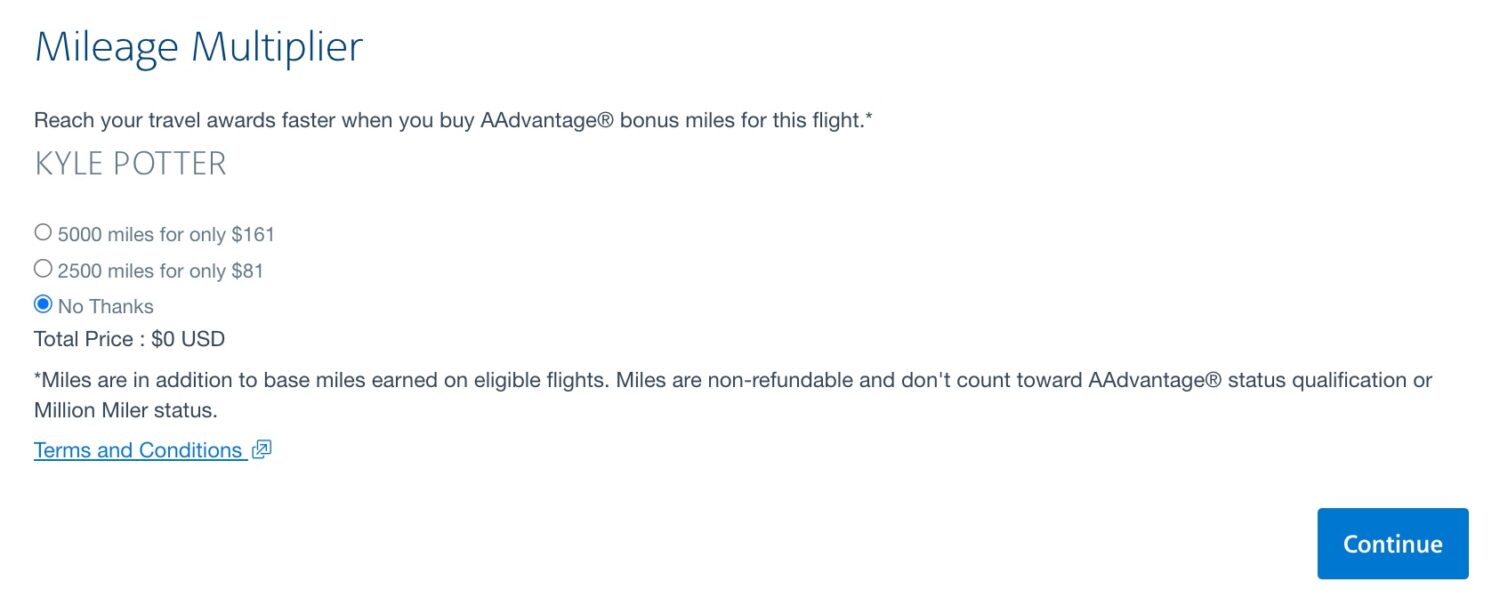 Take our advice: Skip it. 
Ninety-nine times out of 100, these offers are junk. In some cases, airlines hope you'll jump at the chance to quickly earn 5,000 to 10,000 more miles without realizing that it's actually cheaper to buy those miles elsewhere.
For example, I could earn an additional 5,000 American AAdvantage miles by purchasing that mileage multiplier for $161. But by heading to AA's dedicated hub to buy miles, I could buy that exact same 5,000-mile sum … for $150 and change.

It's a small difference but an important lesson. And even if your airline isn't trying to nickel and dime you with these mileage offers, they're never enough to move the needle. You're much better off going directly to the source.
Top Off Your Account
If there's one situation in which it can be a slam dunk to buy some miles, it's when you're just a few thousand miles short of booking a trip you've been chasing.
Here's an example. I found myself in just this scenario earlier this year, as my wife and I were plotting how to fly back to the states from Southeast Asia. After opening the AAdvantage Aviator Red World Elite Mastercard back when it offered 60,000 AAdvantage miles for a single purchase, my wife was just shy of the 70,000 miles she needed to book a one-way flight in Japan Airlines business class from Singapore (SIN) all the way to Chicago-O'Hare (ORD).
Our options?
Book economy instead for 37,500 AA miles … but that's nearly 20 hours of travel in a small seat
We could pony up the $4,000-plus it'd cost to buy that business class ticket outright? No way
Or we could pay roughly $300 to buy the extra 10,000 miles we need to hit that 70,000-mile threshold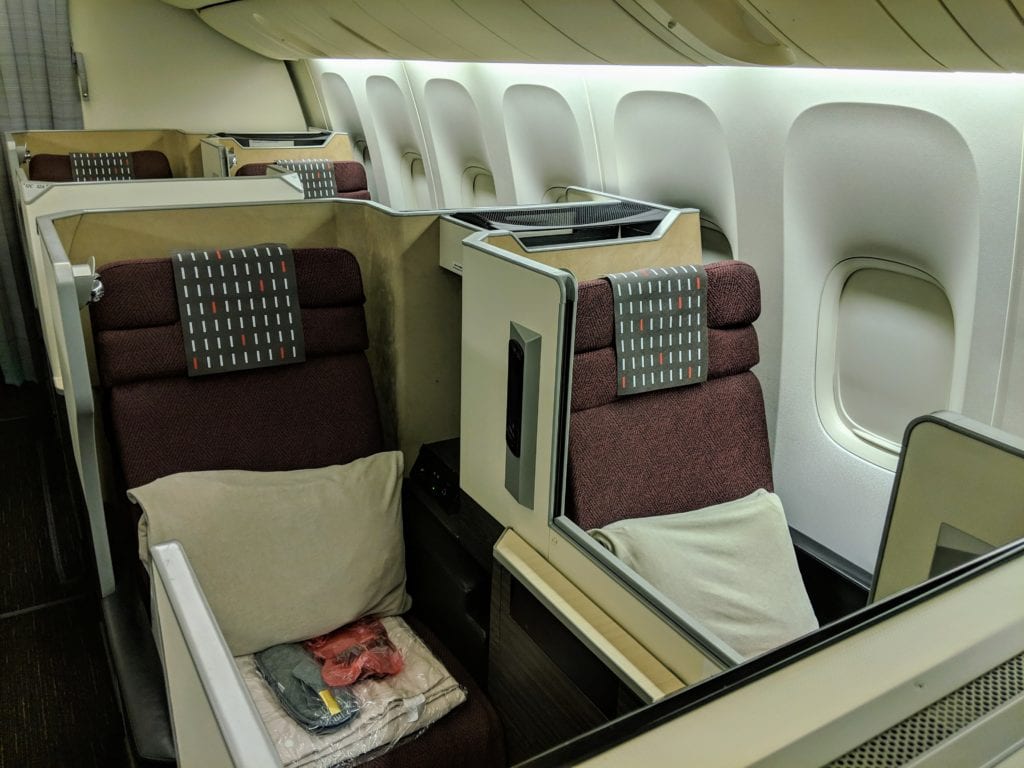 In this case, buying the miles was a no-brainer. Paying an extra $300 is never fun, but when it allows you to book a flight that costs hundreds, if not thousands, of dollars more? Worth it.
Topping off your account to get the miles you need to finish a redemption is the only situation in which we would ever buy Delta SkyMiles. While many airlines sell miles at better rates or offer big sales to purchase miles, Delta isn't one of them. 
Let's say you've been dreaming of a trip to Tahiti when you get a Thrifty Traveler Premium+ alert for flights to Papeete (PPT) as low as 50,000 Delta SkyMiles roundtrip.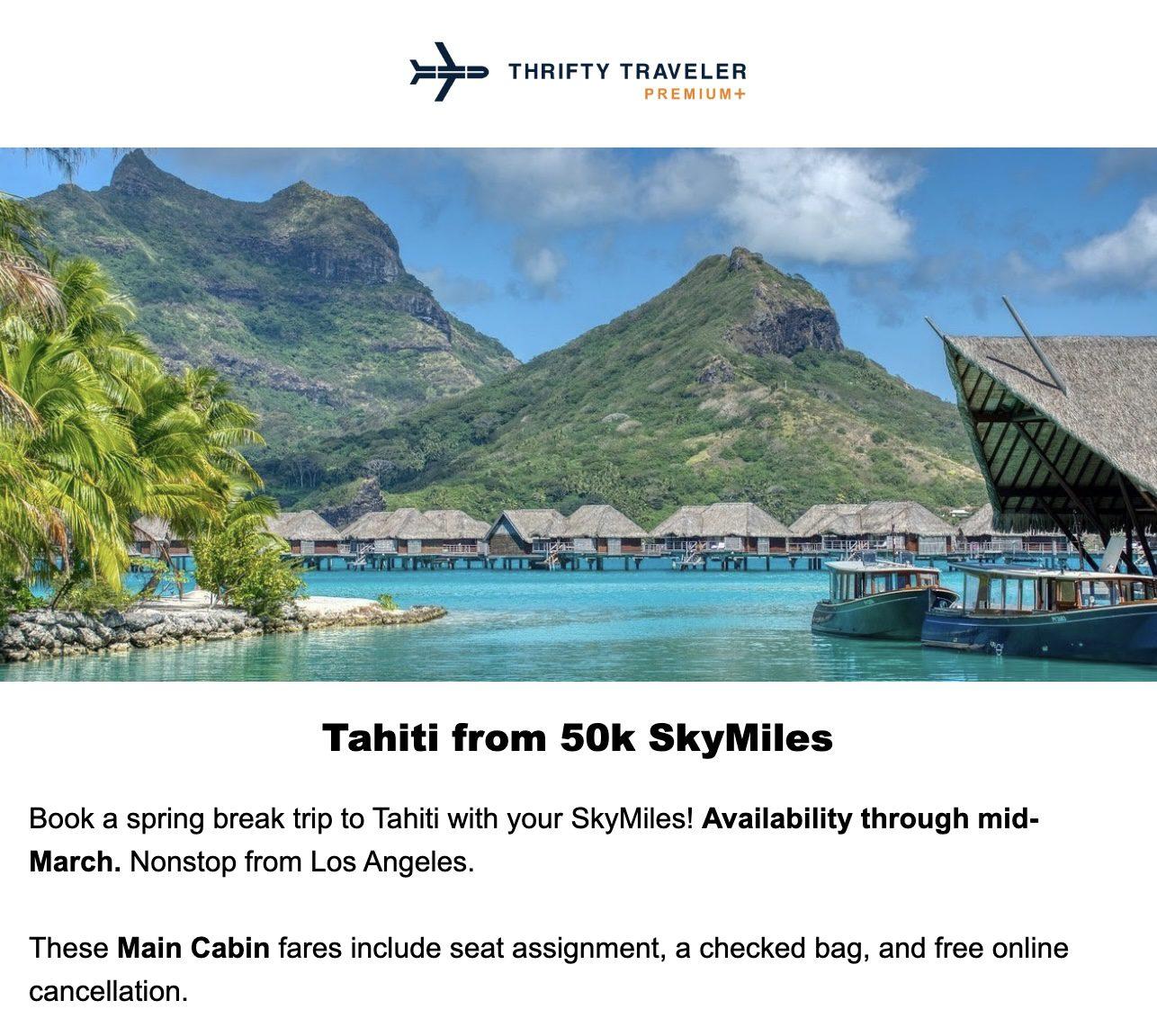 That's an incredible deal, but there's just one problem: You've only got 44,000 SkyMiles in your account. Delta might be an Amex transfer partner, but you don't have points from a card like the American Express® Gold Card to beef up your SkyMiles account. The clock is ticking.
You could use Delta's novel Pay with Miles feature, which allows you to put your miles toward the cash price: Every 5,000 miles knocks $50 off your total. It works great when tickets are cheap. But when Delta's nonstop flight to Tahiti costs $1,600, you'd wind up using 40,000 of your SkyMiles … and still paying $1,200. Pass. 
In this scenario, your best option would likely be to buy 6,000 SkyMiles directly from Delta (which requires mileage purchases in multiples of 2,000). At $210 out of pocket, buying the miles is the obvious solution in this case.
Let this be a lesson to you: You should never buy miles without a specific purpose or redemption in mind. Airlines constantly devalue their frequent flyer programs with little to no notice, jacking up rates to book flights overnight. That makes spending money to accumulate miles a horrible decision unless you turn around and spend them quickly.
Capitalize on Big Sales on Miles & Points
Some of the biggest and best airlines for booking award flights seem to constantly sell miles with big promotional discounts or bonuses.
That means it's typically worth holding out for a bonus unless if you're under the wire to book a flight, or just need a few thousand miles. These bonuses vary widely by carrier, ranging from 20% to 140% or more on the miles you buy. Not every airline does it, but those who do generally hold a mileage sale at least three or four times per year. 
Here are a few:
American Airlines is almost always selling its AAdvantage miles at a discount, from 20% when you buy just a few thousand miles to as much as a 35% discount when buying 150,000 miles
No airline does these bonuses bigger (or better) than Avianca LifeMiles: The quirky Colombian airline regularly offers bonuses of 130% or more when buying miles, offering a great way to book many flights on Star Alliance airlines.
Alaska Airlines regularly sells miles with a bonus, including a current bonus of up to 60% when you buy at least 40,000 Alaska Mileage Plan miles.
Hyatt and Hilton stand out among the big hotel chains for frequent (and potentially lucrative) discounts if you need to add to your stash of points.
Thrifty Tip: If you're not signed up already, register for all the major airline frequent flyer programs. Many airlines require you to be a member for a certain period of time to be eligible for these bonuses.
Think Big: Fly Business or First for Cheaper
You have to do the math to figure out whether it's worth it to buy miles. But if there's one nearly surefire way to come out ahead when buying miles, it's when you're booking an otherwise pricey first or business class flight.
If you don't have the miles and you're going to fork over the cash for an expensive ticket anyway, it can be much cheaper to buy the miles. Especially if you're booking a seat at the front of the plane. Let's crunch some numbers on a few quick examples.
Why not start with the best? Qatar has one of the world's best business class cabins: Qatar Airways Qsuites. But a spot in their incredible Qsuites from Chicago-O'Hare (ORD) to Doha (DOH) could easily run you $4,000, $6,000, or maybe even $9,000. 

Since you can book Qatar award flights with AA miles online, buying miles might make sense in this situation. Remember that sale we mentioned above? To buy the 70,000 miles required to book that exact same flight, you'd need only spend $1,795 with this promo.
By buying the miles, you could fly Qsuites for less than a quarter of the upfront price.
Or want to fly to Asia in Cathay Pacific first class? Using Alaska Mileage Plan miles is the best way to do it, as it will cost you just 70,000 miles each way from the U.S. to Hong Kong (HKG) or onward throughout Southeast Asia. With a 60% bonus, you could buy all the miles you need to fly it for roughly $1,300 – a fraction of the standard cash price.
Just remember: When you book with miles, you won't earn miles in return. Paid business and first class fares are among the best ways to rack up miles. You need to do the mental math to decide whether the miles you'd earn outweigh the extra cost.
To be clear, this won't make sense for everyone – in fact, it rarely makes sense to buy miles outright when booking in economy. And you'll always be much better off by planning in advance, earning a big bonus on a travel credit card that you can turn around and use to book that flight. 
But it's a great way to save some serious money when flying first or business class if you don't have the miles already.
Pay with the Best Card
Just as with any purchase, you should use the credit card that gets you the best bonus on your spend if you're buying miles. 
A handful of airlines process the purchase of points as if they were straight airfare, including both LifeMiles and American. That means your obvious choice is the The Platinum Card® from American Express, as that gets you 5x points on any travel purchase. With its 3x point bonus on travel, the Chase Sapphire Reserve® is a good second option.
But not all points and miles purchases work this way. Many airline and hotel programs run these purchases through brokers like points.com, meaning you won't get the airfare spend multiplier. Alaska and many hotel chains work this way.
If that's the case, your best bet is to use whatever card in your wallet gets you the best return on everyday spending. With 2x on every purchase, either the Capital One Venture X Rewards Credit Card or the Capital One Venture Rewards Credit Card are rock-solid options.
Bottom Line
Buying airline miles is a tricky piece of the points and miles world. While it should never be your go-to for booking travel, buying miles can be the most cost-effective way to make it happen.
Just be sure to think through your situation before buying a boatload of points. We can't stress this enough: Don't buy miles unless you have a specific redemption in mind. It's not worth the money.
Lead photo courtesy of Chris Lundberg via Flickr