Let's just get to the point: The *amex gold card* is one of the best credit cards on the market for your everyday spending – and heck, it might just be one of the best travel rewards cards, period. But to see that, many travelers need to get over the Amex Gold Card annual fee.
In the world of travel rewards credit cards, the Amex Gold's $250 annual fee (see rates & fees) sits squarely in the middle of the road: Not cheap – but certainly not the most expensive card on the market either. But you get a lot for that fee.
For starters, it earns 4x Membership Rewards points at U.S. supermarkets (up to $25,000 spent each year, then 1x) and 4x Membership Rewards points at restaurants worldwide. While other cards may offer higher bonuses in different spending categories, no single credit card can outpace the Amex Gold Card when it comes to earning points on food. We all need to eat, right?
You'll also earn 3x points on airfare purchased directly with the airlines or Amex Travel, and 1x points on all other purchases. To top it off, Amex offers monthly money-saving credits for select restaurants as well as and some Uber Cash.
Oh, and Amex sweetens the deal with a solid welcome bonus: You can currently earn 60,000 Membership Rewards point bonus after spending $6,000 on eligible purchases in the first six months. You might be able to do even better with a targeted offer to earn 75,000 points after spending $4,000 in the first three months via CardMatch or an even sweeter offer by applying via Resy.
With so much to love about the card, we still have to ask the question: Is it worth its annual fee? We think so, but let's do the math together.
Read more: Amex Membership Rewards Points: A Guide to Earning & Burning
Learn more about the *amex gold*
American Express Gold Card Benefits
American Express updated the benefits of the Gold card years ago – and in my opinion, they knocked it out of the park with the changes they made. It's one of the rare times where you hear a credit card company say they're making enhancements to a card's benefits and they actually turn out to be just that: enhancements.
And not that you can (or should) judge a book by its cover, but the fact that the card comes in either the traditional gold or spiffy rose gold motif doesn't hurt its appeal, either.
Here's the full breakdown:
Earn 4x Membership Rewards points per dollar spent at restaurants worldwide.
Earn 4x Membership Rewards points per dollar spent at U.S. supermarkets on up to $25,000 per calendar year.
Earn 3x Membership Rewards points per dollar spent directly with airlines or at amextravel.com.
Earn up to $10 each month in statement credits when you pay with the Gold Card at GrubHub, The Cheesecake Factory, Wine.com, Milk Bar, Goldbelly, and participating Shake Shack locations.
Enjoy up to $120 in Uber Cash annually with your Gold Card. Just add your Card to your Uber account and you'll automatically get $10 in Uber Cash each month for Uber Eats orders or Uber rides in the U.S.
No foreign transaction fees
Annual Fee: $250 (see rates & fees)

Learn more about the *amex gold*
Is the Amex Gold Card Annual Fee Worth It?
I asked myself this exact same question recently.
The annual fee on my own *amex gold card* recently came due. That meant it was time to do the math in order to make sure the card's annual fee still makes sense for my overall credit card strategy. As long as I'm getting more value out of a credit card than the annual fee, I will keep it open. If I am not, I'll simply close the card or downgrade to a no-annual fee option.
I originally opened the card for the increased point earning at both restaurants and supermarkets. What can I say? I like to eat – and the Amex Gold is one of the best options on the market for both of those categories.
But am I really getting enough value out of the increased point earning and monthly statement credits to make it a keeper? There are five main benefits that weighed into my decision. So let's break them down and take a closer look.
Read More: Amex Gold vs Chase Sapphire Preferred: Which Credit Card is Right for You?
$120 Annual Dining Credit
One of the benefits you may need to consider when weighing the Amex Gold's $250 annual fee is the $120 annual dining credit.
The credits are split up into $10 monthly increments. And they're only eligible for charges at select establishments: GrubHub, The Cheesecake Factory, Goldbelly, Wine.com, Milk Bar, & Participating Shake Shack locations.
This is a use it or lose it credit: If you don't use the $10 in a given month, it won't roll over to the next month.
I value this benefit at face value as Grub Hub has several restaurants in my area that I would otherwise be getting food from on a monthly basis. Sometimes, I'll even order food for pickup to save on the pesky delivery fees. Ordering lunch or dinner once a month through GrubHub hasn't been an issue and I've made a point to use the $10 credit each and every month.
Total Benefit Value: $120
$120 Annual Uber Credit
As long as you have your Amex Gold Card added to your Uber account, you'll get $10 in Uber Cash loaded to your account on the first of every month. Much like the others, this credit is another use-it-or-lose-it benefit that doesn't roll over from month-to-month. Safe to say, I've been using it.
While I don't have the need to order an Uber each month, I do make sure to order food from Uber Eats. Did I mention that I got this card because I spend a lot on food?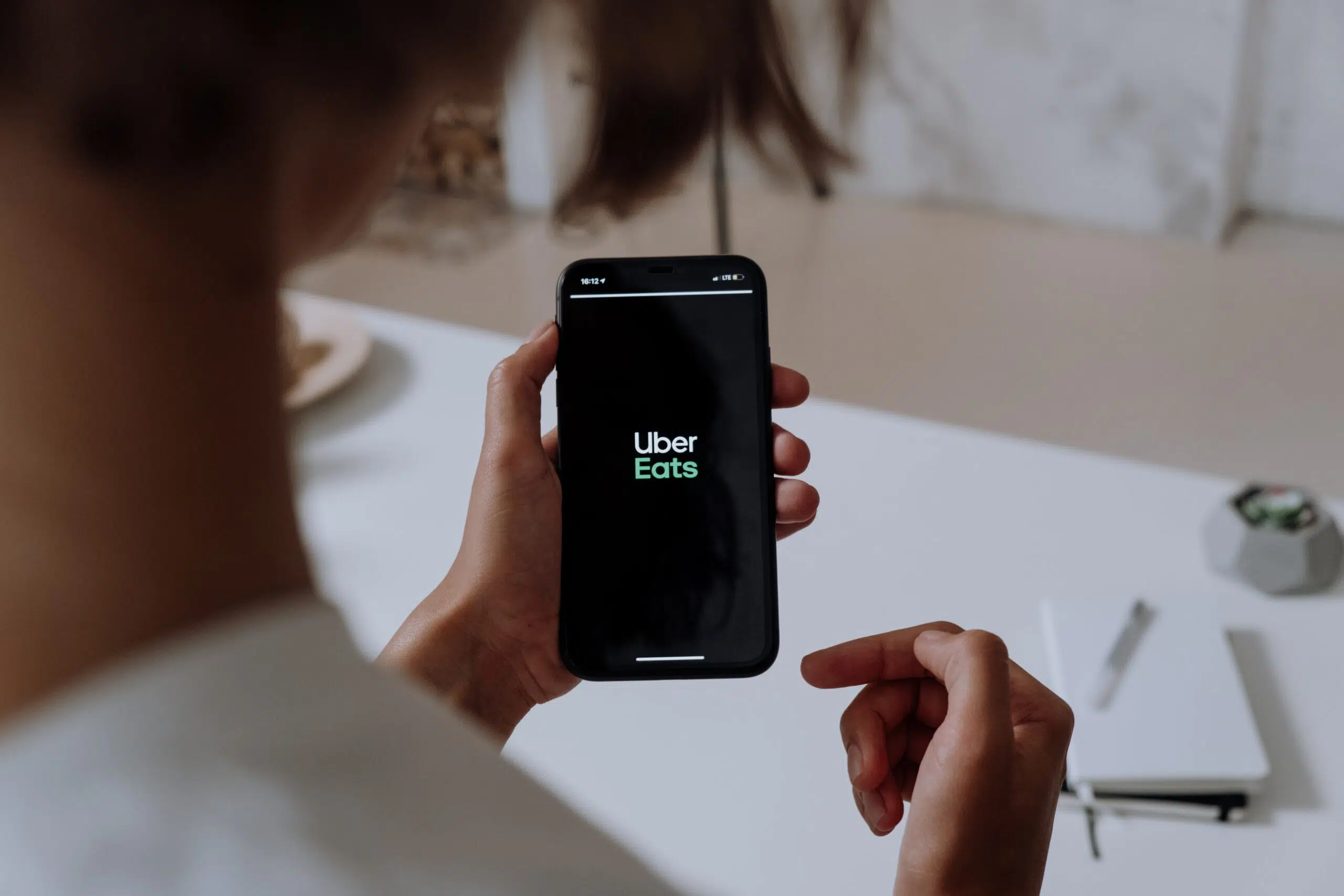 Similar to ordering a meal on GrubHub, there are several participating restaurants in my area. The prices on Uber Eats are more or less in line with what I'd pay by going into the restaurant. Furthermore, Uber Eats often emails me promo codes to save a certain percentage on my order. This means I oftentimes come out ahead by ordering lunch or dinner via the app instead of directly from the restaurant.
Total Benefit Value: $120
4x Membership Rewards at Restaurants
One of my favorite benefits of the *amex gold card* is that it earns 4x Membership Rewards points at restaurants.
Like many Americans, this is a category I spend a fair amount of money in each year, so it has a lot of appeal to me. There isn't another credit card out there that regularly provides this kind of return on restaurant spending. 
I like my Membership Rewards points and value them quite highly. Not only can you transfer Amex points to a number of partner airlines like Delta, Avianca, and more, but you can also often get even greater value by taking advantage of a transfer bonus – like those we often see from Virgin Atlantic and British Airways.
For the sake of this analysis, let's say each Membership Rewards point that I earn is worth 1 cent each – and that's an incredibly conservative valuation. And let's also assume that I spend $100 a week at restaurants, on average.
Weekly restaurant spend: $100
X 52 Weeks in a year =  $5,200
X 4 Membership Rewards Points = 20,800
X .01 (Membership Rewards Point Valuation) = $208
Total Benefit Value: $208
4x Membership Rewards at U.S. Supermarkets
Another key benefit of the Amex Gold Card is that it earns 4x Membership Rewards points at U.S. supermarkets (up to $25,000 annually, then 1x). This 4x earning  is what makes it our choice for the best card for grocery shopping.
Again, I spend a decent amount on groceries each month, so the 4x multiplier in this category yields me quite a few points.
As mentioned above, I'm assigning a value of 1 cent each to my Membership Rewards for sake of this analysis. You should typically be able to get at least that amount out of them … and likely quite a bit more. To figure out just how lucrative the Amex Gold Card is for my supermarket spending, I'm going to estimate that on average I spend $125 a week at the grocery store.
Weekly supermarket spend: $125
X 52 Weeks in a year =  $6,500
X 4 Membership Rewards Points = 26,000
X .01 (Membership Rewards Point Valuation) = $260
Total Benefit Value: $260
Amex Offers & Referral Bonuses
It's impossible to assign a dollar amount to this category, but it's still worth thinking about when considering whether to keep or ditch this card.
Amex Offers are money-saving digital coupons or rebates that you'll get access to with just about any Amex Card – even the no-annual fee ones. The reason I'm taking these offers into consideration for whether or not to keep the Amex Gold is because this card typically gets better offers than any of my other Amex Cards. Yes, even better than the offers I get on Amex's top tier *amex platinum card*.

Since I don't typically go out of my way to use an Amex offer, the savings that I get from these offers is real money back in my pocket (or bank account).
Along those same lines, I also get better referral offers – bonuses that I can share with friends and family members who sign up – with my Gold Card than any other Amex card that's in my wallet.
Yet again, it's tough to assign a dollar value to this benefit. But it simply adds to the increasingly lopsided math when I decide whether or not to keep the card each year. As the resident "credit card guy" among my family and friends I'm often asked what travel credit card to get – and they're usually more than happy to sign up using my referral link.
That means I'm earning more bonus points each year with this card, adding to my stash of points and an extra vacation that I might otherwise have been unable to afford. That's worth something to me … even if I can't assign it a dollar amount.
Doing the Final Math
Is the American Express Gold Card annual fee worth $250? For me, the answer is a resounding yes – though that will be different for everybody.
From my analysis above, I think that I can currently squeeze over $700 of value out of the card each year. That's more than double the card's annual fee and means the card is a keeper for the next year – and likely several years beyond that.
If my math seems similar to your own situation, but you don't yet have the card, Amex is currently offering a welcome bonus of 60,000 Membership Rewards points after spending $4,000 in the first six months of card membership.
That's great on its own … but before applying, make sure to check CardMatch: You could be targeted for an even bigger 75,000 point offer.
Bottom Line
I encourage everyone to do the math before ruling out cards with annual fees. Recently, it was time for me to take my own advice.
While it's never fun paying big annual fees, the key is figuring out whether you can get more out of it than what you're paying. So although the Amex Gold Card's annual fee is $250, I can fairly easily come out far ahead by keeping so long as my spending habits remain similar. Maybe you can, too.
And if you're eligible to earn a big welcome offer, the math is even better.
Learn more about the *amex gold*