As you get back to travel, make 2022 the year you master Delta SkyMiles and get the most out of them. And trust us: You can.
While others call them worthless, we're big fans of Delta SkyMiles. There's no question Delta's frequent flyer program is difficult to understand. Award rates when using SkyMiles are constantly changing, with wild swings and sometimes exorbitant pricing. A series of bruising devaluations when booking partner airlines last year didn't help, either.
But we value SkyMiles because there are some incredible ways to use them – including some opportunities you won't find with other airlines. Here are some of the absolute best Delta SkyMiles redemptions and why you shouldn't shy away from earning them.
Using SkyMiles is one of the best ways to book future travel because you can change or cancel all SkyMiles tickets to get your miles and fees back – so long as you book at least a main cabin fare.
SkyMiles Deals & Flash Sales
Delta gets a bad rap for not publishing an award chart, but there's a serious upside: Delta SkyMiles Flash Sales. They're often the absolute best way to use your SkyMiles, period.
The airline is always running these sales on award flights. Some of these are published, and Delta keeps a running a list of available sales on their site. But many of the best sales aren't publicized at all … at least not until we find them and send alerts to our Thrifty Traveler Premium members.
After hibernating during the first stages of the pandemic, they've come back with a roar, offering deeply discounted award rates for a fraction of what other airlines typically charge. These sales have really taken off, and it can be a huge win for travelers.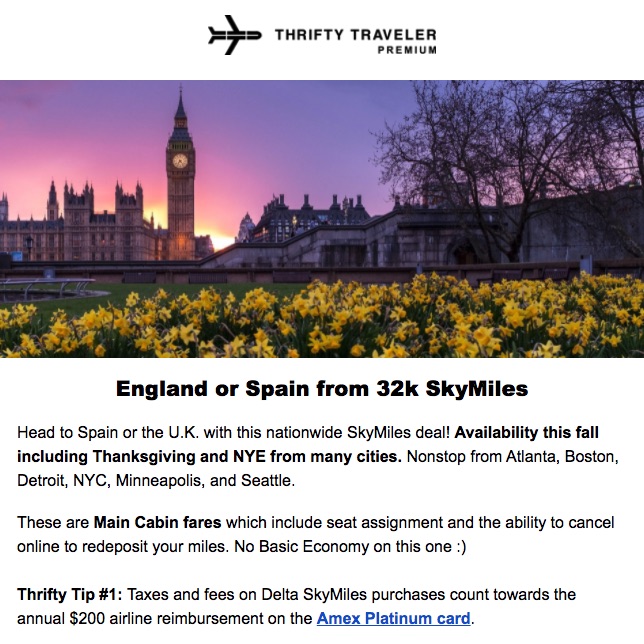 Get award alerts like this one, plus cheap domestic and international fares, with Thrifty Traveler Premium!
From domestic flights at just 8,000 SkyMiles (or less!) roundtrip to a trip abroad at a steep discount, jumping on one of these flash sales means you can spend half the SkyMiles than what you'd normally pay – if not even less. In our minds, there's no better way to use your Delta SkyMiles than with these flash sales. It's a big part of the reason why we value SkyMiles much more than many experts out there.
Just take a look at a small sample of the recent sales we've sent to Thrifty Traveler Premium members for domestic and international flights as far out as early 2023!
Want to fly Delta One business class? These flash sales are your best bet if you want to use SkyMiles to do it, as Delta occasionally slashes prices to fly in style, too. We've seen rates as low as 98,000 SkyMiles for a trip to Europe and back – and just 90,000 for roundtrip flights to Japan in Delta One.
Domestic Flights for 10K SkyMiles RT – Or Less!
While we generally warn travelers against using their miles for short domestic flights, it's a sweet spot with Delta. And even when there isn't a hot SkyMiles flash sale, you can snag a good deal with SkyMiles.
Shorter routes are fairly easy to find for roughly 10,000 SkyMiles round-trip. Flights shorter than 750 miles seem to be easiest to snag at this price, but even some longer flights make the cut. Be sure to book well ahead of your flight to ensure the lowest-priced SkyMiles award space is available.
Just beware that flights in and out of major Delta hubs like Atlanta (ATL), Minneapolis-St. Paul (MSP), or Salt Lake City (SLC) can be harder to get at low prices thanks to Delta's hub penalty.
For all the faults of Delta SkyMiles, you'll never find roundtrip domestic flights this cheap through other airline programs.
Round-Trip Flights to Europe for 70K SkyMiles on Delta Partners
When you're using SkyMiles to fly Delta, the rates can be all over the place. Its dynamic pricing system can make for some unpredictable (and often expensive) redemptions.
But you can also use SkyMiles to book partner airlines like Air France, KLM, Virgin Atlantic, and others. When you're booking partner airlines with SkyMiles, the prices are far more stable.
At 70,000 SkyMiles, you can snag a round-trip flight to almost anywhere in Europe for a fraction of the SkyMiles Delta often charges for its own flights. After a nasty devaluation in late 2020, that's up from the previous rate of 50,000 SkyMiles. Still, there can be solid savings if you can't find a better deal through a Delta SkyMiles flash sale.
The trick is making sure you're flying a partner like KLM, Air France, or Virgin Atlantic on the long flight across the Ocean – not Delta itself. And you'll want to book at least two months out to get these rates.
But perhaps the best part about this redemption is that it's not just good for nonstop flights to major hubs like London-Heathrow (LHR), Amsterdam (AMS), or Paris-Charles de Gaulle (CDG). So long as there's award availability, you can generally continue on almost anywhere in Europe and still pay just 35,000 SkyMiles each way.
Even smaller towns throughout France and Italy as well as harder-to-reach destinations like Greece or Turkey work! Flying from anywhere in the U.S. to Athens (ATH) and back for just 70,000 miles is a solid deal.

Business Class to the Middle East for 85K!
Update: Delta has since gutted this sweet spot, too, raising partner award rates for business class to the Middle East to 130,000 SkyMiles each way.
After not one but two major devaluations, flying business class to Europe or Asia on Delta's partner airlines is no longer a sweet spot.
Whether you fly Virgin Atlantic Upper Class to London-Heathrow (LHR), KLM business class to Amsterdam (AMS), or China Airlines business to Taipei (TPE), it now costs 120,000 SkyMiles each way. Sadly, that's a bargain compared to the 200,000-plus SkyMiles Delta often charges for a Delta One flight, but it still stings. Many of those flights cost just 75,000 SkyMiles each way just a year or so ago.
But one sweet spot escaped unscathed: Flights from the U.S. to the Middle East in business class still cost just 85,000 SkyMiles each way. This might be the best remaining business class redemption using SkyMiles.
There are a handful of routes and airlines to choose from, but our favorite by far is flying Virgin Atlantic's stellar new Upper Class class seats on the A350-1000 from New York City (JFK) and a handful of other cities to Tel Aviv. You'll connect in London-Heathrow (LHR) for a pitstop at the amazing Clubhouse lounge before continuing onward to Israel.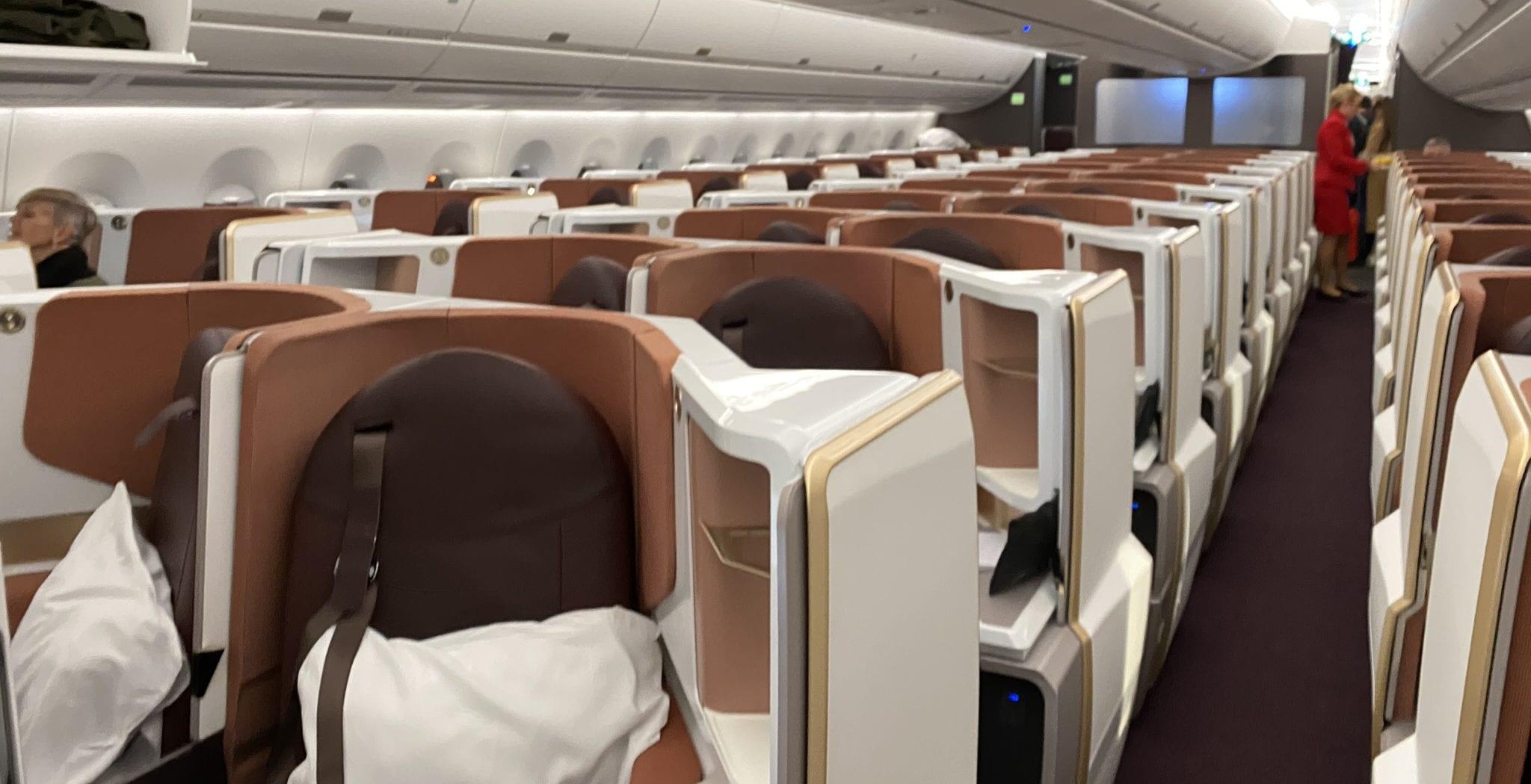 Read our full review of the new Virgin Atlantic Upper Class suites!
Buy Some Champagne in the Delta Sky Club
This won't be for everyone, but it's a fun one. And it's a great way to use your SkyMiles.
You can buy expensive (and delicious) bottles of champagne in the Delta Sky Club for as low as 4,000 SkyMiles. After a devaluation last year, SkyMiles won't get you as far when buying champagne (or other premium drinks): They're worth 1.5 cents apiece toward these beverages now, as compared to 2 cents each before.
Still, it's a great way to start any vacation with a bottle of champagne, starting at 3,200 SkyMiles.
Scharffenberger Brut Rosé (750ml bottle): 3,200 SkyMiles or $48
J Vineyards Brut (750ml bottle): 3,800 SkyMiles or $57
Veuve Clicquot Brut (750ml bottle): 6,000 SkyMiles or $90
Laurent-Perrier Rosé Brut (750ml bottle): 8,000 SkyMiles or $120
Dom Perignon Brut 2009 (750ml bottle / 5oz glass): 13,000 SkyMiles or $195 / 2,600 SkyMiles or $39
This deal has been around for a few years, and our team never hesitates to take advantage. Sky Club bartenders will even give you a bucket of ice if you'd like to drink it away from the bar.
If you've got a few thousand SkyMiles to burn, this is a great way to start your trip off right.
Read our guide to buying champagne in the Delta Sky Club using your SkyMiles!
Booking Flight Deals with SkyMiles
It won't always make sense, but you can use a novel feature of Delta's SkyMiles to book a cheap flight deal – and come out way ahead.
The Delta Pay with Miles feature allows you to put your SkyMiles balance toward the cash price of your flight. It's only available to American Express Delta cardholders. And as a bonus, you can still work toward earning Delta Medallion status by using this potentially powerful feature. Don't confuse it with Delta's Miles + Cash option, which is almost always a terrible deal.
When you use Pay with Miles, each SkyMile is worth 1 cent toward the fare, so 5,000 SkyMiles is worth $50 off your fare. And you have to pay in 5,000-mile increments.
While it's not the greatest value, you can come out ahead when you find a great flight deal here or through Thrifty Traveler Premium: It means you can book a flight for fewer miles than the standard award flight may cost. And unlike a normal award, you'll still earn Medallion Qualifying Miles (MQMs) toward Delta status – though even normal award tickets will earn MQMs in 2021!
Check out this example we found from New York-JFK (JFK) to Singapore (SIN) for around $450 or 45,000 SkyMiles round-trip. A typical award ticket on this route typically costs over 100,000 SkyMiles.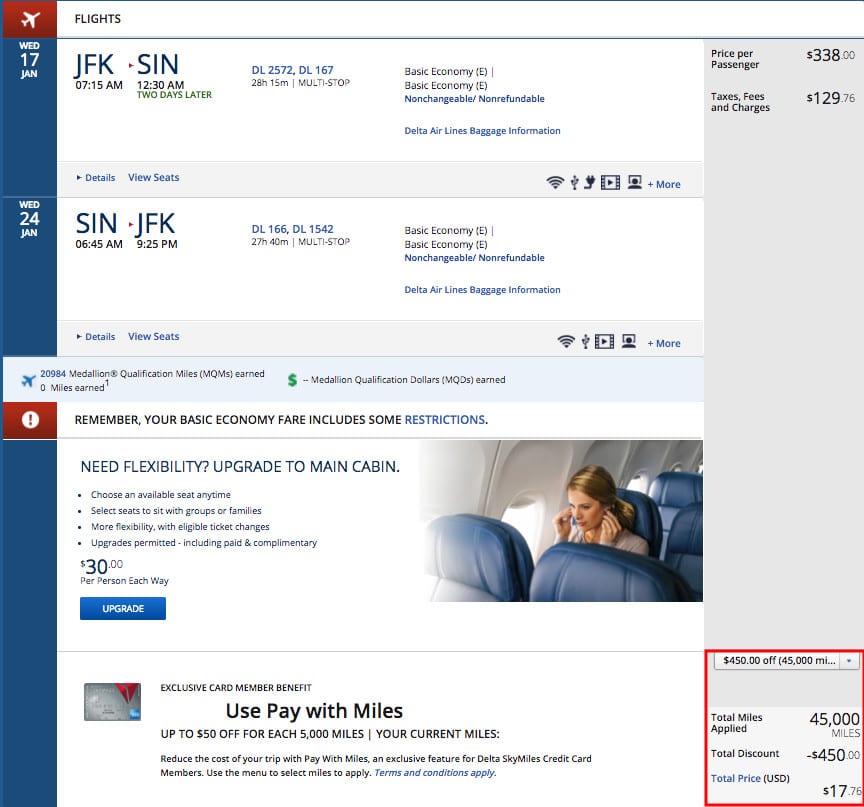 This is also how we've booked two round-trip tickets to Hawaii for $27.80. If you play it right, using this method can be one of the best ways to use SkyMiles.
Fly to Mexico and the Caribbean
SkyMiles can be unpredictable, and the routine flash sales mean you can snag some even better deals than this one.
But it's pretty easy to book a round-trip flight to Mexico in economy for 30,000 SkyMiles – and sometimes even less. That's a solid deal for a winter escape, as many flights during the peak season can cost $500 or more.
You can even save a few thousand SkyMiles by booking one of their basic economy awards, giving up free seat assignment and a few other benefits.

Domestic Trips to Alaska
Another one of our favorite Delta SkyMiles redemptions is for round-trip flights between the lower 48 States and Anchorage, Alaska (ANC).
Just as with the Caribbean, it's generally pretty easy to find nonstop, round-trip flights between cities like Atlanta (ATL), Minneapolis-St. Paul (MSP), Boston (BOS) and ANC for around 30,000 SkyMiles – and sometimes much less. Considering that's a six-plus hour flight, that's some pretty great value. Even if you're not in a Delta hub, you can find these flights for around 35,000 SkyMiles.

Delta is always unpredictable, but Alaska is a reliably cheap destination to put your SkyMiles to use.
How to Earn Delta SkyMiles
You've got plenty of options to pile up some SkyMiles for these redemptions.
Your first stop might be the Delta SkyMiles Cards from American Express, from the fan-favorite Delta SkyMiles® Gold American Express Card to the Delta SkyMiles® Platinum American Express Card and even the top-tier Delta SkyMiles® Reserve American Express Card. No matter which flavor you choose, there are a ton of SkyMiles up for grabs.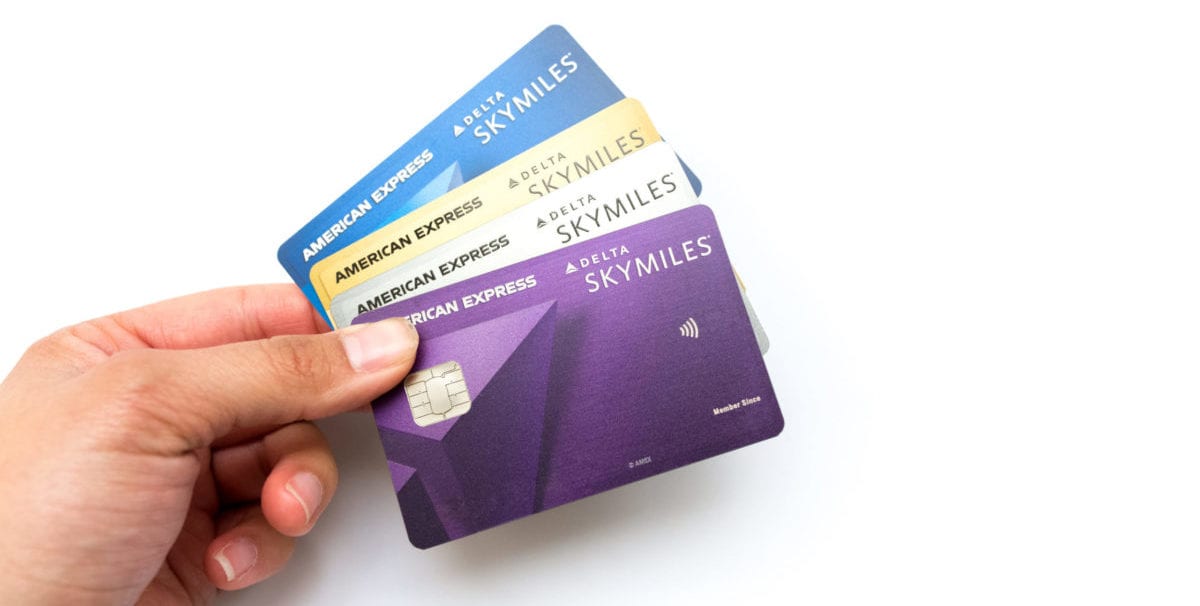 Not sure which Delta credit card is best? Read our guide to find which Delta credit card is right for you!
But your options for earning SkyMiles go beyond Delta credit cards.
Look at the American Express® Gold Card. It's one of the best credit cards, period, thanks to the 4x points it earns at both restaurants and U.S. supermarkets (on up to $25,000 each year). You can get a 60,000-point welcome bonus after spending $4,000 within six months – but check to see if you qualify for a massive 75,000-point bonus via CardMatch (terms apply).
Delta is an Amex transfer partner, which means you can instantly transfer these points to your SkyMiles account whenever you need them. Points transfer on a 1:1 basis, so 60,000 Amex points will get you 60,000 Delta SkyMiles.
There's a reason why we've named this card the single-best credit card to earn Delta SkyMiles.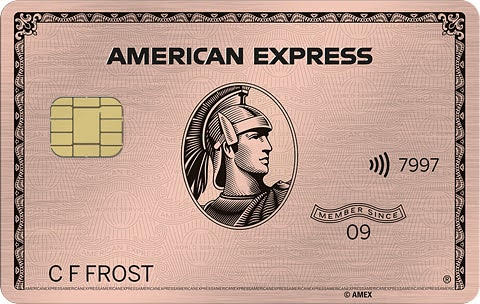 Click Here to learn more about the American Express Gold Card.
Want to earn even more Delta SkyMiles? Check out our master guide with all the best ways to earn SkyMiles in 2022!
Bottom Line
Delta SkyMiles are far from worthless. They just require a bit more work and care to ensure you're squeezing all the value you can out of them. And while these are some of the best ways to use SkyMiles, this list is far from exhaustive. It should get you started for getting the most out of your SkyMiles.