It's a good news, horrible news day for Delta basic economy fares. While the airline is giving flyers with their cheapest, most restrictive fares a new way to cancel upcoming trips for a fee and get an eCredit, they're gutting basic economy fares far deeper in another way.
Any Delta basic economy tickets booked starting Thursday, Dec. 9 for travel in 2022 and beyond will no longer earn any SkyMiles or any credits toward Delta Medallion status. Main cabin economy fares will still earn at least 5x SkyMiles per $1 spent on your ticket – but you'll have to pay more for that better standard fare.
So you'll earn no miles you can use on a future Delta trip when you buy Delta's cheapest fare. And you also won't earn any Medallion Qualifying Miles (MQMs), Medallion Qualifying Segments (MQSs), or Medallion Qualifying Dollars (MQDs) – the essential building blocks to earning status with Delta.
For years, Delta basic economy fares have earned SkyMiles just like any other fare. You'd earn at least 5x SkyMiles per $1 you spent on the ticket – or more if you've got status with the airline.
This change was quietly rolled out on Thursday, but it's reflected on Delta's website. The airline has not yet formally announced the change.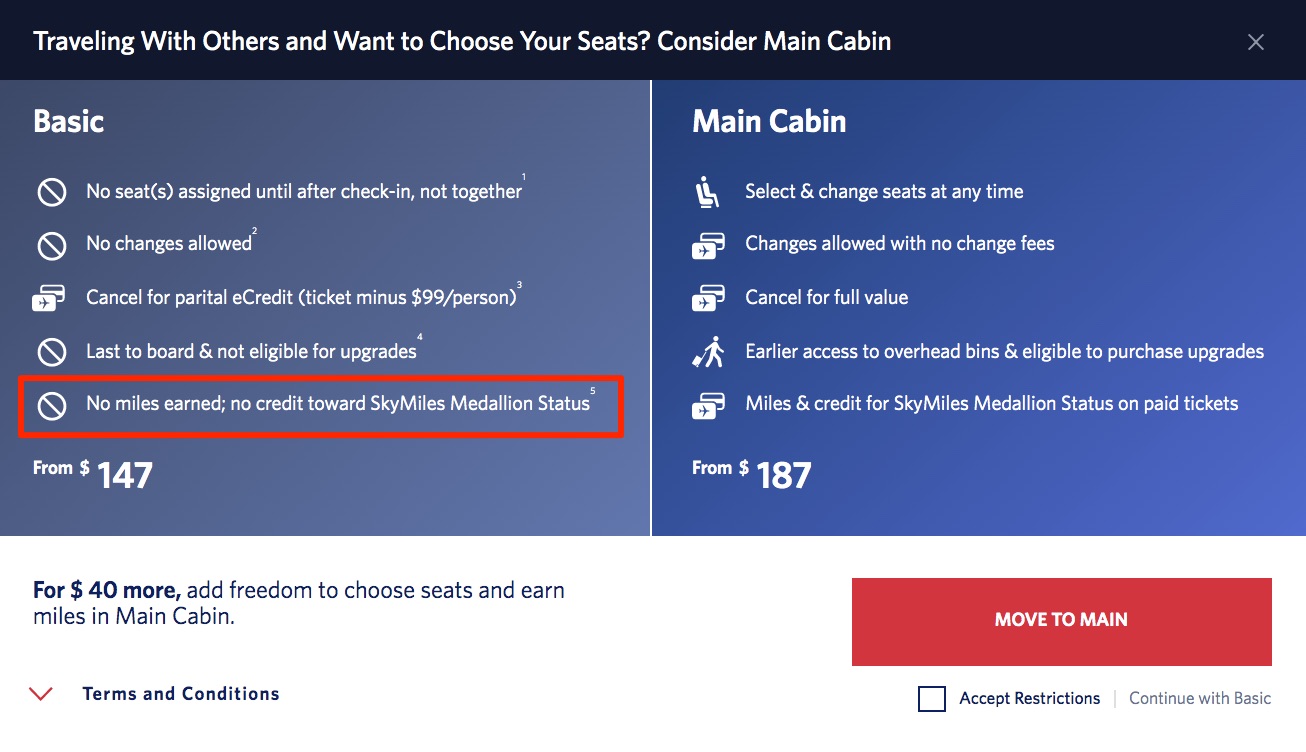 That is brutal. While some other major airlines exempt basic economy fares from building toward elite status, none have exempted them from earning redeemable miles.
Delta travelers with a co-branded Delta credit card in their wallet will still earn some SkyMiles when they purchase a Delta basic economy ticket with their card – just far fewer SkyMiles. Here's an example:
Before this change, buying a $300 basic fare with your Delta SkyMiles® Gold American Express Card would earn at least 2,100 SkyMiles: 600 SkyMiles for the purchase plus at least 1,500 SkyMiles once you take the flight.
With this change, you'd earn just 600 SkyMiles for the exact same flight
While Delta has led the way throughout much of the pandemic with customer-friendly moves, the airline is also notorious for punishing its SkyMiles program and other decisions that hurt consumers.
Delta was the first major U.S. airline to introduce basic economy fares way back in 2013, restrictive fares without free seat selection and other benefits that were designed to compete with budget carriers. To date, it's the only airline to sell basic economy award tickets when using SkyMiles – and that has expanded to much of Delta's network.
And Delta is notorious for charging an arm and a leg for redeeming SkyMiles, with constantly changing rates that fluctuate largely based on the cash price. They reminded travelers of that fact with a series of price hikes when booking partner airlines like Air France, KLM, and Korean Air using SkyMiles over the last year.
Now, they're getting even harder to earn. This change draws an even sharper line between basic economy and more-inclusive standard main cabin fares, which come with free seat assignment, free change and cancellation – and they earn SkyMiles.
As more Americans return to travel, it's all about convincing them to pay more to avoid basic economy – and get the "perks" that they once got for free. Delta typically charges an extra $35 or more each way to upgrade from basic to a main cabin fare within the U.S. – and often much, much more for an international ticket.
This isn't subtle. Delta executives have wondered aloud over the years "how much are people willing to pay" to avoid basic economy. This brutal change from Delta makes that upsell far more enticing.
That's a win for Delta's bottom line and a massive loss for consumers.
This is a breaking news story. Please check back for updates.