The average American eats in restaurants four or more times each week. Odds are, the average American is also leaving some airline miles on the table along with their tip.
Enter airline dining programs. They work like this: Sign up for a dining program and scope out the participating restaurants. Visit one, spend a certain amount of money, and pay with the card you registered. Then collect the bonus miles.
These bonuses can't compete with the big credit card sign-ups, but it's a great way to keep earning miles. And many airlines also offer larger bonuses to first-time users for hitting a few restaurants in the first month after signing up.
We'll run you through the various U.S. airlines that give you a way to earn more miles while you eat.
Delta SkyMiles Dining
Delta's SkyMiles Dining program is simple as can be. Sign up with your SkyMiles account number and register with a specific credit or debit card. Explore the participating restaurants in your area and head that way.

When it comes time to pay, just use the card you registered with and voila: You'll earn 3x SkyMiles for every dollar you spend. As with all dining programs on the list, you don't need to hold the airline's co-branded credit to get the bonus. Just be sure to pay with whatever card you registered.
Thrifty Tip: Want to earn even more miles or points when you're dining out? Register and pay with a credit card that earns more points on all dining like the American Express Gold or Chase Sapphire Reserve. Read our guide on the best cards to use at restaurants.



But it gets better. Delta offers up to 3,000 SkyMiles to new members in the dining program if you spend at least $30 (taxes and tips count!) at three restaurants within the 30 days of registration. You'll earn 500 SkyMiles for the first visit, 1,000 SkyMiles for the second, and 1,500 SkyMiles for the third. In order to earn those bonuses, you'll also need to leave a review of each restaurant through the SkyMilesDining.com review portal.
Registration for that promotion closes Feb. 28, so sign up now and start eating!
American Airlines AAdvantage Dining
American Airlines' AAdvantage Dining program operates much the same as Delta's. Sign up, link your AAdvantage account number, register with a credit or debit card, and start eating.
You can earn 3x AAdvantage miles for every dollar you spend at participating restaurants when you use the card you registered with. Again, no need to register with an American Airlines co-branded credit card to get the bonus miles.
American also offers a bigger bonus to first-time dining program members. And while it's not as lucrative as Delta's, it is easier to earn.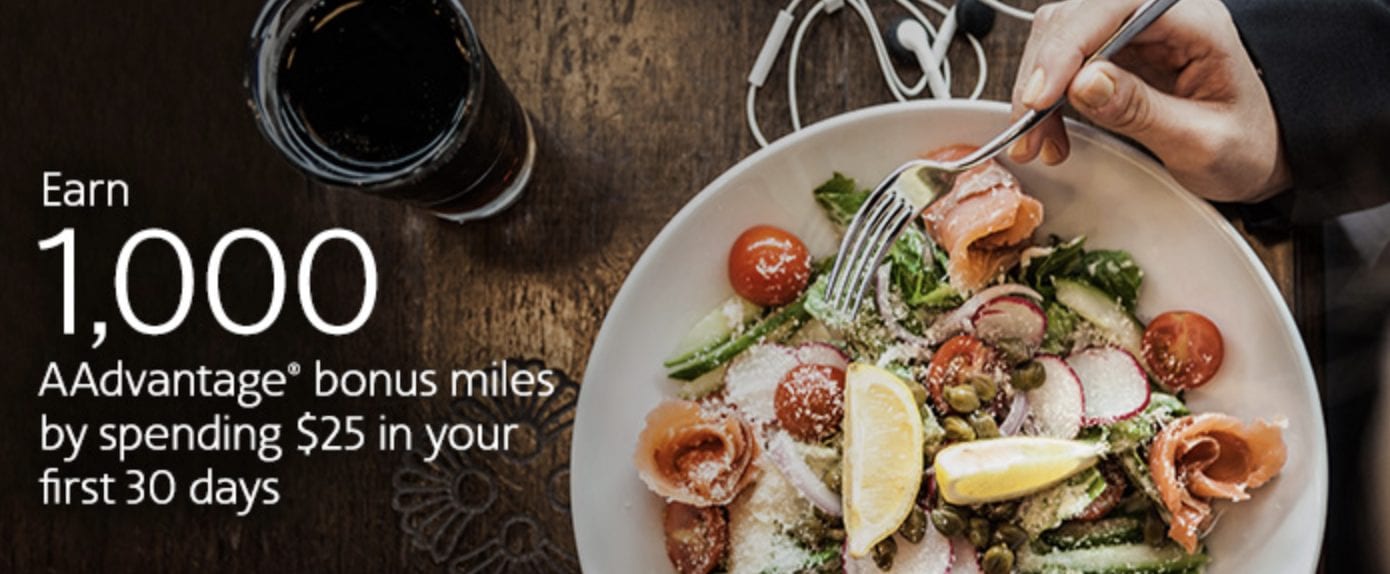 After spending $25 or more at one participating restaurant, you'll earn 1,000 bonus AAdvantage miles. And that's in addition to the 3x miles you'll earn to begin with.
Just be sure to sign up before Feb. 1, when this promotion ends. And ensure you're opted in to receive emails from AAdvantage Dining, or else you won't get the bonus.
United Airlines MileagePlus Dining
I'm starting to sound like a broken record, but United's dining program works just like the others. Get signed up, link your frequent flyer account, register with any credit or debit card you'd like and you're set.
And again, you'll earn 3x United miles for every dollar of your dinner bill at a participating restaurant. United also offers some bigger bonuses for new dining program members, but theirs works a tad different.
New users can earn up to 2,500 bonus United MileagePlus miles. The first 1,000 after spending $25 or more at participating restaurant. After that, you can earn 500 bonus miles for each of the next three restaurant visits. Sign up before Feb. 1 and make sure you opt-in to receive emails from the dining program. Otherwise, you won't get those bonus miles.
Alaska Airlines
Alaska Airlines' MileagePlan miles are some of the most valuable miles out there, as you can use them to book a swanky Emirates First Class, a trip to Hong Kong on Cathay Pacific, and much more. And their dining program is a way to keep earning those miles.
Like the other dining programs, you can earn 3x Alaska MileagePlan miles for each dollar you spend at a participating restaurant. Just search to see what restaurants are available in your area. And there's also a bonus for new users.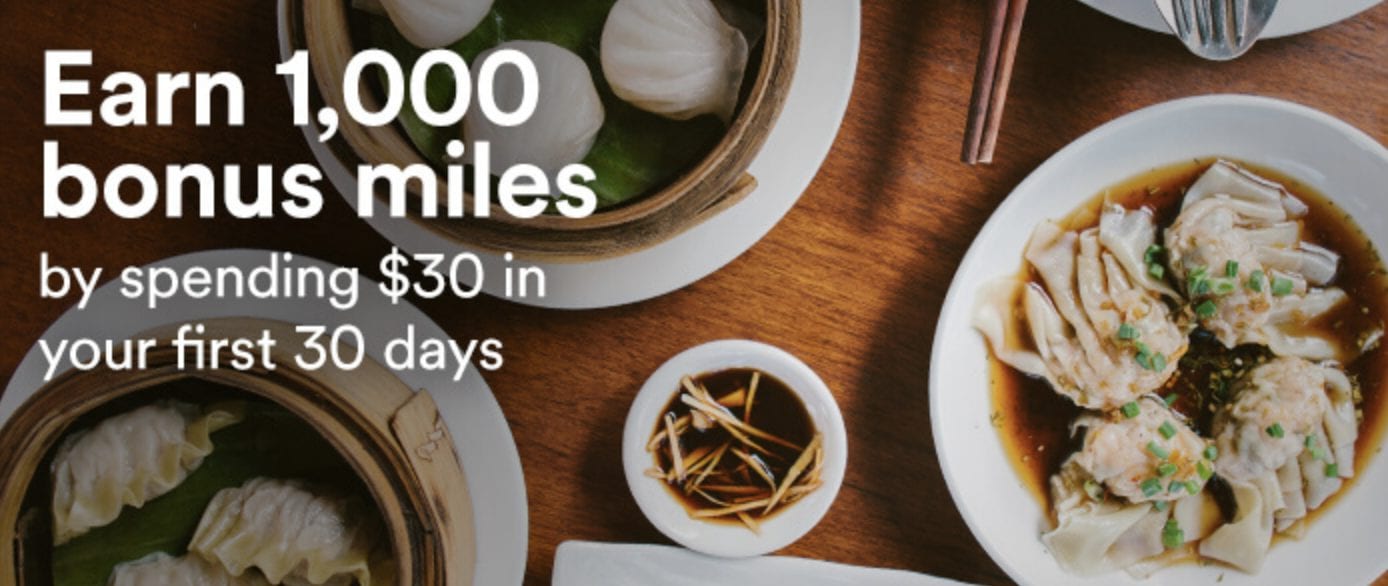 You can quickly earn 1,000 extra MileagePlan miles after spending $30 at a participating restaurant. Just be sure to pay with your registered card and leave a review through the dining portal within 30 days of your meal.
This promo lasts far longer than the other big airlines. You've got until July 31, 2019 to get signed up.
Southwest Airlines Rapids Rewards Dining
Southwest's dining program works like all the rest. Sign up, link your frequent flyer account, register with a card, opt-in for emails and you'll earn 3x miles for every dollar you spend at a restaurant.
And similar to other airlines, there's also a promo for new members. Unfortunately, it's not as compelling as other offers. You can earn up to 1,000 bonus miles by spending at least $25 at three participating restaurants within 30 months. You get 500 miles for the first restaurant and another 250 for the second and third.
Additionally, miles earned from the Southwest Rapid Rewards dining program count towards earning a Companion Pass.
But depending on how much you dine out, Southwest's dining program could be the most lucrative. That's because you can keep earning more bonuses as you head to more restaurants.
Bottom Line
Unless you're a total glutton (no judgment), you're probably not going to get enough miles from dining out to take your next vacation. But there's no reason not to take advantage of these dining programs and get to that next vacation faster.