Way back in 2018, Marriott Hotels finalized its acquisition of Starwood Preferred Guest (SPG) to officially become the largest hotel brand in the world. And that came with a silver lining: Marriott inherited the ability to transfer hotel points to airlines, a fan-favorite feature of SPG points.
It won't always make sense to use your hard-earned Marriott Bonvoy points this way: Unlike transferring credit card points, you won't get 1 airline mile for every Bonvoy point you transfer. But you do get a bonus when transferring at least 60,000 Marriott points – and the ability to transfer points to airlines is unique among hotel programs.
So let's walk through how to transfer Marriott points into airlines and everything you need to know to do it.
Related: Can You Transfer Marriott Bonvoy Points Between Accounts?
Marriott Bonvoy Transfer Partners
You can transfer your Bonvoy points to a few dozen different airlines all over the globe. But these transfer look differently than you might expect.
Generally, you'll get 1 airline mile for every 3 Marriott Bonvoy points you transfer. That means a transfer of 30,000 Bonvoy points gets you 10,000 miles. That's not a great deal, but it could make sense – especially if you're flush with Bonvoy points.
But there's a sweetener: You'll get a 5,000-mile bonus when you transfer at least 60,000 Marriott points. That means 60,000 Bonvoy points gets you 25,000 miles. A transfer of 120,000 Bonvoy points nets you 50,000 airline miles. You get the picture.
In all, there are 41 airline transfer partners for Marriott Bonvoy at time of publication. That includes some mainstay carriers like Delta, American, and United as well as some lucrative niche options including Asiana, Korean Air, Japan Airlines, and others.
| Frequent Flyer Program | Marriott Rewards Points to Partner Airline Miles | Transfer Time |
| --- | --- | --- |
| Aegean Airlines | 3:1 | 3 days |
| Aer Lingus AerClub | 3:1 | 3 days |
| Aeroflot Bonus | 3:1 | Up to 20 days |
| AeroMexico ClubPremier | 3:1 | 4 days |
| Air Canada Aeroplan | 3:1 | 4 days |
| Air France/KLM Flying Blue | 3:1 | 3 days |
| Air New Zealand Airpoints™ | 200:1 | 24 hours |
| Alaska Airlines Mileage Plan® | 3:1 | 4 days |
| Alitalia MilleMiglia | 3:1 | 7 days |
| ANA Mileage Club | 3:1 | 4 days |
| American Airlines | 3:1 | 48 hours |
| Asiana Airlines Asiana Club | 3:1 | 4 days |
| Avianca LifeMiles | 3:1 | 24 hours |
| British Airways Executive Club | 3:1 | 3 days |
| Cathay Pacific Asia Miles™ | 3:1 | 5 days |
| Copa Airlines ConnectMiles | 3:1 | 3 days |
| Delta SkyMiles® | 3:1 | 24 hours |
| Emirates Skywards® | 3:1 | 3 days |
| Etihad Guest | 3:1 | 3 days |
| Frontier Airlines Miles | 3:1 | 6 weeks |
| Hainan Airlines | 3:1 | 8 days |
| Hawaiian Airlines HawaiianMiles® | 3:1 | 24 hours |
| Iberia Plus | 3:1 | 24 hours |
| InterMiles | 3:1 | 7 days |
| Japan Airlines JAL Mileage Bank | 3:1 | 48 hours |
| JetBlue TrueBlue™ | 6:1 | 24 hours |
| Korean Air SKYPASS | 3:1 | 48 hours |
| LATAM Airlines LATAM Pass | 3:1 | No data |
| Multiplus Fidelidade | 3:1 | No data |
| Qantas Frequent Flyer | 3:1 | 48 hours |
| Qatar Airways Privilege Club | 3:1 | 3 days |
| Saudia Airlines | 3:1 | 5 days |
| Singapore Airlines KrisFlyer® | 3:1 | 48 hours |
| South African Airways Voyager | 3:1 | No data |
| Southwest Airlines Rapid Rewards® | 3:1 | 24 hours |
| TAP Air Portugal Miles&Go | 3:1 | No data |
| THAI Airways | 3:1 | 4 days |
| Turkish Airlines Miles&Smiles | 3:1 | 3 days |
| United MileagePlus® | 3:1.1 | 3 days |
| Virgin Atlantic® Flying Club | 3:1 | 48 hours |
| Virgin Australia Velocity Frequent Flyer | 3:1 | 24 hours |
| Vueling Club | 3:1 | No data |
As you can see,  all airline partners transfer at a 3:1 ratio – except United Mileage Plus, JetBlue TrueBlue, & Air New Zealand Airpoints.
United MileagePlus transfers with a 10% bonus, so 60,000 Marriott points = 27,500 United miles. That's a bit better than the 3:1 ratio with other airlines.
JetBlue TrueBlue transfers at a 6:1 ratio. 60,000 Marriott points = 12,500 JetBlue TrueBlue points. That's a bad deal, considering you can transfer points to JetBlue at a 1:1 ratio from both Chase Ultimate Rewards and Citi ThankYou and on a 1.25:1 ratio with American Express points.
Air New Zealand Airpoints transfers at a ratio of 200:1, so 60,000 Marriott points = 325 points. This is an awful ratio and you should never consider this transfer option.
How to Transfer Marriott Bonvoy Points to Partner Airlines
Once you have decided where to send your Bonvoy points, you can start the transfer process by following this link. Once you click on the "Transfer Points" button, you will be prompted to log into your Marriott Rewards account (if you aren't logged in already.)
From here, you simply select one of the airline transfer partners from a drop-down menu. You will then enter your frequent flyer number for that airline and the number of Marriott Bonvoy points you wish to transfer. You must transfer at least 3,000 Marriott points, yielding 1,000 airline miles (with most airlines).
And remember, for every 60,000 Marriott points you transfer, you'll receive a 5,000 airline mile bonus. So 60,000 Marriott Bonvoy points would net you 25,000 airline miles. So unless if you're simply topping off an airline account to complete a redemption, transferring at least 60,000 points is a wise move.
Marriott allows you to transfer up to 240,000 Bonvoy points each day. And like all transferable points currencies, the transfers are one way. That means you can not transfer points back to your Marriott Bonvoy account once the transfer has been completed. All transfers you make are final.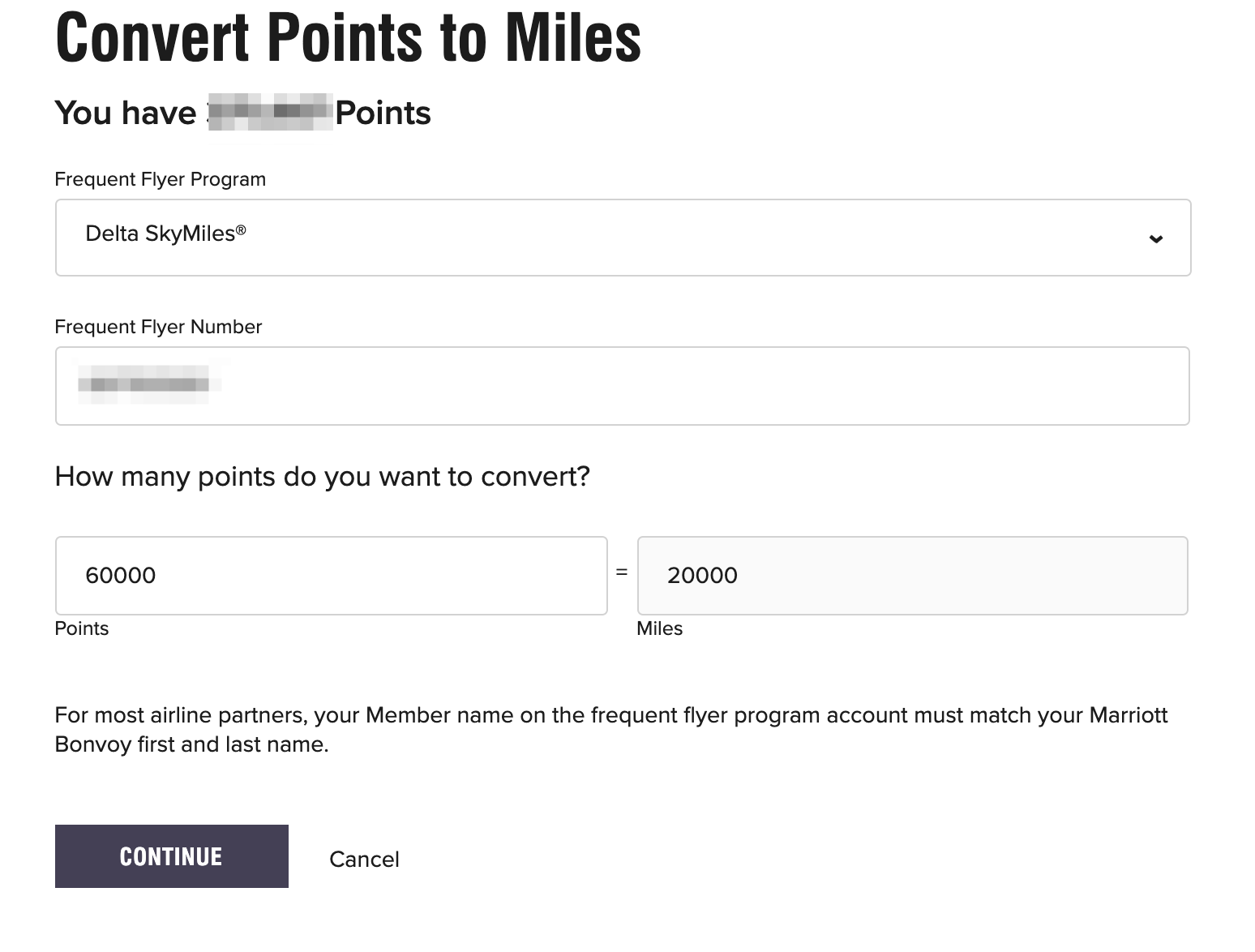 You will need to have a frequent flyer account with the airline you plan to transfer to. If you don't have one, you will have to create one before completing a transfer.
Additionally, your name on the Marriott Bonvoy account and the airline frequent flyer account must match. You cannot transfer points from your Bonvoy account to somebody else's frequent flyer account.
Finally, when you transfer Marriott Rewards points into partner airlines, make sure you build in time for the transfer to complete. As you can see, none of the airlines have instant transfers from Marriott – something you will see from other transferable points currencies. Some can take days to complete. Generally speaking, most U.S.-based airlines should accept your transfer request within 24 hours.
When it Makes Sense to Transfer Marriott Points to Airlines
While transferable points programs like Chase Ultimate Rewards, American Express Membership Rewards, Citi ThankYou Points, and even Capital One Venture Miles steal the show in terms of value, there is no denying the flexibility of Marriott Bonvoy points in terms of transferring them to airline partners. But that flexibility comes at a cost: With a transfer ratio of 3:1, Marriott points simply won't get you as far.
Generally, we still think you'll get the most value out of your Bonvoy points by using them to book free nights at thousands of Marriott properties around the world. If you're mostly concerned with maximizing the value of your Bonvoy points, stick to using them for free night stays – perhaps at the upcoming Le Méridien Maldives.
So when does it make sense to transfer Marriott points to airlines? The answer to that question will be different for everybody. But it can be a great option if you need to top off your airline frequent flyer account to get enough miles for a redemption. Let me give you an example.
Let's say you have 47,000 Delta SkyMiles and you are looking to book an award ticket that costs 50,000 SkyMiles. To get those final 3,000 miles, you could buy them from Delta … but that's a bad deal. If you had a card that earns American Express Membership Rewards like the Platinum Card from American Express, you could transfer those points to Delta on a 1:1 basis.
But you've also got the option to transfer 9,000 Marriott Bonvoy points to your Delta, netting you the final 3,000 SkyMiles you need to book your ticket.
There are some other cases where it could make sense, too. Some airline programs like Korean Air or Asiana have incredibly lucrative award charts that allow you to book flights for far fewer miles than their competitors. But those airline miles are difficult to earn – unless you have a stash of Marriott Bonvoy points to transfer. Even with a 3:1 transfer ratio, you could still come out ahead.
At the end of the day, your decision should be based on how many points you have, how quickly you need them in your airline account, and how much you value each of the options. If you have 600,000 Marriott points, parting way with 9,000 of them for the purpose of this redemption might be easier than if you only have 4,000 American Express Membership Rewards points and you need to use 3,000 of them.
Situations like these are why we are big believers in diversifying your points and miles portfolio. When you have more than one option, it allows you to make the best decision for you.
Bottom Line
The ability to transfer Marriott points to airlines is a valuable part of the Marriott Bonvoy program and something to keep in mind if you have a big stash of Marriott points. While you can certainly find more value when using Marriott points by booking hotels, it can be a solid option if you need to top off your account with a certain airline to make an award booking.