Whether you're just getting started with points and miles or a seasoned award traveler, credit card points and airline miles can make your head spin. What's a good deal when using your miles … and what's not?
That's especially hard to figure out when it comes to Delta SkyMiles. Years ago, Delta ditched the award chart that set prices when using SkyMiles, moving to a dynamic pricing model that means how many SkyMiles you need to book a flight is constantly changing based on the cash price, demand, time of year, and more.
So how much are Delta SkyMiles worth? That's tricky to pin down, as it varies just as wildly as what Delta will charge you to book a flight with SkyMiles. Delta's new TakeOff 15 benefit, which gives Delta American Express credit cardholders a 15% discount on flights booked with SkyMiles, there's a new wrinkle.
But, we've crunched some numbers that can help be a guide for what you should get when redeeming your SkyMiles  – and reassure you that they are not worthless.
Related reading: 7 of the Best Delta SkyMiles Redemptions
Compare to Cash Prices
There's a simple formula that can help you understand just how far your miles are getting you: CPM, or cents per mile. It works like this.
Cost of flight in cash / cost of same flight in miles = cents per mile (cpm)
Here's a simple example. Say you're looking at a $250 flight from Minneapolis-St. Paul to Las Vegas (LAS). You plug that same flight into Delta.com and search with SkyMiles to find that you could book it for 25,000 miles. Take $250 and divide it by 25,000 and you get .01 – exactly 1 cent.
But that's not set in stone. A stash of 10,000 SkyMiles won't always cover $100 in airfare. It's constantly changing, just like airfare in general.
So we crunched some numbers, running hundreds of searches on Delta's site to compare the cash cost against using SkyMiles. In doing so, we confirmed a trend and established a baseline to help you understand the value of SkyMiles when booking flights.
Here's a real example. A long weekend trip from Minneapolis (MSP) to Las Vegas (LAS) in January of 2024. As you can see, if I were to pay cash, the ticket would cost $437.80.

That exact same flight using SkyMiles costs 52,000 miles.

Follow the formula above and you'll calculate that in this example, your SkyMiles are worth about 1.1 cents each.
Or how about this example of a long weekend trip between Chicago O'Hare (ORD) and Los Angeles (LAX) in February 2024? As you can see, if I were to pay cash, the ticket would cost $658.40.

That exact same flight using SkyMiles costs 56,500 miles. Follow the formula above and you'll calculate that in this example, your SkyMiles are worth about 1.17 cents each.
In our experience, that's fairly average for most domestic flights, and you can expect to get between 1.1 to 1.2 cents each for your SkyMiles when you use them for domestic flights. 
Introducing the TakeOff 15 Benefit
Want to get more value for your SkyMiles? Look no further than Delta's new TakeOff 15 benefit. It's a new benefit for Delta SkyMiles American Express cardholders that provides at least a 15% discount when redeeming SkyMiles for Delta-operated flights.
It's available on both consumer and business versions of the Delta SkyMiles Gold, Platinum, and Reserve credit cards. Only the no-annual-fee Delta SkyMiles® Blue American Express Card won't have access to the new benefit.
The TakeOff 15 discount will be automatically applied at checkout when you are booking with SkyMiles as long as you are logged into a Delta account associated with a SkyMiles credit card. There's no limit to the number of times the TakeOff 15 benefit can be used and the discount will apply no matter which fare class you're booking.
Looking at our same examples from above, you can see that your SkyMiles will simply go further if you have one of the eligible Delta cards. For our Minneapolis (MSP) to Las Vegas (LAS) flight, the price drops from 40,500 SkyMiles to just 34,400 SkyMiles with TakeOff 15.
Using the formula above and you'll calculate that in this example, your SkyMiles are worth about 1.27 cents each.
Looking at our example from Chicago O'Hare (ORD) and Los Angeles (LAX), the price in mileage drops from 56,500 SkyMiles to just 48,000 with the 15% discount.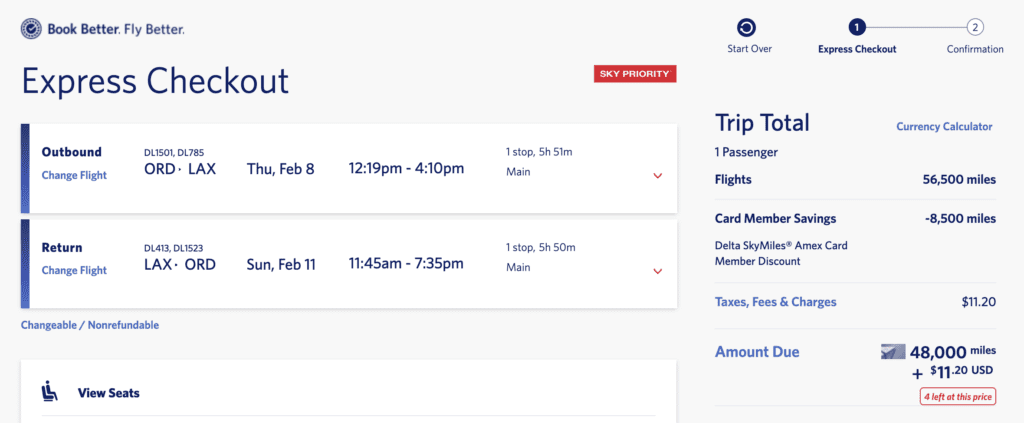 Using our formula from above, your SkyMiles are worth 1.37 cents each for Delta credit cardholders.
Notably, we noticed through these examples that Delta isn't just increasing the SkyMiles price 15% for cardholders and then showing a 15% discount on that price. The savings are legitimate and holding a Delta c0-branded credit card is the best way to get more value out of your SkyMiles.
Beware of the Delta Hub Penalty
With no award chart, Delta award prices act more like cash fares. And that's not all bad.
But as you dive into flight pricing with SkyMiles, you can clearly see how Delta's hub penalty works … and how it works against travelers based in Delta's hubs.
Say you're in Seattle (SEA) and want to pop down to Denver (DEN). You're in luck because it's pretty easy to find a good deal for just 11,000 SkyMiles round-trip – and less if you're willing to book a basic economy award.
However, if you want to fly to Delta's major hub in Salt Lake City, you can typically expect to pay more – even for a much shorter flight. Why? Because you're flying into a Delta hub, on a route where Delta dominates with far less competition.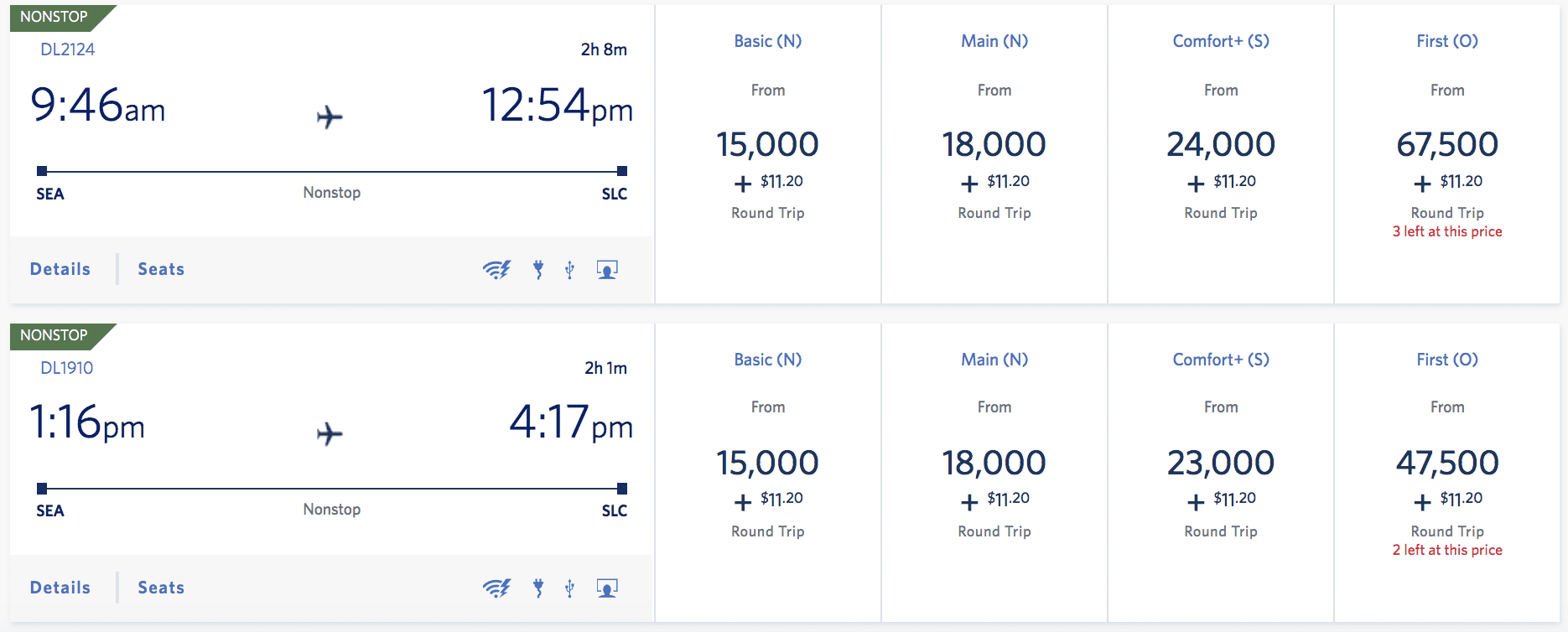 Meanwhile, airports big and small where Delta doesn't have a huge presence – like Chicago-O'Hare (ORD) or even Chicago-Midway (MDW) – are often the best ways to score a good deal with cash or SkyMiles, on long-haul or short flights.
If Delta wants to charge you too many SkyMiles for your flight, try adding in a short flight on either side to see if it brings down the price.
Long story short, your miles won't go quite as far if you are flying to or from Delta hubs like Minneapolis-St. Paul (MSP), Detroit (DTW), Atlanta (ATL), Seattle (SEA), and more. Since Delta has such a stronghold on the competition in these markets, they can simply charge more for certain routes being that they are not tied to an award chart.
Read more: Our Least Favorite Part of Delta SkyMiles: The Hub Penalty
Avoid Booking Delta One Business Class with SkyMiles
The Delta One Suites are some of the newest and nicest business class seats flying today. But if you want to book it with SkyMiles, be warned: You'll need a lot of them.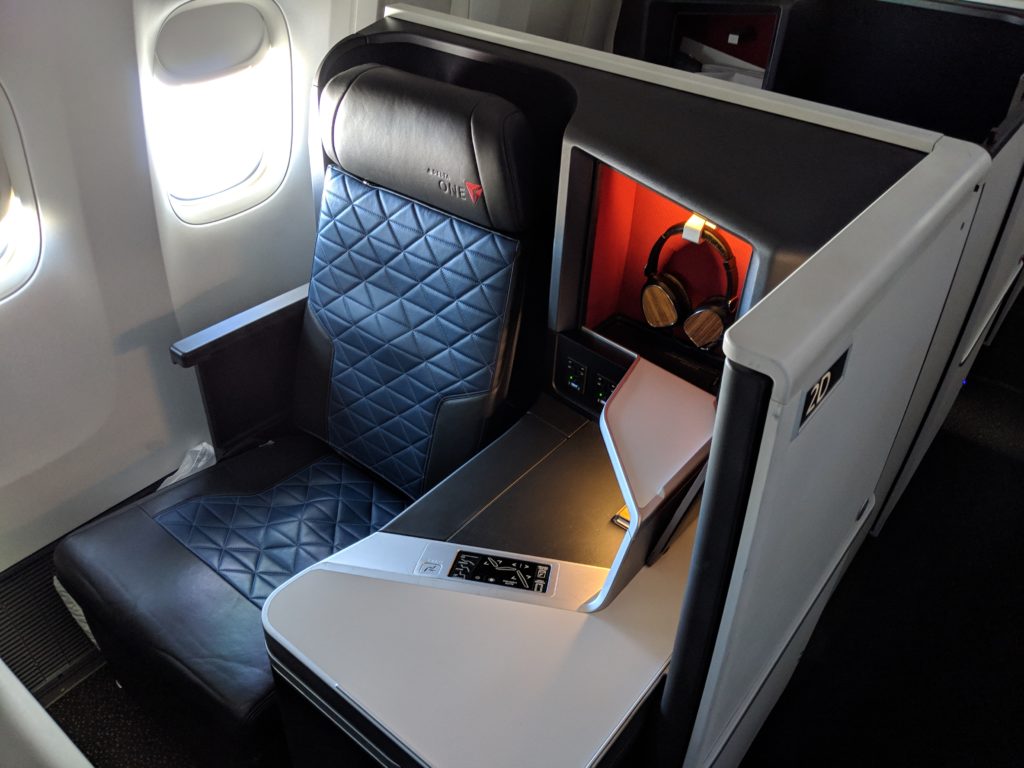 Take, for example, the flight below from Detroit (DTW) to Amsterdam (AMS) next February. Delta flies their fancy new Airbus A350 planes equipped with the Delta One suites on this route.
Delta wants $3,782 for this one-way flight to Europe. While many other airlines cut flyers a sweet deal when using miles to book premium seats, Delta doesn't. This same flight will cost you 375,000 SkyMiles.

We occasionally see discounted rates for Delta One redemptions through SkyMiles flash sales, but they're rare. In fact, the norm in recent years has become paying 240,000 SkyMiles to 400,000 SkyMiles each way. In almost every case, you'll be getting just 1 cent in value from your SkyMiles on these pricey fares.
If you hold a Delta card and can take advantage of the TakeOff 15 benefit discussed above, the price using miles will drop to 318,700 (a 15% discount). That means in this example if you have access to the TakeOff 15 benefit, your miles are worth about 1.18 cents each.

As you can see, using SkyMiles to book business class flights is a poor value. Not only will it require an absolutely silly amount of miles, they simply won't go as far as they will when you are booking domestic flights.
Upgrading with SkyMiles is Even Worse
Back in 2018, Delta rolled out the ability to upgrade your seat with SkyMiles. That means you can buy a main cabin economy ticket, then use SkyMiles to upgrade to Comfort Plus or first-class – or even Premium Select or Delta One on long-haul flights.
The appeal is undeniable. In 2019, Delta indicated that 4,000 flyers were using SkyMiles to upgrade each day. That number has likely even bigger coming out of the pandemic.
But in our minds, it's not a great value for your SkyMiles. In almost every case, you'll get roughly 1 cent for each SkyMile you use.
Take for example an upcoming flight I have from Minneapolis-St. Paul (MSP) to Salt Lake City (SLC). I have already received a complimentary upgrade to Delta Comfort+ thanks to my Delta Platinum Medallion status, but I can upgrade my ticket on the way to Salt Lake City to First Class by paying $332.18 or 30,900 SkyMiles. It's almost exactly 1 cent per SkyMile compared to the cash price in all the examples we looked at.
Plus, there is no path to use the TakeOff 15 benefit to get a 15% discount when using miles to upgrade.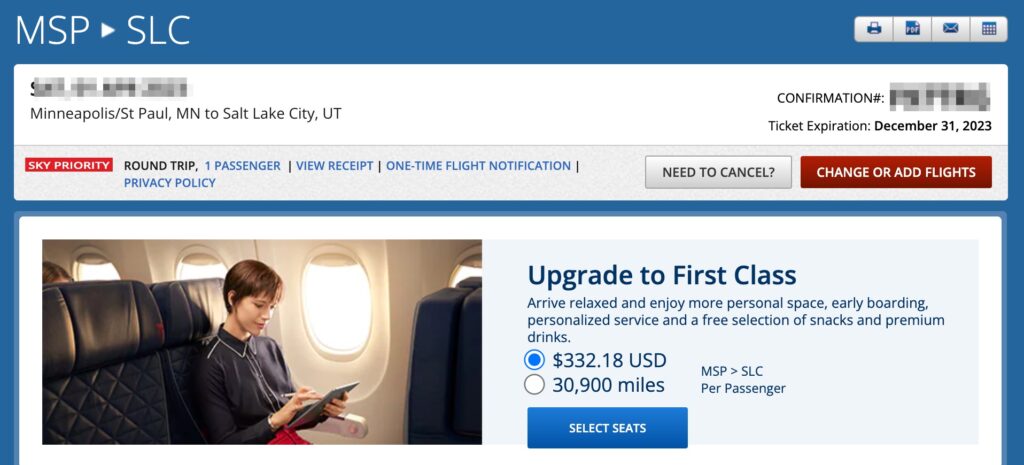 You are almost always better off booking the cabin you want to fly from the start. In my case, I would have spent less SkyMiles by just booking first class from the start.
Read more: Can You Upgrade with Miles After Buying a Flight?
Tips for Maximizing the Value of Delta SkyMiles
We've gone through a few things to avoid when it comes to using your SkyMiles, so let's talk about some ways in which you can maximize the value of your SkyMiles.
Delta SkyMiles Flash Sales
We can't stress this enough. There is no better way to maximize the value of Delta SkyMiles than by booking a Delta SkyMiles flash sale.
When Delta implemented dynamic award pricing back in 2016, that came with a big downside: Unpredictable rates that can swing drastically day by day, and often 250,000 SkyMiles or much more to fly business class as previously discussed. But, there's a major upside for travelers: Delta now has the freedom to cut award rates even lower, too.
Call them SkyMiles flash sales or SkyMiles deals, whatever you want – they can be amazing. Sometimes it's an easy way to save a few thousand SkyMiles on a trip. Other times, you'll save 50% of your miles or more, making it easily the cheapest way to travel with miles. Like SkyMiles themselves, the deals vary greatly. Oftentimes, they are unrelated to the cash price of the same flight so you can get serious value out of your SkyMiles.
If you're flexible, and willing to go wherever you can for a good price, these deals are unbeatable. There's no telling when Delta will cut award rates on flights to the Caribbean islands. Or Mexico resort towns. Or top spots all across Europe or Asia.
We've found some of the best-ever SkyMiles flash sales with deeply discounted rates to Hawaii, Alaska, Mexico, Europe, Puerto Rico, Costa Rica, and beyond. Here's a small sample of the best deals we've found.
Want the next crazy SkyMiles flash sale like this? We find unpublished sales and send them to Thrifty Traveler Premium+ members, along with cheap domestic and international cash fares.
Use the Delta Award Price Calendar
When you are looking to use your Delta SkyMiles, one of the first things we recommend doing is to look at the price calendar for your route. That's the key to finding the best deal for your SkyMiles – and squeezing more value out of them.
Giving yourself a five-day view by selecting "Flexible Dates" after starting your search – or even five weeks by picking "Price Calendar" – can give you a better sense of what an award ticket can (or should) cost when you're looking to go.
Look at these flights between Minneapolis and Las Vegas, for instance. Though I entered Thursday, March 10 to Sunday, March 13, this view shows me that I could save 34,000 SkyMiles by departing on a Tuesday or Wednesday instead.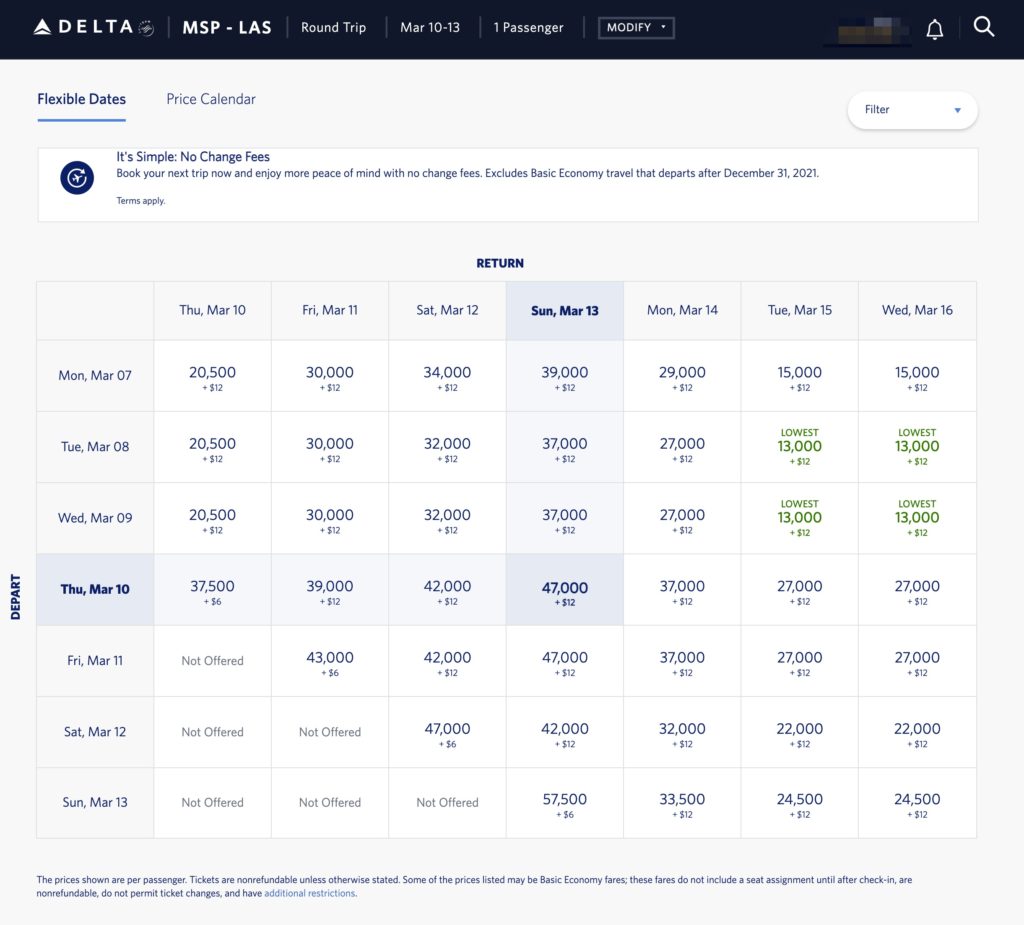 If you know how many days you want to be gone, you can click over to the "Price Calendar" tab for an even longer look at possible trips.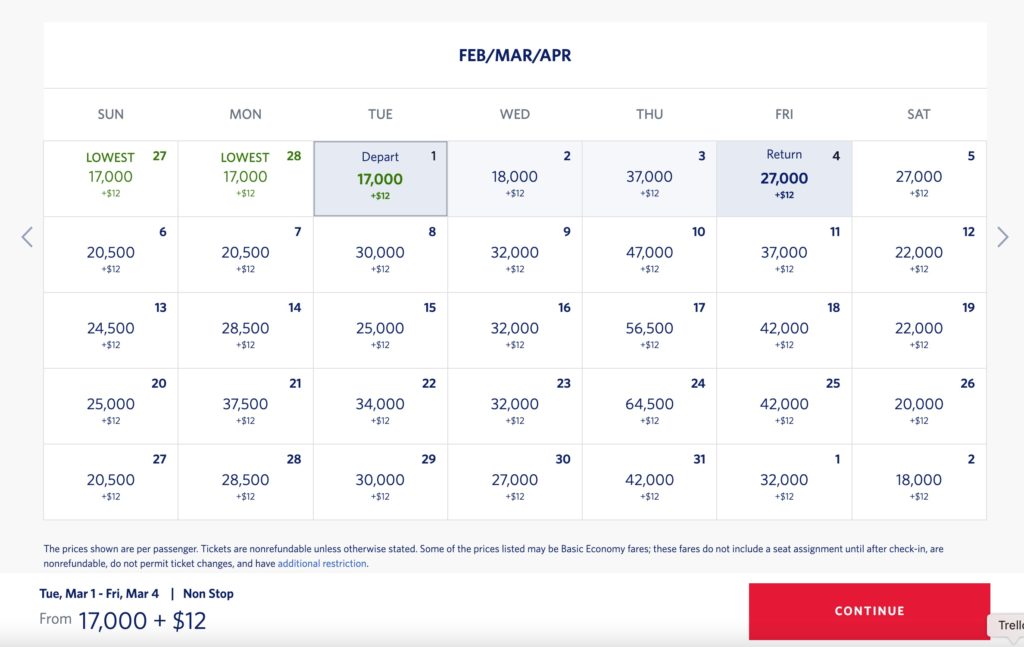 This isn't unique to Delta SkyMiles, but having some flexibility with your days will be key when it comes to getting the most out of your SkyMiles. Even adjusting your departure or return dates by one or two days can save you tons of miles. Again, these rates should closely mirror the cash price of the flight, unless of course there is a SkyMiles flash sale happening.
So, How Much Are Delta SkyMiles Worth?
So, what do we make of this? Are SkyMiles worth 1.1 cents each? Are they worth 1.8 cents apiece? Or are they really worth 4 cents or more?
The answer is yes – to all of the above. That's because how much your SkyMiles are worth depends upon how you use them. But after running hundreds of searches like these, here's what we can tell you.
You should be able to get 1.1 cents to 1.3 cents or more in value out of your SkyMiles. That's our barometer for what's a good use of SkyMiles. On a great SkyMiles flash sale or big international trip, you can easily do much better. It's not a perfect system, but it can set a baseline expectation of how much SkyMiles are worth.
Have a Delta credit card? The TakeOff 15 benefit is the easiest way to get more value out of your SkyMiles by getting an automatic 15% discount when using miles to book a Delta-operated flight. Although, the new benefit seems to be much more about getting customers to engage with their SkyMiles program and, more importantly, open a co-branded Delta American Express credit card.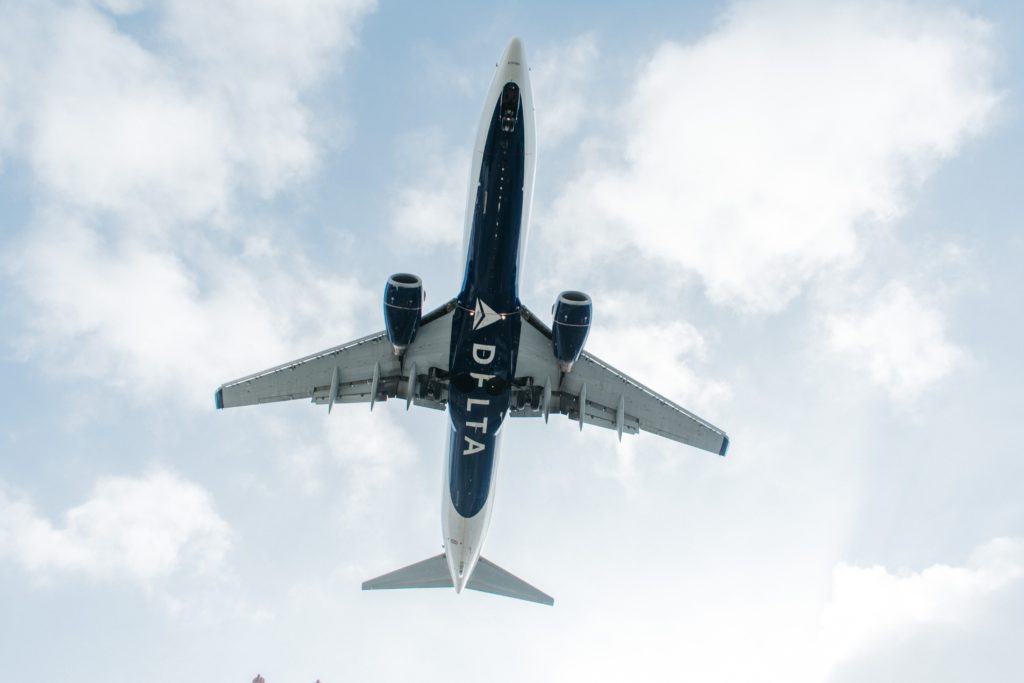 Overall, it's hard to pinpoint an exact value for Delta SkyMiles. The airline is free to charge what they please for each and every route they fly – and there is no question that the airline is working to closely tie the SkyMiles award program to the cash value of its flights. In doing so, they're continually driving the value of SkyMiles closer and closer to just 1 cent apiece.
In that case, 50,000 miles would be redeemable for around $500 towards Delta flights. But fortunately, things haven't gotten that far yet.
Bottom Line
Delta SkyMiles can no doubt be frustrating to use thanks to their dynamic award pricing system. But while many write them off as worthless, there is still plenty of value – and great ways to use them. It just helps to understand how much Delta SkyMiles are worth so you can ensure you're using them wisely.