In the world of travel, there are credit card points and airline miles. And they're not synonymous.
You should still keep collecting those Delta SkyMiles, American AAdvantage miles or whatever airline currency you're after. But credit card points from banks like Chase and American Express are the gold standard for traveling on the cheap. The extra flexibility and value these points bring to the table gives them a boost over your typical airline mile.
Here's a look at why credit card points are so great, and why you should be earning them.
Flexibility Makes Credit Card Points King
A big stash of Delta SkyMiles, American AAdvantage miles, or Virgin Atlantic miles is great. No one's going to deny that.
But those miles live with that individual airline. You can't combine them with miles from another airline or transfer them elsewhere. So if that's all you've got, you're at the mercy of whatever that airline wants to charge for a given flight.
And this is where credit card points really shine. Whether you've got points from Chase, American Express, Capital One, or Citi, you've got a handful of airline and hotel transfer partners at your disposal. It allows you to be versatile, moving those points to whichever airline is going to get you the best deal possible. Take a look at the options at your disposal if you've got Chase Ultimate Rewards points.
| Program | Type | Transfer Ratio | Transfer Time |
| --- | --- | --- | --- |
| Aer Lingus | Airline | 1:1 | Instant |
| Air Canada Aeroplan | Airline | 1:1 | Instant |
| Air France/KLM | Airline | 1:1 | Instant |
| British Airways | Airline | 1:1 | Instant |
| Emirates | Airline | 1:1 | Instant |
| Iberia Plus | Airline | 1:1 | Instant |
| JetBlue | Airline | 1:1 | Instant |
| Singapore Air | Airline | 1:1 | 12-24 hours |
| Southwest Airlines | Airline | 1:1 | Instant |
| United Airlines | Airline | 1:1 | Instant |
| Virgin Atlantic | Airline | 1:1 | Instant |
| World of Hyatt | Hotel | 1:1 | Instant |
| IHG | Hotel | 1:1 | 1 day |
| Marriott Rewards | Hotel | 1:1 | 2 days |
Getting the most you can out of your points and miles is crucial, and this transferability is a massive aid.
One of our readers, Nara, illustrated this perfectly. Looking for flights to Mexico City (MEX), her first thought was to use some Delta SkyMiles. But the airline wanted 71,000 miles for the roundtrip flight – plus a big cash fee. Luckily, she had some Chase Ultimate Rewards points as well. After exploring her options among Chase's transfer partners, she found United wanted just 35,000 miles for the flights. So she transferred the points from Chase to United and made it happen, saving some miles and cash in the process.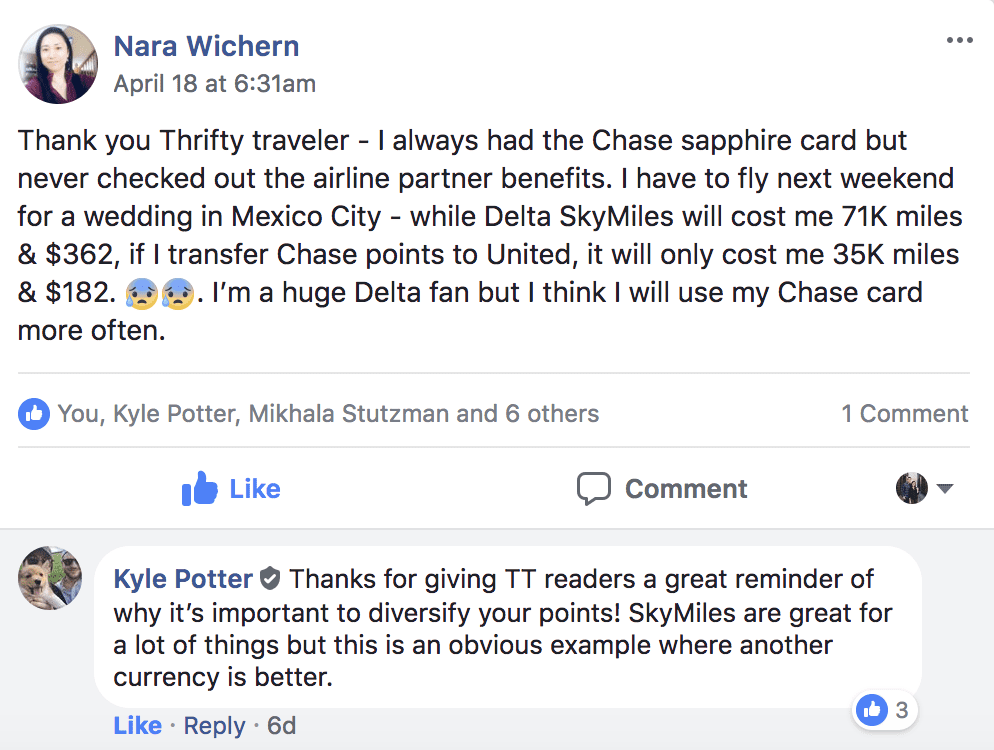 Just remember that these transfers are a one-way street. Once you've transferred points from your bank portal to an airline, you can't get them back. That means it's crucial to check out award space and make sure the flights you want are bookable before you finalize the transfer.
Get More Miles for Free with Transfer Bonuses
Credit card points are great. Transferring them to airlines is awesome. But it gets even better.
If you time it right and pick the right partner, you can get a 10-30% bonus (or even bigger) by transferring your credit card points to a specific airline. Welcome to the world of transfer bonuses, your path to get more points for free. American Express offers these bonuses a few times each year, as does Citi. To date, Chase has never offered such a bonus.
And the bonuses can be quite lucrative. American Express offered a 30% bonus when transferring points to Virgin Atlantic – one of our favorite ways to book Delta flights for cheap – a few times last year. Thanks to that bonus, you could book a $10,000 flight in a Delta One suite by transferring just 39,000 points to Virgin Atlantic – with the bonus you'd have over 50,000 miles.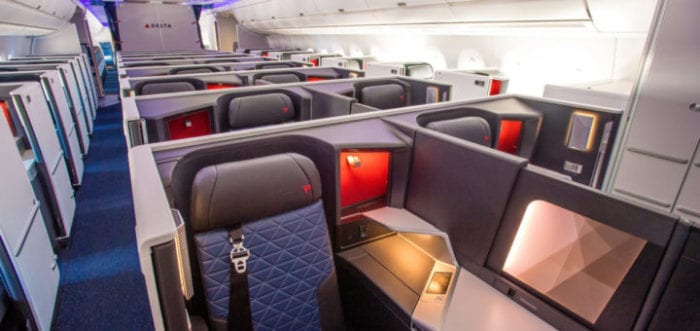 Transfers from Amex to Air France/KLM's FlyingBlue program got a 25% bonus last summer. And you could get an outstanding 40% bonus by transferring Amex points to British Airways, Iberia, or Aer Lingus.
These transfer bonuses are a big part of the reason why I personally value American Express Membership Rewards over Chase Ultimate Rewards. And it's a unique feature of credit card points that you simply won't get from airline miles.
Want to learn about the next transfer bonus that will get you some free miles? Stay tuned on Thrifty Traveler. We'll keep you updated when another one of these great transfer bonuses crops up, and how to make the most out of it.
Book Flight Deals Directly
As you get into points and miles, you'll come to an important, but a disappointing, realization. When you use miles, you won't earn miles for that flight.
But credit card points can flip that script. While you can transfer points to airlines to book a flight, you can also use them book flights directly, where every point is worth 1 cent (or more) toward your airfare. And when you do, it's just as if you booked your flight with cash: You'll still earn miles and build elite status with the airline you fly.
With the exception of Delta's Pay with Miles feature, this just isn't an option with airline miles. And even with Delta's Pay with Miles, you won't earn Delta SkyMiles.
Using points to book the flight deals you find here or through your Thrifty Traveler Premium subscription is one of our favorite strategies to unlock some free travel.
It won't always make the most sense to go this route as you weigh whether to use points or pay with cash. And with a few exceptions, you're only getting 1 cent of value by booking flights directly with points – you can often do much better by transferring points to an airline.
But it's also possible to save a boatload of miles by paying directly with points rather than using a transfer partner. And this is the only way to book a flight 100% free – award flights booked using airline miles will always incur a cash fee.
Booking Direct Bonus with Chase
Sick of us talking about how great the Chase Sapphire Preferred is if you're getting started with points and miles? Can't stop, won't stop.
The flexibility you get with nine airline transfer partners and three hotel chain options is huge. But perhaps the most lucrative perk of Chase points is that your points go farther when you use them book flight directly. And the additional value grows depending on which card you have.
With the Chase Sapphire Preferred, every point is worth 1.25 cents toward travel. That means the card's 50,000-point sign-up bonus after spending $4,000 in three months is worth $625 in free flights or hotels. And with the top-tier Chase Sapphire Reserve, you get 1.5 cents per point. So the 50,000-point welcome bonus can get you $750 in free travel.
Let's see that in action. Looking to get from coast to coast between Boston (BOS) and San Francisco (SFO), you could transfer your Chase points to United. Expect to use 25,000 United MileagePlus miles to make that booking.
But with transcontinental trips dropping in price you could save some serious Chase Ultimate Rewards points by booking through the Chase Ultimate Rewards portal. If you've got the Chase Sapphire Preferred card, you could book the exact same flight for under 16,000 points.
With the Chase Sapphire Reserve, that would drop to 13,100 Chase points. And again, you could still earn miles on that flight!
It won't always be the best choice to get the most out of your miles. But that option just makes holding credit card points even more valuable.
Bottom Line
The additional versatility and value you get from credit card points is undeniable. Consider that the next time you're making plans to earn more points and miles.