The platform and sharing economy has reshaped the way we travel, and we love it.
Uber, Lyft, and Airbnb are a few of our favorite services to help save money while traveling. But there's an option on the car rental scene that it seems many travelers are completely unaware of: It's called Turo.
Turo has been around for years, yet it still hasn't gained the popularity of Airbnb or other similar platforms. But as rental prices at big-box chains remain high across the country, Turo car rental should become much more popular. It's an easy way to rent a car from a local owner – including some fancier or niche vehicles you won't find from major companies. And most importantly, Turo can often save you hundreds of dollars compared to major rental car agencies.
It's far from perfect, as there are plenty of negative reviews and horror stories out there about things going wrong with a Turo rental. But if you ask us, it's medium risk, high reward: Do your research, find the right host with the right car, make sure you've got adequate insurance coverage, and you can come out way, way ahead.
Here's a closer look at how it works and how you can use it to save money to rent a car for your next trip.

What is Turo?
Think Airbnb … but for your car rental.
Car owners post their vehicles on the Turo platform which can then be rented by users in need of a car. You can skip the long lines and high fees at the car rental kiosks at the airport. The Turo website and smartphone app allow you to select your car type, dates, features, and amenities.
Best of all, you handle almost everything through the Turo app or site: Messaging with the owner, finalizing pickup and dropoff locations, and more.
In our experience, this often means your entire rental is contactless. You can get your wheels and drop them back off at the airport without even meeting the owner face-to-face. Turo now even allows you to filter for rentals that offer the ability to unlock your rental from the app itself.
Book a cheap car for a road trip to a National Park, or rent a Tesla for the night for a luxurious ride on your weekend getaway. The quantity – and quality – of the cars can vary widely based on where you're heading. But from Teslas to Ferraris to Jeep Wranglers and Polaris Slingshots, you'll often find vehicles available that you simply can't find on a major car rental company lot.
Many rentals will drop off the car for you at the airport where you've arrived, while other owners require a pickup within a set radius.
Need the car at the airport? Look for the plane icon and filter your results. Some owners will tack on a delivery fee, which can be hefty. You can filter the results to eliminate any rentals with large delivery fees.
Turo car rentals are available across the U.S. and Canada, along with a growing number in major European cities. And in the U.S. and Canada, Turo offers 24/7 roadside assistance – though keep in mind either you or the owner may have to pay for repairs, depending on how the car was damaged.
And on that note, keep reading for a word of caution about insurance on your Turo car rental…
How A Turo Car Rental Works
Although you're renting cars directly from owners with Turo, the process isn't much different than any old car rental agency. In some ways, it's much easier.
Sign up: The process is simple, but make sure to do it ahead of time so Turo can verify your identity and list you as an approved driver.
Search your destination and dates: Scope out the vehicles that fit your price range. Filter for what you need, car type, additional features, top-rated hosts, and more.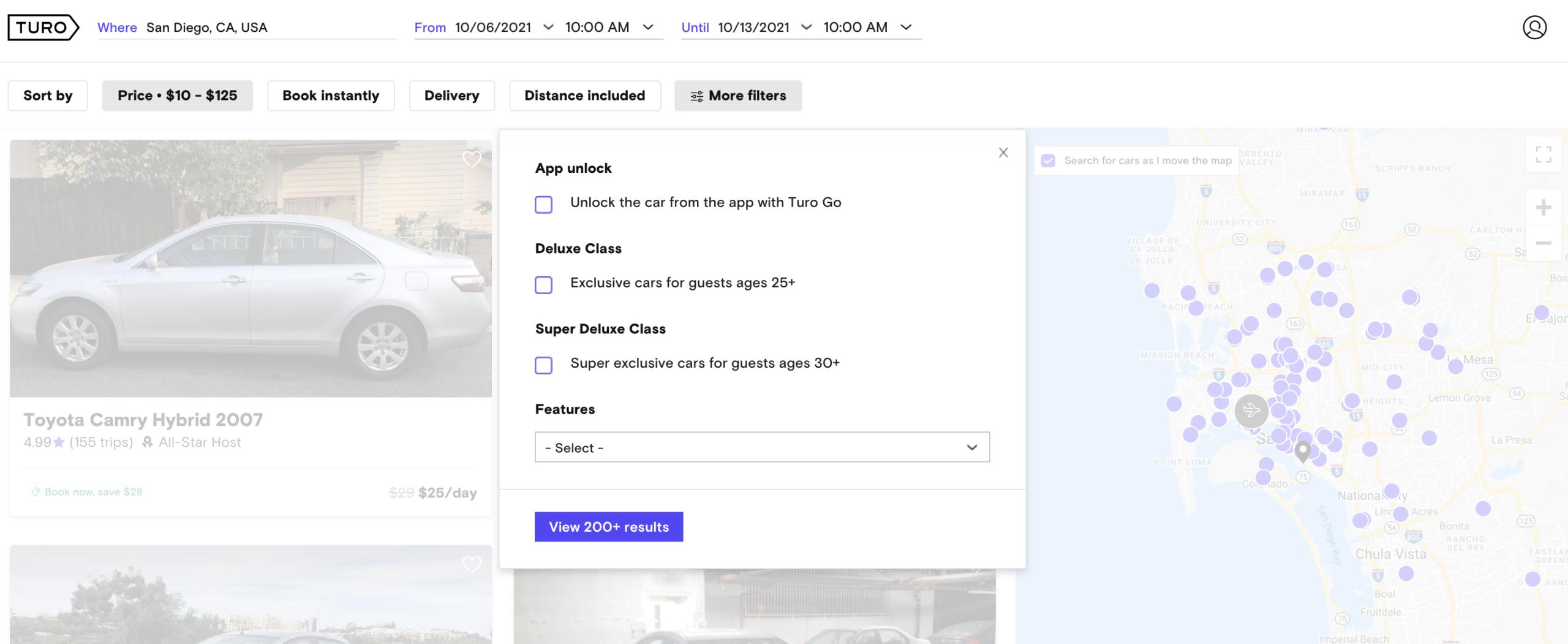 Pick your vehicle and review the details:

Check how much gas and the total distance included in the price. Look into any extras you might want to add, such as unlimited mileage for longer trips.
Look at the host's reviews carefully. Consider renting only from all-star hosts.
Be sure to review Turo's insurance policy.  Your personal car insurance plan may extend to your rental – check with your insurance company to be sure. Otherwise, make sure to look into the offered plans to be sure you're covered in case of an accident. And keep in mind that coverage through credit cards like the Chase Sapphire Preferred Card will NOT cover you on Turo.

Book the car: Just like Airbnb, some rentals will instantly be approved while others can take eight hours or longer for owner approval.
Pick up the car: Most owners offer delivery, though some will tack on a fee for drop off. Choose where you want the car to be dropped off –  the airport, a hotel, or if you'll pick it up from them. You'll want to download the smartphone app, as it's how you'll communicate with the owner of your car rental.

Explore the city in your new ride or head off on your road trip.
Meet the owner to drop off the car or just drop it off per the owner's instructions
Want to know what it's like to rent a car on Turo? Read our review of using Turo for the first time. 
Spoiler alert: It worked out great. While there are certainly some bad reviews and bad hosts out there, I've personally used Turo several times and never had a single problem.
How Turo Compares to Other Rental Companies
Curious how Turo stacks up against other car rental companies? Here are a few key points that highlight the differences.
Is Turo Cheaper than Rental Car Companies?
It depends … but generally speaking, yes. And sometimes, Turo is substantially cheaper than your average car rental company. Here are a few examples.
For a trip to Kauai a few years ago, we needed a Jeep or another SUV to fit everyone and the bags. Booking through the major car rental agencies, we were quoted anywhere from $90 to $140 a day.
Instead, we rented a nearly brand new Jeep Compass for just $50 per day.

For an upcoming trip to Maui, scoping out rentals through the big chains like National should some decent, yet high prices: $750 for a week with a midsize car … or more than $900 for a midsize SUV.
Instead, I turned to Turo yet again to check out our options. And I was able to book a new Volkswagen Tiguan for just $482 for the exact same week – nearly half the price of major rental car agencies! Better yet, a Turo Amex Offer to get $30 back on bookings of $150 or more cut the final price down to just $450 or so.
Even after taxes and insurance policies, paying just $64 a day for an SUV on Hawaii is unheard of, but Turo makes it possible.
Those are just a few examples, but we've got more than a half dozen more of the same story playing out. Of course, the final price will vary based upon where you're heading, how far in advance you're booking, and what kind of car you're looking for.
But if you ask us, it's always worth checking out Turo car rental rates.
More Cars … And Cooler Cars, Too
If you're looking for a unique ride, Turo is your answer.
From convertibles to classics to muscle cars to electric vehicles and everything in between, the variety of what you can rent via Turo is one of the biggest selling points.
Car Pickup & Dropoff
With Turo, you won't need to wait in line at the airport kiosk to pick up a car. Choose the car and pay beforehand, and arrange for a car drop-off at the airport or wherever you'd like to meet.
Unlike car rental companies, you don't have to pick up or drop off your Turo at only one location. Chat with the car owner on the Turo app and find a pickup and drop-off location that works for you!
Communication
With the Turo app, you can communicate with the car owner via message directly in the app. No getting put on hold; no emails to customer support.
Just how speedy your host is in replying to messages will vary, of course. But in my experience, it's always been quite quick.
Young Renters
Many car rental companies charge young drivers between 21 and 25 a hefty surcharge. Turo charges a far more reasonable fee to drivers between 21 and 25 renting a vehicle through the platform. For drivers under 25, that makes Turo a great option.
Downsides of Turo Car Rentals
It's not all good news.
While we've only had great experiences with Turo rentals, there are definitely some risks with renting through the car-sharing platform.
For starters, just how clean your car is – and whether it's in as good of shape as the photos make it seem – can vary wildly. Be sure to read the reviews thoroughly, and only rent from highly rated owners or "all-star hosts."
Finally, there's always a risk that an owner will back out of your rental at the last minute, refunding your money but leaving you car-less. While you've got some recourse if National or Hertz do this to you, the options can be far more limited with a Turo car rental.
Once again, check out the reviews on any car you're looking at: Late cancellations from the host will show up, perhaps warding you off from a reservation that's more likely to get canceled.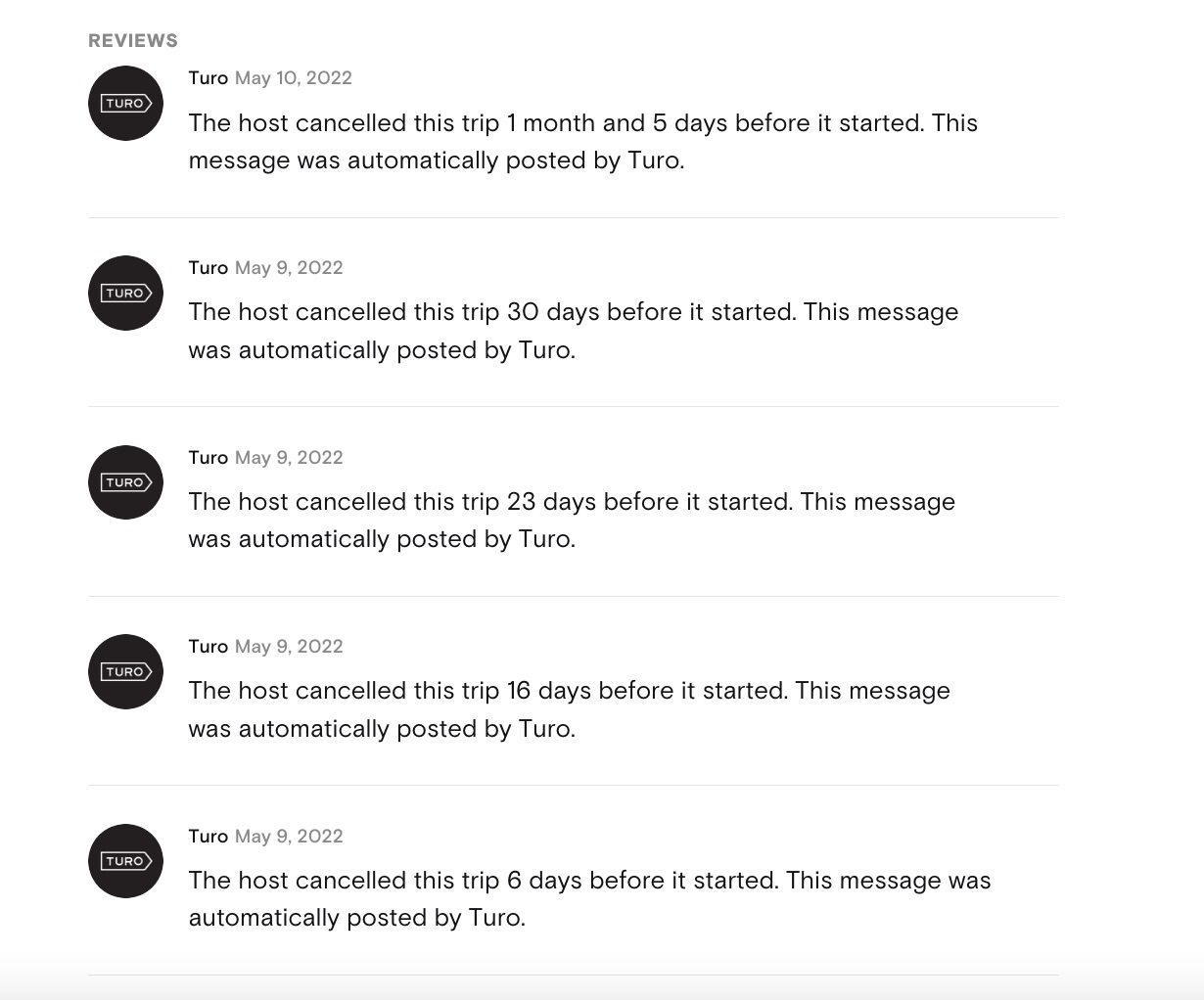 What About Insurance on Your Turo Car Rental?
No matter how you're renting a car, you should always have some insurance or coverage. And Turo is no different.
Unfortunately, most policies that come through credit cards like The Platinum Card® from American Express or the Chase Sapphire Preferred® Card will not trigger rental car coverage on your Turo car rental. That's only an option when renting from established rental car agencies.
If you've already got your own personal car insurance policy, check with your provider to see whether that coverage will apply to your Turo rental. But don't assume it will – you have to check!
Otherwise, it may be worth purchasing an insurance policy through Turo for your rental. Turo typically offers three options: minimum, standard, and premier coverage. Here's a quick breakdown of what each plan entails, but be sure to read more on Turo's insurance policies.
The costs will vary based upon which plan you choose and the cost of the rental, as it's a percentage of your rental cost. Generally speaking, you should expect to pay at least an additional $10 per day for the cheapest, minimum coverage and closer to $30 for a broader premier policy. If you're renting a pricier car, the costs could go up considerably.
For example, a standard policy on a weeklong rental of a fairly cheap Nissan sedan in San Diego this fall costs an additional $12 per day.
Bottom Line
The sharing economy shaped by Uber, Lyft, and Airbnb has changed the game, as well as the attitudes of travelers once scared of using another person's home or car.
Turo can unlock some serious savings on rental cars compared to the likes of National, Hertz, and even the smaller, less-reliable rental car agencies – and when I say serious, I mean hundreds of dollars. There's no question that those savings come with some additional risks like last-minute cancellations, dirty cars, or even maintenance issues. For some, that might be enough to stick with the established agencies.
But so long as you do the research and pick the best cars from the best hosts, renting cars through Turo can be a seamless, trouble-free experience that can save you a small fortune.