Exploring new countries halfway across the globe is what many travelers live for. The process of getting there? Not so much. 
Long-haul flights can be a grind. If you aren't splurging for business class (though it doesn't have to be much of a splurge at all…), it means a relatively cramped seat for hours on end. Dry air and the effects of jet lag can combine to make it pretty miserable, too.
But it doesn't have to be that way. Whether you're flying six hours or 16 hours, these are our best tips and tricks to make the ride as smooth as you can.

Fly at the Right Time
The single greatest factor in ensuring your long flight is a success is in your hands. You need to fly at the right times. 
My preference is for flights that depart at night and arrive as close to the morning as possible. Or, alternatively, find flights that arrive just before it's time for bed – if that's an option. By departing at night, I find it's easier to catch some decent sleep once you get on the plane. This allows you to start your first full day in your exciting destination as refreshed as possible.
Of course, this varies widely based upon the length of your flight and how many time zones you're skipping. And if you're flying a route with only one, poorly timed departure, you're out of luck. 
But flying between two major hubs on opposite ends of the globe often leaves you with several choices on when to depart and arrive. Case in point: Between New York City (JFK) and London-Heathrow (LHR), you can pick from more than 20 nonstop daily departures, departing as soon as 8 a.m. or as late as 11 p.m.

Choose wisely.

Spring for Business Class
There's no better way to make your long flight more enjoyable than to spend it in business or first class. A massive seat that turns into a bed? Free champagne the moment you step onboard? Food you actually want to eat – or, if you're lucky, the best meal of your life?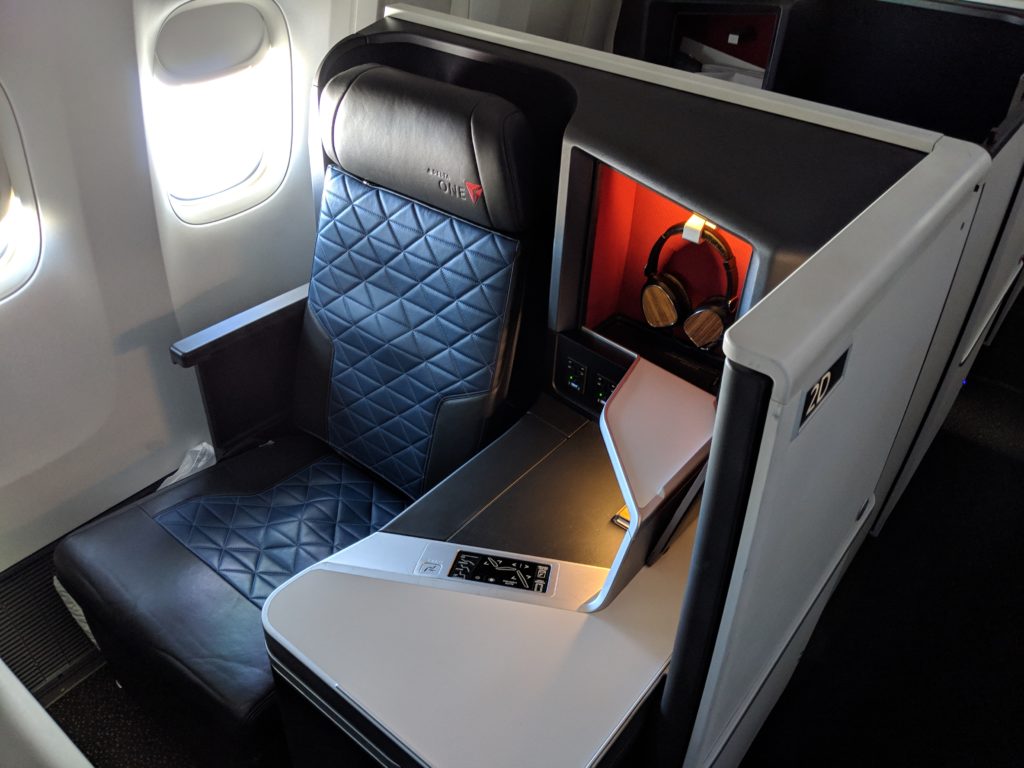 Not all business class or first class cabins are created equally. But no matter the airline, there's no denying it beats a cramped seat in economy. And there's no better way to squeeze the most value out of your miles than to book first or business class. If you've got the miles, a premium cabin redemption is easily worth the splurge.
Read up on the best ways to book a business class flight using your miles!
If you've got plenty of cash saved up, it could be worth paying upfront, too. Dirt-cheap fares in business class are rare (aside from the occasional mistake fare), but we regularly send Thrifty Traveler Premium+ members alerts on business class fares abroad at a fraction of the normal cost.

Not sure where to start with business class to make sure you get a good experience? Check out our flight reviews or dial in on some of our favorite ways to fly, including Delta One Suites, Condor business class, Singapore business class, Qatar Airways' unbeatable Qsuite, or Japan Airlines business class.
Otherwise, find a middle ground: Premium Economy. These seats are all the rage these days, offering travelers much more legroom, better meals, and a few extra amenities – often at a fraction of the cost of flying business class. Icelandair Saga is a great way to cross the pond at lower prices and Norse Atlantic Premium might just be the best deal of all.
Set Your Watch, Trick Your Mind
The first thing I do when I step on any long flight is set my watch to my final destination's local time. It may seem simple, but it can make a huge difference.
By setting your watch to the time where you're headed, you can start the process of adjusting to time zone changes early and beat jet lag.

Live by the time on your watch. Sleep based on the time of your destination, not where you're leaving from. If you can time things out well, eat when it's time to eat.

Get Lounge Access
Nothing – I repeat, nothing – will improve your travel experience more than spending time in an airport lounge before your long flight. And you don't need to be a frequent business traveler to get in.
At a minimum, you'll get free drinks and snacks and far better seating than the stiff chairs at your gate. If you're lucky, you'll even have a chance to shower off before or after your long-haul flight and get a tasty meal.
Many airline lounges (especially Delta Sky Clubs and Amex Centurion Lounges) are facing some issues with overcrowding, but the promise of free food and drink is still enough to entice us into lounges as we travel.

The easiest way to get into lounges is by holding the right premium travel credit card. And no credit card opens more lounge doors than the The Platinum Card® from American Express.
For starters, you'll get into more than a dozen posh Amex Centurion lounges in cities like San Francisco (SFO), Dallas-Fort Worth (DFW), Las Vegas (LAS), New York City (JFK), and many more. These lounges are the gold standard thanks to great food and drinks in a cozy environment.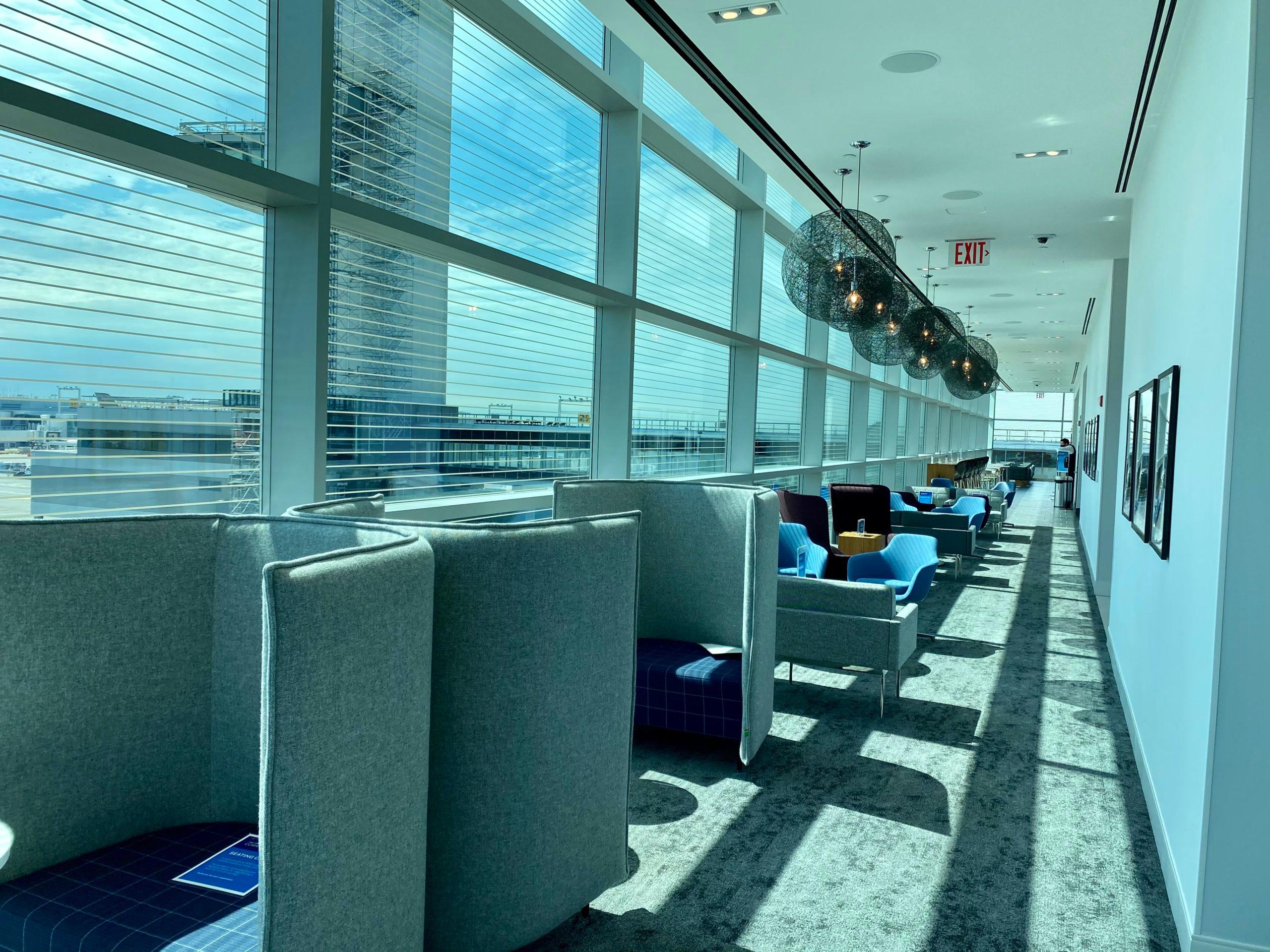 Read our full review of the JFK Centurion Lounge!
Not flying out of a city with a Centurion Lounge? You'll also get a Priority Pass membership, which gets you into 1,200-plus lounges worldwide.  Finally, the Platinum Card will get you into several smaller lounge networks like Escape Lounges, Air Space Lounges, and Plaza Premium. And if you're flying Delta that day, you can get into any Delta Sky Club, too.
Thrifty Tip: If you save your Platinum Card to your Delta account, all you need to do is scan your boarding pass to get into the Sky Club!
While the $695 annual fee is steep (see rates and fees), it could be worth it for the lounge access alone.
Read More: The Best Ways to Get Into Airport Lounges & Improve Your Travels

Click Here to learn more about the Platinum Card from American Express

Don't have a credit card that gets you lounge access? Check out LoungeBuddy, a great app that tracks all of the independent, pay-per-entry lounges out there and allows you to purchase a day pass. It's one of our favorite travel apps because it also collects reviews from travelers and breaks down what amenities each lounge has.
A lounge day pass generally costs between $29 and $49 per person through LoungeBuddy. If you don't have a credit card with lounge access, that cost can be well worth it. Plus it gets even cheaper if you've got  American Express® Green Card, which comes with a $100 credit towards LoungeBuddy visits each calendar year.

Pack the Right Gear
Yeah, you need clothes, luggage, and toiletries. But a few extras can really elevate your travels.
Start with a pair of noise-canceling headphones. At Thrifty Traveler, we swear by the Bose QuietComfort 45 headphones. They're comfortable and their noise-canceling capability is second-to-none, helping drown out the engine noise and chatting throughout the cabin.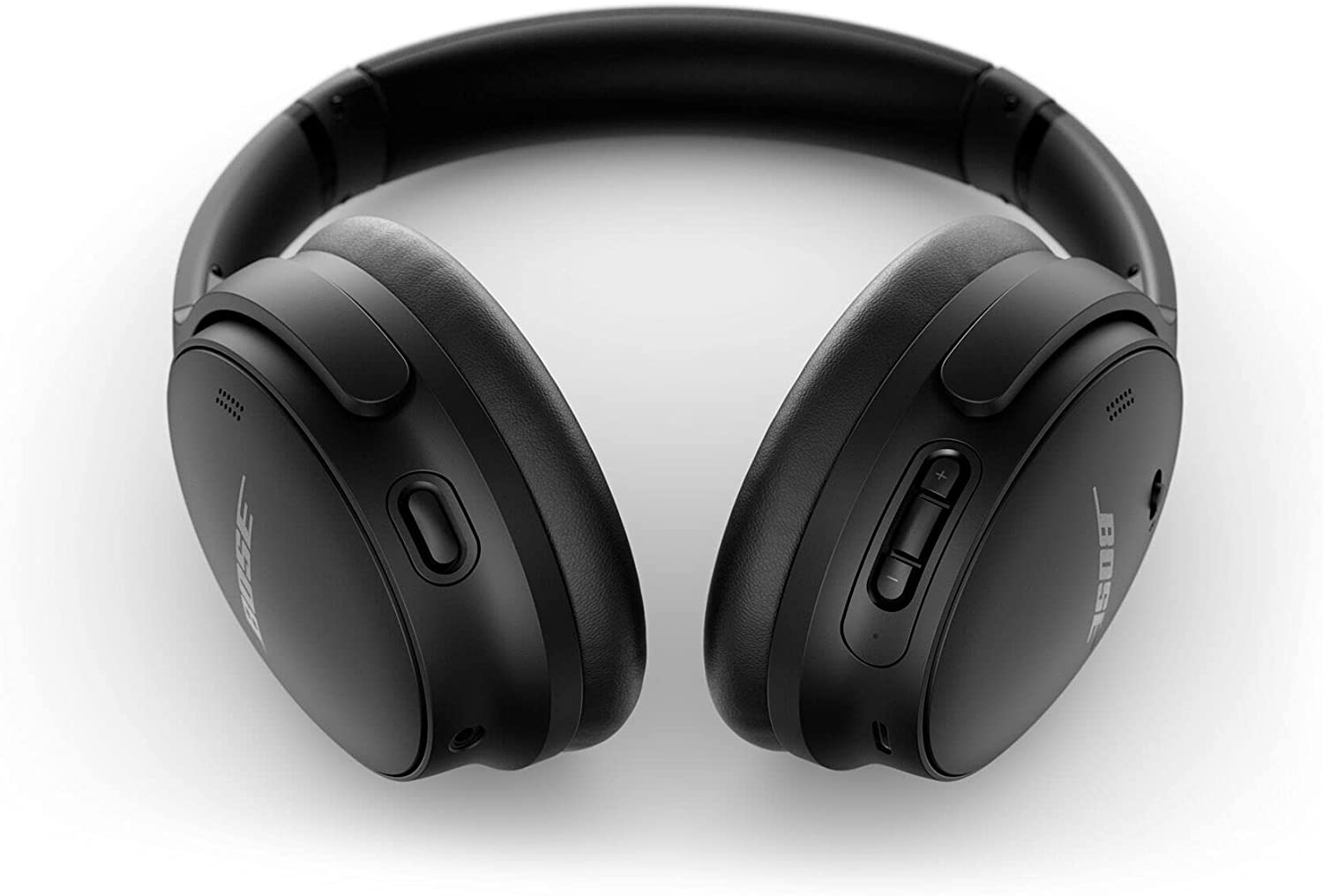 Want to block out distractions but not at that price? Make sure to throw some earplugs and an eye mask in your personal item. These are a must for any long-haul flight, especially if you want to maximize your sleep.
But one of our favorite travel accessories is the Trtl Travel Pillow. At just over 5 ounces and half the size of a normal travel pillow, members of the TT team swear by it to help get cozy for a night of sleep at 35,000 feet. It may look a bit goofy, but it works. 

And be sure to bring an iPad, tablet, or laptop onboard because you never know how great the entertainment options will be for your long flight. Just download those Netflix episodes in advance and you're set!
Get the full scoop on all our favorite accessories for flights!
Hydrate, Hydrate, Hydrate
We don't need to belabor this one. Drink a lot of water. 
Flying at 35,000-plus feet in a metal tube dehydrates you, and hours of that isn't great for your body. So make sure you're constantly sipping on water – especially if you've been drinking other liquids that dehydrate like coffee or alcohol.
Buying an overpriced bottle at Hudson News is worth the obscene cost. And don't be afraid to ask a flight attendant for a refill on your cup. Throw a few Liquid IV packets or another electrolyte mix into your bag to maximize your hydration.
Sure, you may have to use the bathroom a half-dozen times. But you'll arrive feeling far better.
Pick the Right Seat, Stretch Those Legs
All that water you're drinking requires some smart seat selection. If you know you'll be making frequent trips to the lavatory, make sure you pick an aisle seat … or prepare for some unhappy neighbors.
And moving around is crucial to staying fresh and feeling better when you arrive at your final destination. If you're not sleeping, get up every hour or two and take a stroll around the cabin. Just be sure the seatbelt light isn't on.
There's more that goes into picking a seat than just trips to the bathroom or stretching your legs. You don't want to get settled in your seat only to find there's a huge metal box obstructing your legroom. Or realize that your window seat doesn't come with, you know, a window.
Enter SeatGuru. This user-powered site culls information from fellow travelers to provide what you need to know about each seat on the plane. Simply enter your flight details and check out the seats you should avoid – or the hidden gems that can give you some extra legroom.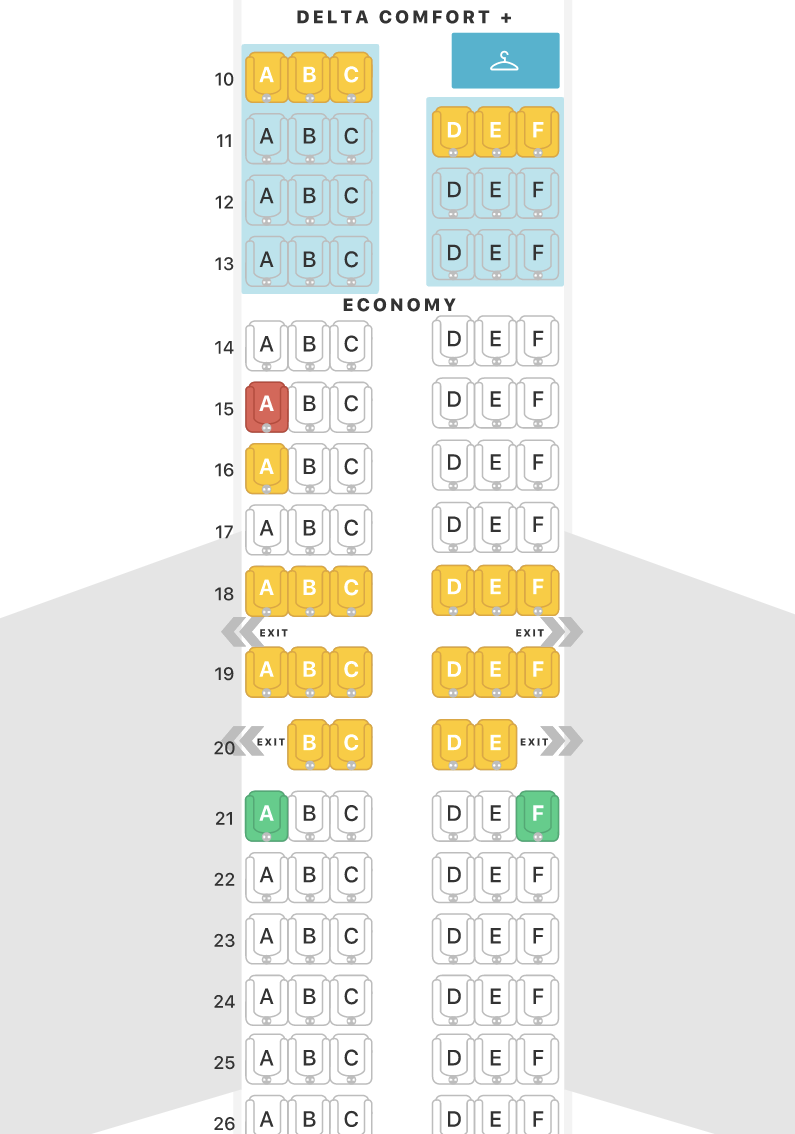 But SeatGuru is often outdated or inaccurate these days – parent company TripAdvisor has stopped updating it. Fortunately, there's another way to look at detailed seat maps: It's called aeroLOPA.
While it doesn't feature color-coded maps or the ability to search for your flight, AeroLOPA features far more detail than you'll find using SeatGuru or the maps the airlines put out. It displays bulkheads, bathrooms, bassinets, galleys, and more. There are some straight-up nerdy details too, including onboard equipment and the manufacturers of the seats.
Just be warned: buying a main cabin economy fare is key. You'll want to skip the cheapest basic economy ticket, as that won't allow you to select a seat without paying a fee – or at all. Hello, middle seat.
Snag an Empty Row
Airlines have mastered the art of stuffing a plane full of passengers. As travel demand has surged back, it's never been harder to find a seat that allows you to stretch out into an empty seat next to you.
But the right tools can give you an edge. Many airlines display these seating charts when you log in to manage your booking and select a seat. You can log in and scope out an empty row, moving to a seat that will give you the most extra space. 
Another great tool is ExpertFlyer.com, a powerful platform for frequent flyers that the everyday traveler can also use to their advantage.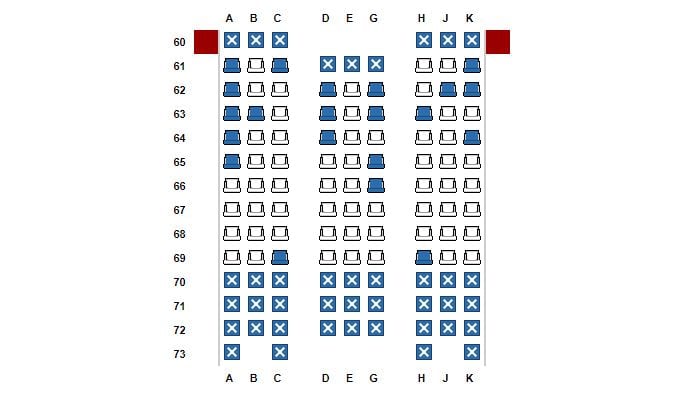 By entering your flight information, you can see whether your flight will go out nearly empty or if you should change your seat selection. You can also set up alerts to get notifications when certain seats become available, though you may need to pay for those.
Otherwise, download your airline's app and monitor the seat map for your flight like a hawk. Passengers are constantly canceling or changing flights or moving around the cabin – while airlines are upgrading passengers to first class or assigning travelers with basic economy tickets a seat. Most airlines allow you to pick a different seat all the way up until boarding begins.
So keep refreshing your seat map in the app and watch for an opening.You might be able to switch yourself to a row with an empty middle seat before you board that long flight abroad.
Check out all our tips to get some extra space on your next flight!
Pick the Right Plane
Obsessing about aircraft models may seem nerdy. OK, it is nerdy. But there's a reason behind it. 
A Boeing 777 is a far different plane than a Boeing 767. Same goes for the Airbus A330 and the Airbus A380.
With planes, newer might always be better. The newest Airbus A350s pump far more moisture into their cabins than almost any other plane, making for a more comfortable ride. The same is true of the Boeing 787 Dreamliner.
But one thing might trump all that additional moisture when you're flying economy: How many seats are crammed into each row? These days, most major airlines squeeze nine seats into each row of their Airbus A350s and Boeing 787s, leaving passengers with little shoulder room. On the Boeing 777, it's often 10 seats across. Gulp.

That's why my favorite when flying economy on long-haul flights is the Airbus A330, where airlines arrange economy in a 2-4-2 fashion. With fewer seats in each row, passengers typically get an extra inch or so of space at each seat. And if you're flying with a companion, snagging your own two-seat section can be a godsend. 
Scope out the aircraft options as you're planning your travels. Picking a cramped plane could really hinder your flight.
Bottom Line
Getting in a metal tube for eight or more hours can be a drag no matter where you're heading. But with some good gear, a few tricks, and the right mindset, you can arrive feeling ready to explore the world.