Exploring new countries halfway across the globe is what many travelers live for. The process of getting there isn't. 
Long-haul flights can be a grind. If you aren't splurging for business class, it means a relatively cramped seat, dry air and the effects of jet lag can combine to make it pretty miserable.
But it doesn't have to be that way. Whether you're flying six hours or 16 hours, these are our best tips and tricks to make the ride as smooth as you can.
Fly at the Right Time
The single greatest factor in ensuring your long flight is a success is in your hands. You need to fly at the right times. 
My preference is for flights that depart at night and arrive as close to the morning as possible. Or, alternatively, find flights that arrive just before it's time for bed.
By departing at night, I find it's easier to catch some good sleep once you get on the plane. This allows you to start your first full day in your exciting destination as refreshed as possible.
Of course, this varies widely based upon the length of your flight and how many time zones you're skipping. And if you're flying a route with only one, poorly timed departure, you're out of luck. But flying between two major hubs on opposite ends of the globe often leaves you with several choices on when to depart and arrive. Choose wisely.
Spring for Business Class
There's no better way to make your long flight more enjoyable than to spend it in business or first class. A massive seat that turns into a bed? Free champagne the moment you step onboard? Food you actually want to eat? Or, if you're lucky, the best meal of your life?
Not all business class or first class cabins are created equally. But no matter the airline, there's no denying it beats a cramped seat in economy. And there's no better way to squeeze the most value out of your miles than to book first or business class. If you've got the miles, a premium cabin redemption is easily worth the splurge.
And if you've got plenty of cash saved up, it could be worth paying upfront too. Just make sure you collect miles for the purchase and the flight.
Need some suggestions? Read up on some of our favorite ways to fly, including EVA Air, Singapore business class, Qatar Airways' unbeatable Qsuite, or Japan Airlines business class.
Set Your Watch, Trick Your Mind
The first thing I do when I step on a long flight is set my watch to my final destination's local time. It may seem simple, but it can make a huge difference. By setting your watch to the time, you can start to convince yourself.
Live by the time on your watch. Sleep based on the time of your destination, not where you're leaving from. If you can time things out well, eat when it's time to eat. It's a great way to start adjusting early to beat jet lag.
Get Lounge Access
There's nothing better than taking a nice shower after a long flight. Knowing you can get refreshed and cleaned up makes the whole flight better. Showers are just part of the beauty of an airport lounge. Many international airport lounges have showers, free food, and drinks. Not to mention a far more comfortable place to recharge your mind, your body and your devices than the airport terminal.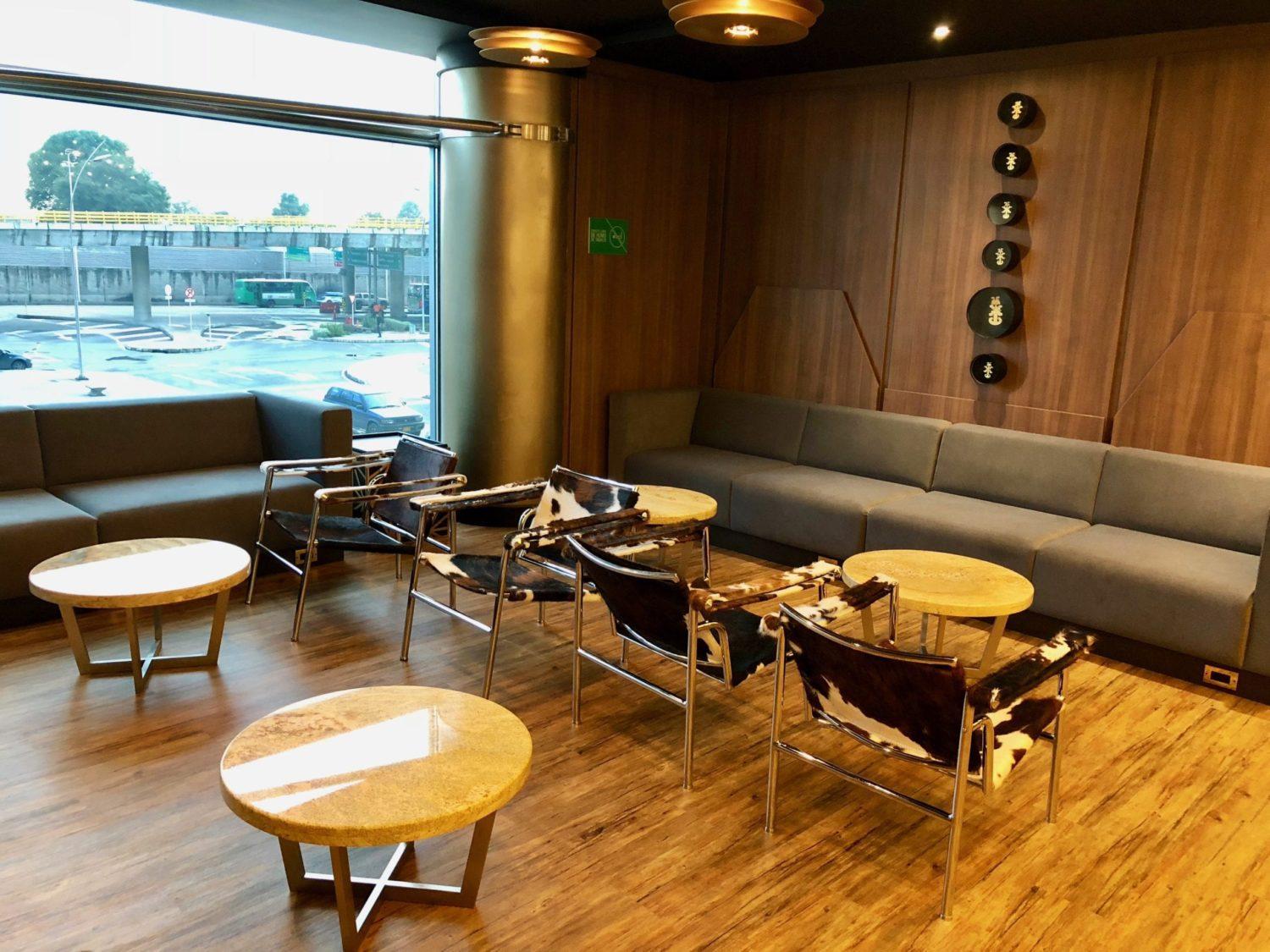 If you're flying business or first class as you continue your travels, you'll have automatic lounge access. However, there are a handful of credit cards that will get you into lounges no matter what fare you're flying.
The best among them is the Platinum Card® from American Express. Between American Express' Centurion Lounges, 1,200+ Priority Pass locations, Escape Lounges, and Delta SkyClubs, the Platinum card opens more lounge doors than any competitor.
Another option is the Chase Sapphire Reserve®, which also comes with a Priority Pass Select membership. One of the best features of these cards is that they allow you to bring in up to two guests for free, too.
Check out LoungeBuddy, a great app that tracks all of the independent, pay-per-entry lounges out there and allows you to purchase a day pass. It's one of our favorite travel apps because it also collects reviews from travelers and breaks down what amenities each lounge has.
A lounge day pass generally costs between $29 and $49 per person through Loungebuddy. If you don't have a credit card with lounge access, that cost can be well worth it.
Pack the Right Gear
Yeah, you need clothes, luggage, and toiletries. But a few extras can really elevate your travels.
Start with a pair of noise-canceling headphones. At Thrifty Traveler, we swear by the Bose QuietComfort 25 headphones. They're comfortable and their noise-canceling capability is second-to-none. Or spring for the wireless, Bluetooth-enabled QuietComfort 35 headphones.
Want to block out distractions but not at that price? Make sure to throw some earplugs and an eye mask in your personal item. These are a must for any long-haul flight, especially if you want to maximize your sleep.
Further, one of our new favorite travel accessories is the Trtl Travel Pillow. At just over 5 ounces and half the size of a normal travel pillow, members of the TT team swear by it to help get cozy for a night of sleep at 35,000 feet.
And be sure to bring an iPad, tablet or laptop onboard because you never know how great the entertainment options will be for your long flight. Just download those Netflix episodes in advance and you're set!
Get the full scoop on all our favorite accessories for flights.
Hydrate, Hydrate, Hydrate
We don't need to belabor this one. Drink a lot of water. Flying at 35,000-plus feet dehydrates you, and hours of that isn't great for your body. So make sure you're constantly sipping on water, especially if you've been drinking other liquids that dehydrate like coffee or alcohol.
Buying an overpriced bottle at Hudson News is worth the obscene cost. And don't be afraid to ask a flight attendant for a refill on your cup. Sure, you may have to use the bathroom a half-dozen times. But you'll arrive feeling far better.
Pick the Right Seat, Stretch Those Legs
All that water you're drinking requires some smart seat selection. If you know you'll be making frequent trips to the lavatory, make sure you pick an aisle seat. Or prepare for some unhappy neighbors.
And moving around is crucial to staying fresh and feeling better when you arrive at your final destination. If you're not sleeping, get up every hour or two and take a stroll around the cabin. Just be sure the seatbelt light isn't on.
There's more that goes into picking a seat than just trips to the bathroom or stretching your legs. You don't want to get settled in your seat only to find there's a huge metal box obstructing your legroom. Or realize that your window seat doesn't come with, you know, a window.
Enter SeatGuru. This user-powered site culls information from fellow travelers to provide what you need to know about each seat on the plane. Simply enter your flight details and check out the seats you should avoid – or the hidden gems that can give you some extra legroom.
This is where a main cabin economy fare is key. There are ways to beat basic economy, but even a co-branded credit card won't allow you to select your seat in advance. More often than not, you'll get stuck in a middle seat.
Snag an Empty Row
Airlines have mastered the art of stuffing a plane full of passengers. It's never been harder to find a seat that allows you to stretch out into an empty seat next to you.
But the right tools can give you an edge. Many airlines display these seating charts when you log in to manage your booking and select a seat. You can log in and scope out an empty row, moving to a seat that will give you the most extra space. 
Another great tool is ExpertFlyer.com, a powerful platform for frequent flyers that the everyday traveler can also use to their advantage.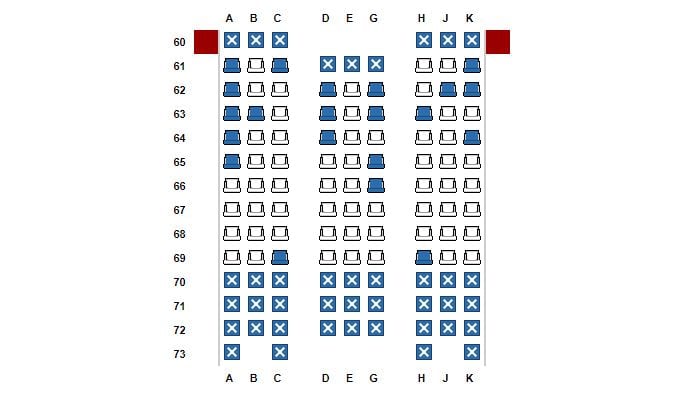 By creating a seat alert and entering your flight information, you can see whether your flight will go out nearly empty or if you should change your seat selection. You can also set up alerts to get notifications when certain seats become available, though you may need to pay for those.
Pick the Right Plane
Obsessing about aircraft models may seem nerdy. OK, it is nerdy. But there's a reason behind it. 
A Boeing 777 is a far different plane than a Boeing 757. The new Airbus A350 pumps far more moisture into their cabins than almost any other plane, making for a more comfortable ride. The same is true of the Boeing 787.
But despite its "Dreamliner" credo, an older Boeing 777 beats a brand new 787 every time when flying economy in my book. Why? If they both have economy arranged with nine seats across, the seats on a 777 will be much wider because the 777 is a larger plane.
My favorite when flying economy on long-haul flights is the Airbus A330. That's because airlines arrange economy in a 2-4-2 fashion. So if you're flying with a companion, snagging your own two-seat section can be a godsend. 
Scope out the aircraft options as you're planning your travels. Picking a cramped plane could really hinder your flight.
Bottom Line
Getting in a metal tube for eight or more hours can be a drag no matter where you're heading. But with some good gear, a few tricks, and the right mindset, you can arrive feeling ready to explore the world.