Like it or not, basic economy fares are here to stay.
Airlines launched these no-frills fares over the last decade to compete with budget carriers like Spirit and Frontier. Whether you're flying domestically or over to Europe or all the way to Australia, these fares are basically unavoidable now. Basic economy prices might look good on paper – and you're still getting a normal economy seat and service. But it's important to keep in mind these fares come with some restrictions, from what bags you can bring to when you board to getting stuck in a middle seat.
But one restriction sticks out more now than ever. With few exceptions, basic economy fares cannot be changed nor canceled. That's crucial – not only if you're worried your plans might change, but it also means you can't rebook your flights if prices drop. That alone could make it worth paying an extra $60 or so roundtrip to avoid basic economy.
Still, every airline handles these fares a bit differently. Here's what you need to know about basic economy fares on major U.S. airlines.

Alaska Airlines Basic Economy
Alaska Airlines was among the last of the big U.S. carriers to roll out a basic economy offering. And it even has a different name: Alaska calls them Saver Fares.
It may be different in name, but these fares are quite similar to what you'll find flying other major airlines. For years, Alaska allowed travelers who booked saver fares to pick from a limited amount of seats at the back of the plane for free. Sadly, that complimentary seat selection eliminated when Alaska downgraded its basic economy saver fares.
Buying a Saver Fare rather than a main cabin fare will typically save you $15 to $40 each way. And naturally, Alaska Airlines does its best to convince travelers to opt up for the main cabin economy fare. Airlines measure the success of basic economy based on how many passengers pay to avoid it.

For many years, Alaska was more generous with basic economy than any other airlines when it came to seat selection. While most airlines don't allow basic economy flyers to pick a seat at all, travelers with an Alaska saver fare could freely pick the best seats remaining at the back of the plane –  or pay a bit more for a seat closer to the front.
Those days are over. Alaska quietly ended that perk in July 2022. Now, travelers on an Alaska basic economy fare can no longer pick a seat – or even pay extra for one in advance.
Read more about Alaska Airlines basic economy fares!
American Airlines Basic Economy
When American Airlines first rolled out its Basic Economy offering years back, it was incredibly restrictive. So restrictive that, like United, you were not able to bring a carry-on bag on board with you, and you didn't receive an advance seat assignment.
Luckily, American relaxed its carry-on baggage restriction years ago and started allowing them on Basic Economy tickets, following Delta's lead. And American has even made it easier to pick a seat in advance – if you're willing to pay for it.
As you can see, American practically begs you to skip a basic economy fare and instead opt for a standard main cabin fare. This kind of upsell effort is common across the major airlines.
While the price tag can vary, you can typically count on paying roughly $35 each way to avoid basic economy on a domestic flight … and much more when traveling internationally. Oddly, basic economy fares have disappeared lately from many AA domestic routes – and even some flights down to Mexico, the Caribbean, and South America. That's a win for consumers.
On the bright side, American has also made basic economy slightly less painful by allowing travelers to purchase a seat assignment right away. Previously, you had to wait until seven days before your flight. Now you can pay for a seat assignment when you're booking your flight. And American is one of the few airlines that allows travelers with elite status to get an upgrade even on a basic economy ticket.
Read our full guide to American Airlines basic economy!
Delta Basic Economy
Long a leader within the airline industry – in good ways and bad – Delta started the slide into basic economy by rolling out these no-frills fares way back in 2013.
While there's no question basic economy on Delta has restrictions, it's more generous than what most other airlines offer … except in one key respect.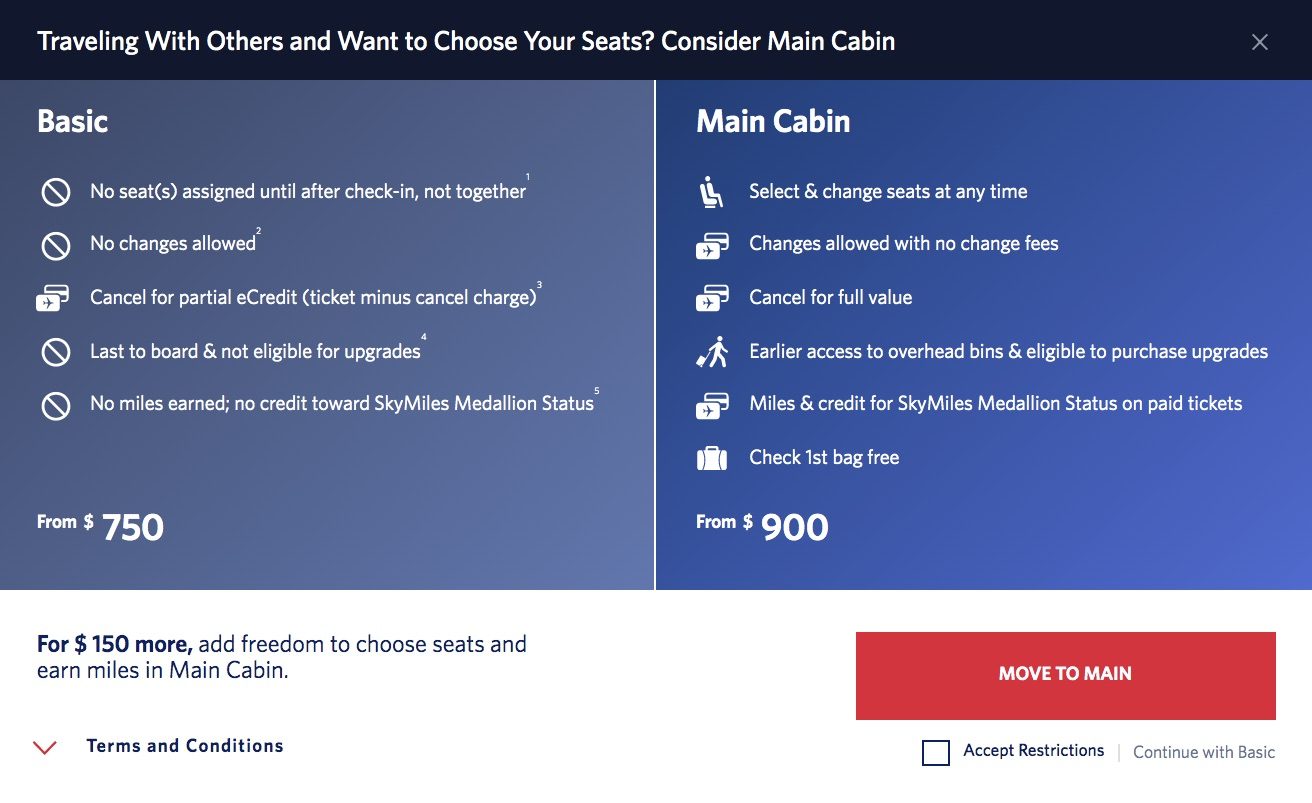 Let's start with the bad news. Delta went farther than almost any airline when it comes to basic economy: As of early December 2021, Delta basic economy fares no longer earn SkyMiles nor credits toward elite status with Delta.
And Delta has begun charging even more than its competitors to avoid basic economy: The Atlanta-based airline now regularly charges an additional $80 roundtrip to avoid basic economy and move to a more-inclusive main cabin fare. On international routes, that upcharge can be $150 or more. Just as with American, those prices vary.
But it's not all bad news. In many ways, Delta basic economy is much more generous than what you'll get flying its competitors. Unlike United and JetBlue, you can bring a full-size carry-on bag onboard with your basic economy ticket. Delta also now allows basic economy flyers to cancel their flights for a Delta eCredit … for a price: You'll forfeit $99 on most fares or $199 on long-haul international flights.
And few airlines are better when it comes to picking a seat than Delta. That's because Delta gives you two ways to pick a seat with a basic economy fare – including one way to do it for free!
Read our full guide to flying Delta basic economy!
JetBlue Basic Economy
After more than a year of planning and teasing, JetBlue finally unveiled its version of basic economy called "Blue Basic" in late 2019.
JetBlue was among the last of the major U.S. airlines to offer basic economy. And, as promised, the restrictions on these fares weren't quite as punitive as you'd find on other airlines – at least initially. But that has changed.
JetBlue recently took a page out of United's book and now bans travelers with a basic economy ticket from bringing a carry-on bag on board (except for transatlantic flights to London, Paris, or Amsterdam). That means you can only bring a small personal item like a purse or backpack.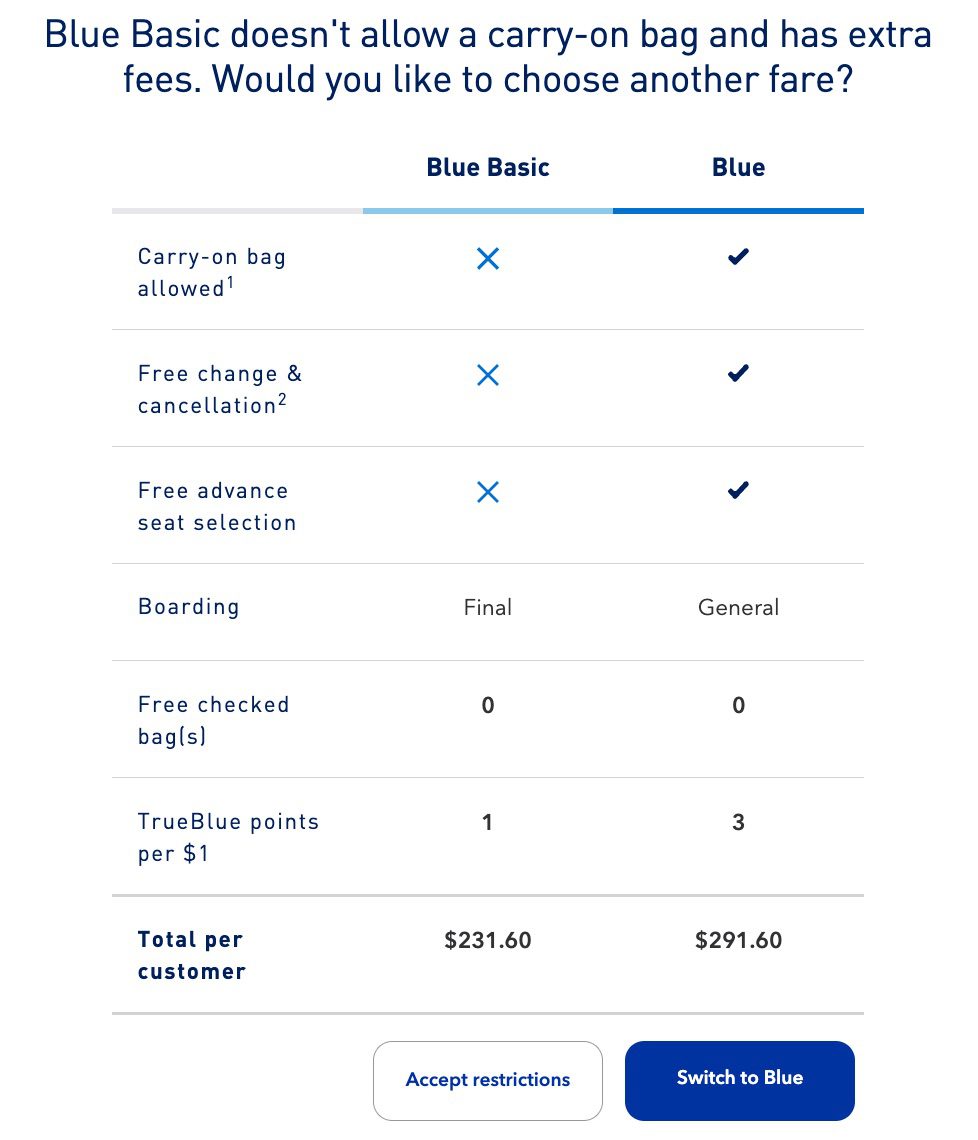 JetBlue basic economy is clearly a mixed bag. The downside of not being able to bring a carry-on bag is enormous. It's one of the most punitive restrictions you'll find with these fares. And JetBlue will charge you a whopping $65 penalty if they catch you trying to sneak one onboard.
On the plus side, JetBlue allows basic economy flyers to pay for a seat selection – or pick the best of what's left within 24 hours of departure. And JetBlue is the one of the few airlines that allows basic economy tickets to be changed or canceled. You'll have to pay $100 to do it (or $200 for an international ticket), but that could easily be worth it.
Read more about JetBlue basic economy – aka Blue Basic fares!
Southwest Airlines Basic Economy
Psych!
Southwest Airlines doesn't offer basic economy. And the airline's top executives have repeatedly said they never will.
"That's not what we do," former Southwest CEO Gary Kelly said during a quarterly earnings call a few years ago. "We're not going to charge for bag fees."
Kelly left the airline last year, but it's still hard to see Southwest ditching its entire brand and making the move to basic economy any time soon … if ever.
That means Southwest flyers will continue to get two checked bags on every flight. Their novel boarding process means you'll get to pick your seat – at least the best of what's left by the time you get on board. And as always, you'll still be able to change or cancel your reservation without a fee.
United Airlines Basic Economy
Despite the constant battle for U.S. domination, United's basic economy fares are a step below both Delta and American.
A basic economy ticket on United means you can only bring a personal item – no carry-on bag – and you also won't earn elite status on domestic flights. You can't even check-in online with a United basic economy fare.
That's why United was the clear loser in our Battle of Basic Economy.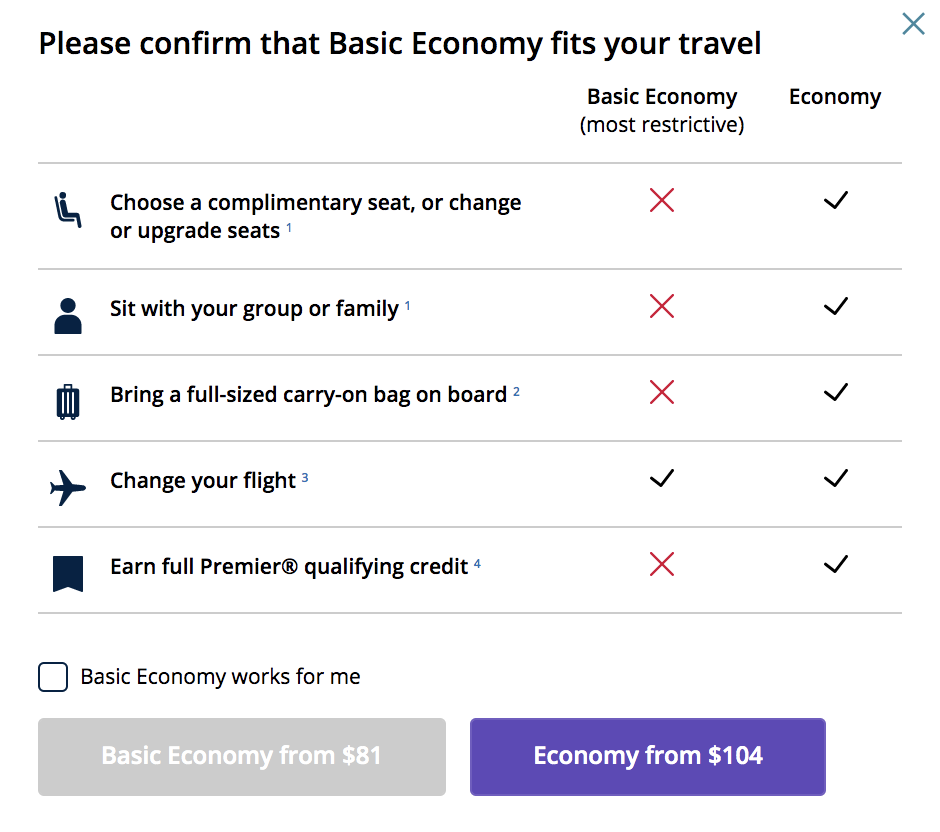 So let's not spin this one. United basic economy is clearly the worst of the bunch.
No carry-on bag unless you're flying to Europe. You can't even check-in online – you'll have to finalize check-in at the airport so an agent can verify you aren't trying to bring a carry-on bag with you.
That's pretty brutal. If there's one plus to United basic economy, it's that you can buy a seat assignment for a fairly reasonable fee from the moment you buy your ticket. But these days, United isn't alone offering that option.
Read our master guide to flying (and beating) United basic economy. You can also check out our full guide on United Airlines Baggage Fees for more information.
Bottom Line
Basic economy has shaken up the airfare world, and not in a good way.
By offering these bare-bones fares, airlines are trying to compete with budget carriers on price while pitting flyers with new restrictions – largely in hopes that they'll pay up to upgrade.
And these days, basic economy is more dangerous than ever. With just a few exceptions that will cost you a pretty penny, airlines don't allow you to change or cancel a basic economy ticket at all. With all the potential hiccups in travel as we emerge from the pandemic and losing the ability to rebook your flights to save when prices drop, it may simply be worth paying more to avoid it.