In the U.S., you can generally split airport lounges into two basic categories: American Express Centurion Lounges, and the rest.
Sure, there are some great airline lounges like the United Polaris Lounge at Houston-Intercontinental (IAH) that you can get into if you're flying business class or a top-tier elite. But the U.S. lounges you can get into with certain credit cards, while a nice break from the terminal, are rarely anything special.
Centurion Lounges are a different story – and that's a curse and a blessing. They're popular to the point that it can get crowded. And after a recent visit to the Centurion Lounge Las Vegas (LAS), that much is clear.
Read on to see what you should expect and keep in mind.
Curious what Amex Centurion lounges are all about? Read our master guide to these best-in-class airport lounges!
Getting In
You'll find the Las Vegas Centurion lounge in Concourse D across from Gate D1, not far from the main bank of escalators at the center of the terminal.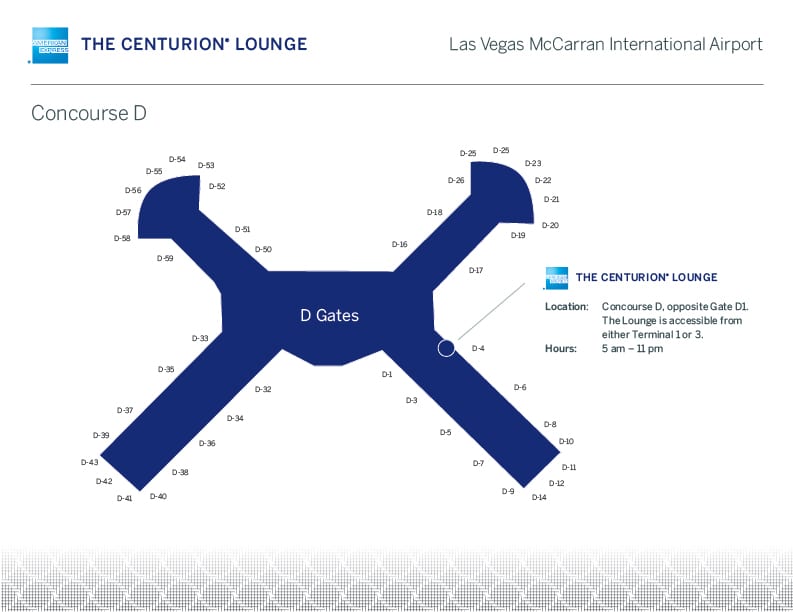 One of the best reasons to get the Platinum Card from American Express is the unrivaled lounge access. It gets you a free Priority Pass Select membership, which will get you and two guests into 1,000-plus Priority Pass lounges across the world. You can get into Delta SkyClubs if you're flying Delta that day. And you can also enter Escape Lounges, like one of our favorites at Minneapolis-St. Paul. 
And then there are Centurion lounges, which are the cream of the crop.
Getting into the Las Vegas Centurion lounge is the same as any of the other outposts. Simply show your Platinum card, a boarding pass, and an ID. You and up to two guests will be whisked straight into the lounge.
Read our full guide to Amex Centurion lounges – with 9 U.S. locations and many more on the way, including New York City-JFK (JFK), Los Angelex (LAX), Phoenix (PHX), and more.
Unfortunately, American Express has started to tighten access restrictions in a bid to combat overcrowding. You can only get into the lounge within three hours of your departing flight – though passengers on a longer layover may be allowed entry. And you can no longer get into the lounge at the airport you arrive at.
Lounge Amenities
Let's start with the good news: The Las Vegas Centurion has some comfortable seats, from a place to grab dinner near the bar to cozy, personal love seats where you can sit and work or take a quick nap. And the whole lounge is nice, decorated in a familiar Centurion style – right down to the green wall that greets you as you walk in.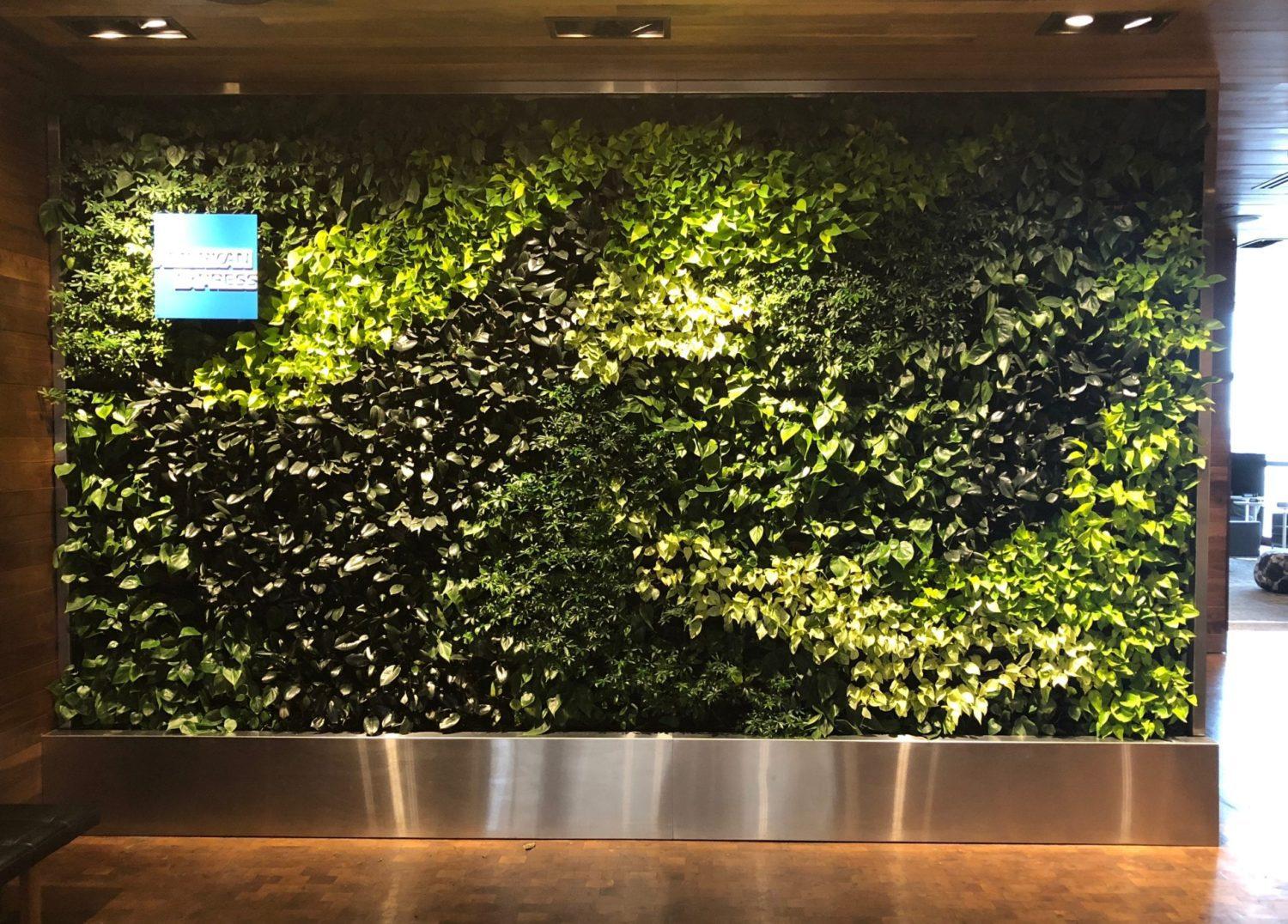 The bad news? Depending on how busy the lounge is, it can be pretty packed. And these lounges fill up fast. Later in the day or on the weekends, it can be a struggle to find seating or grab food quickly.
During a mid-week, early morning visit, the lounge was fairly empty. That gave me an opportunity to really check out the lounge, and grab any seat I wanted. On the way back home, however, it was a different story. It was packed on a Sunday evening.
For starters. there's a long bank of cozy cubes along the wall after you walk in, as well as some additional seating on the other side.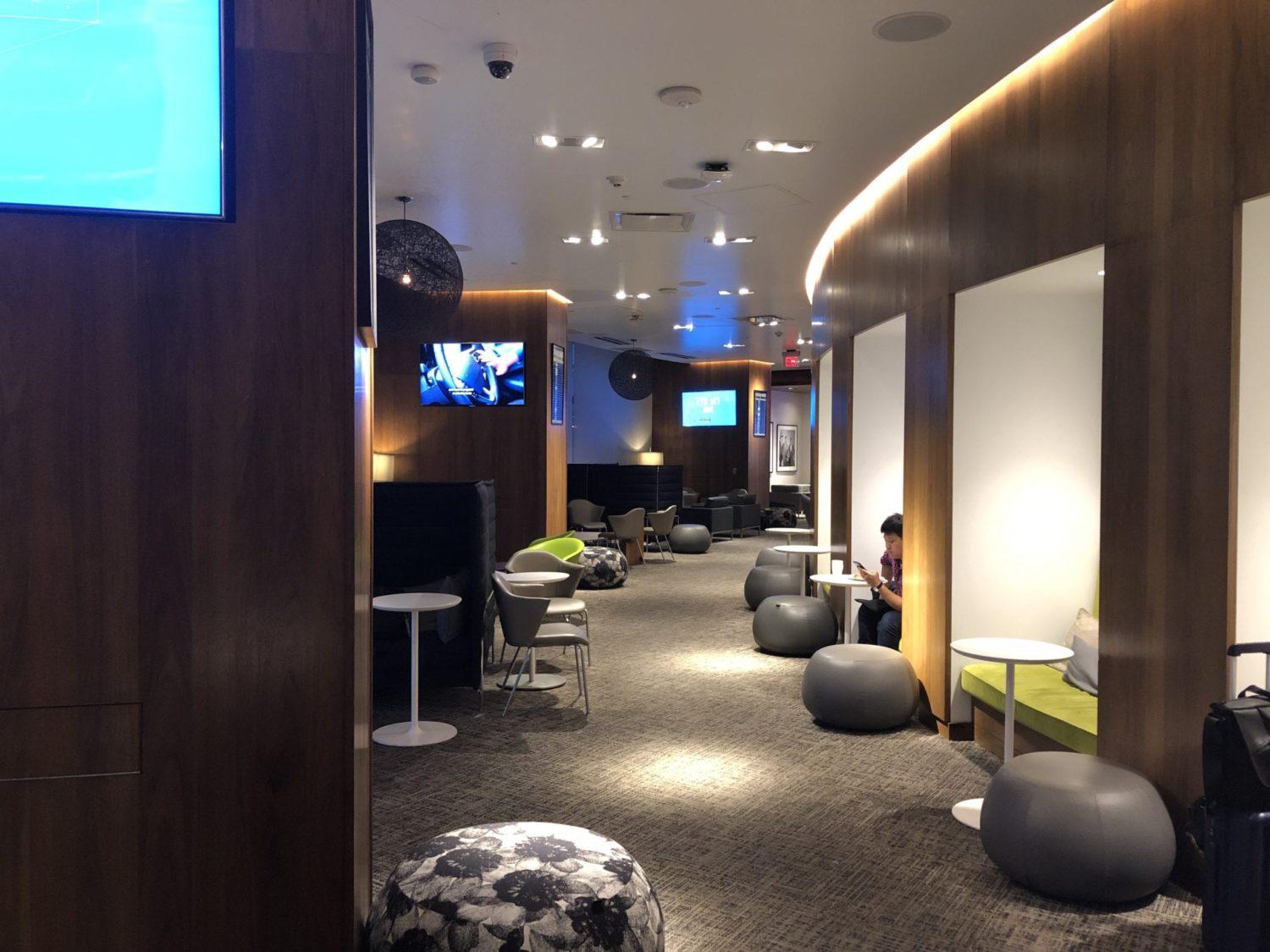 At the back of the lounge, there's more dedicated seating, with a mix of those familiar black cubes and sets of small tables with chairs. There's also a dedicated working desk here in the back.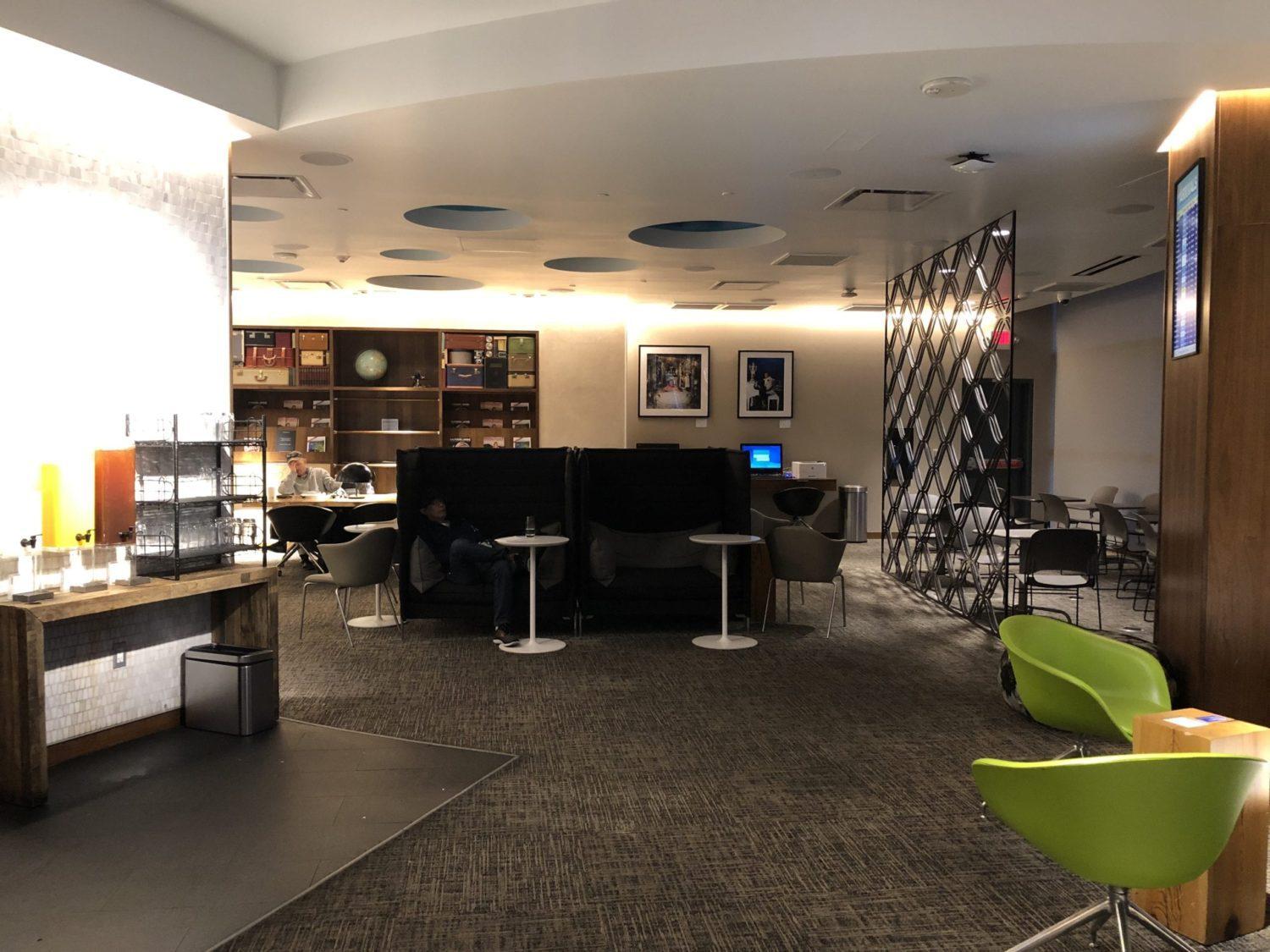 You'll also find another bank of the in-wall, green seats here. They're perfect for two.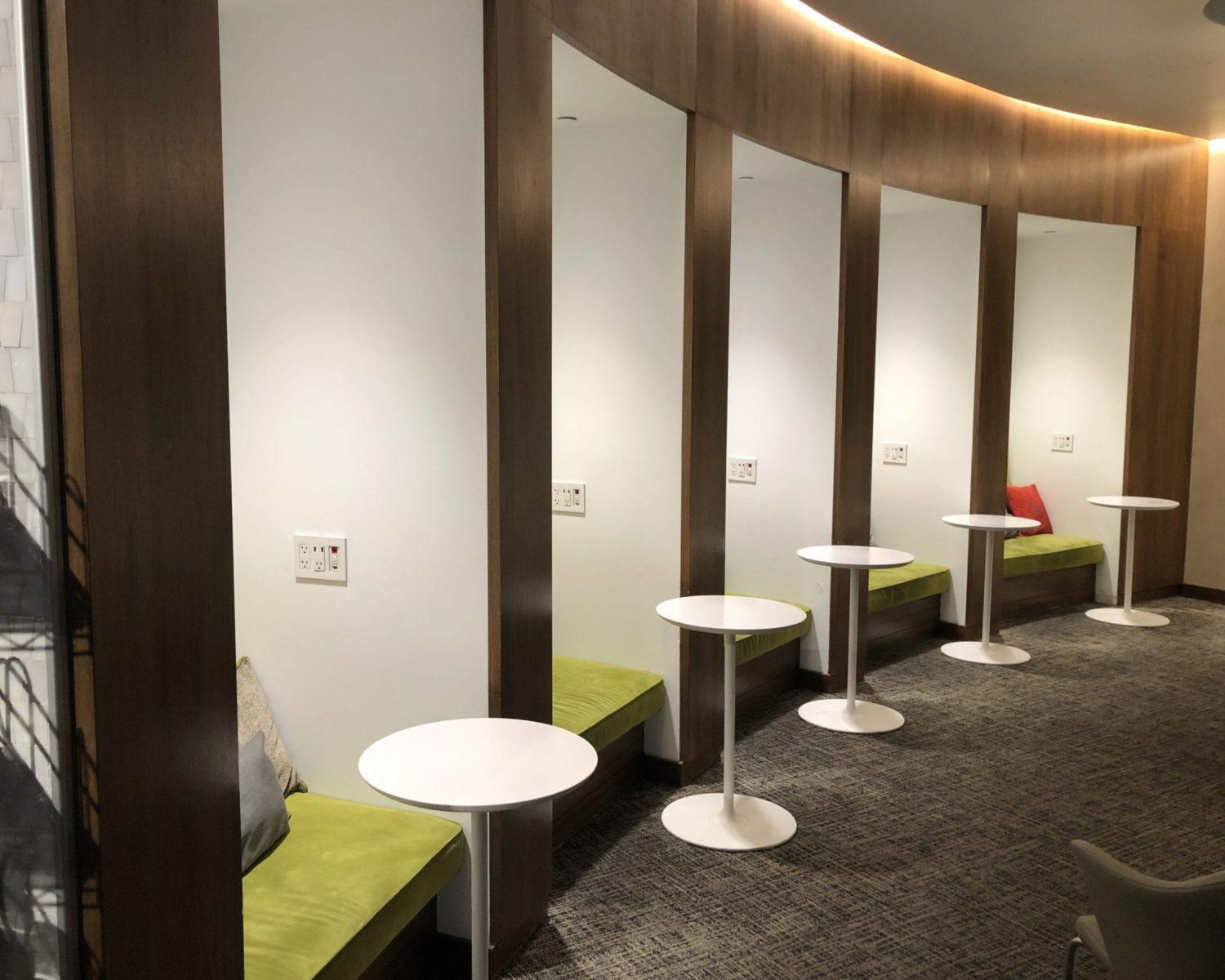 You'll also find a dedicated kids' area with some toys and a TV.
Throughout the lounge, there's a broad choice of different seats, from the green cubbies to tables with chairs to these private black loveseats …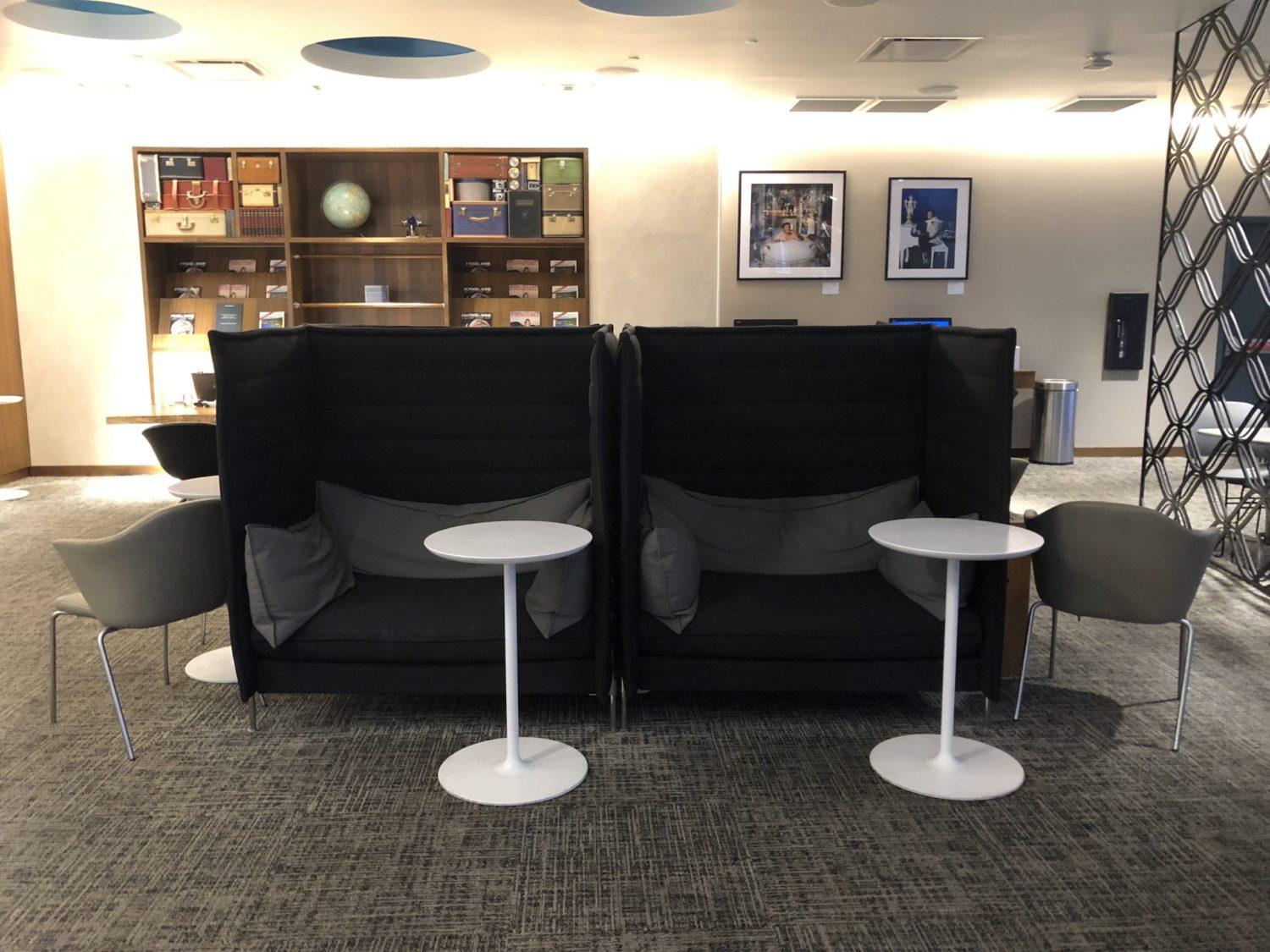 … to even a few armchairs.
There's free Wi-Fi throughout the lounge – just snag a card with the passcode from the desk as you check in.
There are men's and women's bathrooms inside the lounge. And while they're decorated beautifully and stocked with L'Occitane amenities, they're quite small. There were just two urinals and one stall inside the men's room – an expansion may be in order.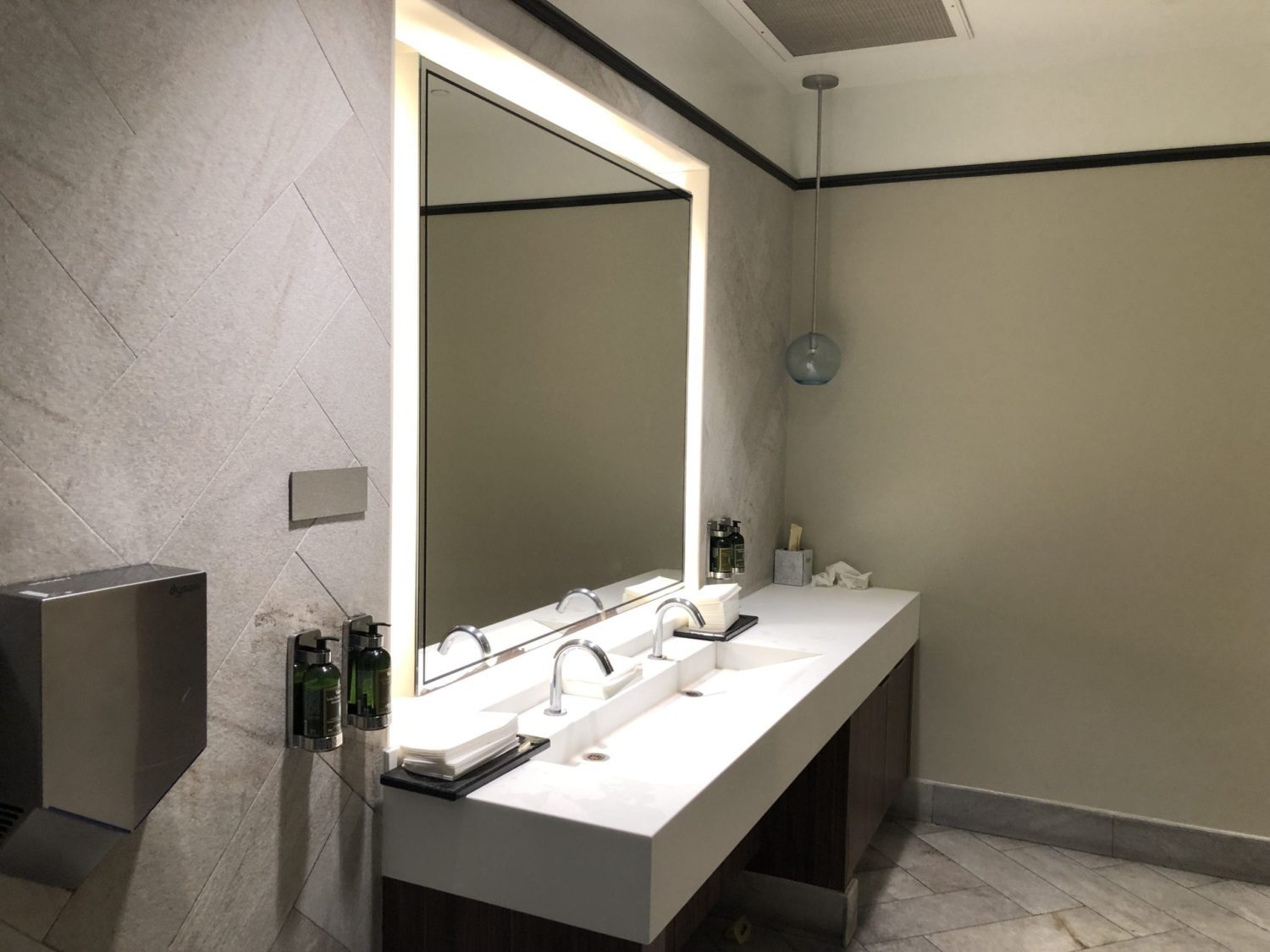 There are also plenty of tables and chairs inside the dining area.
And that brings us to the highlight of the lounge.
Food and Drinks
Airport lounges in the U.S. are typically pretty lackluster – especially when it comes to food and drinks. But this is where Centurion lounges really shine, and the LAS location doesn't disappoint.
Let's start with the bar. Though small, it's decorated nicely.

There is plenty of free wine, sparkling wine, and beer available. But the star is the cocktail menu.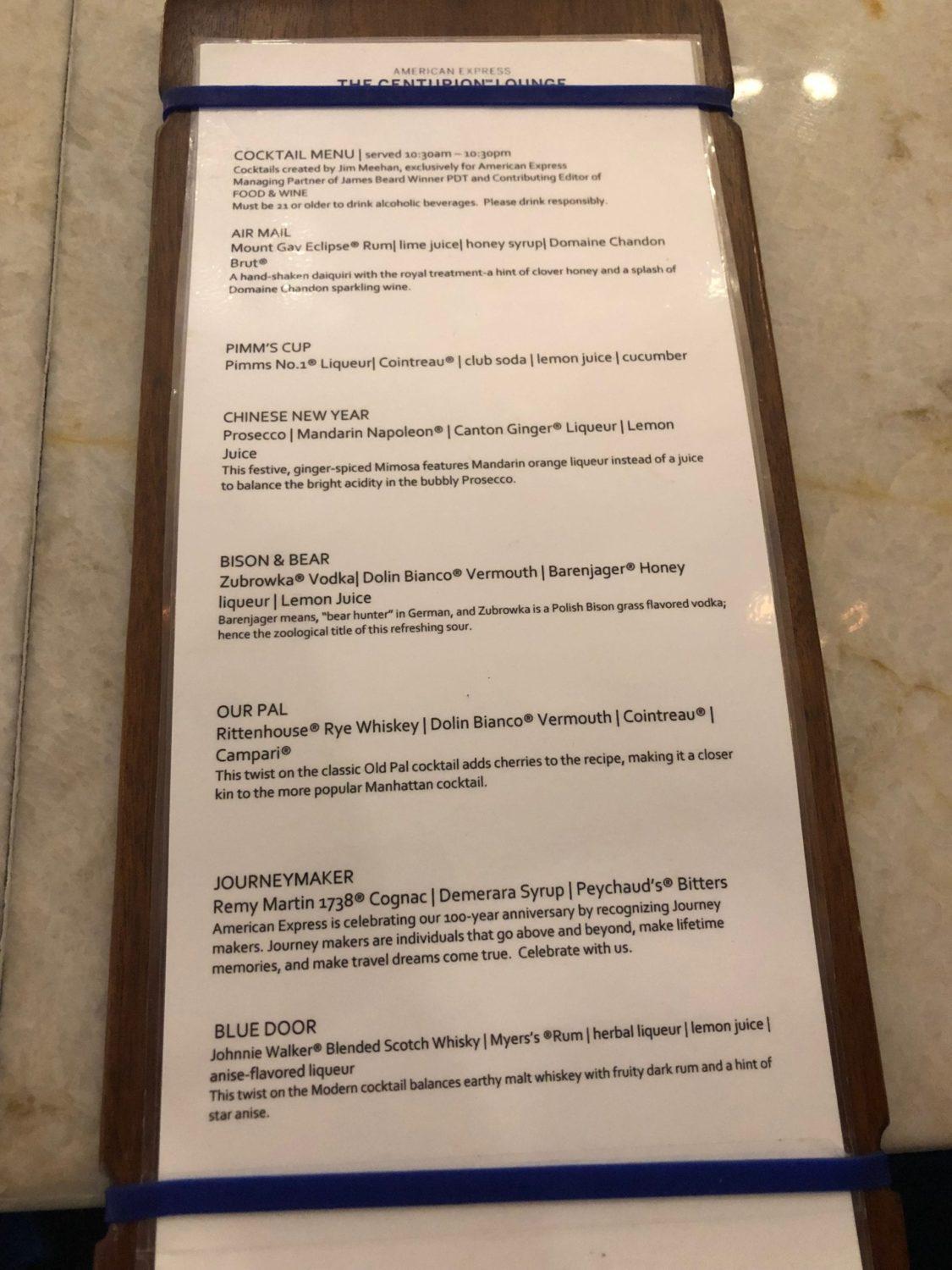 I ordered the Blue Door, which was every bit as delicious as it sounded – including that hint of star anise. And once again, all of these cocktails are free.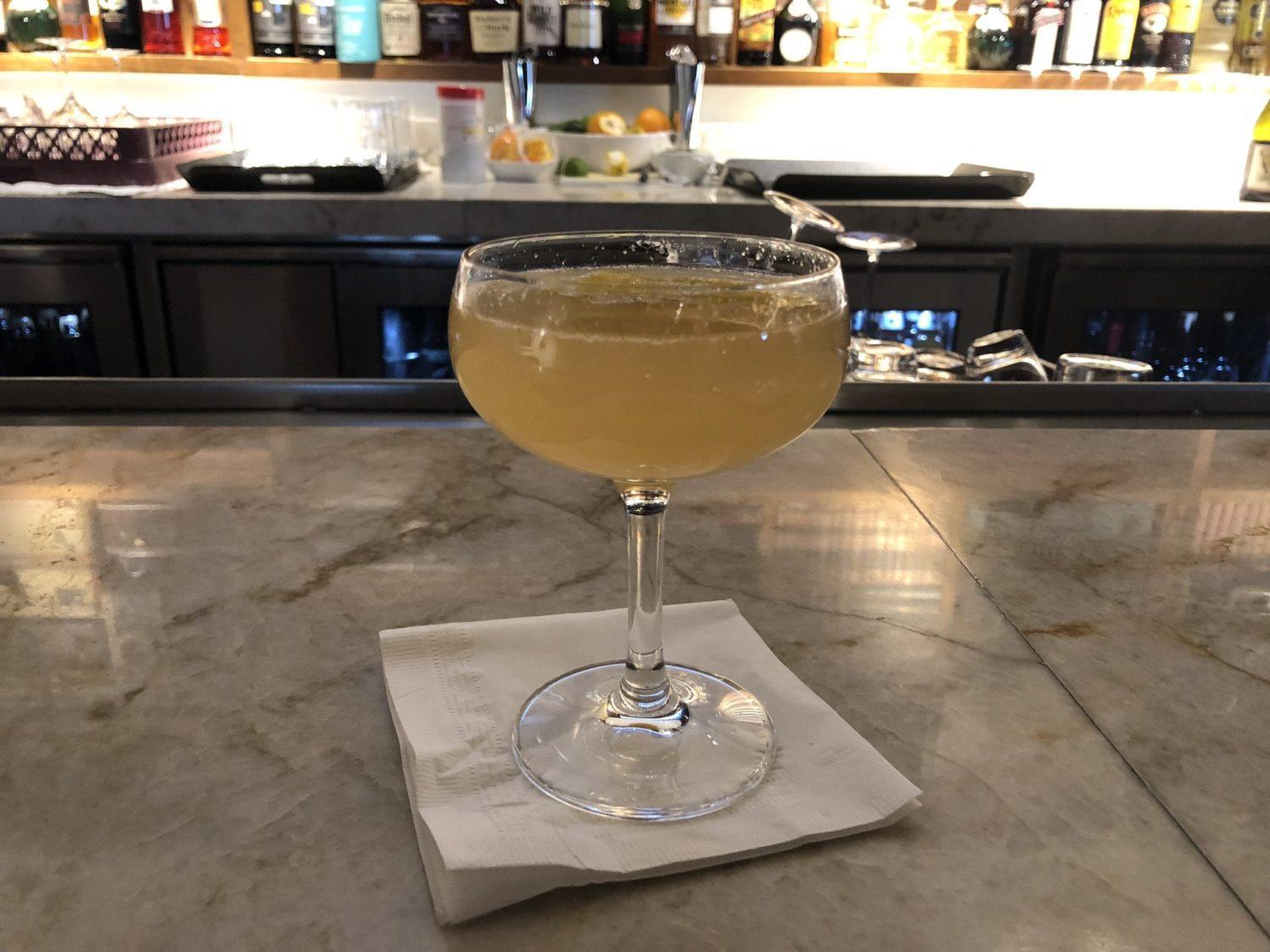 The food was similarly outstanding. For starters, there's a fairly large buffet setup with sturdy plates, cutlery, and cloth napkins.


Breakfasts are typically the most disappointing meals inside of an airport lounge. But here, there was a great spread at the buffet: spinach frittatas, a medley with sausage and peppers, scrambled eggs, blueberry pancakes, and steel-cut oatmeal.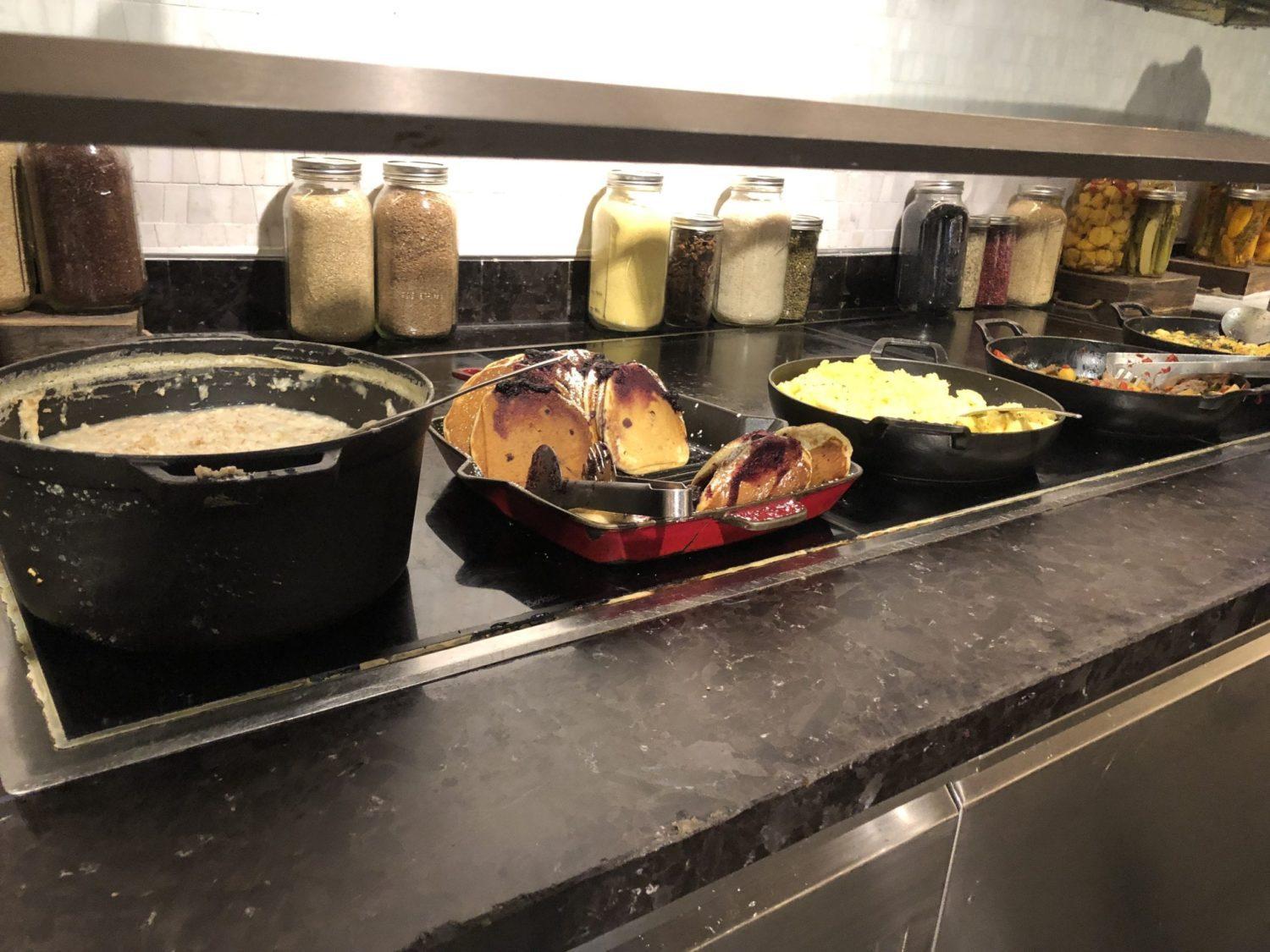 Dinner on another visit included a very tasty and spicy vegetable curry with steamed brown rice. The lounge seems to mix up its menus weekly, so depending on how often you pass through, you can probably try something different.
And though there might be some duds food-wise, it's safe to say you can typically expect a pretty good meal – not just the snacks and finger food you typically find at most U.S. lounges.
Bottom Line
The Centurion Lounge Las Vegas has a lot going for it: great seating, top-notch cocktails, and good food.
But as with all Centurion lounges, the only question is timing. If you're lucky, you'll be able to enjoy it all freely. If not, expect to work to find a seat or grab some food.