Some airlines' business class seats and service are interchangeable. Singapore Airlines is not one of them.
As I planned our honeymoon to Bali this summer, flying Singapore Airlines was at the top of my bucket list. After all, it's indisputably it's one of the world's best airlines. Its reputation for service, food, comfort, and style is larger than life.
So we hopped on a Singapore 777, flying from its hub in Singapore (SIN) to Los Angeles (LAX), with a pit stop at Tokyo-Narita (NRT) to refuel. Read on for the review of this incredible flight.
Booking
Singapore is pretty stingy when it comes to releasing award space. You can generally only book business and first class seats directly through Singapore's own KrisFlyer program. But luckily, Singapore miles are some of the easiest in the world to pile up – you can transfer points from Chase, American Express, Citi and Marriott. So I transferred a stash of Chase Ultimate Rewards points I had been saving up just for the occasion to my KrisFlyer account.
While Singapore doesn't necessarily charge an arm and a leg for business class when using miles, it's also not the cheapest frequent flyer program out there. Flights from the U.S. to Europe start at 65,00 miles. Getting from the West Coast to Singapore or elsewhere in Asia will run you 88,000 miles for a saver award. A business class ticket on the world's longest flight from Newark (EWR) to Singapore is 92,000 miles.
In all, Singapore charged 88,000 KrisFlyer miles each to fly from SIN to Los Angeles (LAX), plus the connecting leg from Bali (DPS) to SIN. On the bright side, fees were reasonable at just $67 per ticket. 
After two incredible weeks in Bali, it was finally time to fly home. And we were thrilled to ride home in Singapore's renowned business class.
Singapore business class passengers get lounge access at the SilverKris Lounge, which had a wide assortment of food and beverage options. Just beware: At peak departure times, especially mornings, the lounge can be packed.
Enamored with Changi Airport and saving ourselves for an onboard feast, we spent more time in the indoor butterfly garden than the lounge.
One unique thing about this flight: Because the Boeing 777 requires a refueling stop in NRT, you get off the plane in Tokyo. That means you can get into ANA's small but excellent business class lounge for an hour so before returning to your same seats. Be sure to check out the freshly made sushi station and noodle bar. And for a one-of-a-kind Tokyo experience, grab an Asahi beer from the self-pouring machines.
Cabin
While Singapore Airlines may be the world's best airline, it's not perfect. But on sheer looks alone, its business class cabins are pretty close. The Boeing 777s Singapore flies on this route are equipped with one of the airline's newest products. It's the same basic layout and design that you'll find on Singapore's new A350s flying to Europe and on the ultra-long haul, non-stop flights across the Pacific Ocean.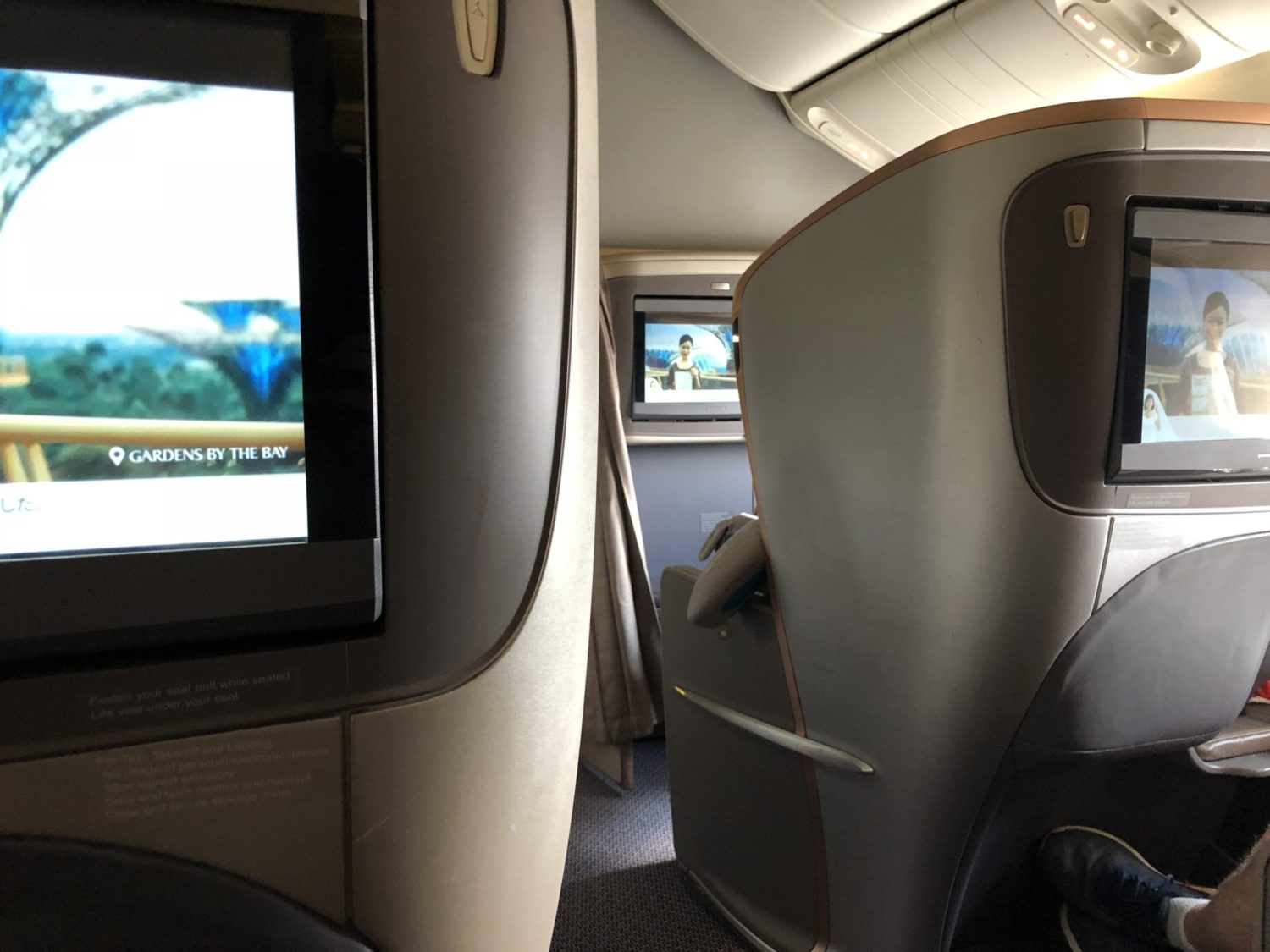 Our plane was equipped with just four first class seats, 48 business class seats, 28 premium economy and 184 economy seats. Some of Singapore's other 777s skip the premium economy cabin and have a few extra first class and economy seats, instead.
Business class itself arranged in a 1-2-1 configuration, and nearly every seat is identical. The business class cabin is divided by a galley, so there's a mini-cabin with just three rows of seats, followed by a larger cabin with nine rows of seating.
We booked early enough that we could snag seats in the mini cabin. And while I'm sure the larger rear cabin is also great, it felt that much more private and intimate. I'd highly recommend booking one of these seats if they're available.
With first class up front, all four lavatories for business class passengers are in the galley between the two cabins. And they were kept spotless throughout the flight.
Seats
From the gold detailing to the leather seats that alternate colors by row, Singapore's business class seats are immaculately designed. And they are absolutely huge. At 28 inches wide and with plenty of room to stretch out, these are among the most spacious business class seats of any airline. I'm not exaggerating when I say that you could comfortably squeeze in a companion next to you – though Singapore might not be thrilled with that.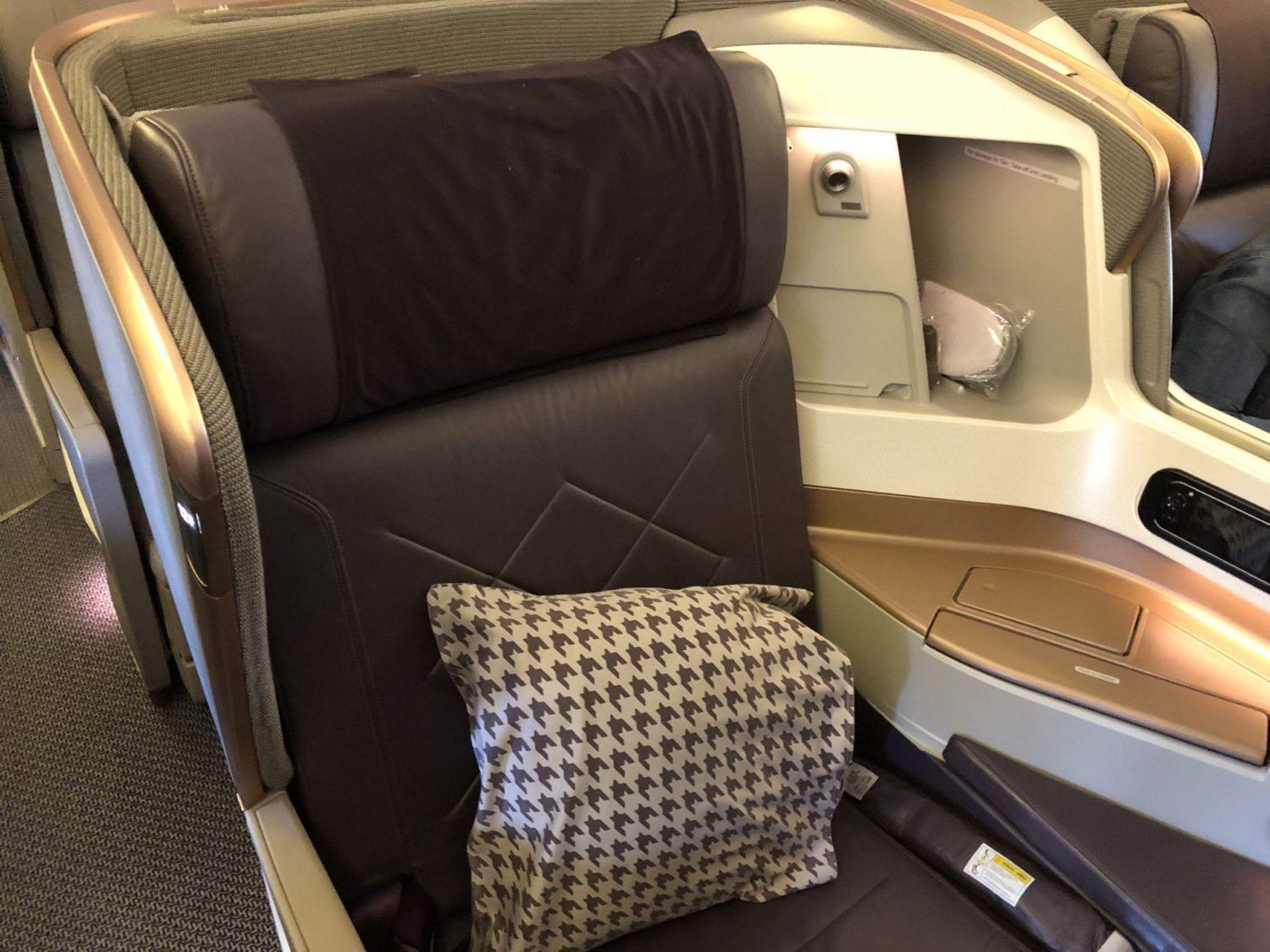 And yet there are a handful of best seats scattered throughout the cabin – if you can get one. The first row in each section, called bulkhead seats, offer much more legroom because you get a full bench for your feet rather than a small cubby. Unfortunately, these are reserved for Singapore's elite flyers until shortly before departure, so they can be tricky to book.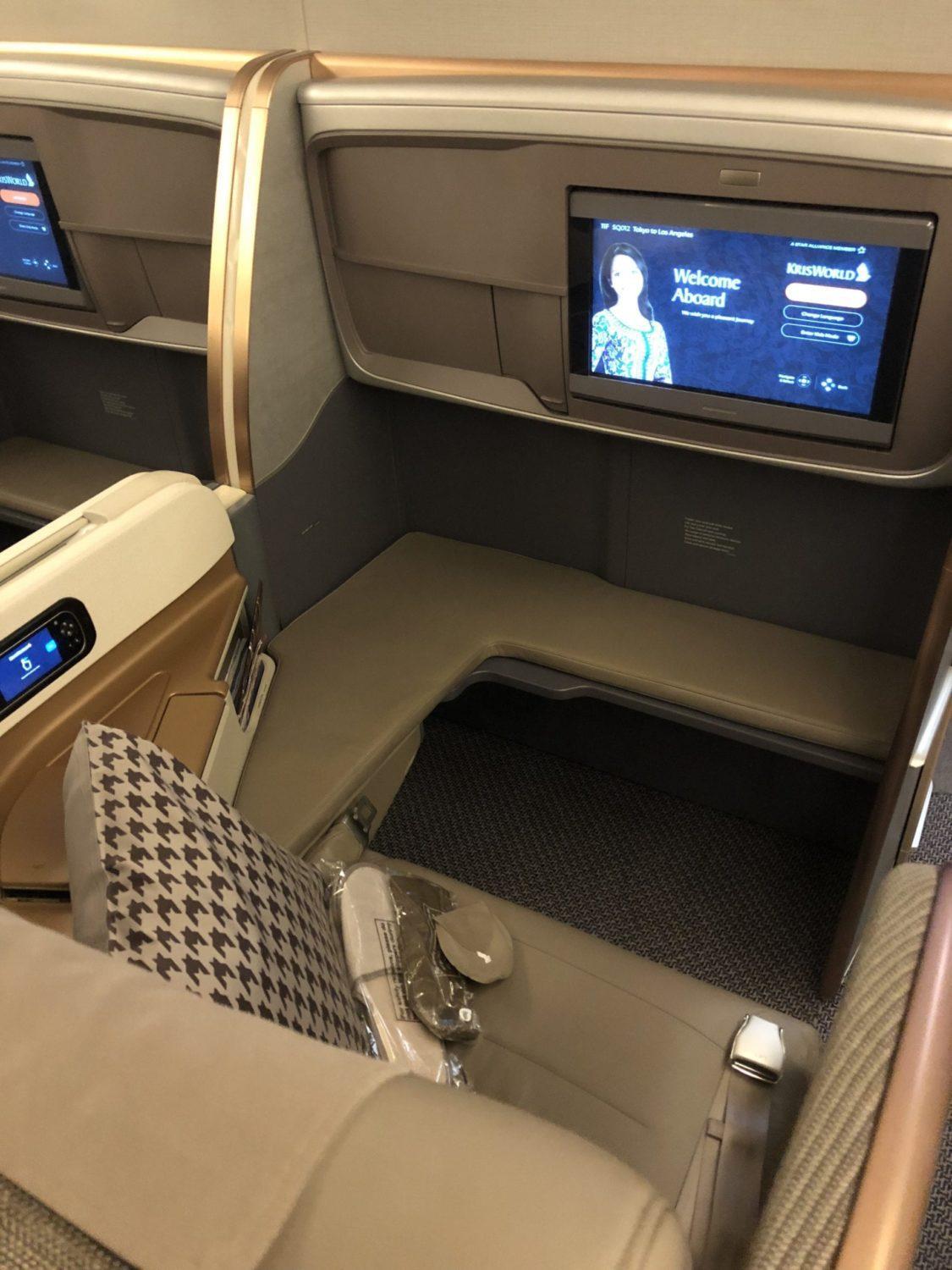 Still, it's not as though you'll be wanting for legroom at a standard seat. But the design of the seat means you have to angle your body a bit to use the foot cubby. It's a small quirk, and while many complain about this feature, I still found the seat immensely comfortable.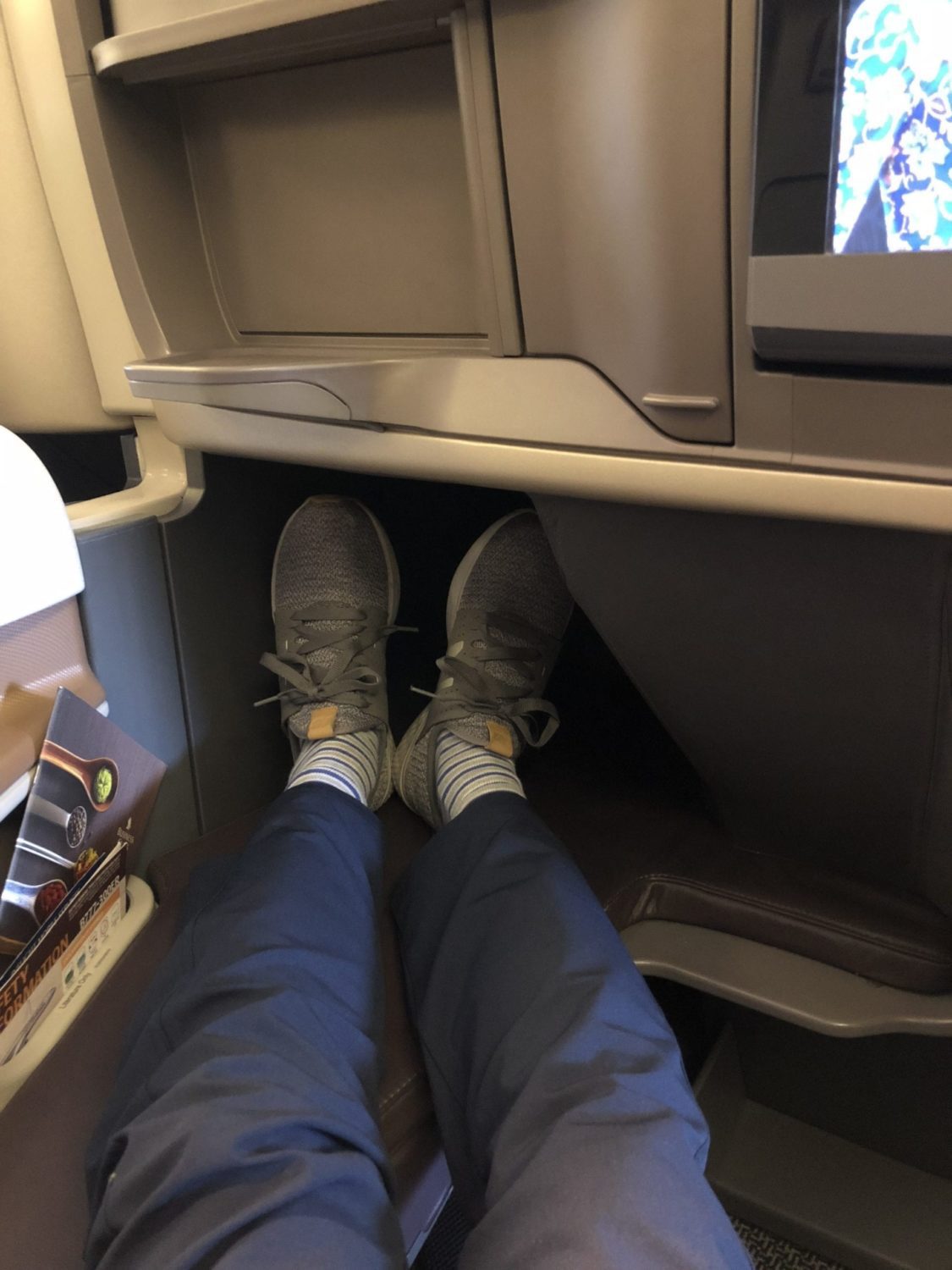 Single seats along the windows should be your go-to if traveling solo, as these seats offer the most privacy.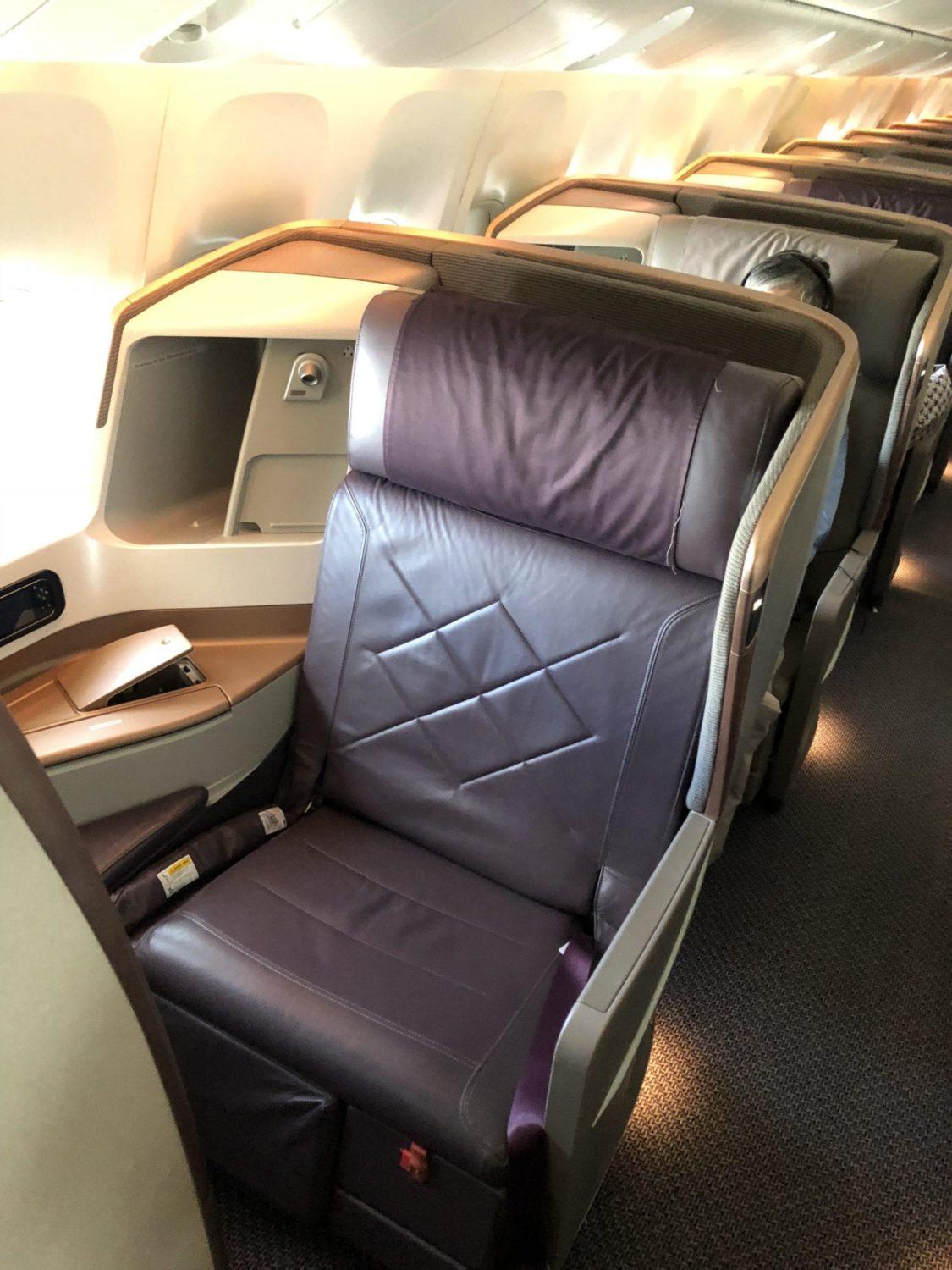 The center-section seats, meanwhile, mix the best of both worlds. While not true "honeymoon seats," they're close enough together to make chatting with your companion relatively easy. I'd rank this arrangement as better for couples than the reverse herringbone seats on EVA Air and many other airlines.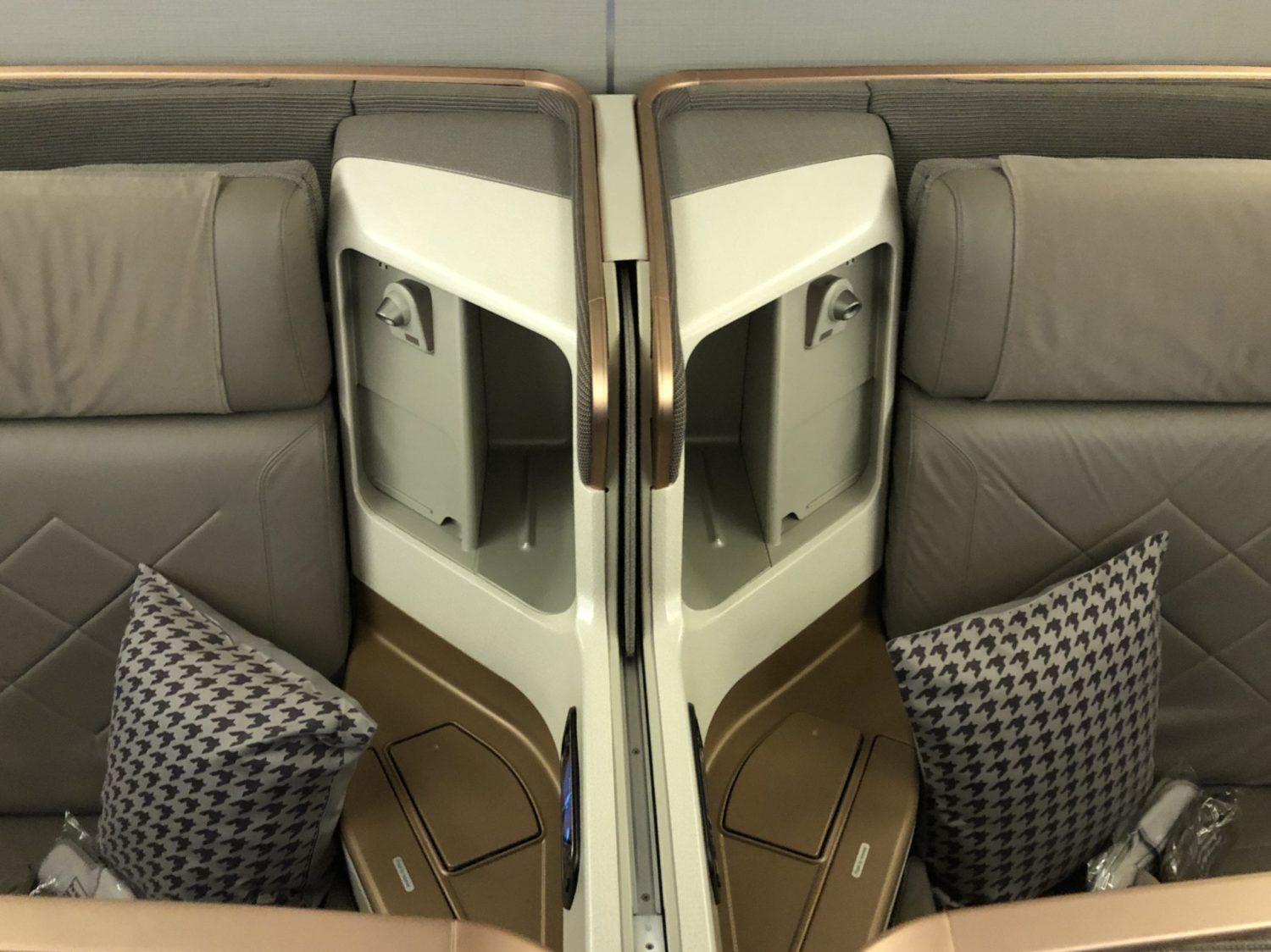 There's also a sliding partition you can pull out if you don't know your neighbor.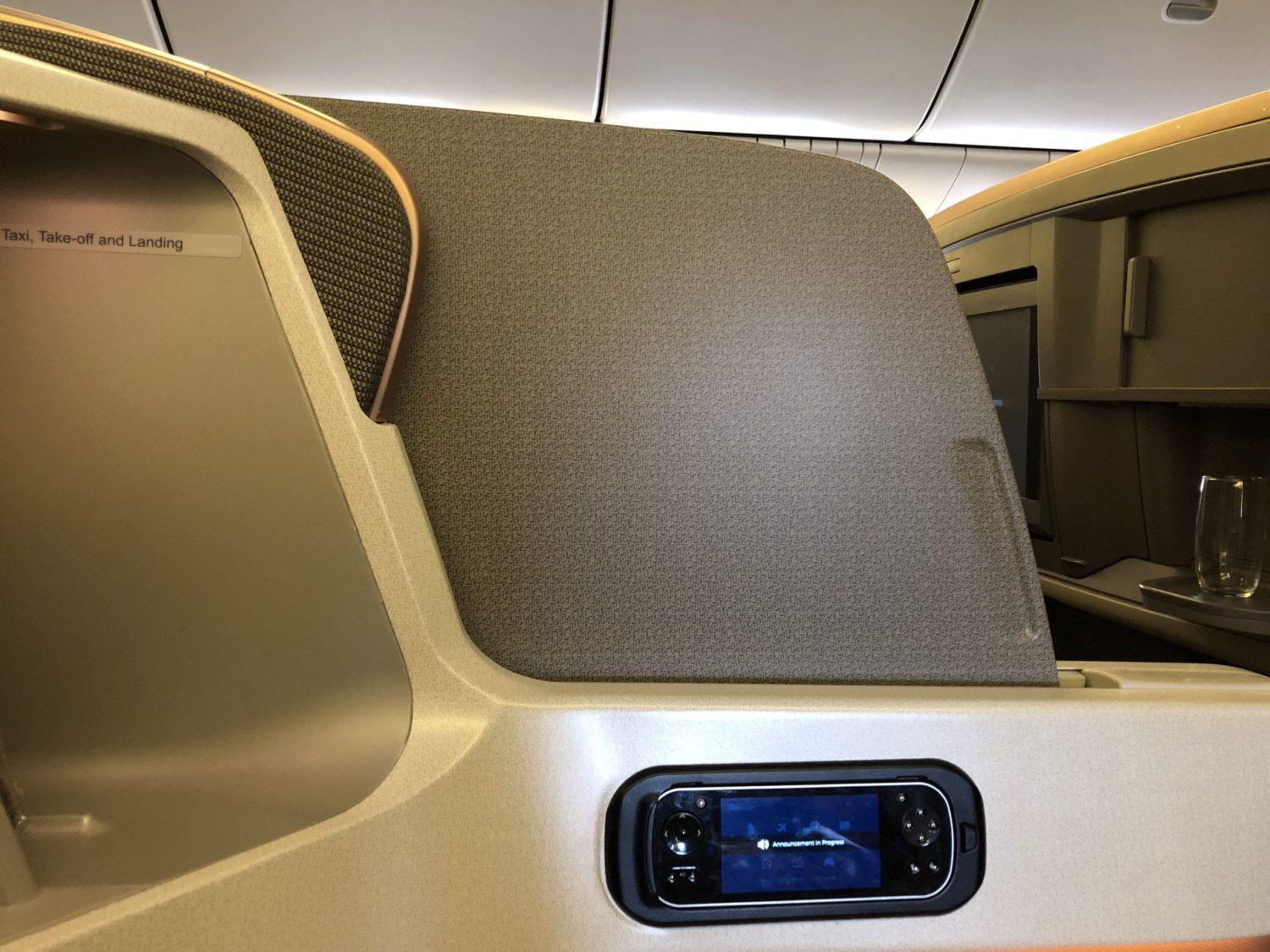 All the seat's extra space doesn't come at the expense of storage options, which are plentiful. The gold center console holds a dining tray, and a storage compartment, which holds a pretty good set of noise-canceling headphones.
The tray storage is genius – simply push down on the console and it pops up, allowing you to pull it out and over your lap. The tray itself is enormous and stable, and you can even adjust its height.
Above that, you've got a large space for a laptop or other large electronics, though this has to be empty for takeoff and landing. This is also where you'll find a reading light, ports for electricity and USB. It's also home to one of two headphone jacks.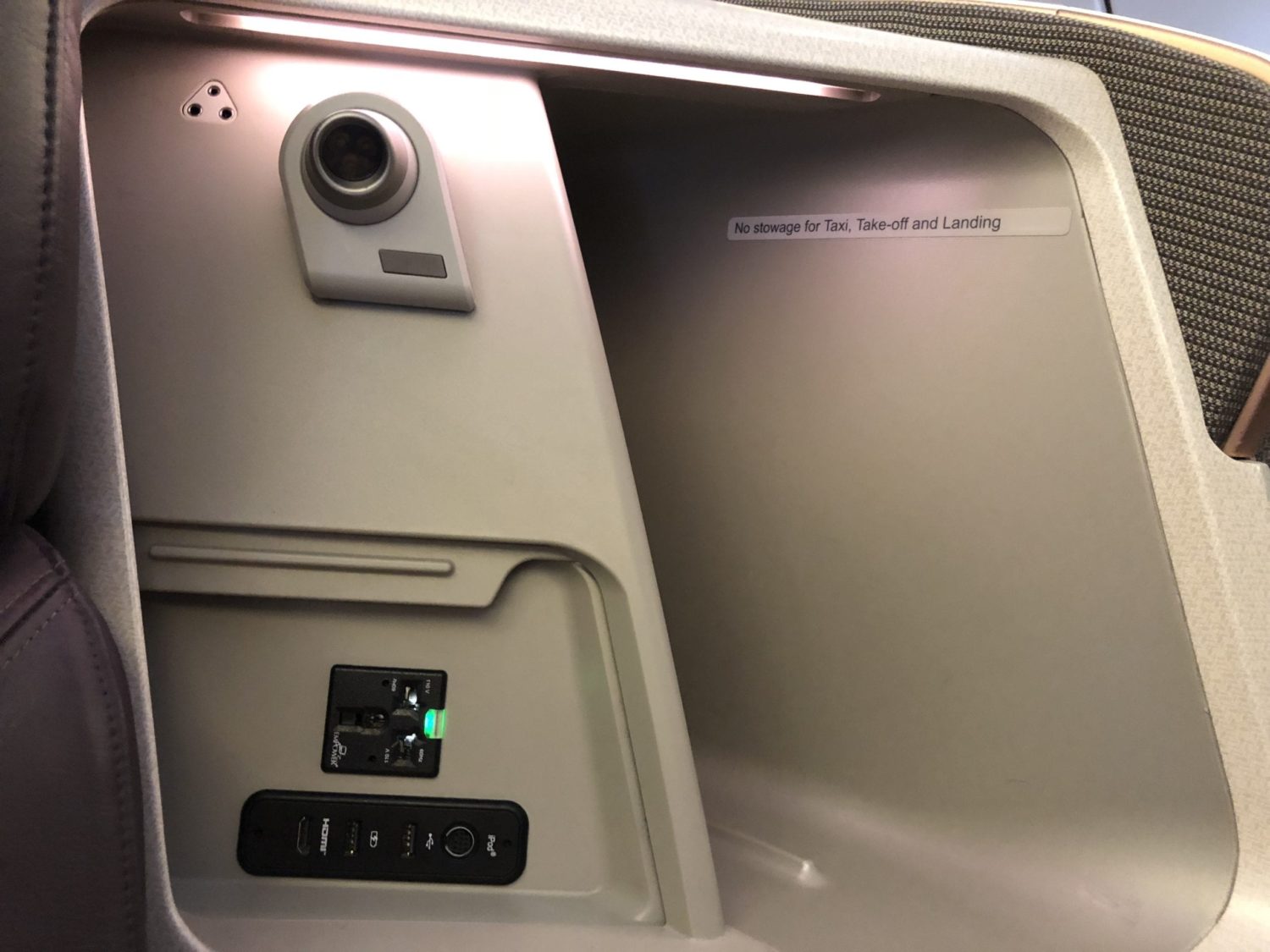 And there's even a small cubby on the seatback where you can store a phone, passport and other small items. Below that, there's a sliding panel that hides a mirror as well as a small shelf – perfect for a glass of champagne or your drink of choice.
But one of my favorite features of the seat is a large storage area underneath the foot cubby. While other airlines make you put even a personal item like a backpack in the overhead bins, there's plenty of room for a large bag.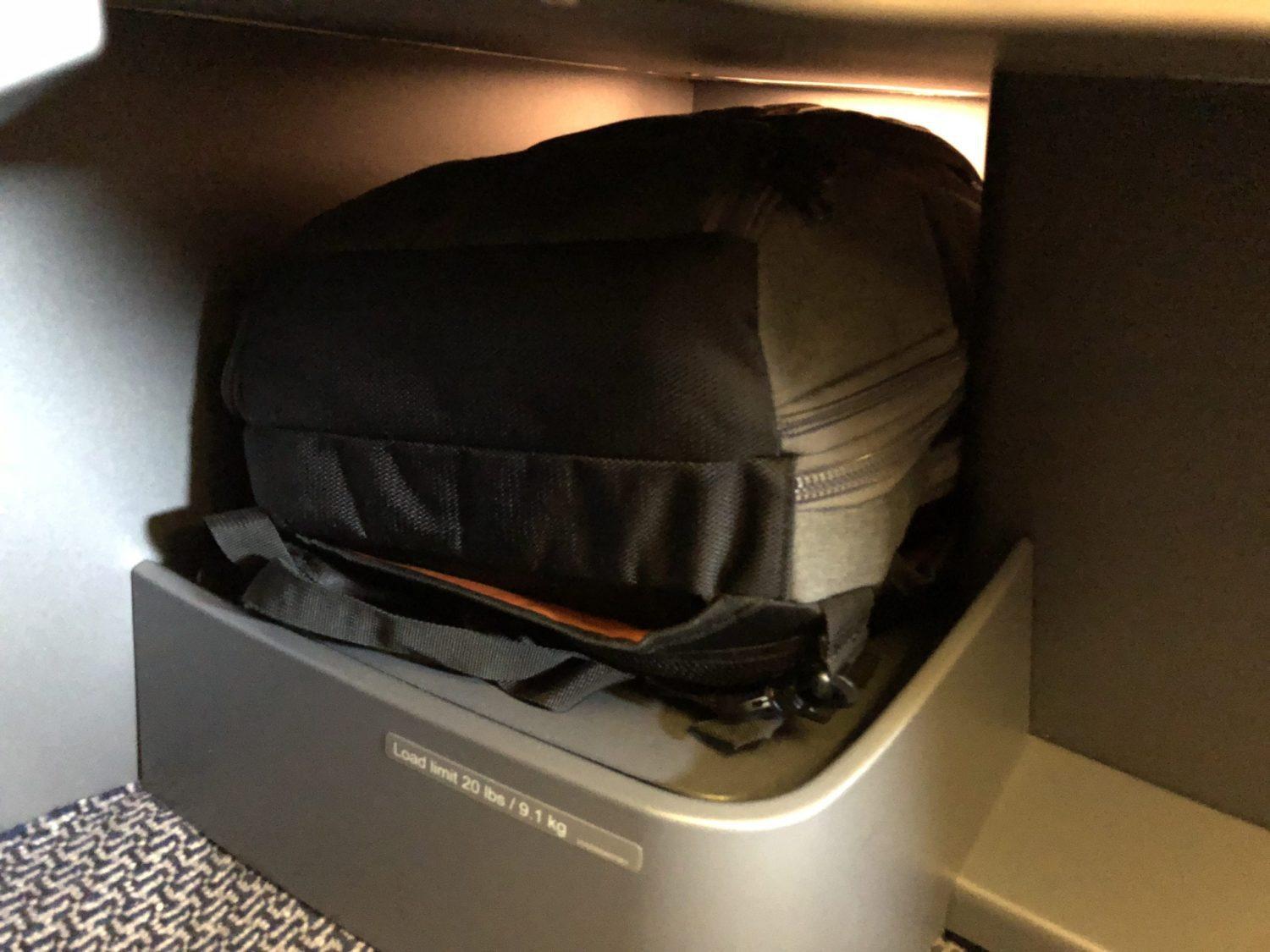 On the aisle-side armrest you'll find a straightforward set of seat controls, from lights and seat adjustments to a handy "Do Not Disturb" sign that illuminates on the outside of your seat.
A word about the seat adjustments: They're rather limited. Singapore's unique seat design means you can recline a fair amount and pull up the footrest, but you can't recline all the way back to bed mode while sitting.
Instead, you fold the seat down from the back to reveal a fully made bed. On the first leg of my flight, a flight attendant offered to make the bed for me. On round two, I found it was simple to simply pull the latch behind the headrest and make the bed myself.
Between this feature and the foot cubbies, Singapore gets a lot of flack for its setup. On the whole, I found that criticism misguided. I still loved this seat, and would pick it again in a heartbeat. I'm just 5 feet 10 inches so I'm not the tallest out there, but I never felt restricted or uncomfortable either sitting or laying down. And to me, folding down the bed was a minor quirk at most. It's a bit odd, but far from a problem.
However, there's no denying that Singapore's beds are on the hard side. I don't mind a hard mattress so I slept just fine for four hours. For others, that could be a dealbreaker.
Amenities
If there's one area where Singapore falls short, it's on amenities. Singapore doesn't offer an amenity kit in business class, instead stocking its lavatories with ear plugs, shaving kits, combs, lotion, toothbrushes and more. And while that might be all you need, it feels like an oversight as other airlines offer fully stocked kits.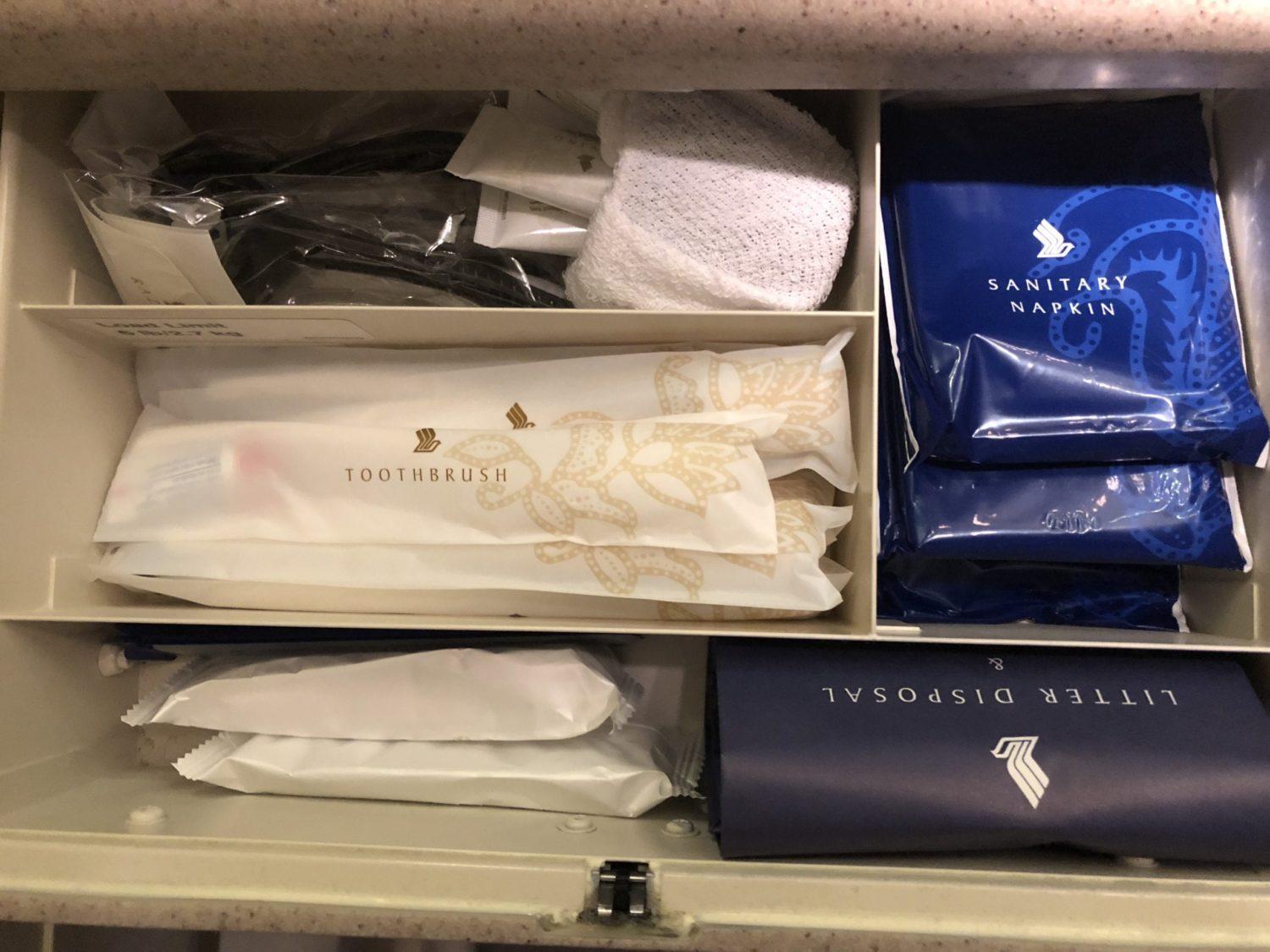 Nor do you get pajamas in business class, though that's not unusual. Just a handful of airlines provide nightwear to business class passengers. Instead, there are a handful of goodies waiting at your seat as you walk on board. That includes a pretty good pair of slippers, some socks and an eye mask. Plus, the pillows are chic and quite nice.
On the plus side, the set of noise-cancelling headphones available in Singapore Airlines business class is about as good as it gets, short of Bose. I still opted for my own pair of QC25s, but these were nearly as good.
Service and Dining
Singapore Airlines' service in business class is legendary, and it mostly lived up to that reputation on my flight. The flight attendants were almost all outstanding on both segments of the trip. They were speedy without being sloppy, attentive without being overbearing. That's a difficult balance to strike, but Singapore does it with ease.
A male purser working my aisle on the leg from NRT to LAX really stood out. He was constantly smiling and cracking jokes throughout the 11-hour journey.
There were sometimes, however, where the service from other flight attendants almost felt forced, bordering on robotic. While some flight attendants were engaged, others were far more prescripted. At times, it felt like they were reading off a to-do list and checking off each task.
That's ultimately the smallest of complaints – the service was still attentive and exemplary. But when you're talking about the world's best airlines, every little detail matters. Still, there's no denying Singapore's service is at or near the top of its class. It's just one area where I felt it didn't exactly live up to the hype.
Flight attendants came through the cabin soon after boarding with drinks, offering a choice of champagne, orange juice or water. I opted for a glass of champagne – when in Rome?
Book the Cook
When it comes time to eat, there are plenty of choices on board, of course. But the airline's Book the Cook feature blows it out of the water. Singapore offers this incredibly expansive pre-order menu for premium cabin passengers, and it's among the best in the world. It allows you to preselect your meals from a much larger menu than what's available onboard.
It's generally only available on long-haul international flights. If you're at an outstation, there are a dozen or so choices to pick from. But the options are seemingly endless when flying out of their SIN hub. Seriously, I counted 46 different choices, from Western meals to lobster thermidor to a selection of sushi to nearly a dozen health-oriented options dubbed "Wholesome Meals." Check out all the different Book the Cook offerings here.
Just when you can Book the Cook seems to vary by flight. My menu opened up about six months ahead of the flight. Access this great feature by logging into your KrisFlyer account and managing your booking.
If you want to compare your Book the Cook options with the standard offerings, the inflight menu – what's available onboard – posted about a month before my flight. If you stick with Book the Cook, just be sure to pick your meals at least 24 hours before departure.
No matter what you pick, every meal service starts off with a plate of Singapore's famous satay, a mix of grilled chicken and beef skewers with a healthy (and delicious) serving of peanut sauce.
About 20 minutes later we were served the starter, an antipasto platter with tomatoes, mozzarella, smoked duck breast and parma ham. The balsamic dressing helped make it shine. Flight attendants came around with a bread basket, from which I chose a piece of garlic bread. 
For our first meal out of SIN, I opted for a bowl of prawn and chicken Laksa, a Singaporean classic on the Book the Cook menu. It's not exactly fine dining and won't win awards for presentation, but it was delicious.
For dessert was a simple but delicious bowl of Hagen Dazs salted caramel ice cream.
And finally, the flight attendants came around with a cheese platter. A bit skimpy on the crackers, but a great assortment of cheeses.
After the stop at NRT and a snack in the lounge, meal service began promptly on the transpacific leg of the trip. Because we weren't departing from Singapore's hub, the Book the Cook choices weren't as exhaustive – there were just a dozen or so options for this flight.
But luckily, Singapore serves some incredible Japanese set meals on flights in and out of NRT called hanakoireki. These meals are only available through the on board menu, and that's what I went with.
First up was an assortment of cold dishes, including some lightly seared salmon, buckwheat noodles, tofu and some marinated vegetables. It was all incredibly flavorful, and I thought the presentation was stunning. 
Next up on the hot tray was a small filet of grilled salmon, some more marinated tofu and vegetables, a few pickles and other tasty sides I didn't quite recognize but gladly ate. It came with some tea and a side of miso soup.
For dessert was a piece of matcha chestnut cake. It was light and fluffy, not too sweet and the perfect ending to the meal. 
For anyone flying Singapore Airlines business class to or from NRT, I'd highly recommend the hanakoireki meal. It's a one-of-a-kind experience to have on a plane.
Throughout the meal, the male purser working my aisle (whose name I didn't catch) was quick to clear my plates. And he was very fast and generous with the refills of champagne. Singapore Air serves Charles Heidsieck Brut Reserve, which was great. But the airline saves the real top-shelf stuff for first class: Passengers can choose between Krug and Dom Perignon.
After wrapping up the meal, I settled in for a long nap and easily got about four hours of sleep. I lounged in my seat for the next few hours, watching a few movies and occasionally dozing off.
Singapore has a variety of made-to-order snacks available throughout the flight. But I was still pretty stuffed and just perused the menu.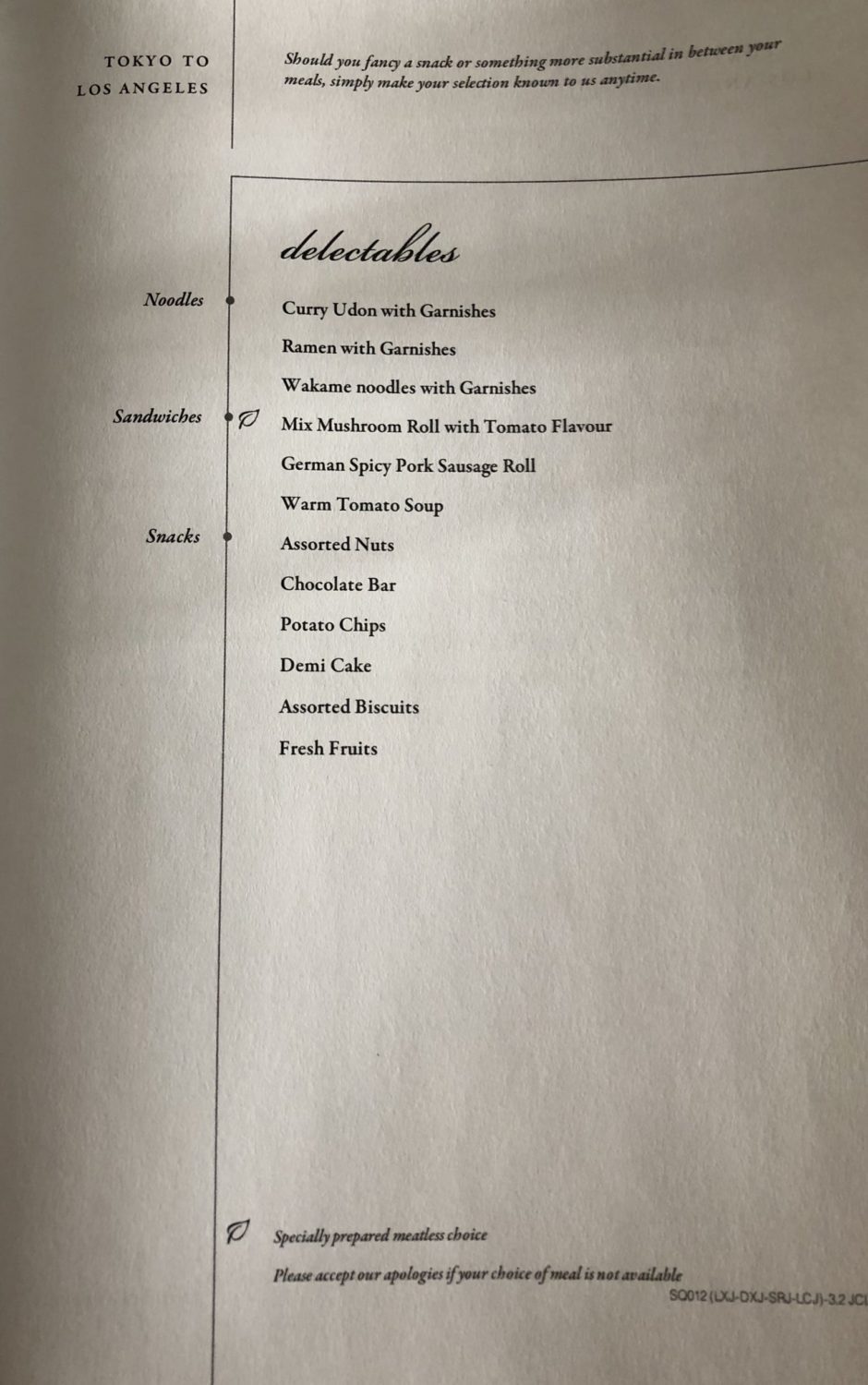 About 90 minutes before landing, service began for the pre-arrival meal. After the obligatory serving of satay, there was another antipasto salad with duck breast, prosciutto, mozzarella and tomatoes. It was nearly identical to the first antipasto platter, though that's not a bad thing.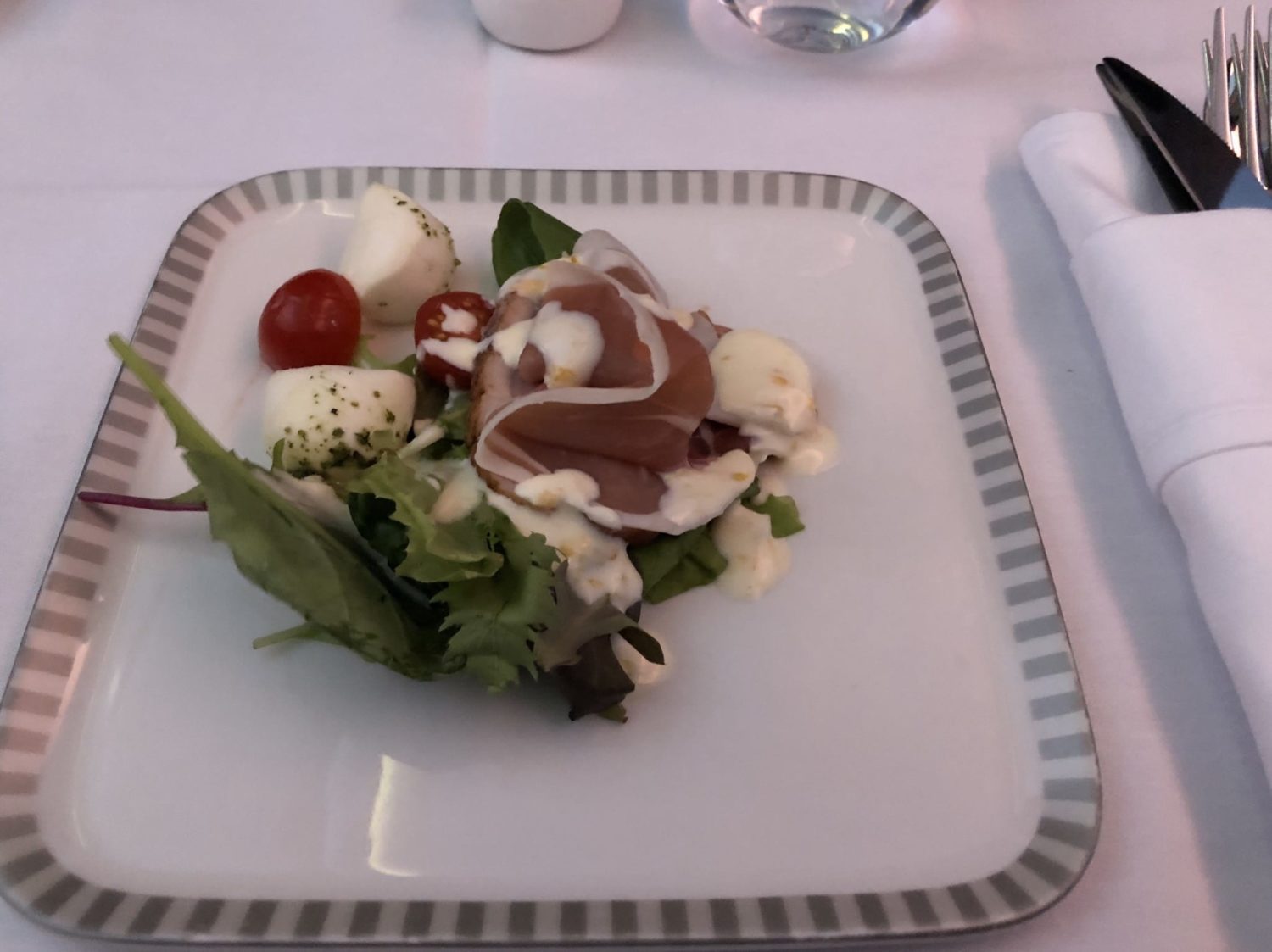 I had again passed on another Book the Cook order and opted to order my entree on board. I went with the braised ee fu noodles with seafood. Truth be told I still wasn't very hungry, but I thought these noodles were pretty bland and somewhere between bad and passable.
For dessert was a black cherry flan, but I was too full and skipped it. Singapore had plenty of coffee (Illy-branded) and tea on offer, but we were set to make it home late in the evening and I didn't want to mess further with the inevitable jetlag.
In all, Singapore's food is incredible. There were plenty of hits and one miss, but I fault that just as much on the unbelievable quantity of food we were served as I do on the meals themselves.
Entertainment
Singapore Airlines' business class seats are equipped with 18-inch entertainment screens. And these displays are about as sharp and crisp as they come.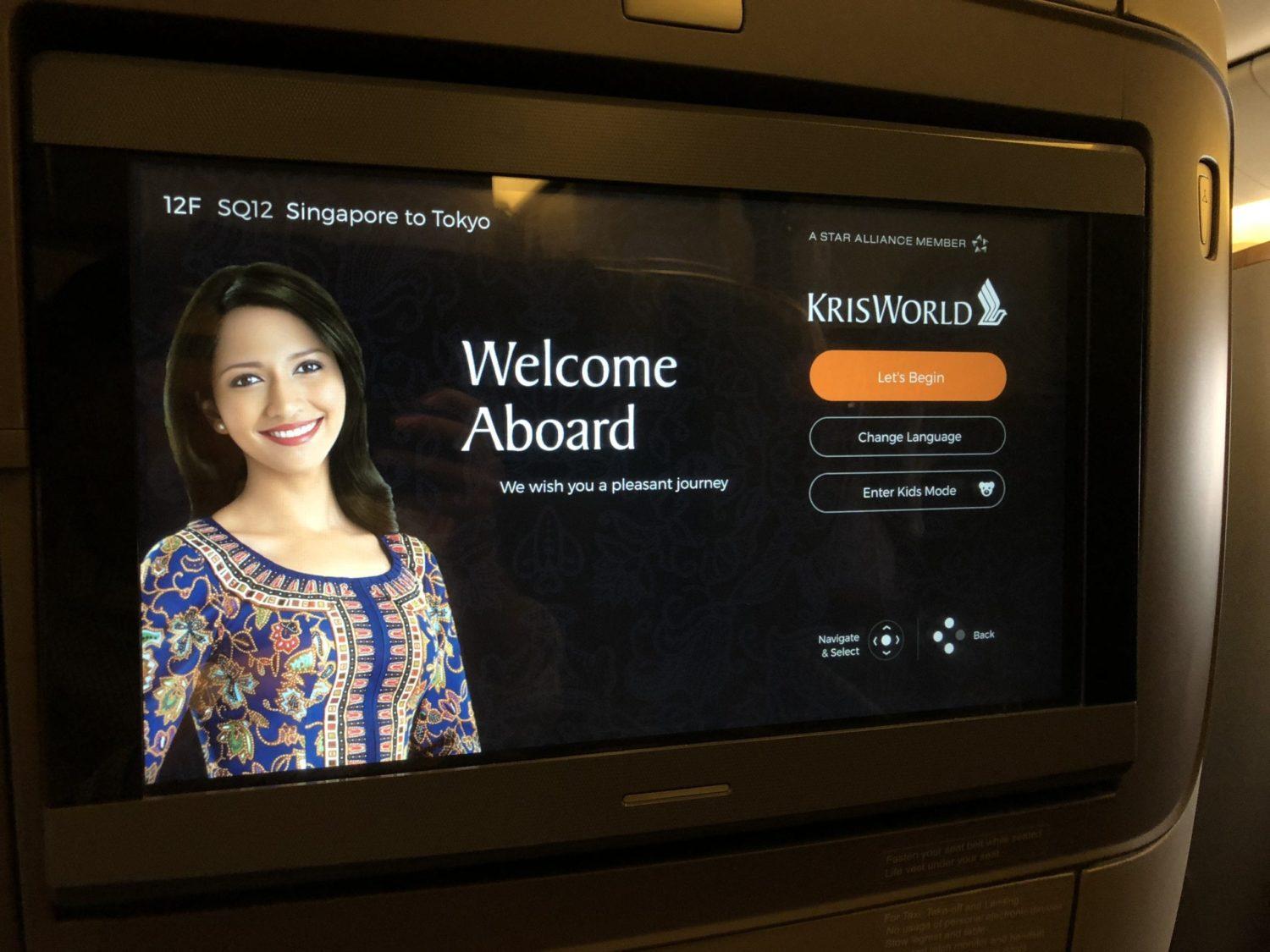 The button on top allows you to release the monitor so it can be tilted downward. So while some carriers drop the ball when it comes to watching entertainment while reclined and lounging, Singapore nails it.
I found the positioning of the monitor to be perfect. It's close enough to your seat that it feels bigger than its 18 inches (which is already on the big side for business class.) Yet it's not so close that your eyes will burn a few hours in. For how close the screen is, it's not a touchscreen. Everything has to be controlled by the wired remote. It's a minor fault in what I otherwise consider to be a perfect setup.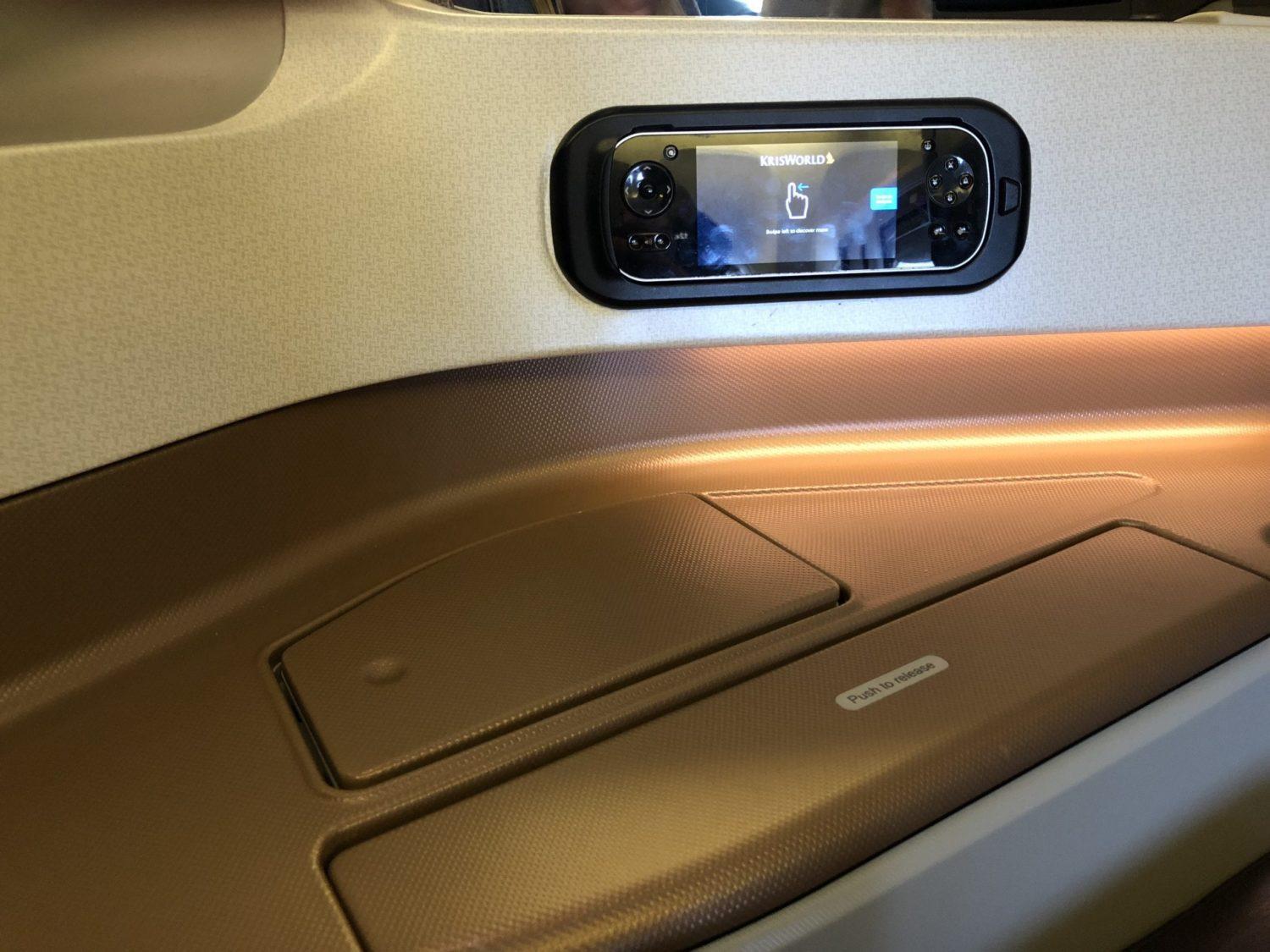 But it was the selection of entertainment that makes Singapore's in-flight entertainment out of this world. There were at least 300 movies on board, with a great mix of new releases, older classics and some standbys. To my delight, there were at least a dozen Marvel movies – a guilty pleasure that I rarely watch at home. Beyond that, there were at least 600 episodes of TV shows, including some full seasons of major sitcoms like Modern Family.
It can be hard to stay entertained when you spend 15-plus hours in the air. But that was never a challenge on Singapore. Instead, the issue was deciding what I wanted to watch and what I wouldn't have time for.
Bottom Line
Though not without some minor faults, this was an incredible flight. I personally don't get the gripes about Singapore's business class seating. Combined with some great service and incredible food, it's not hard to see why Singapore Airlines business class products is regarded as one of the best in the world.