The top Delta SkyMiles co-branded credit cards from American Express are offering welcome offer bonuses of up to 100,000 SkyMiles. From the Delta SkyMiles® Gold American Express Card to the top-tier Delta SkyMiles® Reserve American Express Card.
But the cards themselves have been around for years – a SkyMiles card is a fixture in many Delta flyers' wallets, thanks to free baggage and other benefits. So what if you've already got a Delta Amex Card – 0r had one in the past? Can you still get one of these big bonuses? How do you know if you're eligible?
The answer? It depends … but you may still be able to snag one of these bonuses. We'll break down everything you need to know.
Related reading: 6 Underrated Benefits of the Delta American Express Cards
American Express Welcome Bonus Eligibility Rules
Every bank sets its own rules and restrictions around credit card applications.
For example, Chase has the dreaded 5/24 rule, and no rule is stricter. It bars you from getting approved for a new Chase credit card if you've opened five or more cards in a 24-month period from any bank – not just Chase.
American Express doesn't have that same rule, so you don't need to worry about it when it comes to Delta's co-branded credit cards. But that doesn't mean it's a free-for-all to get any Amex card you want. Here's a snippet from the terms of Amex's card applications:
"Welcome offer not available to applicants who have or have had this or previous versions of this Card. We may also consider the number of American Express Cards you have opened and closed as well as other factors in making a decision on your welcome offer eligibility."
Essentially that means if you have had a specific American Express card in the past, you will not be eligible to earn the bonus on that same card. Generally speaking, this Amex restriction will follow you for about seven years after you close a card. At that point, data points suggest that Amex allows you to apply for that card again – and be eligible to earn the welcome offer bonus, too.
But if Amex determines you have a pattern of opening credit cards to earn a bonus only to close the card immediately afterward, it could make you ineligible to earn a welcome bonus on a new card. So while Amex isn't looking at your credit card history with other banks, they will factor in which Amex cards you have had previously, and what you have done with the Amex cards you already have.… regardless of whether or not you earned the welcome offer bonus on them.
So what does this all mean for if you're deciding to open another new Delta card?
Can I Get A Delta Credit Card if I Already Have One?
It depends.
Let's say you currently have the Delta SkyMiles® Gold American Express Card. If you have never had the Platinum version, based on the eligibility rules set forth by American Express, you are absolutely eligible to open the Delta SkyMiles® Platinum American Express Card and earn the full welcome bonus offer.
The same principle holds true for any of the four Delta SkyMiles credit cards. American Express views each Delta credit card as a different card product. So long as you haven't held that particular card, that means you're eligible to earn the bonus on all of them. and thus you are eligible to eventually earn the bonus on all of them.
If you've had that exact Delta SkyMiles card in the past, you'll likely need to wait seven years (or longer) since you closed it to be eligible again. But if you haven't yet had it, you should be eligible – assuming you meet all of the other eligibility requirements, of course.
Should I Upgrade My Existing Delta Credit Card?
The short answer? It's possible, but you probably shouldn't.
With welcome offers of up to 100,000 SkyMiles on the table, Delta and American Express are clearly looking to get new cardholders in the door. But they're also shelling existing cardholders with offers to upgrade to a higher-tier card, too.
Should you take them up on an offer? It's almost always a bad idea. Taking that upgrade will make you ineligible for earning an even bigger welcome bonus offer on the same card later on.
Let's say you've got the Delta SkyMiles® Gold American Express Card and get an offer via email to upgrade that card to the  Delta SkyMiles® Platinum American Express Card. More often than not, these upgrade offers pale in comparison to the elevated bonuses we often see on the suite of co-branded Delta credit cards.
And because of the way Amex's application rules work, even if you have the Delta Gold Card, you would still be eligible to apply outright Delta Platinum card and earn the full welcome offer bonus – as long as you haven't earned the bonus on that card previously.
Upgrade instead, and you won't be able to get a big welcome bonus on that card in the future. So while Amex will often present you with an offer to upgrade to a more superior card, that offer will almost never be as good as the offer to apply for the card as a new account.
That said, Amex and Delta have started to turn this on its head recently with some very strong upgrade offers – stronger than we've ever seen, in fact.
Read More: You Can Upgrade Your Delta Amex Card (But Maybe You Shouldn't?)
Be Aware of the Amex Welcome Offer Pop-Up
These rules may all sound confusing. But the bottom line is that if you think you might be eligible, the best thing to do is try and apply.
That's because American Express implemented a tool a few years ago that stops you from submitting an application if you are not eligible for the bonus.
All you need to do is fill out the application as you normally would and click "Agree and Submit Application." After a few seconds, if you are not actually eligible to earn the bonus on the card you are applying for, American Express will let you know with a pop-up like the one below.
Better yet, they will give you the chance to cancel your application before your credit is pulled and the application is processed. If you don't receive the pop-up, you should be good to go and eligible to receive the welcome offer bonus on whatever card you are applying for.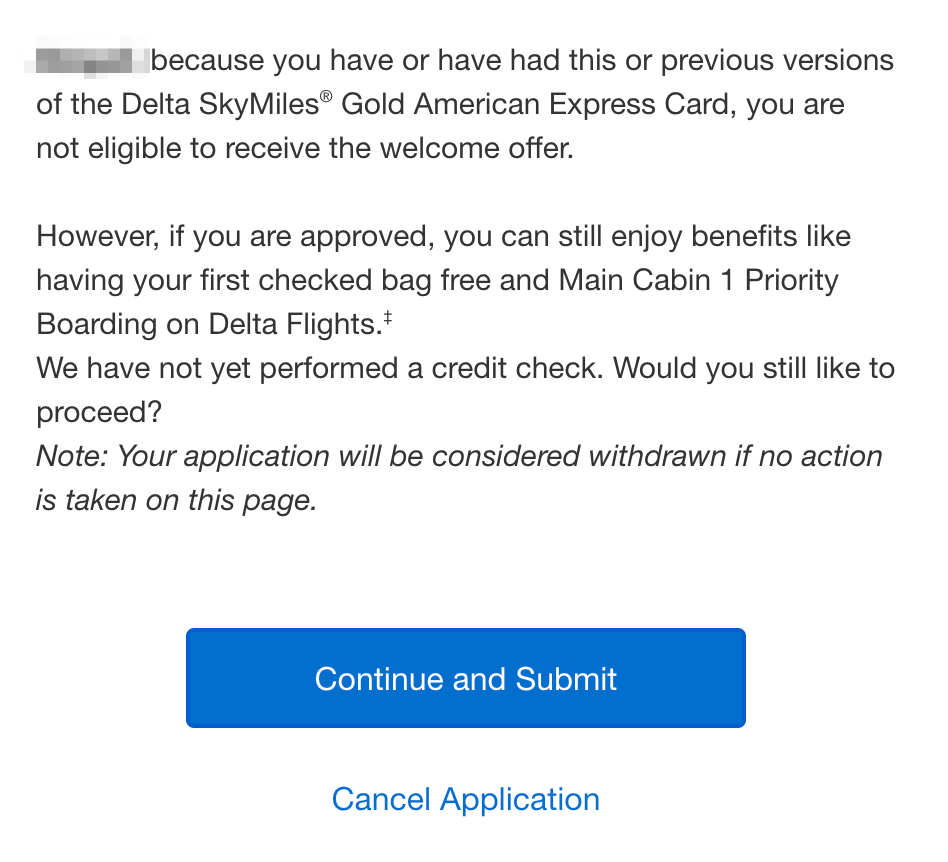 So if you question whether you're eligible to earn the bonus on any of the Delta cards (or any American Express card, for that matter), this is an easy way to find out.
Bottom Line
Even if you have had one of the Delta SkyMiles cards in the past, there is a very good chance you are still eligible to earn the bonus on a different version – or even the same version you once had if it was some time ago. Just be aware of the restrictions Amex has in place.
If all else fails, you can test the waters and see if you get the pop-up letting you know you are not eligible to earn the welcome offer bonus.