Lounge access before you fly and a glass of champagne after boarding. Top-notch meals and service. A lie-flat seat that reclines into a comfortable bed as you cross the ocean.
This is what business class is all about. But if you've ever looked for business class fares through Google Flights or your favorite airline, you know these seats often cost thousands – if not tens of thousands – of dollars. Is it possible to get business class tickets for cheap? And how do people earn and use the points to book these seats, anyway?
Take it from us: It can be done. Whether you're hoping for a cheaper fare to book business class airfare using cash or need to learn which points and miles can get you a comfortable seat at the front of the plane, consider this your roadmap for how to fly business class.
Want to fly business class? Only Thrifty Traveler Premium members get cheap business class fares and award alerts sent straight to their inboxes!

Why is Business Class So Expensive?
At Thrifty Traveler, we spend all day, every day scouring the internet for flight deals. And we find them all day, every day – like $300-some roundtrip flights to Europe, cheap flights to Hawaii and back for under $200, and even $63 roundtrip fares to Chile.
But when you're looking to fly up front in business class, here's the unfortunate truth: These kinds of unbelievably cheap business class flights just don't happen as often.
Corporate and high-paying travel is critical for airlines that want to protect their pricing power. So while airlines will offload empty seats back in economy by selling them for much cheaper than normal, they'd much rather those business class seats go out empty than be filled at a lower price point.
That's why you're most likely to see business class flights selling for $3,000, $5,000, or far more roundtrip. Prices like this are all too common.


But business class flight deals do happen! The prices almost never drop as far as what we see in economy. But compared to the $4,000-plus normal prices for roundtrip tickets, the savings can be substantial.
How To Get Cheap Business Class Tickets
Here are the top tips to genuinely help you fly in business without paying luxury prices.
1. Find Business Class Flight Deals: They're Rare, But They Exist
Recent Roundtrip Business Class Deals
Here's one recent example: Roundtrip fares flying American Airlines lie-flat seats down to Chile for $1,244. We sent this deal to Thrifty Traveler Premium subscribers in Detroit, Minneapolis, and Salt Lake City back in May.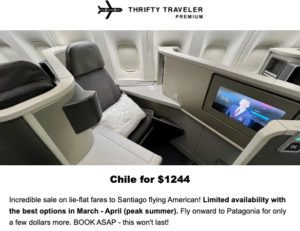 And we've seen some amazing discounts on business class fares to Europe as well, like this deal flying British Airways or Iberia business class to Spain from U.S. cities nationwide for under $1,700 total.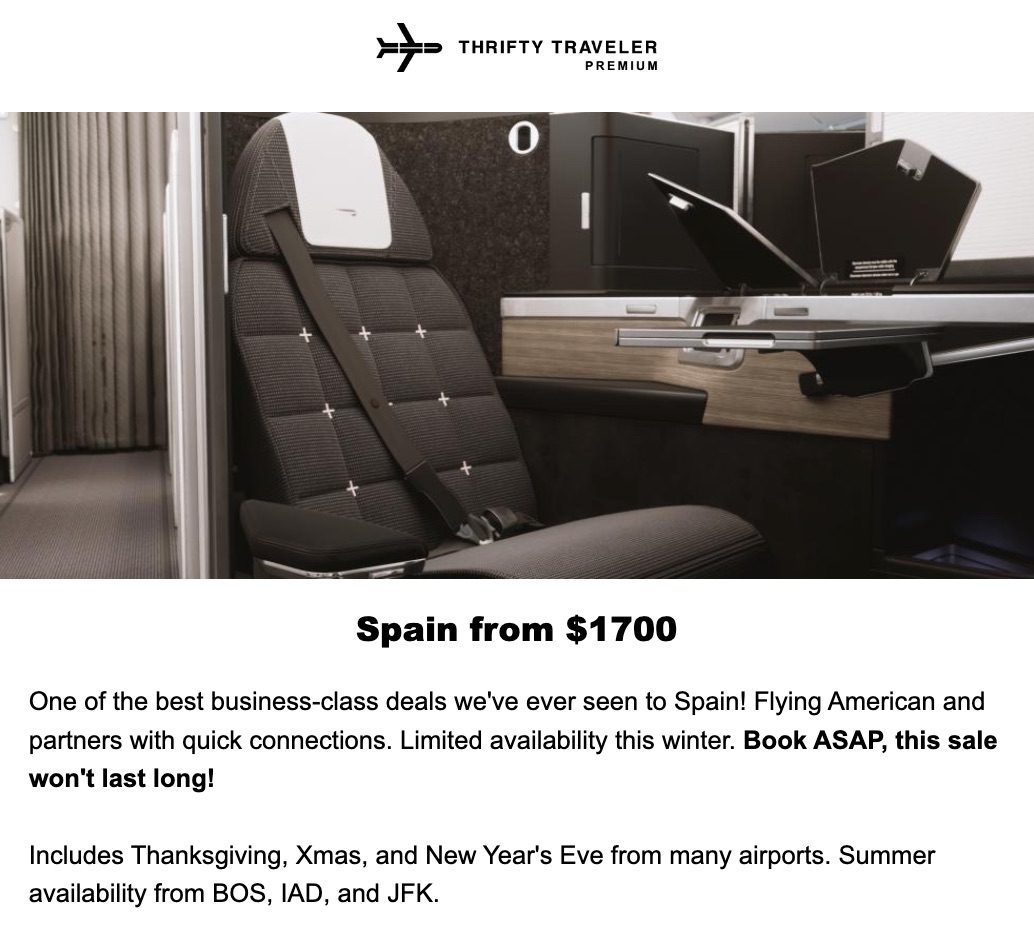 Fares like this one – flying JetBlue Mint business class across the pond for less than $2,000 – are easier to find … if you time it right. We've seen cheaper business class fares each time JetBlue adds new routes to Europe, like this recent addition to Dublin (DUB), Edinburgh (EDI), and Paris-Charles de Gaulle (CDG).

Get business class deals like this plus cheap economy fares sent straight to your inbox with Thrifty Traveler Premium!
The deals occasionally get even better if you're looking to fly somewhere closer like Colombia, where we've seen nonstop business class fares tumble as low as $420 roundtrip – a third of the normal cost!


Thrifty Tip: When business class fares get this cheap, they never last long. Book fast and ask questions later – you can cancel and get a full refund if you change your mind thanks to the 24-hour rule!
One great place to look for even cheaper premium cabin fares to Europe is flying Icelandair. While they might not offer the full business class experience with lie-flat seats, you'll still get a much roomier seat, better service, and even lounge access in Reykjavik (KEF) flying Icelandair Saga Class.
Bonus: Fares are regularly cheaper than what you'd pay for a premium economy or even an extra legroom seat!


Read our full review of Icelandair Business Class!
2. Hop on a Mistake Fare (Fast!)
This is where things start to get really good – and really cheap.
While even a deeply discounted business class fare won't scratch the surface of economy prices, mistake fares can get you somewhere in a lie-flat seat for (literally) pennies on the dollar. Mistake fares are just what they sound like: Whether through a currency conversion error or missing a 0 when entering prices, an airline might erroneously sell flights for cheaper than they meant to.
It's the holy grail of flight deals and often the best way to snag an amazing deal on the lowest business class rates. These mistake fares are even rarer … but when they happen, they're incredible.
Let's start with one of the best mistake fares of all time. Back in 2018, Hong Kong Airlines accidentally sold roundtrip business class to a handful of Asian cities including Bangkok (BKK), Ho Chi Minh City (SGN), and Shanghai (PVG) for $600 or less. Clearly, someone at the airline missed a 0 on these fares that should have cost closer to $6,000 apiece.

Business class or first class: What's the difference? Read our guide to business class vs first class!
But here's the thing about mistake fares: Airlines don't have to honor them. Unfortunately, the U.S. government has given airlines a lot of leeway to cancel fares they sold by mistake, which leaves it up to airlines to decide whether they want to save the money or do right by customers and honor the tickets. It's a 50-50 shot, which is why we tell readers to wait at least a week or two after booking a mistake fare to see how things play out.
Amazingly, Hong Kong Airlines decided to honor these tickets. That gave thousands of travelers (including yours truly) a chance to fly in these seats to Asia for less than a typical economy ticket.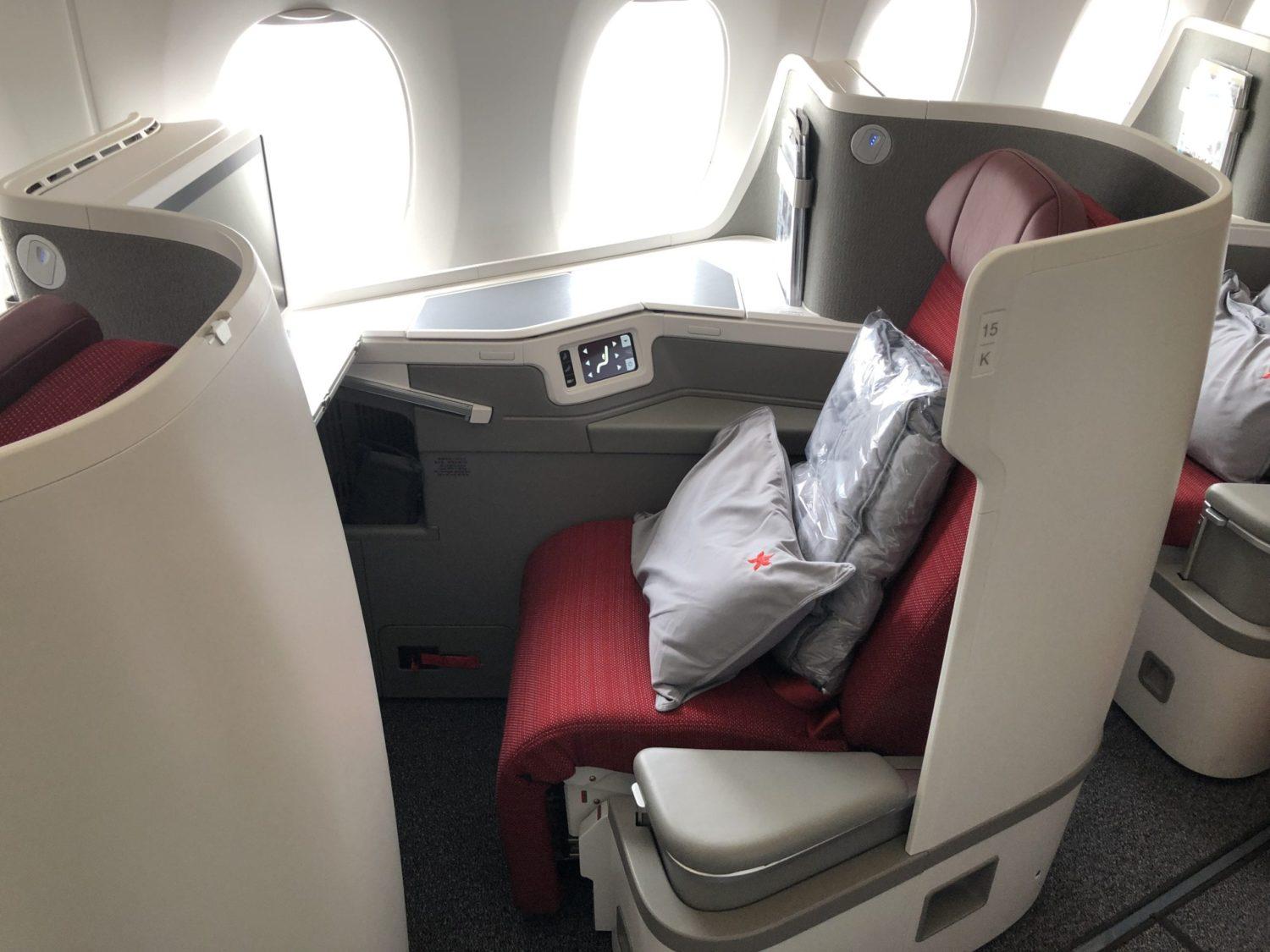 One of our favorite mistake fares of 2019 was a business class mistake fare to both Australia and New Zealand. For just $1,491 (a standard price of an economy flight to Australia), you could have gotten lounge access, and a business class seat including priority boarding, champagne, and lie-flat seats. The cost of this luxury experience is typically over $7,000.


Mistake fares have gotten rarer over the last few years, especially for top-dollar business class seats. But we've still seen one or two a year, like this $900 roundtrip fare to London in Virgin Atlantic business class from 2022.

Sign up for Thrifty Traveler Premium to get deals like these – you'll make that money back when you book your first deal!

And over the summer of 2023, we saw another fantastic mistake fare in business class – this time, United Polaris business class from the U.S. to London for as low as $899. Luckily, this one was honored by the airlines, too.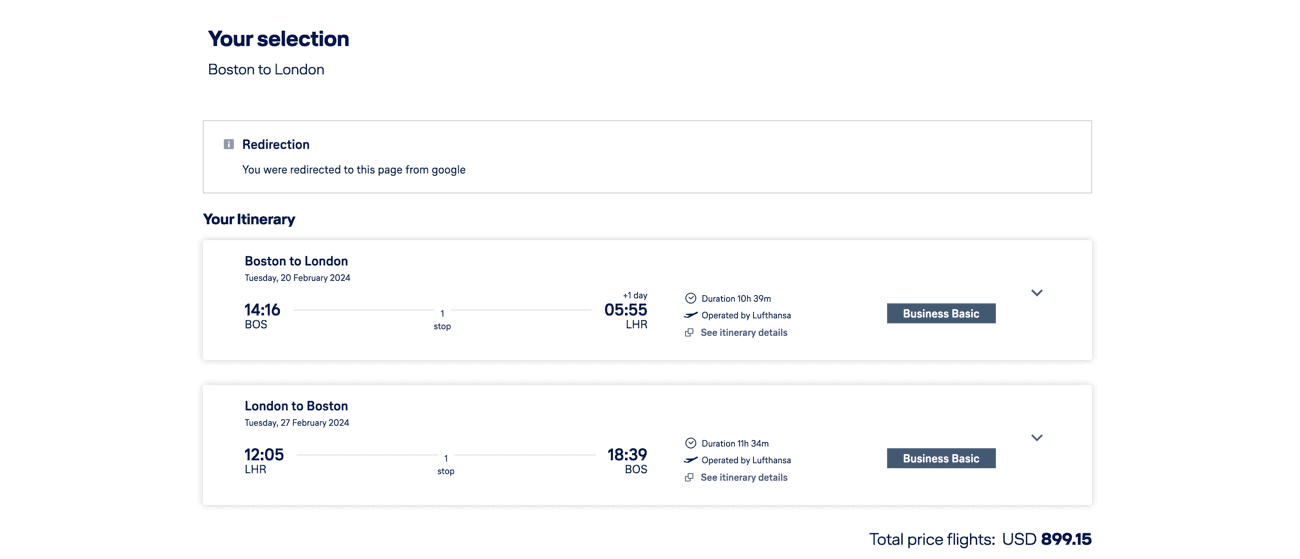 Like we said, mistake fares are rare – and mistake fares on business class fares are like shooting stars. If you're waiting for one, you could be waiting for a long time. But for these savings, that wait can be worth it.
Read our full guide to finding and taking advantage of mistake fares!
3. Book Using Your Points and Miles to Get Cheap Business Class Flights
No matter how you use them, having a stash of points and miles is crucial if you want to know how to find cheap business class flights. You can take a cheap flight and make it free using credit card points with tools like the Chase travel portal or Capital One Purchase Eraser.
But redeeming for business and first class seats are where using points and miles really shines. It's the best way to get outsized value, as these tickets typically are triple or quadruple the costs of flying economy – but not triple or quadruple the miles. And using points is the easiest and most cost-effective way, by far, to secure yourself a seat in business class … no matter where you want to go. 
Between the hundreds of airlines with business class seats, their individual mileage programs, and airline alliances and partnerships that allow you to use one airlines' miles to book flights on another carrier, there are not hundreds but thousands of ways to book business class tickets using miles. But some are better than others.
We've narrowed it down by focusing on some of these lowest-priced sweet spots when using miles. Do it right, and it won't cost much (or anything) more than a normal economy ticket.
Thrifty Traveler Premium members also get availability alerts to book award tickets like these …

1. Iberia
Business Class to Spain for 34K Miles
This isn't just one of the best ways to score a business class seat. It's one of the best deals in the world of points and miles, period.
For the miles it typically takes to fly economy, you can use Iberia Avios to fly business class between the U.S. and Spain. That's right: It's just 34,000 miles each way to snag a lie-flat seat to Europe – or 68,000 miles roundtrip.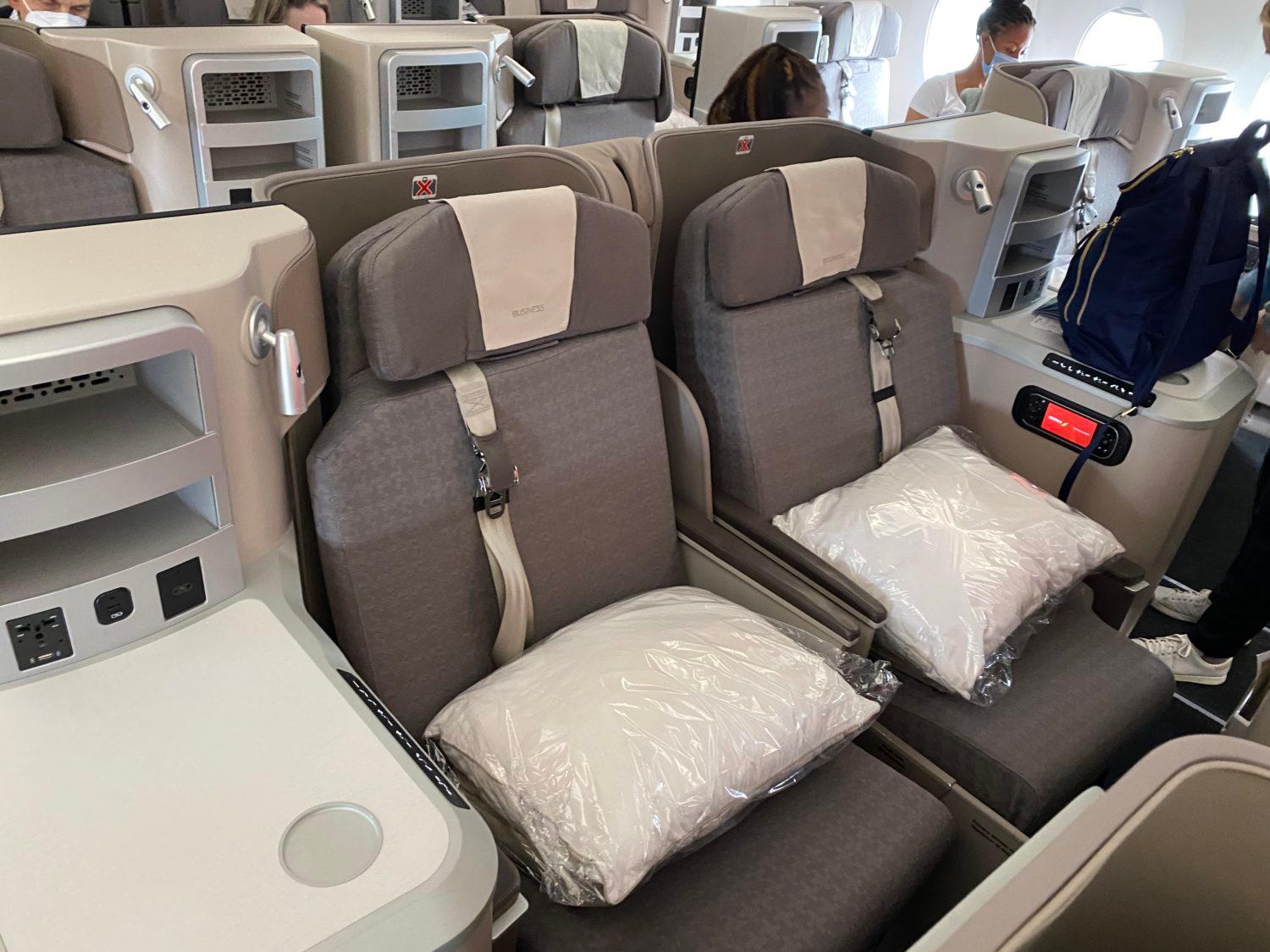 Why so cheap? Iberia uses a distance-based award chart – the shorter the flight, the fewer miles you need – and that carves out a serious sweet spot flying from the East Coast or Chicago. That means nonstop flights to Madrid (MAD) from New York City (JFK), Boston (BOS), Washington, D.C.-Dulles (IAD), and Chicago-O'Hare (ORD) will run you just 34,000 miles each way, plus about $140 or so in fees.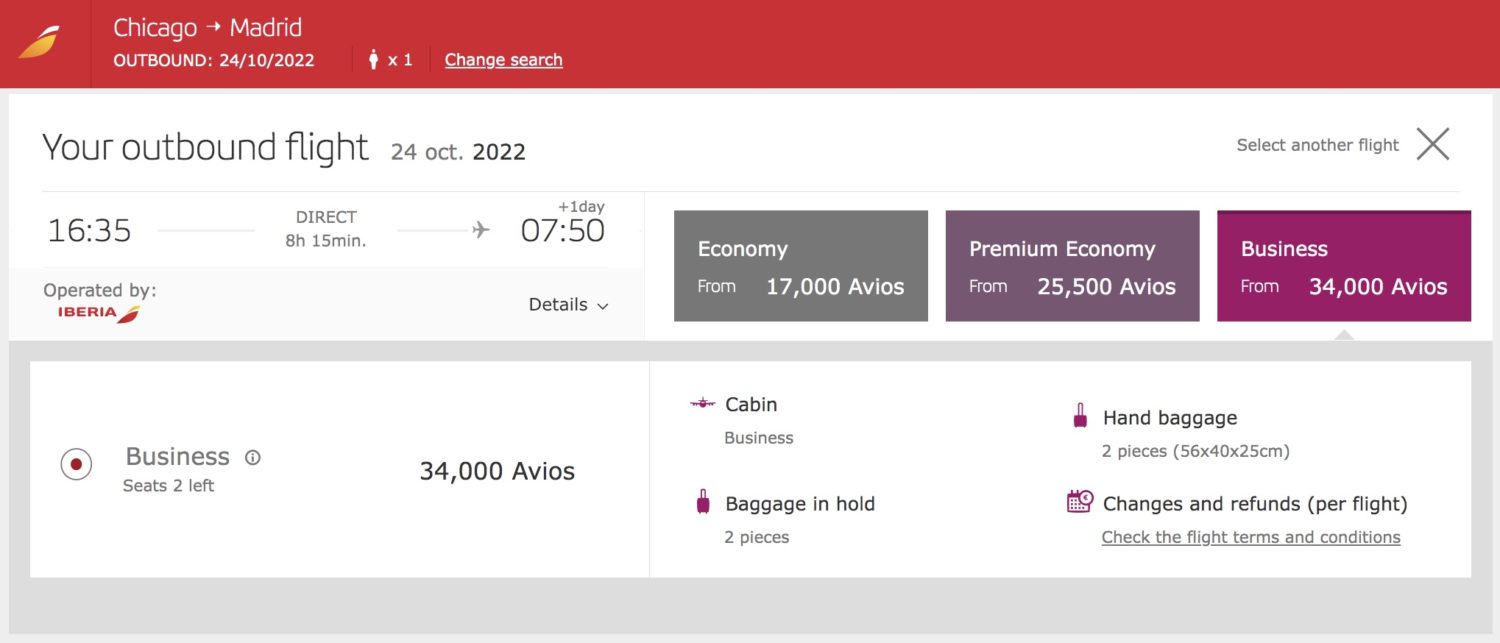 Read our step-by-step guide to booking Iberia business class!
You'll see some higher rates of 50,000 miles each way during peak travel periods like the summer and over holidays. But no matter what, flying business class doesn't get much cheaper than this.
How to Do It: If you're wondering how you're going to get the Iberia miles you need to book one of these deals, don't sweat it – they couldn't be easier to earn.
You can get Iberia Avios by transferring them from Chase, American Express, or Bilt Rewards. That means you can easily earn all the miles you need with cards like the *chase sapphire preferred* the *amex gold*, or *amex platinum*. And that's true whether you want to fly economy or up in business.
But you can also now book these flights for the same rates using British Airways Avios. Like Iberia itself, British Airways is a transfer partner with American Express and Chase, but you'll also be able to transfer *venture x* instantly to British Airways to book these flights on Iberia.
2. TAP Air Portugal
One-Way to Lisbon for 35K
Take a different route into Europe for just 1,000 miles more using Avianca LifeMiles – another mileage currency that's easy to accumulate thanks to credit card transfer partners.
Normally, LifeMiles charges a fairly reasonable 63,000 miles to fly business class from the U.S. to Europe. But there's one massive sweet spot: You can fly to Lisbon (LIS) in TAP Air Portugal's business class for just 35,000 miles one way. It's a bit of a unicorn in LifeMiles' options, as it only works on one single route: New York City (JFK) to Lisbon. Departing from nearby Newark (EWR) and even the return flight to JFK  will cost you the full 63,000 miles.


Still, it's worth highlighting – especially since it costs just 5,000 miles more than taking the exact same flight in economy. If you can, snag a flight on the shiny new Airbus A330-900neo with the best seats in TAP Air Portugal business class.

How to do it: At 35,000 miles for a one-way ticket, getting the LifeMiles you need to book this business class seat shouldn't be hard – especially these days.
You can transfer points to LifeMiles from Capital One, American Express, and Citi ThankYou Points. That means the miles you earn from the bonus on the new *venture x* could be more than enough for three business class seats to Portugal!
3. Delta Air Lines
Delta One Suites for 50K
Want to fly a Delta One Suite? You're not alone – it's one of the best business class seats out there. And this is how you do it.
No, you're not using Delta SkyMiles. Delta regularly charges 300,000 SkyMiles or more for a one-way ticket. Instead, you're using points from Virgin Atlantic Flying Club – one of Delta's close partner airlines, and another mileage currency that's easy to pile up thanks to credit card points transfers.
Best of all, Virgin Atlantic charges just 50,000 miles each way to fly Delta business class from the U.S. to Europe. I kid you not, Delta was charging 340,000 SkyMiles for this exact same flight.

Using just 50,000 miles and a few bucks to fly like this? This is what points and miles are all about. Find routes on Delta's A350 or A330-900neo to make sure you get the best business class experience on these transatlantic flights.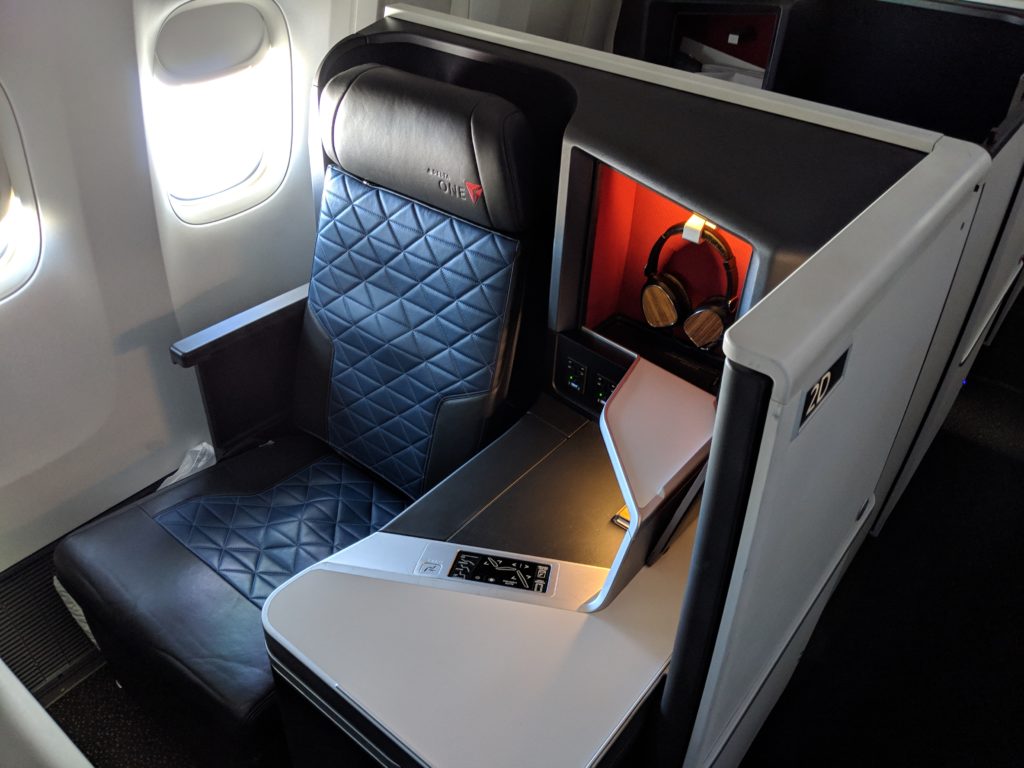 Read our full review of flying Delta One Suites!
How to do it: Unfortunately, it's gotten harder to lock in these Delta One flights via Virgin Atlantic. But with these savings, it's worth the effort and patience to try to make it work.
Delta has become incredibly stingy with allowing these business class flights to Europe to be booked through partner carriers like Virgin. These days, you're likely to come up completely empty-handed searching for these Delta flights through Virgin.
No matter what, you'll need to be incredibly flexible, searching from many Delta hubs like Minneapolis-St. Paul (MSP), Detroit (DTW), Seattle (SEA), and New York City (JFK). Search at VirginAtlantic.com and use this trick to pull up a flexible date calendar. Try, try, and try again until you find something.
Or let us do all that legwork for you. We're constantly scouring for chances to book Delta One to Europe for 50,000 miles for our Thrifty Traveler Premium members. While it's gotten much harder in the last year or so, we sent an alert to members less than a month ago with some wide-open opportunities to book Delta One seats to Frankfurt (FRA), Brussels (BRU), and even Zurich (ZRH).
Better yet, it was even cheaper thanks to a 30% transfer bonus from Chase to Virgin.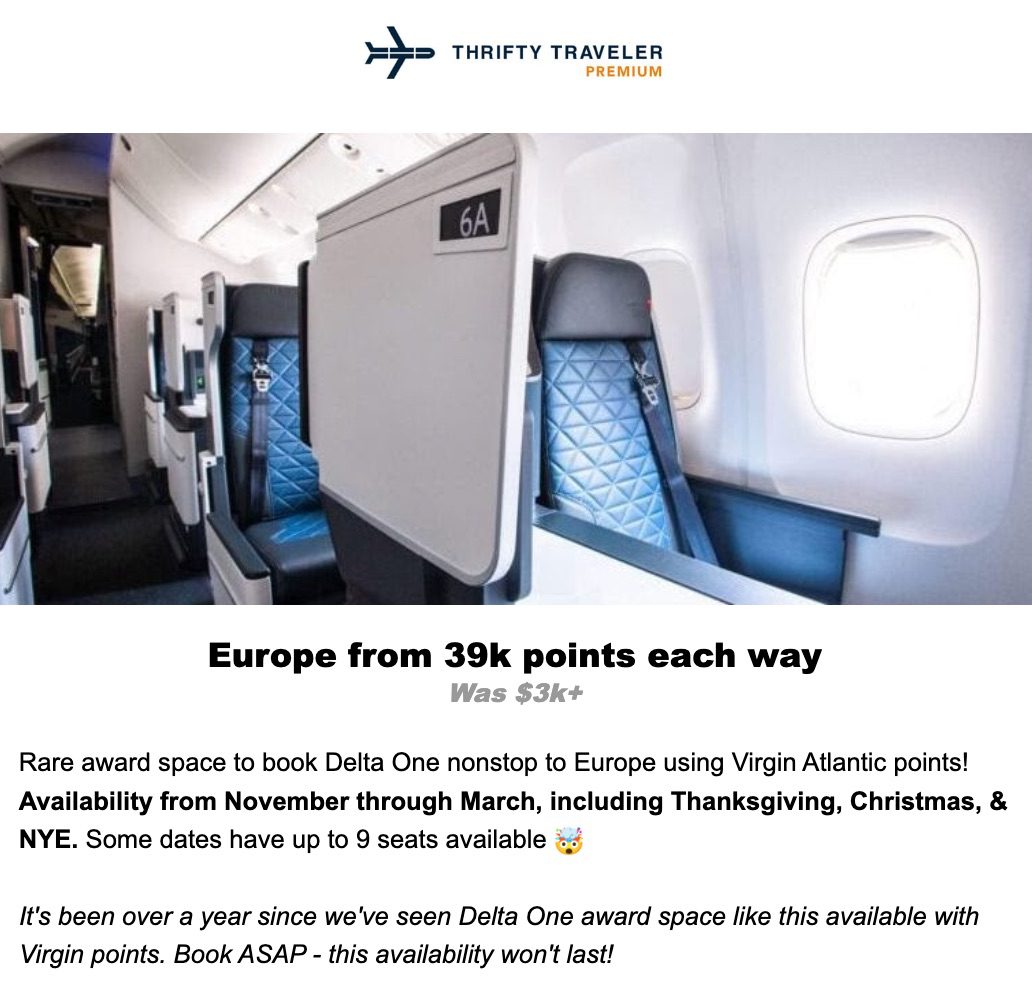 Get the heads up like this with Thrifty Traveler Premium!
Once you find the right deal, you can't transfer Delta SkyMiles over to Virgin Atlantic. But you can easily get Virgin Atlantic miles because they're a Chase transfer partner, Amex transfer partner, Capital One transfer partner, and a Citi transfer partner, too. That means a stash of 50,000 points from the *chase sapphire preferred* or the *amex gold* is all you need. Earning points on rent with Bilt Rewards? You can transfer those points to Virgin, too.
Read more: How to Book Delta One Business Class to Europe for Just 50,000 points
4. Japan Airlines or ANA
Biz Class to Japan for 60K … or 75K Roundtrip!
After almost three years off-limits, Japan finally reopened to travelers in late 2022. And you won't beat these redemptions to get there in lie-flat business class.
For starters, there's Japan Airlines business class, one of the best ways to get to Tokyo. Lucky for you, it's also one of the easiest redemptions to pull off thanks to typically generous JAL business class award availability and easy-to-earn American AAdvantage miles. Put the two together, and you've got a lie-flat seat to Japan for just 60,000 AA miles!

A few weeks ago, in fact, we tipped off Thrifty Traveler Premium members to some wide-open award space flying Japan Airlines business class to Tokyo in early 2024 … from cities nationwide!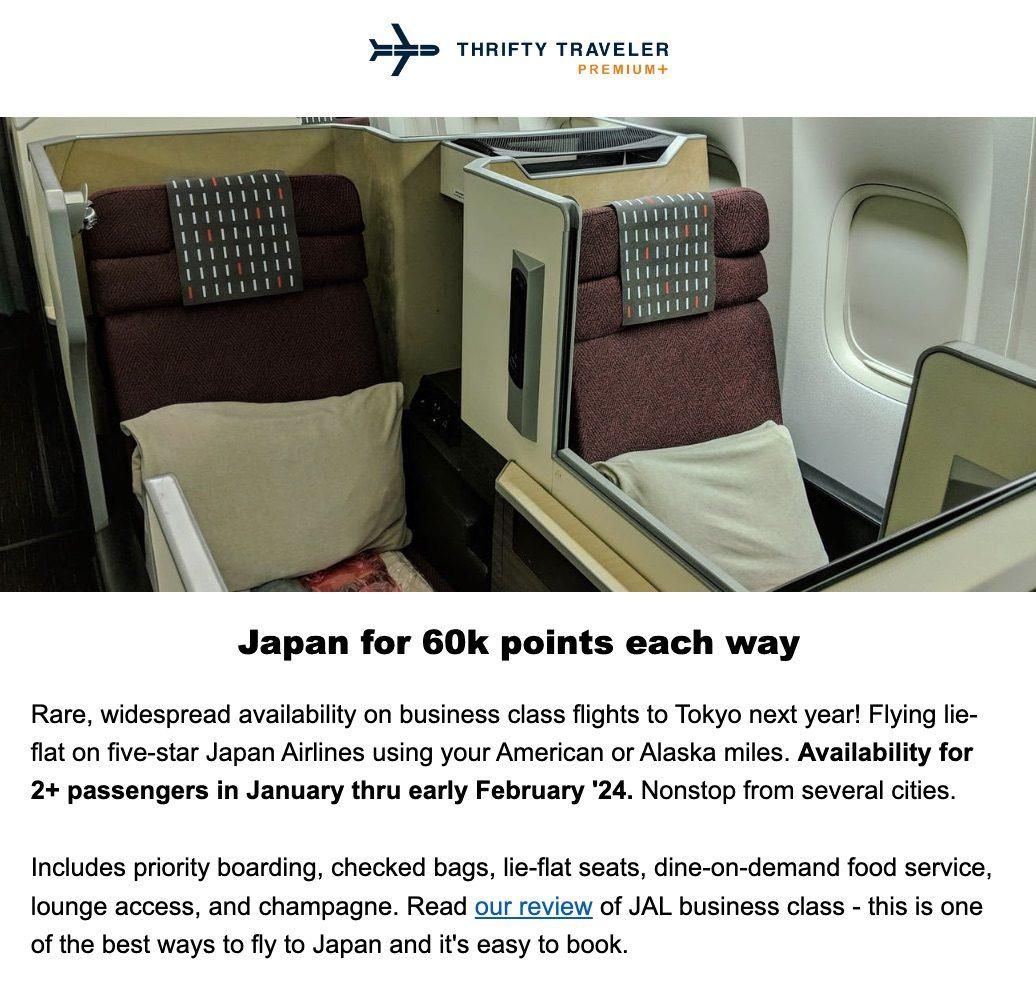 But it can get even cheaper. While most airlines charge at least 160,000 miles for a round-trip in business class to Japan, when booking flights on All Nippon Airways with ANA Mileage Club, it starts at just 75,000 miles. For the roundtrip. In business class. That's not a typo.
This is one of the cheapest ways to fly business class to get to Japan using miles. The trick is timing it right, as ANA carves out different pricing during low (L), regular (R), and high (H) travel seasons. Even if you can't make something work in the low season, a regular redemption jumps to just 85,000 miles roundtrip – or 90,000 in the high season.

ANA passes on some cash surcharges, but those have been decreasing lately: These days, you'll pay roughly $475 total in taxes and fees for a roundtrip. Come Aug. 1, that will drop even more. Either way, that's still a decent price to pay when you're flying in lie-flat seats all the way to Japan and back for 75,000 miles total – or 85,000 miles during the "regular" season.
Check out our guide on how to fly to Japan in business class for the price of economy!

How to do it: There's one surefire way to earn ANA Mileage Club miles: You want some American Express Membership Rewards points.
ANA is one of the absolute best Amex transfer partners thanks to sweet spots like this one. That means you could pick up either the *amex gold* or *amex platinum* to get the miles you need.
But before you transfer anything, search through United.com to find award availability on these ANA flights. Oh, and a tip? Try to find flights from either San Francisco (SFO) or New York City (JFK) – that's where ANA currently flies its incredible new business class suites these days.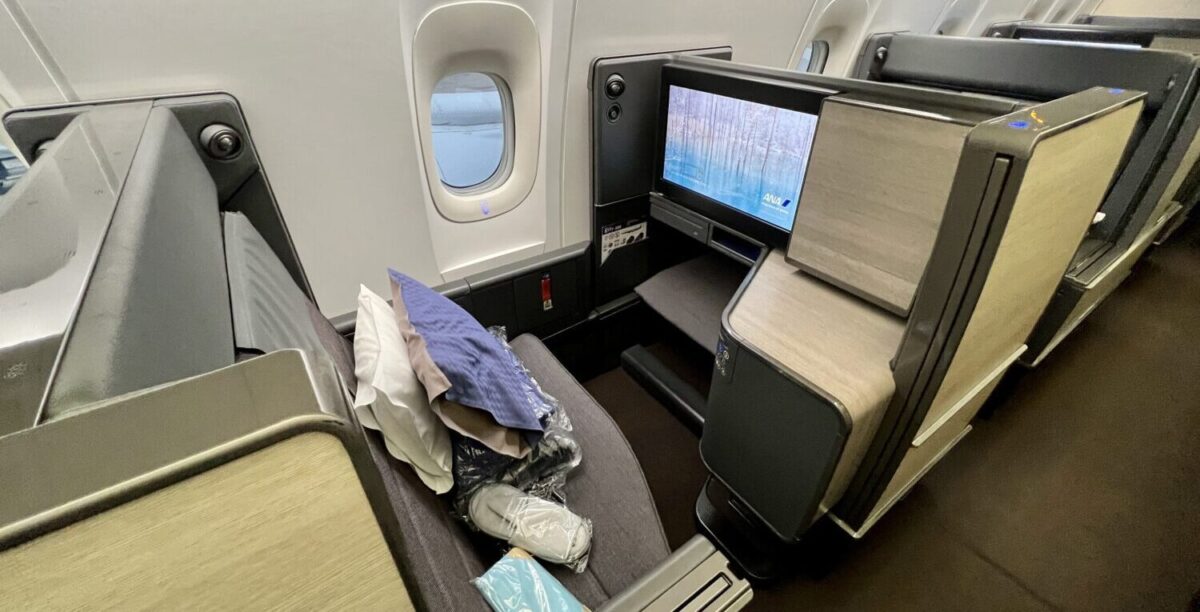 Read our full review of ANA's "The Room" business class!
5. Emirates
Italy or Greece for 108K Miles RT!
We're heading back to Europe … and taking some of the funkiest flights to get there in business class on a bargain.
Emirates might be based in Dubai (DXB), but they also run two fifth-freedom flights between the U.S. and Europe – one from Newark (EWR) to Athens (ATH) and another from New York City (JFK) to Milan (MXP).
Here's the best part: You can book business class on both of these routes for just 108,000 miles roundtrip!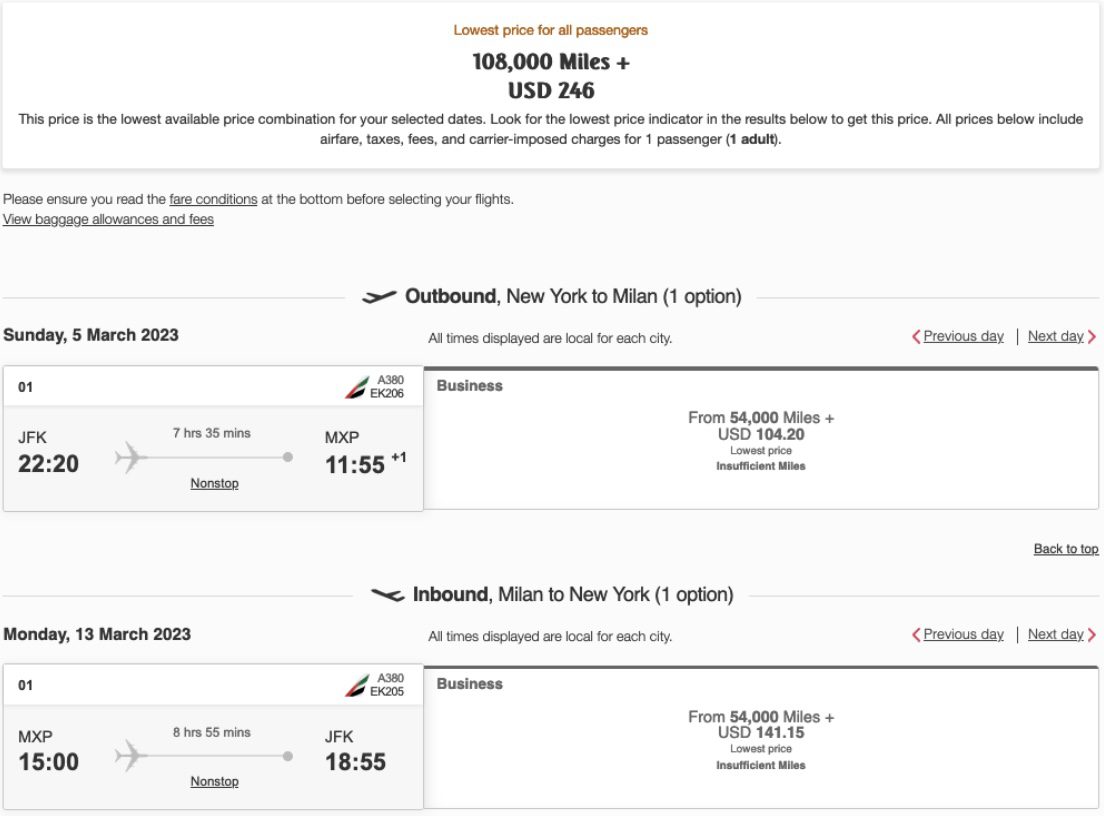 Despite a recent price increase using Emirates miles, rates to fly to Europe remain excellent … at least so long as you book a roundtrip. It's a stellar way to book Emirates business class flights whether you're heading to Greece or Italy.
How to do it: We probably sound like a broken record by now, but it's no accident that we're focusing on business class products that you can book using miles that are easy to earn. And this one is no exception.
In fact, few miles are easier to earn than Emirates Skywards: You can transfer them from Chase, Citi, Capital One, American Express, and Bilt. If you get a huge 90,000 point bonus on the Amex Gold Card, you're set.
Just look for your flights through Emirates.com – be sure to click Classic Rewards and flexible dates when you search. It may take some trial and error to find dates at the 90,000-mile level.
Read our complete guide on how to fly Emirates to Europe for 108,000 points roundtrip in business class!

6. Delta Air Lines
Delta SkyMiles Flash Sales
Delta is notorious for charging an arm and a leg when trying to fly business class using SkyMiles. But three words can flip that on its head: Delta SkyMiles flash sales.
These deeply discounted business class tickets are where SkyMiles truly shine, as you can often book flights using a fraction of the miles other airlines charge. We find and send these deals to Thrifty Traveler Premium most often in economy: Think 37,000 SkyMiles roundtrip to New Zealand, 9,000 SkyMiles to Cancún (CUN), and 9,000 SkyMiles or less for domestic roundtrips.
SkyMiles flash sales on Delta business class seats are incredibly rare … but they do happen. Check out this unadvertised deal we sent to subscribers last year for roundtrip flights to Europe for 148,000 SkyMiles total.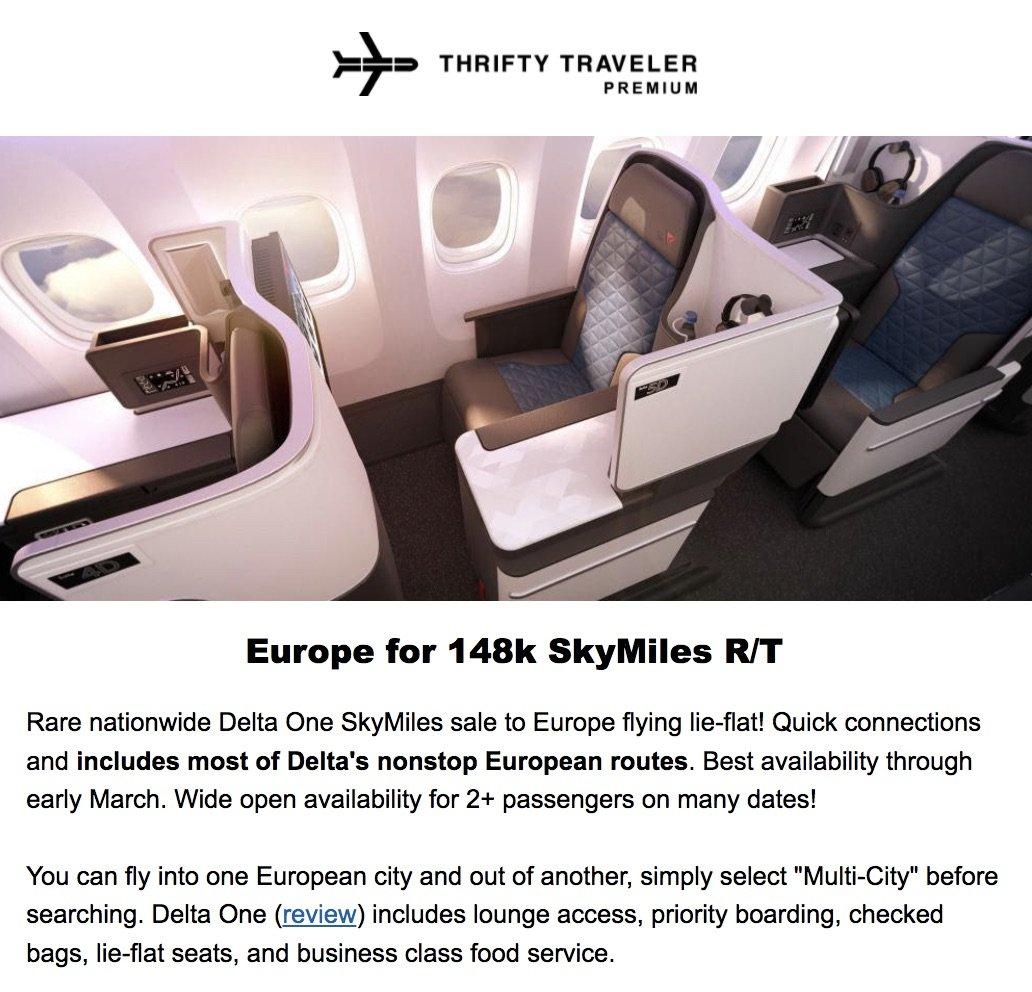 We've seen those rates to Europe in Delta One even cheaper, like these roundtrip fares for 90,000 SkyMiles a few years back.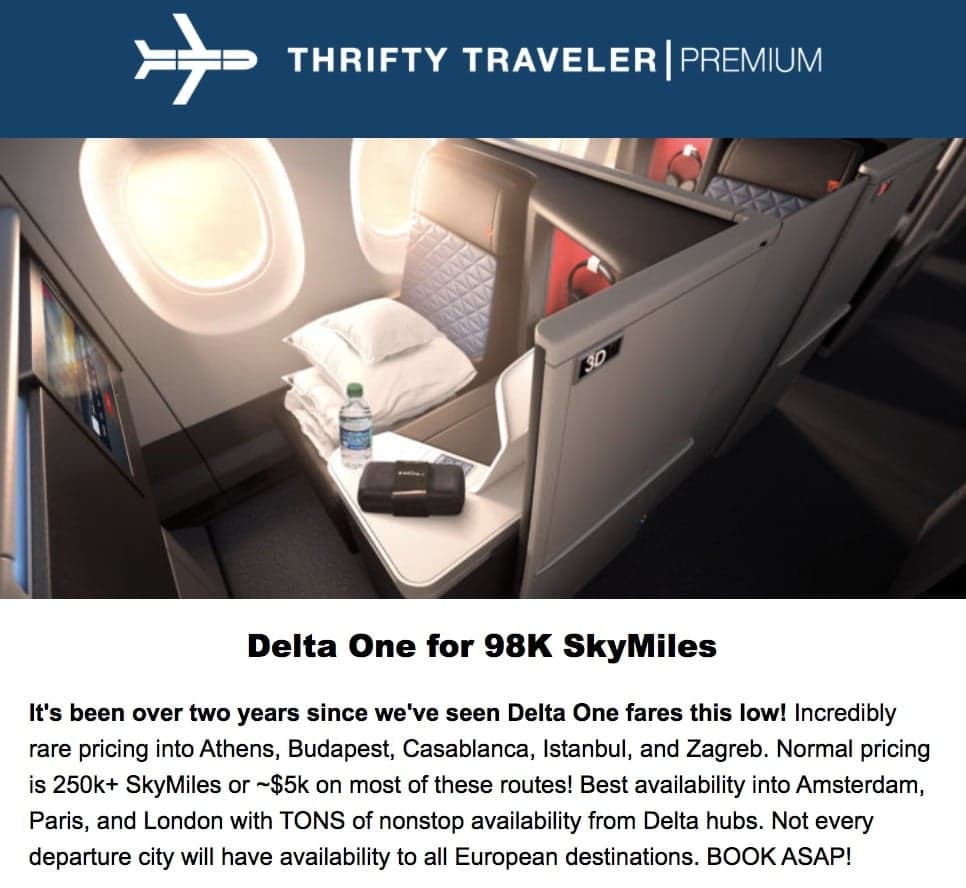 But the record was this unbelievable fare to Tokyo-Haneda (HND) we found for just 90,000 SkyMiles … roundtrip in Delta One Suites. It doesn't get any cheaper than that.


Get award alerts like this one in your inbox with Thrifty Traveler Premium!
How to do it: From flying with Delta to renting cars or even buying concert tickets, there is no shortage of ways to earn Delta SkyMiles.
Like almost every other opportunity on this list, the easiest way to rack up Delta miles comes through credit cards. Delta has a suite of different co-branded American Express SkyMiles cards, and they regularly roll out elevated welcome bonuses of up to 90,000 SkyMiles.
But Delta is another Amex transfer partner, which gives you another easy way to earn Delta SkyMiles. That means you can earn a bonus of up to 150,000 points on the Amex Platinum Card via CardMatch, then transfer the points you need when a great flash sale hits your inbox.
7. Qatar Airways
QSuites to the Middle East for 70K
We saved the best for last. It's our favorite business class seat in the world and our favorite way to use American AAdvantage miles.
From the private, lush seats to the amazing service and the top-notch food and drink onboard, Qatar Airways Qsuites are truly the best in the world. There's simply no better way to fly than this.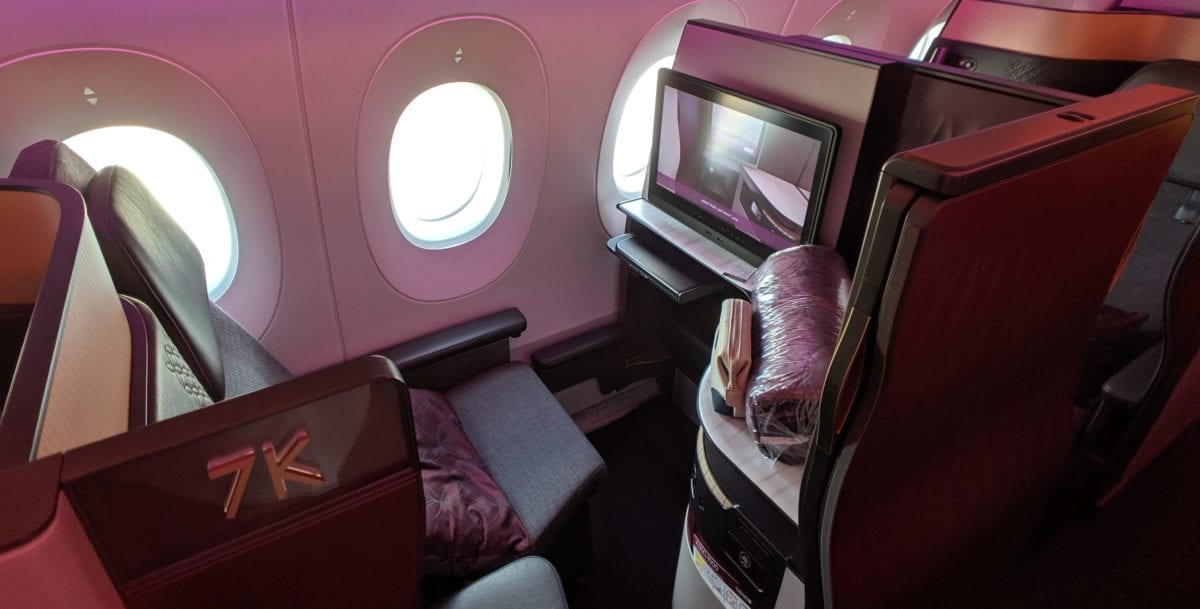 Read our full review of Qsuites!
Amazingly, you can book a nonstop flight in Qsuites from the U.S. to Doha (DOH) for just 70,000 American miles each. Heck, you can even start from your home airport with American service and connect onward to Doha for the same rate. Or take things to the next level and head all the way to the Maldives (MLE) in Qsuites for, you guessed it, 70,000 miles each way.


Thrifty Tip: For the same 70,000-mile charge, you can also connect through Doha and head somewhere else in the Middle East like Muscat (MCT), Dubai (DXB), or Amman (AMM) … and spend your layover in Qatar's Al Safwa Lounge, perhaps the best first class airport lounge in the world!
But using British Airways Avios is now a stellar way to book Qsuites, too – still at just 70,000 miles each way for a nonstop from the U.S. to Doha, though you'll pay some additional fees. Same goes for Qatar Avios.
In fact, these two programs are easily your best bet right now as you'll want to book Qsuites at least 11 months in advance.
How to do it: There are plenty of great ways to book Qatar Qsuites, but using AAdvantage miles is the easiest. Lucky for you, they're easy to earn.
That's due in part to the fact that American has co-branded credit cards from two banks: Citi and Barclays. That means you can open two American Airlines cards, spend a few thousand dollars, pay it off immediately, and earn 125,000 AAdvantage miles – more than enough to book Qsuites.
It starts with the AAdvantage® Aviator® Red World Elite Mastercard®, which has one of the best welcome bonuses you'll find. Open the card, pay the $99 annual fee, and make one purchase, and you can earn 60,000 AAdvantage miles. Add an authorized user to your card and have them make a second purchase, and you get another 15,000 miles … for a record-setting bonus of 75,000 AAdvantage miles.
From there, look to the Citi AAdvantage Platinum Select World Elite Mastercard, which offers 50,000 AAdvantage miles after spending $2,500 in the first three months. The $99 annual fee is even waived in the first year.
British Airways Avios are even easier to earn. British Airways is a transfer partner with American Express, Chase, Bilt, and Capital One.
Bottom Line
Whether you're paying cash or using miles, booking business class tickets can feel like a pipe dream. How do those high-flying, luxurious travelers do it? Are they all rich?
Well … some are – but we're not. If you wait for the right deal or make the right game plan to use points and miles, there are some great and easy-to-achieve ways to book business class.