American Express Centurion Lounges put most U.S. airport lounges to shame. And the Centurion Lounge at Dallas-Fort Worth (DFW) is no exception.
That's a blessing and a curse. You can count on good cocktails, great meals, and the same chic design that you'll find at the growing number of Centurion lounges nationwide – and now, internationally. But they're popular to a fault, resulting in some major issues with crowding that has led Amex to crack down on who can get into each lounge.
So what do you get at the Dallas Centurion Lounge? How's the food and drink? And just how crowded does it feel? Read on for our review.
Curious what Amex Centurion lounges are all about? Read our master guide to these best-in-class airport lounges!
Getting In
The Dallas Centurion Lounge is located in Terminal D, across from Gate 12 on the mezzanine level. But the beauty of the DFW airport is that all terminals are connected airside by the Skytrain system.
So no matter where you land, you can quickly pop over to Terminal D and spend some time in the Centurion lounge. It's open from 5:30 a.m. until 10 p.m. daily.
One of the best reasons to get the Platinum Card from American Express is the unrivaled lounge access. It gets you a free Priority Pass Select membership, which will get you and two guests into 1,000-plus Priority Pass lounges across the world. You can get into Delta SkyClubs if you're flying Delta that day. And you can also enter Escape Lounges, like one of our favorites at Minneapolis-St. Paul. 
And then there are Centurion lounges, which are the best of the best. At Dallas, you just hop into the elevator and head up one floor to get in.
Getting in works the same as any other Centurion Lounge. Simply show your Platinum card, a boarding pass, and an ID. You can get in free with your Platinum Card, but can no longer bring in guests without paying: As of Feb. 1, 2023, guests cost $50 apiece (or $30 for minors) unless you charged a whopping $75,000 to your Platinum Card in the last year. Guests two years and younger are still complimentary.
Read our full guide to Amex Centurion lounges – with nine U.S. locations and many more on the way, including New York City-JFK (JFK), Denver (DEN), Los Angeles (LAX), Phoenix (PHX), and more.
Unfortunately, American Express has started to tighten access restrictions in a bid to combat overcrowding. You can only get into the lounge within three hours of your departing flight – though passengers on a longer layover may be allowed entry. And you can no longer get into the lounge at the airport you arrive at.
Lounge Amenities
The good news is that the Dallas Centurion is one of the largest outposts currently in its network. After moving to a new location in 2018, it now clocks in at 12,000 square feet.
The bad news is that … it's still typically pretty crowded.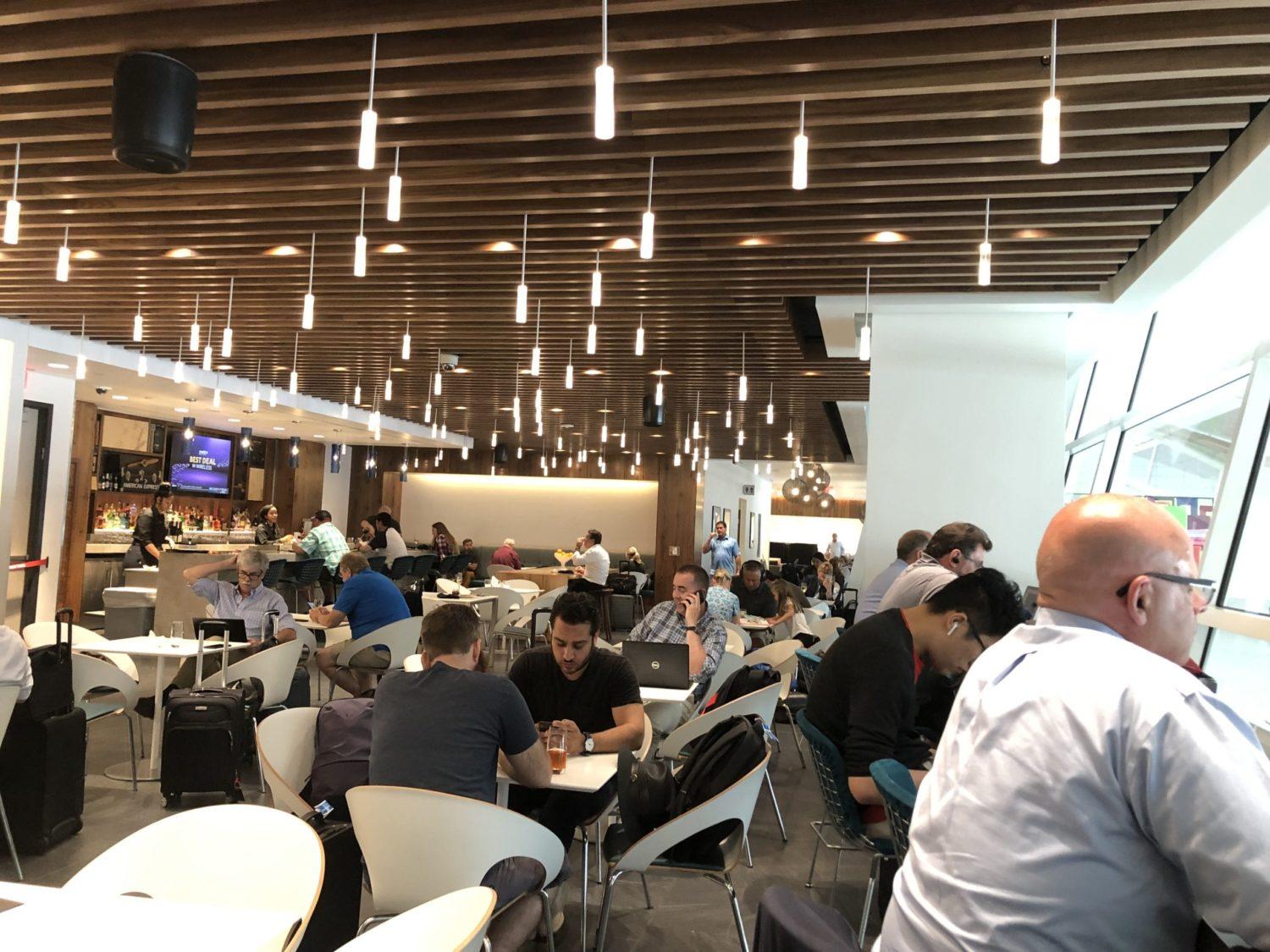 I visited at about 4 p.m. on a weekday, and it was consistently busy. While finding a place to sit and eat solo was no challenge at all, grabbing a table for a group can be a tall order at times. This is the price you pay for visiting a nice airport lounge – you're rarely alone.
Still, the Centurion Lounge Dallas is worth paying that price. From the food to the finishes to the space itself, it's a very nice lounge.
It's very long and bright, with a huge bank of windows stretching nearly from front to back that look over the check-in area at Terminal D. While a view of the tarmac and planes might be better, it lets in plenty of natural light.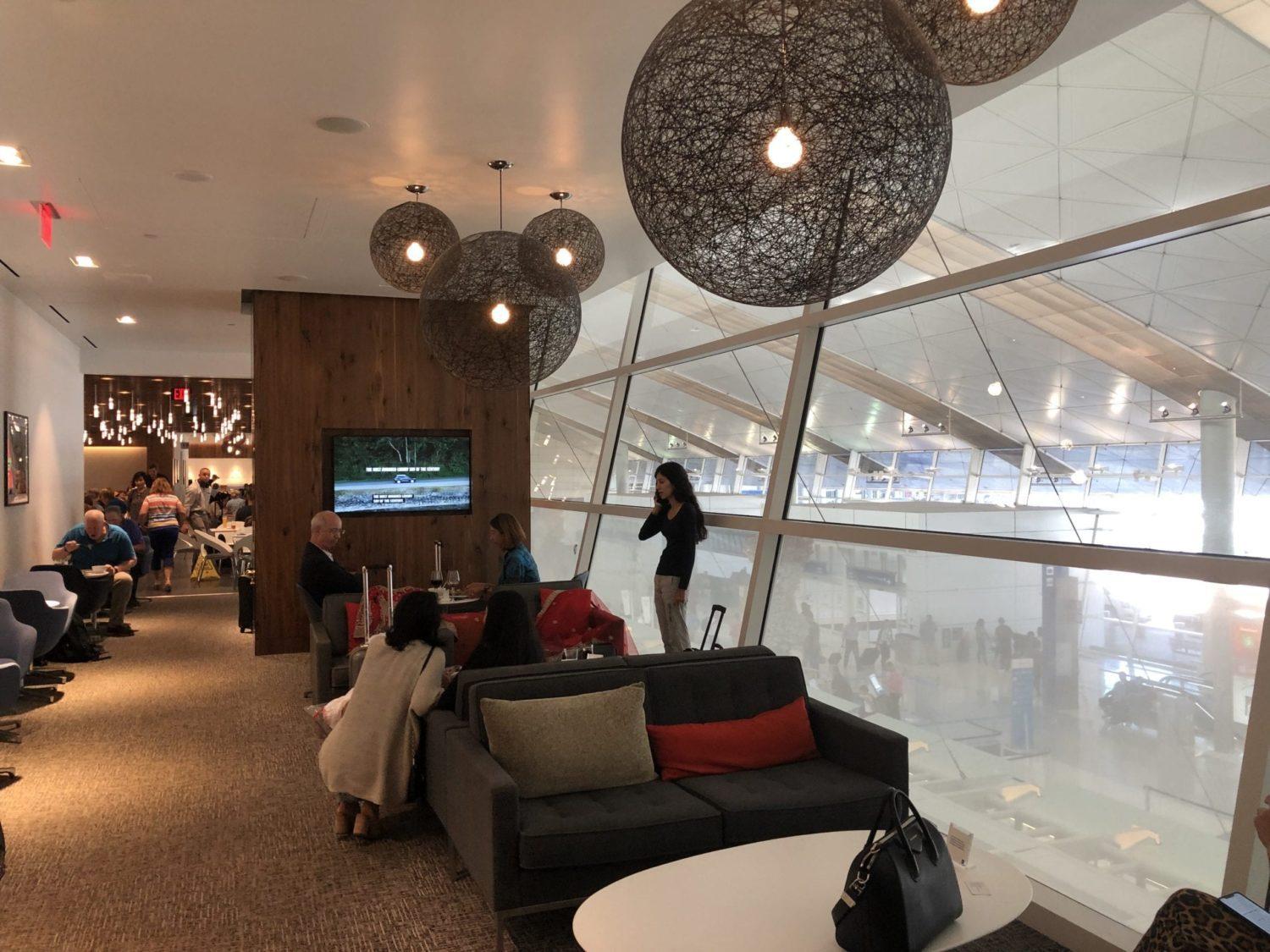 Every Centurion lounge has a similar design but something about the Centurion Lounge Dallas really struck me. The combination of its size, an open feeling (despite its long-and-narrow orientation) and the design really works.
The seating area begins just as you walk into the lounge, with a collection of armchairs and cozy black loveseats that offer a great mix of privacy and comfort.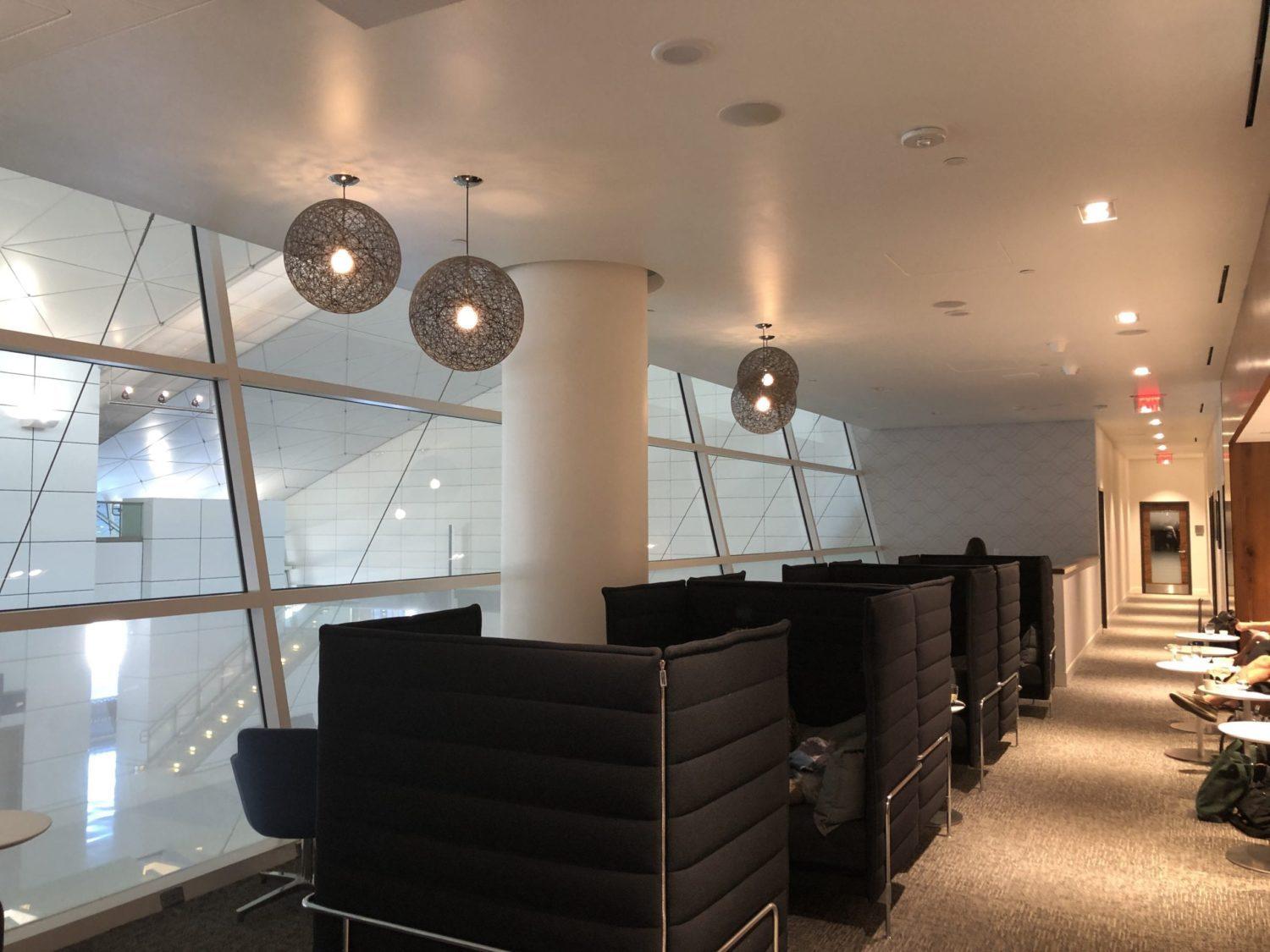 Midway through the lounge, you'll find a massive dining room, with plenty of tables, some hightop bar seating, a beautiful wooden dinner table and the centerpiece of every Centurion Lounge: the bar.
Just past the dining area, you'll find some large restrooms – certainly larger than the bathrooms at the Las Vegas Centurion Lounge, anyway. Like the rest of the lounge, these were clean and bright and stocked with L'Occitane soaps and lotions.
Further toward the back of the lounge, there's plenty of dedicated seating. You'll see a mix of lowtop tables with armchairs and more of those private black loveseats. There's also a massive desk and a few small quiet rooms to duck in for phone calls. And finally, there's a massive feature wall with more armchairs built in, along with a few desks with computers.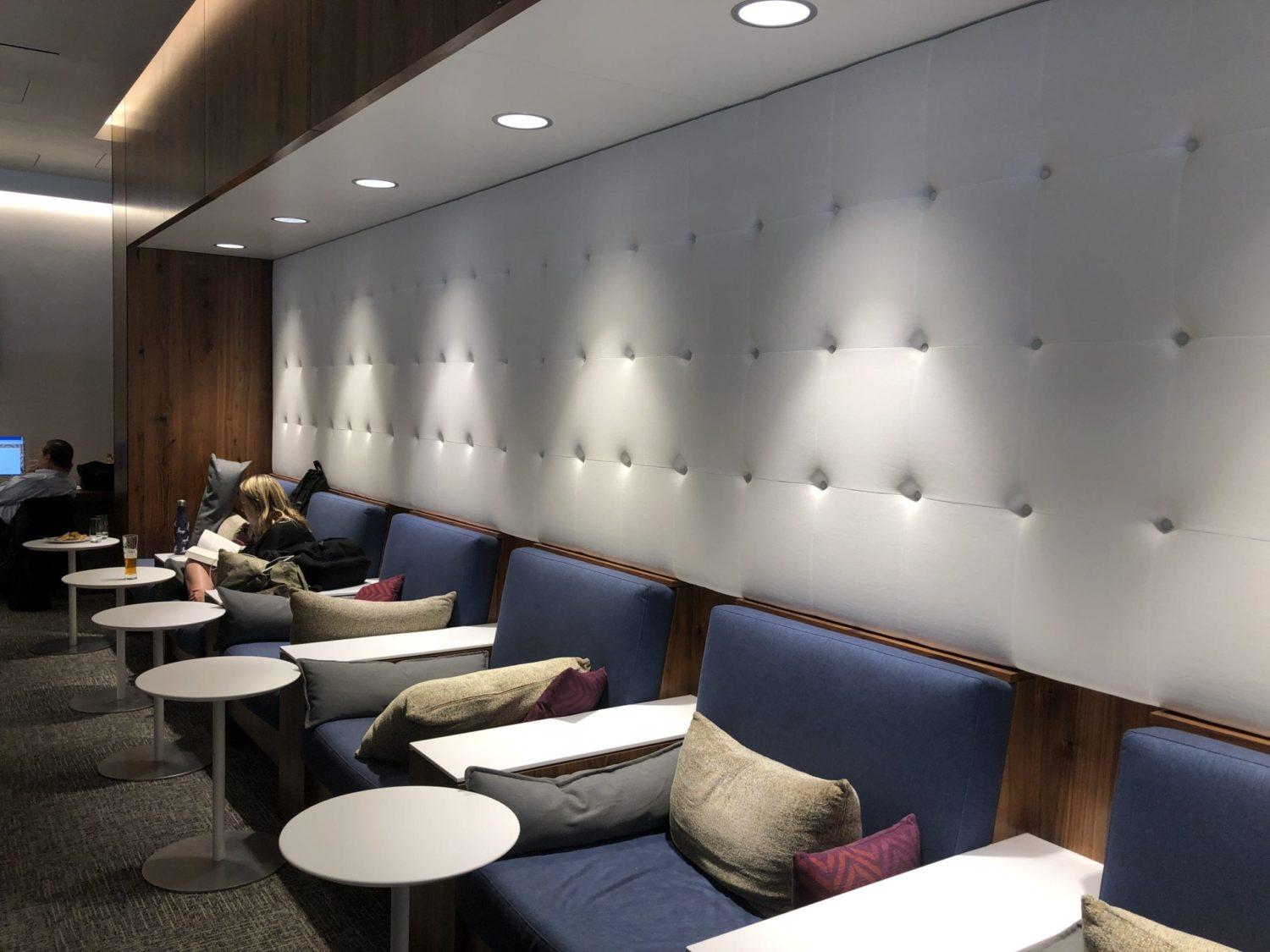 In short, there's a broad array of seating, and plenty of it. But with the massive amount of people using this lounge, it might not always feel like it. Throughout the evening, the crowds started to thin out some.
Near the front of the lounge, you'll also find two amenities that you don't get in every Centurion Lounge – a small spa and several shower rooms. Both are free – simply ask at reception to schedule a spa appointment for a massage, facial, or manicure, or to book time for one of the shower suites.
Finally, there was free Wi-Fi throughout the lounge with a password from the front desk. And it was plenty fast enough to get any work or social media perusing done.
Food and Drinks
Like all Centurion lounges, the Dallas Centurion Lounge truly delivered when it came to food.
The bar is the highlight, with very sharp decorations and well-trained staff. Just beware that small (yet manageable) lines often build up for customers looking to order a drink.
The bar menu itself is quite nice. You'll find several free red and white wines, at least one type of sparkling wine, and several beers (both on tap and bottled) for free. But the highlight is the cocktail menu. I didn't sample any, but it looked like the standard fare you'd find at any Centurion lounge – and that's a good thing.
But the food was outstanding. The menus at Centurion lounges seem to change weekly, and it's all served buffet-style with sturdy plates, cutler,  and cloth napkins. I arrived at the lounge at about 4 p.m., by which time the lounge was serving its dinner menu.
That included a very tasty chimichurri chicken, vegetable fettucine, some lackluster-looking (but delicious) mashed red potatoes, and some roasted Mexican squash. Everything I tried was very tasty. And again, it's all free.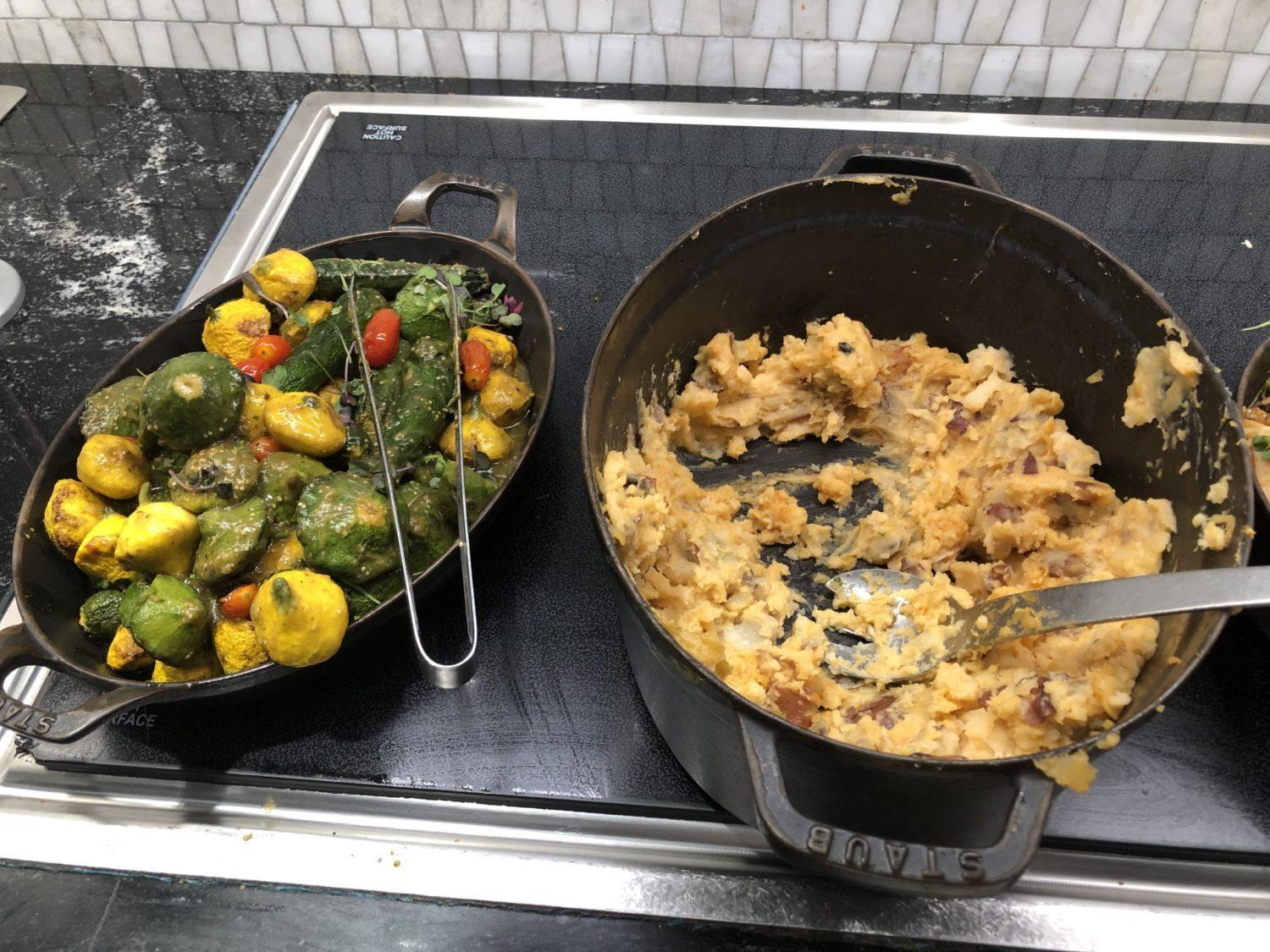 There was also a simple but fresh salad bar, some cookies, and dessert cups that I didn't sample. But the star of the dinner offerings was the creamy gazpacho, a cold tomato soup.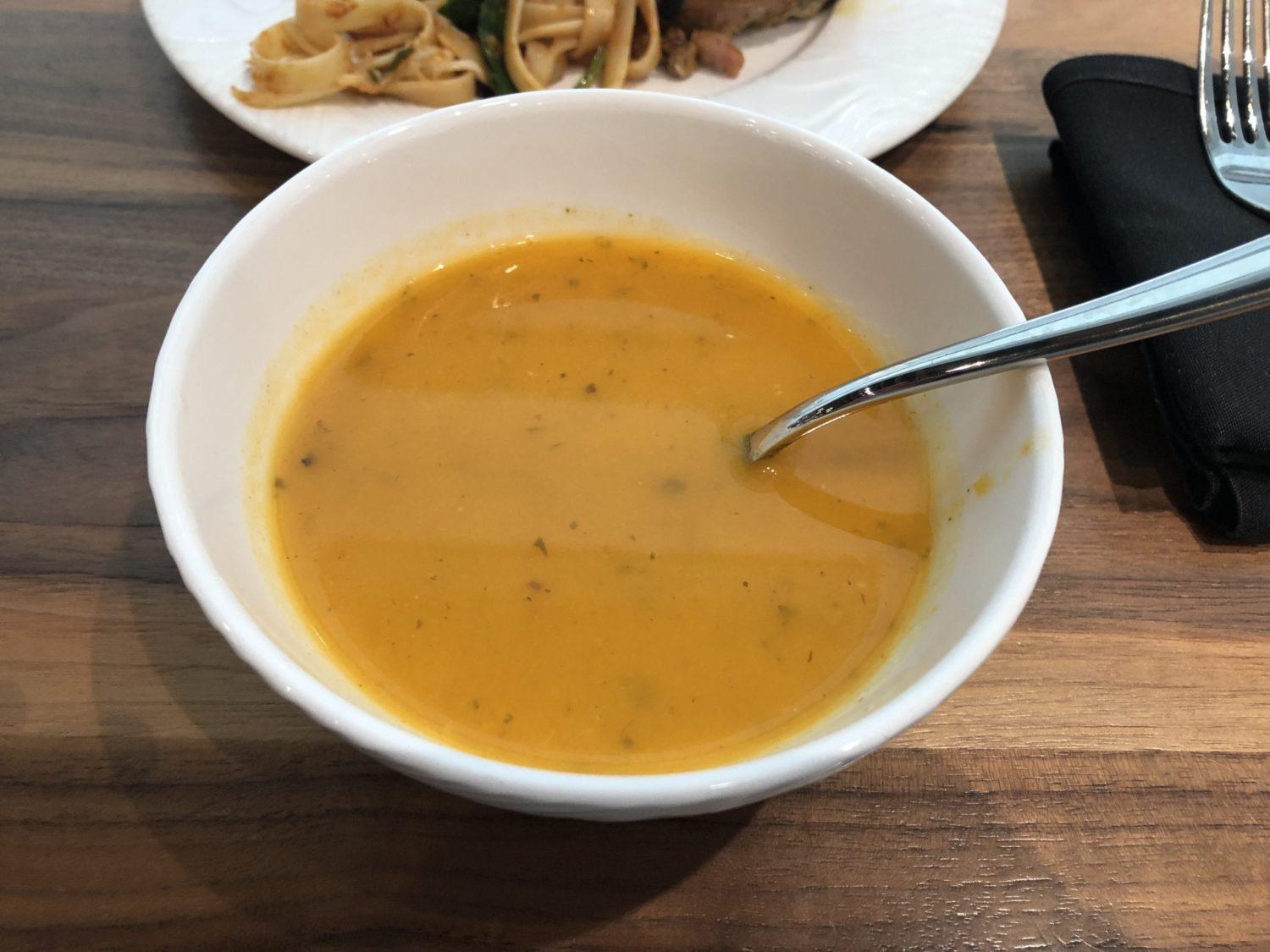 This is what stands out about Centurion Lounges. At most lounges in the U.S., you can't depend on much more than some snacks and finger food, and the quality is typically decent at best. But at Centurion lounges, you can count on a full meal – and typically a pretty good one.
Throw in a craft cocktail, and it's a great experience.
Bottom Line
The Centurion Lounge in Dallas-Fort Worth has a lot to love. For starters, it's bigger than many Centurion locations. The space is well-designed, with lots of seating and some very cool amenities that you won't find in many U.S. lounges. And, as always, the food and drink options are outstanding.
It's just the luck of the draw as to whether you'll be able to enjoy it all to the fullest … or feel like you're bumping elbows with everyone else trying to do the same. Solo travelers shouldn't have much trouble finding a spot to eat and relax, but larger groups could easily struggle.