With a Delta boarding pass and The Platinum Card® from American Express or the Delta SkyMiles® Reserve American Express Card, it's fairly easy to get into the Delta Sky Club before your flight – even when flying economy. And judging by the long lines and overcrowded lounges, it's clear more travelers have those cards in their wallets than ever.
At most lounges, getting in requires showing your boarding pass as well as handing over whichever credit card gets you in the door. But not Delta Sky Clubs: So long as you've saved your eligible Amex card as a payment method in your Delta SkyMiles account, you can just scan your boarding pass and waltz into the lounge. 

Read our full guide to getting into the Delta Sky Club!
Look, we're not breaking any new ground here. This is a simple trick many loyal Delta flyers have known about for many years. But it may be news to others, whether they're heading for a Delta Sky Club for the first time or have been visiting for years.
Once you've saved your eligible credit card, your SkyMiles account shows you've got free lounge access whenever you scan your boarding pass at the Sky Club entrance. Purchasing an annual Sky Club membership works just the same. Both mobile boarding passes and traditional paper passes should be just fine.
Delta has been trying to combat overcrowding at some of its most popular lounges by rolling out a slew of new restrictions: Limiting access to just three hours before a flight, raising guest entry fees to $50 apiece, increasing the costs of buying a Sky Club membership outright, and more. Still, you may see long lines to get into some Sky Clubs.
So why not save yourself the hassle of juggling your card and boarding pass – especially since it takes just a minute or so to add your eligible Amex card to your Delta account?
Thrifty Tip: Traveling with others and don't want to pay $50 for a guest to come with? Delta Reserve cardholders get two free passes a year to bring guests into the Sky Club. Paying for guests is also a great way to use up the $200 annual airline credits on the Amex Platinum Card.
How to Save Your Amex Card with Delta
Adding one of these cards to your Delta account couldn't be much easier.
Start by heading to Delta.com and logging into your SkyMiles account. Click on your name, then select "Profile." You'll see a handful of options, but just click "Payment Methods."

You'll enter all the usual information to store your card. You can give the card a nickname, which can help choose the right card when you're booking a flight with Delta. And you can also designate a primary card, which will be the default anytime you're paying Delta online.

Delta allows you to keep up to four cards on file at a time. So long as you've got your card with lounge access saved like The Platinum Card® from American Express or the Delta SkyMiles® Reserve American Express Card, you're set to enter the Sky Club with just a quick scan of your boarding pass.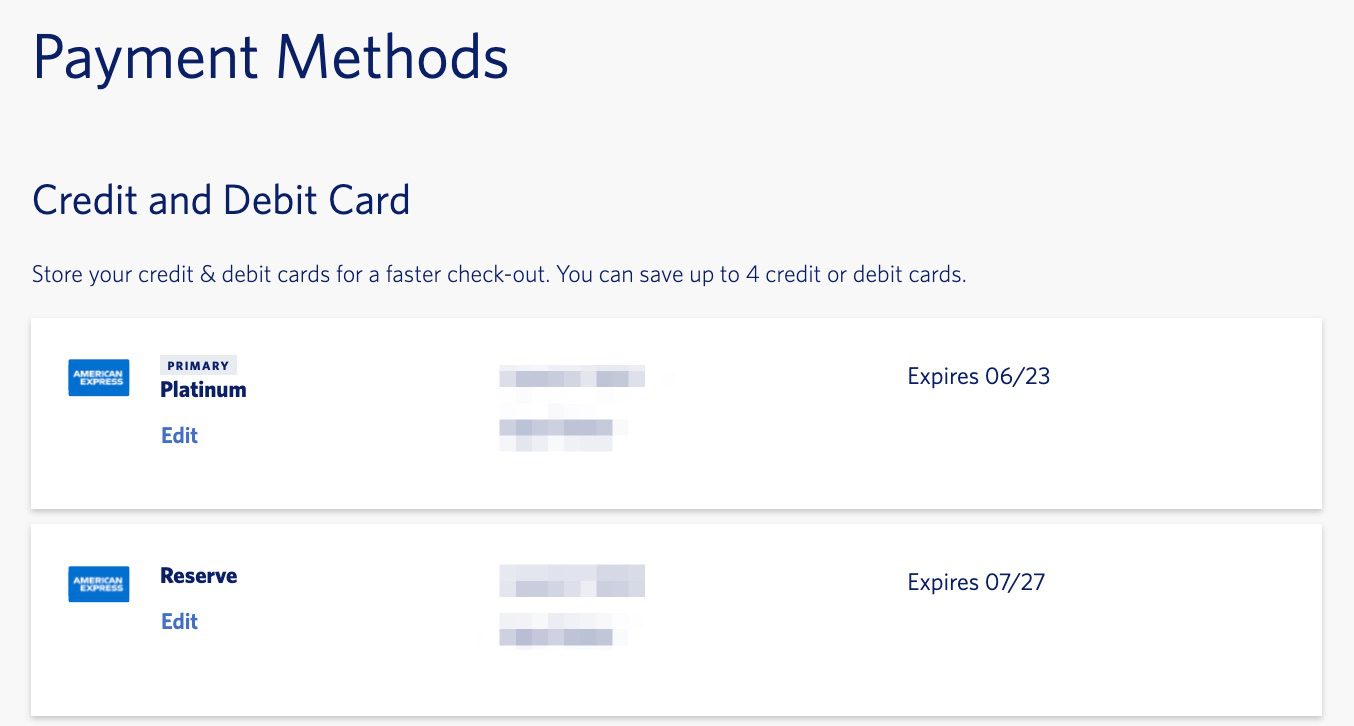 You can also save a card for future use in your SkyMiles account while checking out and paying for a flight.
Bottom Line
It's a small tip, but it's helpful nonetheless!
Once you've saved the credit card that gets you Sky Club access in your SkyMiles account, you can keep that card in your wallet and just scan your boarding pass to get into the lounge.