At some point in nearly every traveler's life, the bright lights and clinking casino sounds of the Las Vegas Strip have beckoned.
But we think there's another reason to visit Vegas. It's the perfect starting point to drive out into neighboring Utah to explore some of the best national parks in the U.S. From the spectacular hikes of Zion National Park to the perpetual views of Canyonlands, you haven't truly seen the country until you've visited these parks and others.
Thrifty Tip: Start your trip right by booking a cheap flight into Las Vegas (LAS) this summer or fall.
Read on for how to get away from the city for the road trip of a lifetime.
Rent a Car and Buy a Pass
First things first: You need some wheels. After landing in Las Vegas (LAS) airport, you'll need to head to the dedicated car rental building. Just follow the signs for the shuttle and hop on board for a quick, five-minute ride to pick up your car.
Read our guide to getting the best deal on a car rental. Depending on how many parks you decide to visit, you could easily put on 1,000 miles or more. So just make sure your rental covers unlimited mileage.
Thrifty Tip: If you've got great credit cards with rental car perks like the American Express Platinum card, considering using the perk of rental car status to get a free upgrade with National, Avis or Hertz. Or put it on your Chase Sapphire Preferred to make sure you've got insurance coverage. 
And trust us: There are plenty of parks worth visiting. We made it to four of Utah's national parks on our road trip, with pit stops elsewhere, and still didn't see close to everything.
So it's worth looking into buying a National Parks Pass. These annual passes cost $80 and will get you into any national park and thousands of other federal recreation sites across the country for a whole year.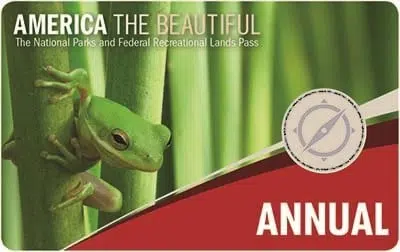 Considering each national park costs $30 to $35 or more in entry fees, you'll save money if you visit three or more parks by buying this pass.
With these necessities squared away, it's time to hit the road.
Bryce Canyon National Park
You might be tempted to leave the flashing lights of Las Vegas behind and head straight to Zion National Park. Resist that urge. I'll tell you why soon.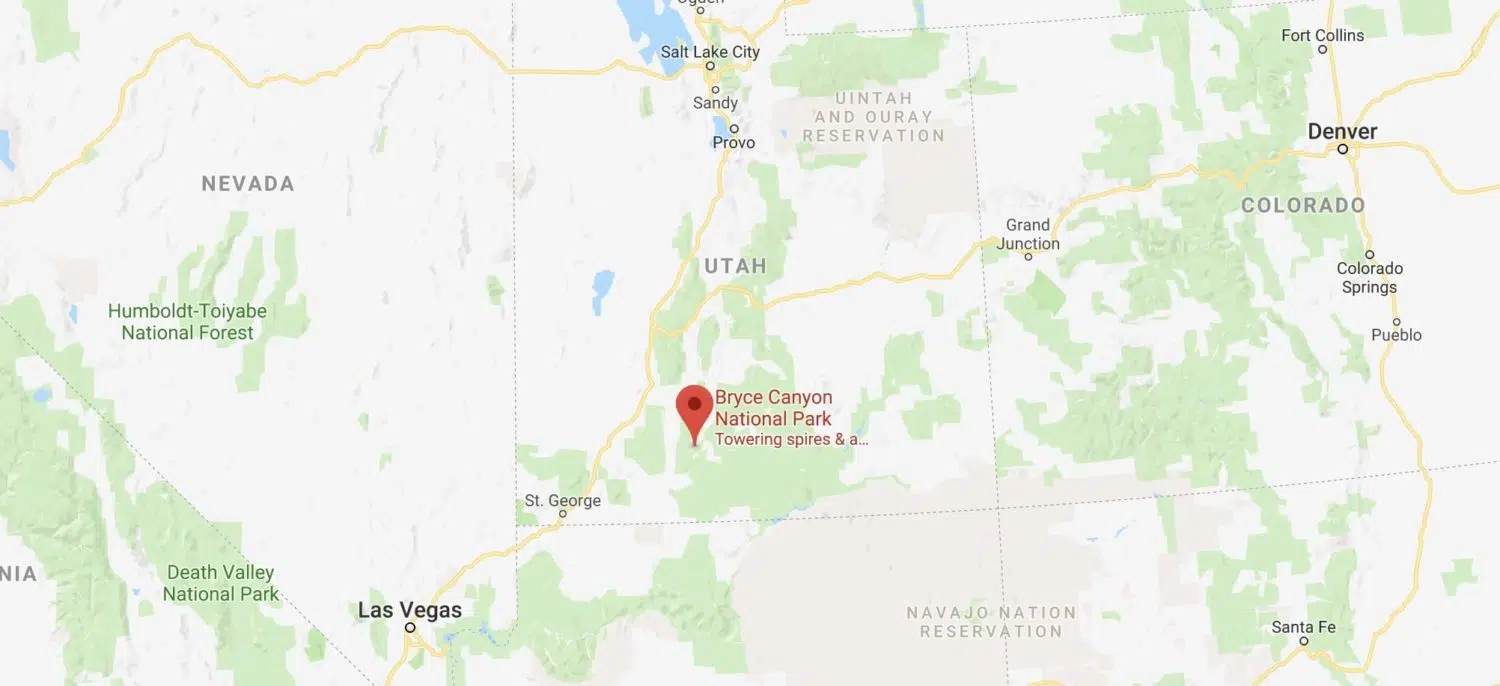 Instead, make way for Bryce Canyon National Park – a four-hour drive northeast of Las Vegas. Park your car, make your way to the edge of the basin, and prepare to be blown away.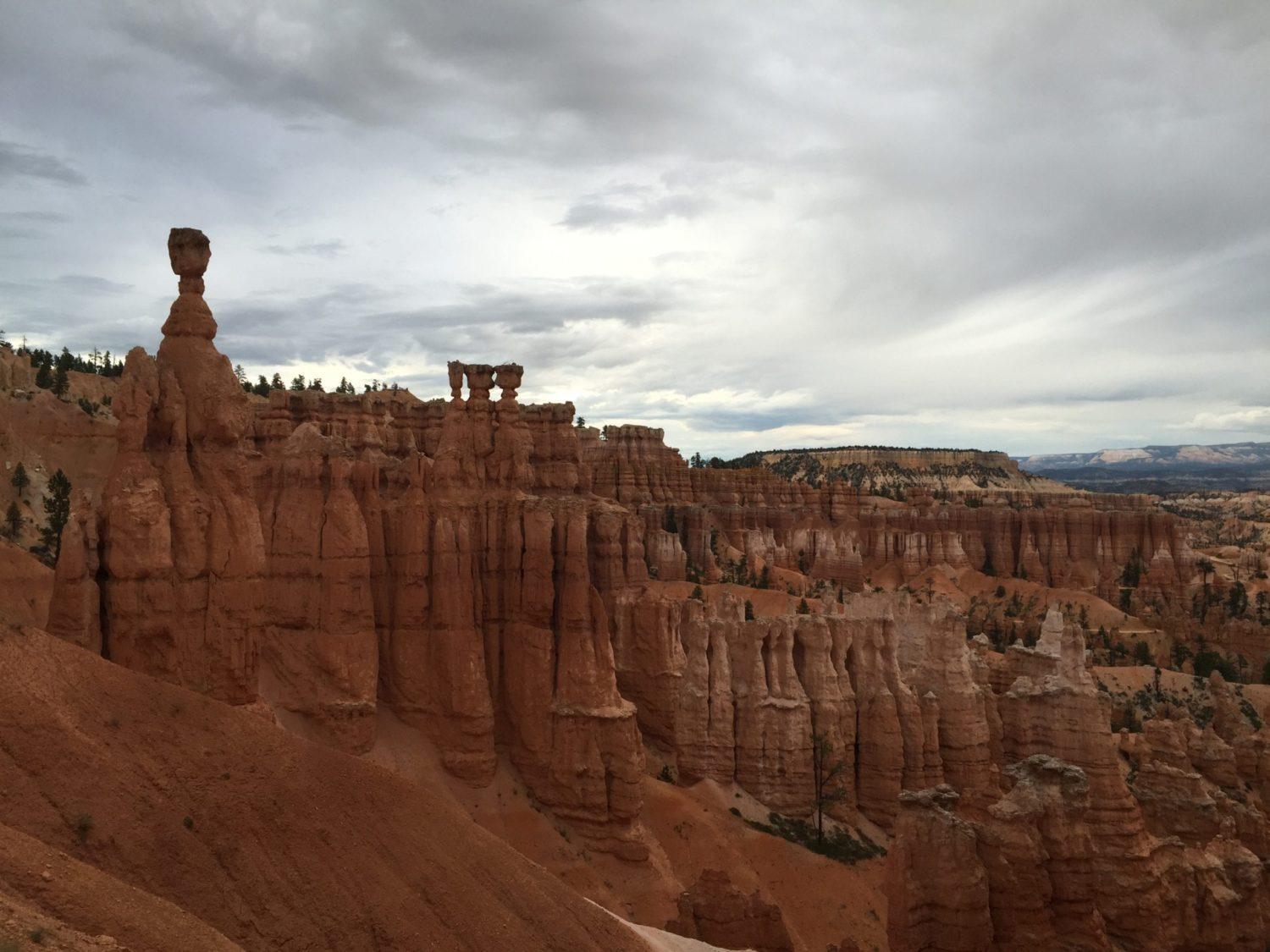 Bryce Canyon is full of rock formations worn by wind and weather, more beautiful than any architecture you'll ever see. Geologists call it an amphitheater, which sounds like a stretch until you see it in person.
The park's precarious position means some trails often get closed due to wet or degrading conditions, as unfortunately was the case during our visit. But climbing down and walking between some of these rock formations – called hoodoos – was unforgettable.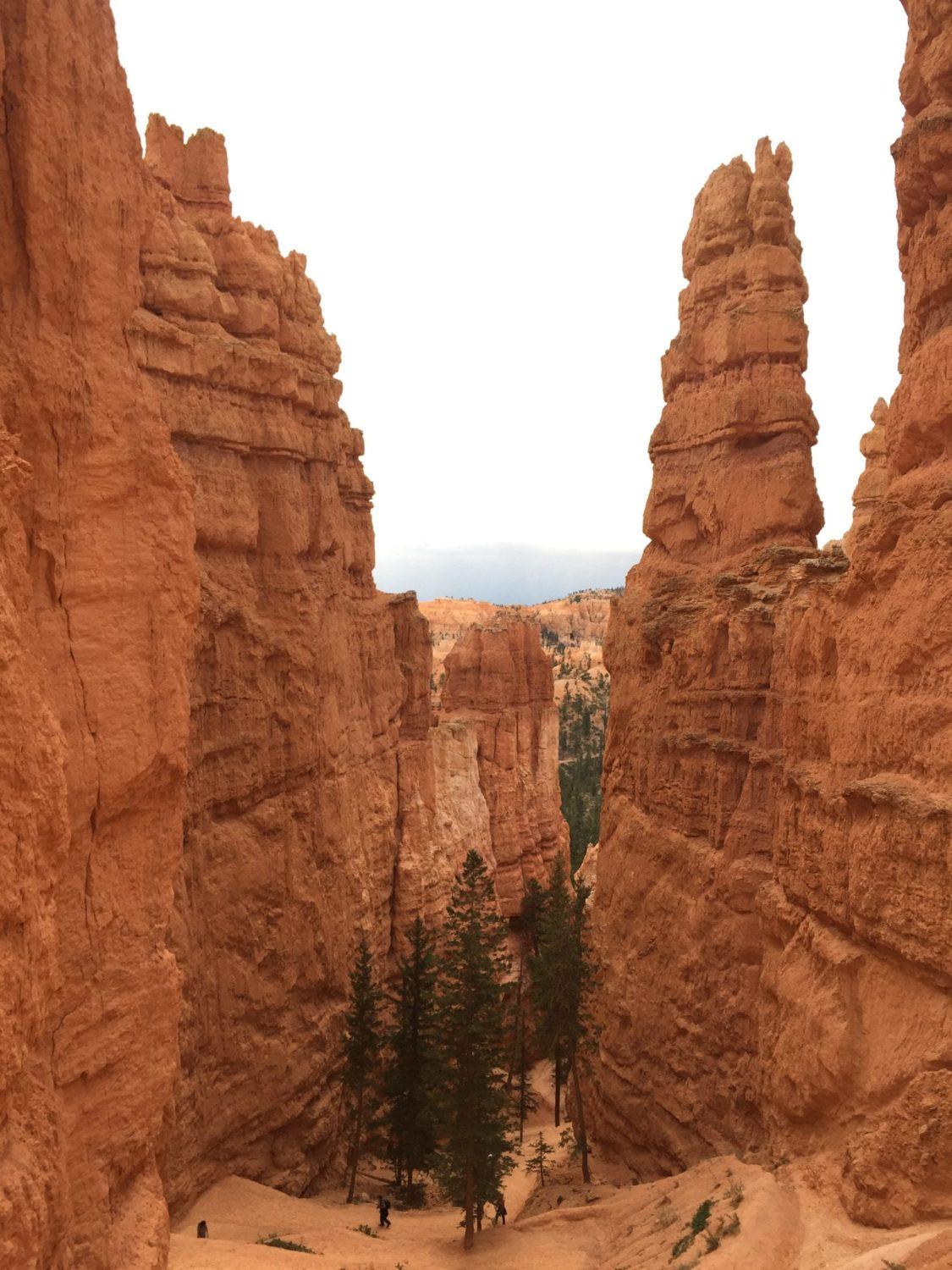 After checking out Bryce Canyon's numerous checkpoints and hikes, it's time to hop back in the car. But don't worry, this isn't monotonous freeway driving. Even your commute will be picturesque.
As you head east, stop for lunch at Tamarisk Restaurant in the tiny town of Green River, Utah.
Canyonlands and Arches National Parks
You can't visit one without the other.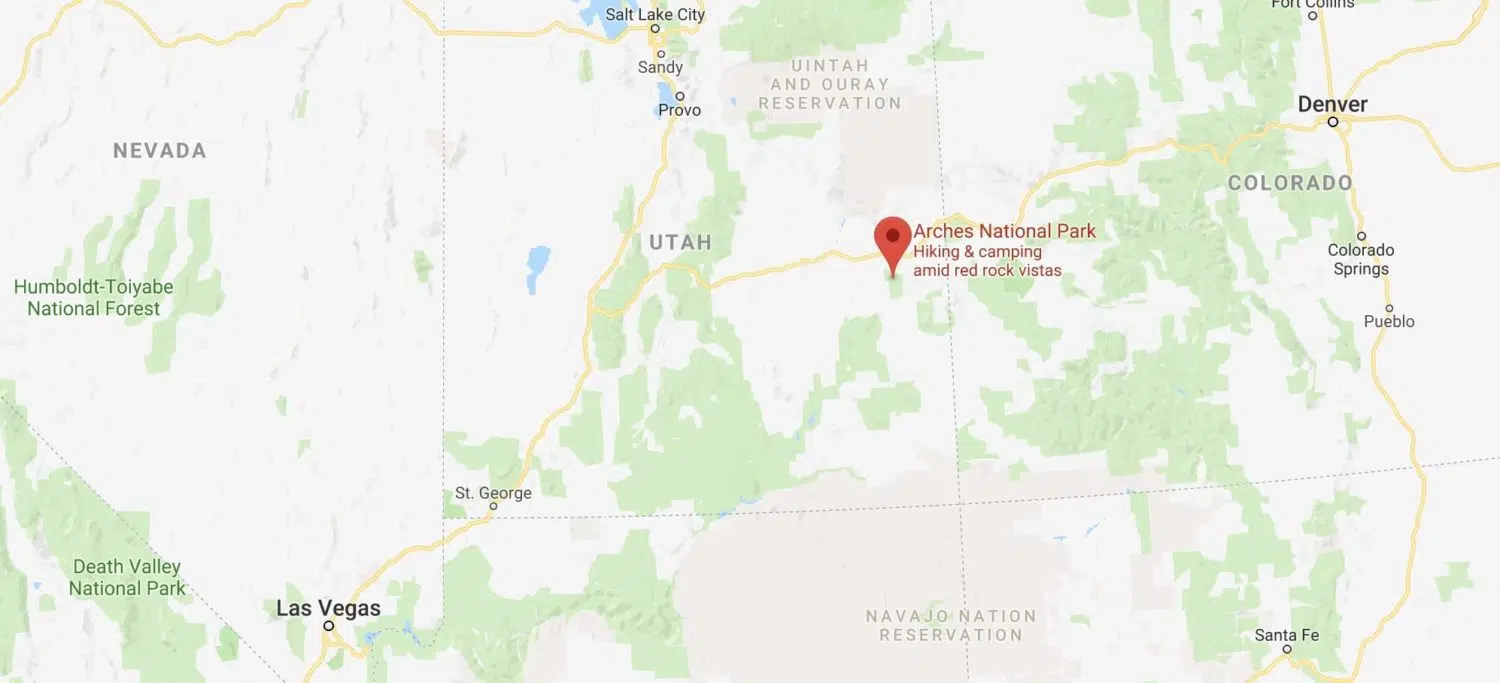 Canyonlands and Arches National Park are nearly next-door neighbors, separated by a stretch of highway and two dozen miles of entry road. It's a testament to the natural wonders of Utah that these two national gems are so close to one another.
At Canyonlands, you'll find a miniature yet still majestic version of the Grand Canyon – minus the crowds. Walk along the cliffside and drink it in. The view remains one of the most beautiful things I've ever seen.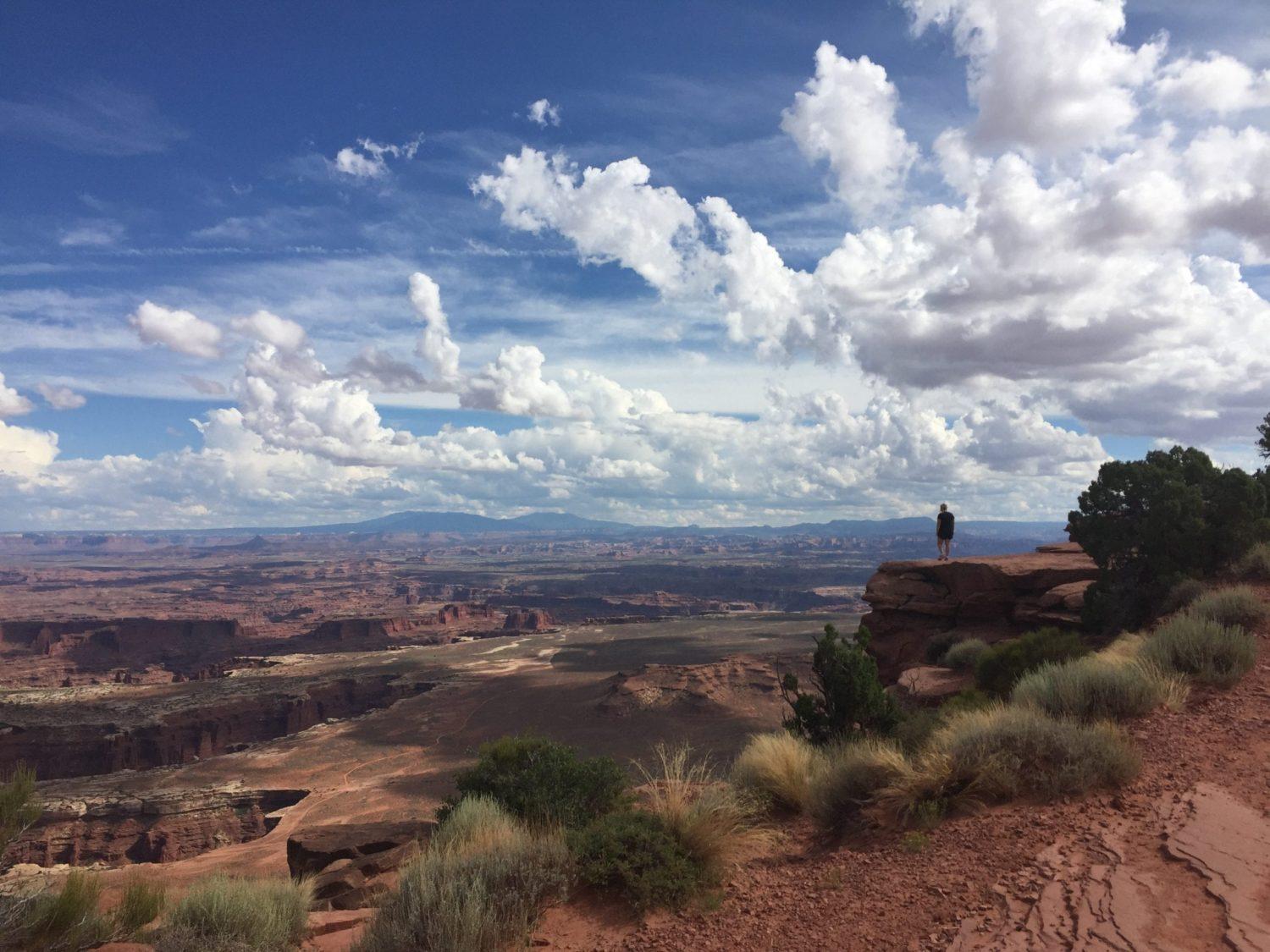 Just down the road, you'll find the entryway for Arches National Park. You can't drive more than a few thousand feet without seeing another fantastic arch, shaped only by weather and time. Park your car, hike in a short distance and they only get better.
And better yet, one of the coolest small towns in America is close by: Moab, Utah. Moab, a town of just over 5,000, seems to be full of just as many great restaurants, shops, farmers markets and more. It's the perfect place to stop for a night before trekking south.
Bonus Stop: Page, Arizona
Look at this. Just look at this.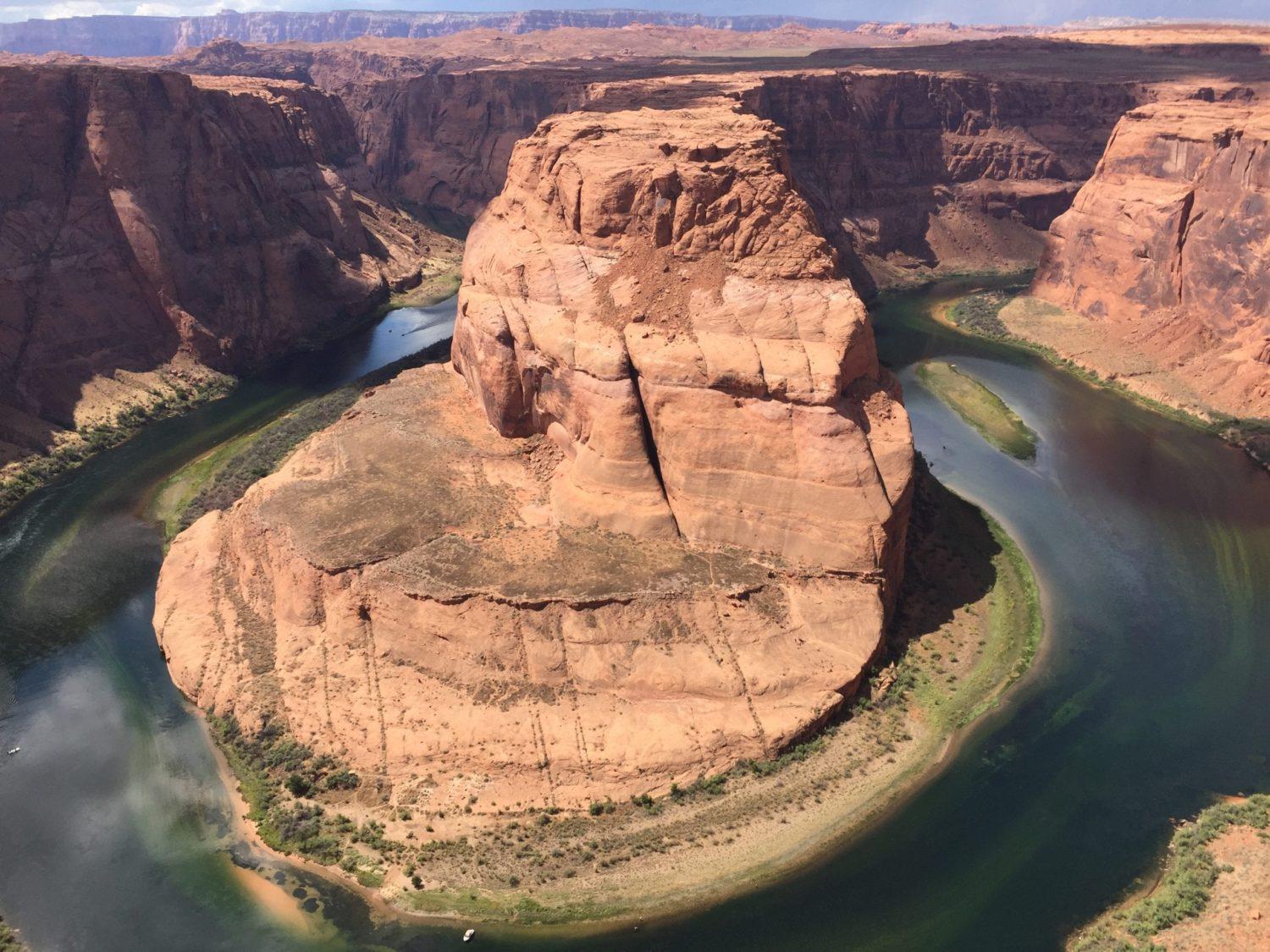 Go figure, it's called Horseshoe Bend, and it's just outside of the town of Page, Arizona. This town is just a few minutes across Utah's southern border, so it should be easy to work into your trip.
Horseshoe Bend itself isn't a national park, but it's worth a stop on your road trip. And the best part is, it's completely free. We sat on the cliffside banks for more than an hour, watching boats navigate the beautiful horseshoe curve of the Colorado River.
Nearby there's another attraction that you've likely seen in countless photos but perhaps have never heard its name: Antelope Canyon.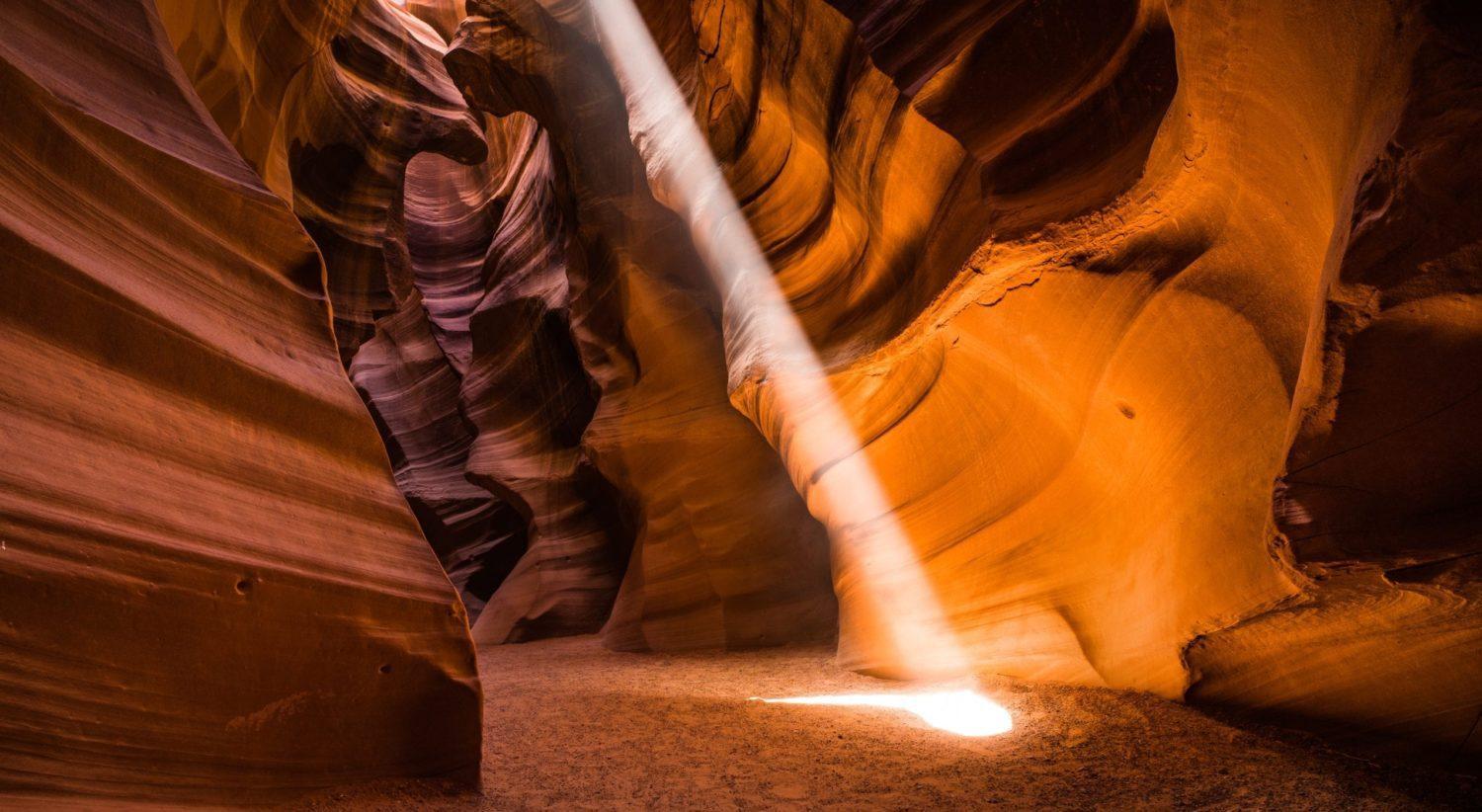 There are a handful of different reaches of Antelope Canyon to visit, and they're all beautiful. But because Antelope Canyon is on Navajo land, the only way to see it is through a guided tour. There are a handful of different tour operators in the area, whose prices vary greatly by time of year and how busy it is. By the time we made it there, the wait for a tour was several hours long so we were forced, sadly, to skip it.
Before skipping town, grab a quick lunch at Nemo's Fish and Chips, a delightful little hole-in-the-wall place in Page.
Zion National Park
We saved the best for last, and I'm sure glad we did.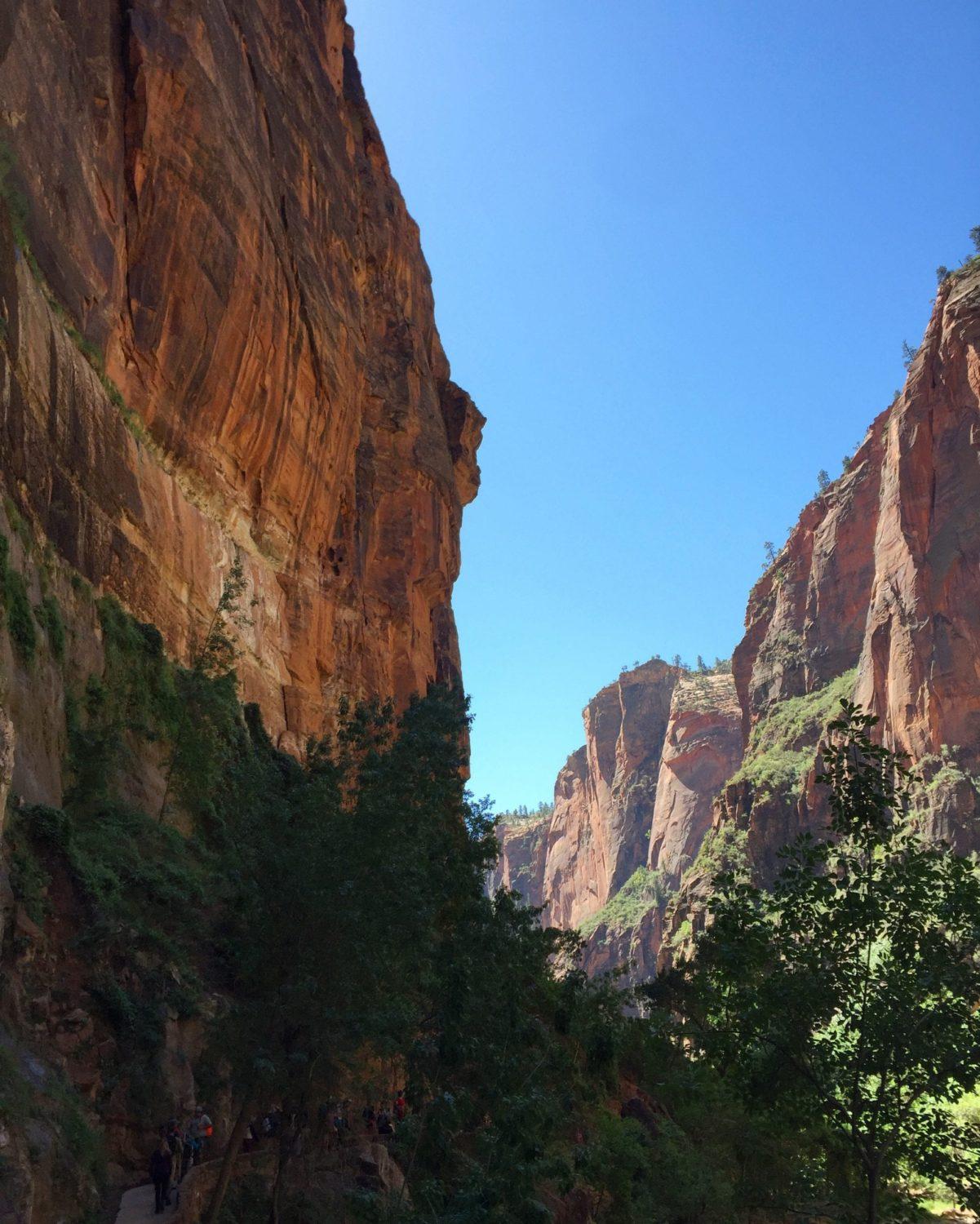 Zion is an absolute jewel, and one of the most photographed (and Instagrammed) national parks in the country. Take it from me: It lives up to the hype. But it's not for the faint of heart. Depending on which of the many hikes you take, it can be grueling. And its surging popularity means you should have a game plan.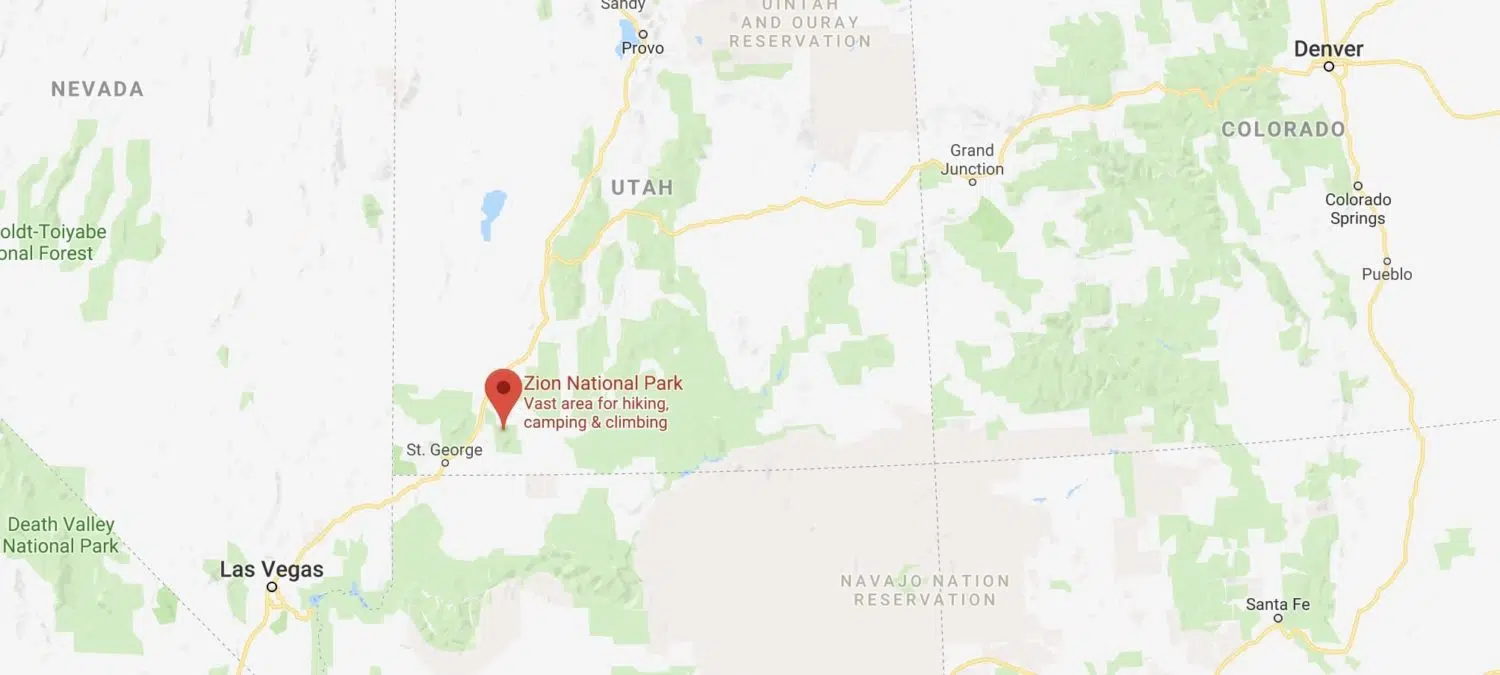 Situated in the southwestern corner of Utah, Zion is the perfect place to end your road trip before heading back to Las Vegas to catch a flight home or relax poolside. And it's critical to get there early. So despite its proximity to Las Vegas, it's better to stay somewhere closer to the park itself before your visit rather than head there directly from Sin City.
Thrifty Tip: Want to get the most out of Zion? Arrive before sunrise to beat the crowds and get your day started early.
You could easily devote a few days to exploring Zion. With just over a half-day to spare on our trip, we headed for The Narrows – a 10-plus mile hike up the river of a carved-out slot canyon. Get a pair of hiking shoes that can handle water, grab a good stick (I'm not joking), and start trudging. It's an experience unlike any other.
But there's so much more to see throughout Zion. You can get that top-of-the-world feeling at Observation Point.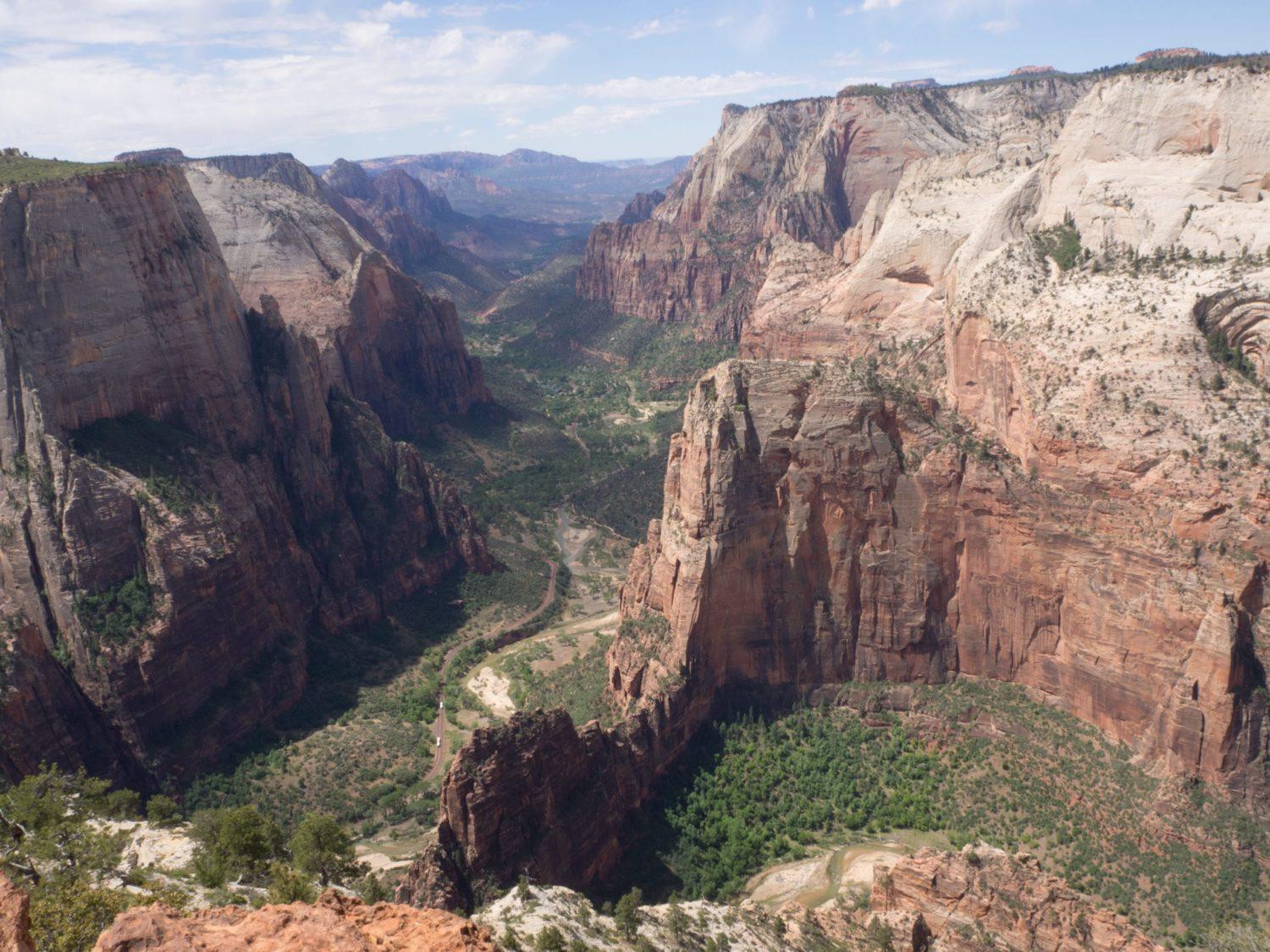 Or take the death-defying hike up to the peak of Angels Landing, traversing a path full of narrow switchbacks and steep paths that require grabbing onto a chain to stay safe.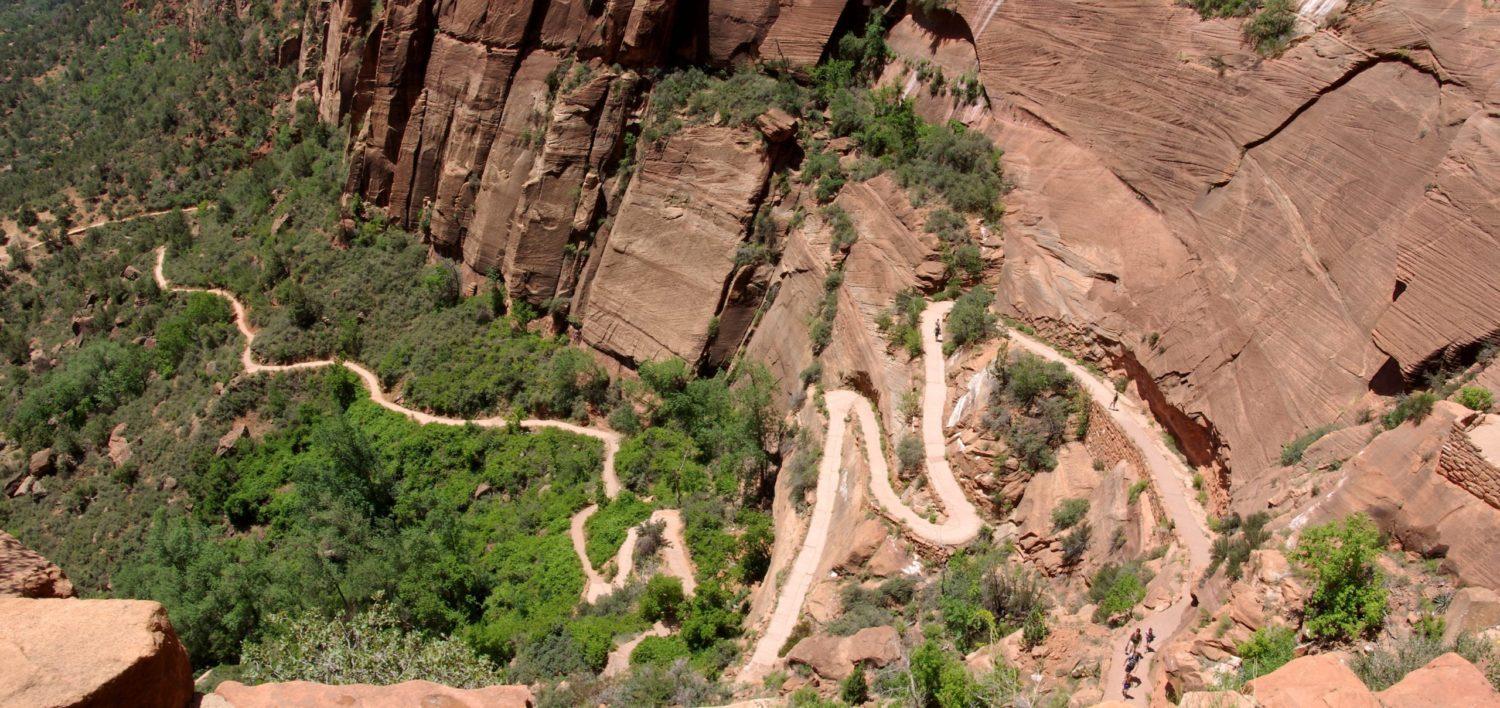 Bottom Line
The things you'll see on a road trip through these Utah national parks will stay with you forever. Looking over the cliff into Canyonlands, hiking up the curving river of the Narrows at Zion – it's all seared into my brain. There's so much of the world to see, but don't sleep on these majestic national parks right here in the U.S.