If economy is a little too uncomfortable but you don't need all of the bells and whistles (and cost) of booking business class, a premium economy seat might be your sweet spot.
It's not a lie-flat seat, but Premium Economy can be a godsend when flying long-haul overseas, with more spacious seats and plenty of legroom, better service and amenities, and even better food than what you get at the back of the plane. Of course, it varies from airline to airline – not all cabins are created equal … and some airlines even name them differently.
Delta Premium Select, for instance, is a high-end experience prior to the pandemic, with more legroom, wider seats, and amenities like noise-canceling headphones, an amenity kit, and dedicated service. A recent cheap fare flying SAS Plus premium economy also included a larger seat, solid service, and even lounge access.
But here's the best part: While it's not always dirt cheap, we've seen a recent trend of low premium economy fares. Thrifty Traveler Premium+ members have received a slew of premium economy fares to Europe and beyond under $900 roundtrip – and sometimes, half that price.
Here's how you can score a comfier ride across the ocean for the price of a typical economy fare – or less.
What Is Premium Economy?
Premium economy is a middle ground.
Premium economy seats aren't as nice or spacious as the first class or business class cabins, but they're a distinct step up from economy. They're typically far more spacious (both in width and legroom) and feature more amenities than regular economy in most cases. Often times, it looks a lot like domestic first class.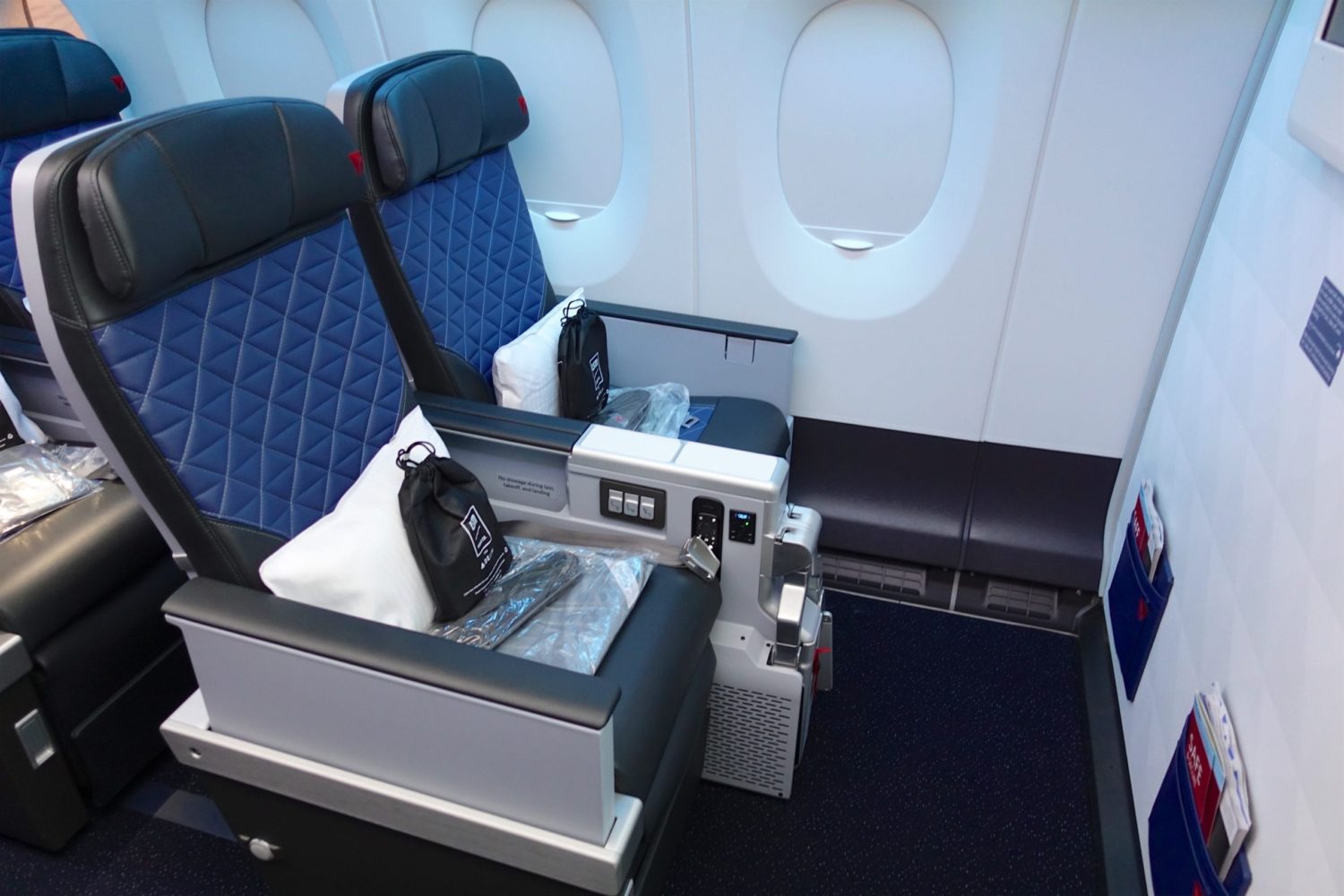 Premium economy products vary from airline-to-airline, but in most cases you're likely to get some version of the following:
A slightly wider seat
More legroom, often with a legrest
A little extra seat recline
Extra amenities (headphones, amenity kits, etc.)
Dedicated flight attendant service
Extra inflight meal service
Free checked bags
Lounge access (in some cases)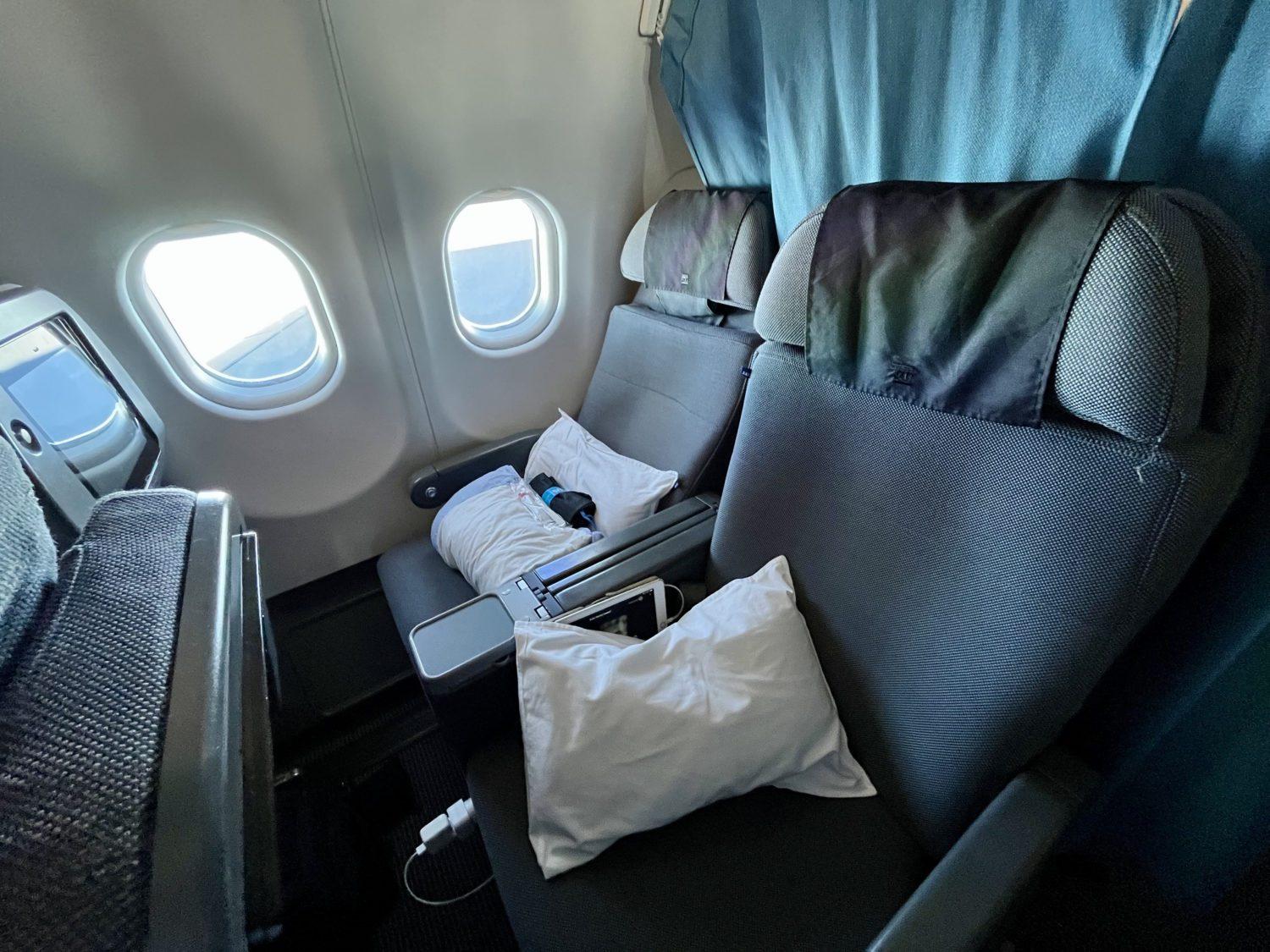 Unfortunately, premium economy has been a major victim of the pandemic in one regard: catering. From American to United and even foreign carriers, many airlines cut back their food budgets in premium economy, meaning the dining options still resemble what you get back in economy. That trend is only recently starting to reverse.
Still, it's a big step up – and for most travelers, this is plenty of luxury when taking to the skies. You can see if a route you're flying has premium economy when you're booking. It will look something like this:

These flights, both displayed on Delta's website, aren't both Delta flights. As you can see in the descriptions of the fares, the top flight is a Virgin Atlantic flight and its premium economy is just simply called "Premium." It's slightly cheaper than the Delta Premium Select option in this case. Both are significantly cheaper than the business class fares, though.
If those numbers look high to you, it's because they are! Don't pay this much for a premium economy fare. Luckily, we've been searching all of these flights daily so you don't have to. Here are some of the great deals we've found.
Premium Economy Flight Deals
Premium economy fares can be expensive – far more expensive than standard economy seats just a few rows back. But they don't have to be.
Over the last few months, we've seen an undeniable new trend emerge: A slew of deeply discount premium economy fares to Europe, Southeast Asia, and even Africa … at 50% off (or even more) the usual prices. In just the last two months, we've sent Thrifty Traveler Premium+ members more than 10 dirt-cheap premium economy fares – often for less than the typical economy fares on the same route.
Here's a great recent example, getting you to Europe or northern Africa in Delta Premium Select or Air France Premium Economy for just over $500 roundtrip!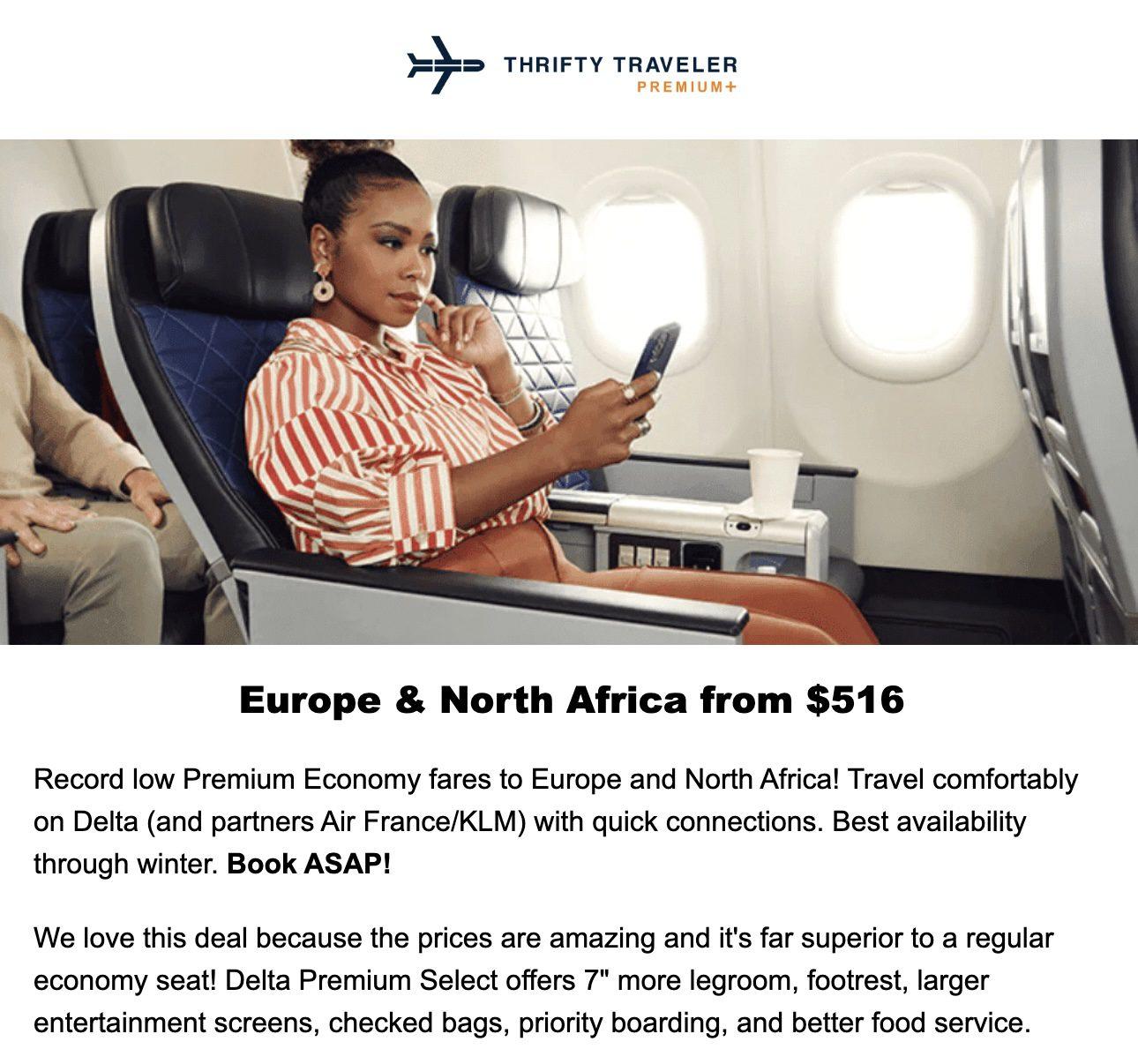 This deal featured fares at roughly a quarter the normal cost. Flying from Boston (BOS) all the way to Stockholm (ARN) is hard to pull off for $517 in a standard coach seat, making this deal a no-brainer.


Get flight deals like this one (plus business class fares and award alerts to use your points & miles, too) sent to your inbox with Thrifty Traveler Premium+!
But we've seen Premium Economy fares get even cheaper, dropping below $500 roundtrip. Scandinavia's SAS has occasionally sold its SAS Plus seats at record-low prices, including this recent deal for later this year and into 2023.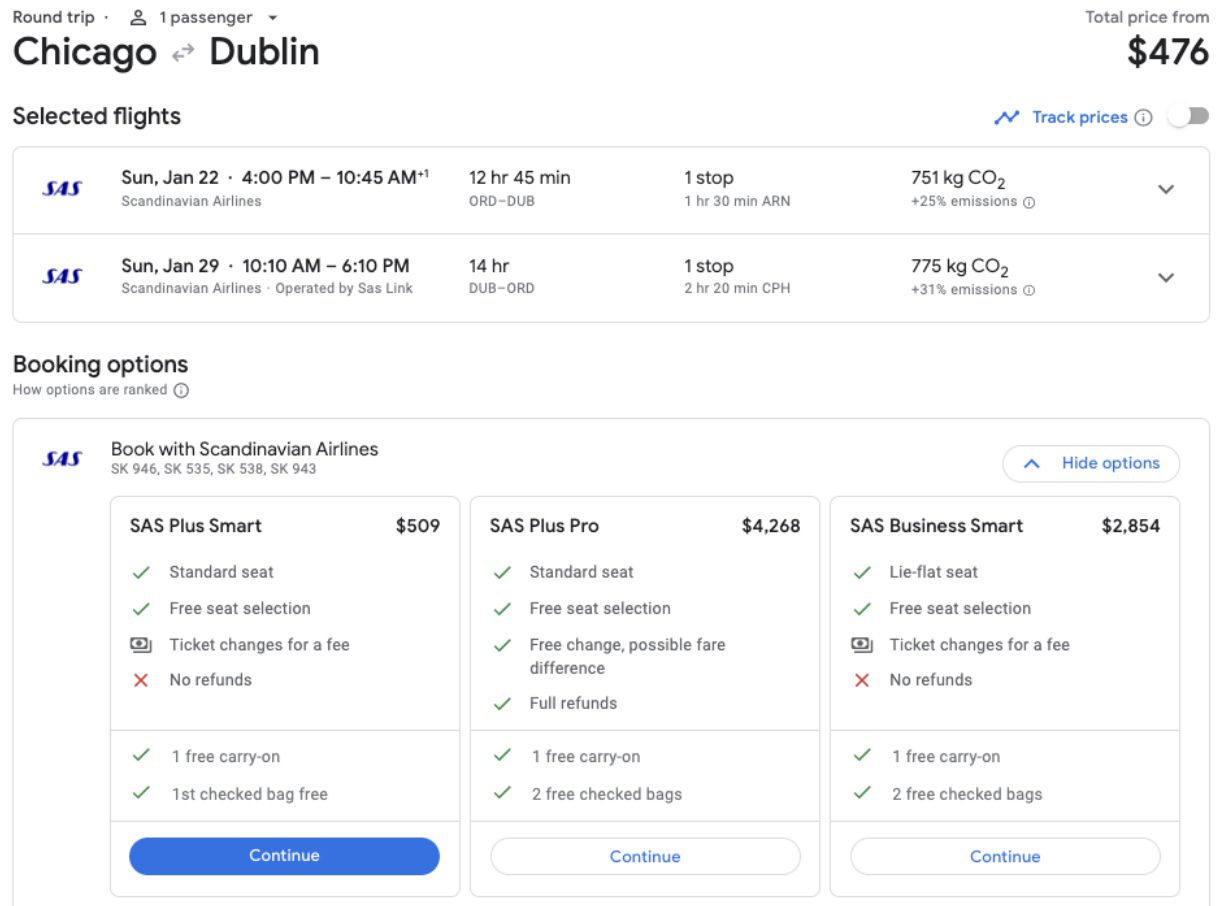 When you fly SAS Plus, you get perks like lounge access along with all the fixings of Premium Economy. We just flew SAS Plus and thought the experience was great for the price.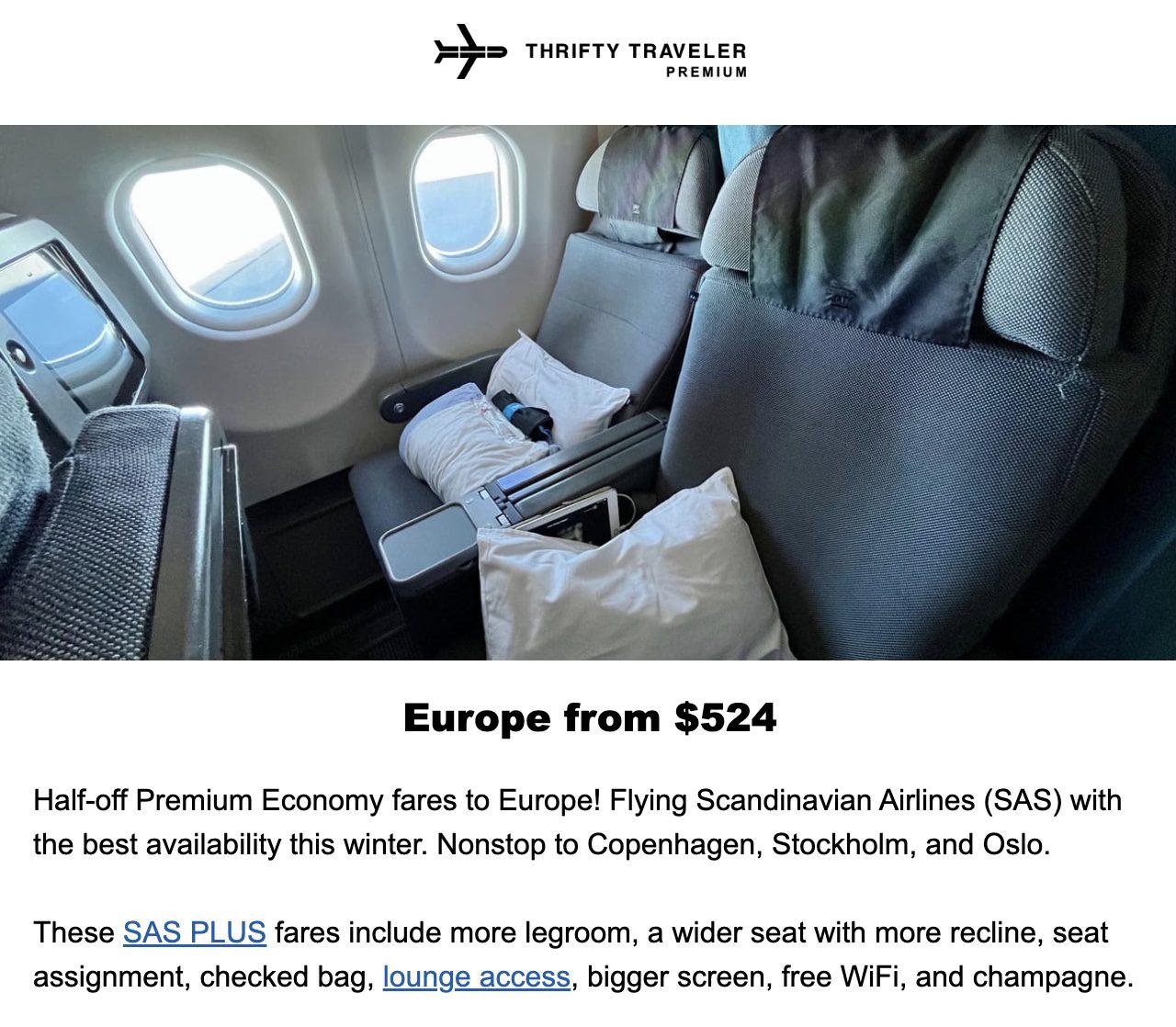 But it's not just fares to Europe where you can find huge savings on Premium Economy seats. How about flying all the way to India.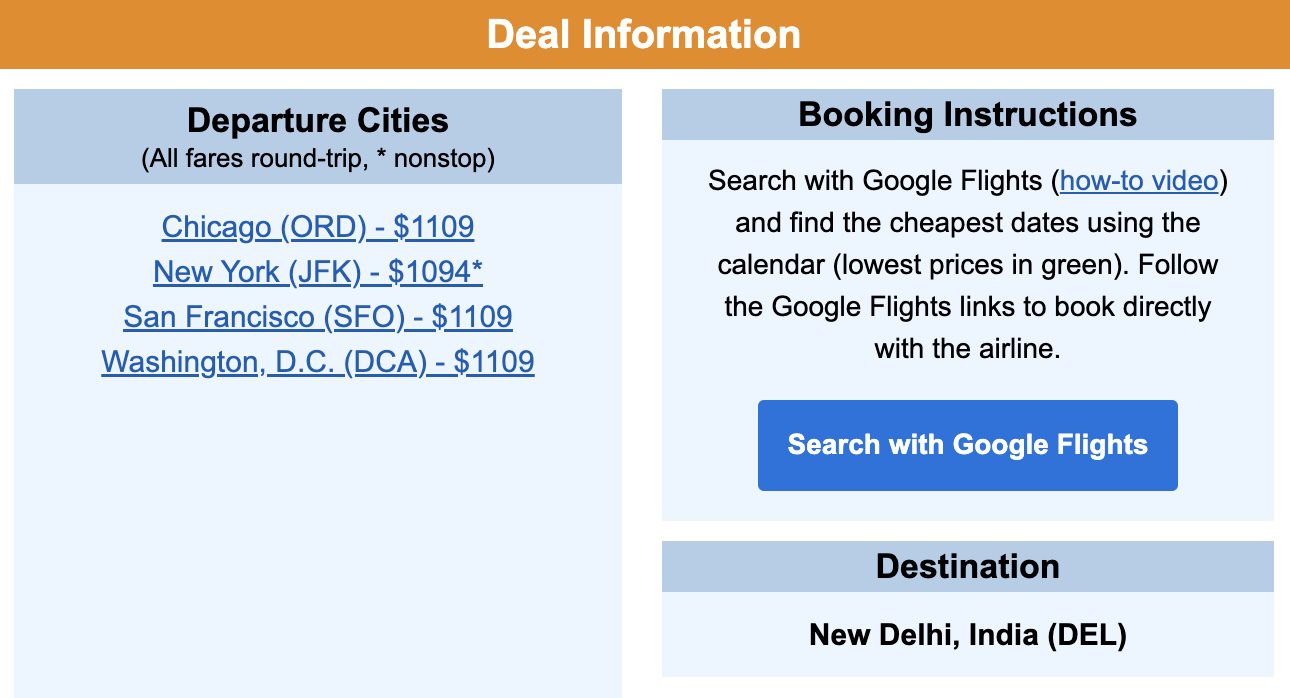 If you've ever flown to India, you might be used to seeing economy deals at those rates. But instead, you can get premium meals, a comfier seat, and dedicated service during your long, long journey.
Let's check in with American Airlines, where we've seen a handful of great premium economy fares down to South America like this cheap roundtrip flight to Brazil.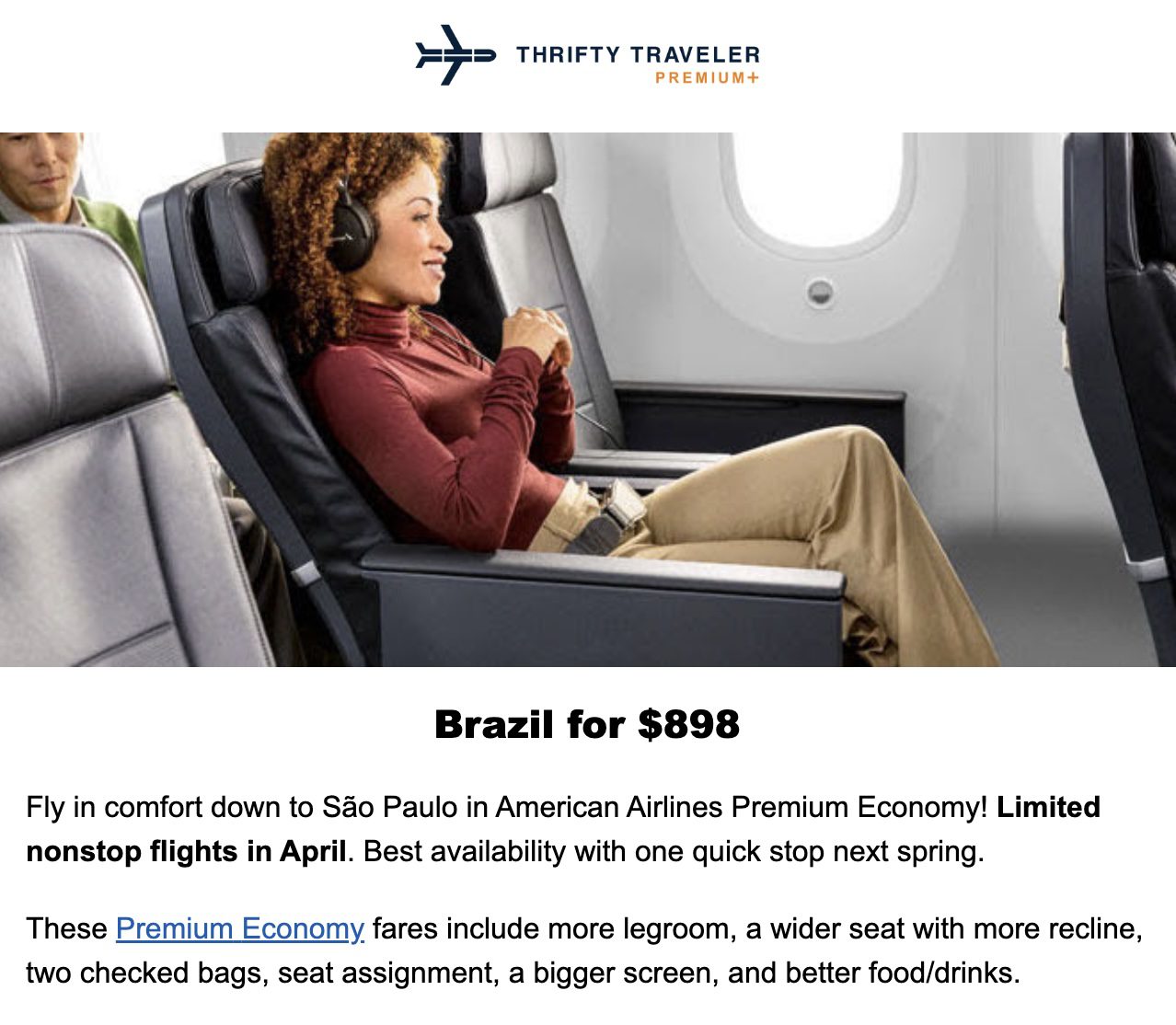 But we've even uncovered dirt-cheap premium economy seats on one of the world's best airlines: Singapore Airlines. The famed Asian carrier operates fifth-freedom flights between New York City (JFK) and Frankfurt (FRA) and Houston (IAH) and Manchester (MAN), leading to the occasional remarkable deal like this one.

Singapore Airlines has one of the best Premium Economy seats out there. Fortunately, Singapore also runs great deals on its premium economy fares to some southeast Asia sweet spots, too. And with flights this long, you're going to want a little extra comfort on the way.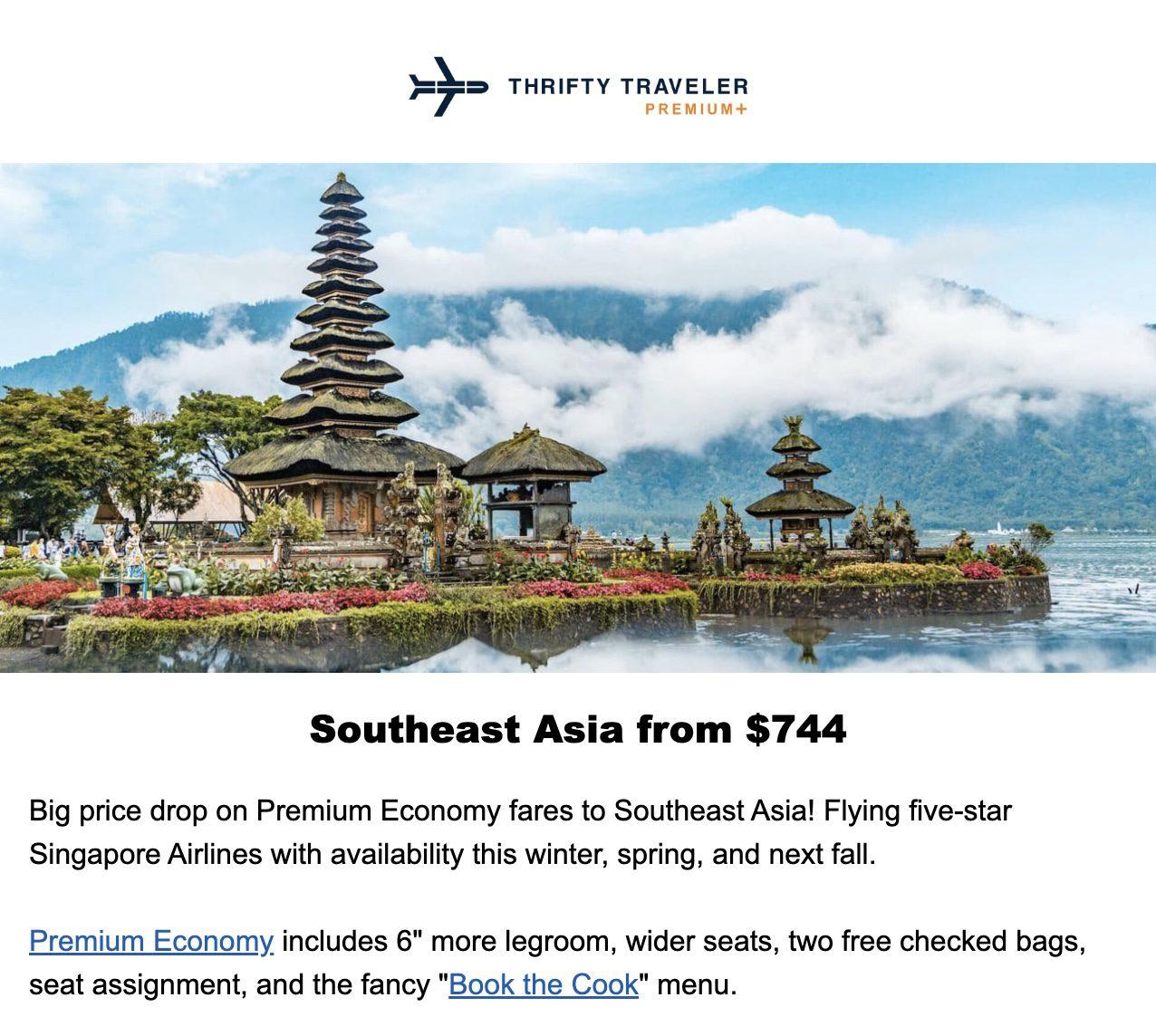 These prices are long gone now, get the next deal in your inbox with Thrifty Traveler Premium+!
Anything sub-$1,000 in Premium Select is a steal. But there can be an even better way to book: Using points and miles.
Thrifty Traveler Premium+ is the only flight deal service on the market that sends members both cheap cash fares and award space alerts to use their points and miles. And while we tend to focus on lie-flat business and first class seats, there have been some stellar deals to book premium economy using points too.
If you stockpiled some SkyMiles throughout the pandemic, there's no better way to use them than a Delta SkyMiles flash sale. Using just 90,000 Delta SkyMiles to fly from Minneapolis-St. Paul (MSP) to Amsterdam (AMS) and back is a pretty fantastic option for a cushy Delta Premium Select seat.

How about a comfier seat to tropical paradise? Air Tahiti Nui offers a nice ride on the nonstop to Tahiti (PPT), and we found some rock solid availability to book for just 65,000 American AAdvantage miles each way – or as low as 45,000 miles each way booking via Alaska Mileage Plan!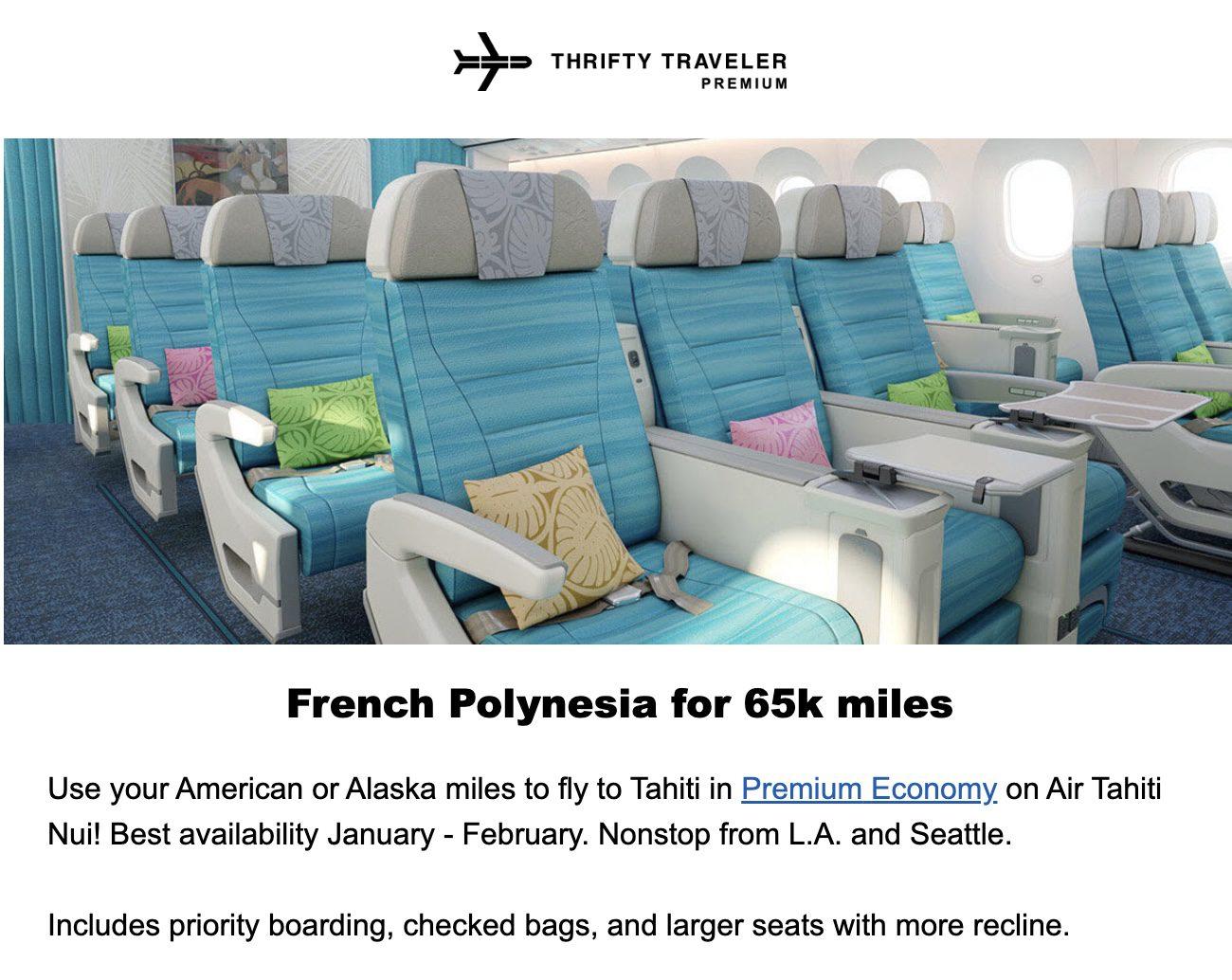 Bottom Line
Premium economy can be the perfect mix between the cost of regular economy and the service and amenities of business class. It's not a lie-flat seat, but there's no denying it's a comfier ride on a long-haul flight.
Best of all, we've been finding more and more great premium economy deals via Thrifty Traveler Premium+, helping our members get somewhere fun better rested … often for the typical price of coach!
Lead photo courtesy of Delta Air Lines