Think scoring a lie-flat business class trip for a big trip abroad requires saving, and then blowing hundreds of thousands of miles? You're not alone … but you're wrong.
Many travelers assume splurging for a big business class redemptions means you're wasting miles that could cover a few extra trips flying economy. I get it: Some of these seats just look expensive. Heck, they are if you're paying cash.
But, focusing on some of the best sweet spots scattered across different airlines and frequent flyer programs allows you to book a lie-flat seat for the mileage rates that you'd typically see for a cramped economy seat – or close to it. And earning transferrable credit card points from banks like Chase, Amex, or Capital One can get you the miles you need to make it a reality
Here are some of our favorite options for booking business class for the price of economy.
Want deals like these & more to fly business class for less? Sign up for Thrifty Traveler Premium+!

Biz Class to Madrid from 34K Each Way
You can generally expect to fork over around 70,000 miles for roundtrip flights to Europe, give or take a few thousand. For as low as just 68,000 miles, you can make the trip across the pond in lie-flat business class seats instead.

It's all thanks to Iberia, which offers one of the cheapest ways to fly business class to Europe – and one of the best deals in the world of points and miles, period. Other airlines like American charge nearly 60,000 miles each way for these exact same flights. Using Iberia Avios miles (or even British Airways Avios), it's just 34,000 miles each way to Madrid (MAD) and an extra $125 or so in fees.

Get alerts to book points and miles deals like this one with Thrifty Traveler Premium+!
You need to time it right, though: You'll need 50,000 miles for flights during Iberia's peak season like summer and around holidays, while off-peak flights clock in at the lowest rate of 34,000 miles. And Iberia's distance-based award pricing system means you'll need to fly nonstop from a handful of East Coast cities like Boston (BOS), New York City (JFK), or Washington, D.C.-Dulles (IAD) to score these rates. Luckily for Midwesterners, Chicago-O'Hare (ORD) works at this price, too.
Don't live there? Use positioning flights to take advantage of this deal!
Iberia's business class is comfortable and solid, with lie-flat seats and great food onboard. It makes the trek to Madrid and back a breeze.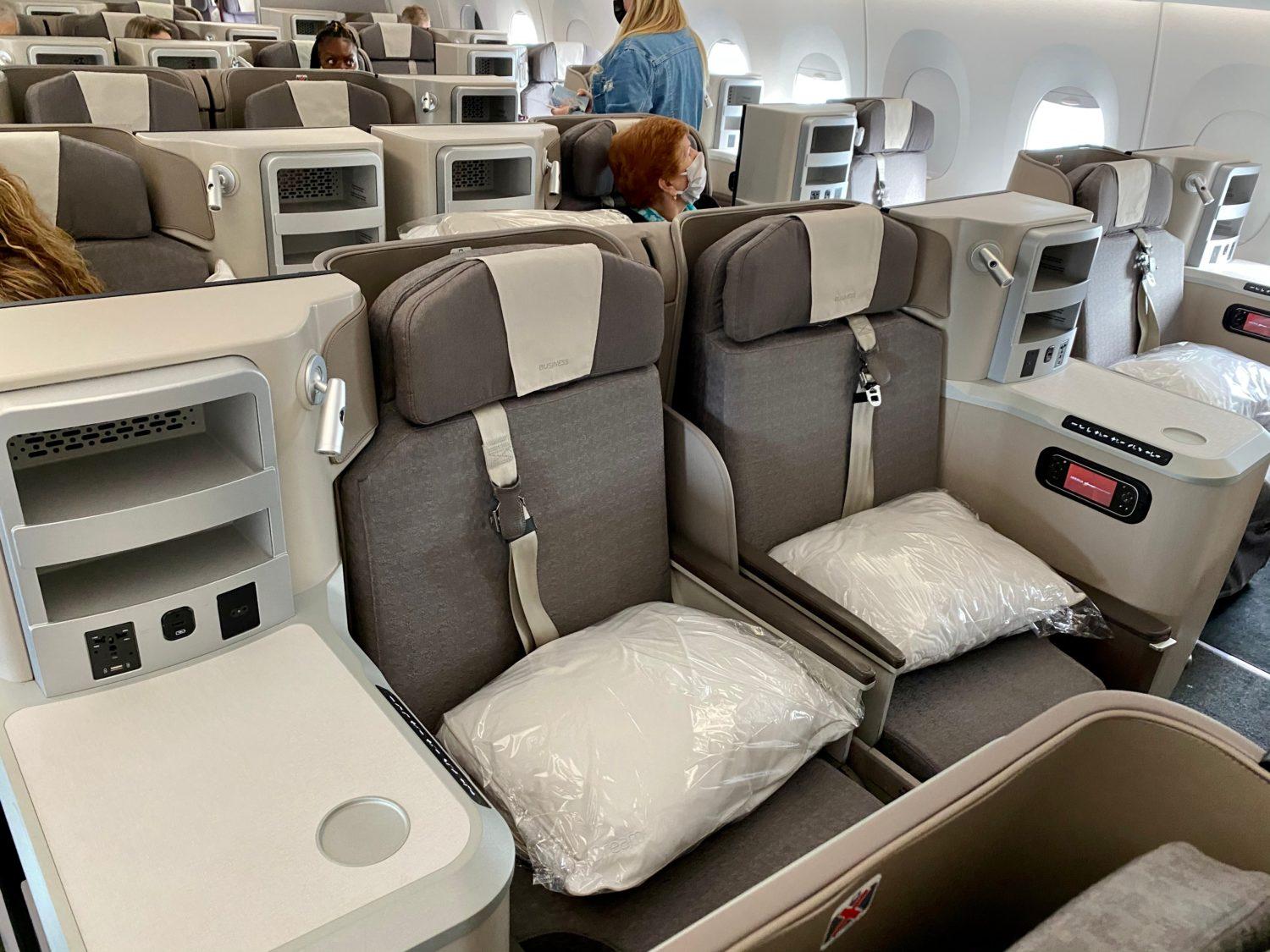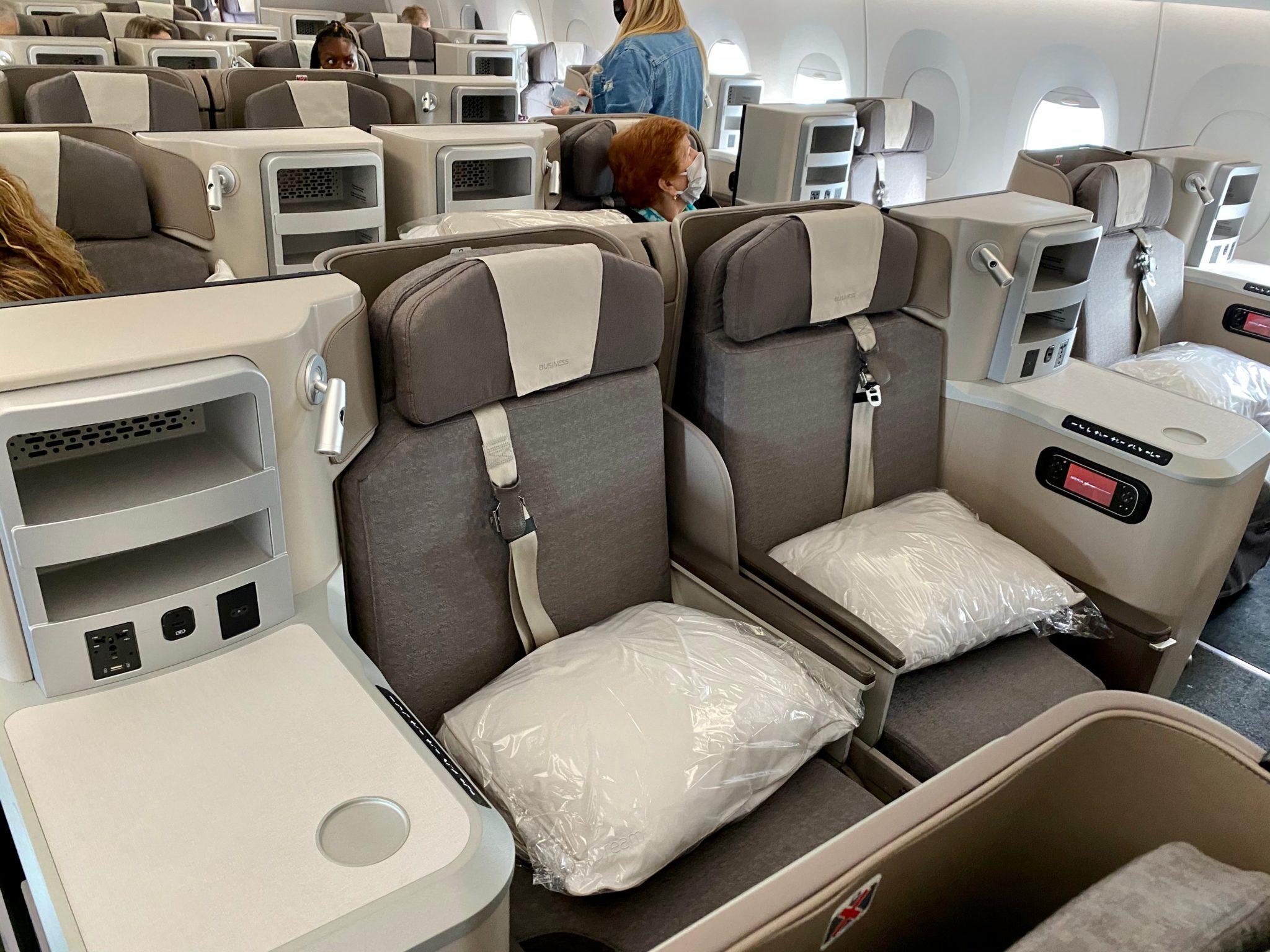 Read our full review of Iberia business class! 
How to Book It
Iberia miles couldn't be easier to earn, and you don't even have to step foot on an Iberia flight to get them.
It's easy to earn Iberia Avios, as they're one of the many Chase transfer partners, Citi transfer partners, and Amex transfer partners. That means you can easily earn the miles you need with cards like the Chase Sapphire Preferred® Card or the American Express® Gold Card, among other options.
Plus, you can now book these same flights using British Airways Avios for the same mileage and cash cost. That also means you can easily use points from the Capital One Venture X Rewards Credit Card, as British Airways is a Capital One transfer partner.
Finding the availability to actually book these business class seats with miles can be fairly easy, too – especially if you're looking far in advance. Unless you're getting award alerts to your inbox with Thrifty Traveler Premium+, starting your search on American Airlines' website is the best place to start. Just beware of a new quirk that could make it tougher to find seats for two or more.
Read our full guide to booking Iberia business class!
A One-Way Flight to Lisbon for 35K
This one only works on the way over to Europe, not the trip back. But it's too good not to make this list.
United will charge you 33,000 miles for a flight from New York City (JFK) to Lisbon (LIS) with TAP Air Portugal in economy. Turn to another airline's mileage program, and you can book a lie-flat business class seat on the same flight for just 35,000 miles.


It's LifeMiles, the quirky mileage program of the Colombian airline Avianca. While its website is finicky and customer service is hit-or-miss, it can be worth putting up with it for incredible sweet spots like this one.
It's a bit of a unicorn in LifeMiles' options, as it only works on one single route: New York City (JFK) to Lisbon. LifeMiles charges 63,000 miles for nearly all business class awards to Europe or back. Oddly, even a flight from Newark (EWR) or the return flight back to JFK from Lisbon will cost you the full 63,000 miles.
But what's amazing is that it costs just 5,000 miles more than taking the exact same flight in economy. If you can, snag a flight on TAP's shiny new Airbus A330-900neo with the airline's best business class seats.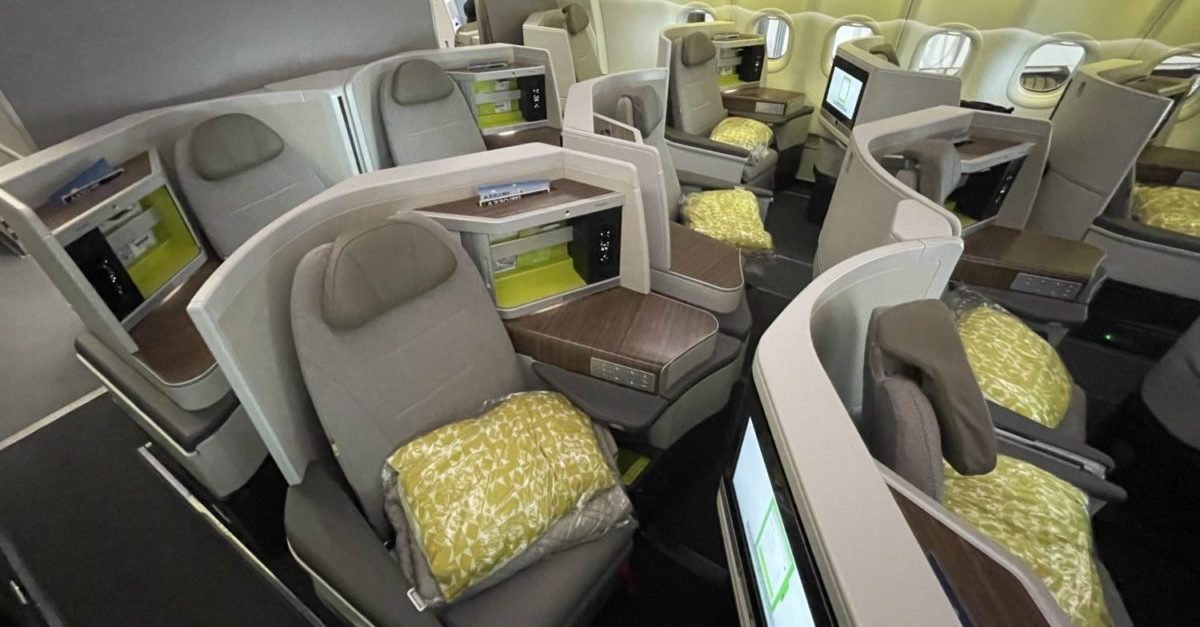 Check out our full review of TAP Air Portugal business class on this aircraft!
How to Book It
First, pop an Aspirin. Headaches are almost always a given when dealing with LifeMiles and its website.
Start by turning to United.com to search for award availability, as it's easily the best site for finding seats bookable with points and miles on almost any Star Alliance airline. Its newer interface isn't our favorite, so follow our tips to pull up the old search tool.
For example, these nonstop flights from New York to Lisbon that show up at 77,000 miles each way should be bookable for 35,000 miles via LifeMiles.

But even when you find what you're looking for, there's no guarantee you'll find it when repeating that search with LifeMiles. If your search comes up empty, try switching from "Smart Search" to "Star Alliance" or even the specific airline you're aiming to fly before hitting enter. Otherwise, we regularly see that LifeMiles doesn't see the same award availability that other airlines like United and Air Canada get.
Its website may be a pain, but actually getting LifeMiles has gotten far easier over the years.
A few years back, American Express added LifeMiles as a transfer partner. That means you can transfer points from your Platinum Card® from American Express or the American Express® Gold Card to your LifeMiles account – and these transfers are typically instantaneous. LifeMiles is also one of the best Capital One transfer partners if you've got a big stash of Venture Miles after opening either the Capital One Venture X Rewards Credit Card or the Capital One Venture Rewards Credit Card. LifeMiles is a Citi ThankYou transfer partner, too.
Japan and Back for 85K Or Less
When you're flying 10-plus hours to Tokyo, a lie-flat seat is a game changer. But most airlines will charge you at least 60,000 miles for a one-way seat in business class. If you're using Delta SkyMiles, expect to pay 100,000 miles for economy – and quadruple that for business class.
But, Japan's own All Nippon Airways, more commonly referred to as ANA, gives you options to get to Tokyo and back from just 75,000 miles total. No, that's not a typo: 85,000 miles roundtrip in business class to Tokyo … and maybe even less.
Take a look.

Of all the reasons to love using ANA Mileage Club miles, this one is near the top. Sure, the airline currently tacks on about $750 in taxes and surcharges, but those cash costs are likely to come down in the weeks and months ahead. Plus, isn't that worth it when you can fly in the new ANA business class suites dubbed "The Room"?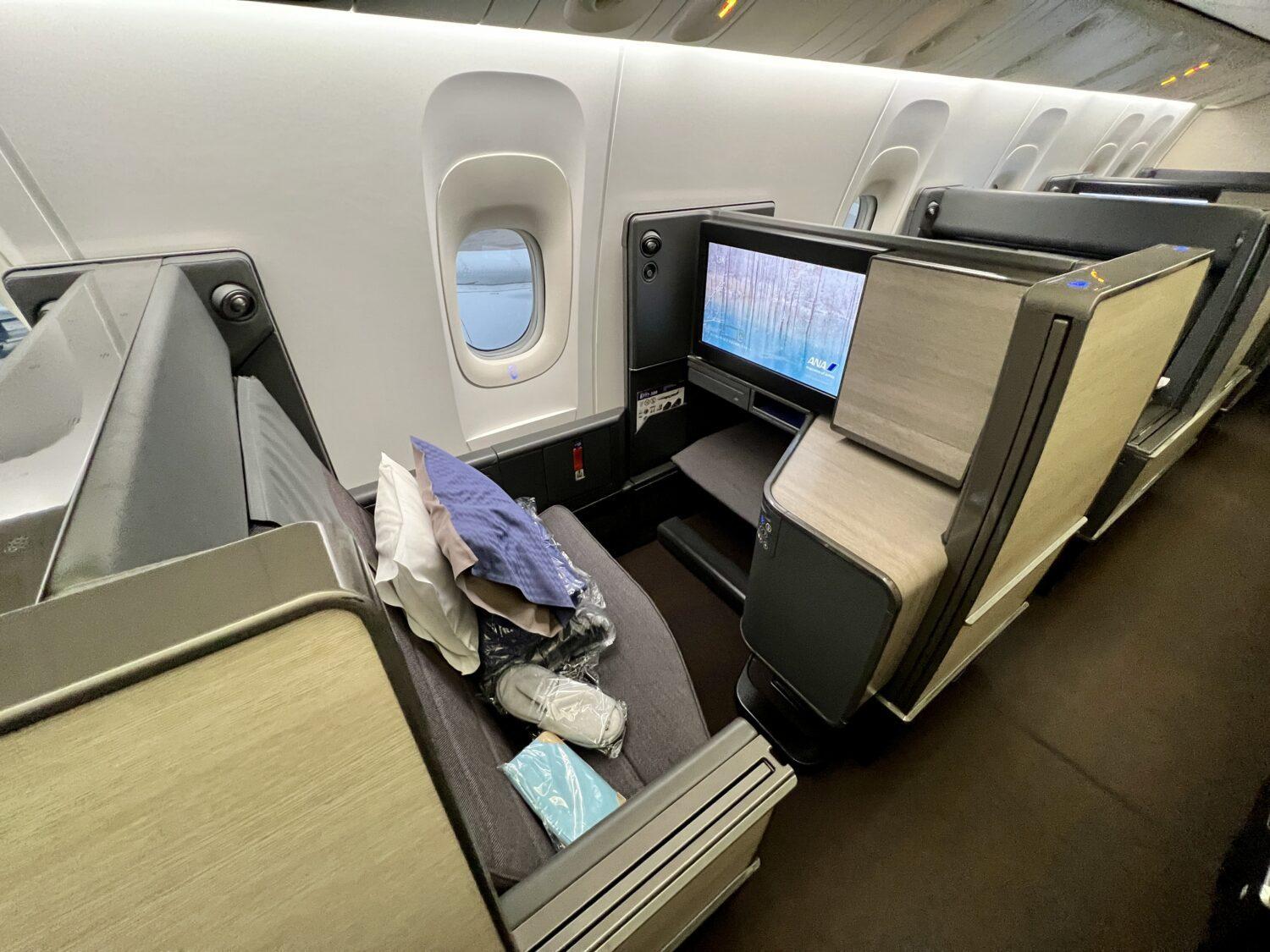 Read our full review of flying ANA's "The Room" business class from Chicago to Tokyo!
This is one of the cheapest ways to get to Japan using miles. The trick is timing it right, as ANA carves out different pricing during low (L), regular (R), and high (H) travel seasons. But even most of April falls in the lowest-priced low season, meaning you can get to Japan for the tail-end of cherry blossom season for just 75,000 miles roundtrip.
A trip during the regular season (which covers most of the year) will jump to 85,000 miles – and 90,000 miles during the high season, which includes much of summer and the holidays.

How to Book It
First things first, you need some ANA miles. And you don't need to fly ANA a bunch to earn them.
Instead, just transfer those points from American Express Membership Rewards straight to ANA. If you're eligible for a whopping 150,000-point bonus on the Amex Platinum Card via CardMatch, you can book these flights in one fell swoop. Just beware that these transfers tend to take about 48 hours or so.
The bigger challenge is finding award availability. ANA can be incredibly stingy with allowing these cushy business class seats to be booked using miles. Lately, your best bet is booking just three or four weeks before departure.
Last month, we alerted our Thrifty Traveler Premium+ members to wide-open seats for a last-minute trip this winter from seven different cities in the U.S. and Canada – and we're constantly on the lookout for more opportunities.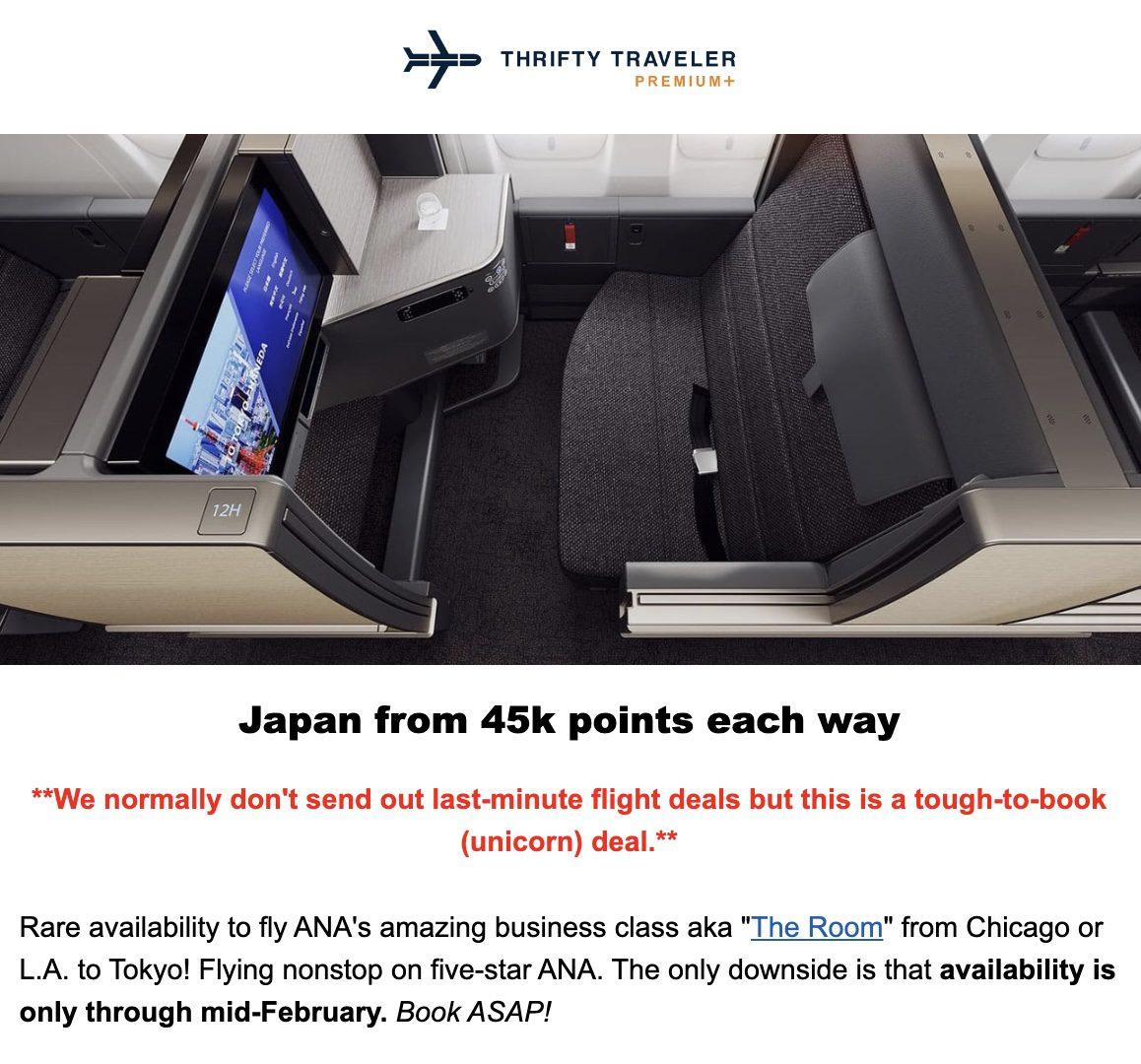 These fares are gone now – get the next deal in your inbox with Thrifty Traveler Premium+!
Most importantly, you need to find roundtrip fares – ANA does not allow one-way bookings when using its own miles. ANA also has some restrictions on who you can actually book award tickets for: Just family, no friends.
Roundtrips to Anywhere in Europe for 88K
We're back to using ANA Mileage Club … but this time, you're flying to Europe.
Can you get to Europe in economy for less than 90,000 miles roundtrip? Sure, you absolutely can. But this workaround is so versatile and such a bargain, it's worth including here.
For just 88,000 miles roundtrip, you can fly business class on almost any Star Alliance carrier from North America to Europe and back. That's almost unbeatable, so be sure to read our full walkthrough on how to book business class flights to Europe using ANA miles.
While your options for airlines are long, you'll want to focus on a handful of carriers for which ANA won't pass on hefty cash fees and surcharges. Your best bets are United Airlines, Turkish Airlines, Air Canada, LOT Polish, and SAS. For example, you can book this ticket from Chicago-O'Hare (ORD) to Brussels (BRU) for just 88,000 miles and less than $61 USD.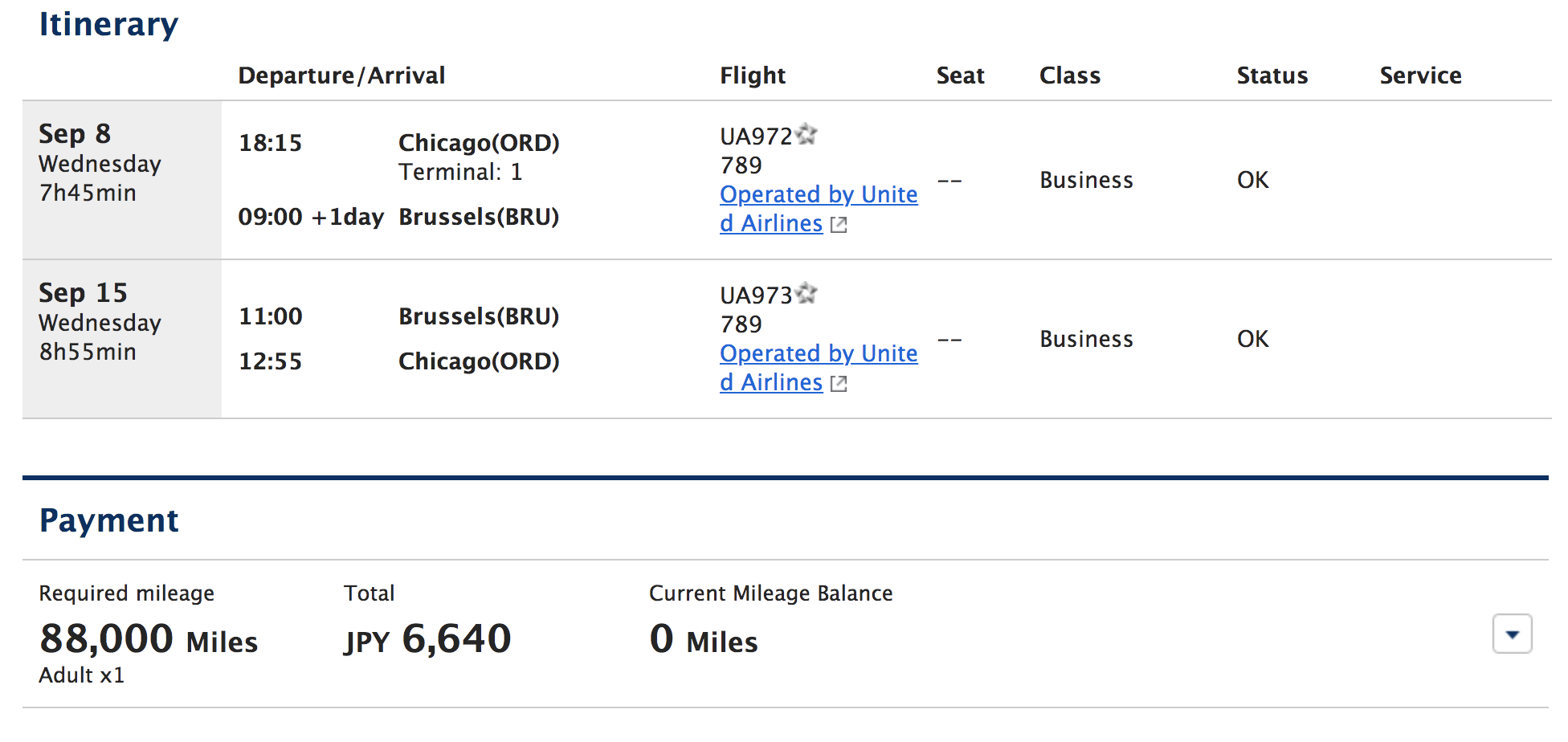 Not bad, right? Especially if you can snag one of the excellent United Polaris business class seats both ways – and hop into the United Polaris Lounge in Chicago, too.


How to Book It
ANA is one of the absolute best transfer partners of American Express Membership Rewards. That means you can transfer the points you earn from the Platinum Card® from American Express or the American Express® Gold Card straight to your ANA account.
With record-high bonuses of up to 75,000 points available on the American Express Gold Card after spending $4,000 within six months available via CardMatch, that's a strong option – and it's even better if you find a way to get a 90,000-point bonus through a personal referral link for the Gold Card.
Again, beware that these transfers can take a day or two to hit your account. That could put you in a time crunch if you're looking to book award space that could disappear. And when you're using ANA to book, you have to book round-trip – one-ways aren't allowed (though a multi-city trip is easy to pull off!)
Availability to book these flights with ANA miles can come and go, depending on which carrier you're hoping to fly over to Europe and back. We've seen plenty of United Polaris seats available over to several cities, including for a trip to London for summer 2023!


Get award alerts for cheap business class seats using your miles with Thrifty Traveler Premium+!
All the Way to Istanbul for 45K
Istanbul is one of the best cities in the world. Yes, I said it. But with no straight-shot flights on U.S. carriers, your options for getting to Istanbul (IST) using miles can be limited.
Using Air Canada Aeroplan, you could book a nonstop on Turkish Airlines in economy for 40,000 miles. You might find those same seats using United MileagePlus miles for as low as 33,000 miles. Expect to pay 50,000 SkyMiles or more booking through Delta to fly Air France or KLM with a connection or two.
I've got a better idea: Use 45,000 miles from Turkish Airlines Miles & Smiles, throw in about $200 for taxes and fees, and fly there like this instead.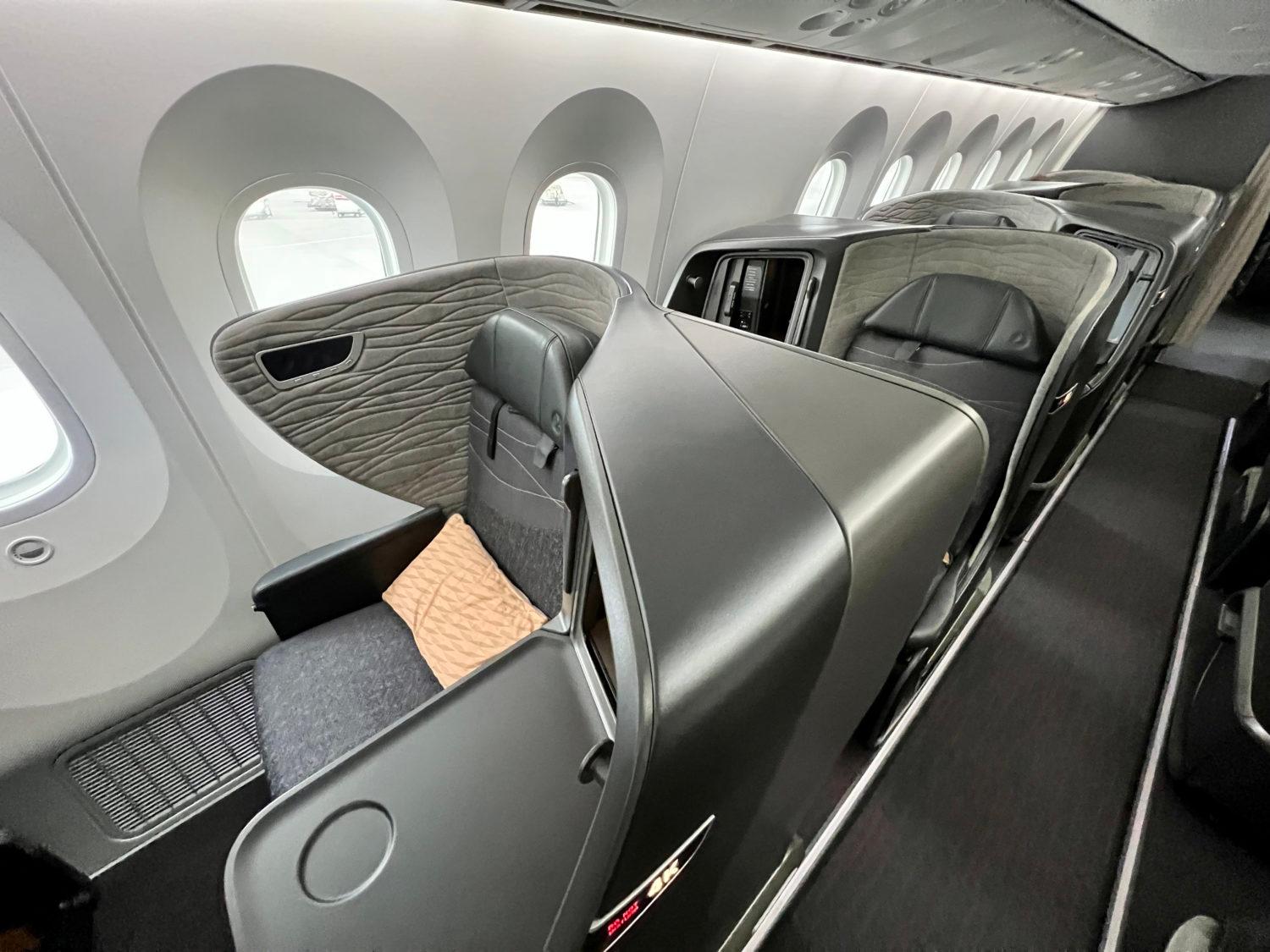 Turkish Airlines business class is one of the best. And while you can book these seats almost anywhere in Europe for 45,000 miles each way, the value of flying nonstop to Istanbul is undeniable.
You'll want flights on either their Boeing 787 or Airbus A350 for their latest-and-greatest business class seats. But no matter what plane you're on, Turkish has some of the best service and inflight meals you'll find in the sky.

How to Book It
Be warned: Turkish's website can be tricky to navigate, so be sure to read our complete guide to using their Miles & Smiles program.
But at these rates, it's worth doing a bit of extra homework. Plus, these miles can be easy to earn: Turkish is a Capital One transfer partner and a Citi transfer partner, too. That means 45,000 miles from either the Capital One Venture X Rewards Credit Card or the Citi Premier® Card is all you need to make it happen.
Bottom Line
Flying business class doesn't have to break your piggy bank of points.
This list is by no means exhaustive, but these are some of the best ways to book business class seats using points and miles – and using fewer of them than you might expect for a big trip abroad at the back of the plane.