You know you're in a special airport lounge when it has its own speakeasy bar.
Opened mid-pandemic back in October 2020, the JFK Centurion Lounge at New York City's biggest international airport is American Express' largest lounge in its growing portfolio. But it's more than just a big space.
From a vast array of seating spread across two floors to unique design flourishes to yes, a speakeasy in the lower level, the JFK Centurion Lounge has something that even many of the best airport lounges lack: It's got an identity.
Read on to see what we mean.
Getting into the JFK Centurion Lounge
The new JFK Centurion Lounge is located at Terminal 4, which is home to Delta and many of the world's biggest international airlines, including Emirates, Singapore Air, Virgin Atlantic, KLM, Etihad, Aeromexico, Swiss, and many more.
If you're flying out of a different terminal at JFK, you can still get through security at Terminal 4 with your boarding pass and visit the Centurion Lounge before your flight. Just keep in mind you'll have to take the AirTrain over to your terminal and reclear security before your flight.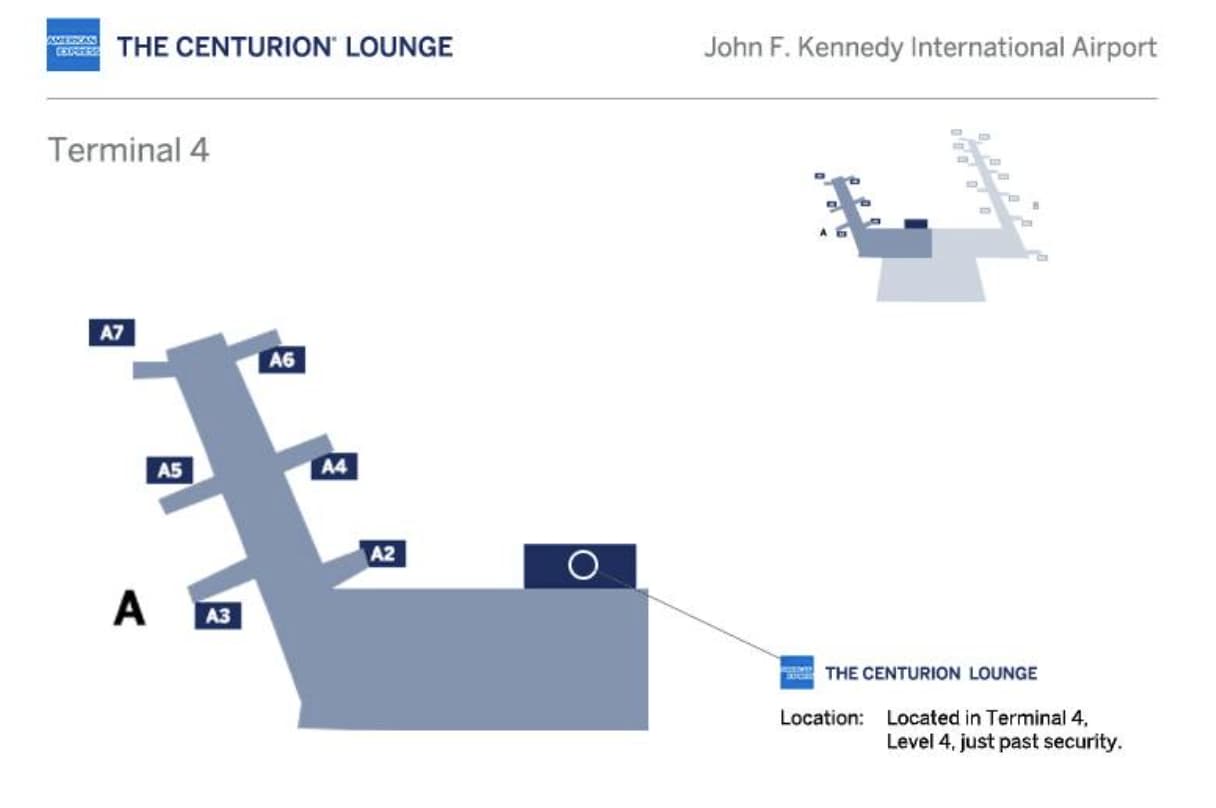 The lounge itself is just a few steps left of security at Terminal 4, which means it's a quick walk once you clear. On the downside, that means it could be a hike to your gate when it's time to leave for boarding. You'll find it right next door to the neighboring Etihad Lounge.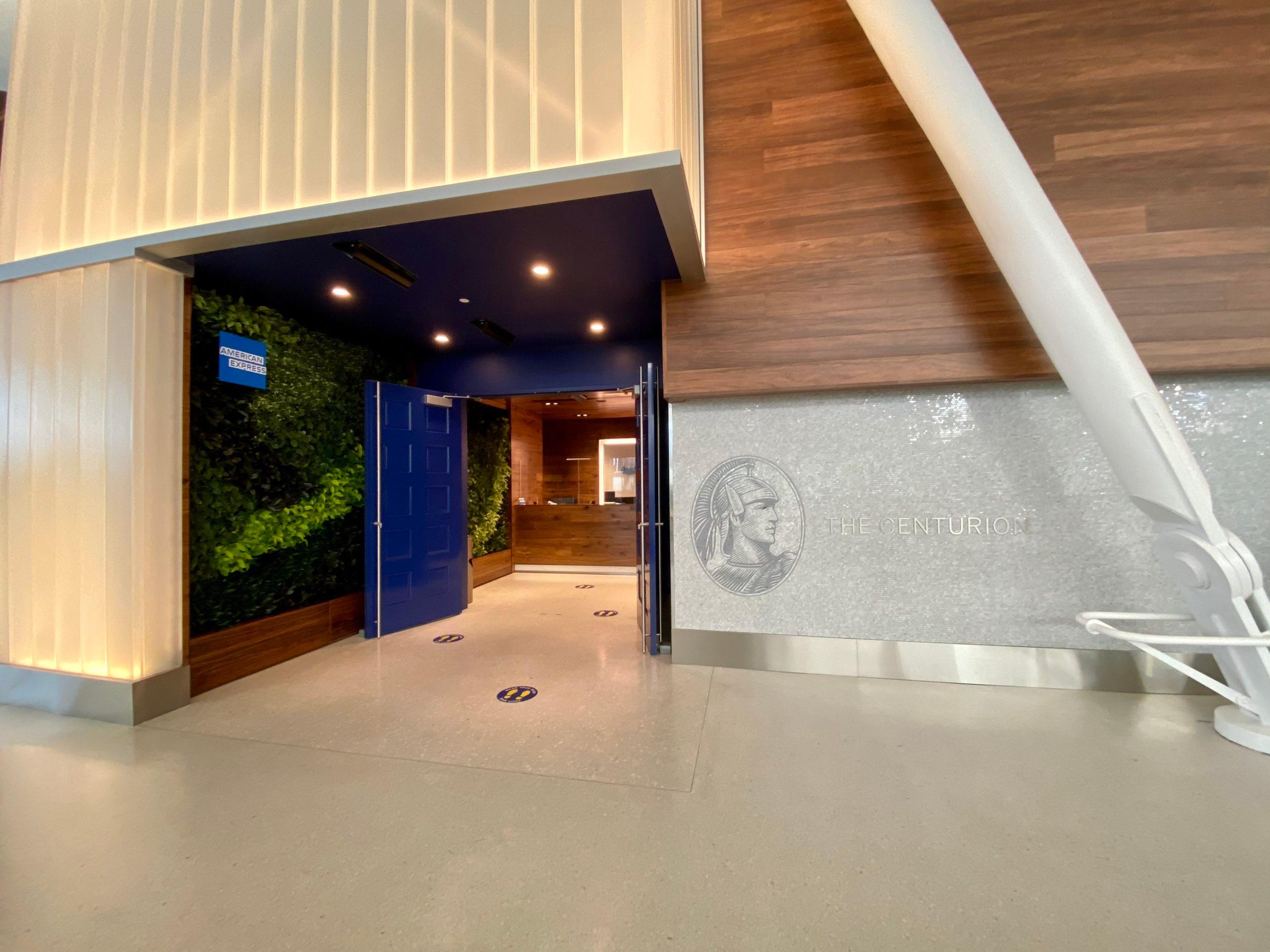 To get into any Centurion Lounge, you'll need the right credit card. And few are better than the Platinum Card® from American Express. It'll get you into all 14 Centurion lounges and counting for free. But you can no longer bring guests in free: As of Feb. 1, guests cost $50 apiece (or $30 for minors) unless you charged a whopping $75,000 to your Platinum Card in the last year. Guests two years and younger are complimentary.
Still, the Platinum Card also opens doors to 1,000-plus Priority Pass lounges, Delta Sky Clubs if you're flying Delta that day, Escape Lounges, and more. Terms apply and enrollments required for select benefits.
Read our full review of the Amex Platinum Card.
Click Here to learn more about the Platinum Card from American Express.
The Business Platinum Card® from American Express will get you in as well. And there's a relatively new option: The Delta SkyMiles® Reserve American Express Card, Delta's top-tier travel card. But you have to be flying Delta that day to use a Centurion lounge, and you can't bring free guests with you – they'll be $50 each.
Read our master guide to getting into & using Amex Centurion lounges!
Once you make it to the lounge, get your card, boarding pass, and photo ID ready to show to an agent at the desk, who will whisk you into the lounge.
Lounge Space & Amenities
There's no question: The JFK Centurion Lounge is massive.
At 15,000 square feet spread across not one but two floors, it's the largest among the 14 Centurion lounges – narrowly edging out the new Denver Centurion Lounge for that crown. Yet in many ways, the lounge feels much smaller and – dare I say it? – cozier than that footprint would suggest. And that's a good thing.
While many airport lounges are wide open spaces, the JFK Centurion Lounge is a series of corridors, hallways, shielded spaces, and small cubbies spread across the two levels. That makes it much easier to find your own private space to sit and relax than what you'll find in other lounges – even other Centurion lounges.
Of course, it helps that the lounge was fairly empty throughout my stay. When I first arrived mid-morning, there were no more than 10 fellow guests in the lounge. By the time I left in the early afternoon, it got busier – but there were still only 40 or so fellow travelers around. With travel on the rise, the days of empty airport lounges may be behind us…
A delightful check-in agent named Nancy walked me into the lounge, explaining the layout of the space and some of the unique amenities available to Centurion guests. Walk past the check-in desk and into the lounge, and you'll find a nice wing of seating.
There's also a multi-purpose room for families near the entryway. As you'll find throughout the lounge, there were social distancing placards on many seats to keep guests spread out.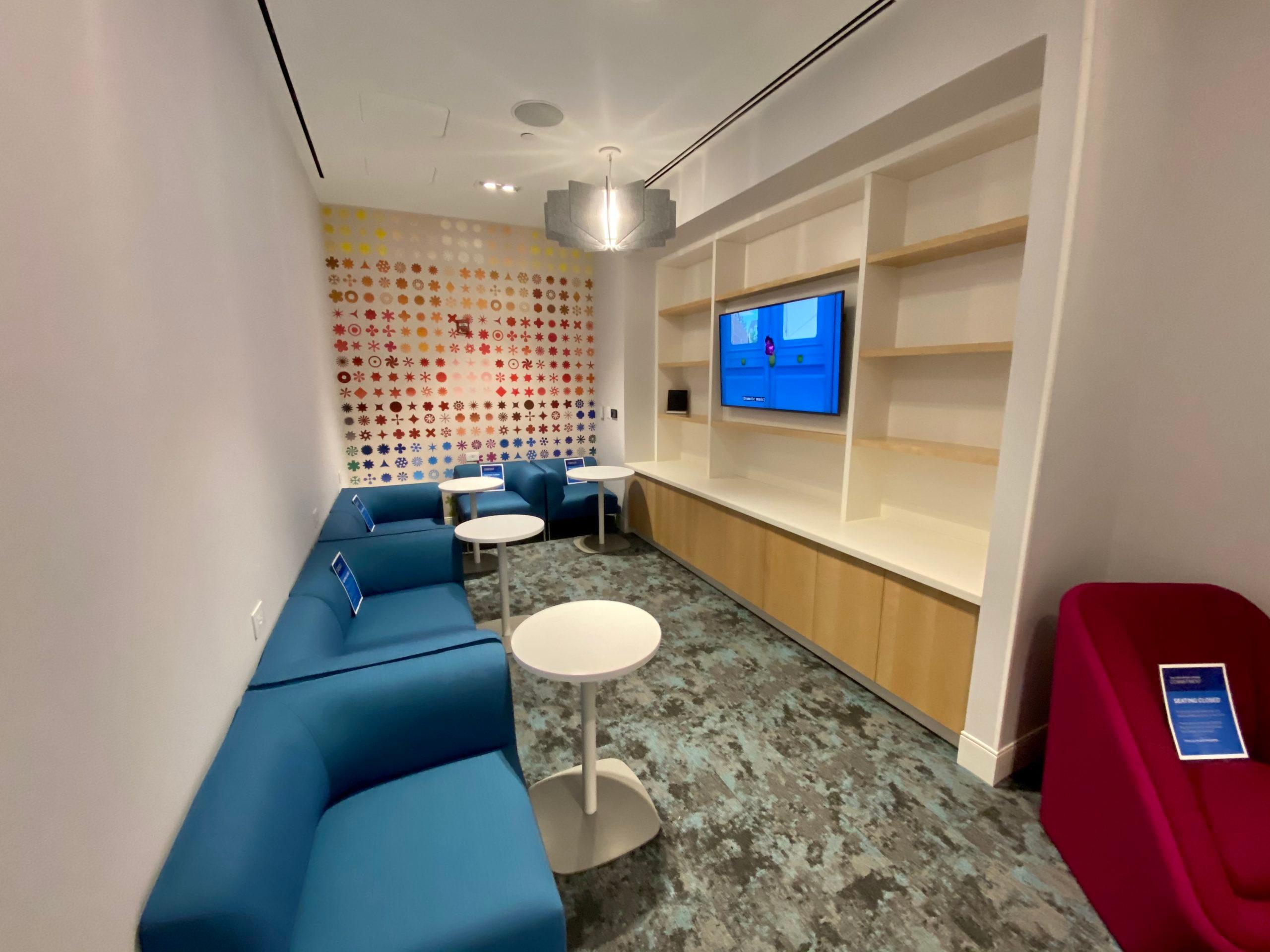 On both floors, the space is essentially divided into two wings, connected by a "bridge" between them. Head to the center of the space and cross over that bridge, and you'll be greeted with floor-to-ceiling windows and an unbeatable view of the Terminal 4 tarmac.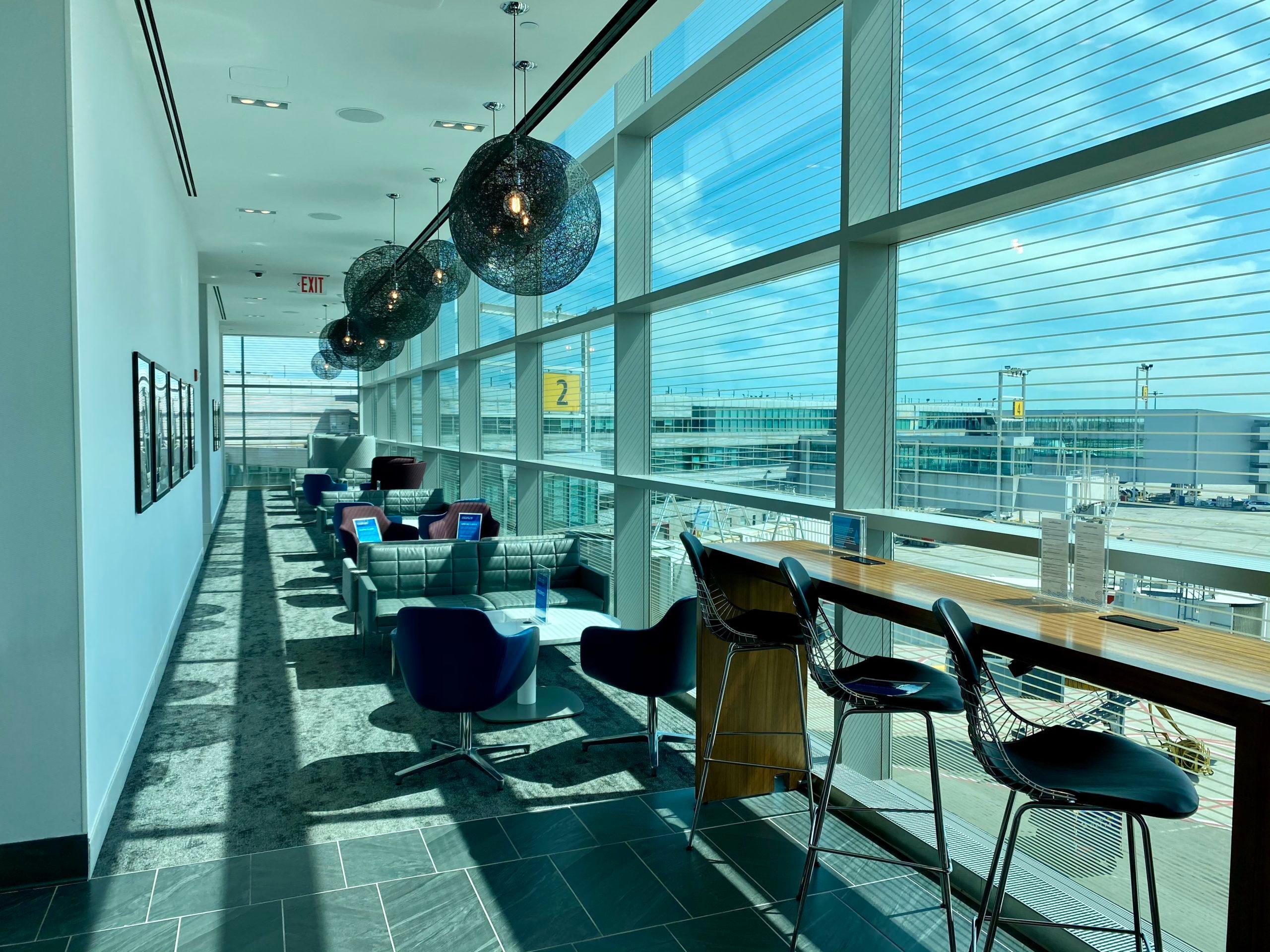 While there aren't nearly as many planes milling about these days due to COVID-19, this is a great spot for some planespotting as you enjoy a drink or meal. And thanks to those windows, there's a ton of natural light.
There are plenty of seating options hugging this narrow, window-lined corridor, from low armchairs with café tables to these cozy, private loungers.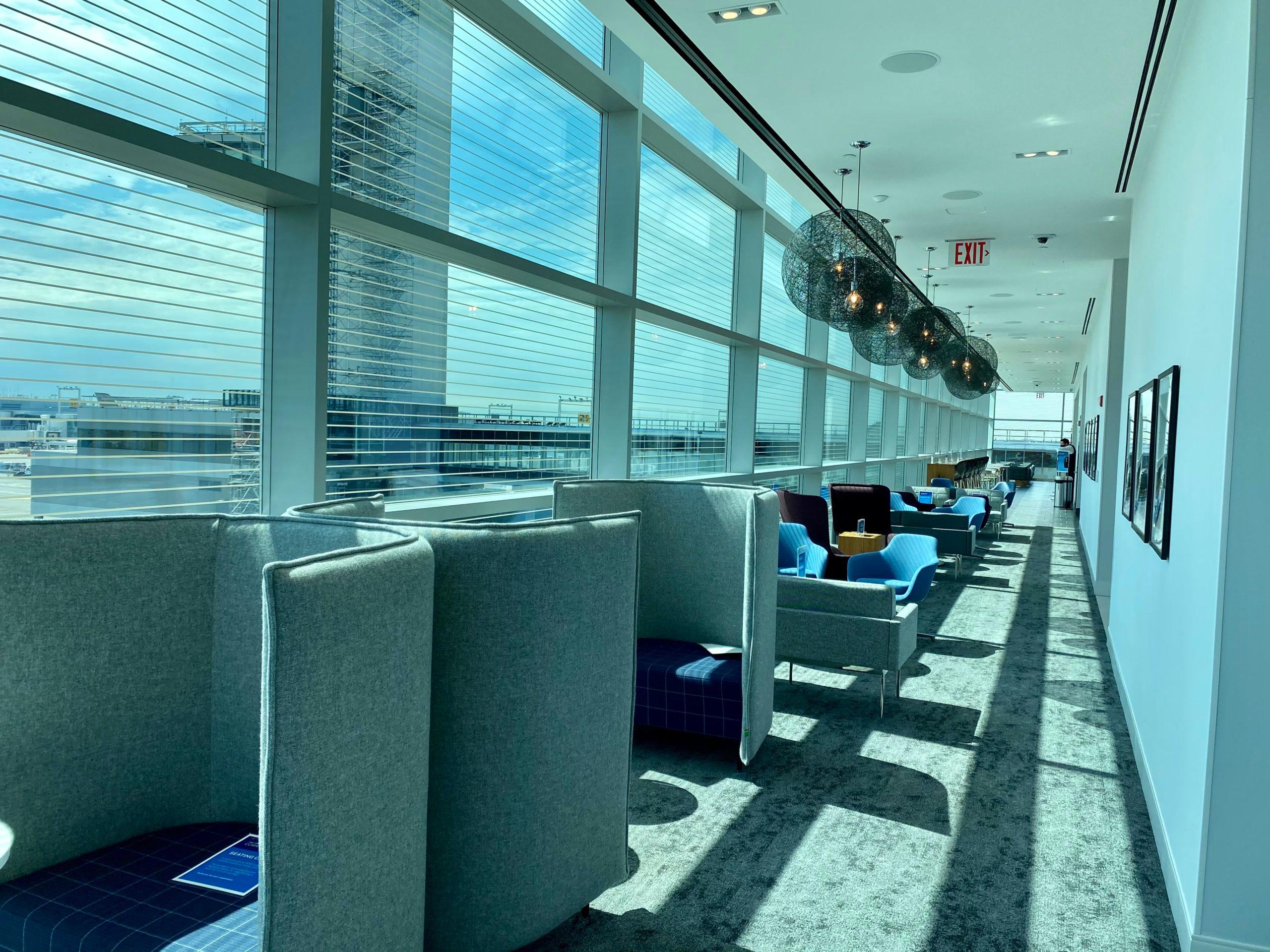 At the far end of the floor you'll find a nice workspace, with a long, boardroom-style table.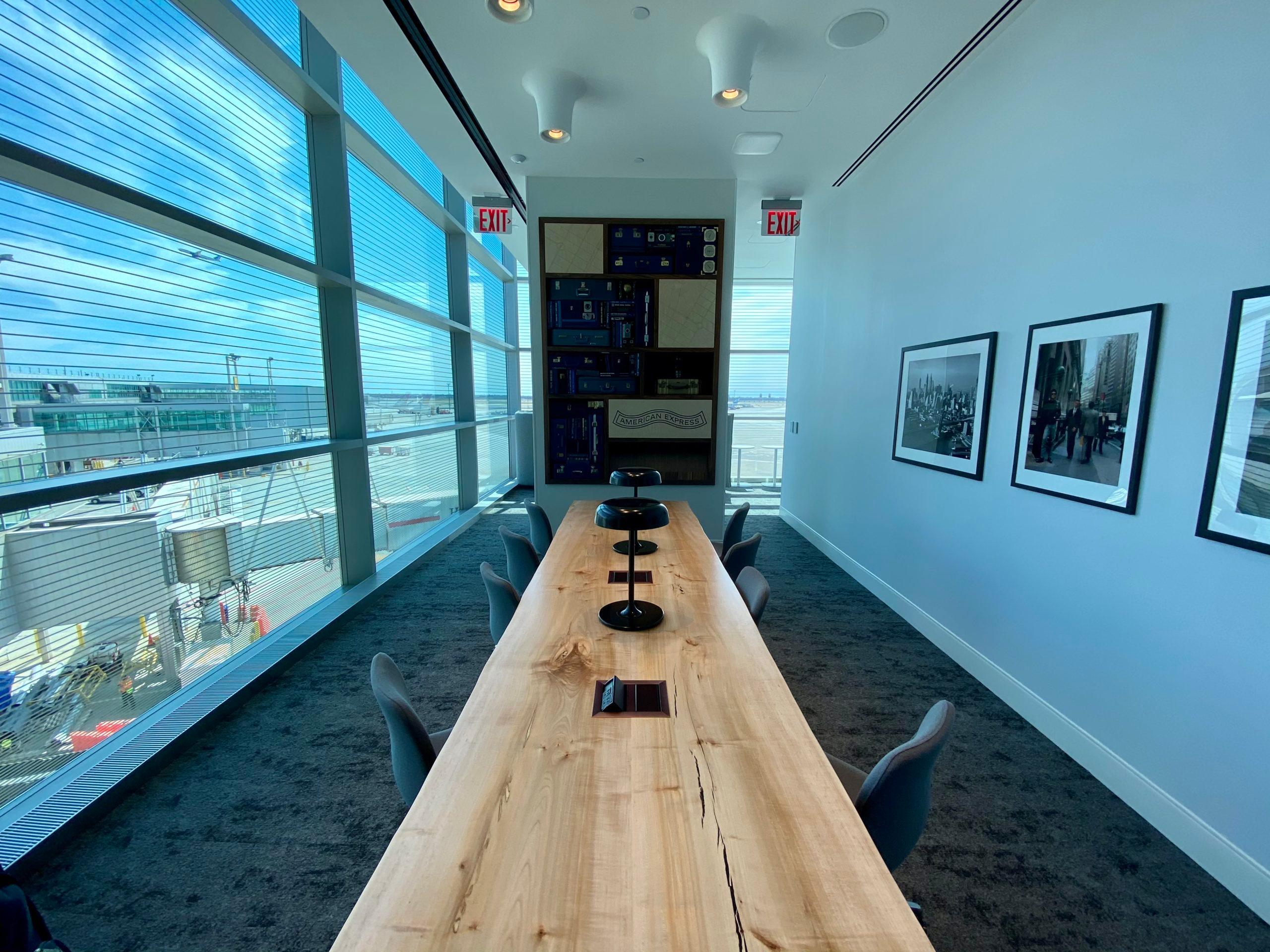 Here's another angle of that space.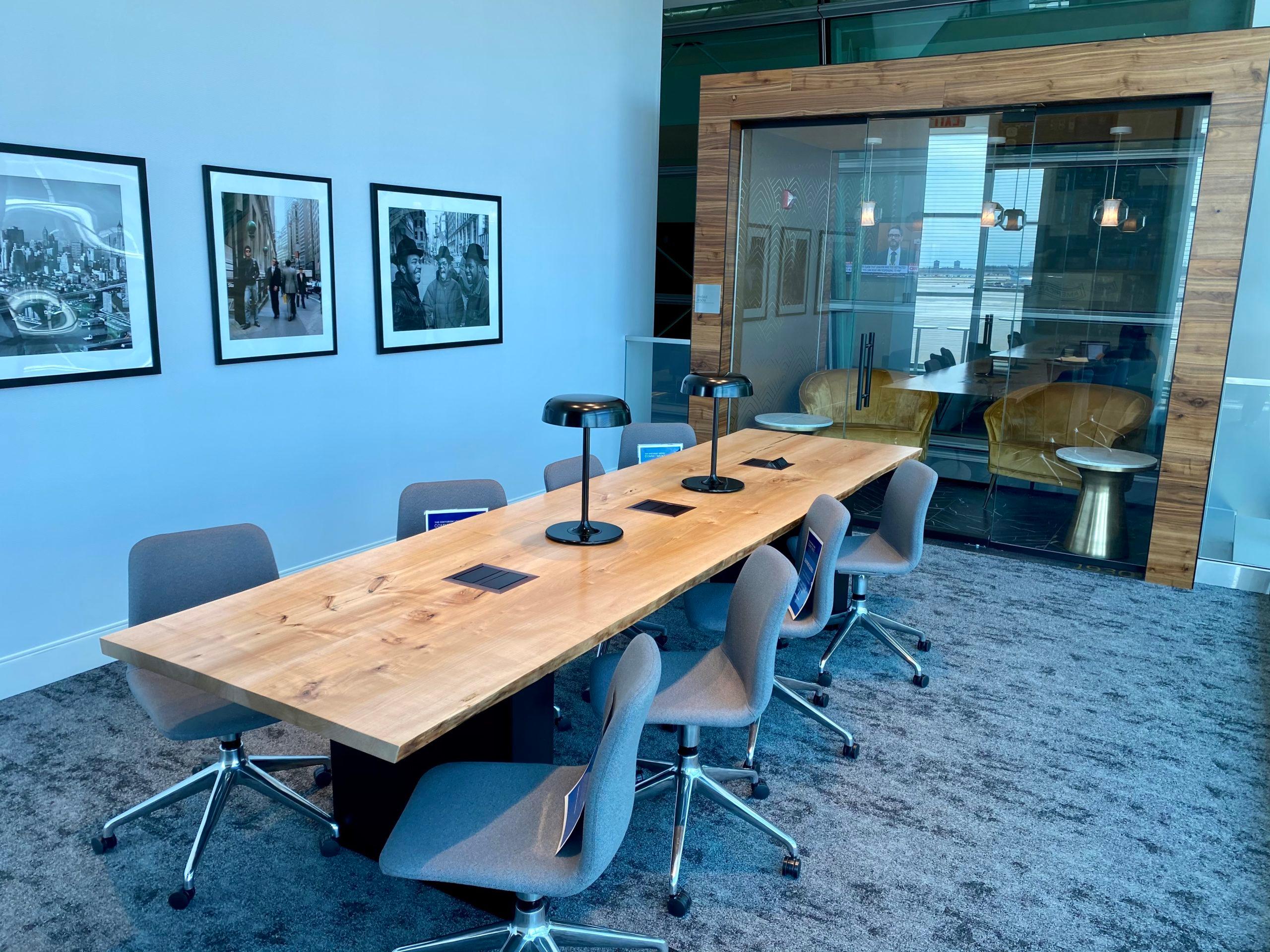 In the background, you'll see one of my favorite parts of the JFK Centurion Lounge…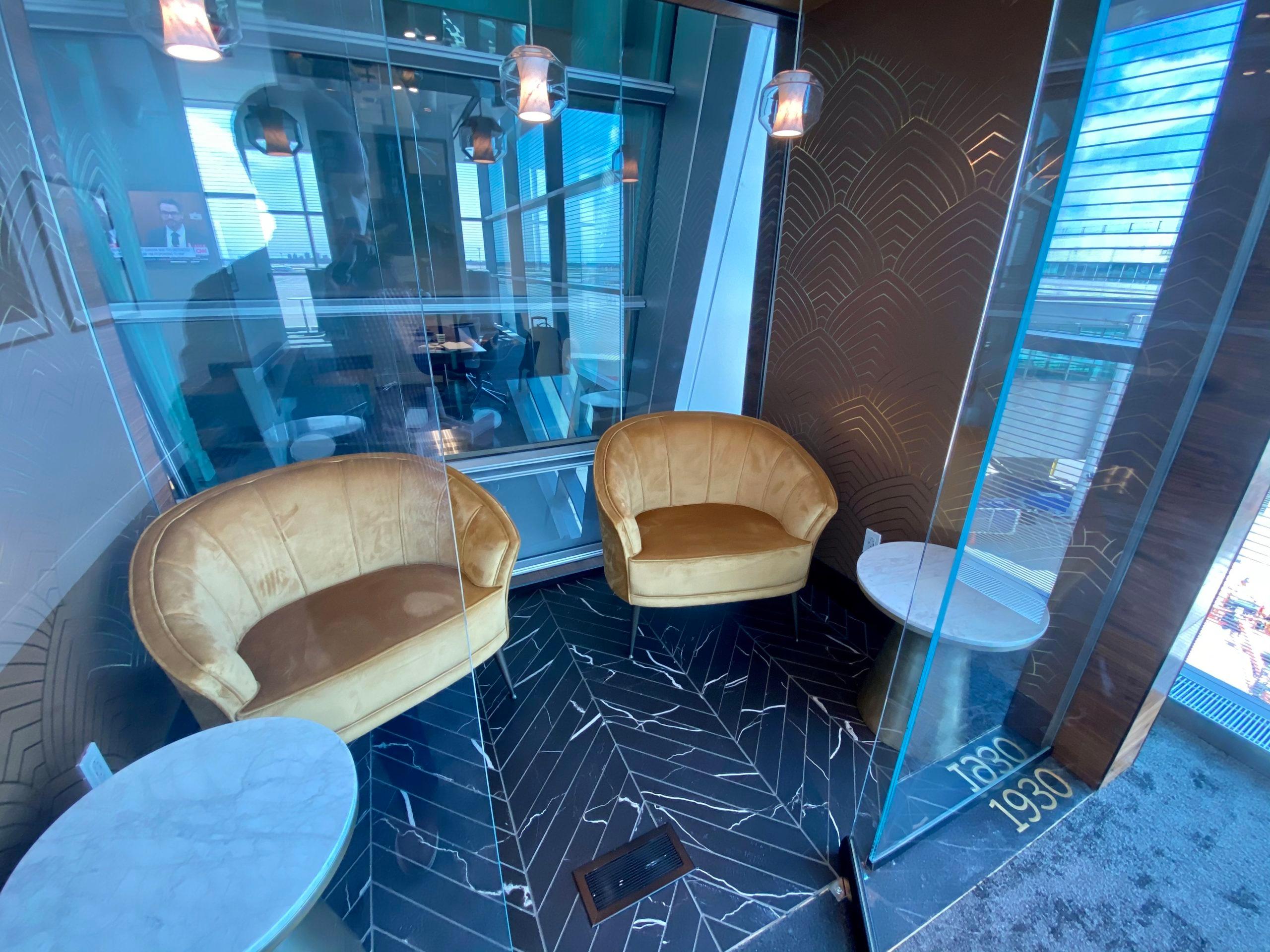 This is just the first of several small phone rooms and cubbies tucked away across the lounge's two floors. Each small space has its own unique flair. Like this small seating area with a table…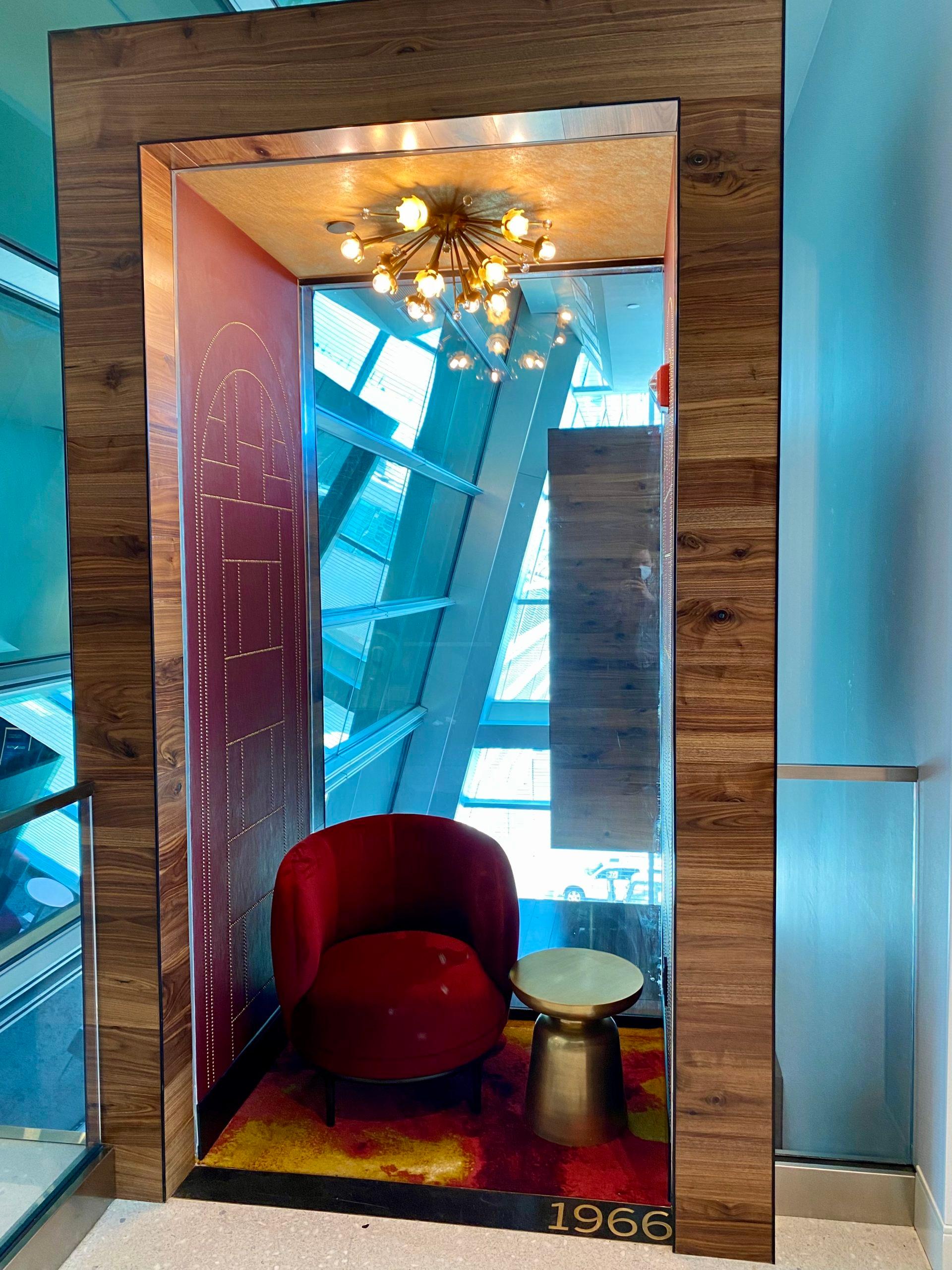 Or this fancy, 1930s-styled booth on the lower level.
And this one, straight from the 1900s.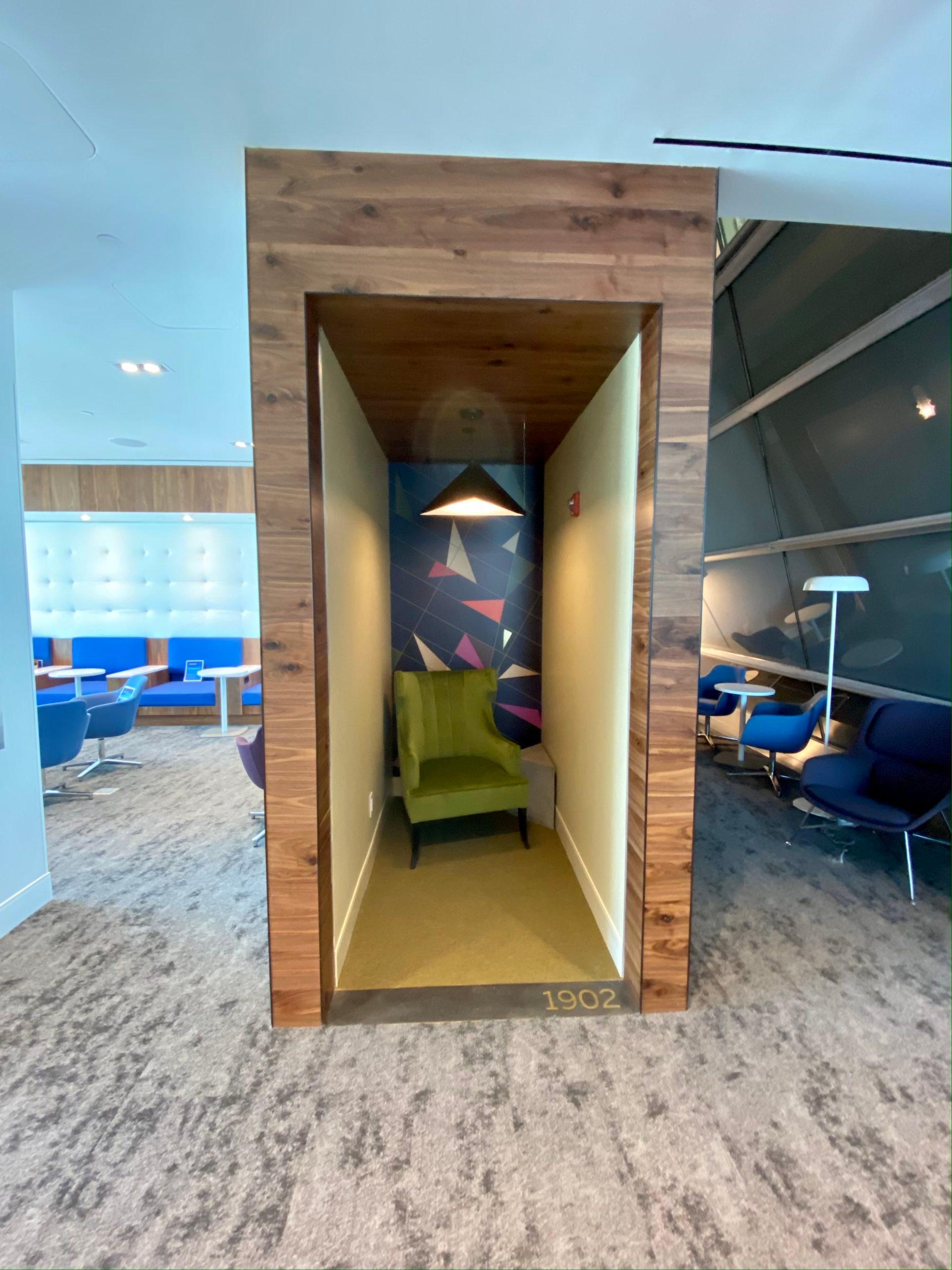 These might not be the most convenient seating options in the lounge – especially if you're traveling with a group. But it's a signature touch you won't find at other Centurion Lounge to date. And that's something American Express has tried to do with its recent lounges – give them some character you won't find anywhere else.
Read more: Amex Doubled Down on Centurion Lounges During COVID-19 – What's Next?
Back toward the entryway, there's another amenity you won't find elsewhere: The Equinox Body Lab. Here, you can pick from a handful of therapies, treatments, exercises, and eventually, massages – all free. There's a yoga and stretching room, a private room with an acoustic therapy chair, and an exercise room where you can do a guided workout or use a Hyperice massage device.
I went for a 25-minute acoustic therapy in this ridiculously comfortable chair, which was definitely relaxing as it was set to soothing music.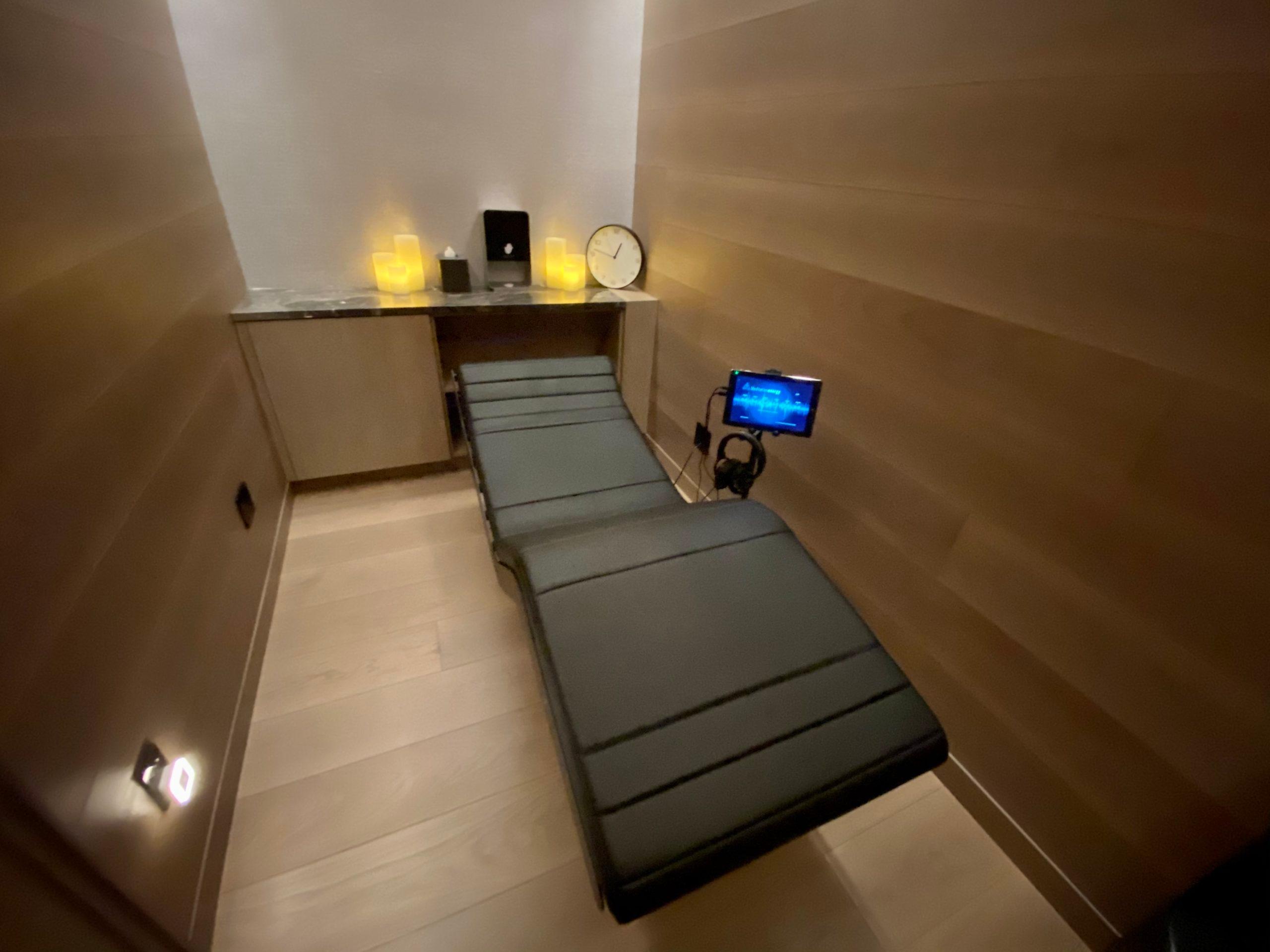 On the upper level, you'll find the first set of bathrooms. They're small but quite nice – and oddly, there are no urinals in the men's bathroom but three private stalls. There are also two shower suites on the upper level at the back of the lounge, though I didn't check them out. As always, they're stocked with lovely L'Occitane amenities.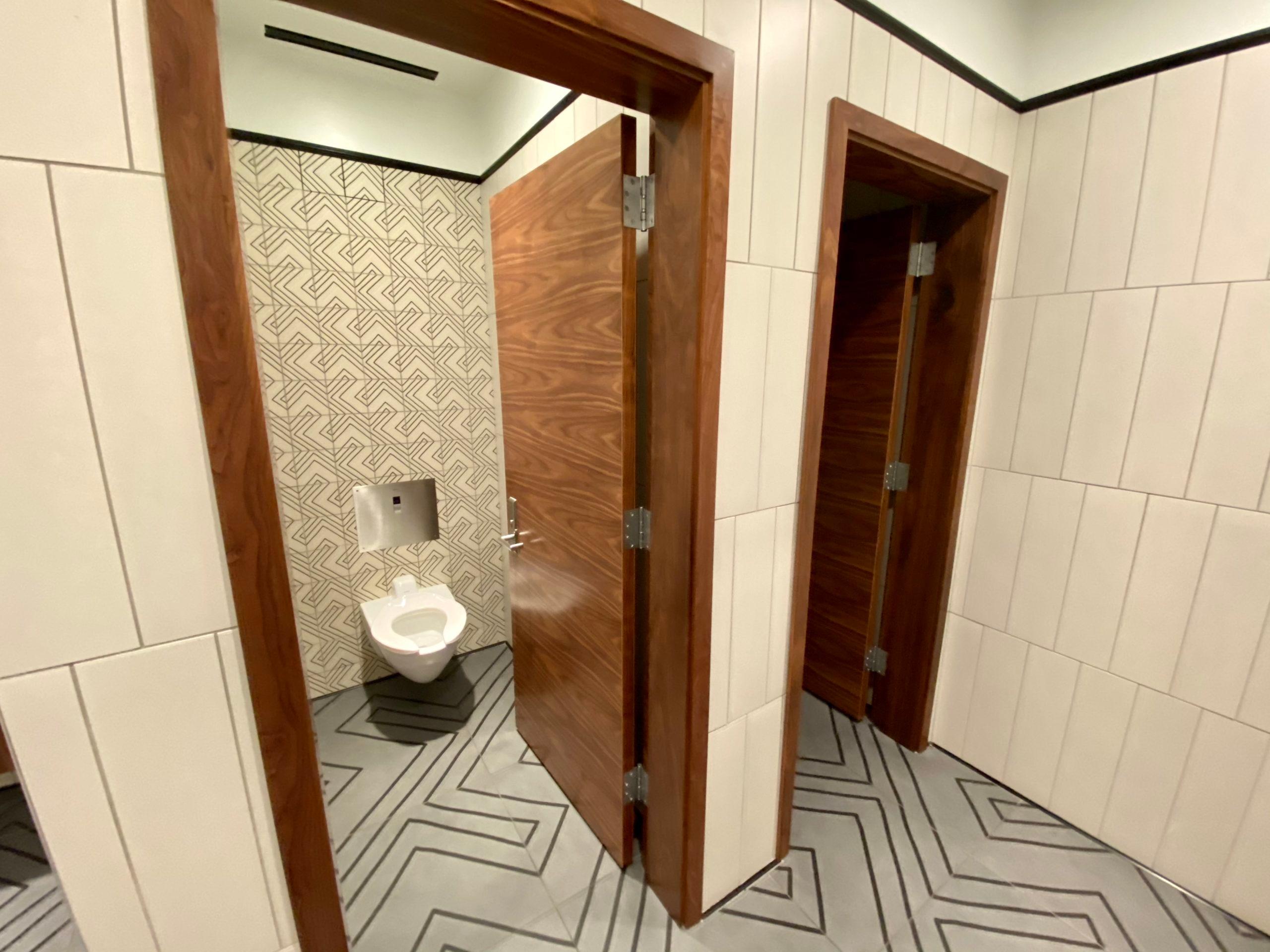 At the center of the lounge, you can head down to the lower level by stairs or elevator to find even more space. Here, too, there is plenty of seating. I love these high-backed loveseats at the back of the lower level.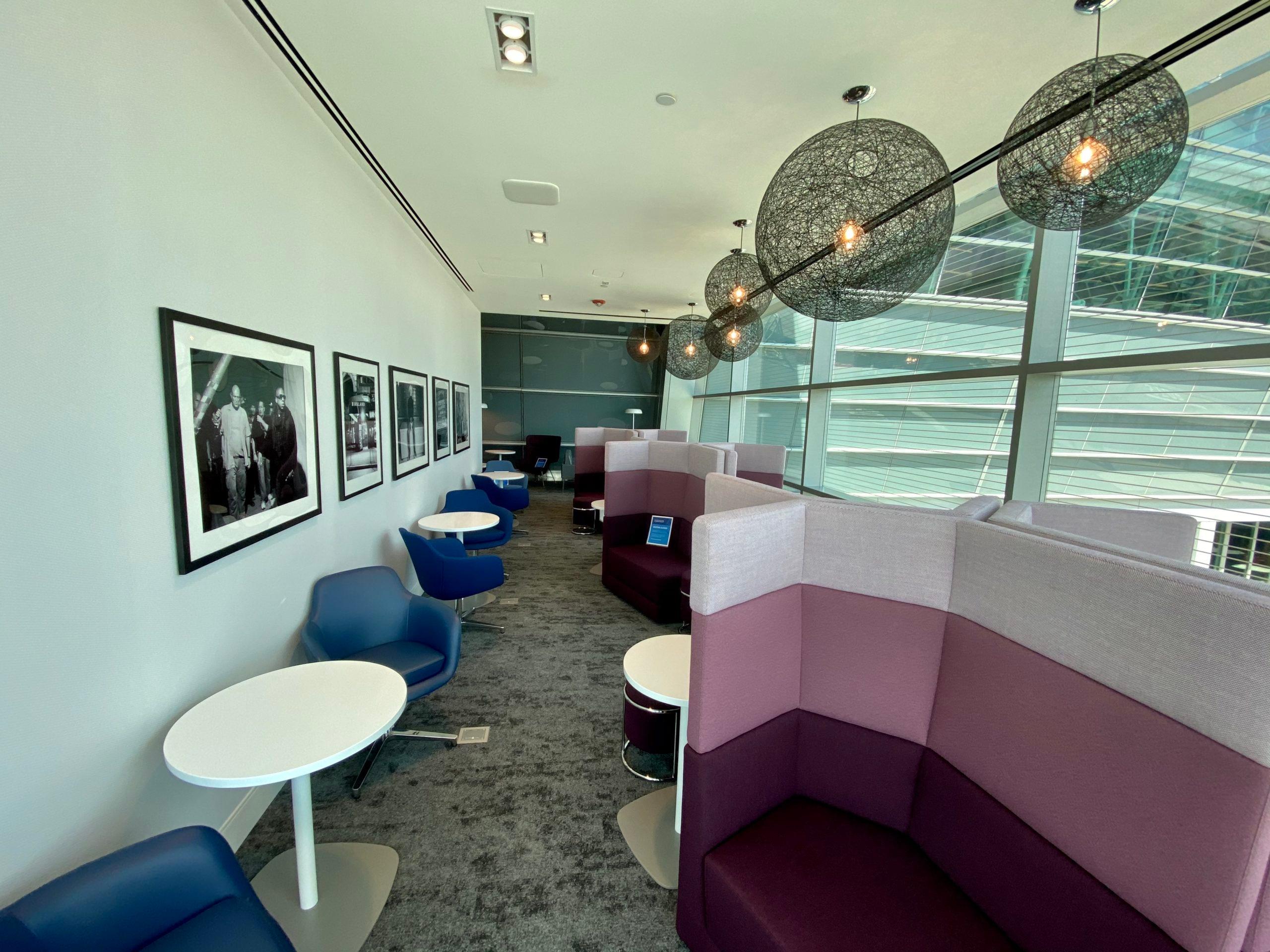 The window-side seating continues on the lower level.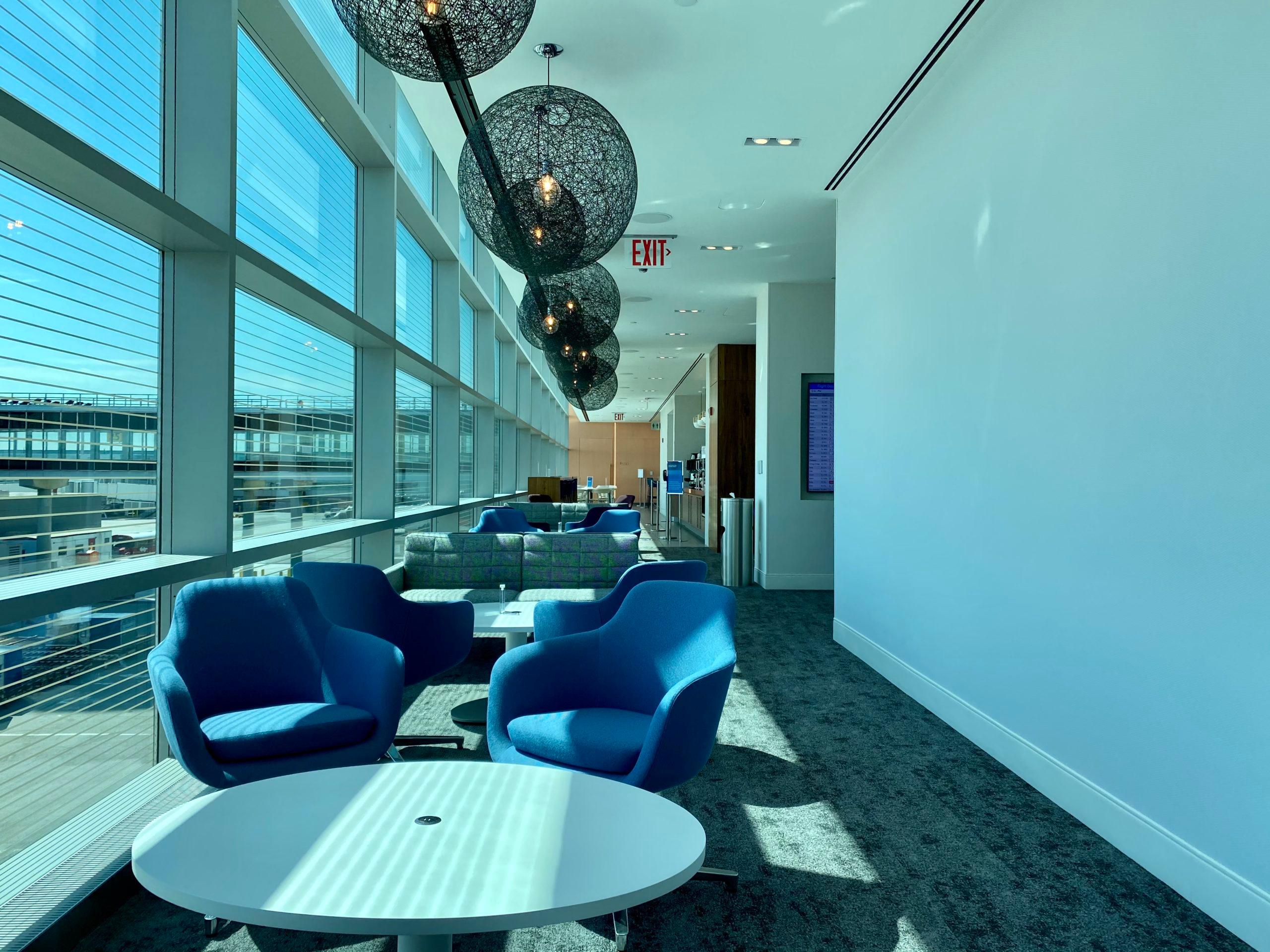 While the lower level has floor-to-ceiling windows, too, there are some additional seating areas away from the light if you need a break. Not that you would …
There are some additional bathrooms on the lower level, with four individual stalls.
But you'll want to eventually head towards the back corner of the lower level for the JFK Centurion Lounge's signature amenity.
The 1850 Speakeasy
You know you're in a special lounge when it has its own speakeasy.
Dubbed 1850 after American Express' founding year, this speakeasy isn't exactly a secret. It's the lounge's main selling point, after all. But that doesn't make it any less cool.
When the lounge first opened, its door was unlabeled and hidden. These days, it's much less inconspicuous. Open the door to step out of the vibrant light and into the speakeasy – and back in time.
There are some definite throwback speakeasy vibes here in 1850, from the rich dark woods to the blackout curtains to the seating and decor. Ironically, it's fairly well lit for a speakeasy.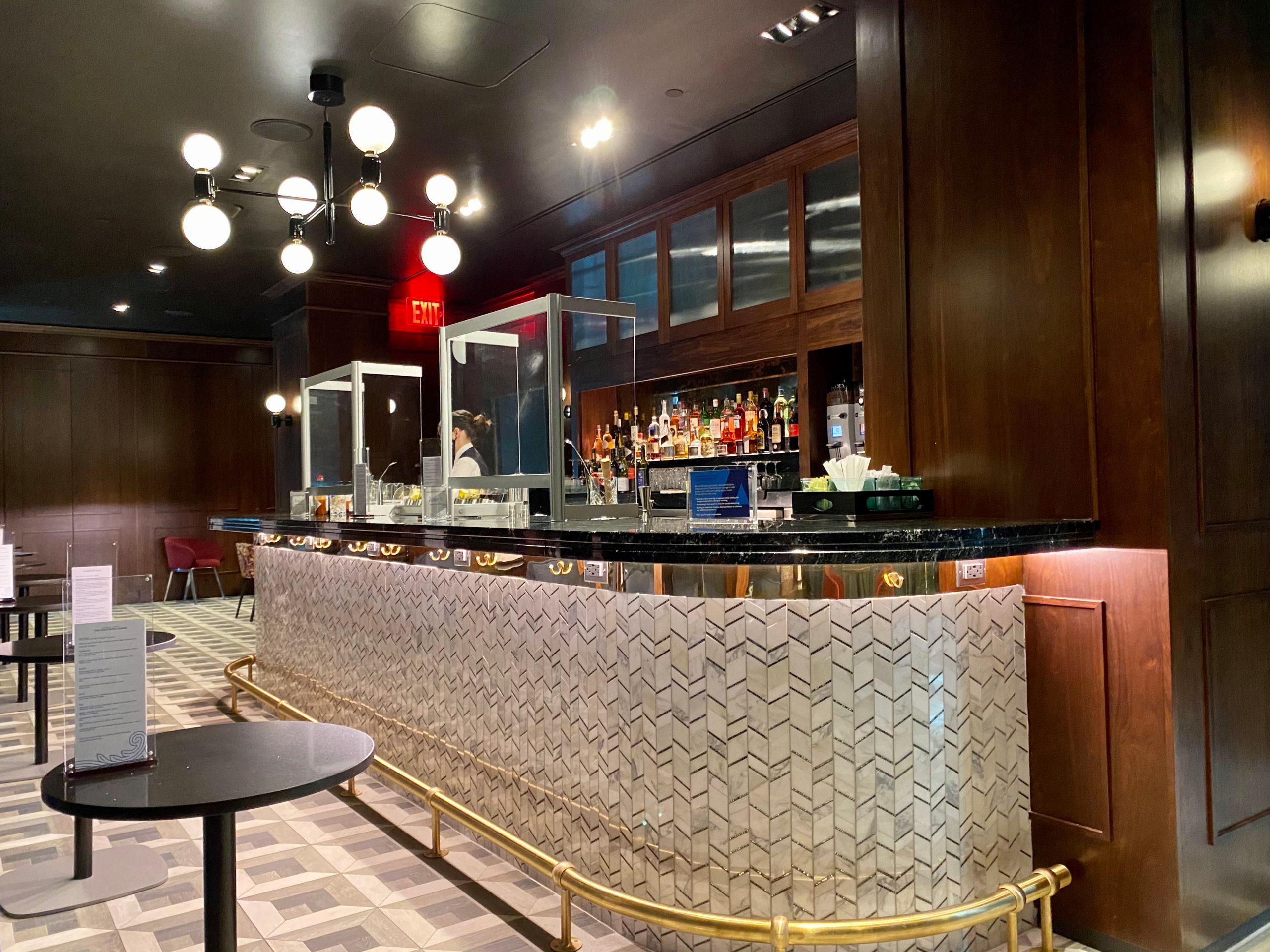 There's a row of seating facing the bar, with room for two in individual armchairs in each small space. As you'll find throughout the lounge, there are charging stations at each and every seat.
There are three bars in all at the JFK Centurion Lounge, but you'll find some special drinks at 1850 you can't get elsewhere. I ordered the Boulevardier, a classic whiskey drink – fitting for this space.
I was confused as the bartender walked over with a seemingly empty glass and a bottle in hand. But she wanted to show me before pouring my drink: A perfect ice cube, stamped with the 1850 logo right on top. What a cool touch – and in hearty glassware to boot.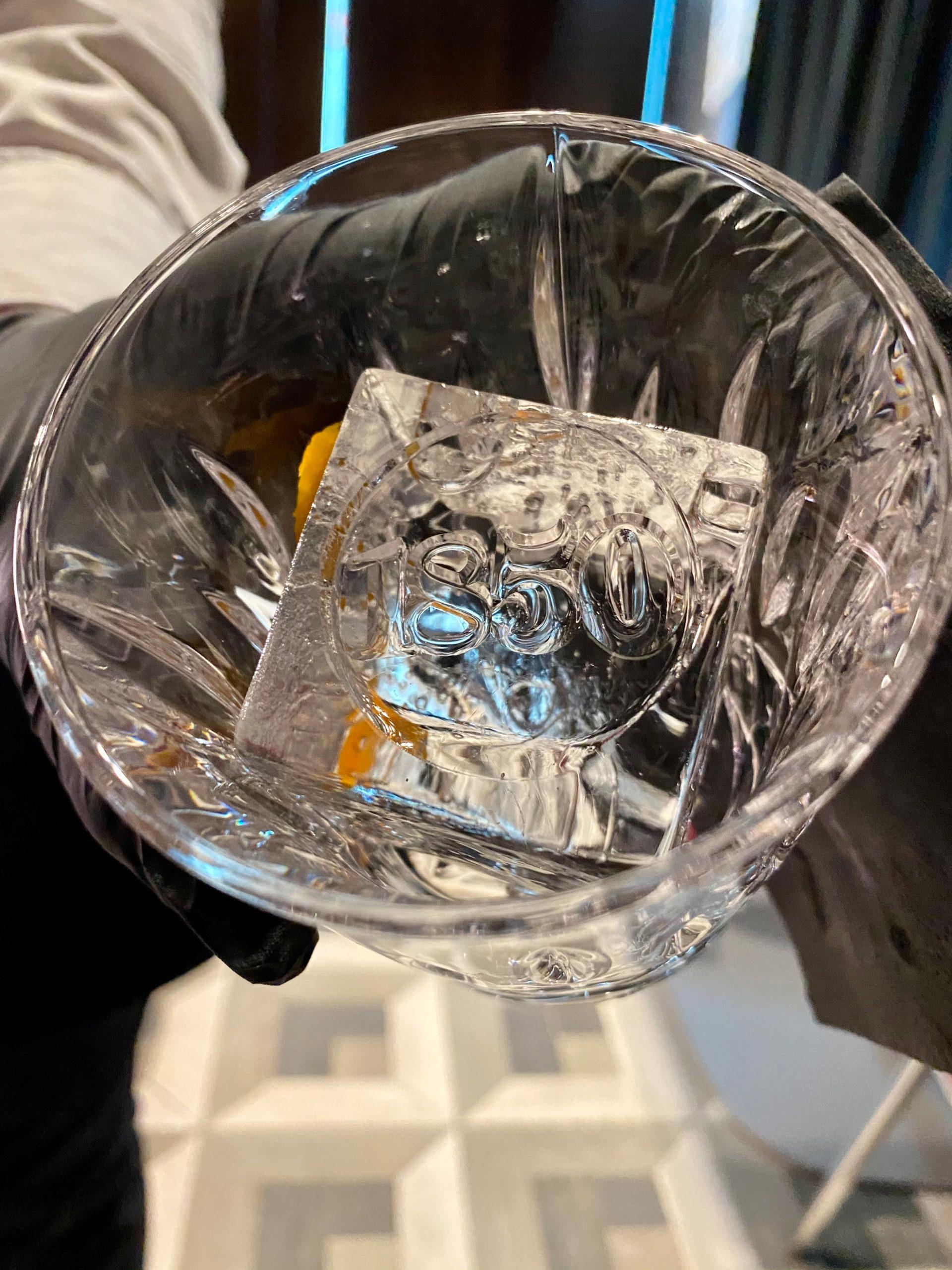 The drink was excellent, easily the best cocktail I've had in an airport lounge.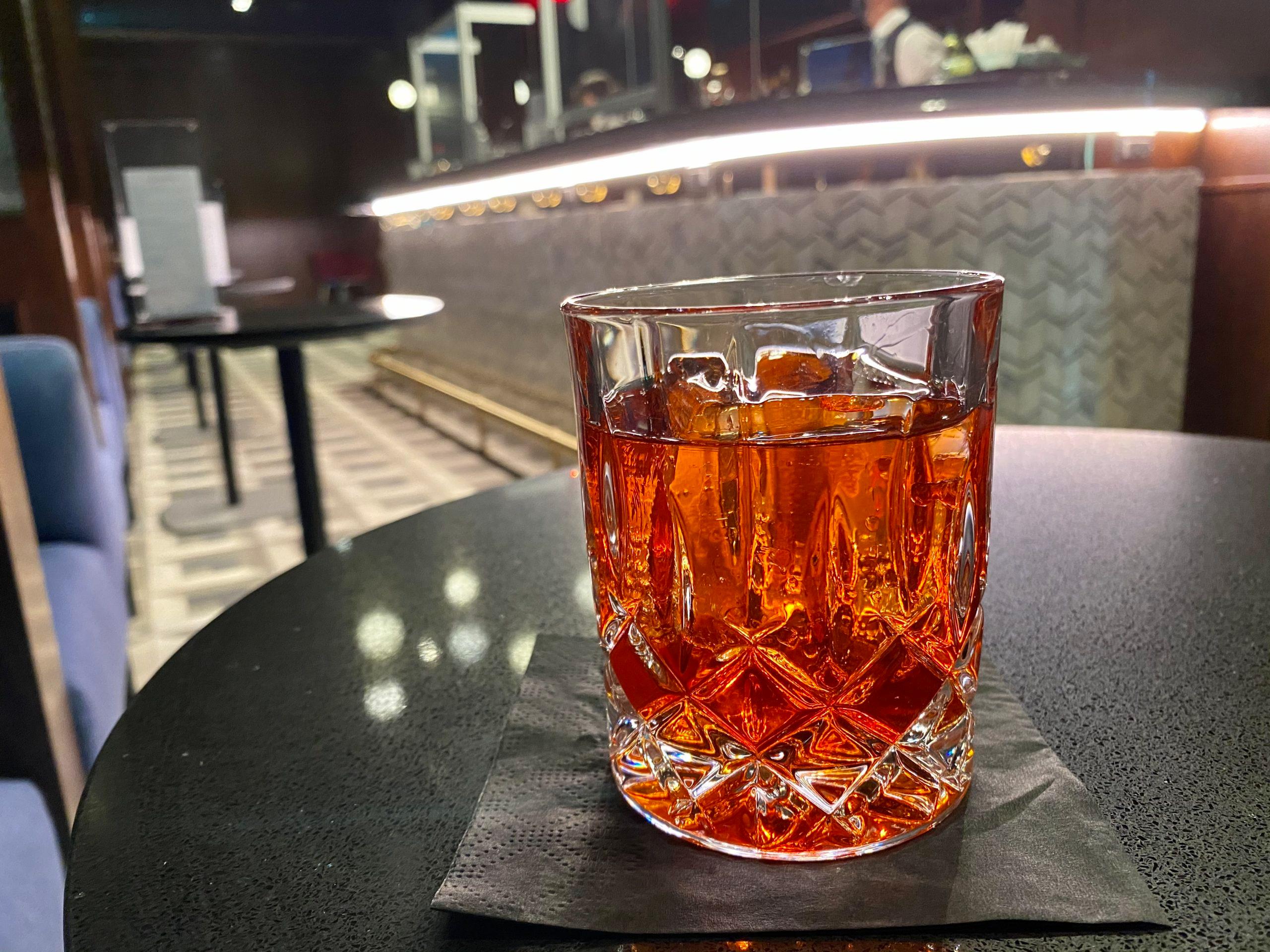 While the quality of the drinks was great, the service was even better. After hanging out for a while, the bartender asked if I'd like to try something special. After telling him I'm partial to whiskey drinks, he volunteered to whip me up a whiskey smash – and even ran in back to grab a special bottle he felt made the drink best.
This, too, was great – far more refreshing, and with another cool touch: A lemon branded with the 1850 logo.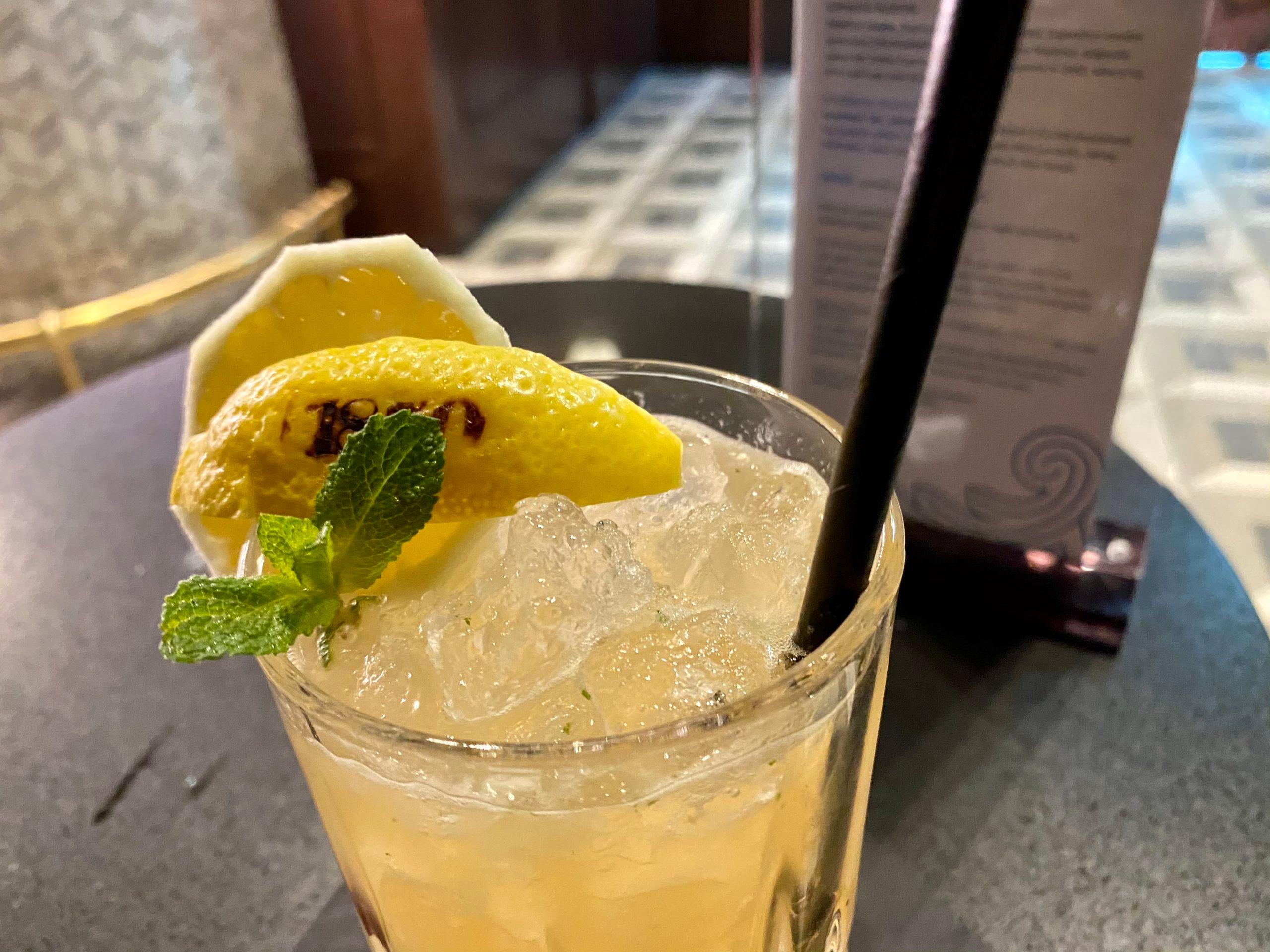 Other Food and Drink
You can't stay in the speakeasy forever. Well, maybe you can. But you probably shouldn't.
There's another bar pouring beer, wine, and cocktails just outside 1850, though that was closed during my visit.
There was also a small snack bar on the lower level, where you can grab some fruit, chips, and nuts if you're feeling peckish.
You'll also find a drink station on each floor, with coffee and espresso machines at each.
But if you're ready for a meal, the upper level is the place to be. There's yet another bar up here, of course.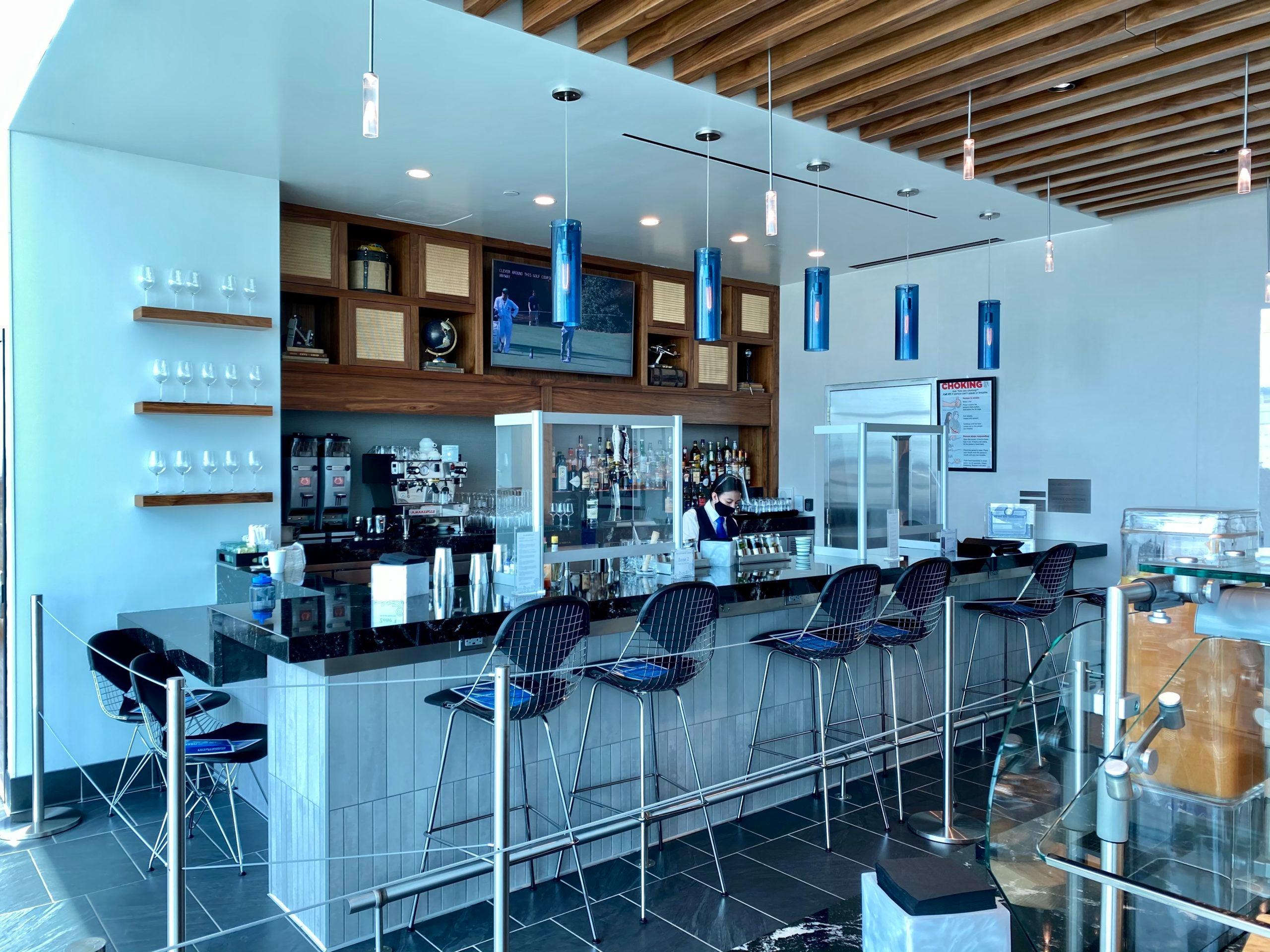 And then there's the main food display, with a rotating menu based upon what time you visit.
Serve yourself buffets are out – at least for now, due to pandemic precautions. Instead, all Centurion Lounges have shifted to a manned buffet setup, with a point-and-serve model. Just tell the employee what you'd like, and they'll put the pre-portioned plates on a tray for you.
First I tried out some gnocchi, roasted vegetables, caramel flan, and an energizing carrot juice shot. The gnocchi and vegetables were both well done and flavorful, though a tad on the cold side – something I've found to be a common problem at Centurion Lounges with this new dining setup.
But the caramel flan was faultless. I don't have much of a sweet tooth, but I think the Centurion Lounge consistently nails its desserts.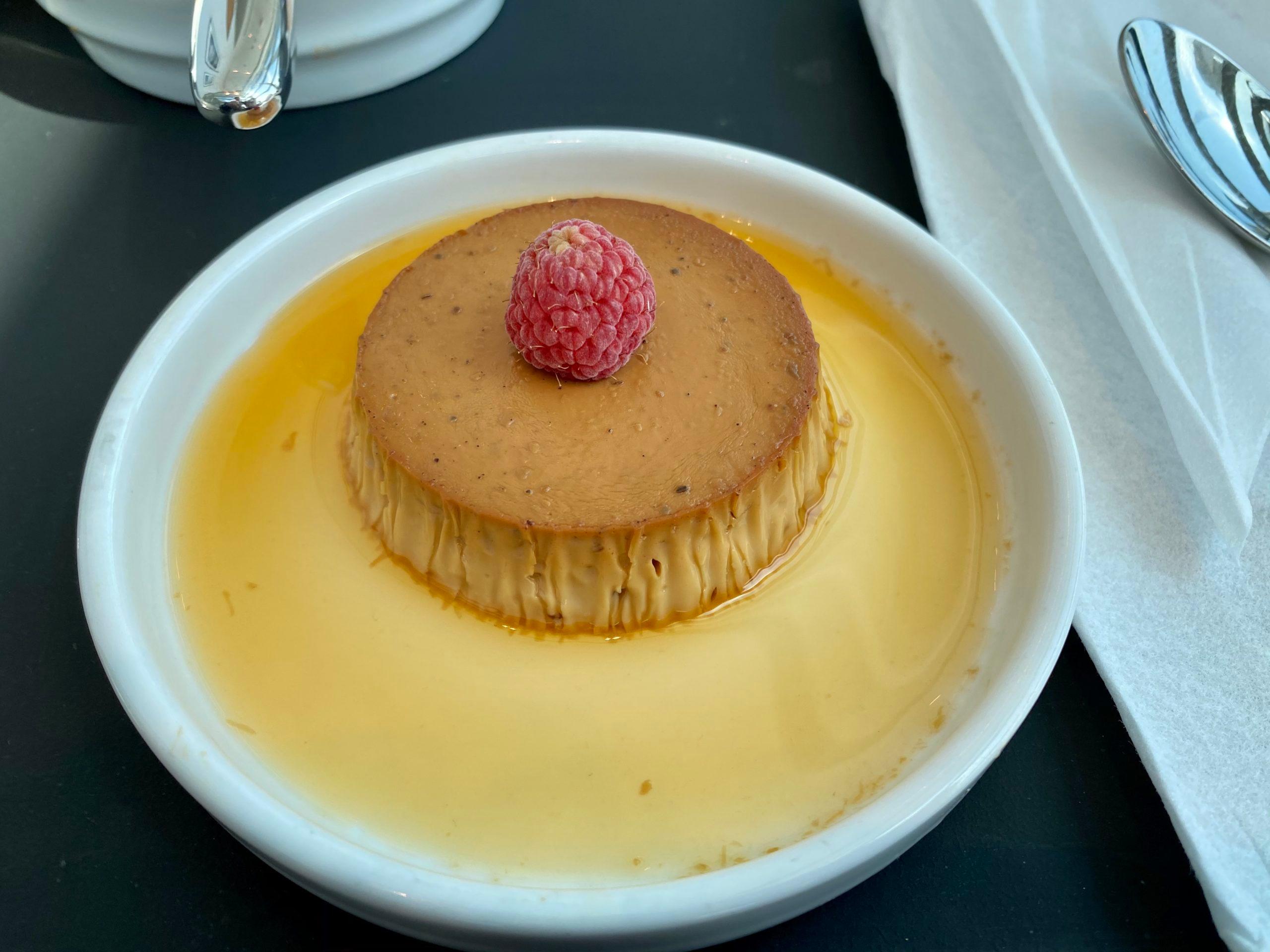 A few hours (and a few cocktails) later, the menu had changed over. So I headed back and sampled the Chicken milanese, a side of potato salad, and a bowl of carrot soup. The chicken was crispy and delicious, even better with a squeeze of grilled lemon. The soup was zesty and creamy, made even better with a dollop of salsa verde. The potato salad, however, was pretty bland and forgettable.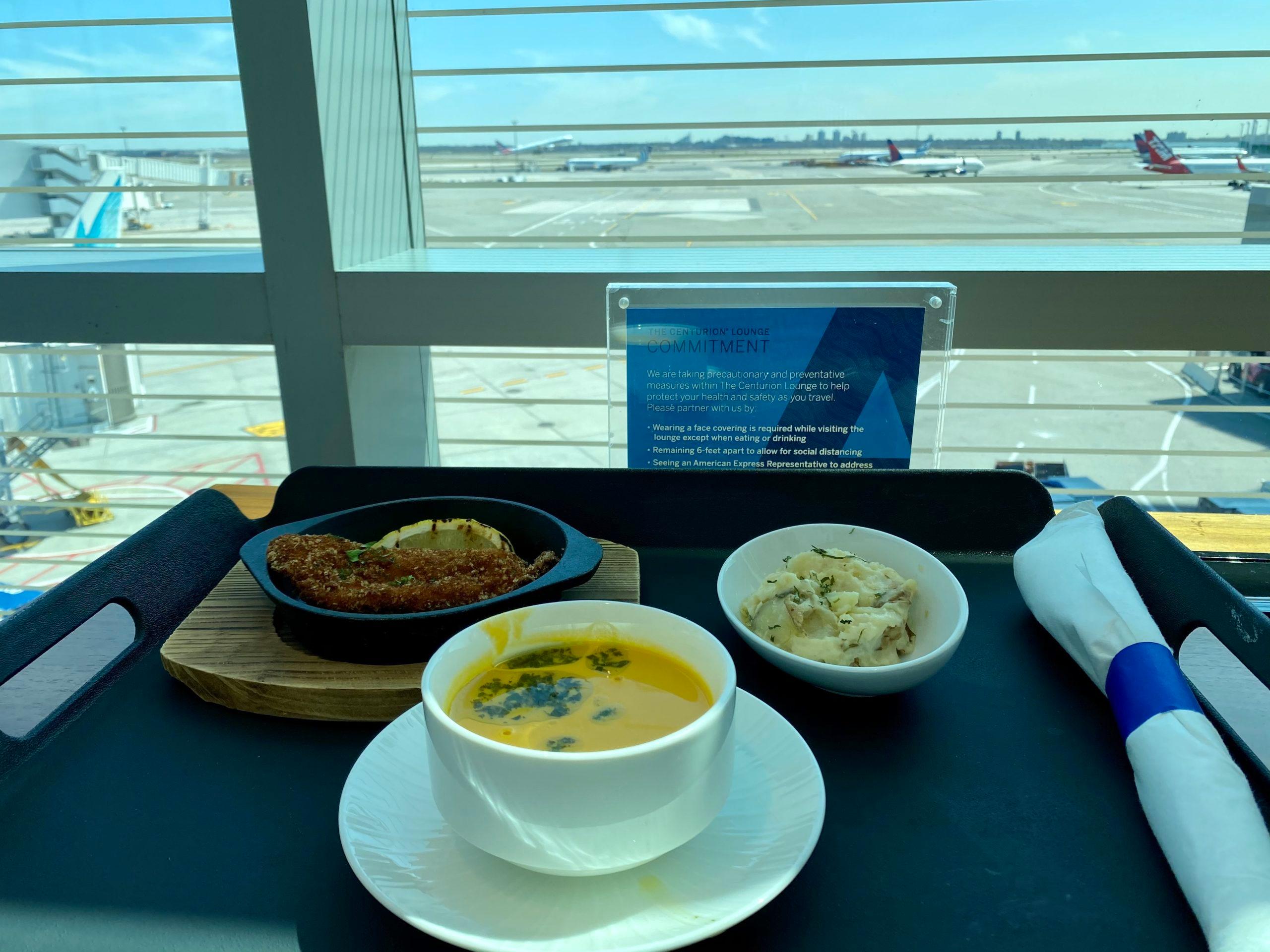 Bottom Line
American Express has really cracked the code on how to take its Centurion Lounges to the next level. And that all comes together at the JFK Centurion Lounge.
For years, Centurion Lounges have been the best in the U.S. thanks to top-notch drinks and meals in a cool, comfortable setting. But now, Amex is giving its latest lounges some new life with signature amenities and a local design flair.
With its massive footprint, nostalgic decor, and a speakeasy to boot, the JFK Centurion Lounge undoubtedly does that and more. While not perfect, the food was great – as always. And at least during my stay, the service at the lounge was among the best I've ever experienced.