Think of a stopover like a layover on steroids: Rather than simply making a quick connection to your next flight, you can go out and explore for a few days – or even a week – before continuing on your journey, seeing two places for the price of one. And few destinations are better suited for a quick stopover trip than Iceland.
Many of the immense, otherworldly sites you want to see in Iceland are just a few hours from the Reykjavik (KEF) airport. From major U.S. airlines to newcomer budget carrier PLAY Airlines, there are plenty of options to get to Iceland – and cheap flights to Iceland are a safe bet even as flight prices are on the rise elsewhere. But flag carrier Icelandair makes it easy as can be with a dedicated stopover program, charging nothing (or next to nothing) to add a stopover of up to seven days in Iceland to your transatlantic flights from countless U.S. cities. And a truncated trip might be just what you need to keep costs down in notoriously expensive Iceland.
But what should you do in Iceland in just a few days? Planning a short, fruitful trip through Iceland is easier than it seems. There is so much to see, and you can soak it all in with a carefully planned Iceland stopover trip.
Not sure how to get there? Read our reviews of Icelandair Economy, Icelandair's Saga Premium Business Class and PLAY Airlines!

Rent a Car
Trust me: You really need your own wheels to make the most of your Iceland stopover.
Unless the city of Reykjavik is the only place you want to visit, you'll want to rent a car in Iceland. Car access will help you get to the places you want to go efficiently, especially if you're crunched for time on a short trip. Gas prices may be high, but that's true here, too … and it's worth it.
Finding a cheap rental car in Iceland isn't rocket science if you follow the same tips and tricks as here in the U.S.: Search several rental companies, use a tool like Autoslash to help track your reservation in case prices drop, and book your rental with a card like the Chase Sapphire Preferred® Card or the Capital One Venture X Rewards Credit Card, both of which unlock excellent rental car insurance. And odds are, you can skip the four-wheel drive upgrade to see many of the spots you want to hit throughout Iceland – it's not necessary.
Once you've got your car at Keflavik Airport, you've got some places to consider going first.
Explore Reykjavik and Visit the Blue Lagoon
I wouldn't go to Iceland in search of world-class cities, but Reykjavik and the surrounding area are easily worth your first stop on your trip.
The city center itself is about a 45-minute drive from Keflavik Airport, and the drive is serviced by tons of shuttle buses and taxi services, too. Right in the middle of the city you'll find the famous Hallgrimskirkja church, with its rising columns up to a point you can see all over the city. It's a strange yet beautiful structure, which are two adjectives that might get used a lot in this story because almost everything in Iceland can be described this way.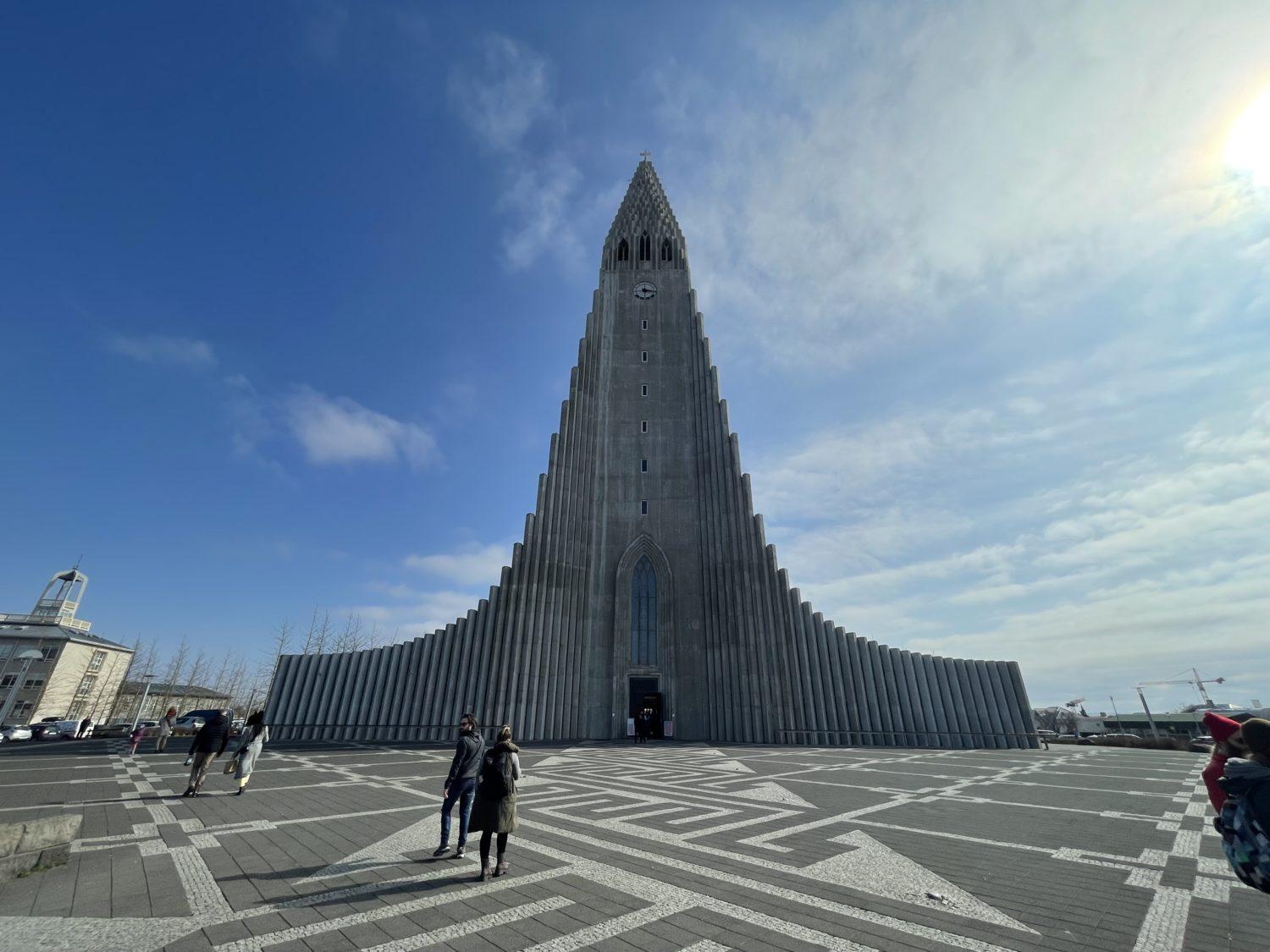 Across the street from the church, pop into Cafe Loki for some authentic Icelandic food. It also offers great views of the church from both the top and bottom floor. I'll admit that I do not care for traditional Icelandic food, but I dove headlong into this dish. The fermented shark bites (with the Icelandic flag stuck in them) chased by Icelandic Schnapps is a local delicacy, the waiter told us. It was…truly disgusting. Travel's not always pretty! If you're up for a culinary adventure, though, this is the place.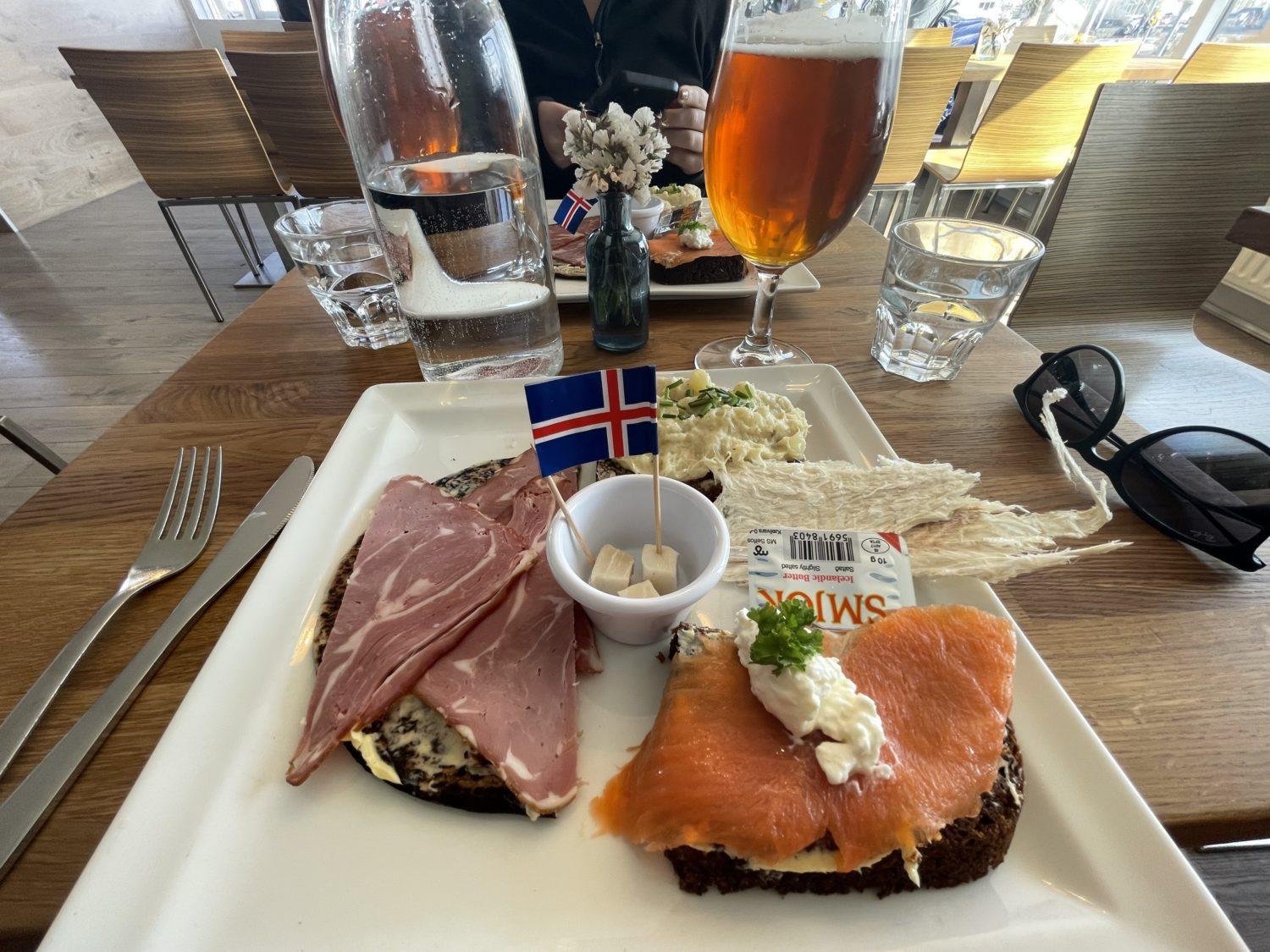 While we're still near Reykjavik, let's talk about Blue Lagoon. These warm, blue thermal waters are a sight to behold – it's nearly synonymous with Iceland. It's easily worth a visit if you've never been to Iceland. While I'm happy to have experienced it once, I don't need to go back.

Read our full guide to visiting Iceland's Blue Lagoon!
I visited way back in 2018, paying nearly $100 for tickets in advance. To visit Blue Lagoon this summer, you'll see prices between $80 and $100 apiece. The company uses dynamic pricing to account for busy travel times and limits the number of tickets they sell. When you enter the parking lot, you'll see why.
We ran into dozens of tour buses lined up outside the Lagoon and a very full parking lot last month. The Lagoon itself is absolutely spectacular. It's as beautiful as it looks in images if you're facing the right way. But behind you is an atmosphere that most resembles a theme park, with bars, gift shops, and restaurants. Included in your entry ticket is a facial scrub you get from a swim up bar and a drink token you can redeem at another swim up bar.
I am glad I got to see Blue Lagoon, and would encourage anyone who hasn't been to Blue Lagoon to work it into their quick trip … just adjust your expectations accordingly: This is no authentic Icelandic adventure, especially compared to less costly thermal baths scattered all over the country.
Make Your Way Around the Golden Circle
Iceland's Golden Circle is a 150-mile circuit home to some of the best sites across Iceland. You need to drive it during your Iceland stopover trip.
Like the rest of Iceland, the Golden Circle features some spectacular waterfalls. But it's also home to plenty of thermal waters, key to some of the top sites. And that's where I'd recommend starting or ending your loop around the Golden Circle, depending on whether you're traveling westbound or eastbound around the circle.
Secret Lagoon is a much less costly hot springs alternative to the Blue Lagoon, and comes at a quarter of the price. The business calls itself the "Oldest Swimming Pool in Iceland" and only costs about $25 to enter. The beautiful warm waters are set amongst the foothills of Iceland's interior mountains. It's a pretty low-key setup, with a quick check-in desk, a locker room, and a pool.

The thermal hot springs adjacent to the swimming area are accessible by a walkway, but don't go in! The scalding hot waters that heat the pool are for viewing only.

The hot springs are a great way to end the day if your journey is eastbound around the Golden Circle. The concession stand sells beer, soft drinks, and snacks, too.
Just up the road is Gullfoss: A multi-tiered monstrosity of a waterfall … in the very best way. Its enormity is hard to capture in a photograph.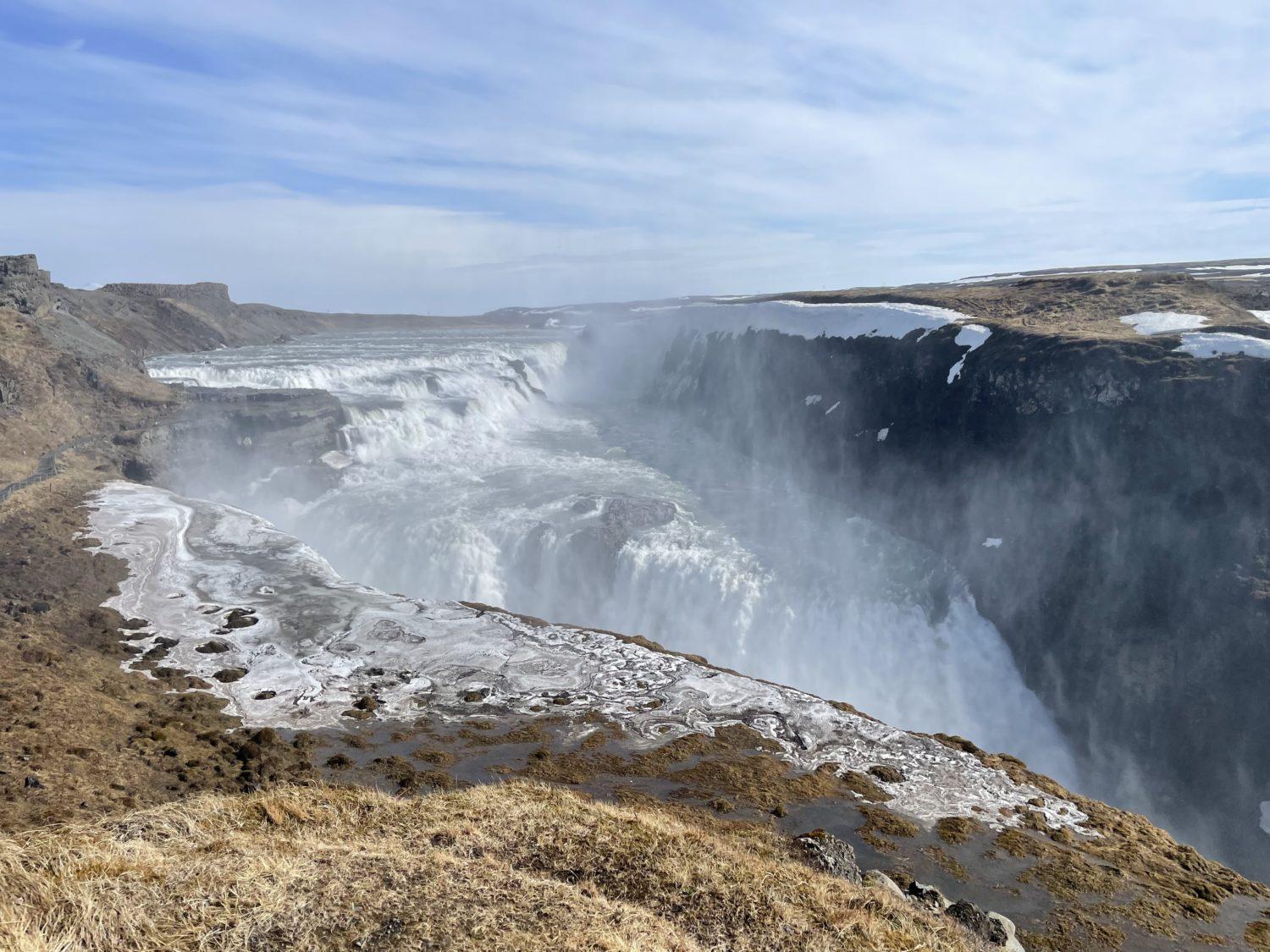 Best of all, Gullfoss is free to all visitors. Parking is free and you can walk up and down the falls as you wish. The site has a visitor's center, gift shop, and restaurant set near the parking lot if you wish, too.
Just a few more minutes up the road is a town called Geysir. Guess what they have there…
Geysers! A lots of them. These volatile thermal areas erupt regularly. For reference, Yellowstone's Old Faithful erupts every 45 minutes or so, the Geysers in Geysir erupt every seven minutes or less. The thermal grounds and waters are fun to walk through. There are plentiful colors and lots to see if you don't mind the sulfuric smell that goes along with thermal water.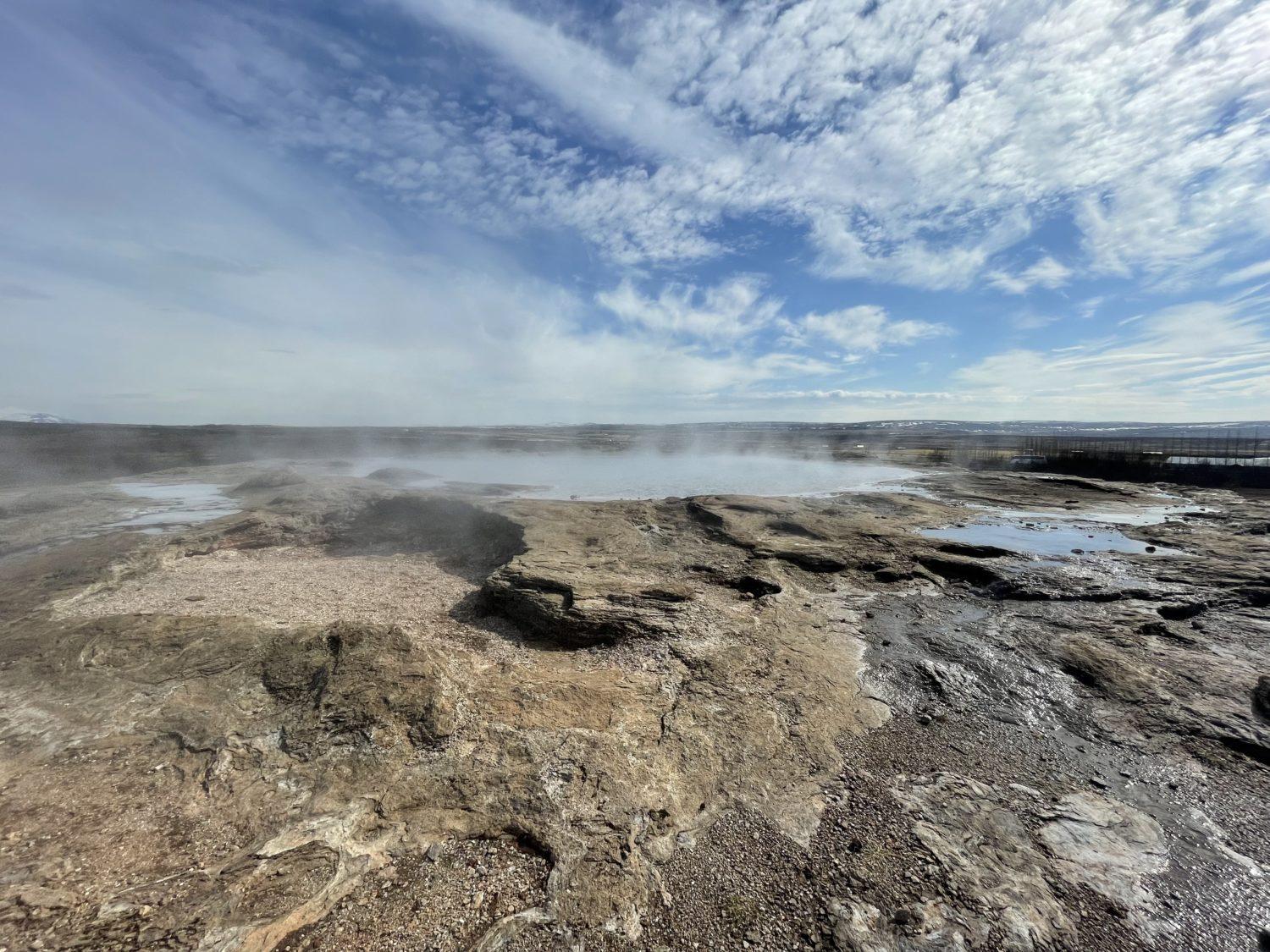 The Geysirs are also free, as is one of the other great attractions of the Golden Circle: Thingvellir National Park.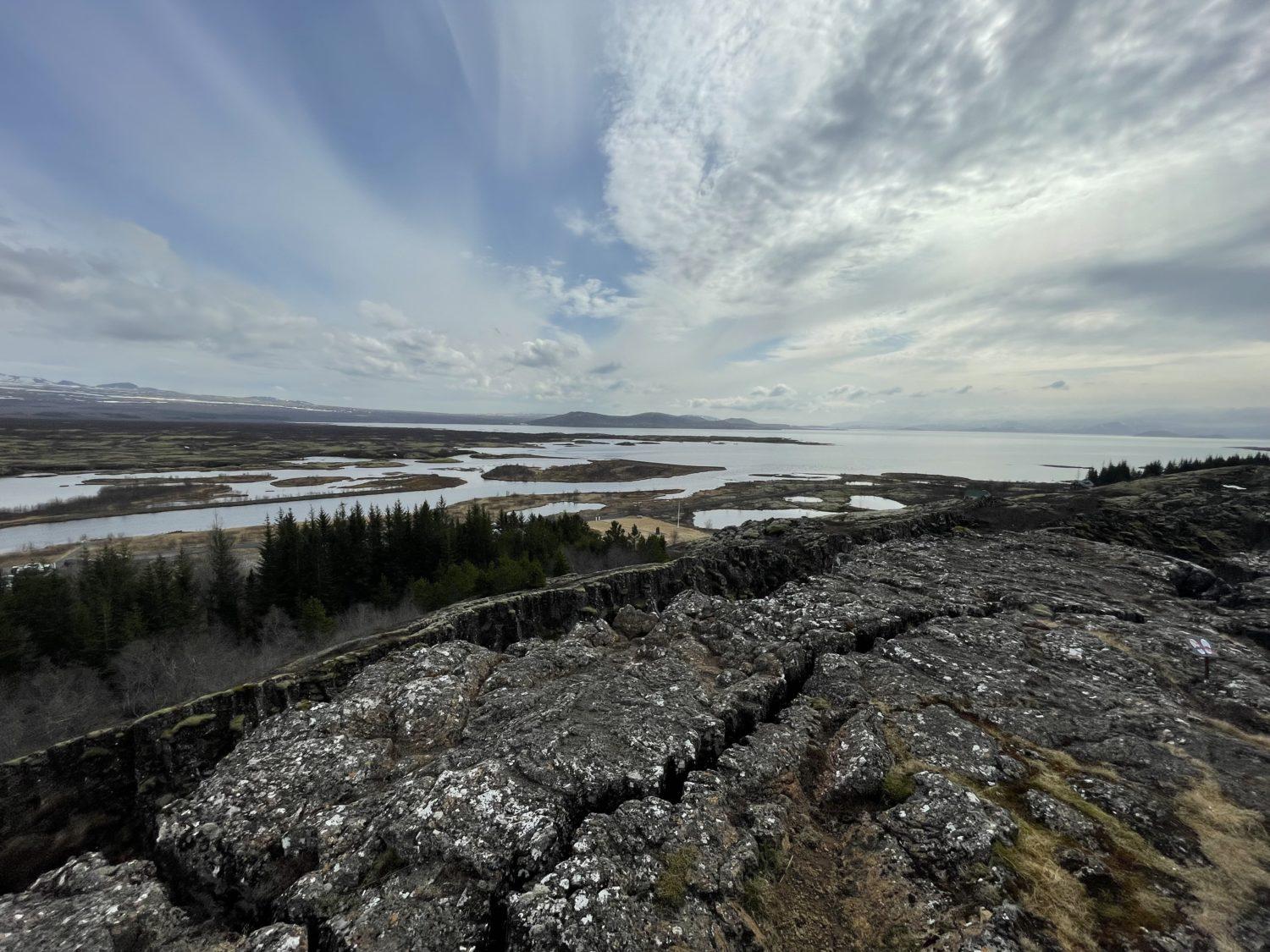 Parking is not free at Thingvellir National Park, but is also not too costly. Once inside the park's grounds, you can find this long crest of volcanic rock that is stunning to look at. There is even a long trail through the middle of the rock ridges, getting visitors up close and personal.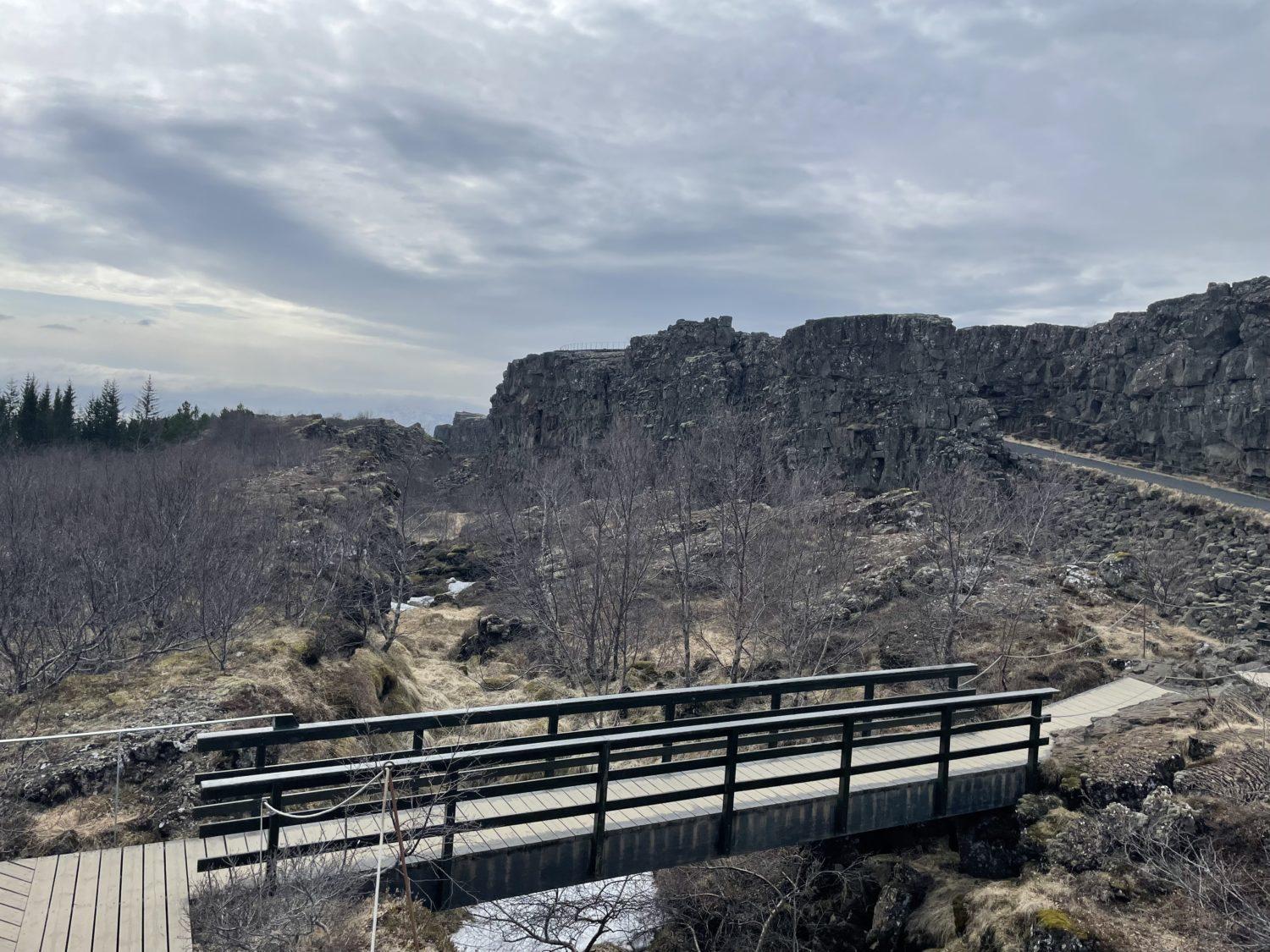 Take your time to walk through the park and soak it all in.
Thrifty Tip: Fall is a spectacular time at the park. The colors really popped, especially set against the snowy mountains.

Like the rest of Iceland, the park is known for its rocky, dramatic landscapes.

The Golden Circle is full of fun. It can be a half day or full day of sightseeing, but a lot of it deserves at least some of your attention on your trip. If I had just one day or a very long layover in Iceland, I'd spend it driving through this region due to its proximity to the airport and easy accessibility.
Visit the Black Sand Beach and Waterfalls of South Iceland
South Iceland and the Reynisfjara Black Sand Beach are a little bit further away from airport and the city of Reykjavik, but you can't afford to miss this part of the country if you've got the time.
About about three hours from Keflavik Airport you'll find Reynisfjara Black Sand Beach. Any time of day, any time of year, this spot is truly unbelievable. The endless, soft sands, creepy oceanic rock formations, and bizarre column rock formations all make for an otherworldly sight.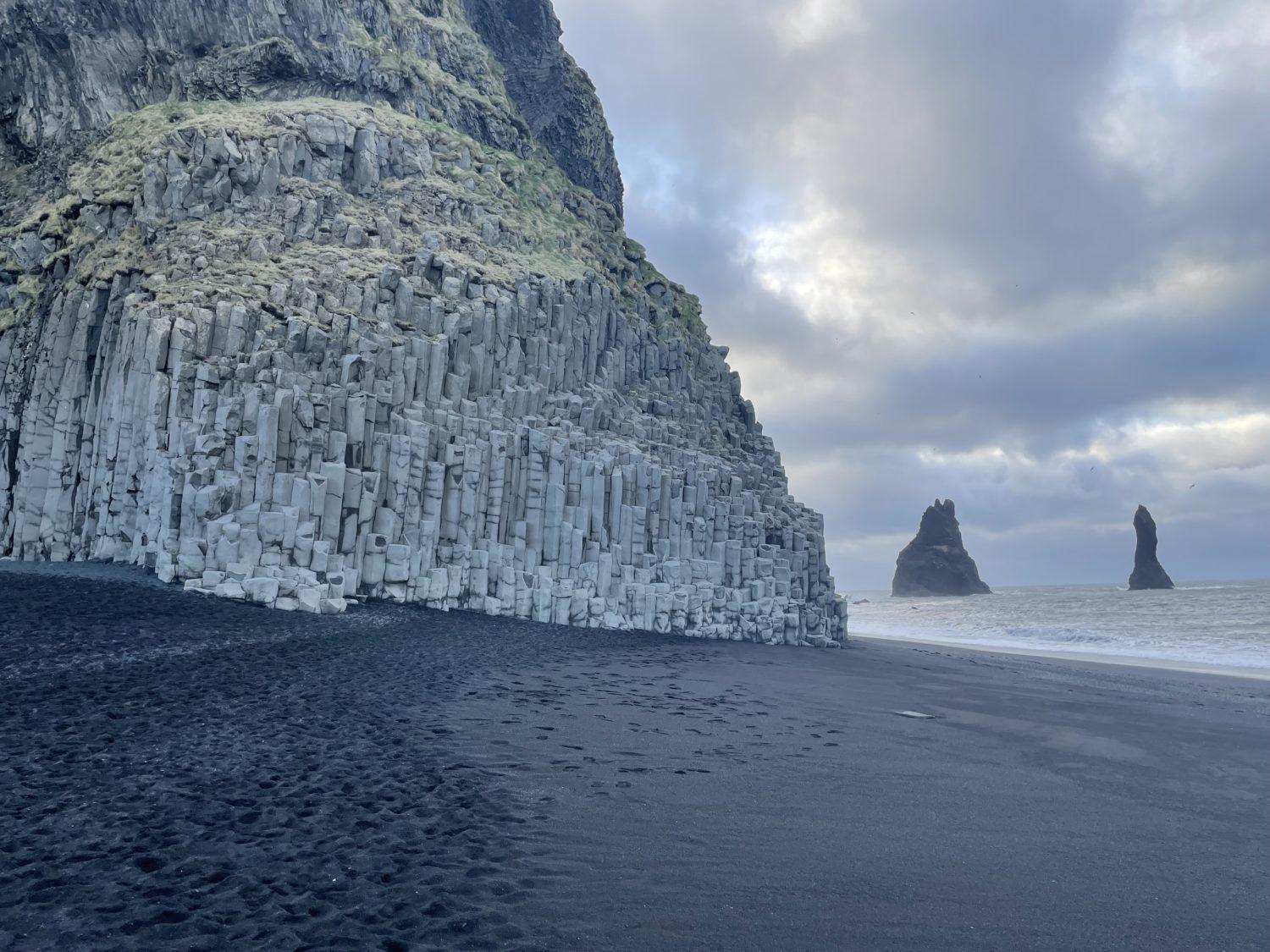 My recommendation: Visit this beach at sunrise or sunset. Either one makes for dramatic photos and lighter crowds. Both times I visited Iceland, I saw this beach at sunrise and did not regret the early wakeup one iota. Climb the rocks, walk the beach, or just watch the waves batter the shore. It's creepy, scary, and impossibly beautiful all at once. It's also probably the windiest place I've ever been, so hold on to your hats – literally.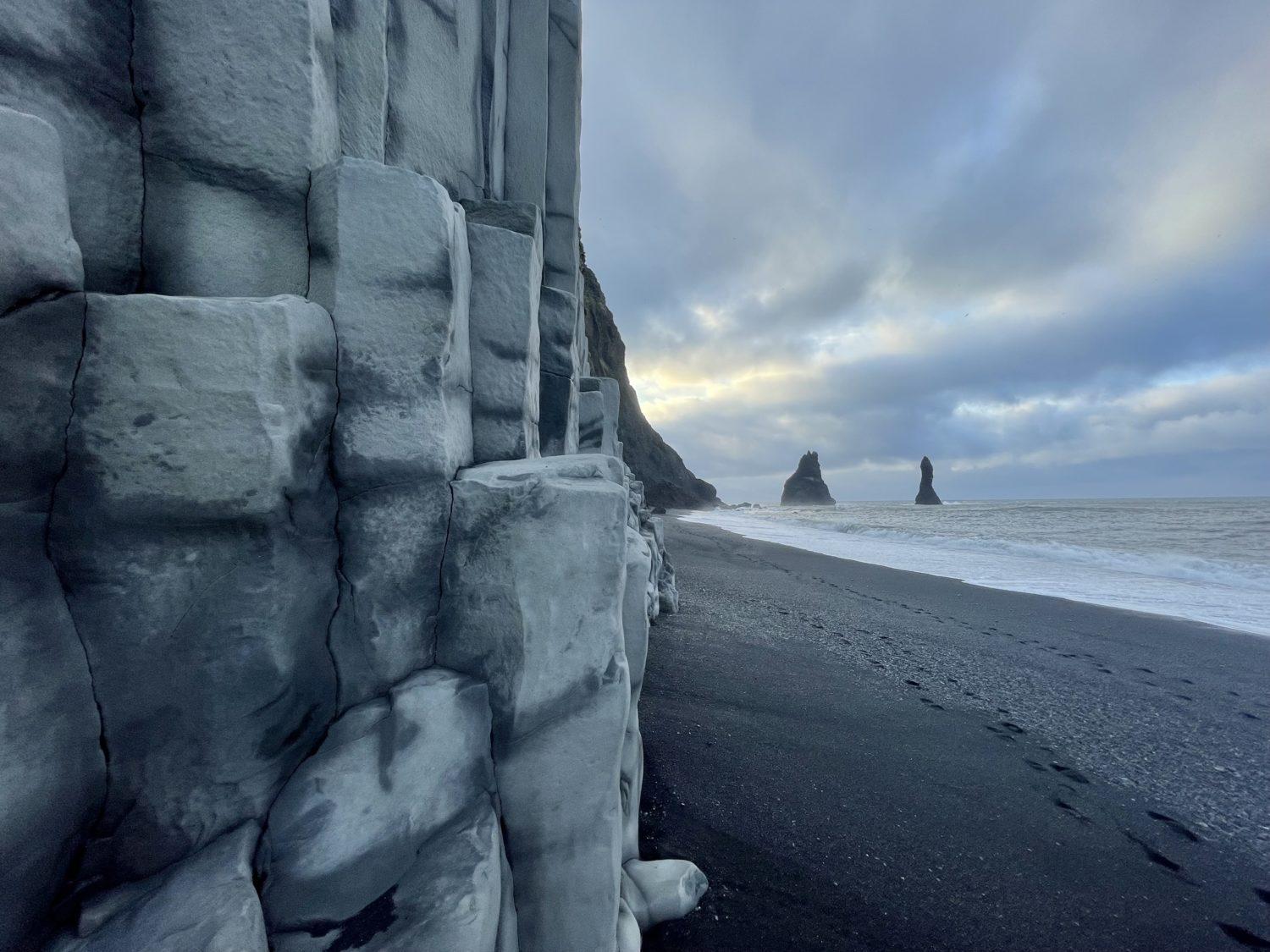 Down the road back toward Reykjavik about 25 minutes from Reynisfjara is Skogafoss, a gushing waterfall that is the stuff of screensavers. It's one of the heaviest waterfalls in Iceland, volume-wise, but also contains hidden treasures for travelers willing to put in a few steps further than the main attraction.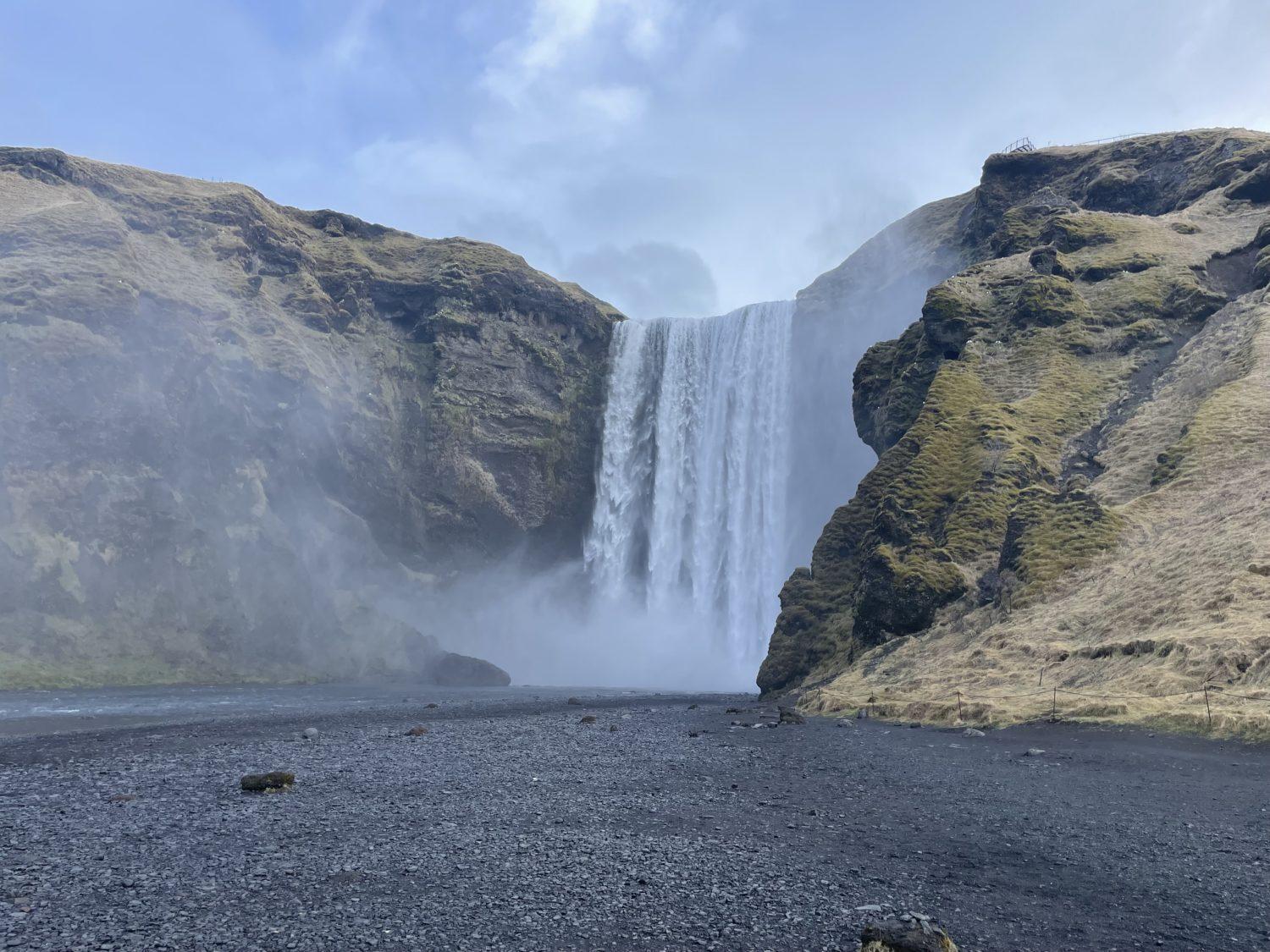 On the right as you look at the waterfall, you can climb the steep steps up to the top of the waterfall, which is another perfectly fine vantage point. But beyond there, a hiking trail extends high up into the mountains, and even down to the other side of a mountain range if you're looking for a 17-plus mile adventure. For me, a four or five-mile out and back excursion was perfectly fine. But along that trail are a seemingly endless number of additional waterfalls and stunning landscapes.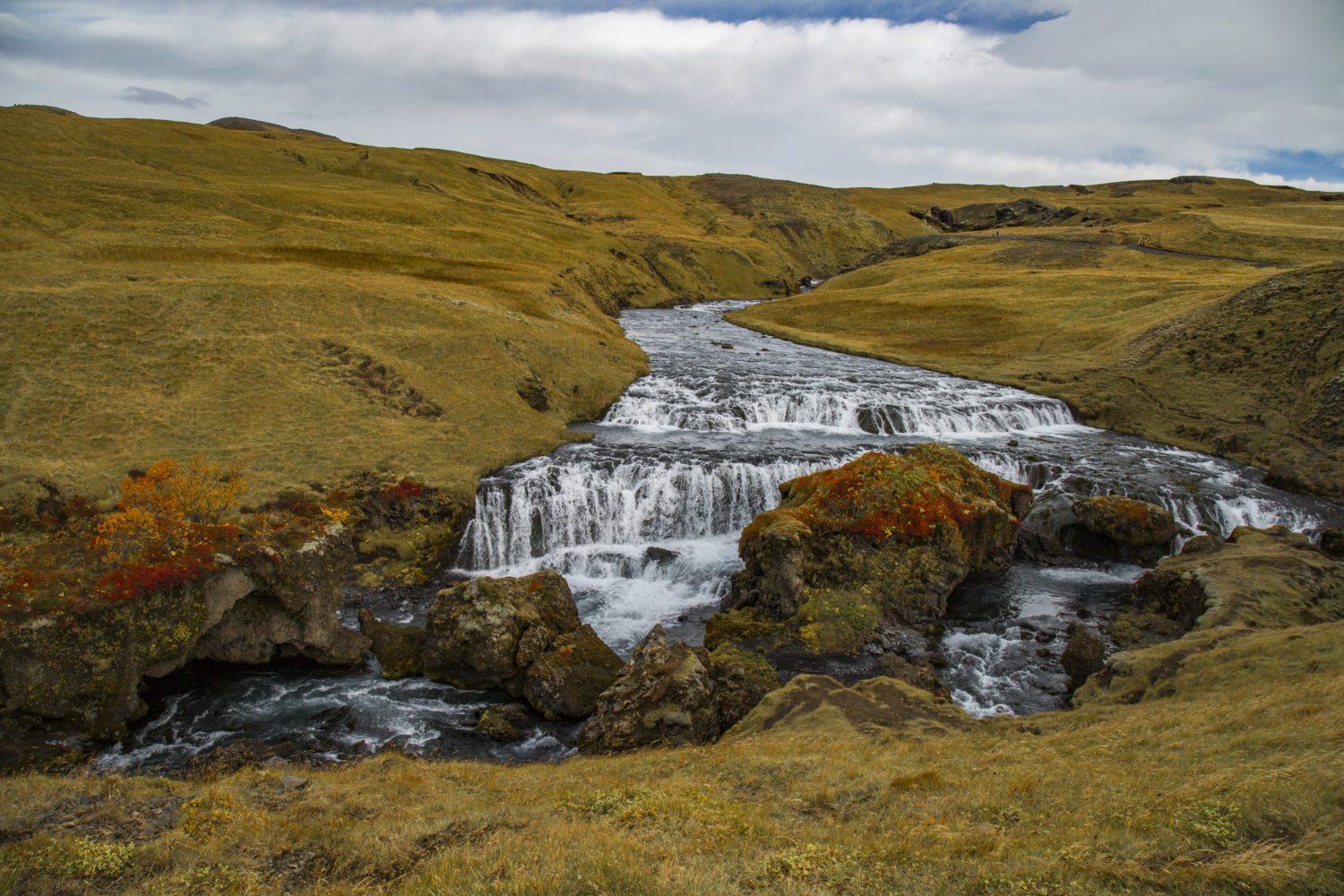 The view on the trail heading back down is especially cool, as you can see the ocean off in the distance, with water running down from the high mountains.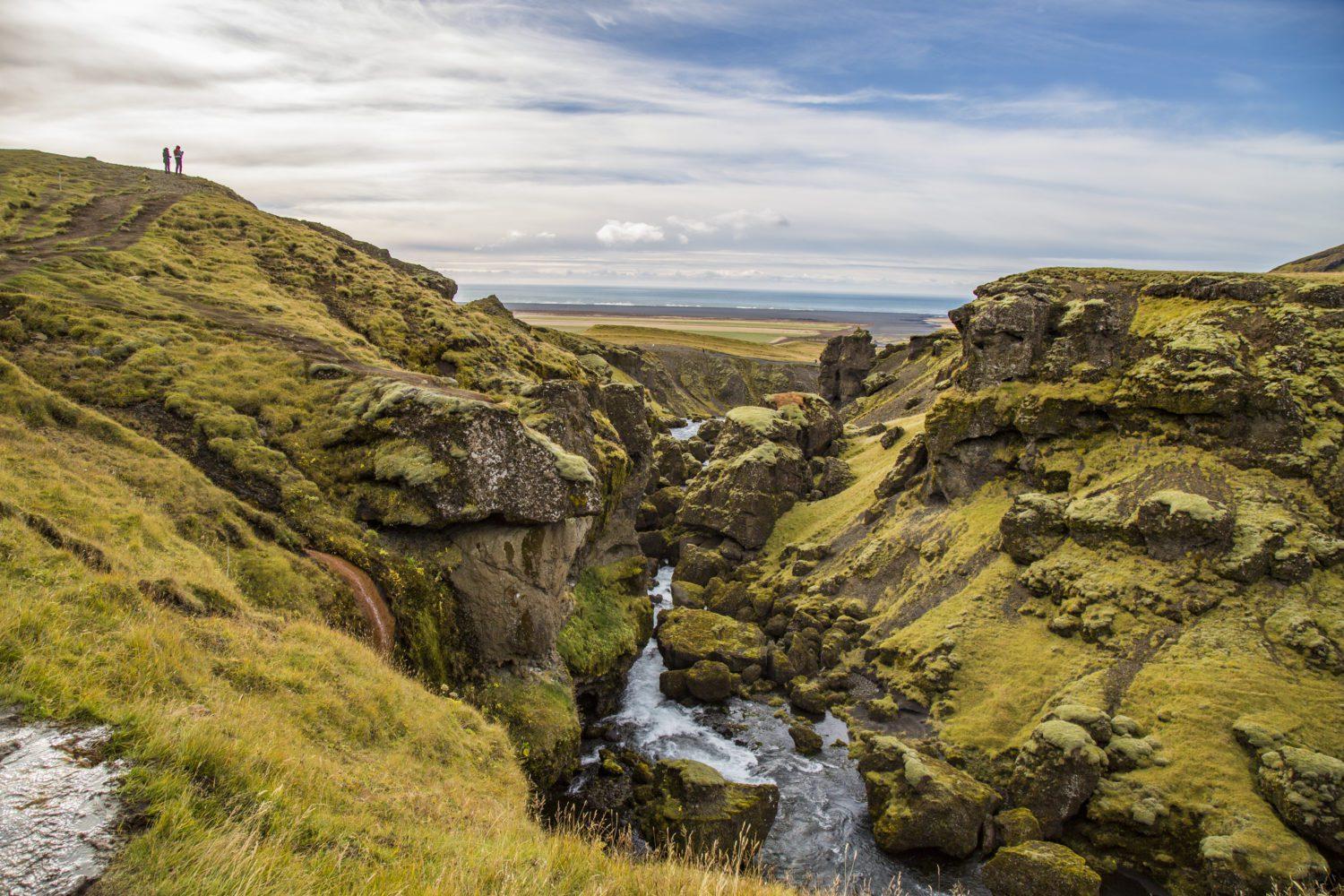 Close to Skogafoss and closer still to Reykjavik and the airport is Seljalandfoss. Ho hum, another waterfall, right? Not exactly.
These falls are popular for a reason. You can walk right up to the falling water, and around it! If you've never witnessed a waterfall from behind the water, cinch the hood on your rain jacket and walk through. Seriously, wear some weather-proof clothes. This attraction is a soaker.

If you're looking for some accommodations for a night, Hotel Ranga is a really lovely place located right between South Iceland and the Golden Circle if you're looking for a home base to explore both during your Iceland stopover
It's a World of Hyatt hotel, bookable for 30,000 World of Hyatt points per night for a standard stay. This photo captures its vibe: It's very Icelandic, featuring some naturally-heated outdoor hot tubs, a dining room with huge windows and stunning views, and heavily Scandinavian stylistic influences.

The hotel offers overnight Northern Lights wake-up calls, too, so you'll never miss the Aurora Borealis if you opt-in to the service.
Snaefellsness Peninsula
If I could only spend one day in Iceland, it would be on the Snaefellsnes Peninsula.
The mountainous peninsula around the Snaefellsjokull Volcano and Snaefellsjokull National Park has all of the best Iceland has to offer in a day-sized loop.

You may have seen this eerie black church in photos before. It's right next to one of the coolest attractions on the peninsula: Hotel Budir. If you want to spring for a fancier stay during your brief trip, this hotel is worth every penny. It's super classy and right at the doorstep of some of my favorite places in Iceland.
Even if you don't want to stay at the hotel, stop in for a cocktail in its lounge. It's one of my favorite settings for a drink in the world.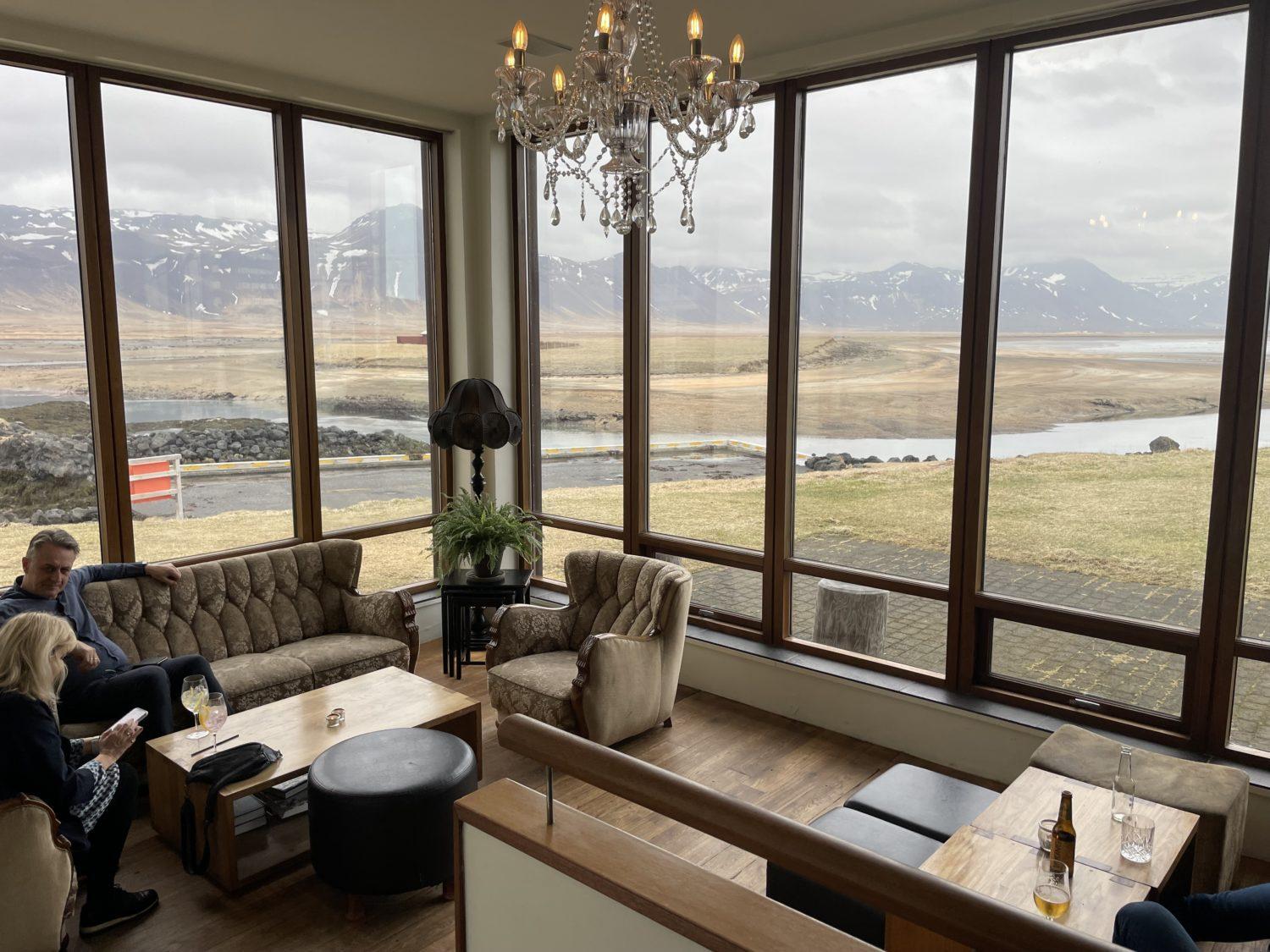 The rest of the attractions here are all about views, and one of the best view points in Iceland is at Londranger Cliffs. The North Atlantic Ocean has battered these walls for decades, and it shows. But still, the resilient Londranger Cliff rocks jut into the air in the strangest formation.

Take a few minutes and walk along the cliffs from the viewpoint (pictured above) all the way up to the cliffs themselves.
Next, drive a few minutes down the road to the Saxholl Crater. You'll see the parking lot and the crater that seemingly pops up out of nowhere on the Snaefellsnes landscape. It's 480-something stairs up to the top of the Crater. At the top, you can peer down inside or take in the views of the mountains in front of you … or the ocean behind.
My sister and I took it all in as we caught our breath at the top of Saxholl.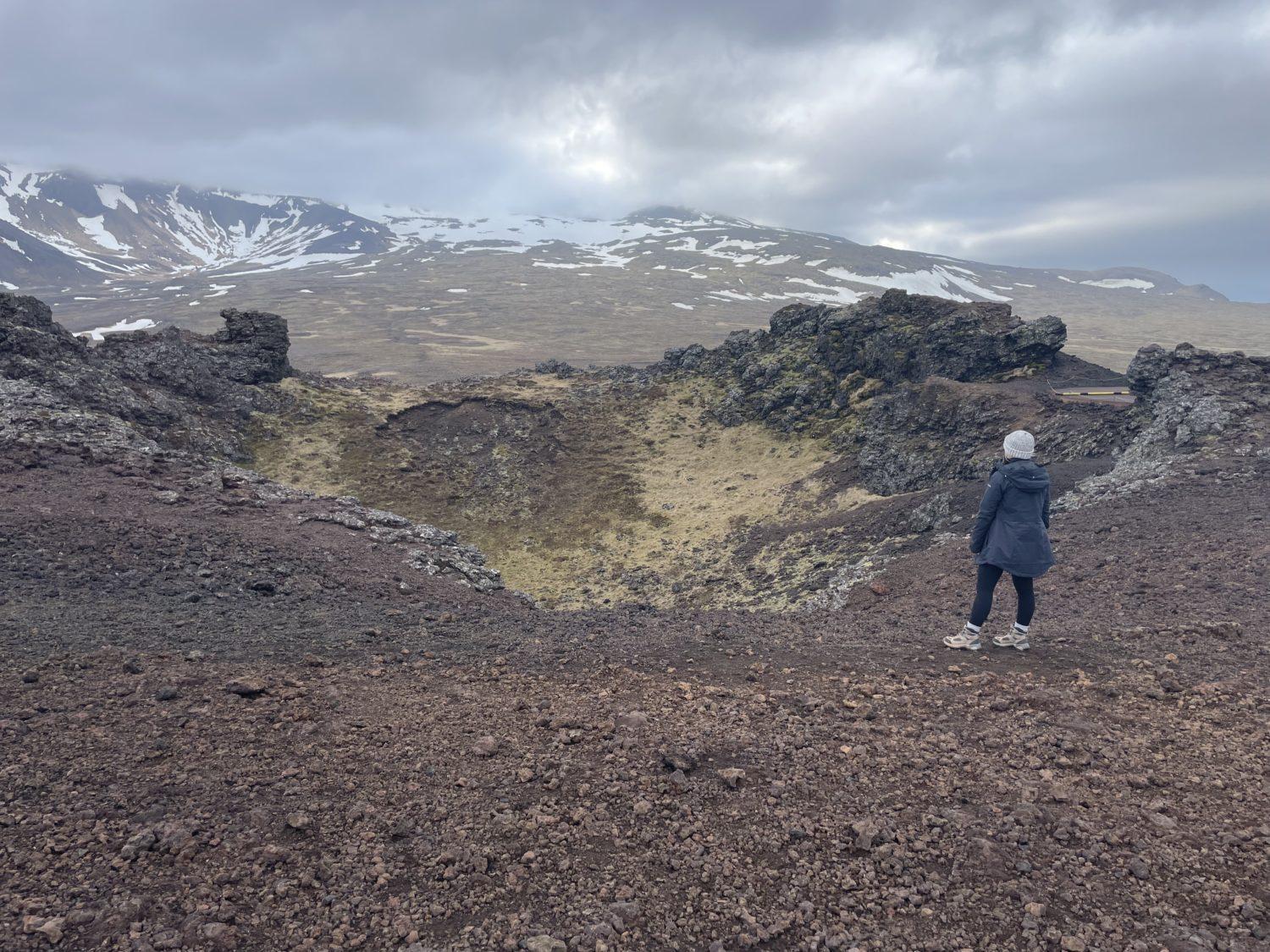 Just another mile or so down the road is Skardsvik Beach, where you can walk among rock formations the likes of Londranger Cliffs, while seeing the ocean's fury up close and personal. My fiancee snapped this photo back in 2018, when we spent close to an hour walking this beach and climbing among the rocks. It's one of the westernmost parts of Iceland and offered us a humbling look at the North Atlantic Ocean.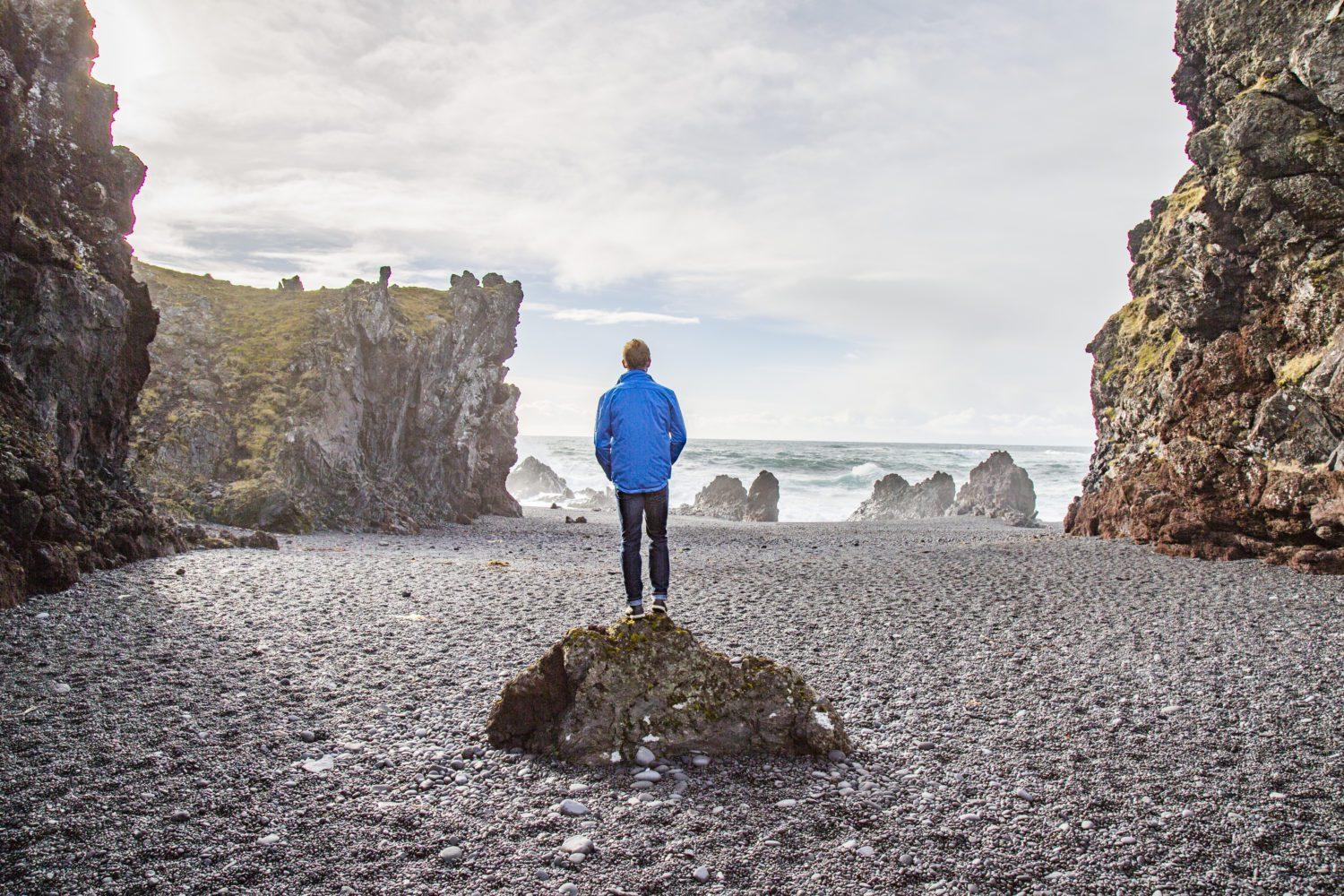 Up the road and turning back east along the loop around Snaefellsnes is an attraction every Game of Thrones fan will recognize. Kirkjufell Mountain and the Kirkjufellfoss Waterfall provide possibly the best one-two punch in landscape photography. Parking at this attraction will cost about $5, but the lot is owned by the local farmer and helps them sustain the traffic.
As a mountain enthusiast, I can definitively say that Kirkjufell is like nothing else in the world. The shape is beyond strange.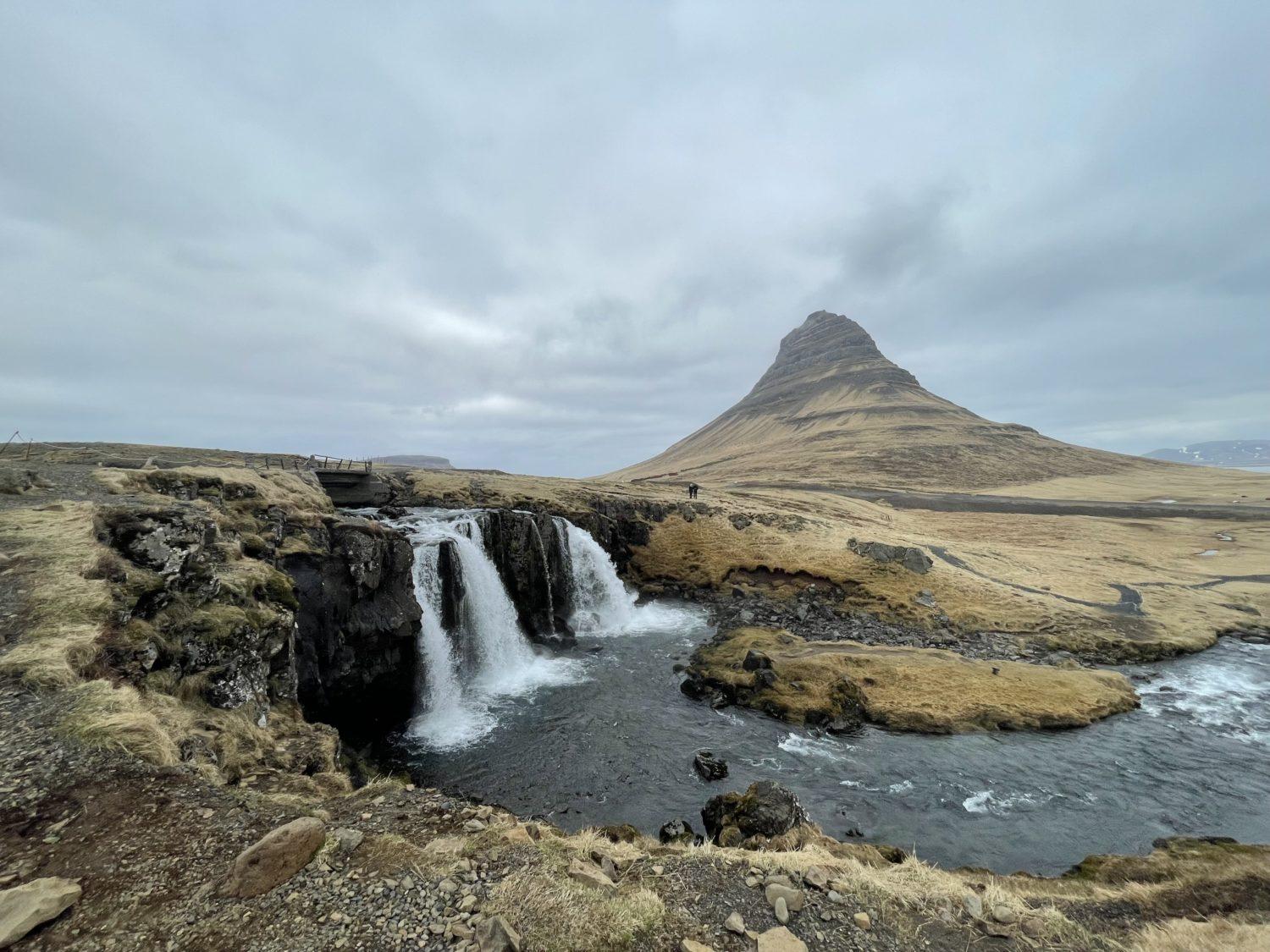 For hikers and mountaineers, there is a hiking trail that takes you up and round Kirkjufell if you want to get intimate with the mountain, too. As you continue around the Snaefellsness road, drive slowly and pull off to see the sights often. The towns of Olafsvik and Grundarfjordur are especially picturesque. Plus, there are too many roadside sites to count. Just pull off the road safely, find a place to park, and take it all in.

While I skipped this part of the trip in 2022, in 2018 we stayed at an Airbnb in Helgafell and checked out the port town of Stykkishólmur. The super quiet peninsula of sorts extends north from the top of the Snaefellsnes Peninsula. It's another beautiful part of the country that was sadly cut for time in my journey last month.
On your way out of or through Snaefellsnes, make sure you take Highway 56, which slices through the middle of the peninsula, and stop off at the barely marked Selvallafoss – it's on Google Maps, if you're worried about missing it. Walk down the mossy hillside toward the lake and then follow the sound of a waterfall. Once you see the water trickling down, start hiking up next to the waterfall to experience one of the cooler, quieter waterfall attractions in the country.

The multi-tiered site makes for some beautiful scenes in and of itself, but keep going to the top! Like Seljalandfoss in South Iceland, you can walk behind Selvallafoss and take in the landscape through the falls.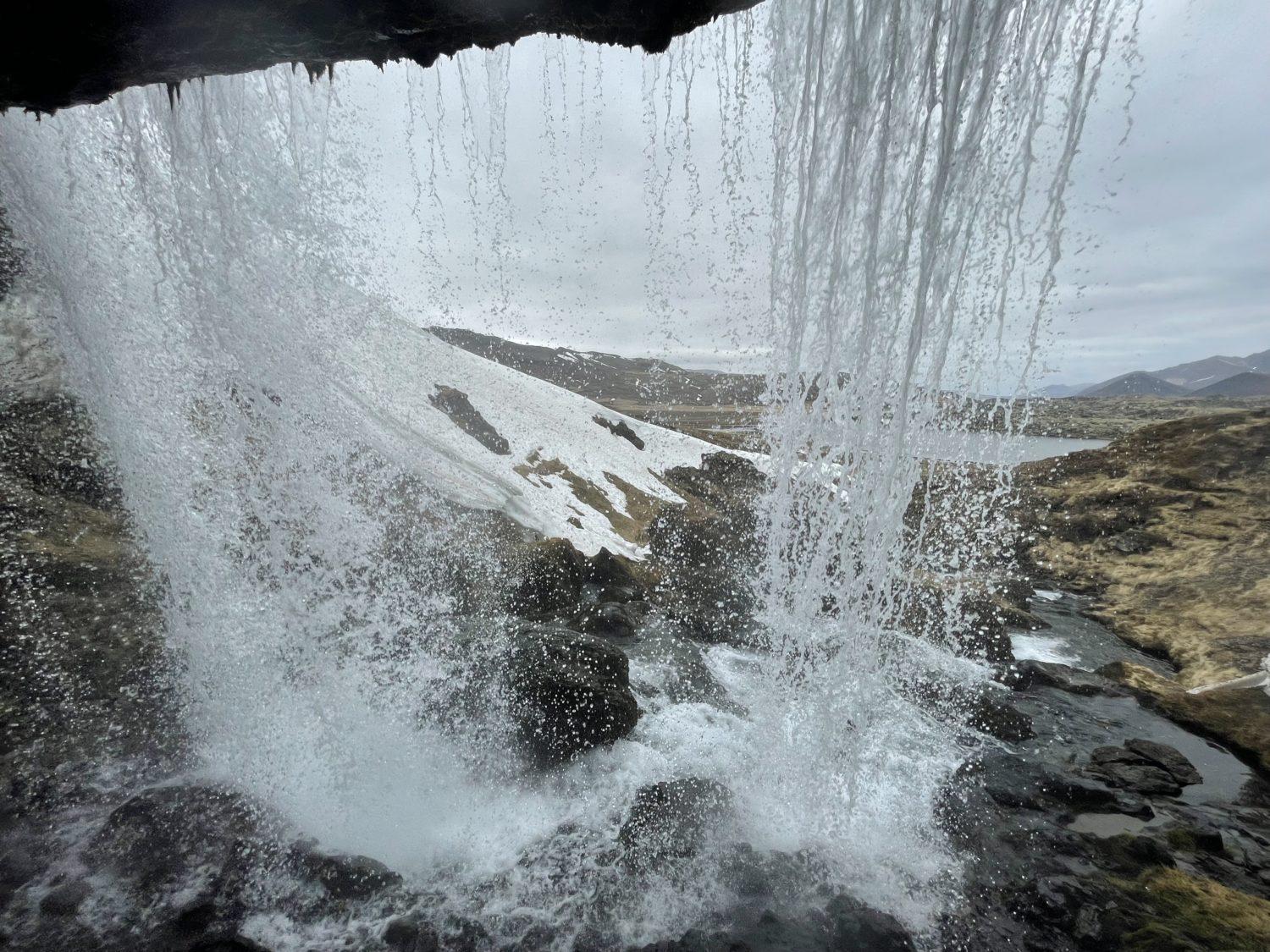 My 3-Day Itinerary for an Iceland Stopover Trip
In April, I covered all of these attractions in just a three-day trip. I took a similar trip in 2018, stretched out over a more leisurely four-and-a-half days. It was a lot of driving, but if you're comfortable in the car, I highly recommend packing a lot in to your Iceland excursion. It's hard to cut something out!
Here's how I did it:
Day 1: South Iceland
Landed at Keflavik in the early morning and drove to Skogafoss to see the falls and hike.
Drove to Seljalandfoss and hiked behind the falls.
Checked in to Hotel Ranga, got some work done, had dinner, and had a sparkling wine in the hot tub before bed.
Day 2: South Iceland/Golden Circle
Drove to Reynisfjara Black Sand Beach for sunrise.
Went back to Hotel Ranga for breakfast and to check out.
Drove to Secret Lagoon for a dip in the thermal waters.
Took in the sites at Gullfoss.
Watched the Geysir erupt twice in 20 minutes.
Hiked around Thingvellir National Park. (All Golden Circle attractions are within 45 mins or less of each other.)
Drove all the way up to the Snaefellsnes Peninsula (About 2 1/2 hours from Thingvellir)
I stayed at the more affordable Hotel Arnarstapi instead of Hotel Budir this time. Arnarstapi is a very cool town with a very comfortable, but less stylish hotel. We did have a cocktail at Budir on the way through, though.
Day 3: Snaefellsness Peninsula/Reykjavik
Drove to the western shore of Snaefellsnes and the Londranger Cliffs.
Hiked up Saxholl Crater.
Watched the waves crash at Skardsvik Beach.
Took in the view at Kirkjufell.
Hiked down and up the falls at Selvallafoss. (All drives were less than 30 minutes)
Drove back to Reykjavik and stopped at the Hallgrimskirkja church and Cafe Loki for some Icelandic food. (Two hours from Selvallafoss)
Headed back to Keflavik Airport where my sister departed for Europe and I returned to the U.S.
If I were to do it all again. I would choose either South Iceland or the Snaefellsnes Peninsula and pair either location with the Golden Circle and Reykjavik. Choosing one of South Iceland or Snaefellsnes would cut the amount of driving by about half, and give you more time to hike and explore the regions. The itinerary above is slightly rushed, but completely doable if you're up for an adventure.
Bottom Line
Even a quick trip doesn't have to hamstring your plans in Iceland. You can see much of what this country has to offer over the course of just a few days if you plan ahead.
Luckily, so much of the best of Iceland is just a few hours away from the airport. Combined with the fact that flights to Iceland are cheap in 2022, few crowds, and essentially zero COVID-19 restrictions, we think it's the best year to visit yet.
Use my two short Iceland trips as a template and build your own journey from there. And if you can't possibly choose like me, just do them all!