Though Delta doesn't publish an award chart, I find incredible value through their advertised and unadvertised SkyMiles flash sales. When it comes to earning Delta SkyMiles, one of the most important things you can do is maximize every dollar you are already spending. One of the easiest ways to earn Delta SkyMiles is by signing up for the Delta SkyMiles Dining program.
All you need to sign up is a Delta SkyMiles account. That's right: you do not need a Delta credit card to earn SkyMiles through this dining program. By using the Delta SkyMiles Dining program, you'll earn bonus SkyMiles for dining at select restaurants. In this post, we will outline exactly how to use the portal to earn bonus SkyMiles for the dining you are already doing.
Thrifty Tip: Don't yet have a Delta SkyMiles account? You can create one for free here.
How the Delta SkyMiles Dining Program Works
Dining portals are a great way to rack up additional points and miles for spending you are already doing. All you need to do is follow the steps below and you will be on your way to earning effortless miles to use for your next trip. Here's how it works:
Step 1: Create a SkyMiles Dining Account
Step 2: Link your SkyMiles account number and a credit card to your SkyMiles Dining account. Remember, the card you link does not have to be a Delta credit card. Link the card you use the most for dining or the card that gets you the most points at restaurants.
Step 3: Visit one of the participating restaurants and pay with the card you linked. You can link multiple cards which is a great option if you use different cards for personal and work expenses.
Step 4: You'll earn 3x miles for every dollar you spend on your bill.
I signed up with my Chase Sapphire Preferred card because it earns 2x Chase Ultimate Rewards points on restaurants worldwide. Read more about the Chase Sapphire Preferred card.
How to Join the Delta SkyMiles Dining Program
To join, visit the Delta SkyMiles Dining website and click "Join Now". Log in with your Delta SkyMiles login information. This is the same information you use to login to the Delta website or Delta smartphone app. Be sure to have your SkyMiles number handy. Then, click the "Join SkyMiles Dining" button.
Next, you'll want to add the credit card you plan to use when out dining. As mentioned previously, my Chase Sapphire Preferred card is my go-to travel and dining card, so I linked that card. You can link multiple if you switch which cards you use to pay for dining often.
It's as simple as that! Once you've joined with your SkyMiles account number and input at least one credit card to use for dining, you'll be earning extra SkyMiles in no time.
My favorite part? You don't have to do anything differently: just dine out in your city as you normally do. However, if you want to make sure you're getting the most bang for your (SkyMiles) buck, check out the list of participating restaurants in your area, and suggest one of the many options for your next date night or celebration.
For example, let's say I dine out with a friend at Origami Uptown in Minneapolis. Our total bill is $53. Because I earn 3 Delta SkyMiles per dollar by paying with the card I've linked on SkyMiles Dining, I will earn 159 Delta SkyMiles for my purchase.
On top of that, I will also earn 106 Chase Ultimate Rewards points by paying with my Chase Sapphire Preferred card since it earns 2x points at restaurants worldwide.
Bonus SkyMiles Offer
What's a points and miles earning opportunity without a bonus welcome offer? You can get even more SkyMiles with Delta's promotion for new members.
Earn up to 3,000 bonus SkyMiles by spending at least $30 (taxes and tips count!) at three restaurants within 30 days of signing up. You'll earn 500 SkyMiles for the first visit, 1,000 SkyMiles for the second, and 1,500 SkyMiles for the third. In order to earn those bonuses, you'll also need to leave a review of each restaurant through the SkyMilesDining.com review portal.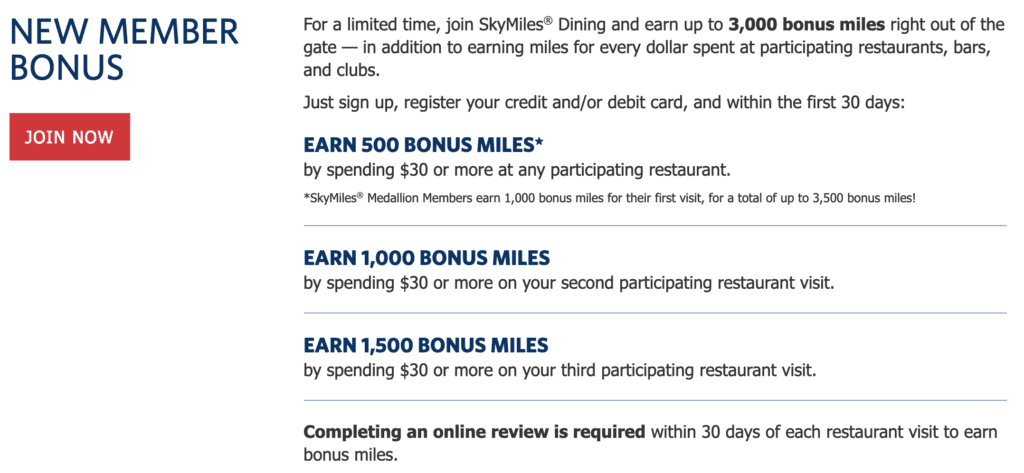 Offer to pick up the tab over the next month and earn those bonus SkyMiles!
SkyMiles Dining VIP Member Program
SkyMiles Dining also has a VIP member program, and luckily, it doesn't sound very difficult to achieve. If you dine 11 times before the end of the calendar year, you become a VIP member.
As a VIP member, you have access to even more participating restaurants. Plus, you earn 5 instead of 3 miles for every dollar spent at participating restaurants. This means that the $53 I spent at Origami would earn me 265 SkyMiles rather than 159. 

Get happy hour with a coworker or brunch with a friend at one of the participating restaurants. If you can manage to dine at 11 of the participating restaurants this year, you'll be VIP in no time.
Bottom Line
If you're looking for easy ways to increase your SkyMiles balance, this is a great addition to your strategy. These points add up quick! Joining the free SkyMiles Dining program is an easy, passive way to earn more SkyMiles.