We get it: You want to earn more Delta SkyMiles. And while they may not be the most valuable miles in the world, we can't blame you. What's not to love about some unbelievable Delta SkyMiles flash sales lately like 34,000 SkyMiles to London, Hawaii and back for under 14,000 miles, or roundtrips to New Zealand for just 37,400 SkyMiles?
Lucky for you, there are more than a dozen different ways to earn Delta SkyMiles beyond simply setting foot on a Delta plane. Just don't make the mistake of thinking that swiping your Delta credit card everywhere you go is the best way…
Whether you pick a different credit card or ensure you're earning more SkyMiles when you buy groceries, book an Airbnb, or rent a car, here are a few off-the-wall ways you can keep adding to your balance.
Amex Credit Cards, But Not Delta…
The best credit cards to earn Delta SkyMiles don't even have the name Delta on them.
Instead, they're American Express Membership Rewards cards. While they share a bank and have similar names, these credit cards offer bigger welcome bonuses than you'll find on Delta's own suite of co-branded credit cards. And they're far more rewarding for your ongoing, everyday spending than defaulting to a Delta credit card, too.
Most importantly, these points are incredibly versatile. Delta is one of nearly two dozen Amex transfer partners, which means you can transfer the points from these cards straight to your SkyMiles balance on a 1:1 basis (1,000 Amex points = 1,000 Delta SkyMiles).
So which credit card is it? You've got some options.
For starters, there's *amex platinum card*. It begins with an 80,000-point welcome bonus after spending $8,000 in six months – but be sure to check and see if you qualify for a 150,000-point bonus via CardMatch! Beyond that bonus, no credit card is better for booking your Delta flights because it earns an unbeatable 5x points on all airfare purchased directly through airlines or at amextravel.com on up to $500,000 spent in this category in a calendar year.
So if you buy a $500 ticket at Delta.com, you'd earn 2,500 Membership Rewards that you could transfer to your Delta SkyMiles account. You earn just 2x SkyMiles on Delta purchases with the fan-favorite Delta SkyMiles® Gold American Express Card, so the same flight would earn you just 1,000 SkyMiles.
This card carries a hefty fee, at $695 annually (see rates & fees). But with that comes an incredible suite of perks like $200 in travel credits, up to $200 toward free Uber rides, airport lounge access, up to $189 to cover the cost of CLEAR Plus membership, up to a $100 credit for Global Entry or PreCheck, and more. It can even get you complimentary access to the Delta Sky Club.
Read: Is the Amex Platinum Worth the Annual Fee? An Honest Review
Learn more about *amex platinum*.
But the single-best overall credit card to keep earning SkyMiles might just be the *amex gold card*. The card is currently offering a 60,000-point welcome bonus after spending $4,000 within six months of card membership. But like the Platinum Card, you may qualify for a much higher offer through CardMatch.
It's my go-to card for earning points as you also earn an unlimited 4x points per dollar spent at restaurants and U.S. supermarkets (on up to $25,000 each year then 1x), making it one of the best cards for some of your everyday spending. Consider this: If you spend $1,000 between groceries and restaurants each month, you'd earn 48,000 points a year with the Gold Card. That could be 48,000 SkyMiles (or miles with another airline) right back in your account.
The Gold Card also earns 3x points on airfare booked directly with airlines or through amextravel.com. This card has an annual fee of $250 (see rates & fees), which we feel can easily be worth it thanks to a handful of additional money-saving credits.
Learn more about the *amex gold*
Earn More SkyMiles on Dinner
Dining portals offer another great way to rack up additional points and miles. And Delta's SkyMiles Dining Program offers an easy way to earn Delta Skymiles just for eating at or getting takeout from certain restaurants.
Sign up and link a credit card to your account – and it doesn't even need to be a co-branded Delta credit card. Visit one of the participating restaurants, and you'll earn 3x miles for every dollar you spend on your bill. That's in addition to whatever points, miles, or cash back you earn on the credit card you are paying with. Plus, first-timers can currently earn a 500-SkyMile bonus for their first dining portal purchase within 30 days of signing up.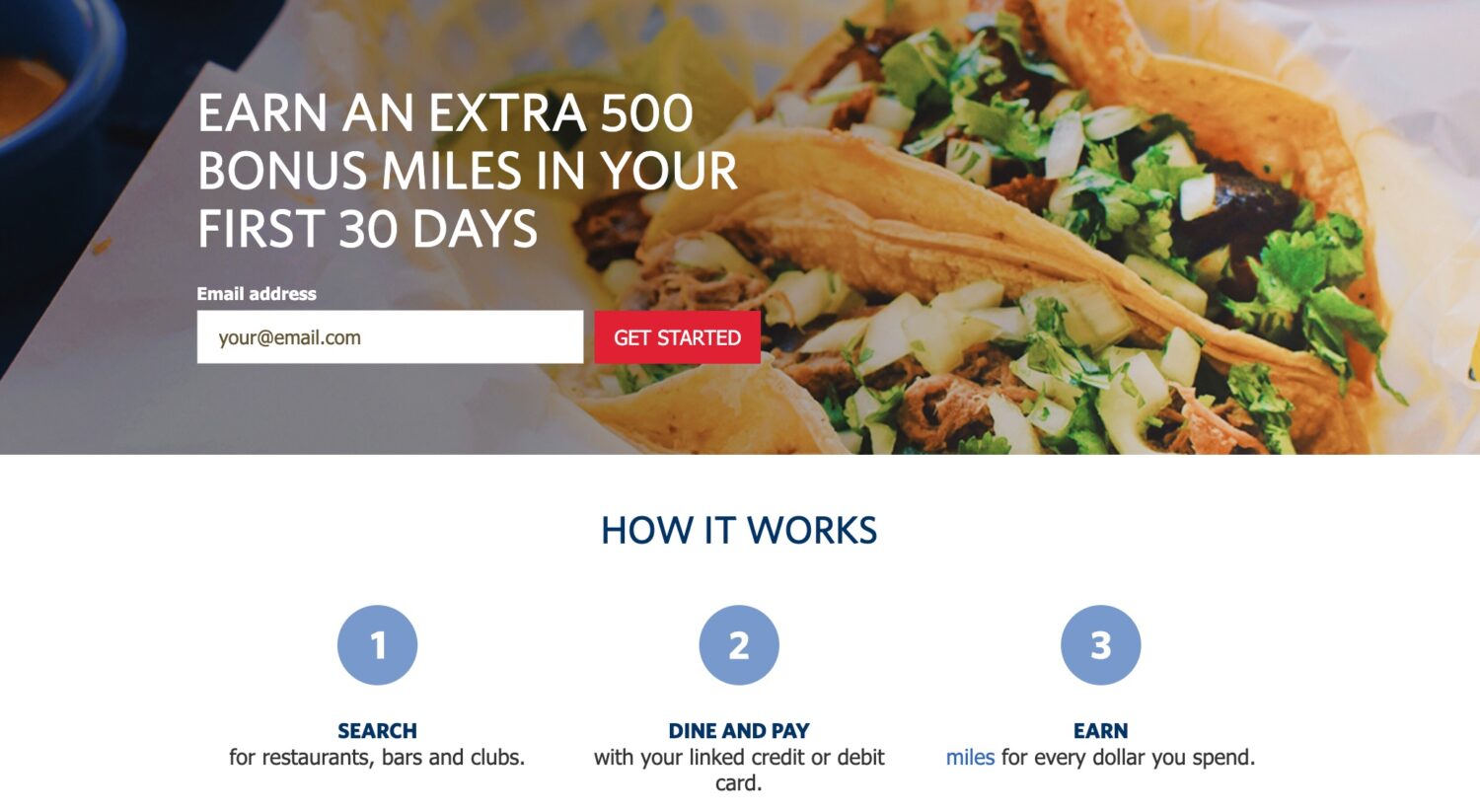 These bonuses may not rival the huge bonuses you'll get from credit cards. But it's a great way to continue earning SkyMiles for everyday spending – and if you're like me, you're spending a lot at restaurants as it is.
Plus, it can add up quick. A first-timer who signs up for Delta SkyMiles Dining and makes a $100 purchase at an eligible restaurant would earn 800 SkyMiles. Got an Amex Gold Card? By earning 4x points per dollar on dining, you'd earn another 400 points … which could instantly become another 400 Delta SkyMiles.
You can join SkyMiles Dining here.
Check out our full guide to SkyMiles Dining here. 
Get SkyMiles from Your Starbucks Run
PSL season is almost here, and that's your chance to earn even more SkyMiles on your next coffee run.
Delta and Starbucks practically broke the internet when they teamed up late last year, allowing travelers to link their accounts and earn SkyMiles on every coffee order and double Starbucks Rewards Stars on select purchases. It works like this:
Travelers earn 1x SkyMile per $1 spent on eligible Starbucks purchases – everything except gift cards, alcohol, tax, and tips count towards earning bonus SkyMiles at participating Starbucks stores.
On days when you're catching a Delta flight, you'll also earn double stars in your Starbucks Rewards account.
Earning an extra 7 SkyMiles for that $7 Venti Vanilla Sweet Cream Cold Brew won't exactly leave your SkyMiles account overflowing … but every little bit helps, right? Plus, it gets even better for some Delta flyers targeted for a special Starbucks promo.
Delta and Starbucks are currently allowing travelers to earn 1,000 bonus SkyMiles when you visit Starbucks two (or for some members, three) times in a week, making at least a $2 purchase each visit. To take advantage, you have to register for the promotion by Sept. 12 – and the one-week countdown starts the day you enroll.
Make sure your Starbucks and Delta accounts are linked and check your inbox for this promo!
Or Earn SkyMiles on Grocery Delivery
One of Delta's newer partnerships is also among its best to keep earning SkyMiles.
Delta Air Lines and Instacart launched a partnership in early 2022 allowing Delta SkyMiles members to earn miles each time they shop for groceries on the online grocery delivery platform.
Once linked, members will earn 1x SkyMiles per dollar with Instacart. If you have an Instacart+ membership (and you can get at least three months free), you'll earn 1 miles for every $1 spent. Until recently, that was 1.5 SkyMiles per dollar.
Link your SkyMiles and Instacart accounts.
As a part of this partnership, Instacart is offering all Delta SkyMiles members a one-month complimentary Instacart+ subscription. Travelers with Platinum or Diamond Delta Medallion Status can opt into a three-month free trial.
Both are significant downgrades. SkyMiles members used to get a three-month subscription while top Medallion members could previously get a free year of Instacart+.
On the bright side, there's no requirement to use a Delta or even an American Express credit card to earn this bonus. That means you can stack this bonus with the free Instacart+ membership (and monthly credits) you can get from select Chase cards!
Earn 2,500 SkyMiles for Late Bags
Despite launching this option way back in 2015, precious few Delta flyers seem to know that they can get rewarded when bags take too long to make it to the carousel.
Delta has a 20-minute guarantee to get bags onto the carousel after arrival. Did it take 21 minutes or more for your bags to slide down? You can easily (and, in most cases instantly) get 2,500 Delta SkyMiles as compensation for the delay!
This Delta baggage guarantee applies to all flights within the 50 U.S. states as well as Puerto Rico. So long as you're a SkyMiles member at the time of your flight, you can request that 2,500-mile bonus. And while there's a one-bag-per-customer limit, anyone in your party whose bag takes more than 20 minutes can get rewarded.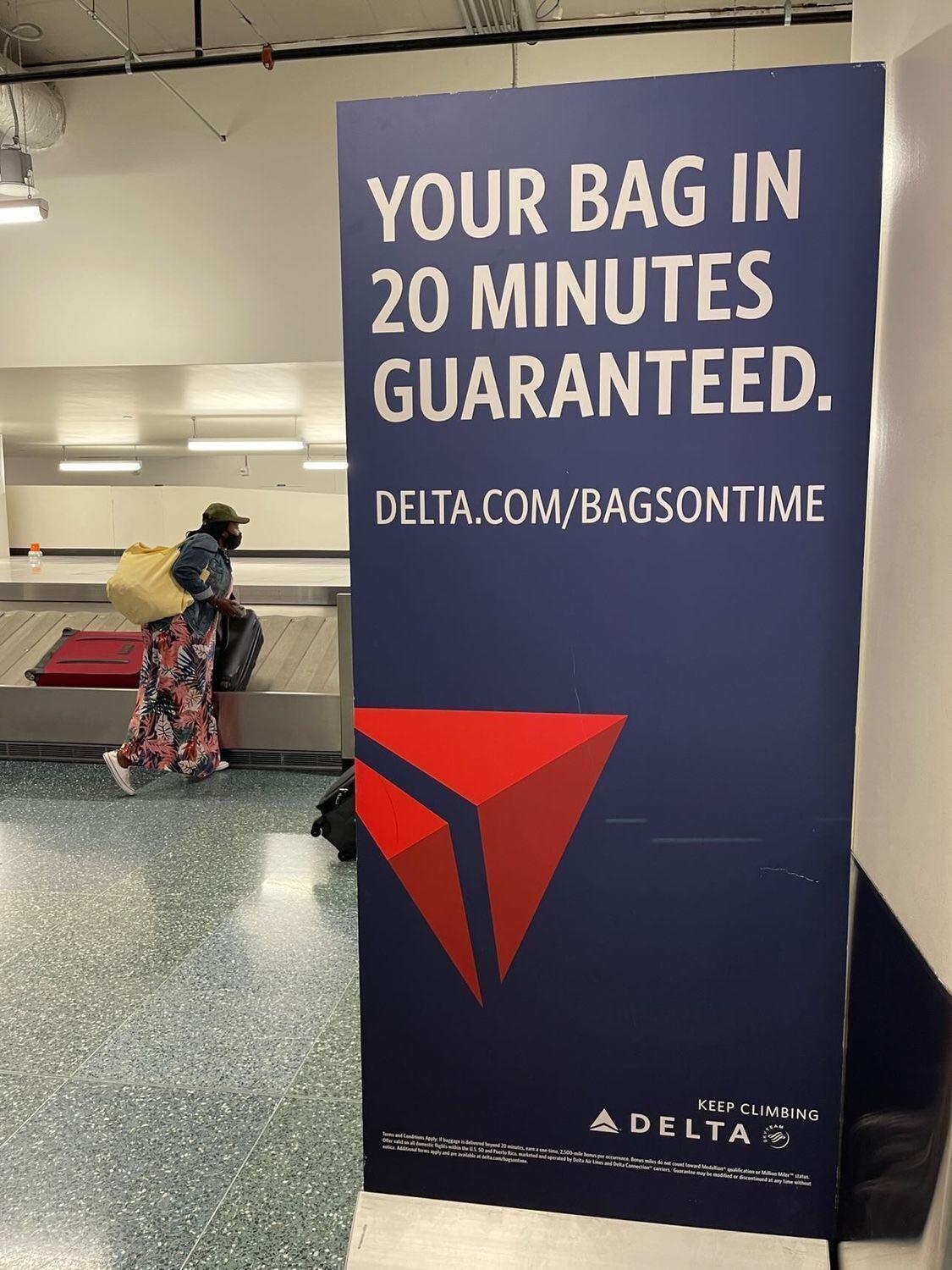 If your bags take more than 20 minutes to arrive, just go file a claim directly with Delta or tap in delta.com/bagsontime to your web browser. Just remember: You need to submit these claims within three days of your flight in order to get the 2,500 bonus SkyMiles.
Read more about how to earn miles through Delta's on-time bags guarantee!
Earn SkyMiles on Your Airbnb Rental
It's not much, but every SkyMile counts!
In early 2016, Delta and Airbnb launched a partnership allowing you to earn Delta SkyMiles for Airbnb stays. You'll earn 1 SkyMile per dollar spent on qualifying Airbnb stays.
To get those bonus SkyMiles, you just have to book through delta.com/airbnb. It's that easy.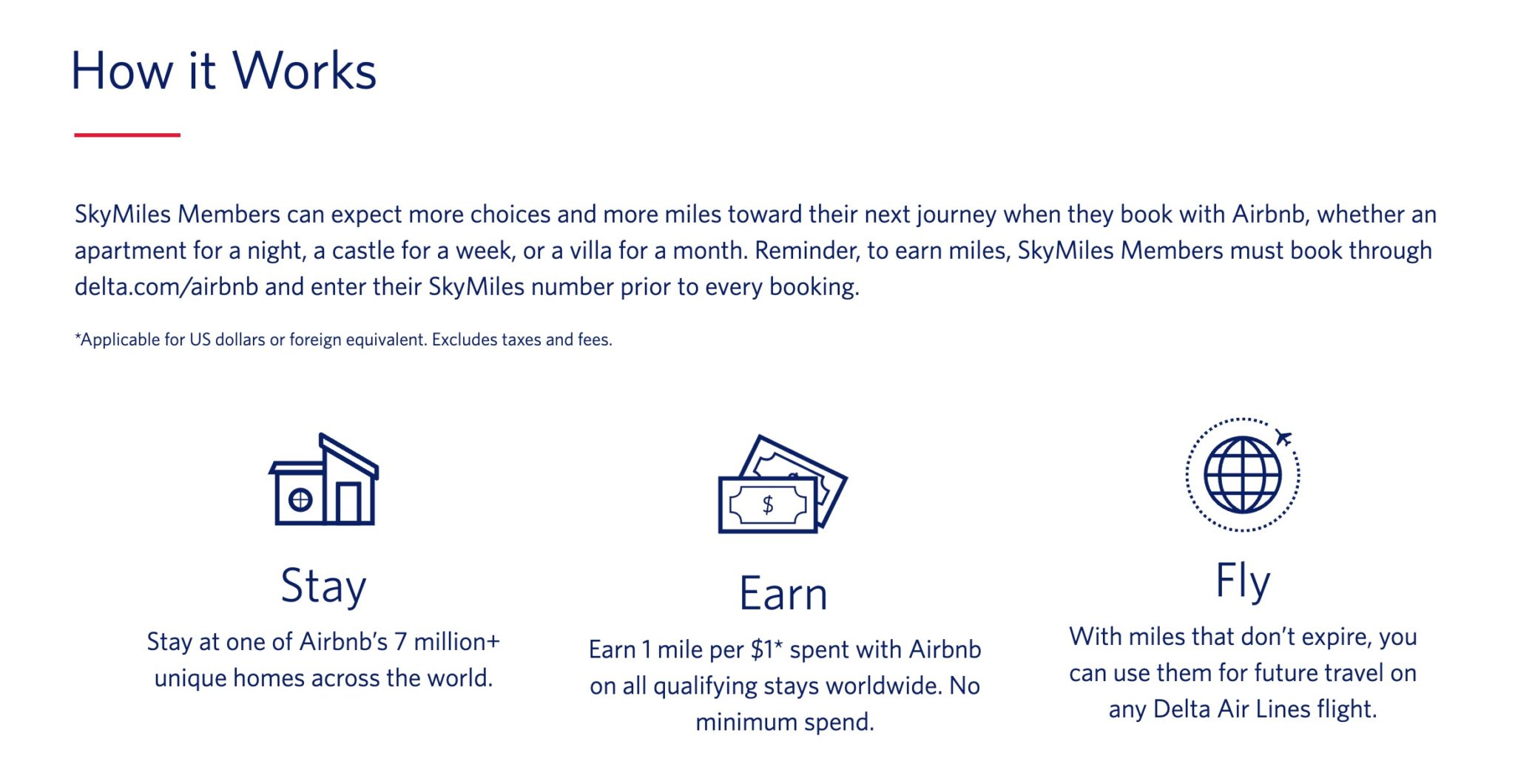 Booking a $750 Airbnb stay? You might as well get 750 more Delta SkyMiles out of it, right?
Earn SkyMiles on Lyft Rides, Too
Whether you're getting a ride to the airport for a Delta flight or hitching a ride anywhere around town, you can earn some extra SkyMiles on every Lyft trip.
Delta and Lyft have a great partnership that allows you to earn Delta SkyMiles every time you hop in a Lyft. It's as simple as linking your Delta SkyMiles and Lyft accounts. You will earn 1x SkyMile per dollar spent at Lyft & 2x SkyMiles per dollar spent on rides to and from the airport. Plus, first-time Lyft users will get 50% off their first rides in the U.S. after signing up and linking accounts.
Again, these miles will be in addition to any points, miles, or cash back you are earning on the credit card you use to pay for your ride.
You can also link your Lyft account to your Hilton Honors account or even Bilt Rewards. However, you can only earn Delta SkyMiles, Hilton Honors, or Bilt points for your ride –  not all three.
Link your accounts today and start earning!
Earn More Miles with Turo Rentals
Turo is one of our favorite ways to save money on rental cars. And it's a great way to earn some extra SkyMiles, too.
Think of Turo like the Airbnb of cars: Rather than renting from a company, you're paying to borrow a car from its owner.
Delta Air Lines and Turo have launched a partnership allowing Delta SkyMiles members to earn miles each time they rent through the car-sharing platform. You can add your SkyMiles membership number to your Turo account to earn bonus miles.
New Turo members will get 2,000 SkyMiles after completing their first rental. After that, you'll get 500 SkyMiles for each Turo rental.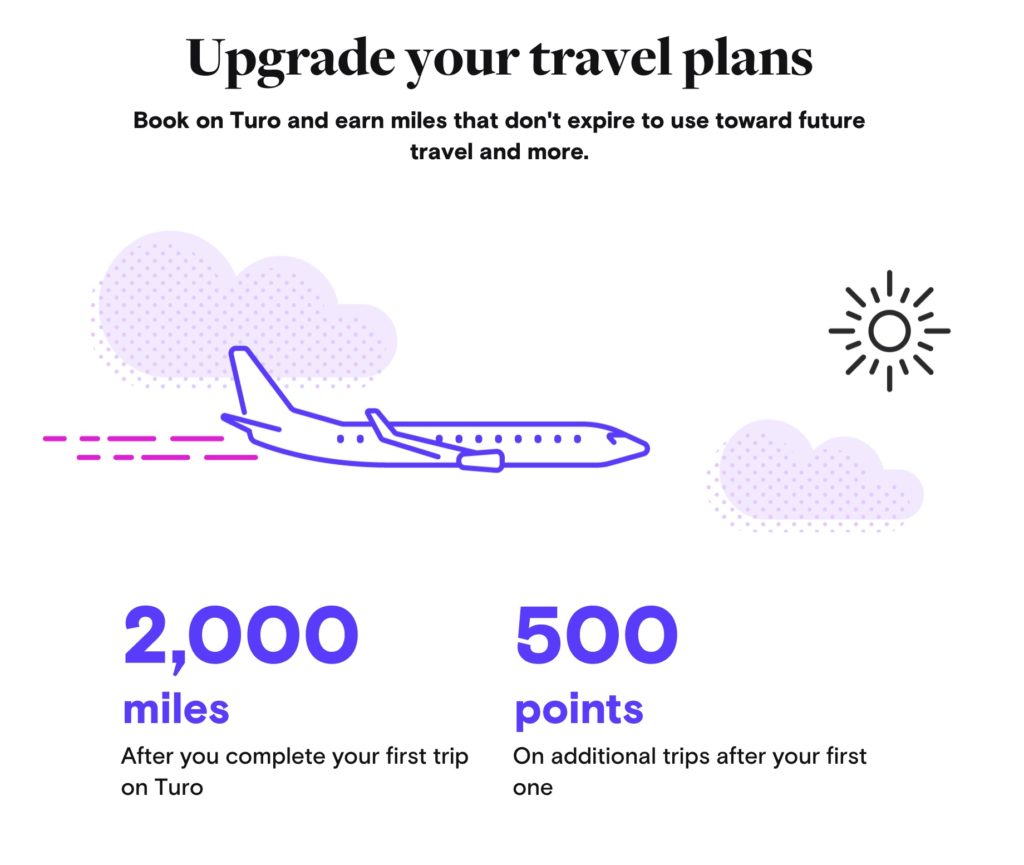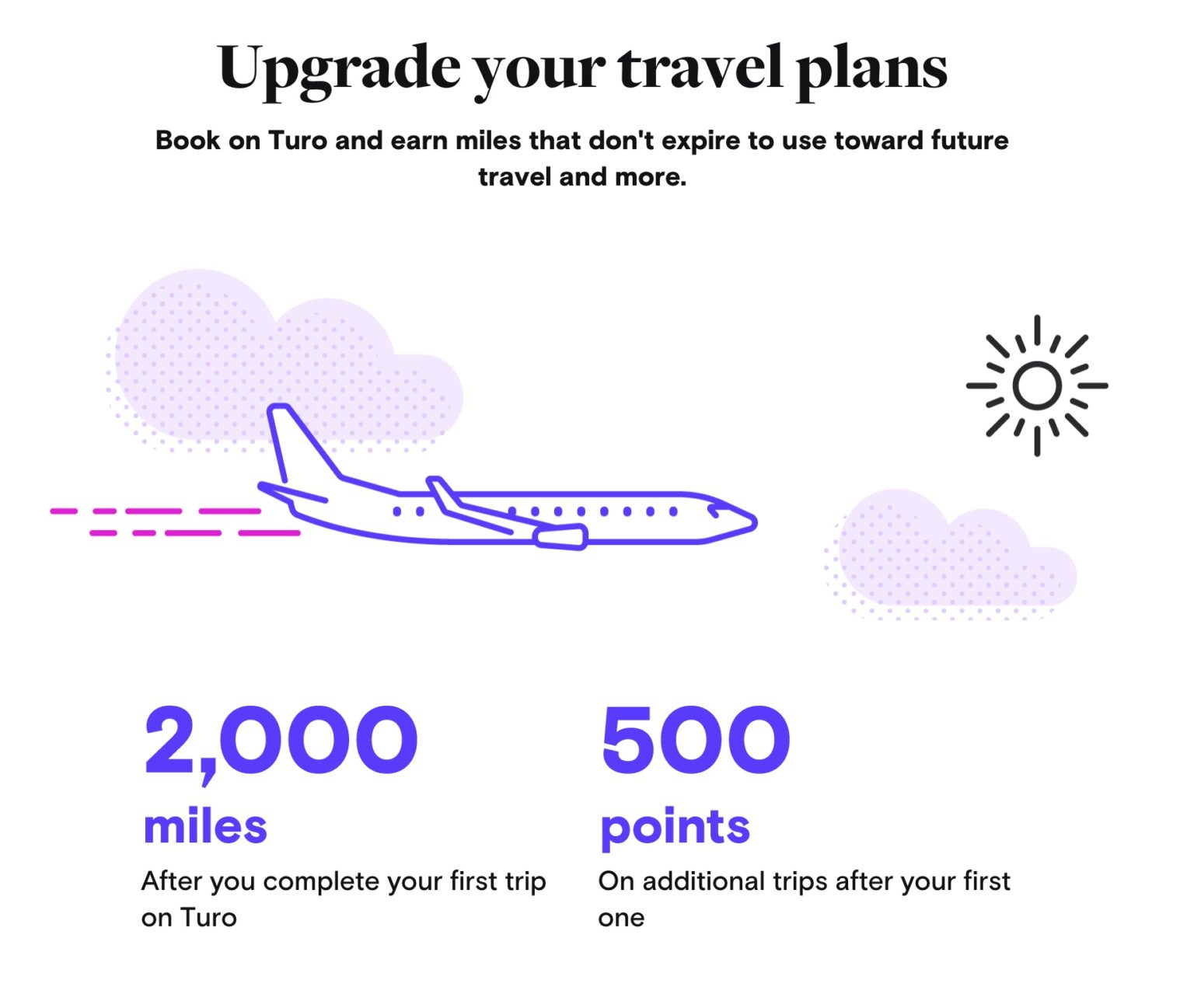 Link your accounts today and start earning!
Unfortunately, the 2,000 SkyMiles bonus is only available on accounts that have not yet completed a Turo rental. If you've already rented through Turo, the best you can do is get 500 SkyMiles for each and every rental once your SkyMiles number is linked.
Bottom Line
Earning SkyMiles isn't rocket science.
There are the big ways to earn massive sums like Delta's co-branded credit cards and, better yet, Amex Membership Rewards credit cards. But beyond that, there are plenty of small ways that you can steadily add to your balance of SkyMiles. Take advantage of them all and watch your balance grow.