Dreaming of scoring a fancy seat up front for a big trip abroad? Of course, a big stash of points and miles can help – but even all the points in the world aren't enough to make it happen. Here's why.
We regularly hear from frustrated travelers who have banked precious points from top travel cards like the American Express® Gold Card, Capital One Venture X Rewards Card, or the Chase Sapphire Preferred® Card, set out to finally book that prized business or first class redemption … only to come up empty handed. What gives?
It all comes down to the inner workings of airlines' frequent flyer programs, which come with extra hoops to jump through than simply whipping out your credit card to pay for a flight – or even booking a standard economy seat using your miles. Some of these top redemptions are harder than others. And while flexibility is always key to any good flight deal, it's paramount when you're trying to book premium cabin award tickets.
So while it might take some extra legwork than paying cash, trust me: It can be done. And it can easily be worth every minute you search (and every point you'll spend) when you've finally booked that business or first class seat.
Here are some of the basics you'll need to know if you're looking to redeem points and miles for seats at the pointy end of the plane.
Booking with Points and Miles is Different
Here's what it boils down to: Booking flights with your miles is not as simple as buying a flight. And that's especially true when trying to redeem miles for seats in premium cabins.
For starters, just because there are seats available when booking with cash doesn't necessarily mean you can book those same seats with your points and miles. They're completely different transactions. No matter whether you're flying up front or way in the back, there are essentially two different components to every award booking when using your miles:
The award rate, or how many miles you need to book.
Award availability, or if the airline is actually releasing seats to book using miles.
That last component is the critical one – and the part that trips up many travelers. If an airline hasn't decided to open up seats to be booked with miles on the flight you're looking at, the award rate doesn't matter.
Flying economy, that award space is typically quite easy to find except on high-priced fares around holidays or on high-demand routes. But with business and first class redemptions, it can be much tougher. Some airlines like British Airways generously release premium cabin seats to travelers using miles. Others are far more stingy.
That's why you can always easily book flights on Qatar Airways through American's website, flying Qsuites business class … if you're willing to pay thousands of dollars in cash.

American's award chart says this same flight can be booked for 70,000 AAdvantage miles, plus minimal taxes and fees. But is there the award space to book it? You can only book this flight with American Airlines miles if Qatar itself releases those seats (typically dubbed "saver-level awards") to American Airlines and other partners.
That's why your search for the same flights using miles may come up empty.

That's why it doesn't matter how many points and miles you have. If the airline you're looking to fly isn't releasing seats that can be booked with miles, you won't be able to use your points and miles to book the flight.
Award Space 201
When you're trying to find that precious award availability so that you can put your miles to use, you need to get into the weeds. Let's dive in together.
Airlines each set their award pricing individually when a customer is using their miles, but there are two basic ways of setting how many miles you'll need to book a ticket: An award chart with fixed-price awards … and dynamic award pricing. Taking it a step further, some airlines that use fixed-price award charts offer tickets at two (or more) different rates: Saver-level awards and standard awards.
Fixed-price award charts: A cheat sheet that tells you how many miles you'll need.

Saver awards: The best and cheapest award availability, which can be booked by partner airlines.
Standard awards: Fixed pricing with more availability, typically at higher rates (and generally not bookable with partner airline miles).

Dynamic pricing: Award rates that go up and down based largely on cash price.
Some airlines also carve out different rates based upon the time of year or distance of the flight, but let's not worry about that for now. Here's the bottom line: If you're looking for the cheapest award rates to fly business or first class (or trying to book a partner redemption using one airline's miles to book a different carrier), you need to find those "saver" award seats.
That can be easier said than done. In fact, finding award availability is often the hardest part of using your hard-earned points and miles. We've compiled a list of the best websites to use to find award availability. Better yet, we're constantly sending business and first class award alerts to our Thrifty Traveler Premium members.
United.com is a good starting point for an example. Like several other airlines, United uses a blend of dynamic award pricing and fixed-price awards. That's why you'll see two very different award rates for business class seats on these flights from Los Angeles (LAX) to Tokyo-Narita (NRT) and Tokyo-Haneda (HND).

That 70,000 one-way rate to fly business class to Narita is a saver award. That's the key that allows it to be booked by partner airline frequent flyer programs such as Air Canada Aeroplan or ANA Mileage Club, just at different rates than what United charges.
The 175,000 one-way rate to fly business class to Haneda, meanwhile, is a classic example of dynamic pricing in action. While dynamic pricing generally allows you to book any flight with miles, the rates are often prohibitively expensive.
Use Airline Partnerships for Better Deals
It may seem counterintuitive, but you'll often find the best deals to fly business or first class by booking those seats with partner airline miles.
This means if you want to fly Delta One business class, it'll be cheaper to use Virgin points to book the flight. Looking to fly Qatar Qsuites? Redeeming American miles is almost always the cheapest way to do it. And you can fly United Polaris business class to Europe and back for just 88,000 ANA miles roundtrip – just slightly more than the cheapest 60,000-mile rates United charges to fly one-way.
The most extreme example of how much you can save by utilizing airline partnerships is by booking Delta One business class with Virgin points. In this example, Delta is charging 375,000 SkyMiles to fly Delta One from Minneapolis-St. Paul (MSP) to Amsterdam (AMS) … ouch!

But if you head over to Virgin, you can book the same exact Delta flights for just 50,000 Virgin points.

The best part is that Virgin points are incredibly easy to earn since you can transfer points instantly to Virgin from American Express Membership Rewards, Bilt Rewards, Capital One Venture Rewards, Chase Ultimate Rewards, and Citi ThankYou Points.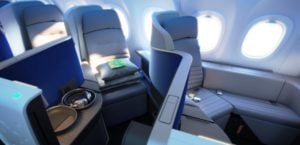 If you ask us, the best way to fly domestically is JetBlue's Mint Class (pictured above), but you'll often need to shell out over 100,000 JetBlue TrueBlue points for those seats across the country.

Instead, you can book for half that amount by utilizing JetBlue's unique partnership with American Airlines and booking the same exact JetBlue Mint flights for just 50,000 AAdvantage miles.


Looking to fly ANA First Class to Japan? ANA Mileage Club doesn't even allow you to book one-way tickets. Instead, it charges 150,000 miles roundtrip in the slower seasons, which is a great deal on its own. But you can sometimes book the same ANA First Class seats for just 110,000 Virgin points roundtrip – or 55,000 points one-way.
Read more: How to Book ANA Flights with Virgin Points
Flexibility is Crucial
Seeing these low mileage rates to book lie-flat seats when flying across oceans paints a pretty picture … but actually booking these seats is another story. You'll need to be flexible to get the best deals – even more so than when booking a cheap flight deal with cash.
Whether you're using cash or miles, the number one way to save on travel is to follow the First Flight Rule. Rather than setting your travel dates in advance, let the cheapest dates (or award space) guide you. By going into the search process with flexibility, you'll have the best chance to fly in style by letting the award availability dictate your travel dates – or even your destination.
Want to maximize your time off and fly to Paris-Charles de Gaulle (CDG) over the Thanksgiving holiday? You may not find any availability if you're looking to book Delta One business class with Virgin points.

But if you're flexible with dates and destination, you may be able to fly nonstop to Amsterdam (AMS) and then take a train down to Paris.

In this particular case, you could spend a boatload of SkyMiles and book any Delta flight to get directly where you want to go, when you want to go. But, if you want to save a ton of miles, flying where and when Virgin is selling Delta One seats for only 50,000 points one-way is the way to go. As you can see, you'll often need to have flexibility.
Dead set on flying something as special as Lufthansa First Class? These seats are typically only available to book via partner airlines like Avianca LifeMiles or Air Canada Aeroplan within two weeks of departure … and sometimes just a few days in advance. That means you'll need to be spontaneous, taking a positioning flight to whatever gateway city happens to have availability, whether that be New York, Houston … or maybe even Mexico City.


First Class vs Business Class
Business class and first class might seem synonymous, but they're not. There are plenty of differences comparing first class vs business class, and that includes award availability when using miles.
These days, most airlines only have business class on their major long-haul routes. There are a few prestigious airlines like Emirates, Japan Airlines, and Singapore Airlines that take the premium cabin experience to another level and offer first class in addition to business class.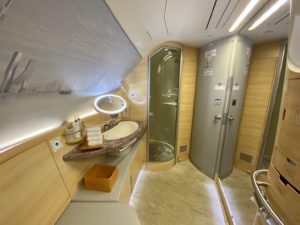 Read our full review of Emirates First Class on the Airbus A380!
To make matters more confusing, it's all different here in the U.S. Most airlines refer to their seats up front on domestic flights as "first class," but they're simply big recliners – nothing like the lie-flat seats on long-haul flights in business class.
Read more: Business Class vs First Class: Which is Better for You?
But there are crucial differences in award availability between business and first class, too. Most importantly, it's extremely rare to find more than one first class seat available on the same flight.
It varies from airline to airline and flight to flight, of course. But most airlines that offer international first class typically only release one seat at a time for award travel. So if you and a companion are aiming for first class, you might need to book separate flights – or book one seat in first and the other in business class.
In business class, we regularly see two (or more) seats available – at least when seats are available, period.
The Easiest First & Business Class Redemptions
Some airlines are more generous than others when it comes to releasing business class seats that can be booked with points and miles. If you're just getting started and want to know the easiest way to fly in a lie-flat seat, here are some of our favorite ways to make it happen.
Fly Air France business class or KLM business class by redeeming 55,000 – 80,000 Flying Blue miles: While you'll still need some flexibility to get the lowest rates, Air France and KLM tend to have the most availability for lie-flat seats across the Atlantic – and you can transfer points from all the major banks.
Book Iberia business class to Spain from just 34,000 miles: It's the cheapest way to fly lie-flat across the pond – and you can generally find availability when you book well in advance.
Fly Japan Airlines business class to Japan for 60,000 American or Alaska miles: This is often the easiest way to fly lie-flat across the Pacific. Look for availability six to 11 months in advance.
Book TAP Air Portugal business class from just 35,000 LifeMiles one-way or 88,000 ANA miles roundtrip: TAP may not be the most luxurious airline, but you'll have an easier time finding availability flying TAP to Europe or Northern Africa.
Fly Qatar Qsuites from 70,000 miles: Whether you use American miles or Qatar Avios to book, saver-level award availability to fly Qatar business class comes in waves, often six to 11 months in advance.
Book Turkish Airlines business class from 45,000 miles: You'll pay slightly higher fees depending on which program you use to book, but Turkish tends to have decent availability on flights all over the world.
Read more: The Best Airline Mileage Programs to Avoid Hefty Cash Fees

Get Alerts to Know When to Book
Don't want to spend your days scouring the web searching for award availability? You don't have to.
If you sign up for a Thrifty Traveler Premium membership, you'll get award availability alerts sent straight to your inbox … like this one we recently sent to book Delta One business class on a new route from New York City (JFK) to Berlin (BER) with wide-open availability throughout the peak summer season.

It's that simple. Rather than spend days on end searching for a deal to use your points and miles, have the best deals out there get sent straight to your inbox. All you have to do is follow the detailed booking instructions and book the flights.

Bottom Line
Earning points is only half the battle. Booking premium cabin awards requires patience and flexibility in order to find the available award space. It's all about timing.
Time it right, whether it be through your own search or an award alert from Thrifty Traveler Premium, and you can get some incredible value out of your points and miles by flying business or first class in a lie-flat seat.