Forget what you've heard: Booking an award ticket using your miles doesn't let you fly for free. You'll always have to throw in some cash on top of your miles.
The out-of-pocket costs range wildly from a flat $5.60 tax bill on a one-way domestic flight to as much as nearly $2,000 or more in cash for some international business and first class award tickets – even after forking over hundreds of thousands of miles. Your final cash cost on an award ticket using miles hinges on which miles you use, where you're going, and the airline you're flying using those miles.
Some airlines tack on fuel surcharges when you're redeeming miles, which can drastically inflate your cash costs. Just how hefty that additional cost can be also hinges on the airline you wind up flying on – not just whose miles you're using. Yet the best airline programs shield you from these high cash costs entirely, leaving you only to pay the mandatory government taxes.
Here's how to spend as little extra cash as possible when using your miles. Spoiler alert: It usually involves booking flights with miles from a U.S.-based airline.
Air Canada Aeroplan Points
Leaning on our friendly neighbors to the north is a great way to avoid fees when using airline miles – and the redemption rates are pretty solid as well.
After a major overhaul in 2020, Air Canada's Aeroplan mileage program doesn't pass along any fuel surcharges when redeeming points. That makes it one of the best ways to fly Star Alliance carriers using points and miles – especially when booking some airlines notorious for big surcharges like Lufthansa or Swiss.
A few examples of what you can book include:
Lie-flat seats to Europe flying Austrian Airlines, Brussels Airlines, Lufthansa business class, or Swiss business class from 60,000 points & ~$40 in taxes and fees one-way.
Flights to Istanbul flying Turkish Airlines business class from 70,000 points & ~$140 in taxes and fees one-way.
Business class to India or South Africa flying Lufthansa, Swiss, or Turkish from 85,000 points & ~$90 in taxes and fees one-way.

Booking these exact same flights using other mileage programs such as ANA Mileage Club or Turkish Airlines Miles & Smiles, your out-of-pocket fees could add up to around $800 one-way or $1,700 roundtrip. Air Canada shields you from those big cash costs.
Sure, you may spend fewer miles with those programs, but no one wants to spend that much cash when they're already cashing in plenty of points. Instead, you can use Aeroplan and save your money.
How to Earn Aeroplan Points
You can earn 50,000 points after spending $3,000 in the first three months of card membership with the Chase Aeroplan Credit Card. Alternatively, you can transfer American Express Membership Rewards, Bilt Rewards, Chase Ultimate Rewards, or Capital One Venture miles instantly to your Aeroplan account.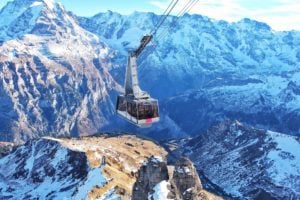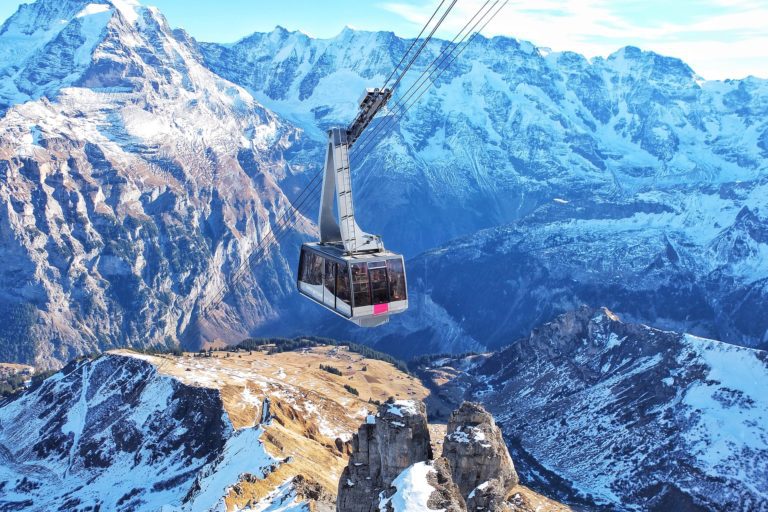 Alaska Airlines Mileage Plan Miles
Alaska Airlines' Mileage Plan is loaded with sweet spots. Best of all, you won't get stuck with a high cash bill on top of your miles when redeeming Alaska miles for flights on most airlines.
However, there is one airline to avoid when booking with Alaska miles – or any miles for that matter. It's British Airways. As long as you're not flying British, using Alaska miles is a great way to save.
Perhaps the best example is using Alaska miles to book lie-flat seats on Aer Lingus to Ireland and beyond to other destinations in Europe – it's just 60,000 Alaska miles + $18 in taxes and fees one-way.


Meanwhile, using British Airways Avios would cost 50,000 Avios … plus $730 in taxes and fees for the exact same flights. Ouch!
How to Earn Alaska Miles
If you're looking for more Alaska miles, you can sometimes get a decent sign-up bonus when opening up an *alaska visa card*. Otherwise, flying Alaska Airlines is a great way to build up some miles since it's one of the few airlines that still awards miles based on the distance flown.
Read more: 7 Sweet Spots to Use Alaska Airlines Mileage Plan Miles
American AAdvantage Miles
AAdvantage miles are good for much more than just American Airlines flights.
They can take you all over the world flying some of the world's best airlines that partner with American. Plus, they're easy to redeem since American's website is the go-to website for finding award availability on Oneworld airlines.
Sure, you'll still need to avoid flying British Airways if you don't want to pay a small fortune in taxes and fees. But you can fly nearly any other American partner with low cash costs when redeeming American miles.
Using American miles is still the best way to book Qatar Qsuites business class thanks to a combination of low redemption rates and low cash fees. Here's a snapshot of what you can book with AA miles.
Qatar Qsuites to the Middle East for 70,000 miles + $7 in taxes and fees one-way.
Qatar Qsuites to South Africa for 75,000 miles + $15 in taxes and fees one-way.
Japan Airlines business class nonstop to Japan for 60,000 miles + $6 in taxes and fees one-way.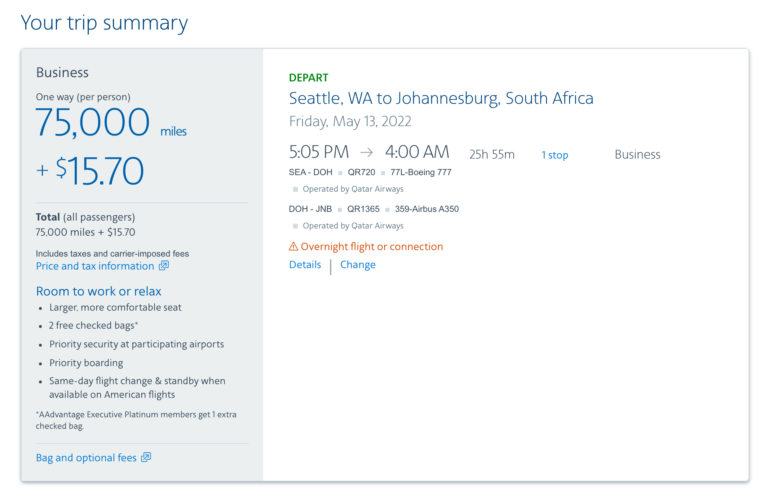 Using British Airways or Qatar Avios to book the same Qatar flights would require around $100 in taxes and fees on nonstop Qatar flights to Doha (DOH), or north of $200 in fees each way for connecting flights beyond Qatar's main hub.
How to Earn American Miles
A handful of credit cards will let you book these cheaper flights and also pad your AAdvantage miles stash. In fact, you can quickly earn up to 100,000 American miles by opening just two cards.
Your best bet is the Citi® / AAdvantage® Platinum Select® World Elite Mastercard®, which comes with a $99 annual fee, though that's waived in the first year. Another solid option is the AAdvantage® Aviator® Red World Elite Mastercard®, which currently offers a 50,000-mile bonus after making a single purchase within three months and paying the $99 annual fee.
Another unique way to earn AA miles is to earn points on rent with Bilt Rewards and transfer points from Bilt to American Airlines.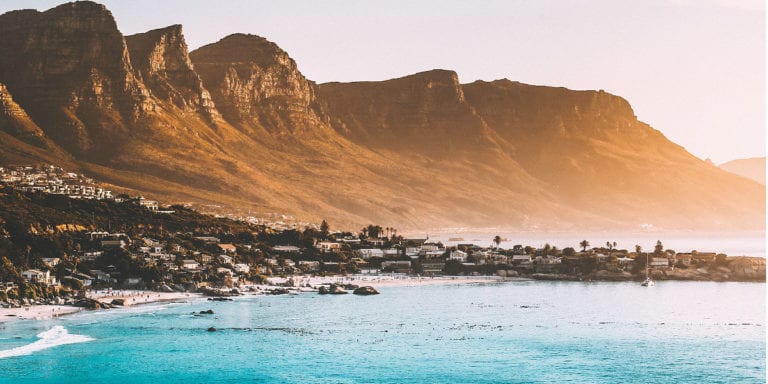 Avianca LifeMiles
Not only does Avianca LifeMiles have some of the lowest redemption rates for business class flights on Star Alliance airlines, the quirky mileage program also doesn't pass along any fuel surcharges, which means you'll keep your cash costs low when redeeming LifeMiles.
If you want to fly Lufthansa First Class or Swiss business class, redeeming Avianca LifeMiles is often the best way to do it. You can find lower redemption rates with other airlines and a lower tax bill with some others, too … but Avianca LifeMiles is almost always the best value considering both mileage rates and booking fees.
Here are some examples of what you can book:
Business class to Europe flying Austrian Airlines, Brussels Airlines, Lufthansa, or Swiss for 63,000 miles & about $25 in taxes and fees one-way.
Lufthansa First Class to Europe for 87,000 miles & about $25 in taxes and fees one-way.
Business class to Japan flying ANA for 75,000 miles & about $25 in taxes and fees one-way.

How to Earn Avianca LifeMiles
Avianca frequently has promotions to buy miles at a discount, although it will rarely be worthwhile to buy miles for an economy award redemption. Instead, you can easily earn LifeMiles by instantly transferring Amex, Capital One, or Citi points to your Avianca LifeMiles account at 1:1 ratio. All these programs regularly offer transfer bonuses to LifeMiles, which means you may get an even better rate on the transfer depending on the month.
Delta SkyMiles
Delta SkyMiles may not typically be the best way to book business class awards, but they can help keep your out-of-pocket cash expenses to a minimum when booking award travel.
Whether you're booking a Delta SkyMiles flash sale to fly Delta or using your SkyMiles to book Air France, KLM, Virgin Atlantic, or any of Delta's other partner airlines, you'll never pay high fees when redeeming SkyMiles.
You can't say the same when redeeming Air France/KLM Flying Blue miles or Virgin points. While Flying Blue's fees are somewhat reasonable, Virgin charges an arm and leg in fees when redeeming Virgin points for business class flights flying Virgin Atlantic itself – up to $875 one-way to London.
Sure, Virgin charges fewer miles than Delta, but the difference doesn't justify Virgin's sky-high carrier-imposed fuel surcharges – especially for flights from the West Coast. Looking to fly Virgin Atlantic Upper Class Suite on the A350 from Los Angeles (LAX) to London (LHR)?
Here's what you'll generally pay in miles and cash fees with each program during peak season:
Virgin points: 77,500 miles + $875 in taxes and fees one-way.
Flying Blue miles: 108,000 miles + $190 in taxes and fees one-way.
Delta SkyMiles: 120,000 miles + $6 in taxes and fees one-way.

These rates to fly Virgin Atlantic flights will vary when booking with Virgin or Flying Blue depending on where you're flying from and when – but, when available, Delta's rate should always be 120,000 SkyMiles + $6 in taxes and fees one-way on Virgin Atlantic flights to London, regardless of your departure city.
If you value saving cash over saving miles, Delta SkyMiles may be the way to go.
How to Earn Delta SkyMiles
If you need SkyMiles, Delta and American Express frequently offer up to 100,000 SkyMiles on their suite of co-branded Delta credit cards. And you can also transfer American Express Membership Rewards points from cards like the The Platinum Card® from American Express or American Express® Gold Card instantly to your Delta account.
Southwest Rapid Rewards
We couldn't write a story about avoiding fees without including Southwest Airlines. The airline pretty much wrote the book on not charging extra fees.
While you'll still need to pay taxes and fees (starting from $5.60 one-way for domestic flights) when booking flights with Southwest Rapid Rewards points, there will never be anything else on top of that.
And if you have the Southwest Companion Pass, you'll only pay the taxes and fees for your companion – even when booking award travel.
How to Earn Southwest Points
You can earn a ton of Southwest points with a bonus on a Southwest credit card, but Southwest is also a Chase transfer partner. That means you can instantly transfer points earned from either the Chase Sapphire Preferred® Card or Chase Sapphire Reserve® to Southwest.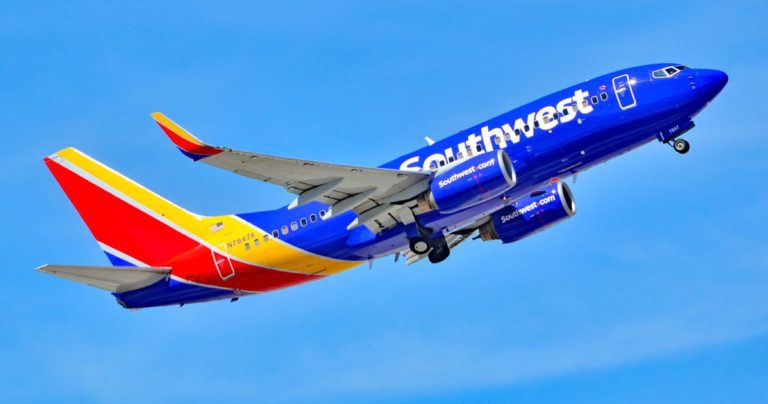 United MileagePlus Miles
Last but not least, United MileagePlus is one of the best frequent flyer programs out there if you're looking to avoid high cash fees on award travel.
Similar to Aeroplan and Avianca LifeMiles, using United miles is a good way to book Austrian Airlines, Brussels Airlines, Lufthansa, Swiss, or Turkish Airlines when redeeming miles since you won't get hit with those high fuel surcharges.
Where United shines here is if you'd like to make connections either domestically on United or on other United partner flights abroad. Complicated itineraries can sometimes be very difficult to book with Aeroplan or LifeMiles, but United's booking engine typically gives you the most options.
For a one-way business class flight to Europe, for example, you'll typically pay 73,000 to 77,000 United miles + $6 in taxes and fees to fly any of those carriers mentioned above. Add a connection and the taxes may go up slightly to around $15 or so.
How to Earn United Miles
You can transfer Chase Ultimate Rewards instantly to United and book directly through the airline. And if you're earning points on rent with Bilt Rewards, you can also transfer those points to United.
Other Tips to Keep Your Cash Costs Low
The best way to avoid big taxes and fees when redeeming miles is to use the right airline program. But that's not the whole battle. Depending on where you're going, you could be on the hook for a lot more than you'd like.
Here are a few more things to keep in mind:
Avoid flying out of London! The U.K. capital is notorious for the biggest taxes in the world – and they get even bigger if you're flying up front. You can easily pay more than $300 in taxes on a one-way ticket from London to the U.S. … and that doesn't even count additional fuel surcharges. Instead, fly out of another European airport like Amsterdam (AMS), Madrid (MAD), or even Dublin (DUB).
Dead set on flying British Airways business or first class? You'll always be on the hook or at least a few hundred dollars in additional fees. But rather than paying close to $900 by booking a one-way flight from the U.S. to London using British Airways Avios, you can book the exact same route using Cathay Pacific Asia Miles and pay just $245 or so in fees.
Heading to Mexico or the Caribbean? The government taxes aren't quite as bad, but expect to pay anywhere from $85 to $150 roundtrip to many destination when using your miles – even if you're flying economy. If you're set on keeping your cash costs low, check out the U.S. Virgin Islands or Puerto Rico – it's just $11.20 or so roundtrip.
Prepare to pay up if you're hoping to fly Emirates. After a series of fee hikes earlier this year, you can now expect to pay almost $450 in taxes and fees on a roundtrip from the U.S. to Dubai (DXB) – and close to $2,000 total if you're trying to fly Emirates First Class. But you can escape those massive surcharges by flying Emirates' fun fifth-freedom routes between the U.S. and Europe, where even a roundtrip in first class will cost you just $200 or so in fees.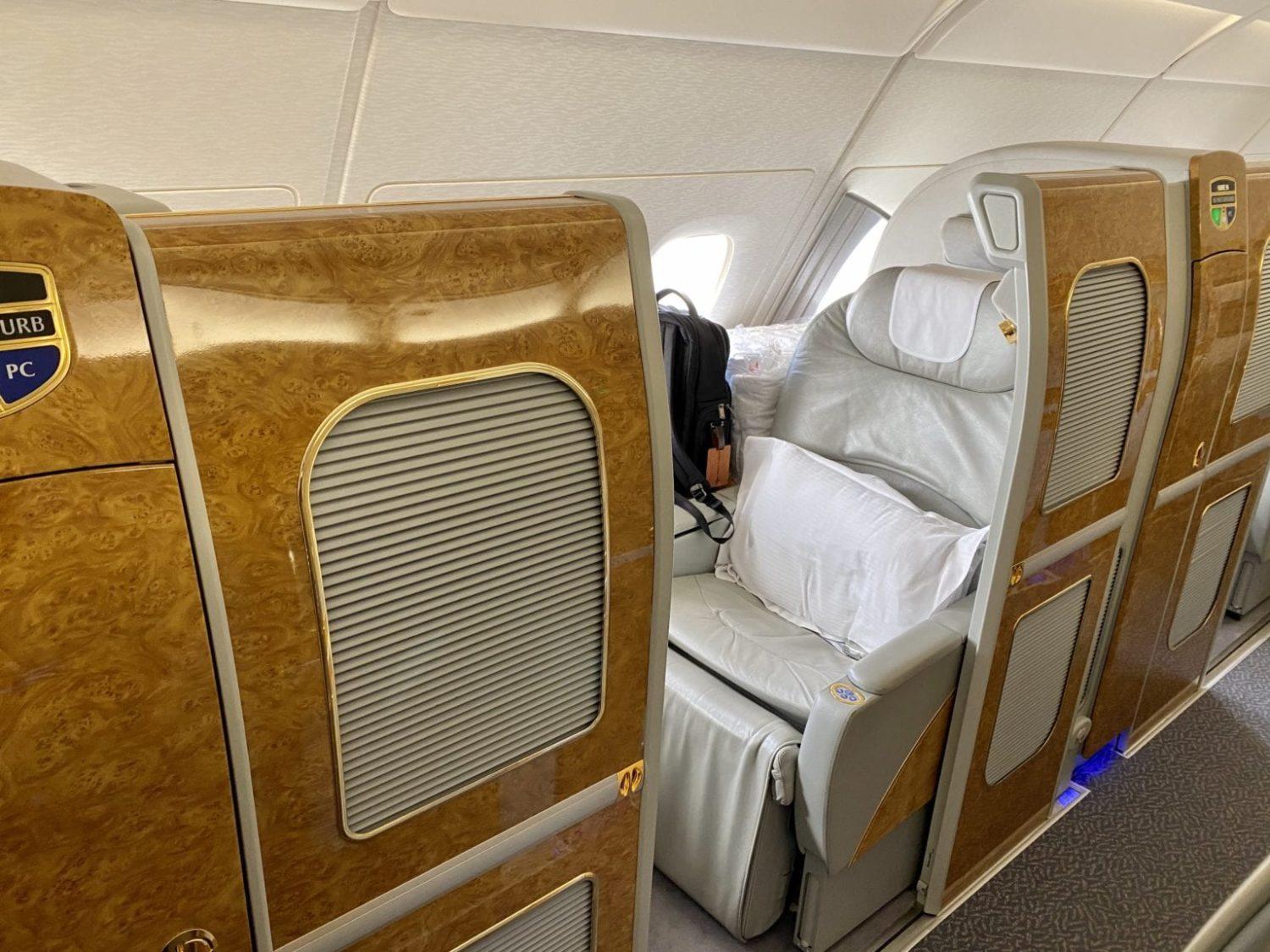 Bottom Line
If you want to avoid high fees when booking award travel, you'll want to choose which airline miles you use wisely.
Keep these mileage programs in mind if you prefer to save some cash. Even if it requires redeeming a few (or even a lot) more miles, you still could come out way ahead.