Transatlantic travel is exploding: Everyone you know is heading over to Europe, right? Here's the best way to get there this year or next, flying lie-flat business class seats for fewer points than most airlines charge for economy.
It's with the Spanish airline Iberia. Case in point: Iberia charges as low as 34,000 miles each way to fly business class across the Atlantic Ocean, roughly half (or less) the miles than most airlines. In fact, it's gotten even easier to book these award tickets thanks to some changes when using British Airways Avios, though finding the award availability to actually book these seats with miles has gotten a bit harder.
Thanks to credit card transfer partnerships, it's incredibly easy to get the miles you need to book if you've got points from cards like the *csp* the *amex gold*, or the *venture x*. And you won't need many points at all: Thanks to a 30% transfer bonus available through Aug. 31, just 27,000 Amex Membership Rewards points could put you at the pointy end on the way to Madrid.
Read on to find out how you can fly Iberia business class to Europe for less than most airlines charge for economy.
How Iberia Airlines Awards Work
Iberia Avios work a bit differently than most airline mileage programs. And you can use that to your advantage.
Rather than setting award rates based on regions – or seemingly at random, like Delta SkyMiles – Iberia is a distance-based program: How many miles you have to use to book a flight depends on how long it is. Along with its parent company partners like British Airways and Aer Lingus, it's one of just a handful of major airlines still using this approach.
While that generally makes long-haul travel pricey, that's not the case here. What's more, Iberia also carves out lower pricing for "off-peak travel." And Iberia has a generous definition of what's considered "off-peak" – only late June through mid-September and the winter holidays (plus a few more random dates throughout the calendar) will trigger higher peak pricing.
Check out Iberia's full calendar to scope out the dates. Flying during the busier peak travel periods pushes the price up to at least 50,000 miles each way.
Take a peek at how Iberia divvies it up.

| Award Band | Miles Traveled (One Way) | Off-Peak / Peak Economy | Off-Peak / Peak Business |
| --- | --- | --- | --- |
| 1 | 0 - 650 miles | 4,500 Avios / 5,000 Avios | 9,000 Avios / 10,000 Avios |
| 2 | 651 - 1,151 miles | 7,500 Avios / 8,250 Avios | 15,000 Avios / 16,500 Avios |
| 3 | 1,151 - 2,000 miles | 10,000 Avios / 11,000 Avios | 20,000 Avios / 22,000 Avios |
| 4 | 2,001 - 3,000 miles | 11,000 Avios / 12,500 Avios | 21,250 Avios / 31,250 Avios |
| 5 | 3,001 - 4,000 miles | 17,000 Avios / 20,000 Avios | 34,000 Avios / 50,000 Avios |
| 6 | 4,001 - 5,500 miles | 21,250 Avios / 25,000 Avios | 42,500 Avios / 62,500 Avios |
| 7 | 5,501 - 6,500 miles | 25,500 Avios / 30,000 Avios | 51,000 Avios / 75,000 Avios |
| 8 | 6,501 - 7,000 miles | 29,750 Avios / 35,000 Avios | 59,500 Avios / 87,500 Avios |
| 9 | 7,000+ miles | 42,500 Avios / 50,000 Avios | 85,000 Avios / 125,000 Avios |
The distance-based chart generally means that your best deal is flying to and from the East Coast: You can expect to pay just 17,000 Iberia Avios for a one-way economy during the off-peak season, or just 34,000 in business class. There are still savings for West Coast travelers in San Francisco (SFO) or Los Angeles (LAX) as well as those departing from Miami (MIA) or Dallas-Forth Worth (DFW), but the longer distances mean it's more expensive for those flights.
That means Boston (BOS) and New York City (JFK) are your targets, as Iberia flies directly between those two cities and its hub in Madrid (MAD). Seasonal service from Washington, D.C.-Dulles (IAD) from April through October is another option. And there's one more addition: Chicago-O'Hare (ORD). Despite falling outside of the pricing band, these flights still price out as low as 34,000 miles each way.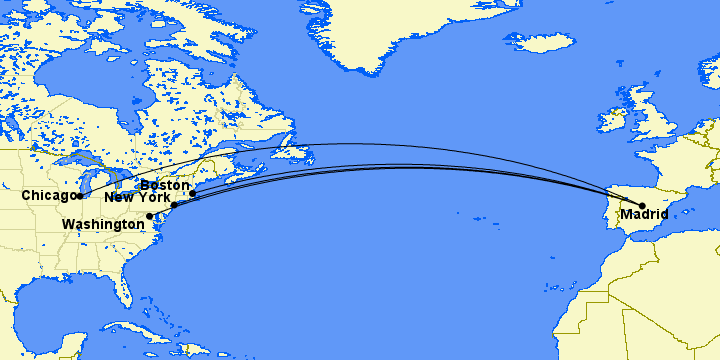 For roundtrip flights from all four cities, you'll fork over just 68,000 miles to fly in the comfort of business class. For comparison, Delta typically charges at least 400,000 miles for a roundtrip to Europe in business. American charges at least 57,500 miles each way – and finding the award availability for American Airlines business class is a chore. So this price is nearly unbeatable – and we'll show you how to score it for even fewer points later on.
Don't live in one of these cities? Consider using a positioning flight to get there and take advantage of this deal!
Like all airlines flying to and from Europe, Iberia and British Airways pass on some award fees and taxes when using miles: typically about $130-ish each way or $280 or so on each roundtrip business class fare. While that may seem steep, it pales in comparison to the hundreds more (if not $1,000-plus) you frequently pay flying in and out of other airports like London-Heathrow (LHR) or Paris-Charles de Gaulle (CDG). And considering these flights usually cost $4,000 or more, it's a price worth paying.

Of course, maybe Madrid isn't your bag – though it should be. But Madrid is well-positioned to hop almost anywhere else in Europe, be it Barcelona, Italy, Paris, or farther into great Eastern European hotspots. Just book a separate flight and continue on your way.
Use Transfer Bonuses to Book for Even Less
Just when you start to think you can't beat a 68,000-mile redemption to Europe and back in lie-flat business class seats, it gets even better.
We regularly see transfer bonuses to Iberia or British Airways from Amex Membership Rewards or Chase Ultimate Rewards of 30% or even 40%, meaning you need even fewer points to pull this redemption off. You're in luck.
Through Aug. 31, you'll get a 30% bonus when transferring Amex points to either British Airways or Iberia. With that bonus, you'd need to transfer just 53,000 Amex points to get all the miles you need to book roundtrip business class seats to Madrid.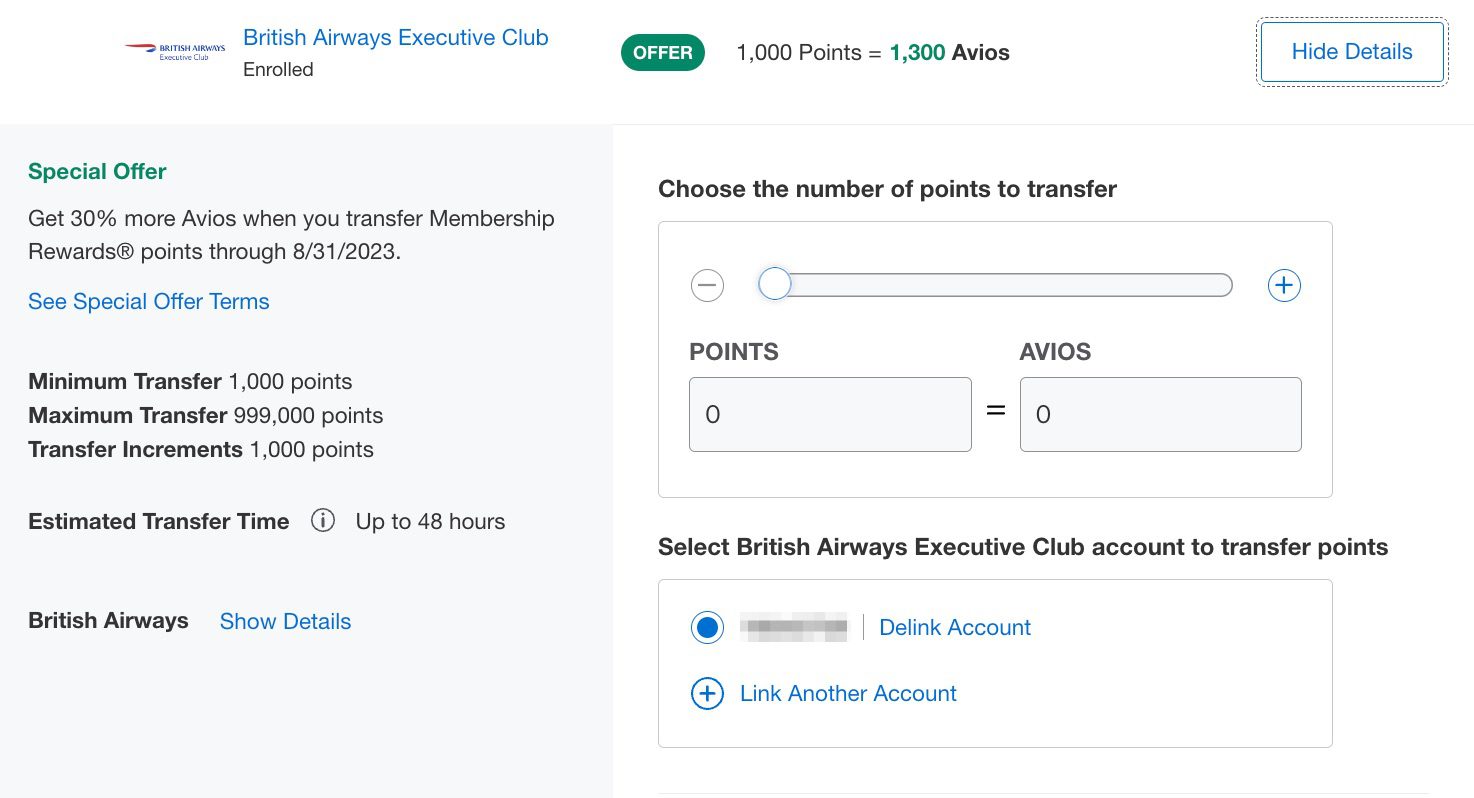 Check out our guide on Amex transfer partners to see how it's done!
How to Book Iberia Business Class
Don't transfer any points yet. First things first: You need to check out award availability.
You can't book flights at these dirt cheap rates unless if Iberia is making them available. And transfers to airline partners are a one-way street – once you send the points to an airline account, you generally can't get them back.
We're regularly scouring calendars for award alerts to send our Thrifty Traveler Premium+ when there's a chance to score these seats to Europe. Just a few weeks ago, we unearthed some wide-open availability for two-plus passengers to get to Madrid this fall through winter 2024.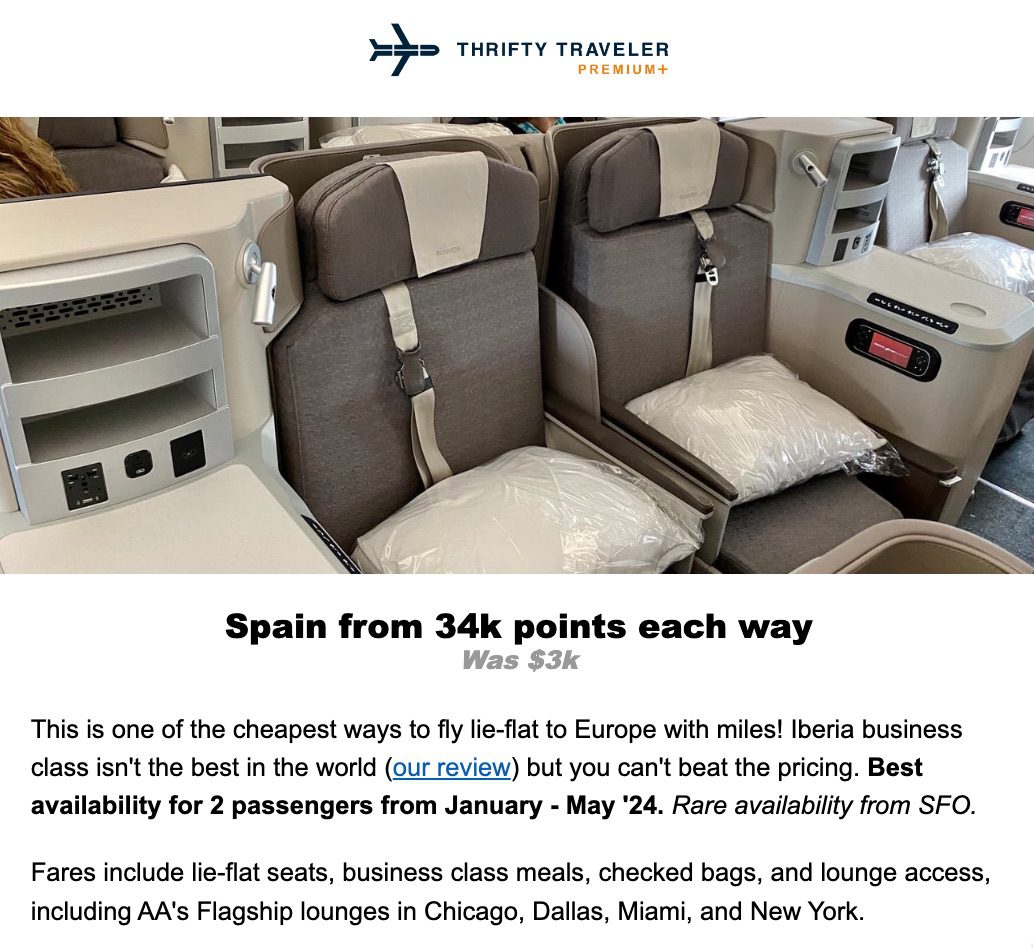 Get award alerts like this one in your inbox with Thrifty Traveler Premium+!
Not getting these alerts? Don't worry, you can search for yourself. Rather than heading to Iberia.com to look for the seats and dates you want, use one of its partner airlines: American Airlines.
Search Through AA, But Beware…
AA's website functions far better than Iberia's, and gives you an easy way to scroll through a month's worth of award availability at a time to find Iberia business class seats.
As with any time you're booking business class using miles, it's important to be flexible and follow The Flight First Rule. Don't lock in your travel dates ahead of time, but head into the search process with an open schedule and let the availability determine when you travel. Focus at least three to four months in advance, when you're more likely to find the award space you want.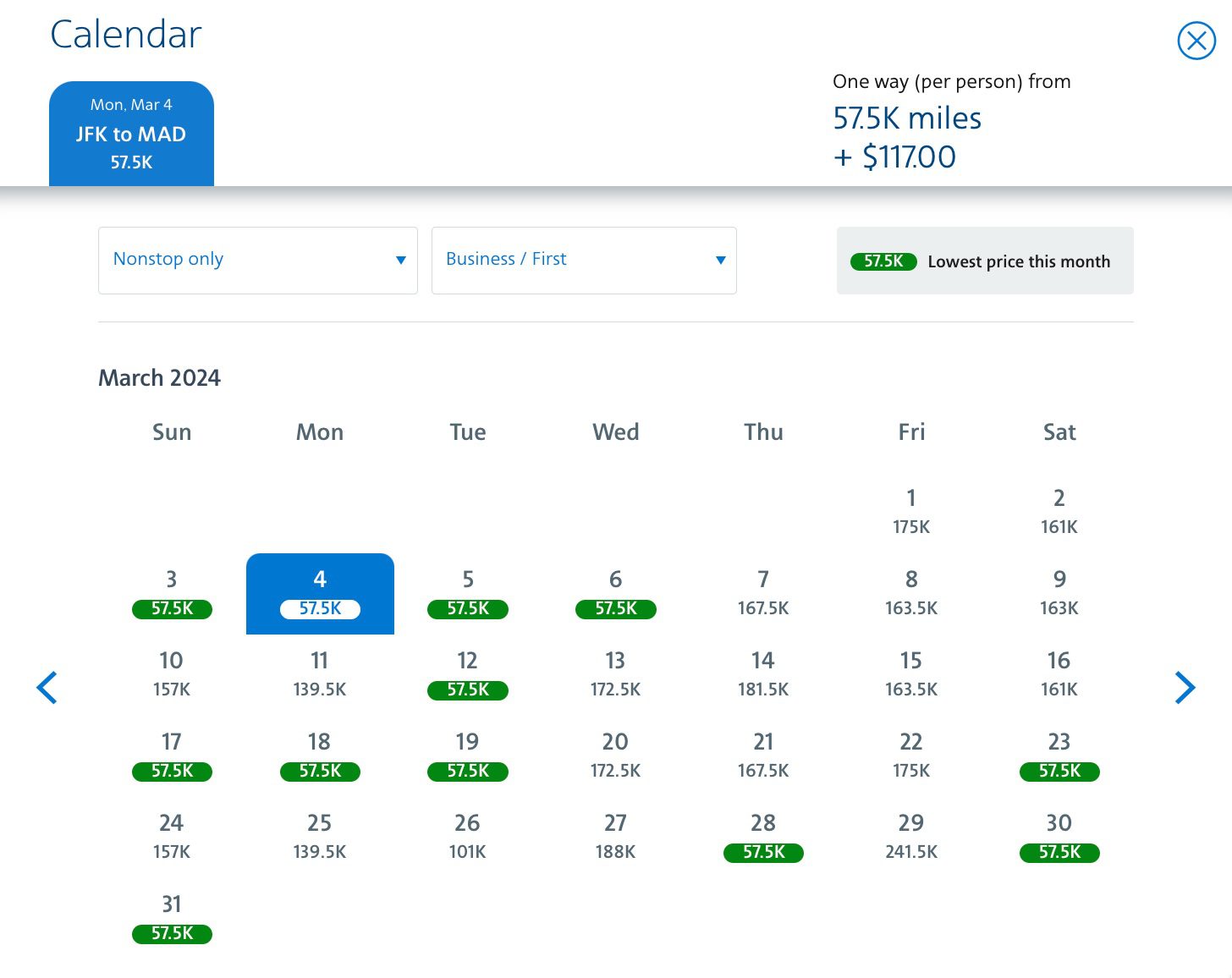 Sadly, it's gotten a bit harder to zero in the dates that work when using AA's website if you're not traveling solo. Now, you may only be able to see one Iberia business class seat on AA.com … even when there are two (or more) seats available. This issue first cropped up earlier this year, and it seems to be an ongoing issue.
Read more: A New Quirk for Finding & Booking Iberia Business Class from 34K Points
That means you'll want to search for just one passenger at AA.com no matter how many people are traveling. Once you've zeroed in on the dates that seem to work, it's finally time to head to Iberia.com – or better yet, BritishAirways.com.
Plug in your origin, Madrid (MAD), and the dates you found through American. Select your flights in business class, and make sure they price at 68,000 miles for the roundtrip. If you're booking for more than one passenger, make sure to search for two, three, or four seats.

But when it comes time to book, one option is clearly better than the other.
Book via British Airways Instead
For years, booking almost any flight using British Airways Avios was a big mistake for one reason: fees.
British Airways is notorious for passing on sky-high fees of hundreds of dollars or more, especially on business class tickets. That's true of its own flights, and until recently, that was true of redeeming British Airways Avios for Iberia business class tickets, too.
But no more. British Airways eliminated all of its additional taxes and fees from these award tickets last year, matching exactly what Iberia itself charges. That means whether you book through Iberia or BA, you can now expect to pay 68,000 miles and $250ish roundtrip. For a one-way to Spain, it's 34,000 miles and $125 or so.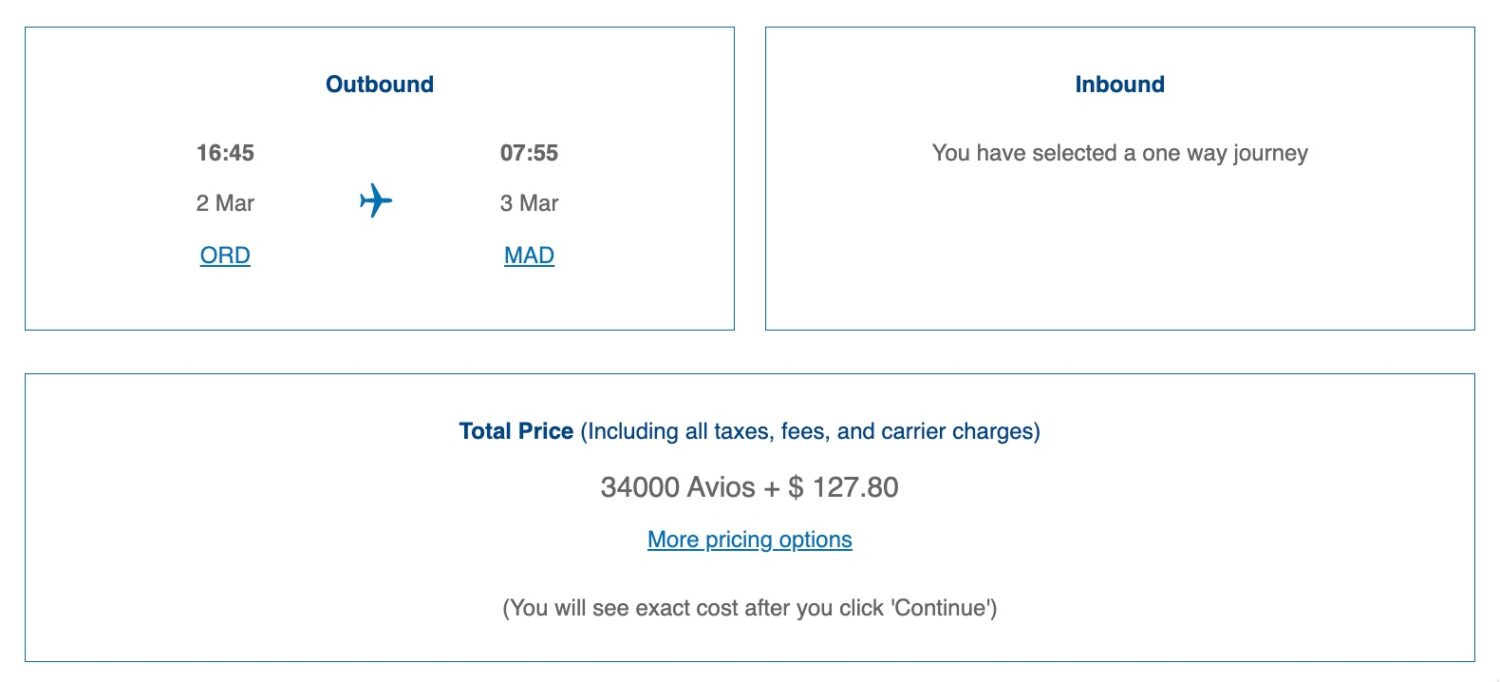 That simplifies the process of booking these 68,000-mile business class awards, as you can skip Iberia's wonky IT and do it straight through British Airways. Plus, you can more easily take advantage of transfer bonuses when banks offer them to British Airways but not Iberia.
All good? OK, now you can transfer those miles to your British Airways account. No matter which credit card points you've got, they should transfer to British Airways instantly.
Once the points hit your account, book those flights. Congrats on getting one of the best deals in the world of points and miles!
Book 11+ Months in Advance
When you're trying to book Iberia business class, earlier is almost always better. And there's a quirk for how far in advance you can book these seats.
Whether you're paying cash or using miles, most airlines only allow you to book flights about 11 months in advance, including American Airlines or even using Google Flights. But that window extends to nearly a full year ahead of time with British Airways (355 days) and Iberia (361 days).
That opens a nearly monthlong sweet spot for booking Iberia business class with your miles before other travelers have the chance. So while you can only book flights as far out as early July 2024 using your AAdvantage miles…
With British Airways, your window goes out as far as early August 2024, as of publication.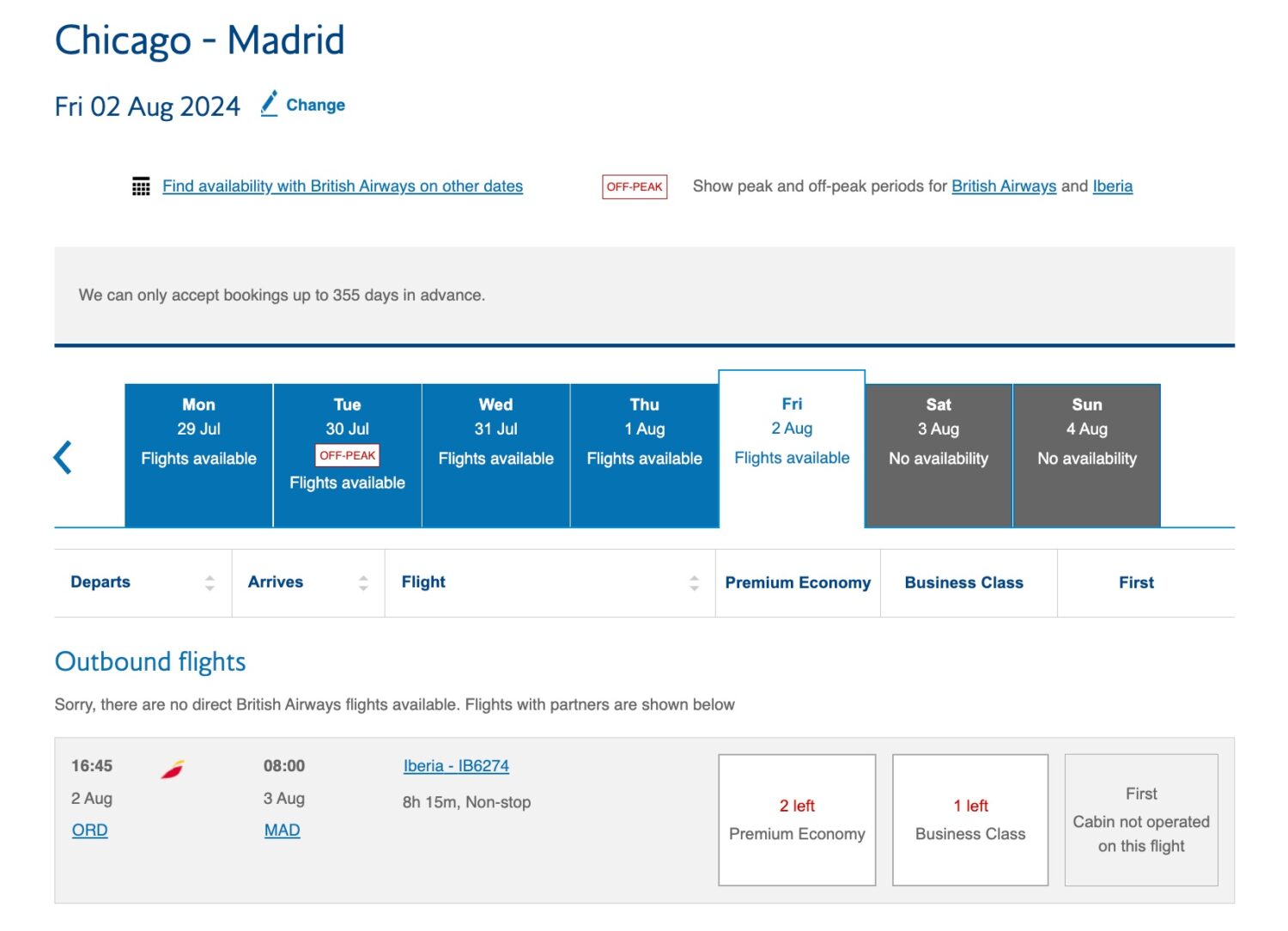 That's critical. Here's why: While award space can be unpredictable, many airlines release two (or sometimes four or more) business class seats to be booked using miles right when the calendar opens. And once those seats are booked using miles, you might not have a chance to book that same flight again using miles until just a few weeks or even days before departure – if ever.
Read more: When Do Airlines Release Award Availability? Booking Early with Your Miles is Key
What It's Like Flying Iberia Business Class
Iberia flies a mix of older Airbus A330s and nearly brand-new Airbus A350s between the U.S. and Madrid. But you'll get pretty much the same setup in business class no matter which plane you're on – unless you get really lucky. More on that later…
The business class cabin on all Iberia aircraft is laid out in a 1-2-1 configuration, so every traveler has direct access to the aisle. While the airline's typical business class seats aren't flashy, they're plenty comfortable – especially reclined into bed mode, when there's plenty of legroom and no cubby hole you need to jam your feet into. These seats offer a great mix of privacy and comfort. The seats on the A350 are a bit wider and newer than the A330.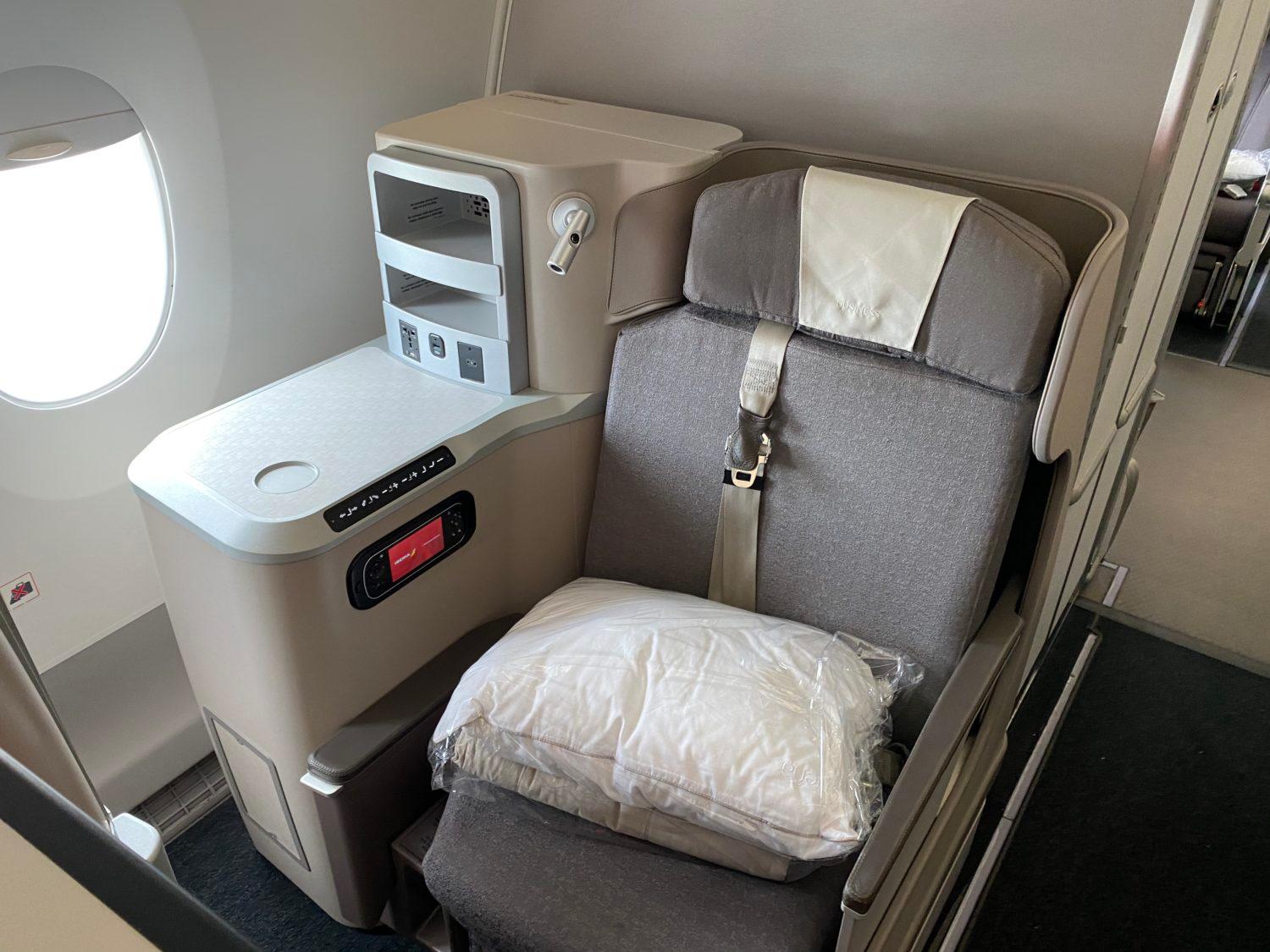 If you're traveling with a companion, you're in luck: Iberia has some of the best seats for couples. Dubbed "honeymoon seats," this alternating row of seats in the center section are great for talking with your companion, unlike some seats that other airlines use in the center section.

Food in Iberia's business class is a huge step up from your typical meals in economy, with some great appetizers, tasty Spanish cava to drink, and tasty desserts. Iberia business class cuisine got an upgrade in the last few years with even better catering from Do&Co – the same company behind the excellent meals you get flying Turkish Airlines business class. And to top it all off, the service is generally quite good, at least in my experience – though that can be hit or miss.

Read our full review of the business class flight from Chicago-O'Hare (ORD) to Madrid (MAD)!
But Iberia is upping its game in business class in a big way. Its newest Airbus A350 deliveries are equipped with a brand new business class seat complete with closing doors. The airline only has a few of these new planes with suites onboard flying today, so it'll be incredibly hit or miss until more planes get delivered to the airline. In the meantime, cross your fingers for this …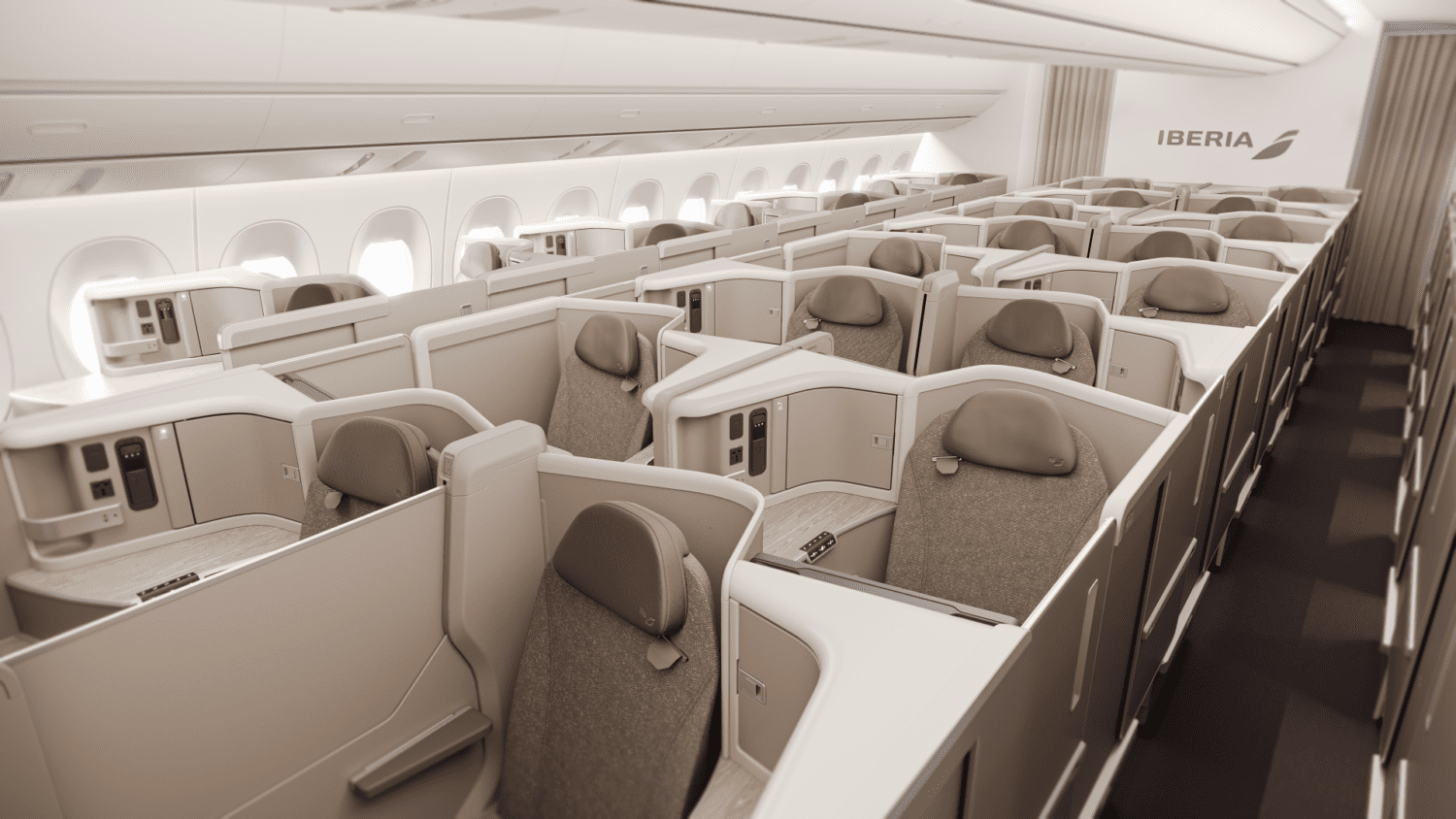 Iberia may not win any awards for its business class anytime soon … but nor will any of its competitors flying between the U.S. and Europe. And at these rates, it's the best deal of the bunch by far.
Read more: The Best Ways to Fly Business Class to Europe Using Points & Miles
How to Earn Miles to Fly Iberia Business Class
It doesn't matter if you've never stepped foot on an Iberia plane. You can easily get the miles you need to fly business class.
That's because you can transfer credit card points to Iberia or British Airways from some of the biggest banks in points and miles: Chase Ultimate Rewards, American Express, Capital One Venture Miles, Bilt Rewards points, and even Marriott Bonvoy points. With that many options, you've got a lot of pathways to get to Spain in business class.
With a 60,000-point sign-up bonus after spending $4,000 in three months, the *csp* is almost enough to get you there and back in one fell swoop. You'll earn at least 64,000 Chase points after hitting that minimum spend requirement. And with just a $95 annual fee, it's an easy, approachable way to make it happen.
Once you've got the Chase points and found the flights you want, just transfer them over instantaneously to Iberia or British Airways and you're ready to book your trip in business class.

Learn more about the *csp*.

Another strong option is the *amex gold* – one of the best travel cards out there, period. That starts with a bonus of 60,000 Amex Membership Rewards points after spending $4,000 in the first six months of card membership – that's twice as much time to earn a big bonus. Plus, you'll earn a whopping 4x points at restaurants as well as at U.S. supermarkets (on up to $25,000 of spending annually, then 1x.) That's an unbeatable return.
But it could get better. You may be able to qualify for an even bigger 75,000-point welcome bonus on the Amex Gold card via CardMatch – or a massive 90,000-point bonus via personal referral links.
Like the Chase Sapphire Preferred, you can transfer Amex points straight to your Iberia Plus or British Airways account. Just beware that these transfers to Iberia aren't instantaneous – they can take a day or so. You can transfer instantly to British Airways, though.

Learn more about the *amex gold*

Bottom Line
If you want to get to Europe in the comfort of business class, you can't beat the combination of Iberia's great seats at this unbeatable price.
Booking this for as little as 68,000 credit card points for a round trip to Europe is an absolute steal. Throw in a well-timed transfer bonus, and you can pull it off for even less.