After more than a year off limits, Europe is wide-open to Americans once again. Many countries have dropped testing and even vaccination requirements for entry, and Americans no longer need a negative COVID-19 test in order to fly back home from abroad.
Whether you're hoping to head overseas this year or next, it's perfect timing to highlight one of the best ways to get to Europe in style without paying thousands of dollars – or forking over hundreds of thousands of miles. You won't find a cheaper way to do it than with the Spanish airline Iberia. Case in point: Iberia charges roughly half (or less) what most airlines levy to fly business class across the Atlantic Ocean. In fact, it's gotten even easier to book these award tickets recently thanks to some changes when using British Airways Avios.
Thanks to credit card transfer partnerships, it's easy to get the miles you need to book if you've got points from cards like the Chase Sapphire Preferred® Card, the American Express® Gold Card, or the Capital One Venture X Rewards Credit Card. And you won't need many points at all: You can book for just 68,000 points … or less, thanks regular transfer bonus like the current 30% transfer bonus from Chase.
Read on to find out how you can make it happen for as low as 68,000 points round-trip – less than most airlines charge for economy.
How Iberia Airlines Awards Work
Iberia Avios work a bit differently than most airline mileage programs. And you can use it to your advantage.
Rather than setting award rates based on regions – or seemingly at random, like Delta SkyMiles – Iberia is a distance-based program: How many miles you have to use to book a flight depends on how long it is. Along with its parent company partners like British Airways and Aer Lingus, it's one of just a handful of major airlines still using this approach.
While that generally makes long-haul travel pricey, that's not the case here. What's more, Iberia also carves out lower pricing for "off-peak travel." And Iberia has a generous definition of what's "off-peak" – only mid-June through mid-September and the winter holidays will trigger higher peak pricing. Check out Iberia's full calendar to scope out the dates.
Take a peek at how Iberia divvies it up.
| Award Band | Miles Traveled (One Way) | Off-Peak / Peak Economy | Off-Peak / Peak Business |
| --- | --- | --- | --- |
| 1 | 0 - 650 miles | 4,500 Avios / 5,000 Avios | 9,000 Avios / 10,000 Avios |
| 2 | 651 - 1,151 miles | 7,500 Avios / 8,250 Avios | 15,000 Avios / 16,500 Avios |
| 3 | 1,151 - 2,000 miles | 10,000 Avios / 11,000 Avios | 20,000 Avios / 22,000 Avios |
| 4 | 2,001 - 3,000 miles | 11,000 Avios / 12,500 Avios | 21,250 Avios / 31,250 Avios |
| 5 | 3,001 - 4,000 miles | 17,000 Avios / 20,000 Avios | 34,000 Avios / 50,000 Avios |
| 6 | 4,001 - 5,500 miles | 21,250 Avios / 25,000 Avios | 42,500 Avios / 62,500 Avios |
| 7 | 5,501 - 6,500 miles | 25,500 Avios / 30,000 Avios | 51,000 Avios / 75,000 Avios |
| 8 | 6,501 - 7,000 miles | 29,750 Avios / 35,000 Avios | 59,500 Avios / 87,500 Avios |
| 9 | 7,000+ miles | 42,500 Avios / 50,000 Avios | 85,000 Avios / 125,000 Avios |
The distance-based chart generally means that your best deal is flying to and from the East Coast: You can expect to pay just 17,000 Iberia Avios for a one-way economy during the off-peak season, or just 34,000 in business class. There are still savings for West Coast travelers in San Francisco (SFO) or Los Angeles (LAX), but it's more expensive for those longer flights.
That means Boston (BOS) and New York City (JFK) are your targets, as Iberia flies directly between those two cities and its hub in Madrid (MAD). Summer seasonal service from Washington, D.C.-Dulles (IAD) is another option. And there's one more addition: Chicago-O'Hare (ORD). Despite falling outside of the pricing band, these flights still price out at 34,000 miles each way.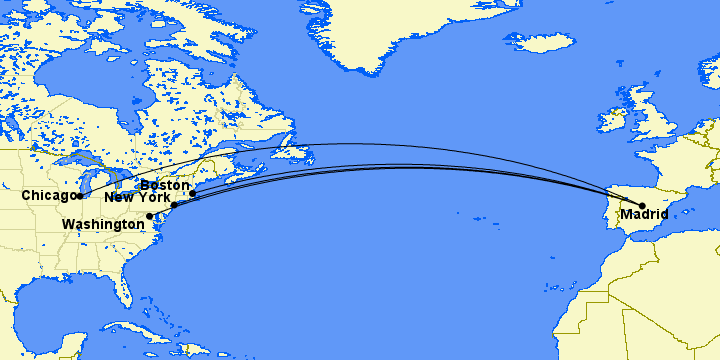 For round-trip flights from all four cities, you'll fork over just 68,000 miles to fly in the comfort of business class. For comparison, Delta typically charges at least 240,000 miles for a round-trip to Europe in business. American charges at least 57,500 miles each way – and finding the award availability for American Airlines business class is a chore. So this price is nearly unbeatable – and we'll show you how to score it for even fewer points later on.
Don't live in one of these cities? Consider using a positioning flight to get there and take advantage of this deal!
Like all airlines flying to and from Europe, Iberia passes on some award fees and taxes when using miles – typically about $230 or so on each round-trip business class fare. While that may seem steep, it pales in comparison to the hundreds more (if not $1,000-plus) you frequently pay flying in and out of other airports like London-Heathrow (LHR) or Paris-Charles de Gaulle (CDG). And considering these flights usually cost $4,000 or more, it's a price worth paying.
Of course, maybe Madrid isn't your bag – though it should be. But Madrid is well-positioned to hop almost anywhere else in Europe, be it Barcelona, Italy, Paris, or farther into great Eastern European hotspots. Just book a separate flight and continue on your way.
Use Transfer Bonuses to Book for Even Less
Just when you start to think you can't beat a 68,000-mile redemption to Europe and back in lie-flat business class seats, it gets even better.
We regularly see transfer bonuses to Iberia or British Airways from Amex Membership Rewards or Chase Ultimate Rewards of 30% or even 40%, meaning you need even fewer points to pull this redemption off. And as luck would have it, you can do it right now.
As of publication, Chase is offering a 30% transfer bonus to British Airways through July 31. With that bonus, you'd need to transfer just 53,000 Chase points to get all the miles you need to book roundtrip business class seats to Madrid. In the past, you'd need to kick your British Airways Avios over to Iberia to complete this booking. But as you'll see, that's no longer the case…
Check out our guide on Chase transfer partners to see how it's done!
How to Book Iberia Business Class
We'll be honest: Using Iberia's website is a bit of a headache. But there are workarounds, and at this cheap rate to fly business class, it's worth the work.
Make sure you've got an Iberia Plus account set up. Just don't transfer any points yet. First things first: You need to check out award availability. You can't book flights at these dirt cheap rates unless if Iberia is making them available. And transfers to airline partners are a one-way street – once you send the points to an airline account, you generally can't get them back.
We're regularly scouring calendars for award alerts to send our Thrifty Traveler Premium when there's a chance to score these seats to Europe. Just last month, we uncovered some wide-open availability for two-plus passengers to get to Madrid in January through March 2023.
Get award alerts like this one in your inbox with Thrifty Traveler Premium!
Not getting these alerts? Don't worry, you can search for yourself. Rather than heading to Iberia.com to look for the seats and dates you want, use one of its partner airlines: American Airlines. AA's website functions far better than Iberia's, and gives you an easy way to scroll through a month's worth of award availability at a time.
As with all things, it's important to be flexible and follow The Flight First Rule. Don't lock in your travel dates ahead of time, but head into the search process with an open schedule and let the availability determine when you travel. Focus at least three to four months in advance, when you're more likely to find the award space you want.
Once you've zeroed in on the dates that seem to work, it's finally time to head to Iberia.com. Log in, click your account, and then "Book flights with Avios" in the drop-down menu. Then click "Booking with Avios" again on the following screen – or skip all that nonsense and just follow this link to Iberia's award search engine.
Plug in your origin, Madrid (MAD), and the dates you found through American. Select your flights in business class, and make sure they price at 68,000 miles for the round-trip.
All good? OK, now you can transfer those miles to your Iberia account. Keep in mind that while Chase transfers are instantaneous, Amex transfers to Iberia can sometimes take between 12 hours to as much as 48 hours.
Once the points hit your account, book those flights. Congrats on getting one of the best deals in the world of points and miles!
Book through British Airways Instead
For years, booking almost any flight using British Airways Avios was a big mistake for one reason: fees.
British Airways is notorious for passing on sky-high fees of hundreds of dollars or more, especially on business class tickets. That's true of its own flights, and until recently, that was true of redeeming British Airways Avios for Iberia business class tickets, too.
But no more. British Airways recently eliminated all of its additional taxes and fees from these award tickets, matching exactly what Iberia itself charges. That means whether you book through Iberia or BA, you can now expect to pay 68,000 miles and $230ish roundtrip. For a one-way to Spain, it's 34,000 miles and $115 or so.
That simplifies the process of booking these 68,000-mile business class awards, as you can skip Iberia's wonky IT and do it straight through British Airways. Plus, you can more easily take advantage of transfer bonuses when banks offer them to British Airways but not Iberia.
Flying Iberia Business Class
Iberia flies a mix of older Airbus A330s and nearly brand new Airbus A350s between the U.S. and Madrid. But no matter which plane you're on, you'll get pretty much the same setup in business class.
The business class cabin is laid out in a 1-2-1 configuration, so every traveler has direct access to the aisle. While the seats aren't flashy, they're plenty comfortable – especially reclined into bed mode, when there's plenty of legroom and no cubby hole you need to jam your feet into. These seats offer a great mix of privacy and comfort. The seats on the A350 are a bit wider and newer than the A330.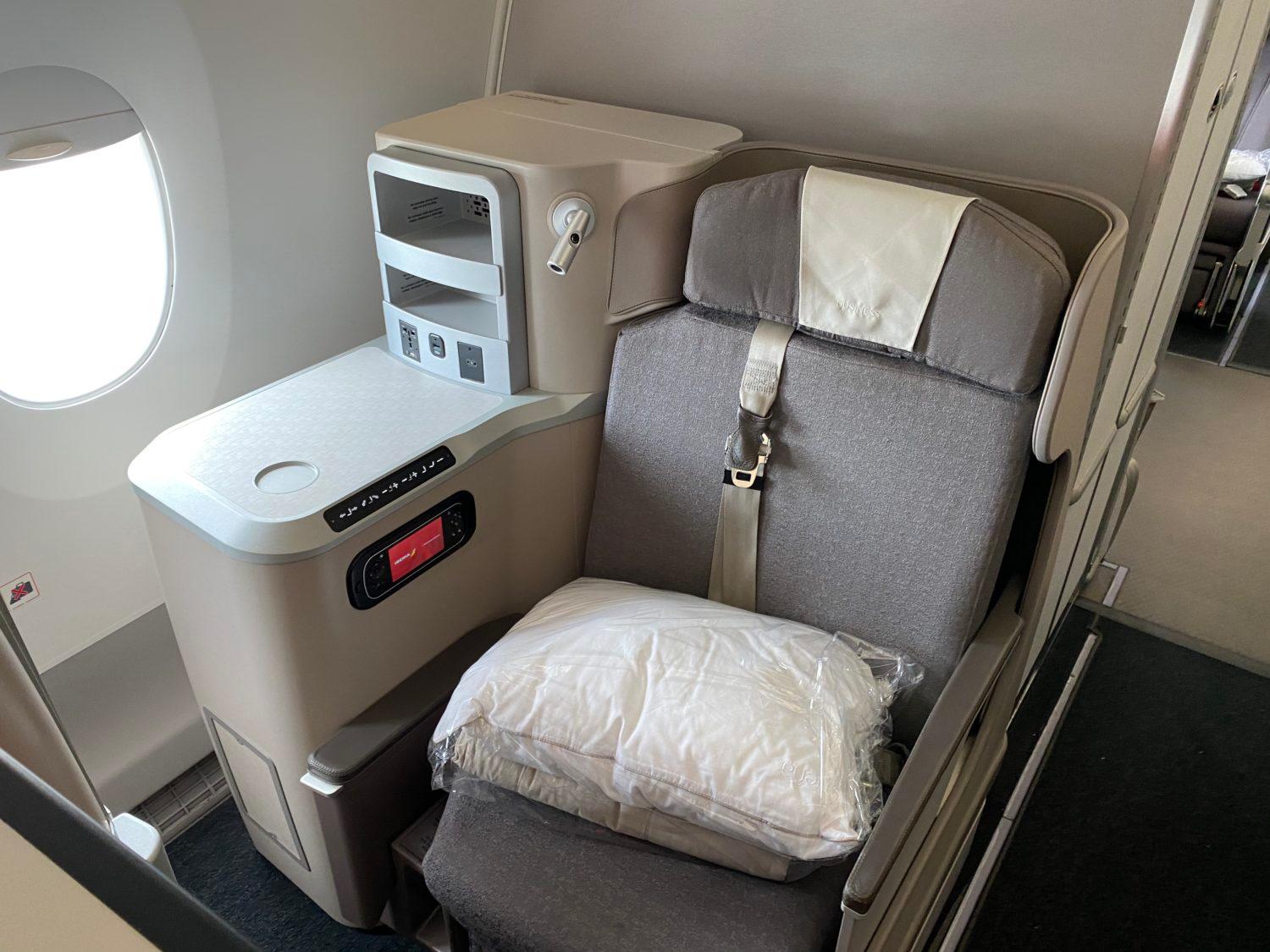 If you're traveling with a companion, you're in luck: Iberia has some of the best seats for couples. Dubbed "honeymoon seats," this alternating row of seats in the center section are great for talking with your companion, unlike some other seats airlines use in the center section.
Food in Iberia's business class is a huge step up from your typical meals in economy, with some great appetizers, tasty Spanish cava to drink, and tasty desserts. Iberia business class recently got an upgrade with even better catering from Do&Co. And to top it all off, the service is generally quite good, at least in my experience – though that can be hit or miss.
Read our full review of the business class flight from Chicago-O'Hare (ORD) to Madrid (MAD).
Iberia may not win any awards for its business class anytime soon … but nor will any of its competitors flying between the U.S. and Europe. And at these rates, it's the best deal of the bunch – by far.
How to Earn Iberia Avios to Fly Business
It doesn't matter if you've never stepped foot on an Iberia plane. You can easily get the miles you need to fly business class.
That's because you can transfer credit card points to Iberia from some of the biggest banks in points and miles: Chase Ultimate Rewards and American Express, as well as Marriott Bonvoy points. With British Airways, you can transfer from all those currencies plus Capital One Venture Miles, too.
With that many options, you've got a lot of pathways to get to Spain in business class.
With a 60,000-point sign-up bonus after spending $4,000 in three months, the Chase Sapphire Preferred Card is nearly enough to get you there and back in one fell swoop. You'll earn at least 64,000 Chase points after hitting that minimum spend requirement. And with just a $95 annual fee, it's an easy, approachable way to make it happen.
Once you've got the Chase points and found the flights you want, just transfer them over instantaneously to Iberia and you're ready to book your trip in business class.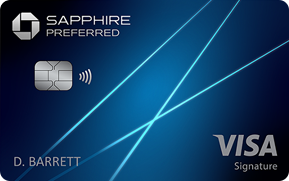 Click Here to get more information about the Chase Sapphire Preferred Card. 
Another strong option is the American Express® Gold Card – one of the best travel cards out there, period. That starts with a bonus of 60,000 Amex Membership Rewards points after spending $4,000 in the first six months of card membership – that's twice as much time to earn a big bonus. Plus, you'll earn a whopping 4x points at restaurants as well as at U.S. supermarkets (on up to $25,000 of spending annually, then 1x.) That's an unbeatable return.
But it could get better. You may be able to qualify for an even bigger 75,000-point welcome bonus on the Amex Gold card via CardMatch.
Like the Chase Sapphire Preferred, you can transfer Amex points straight to your Iberia Plus account. Just beware that these transfers to Iberia aren't instantaneous – they can take a day or so. You can transfer instantly to British Airways, though.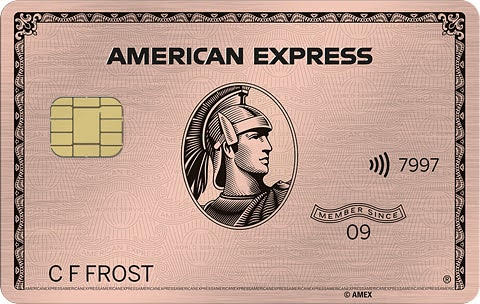 Click Here to learn more about the American Express Gold Card. 
Bottom Line
If you want to get to Europe in the comfort of business class, you can't beat the combination of Iberia's great offering at this unbeatable price. Booking this for as little as 68,000 credit card points for a round trip is an absolute steal. Throw in a transfer bonus, and you can pull it off for even less.