Everyone wants to fly first class. But unless if you fly a top transcontinental route where airlines are flying widebody planes with business class seats, domestic first class isn't all it's cracked up to be – and it's rarely worth a splurge. But then there's JetBlue Mint.
First introduced back in 2014, JetBlue shook up the domestic airline game by injecting much more of a premium feel when flying up front on select routes. Forget recliners: Every seat reclines all the way back into a bed – with a handful of solo suites equipped with sliding doors. As JetBlue aims to launch flights to London this summer, Mint is poised to get even better.
So we put JetBlue Mint to the test on a recent flight from Boston (BOS) to Las Vegas (LAS). While the seats themselves aren't perfect, it's the food and service where JetBlue punches far above its weight – pandemic or not.

Booking JetBlue Mint
First things first: You'll have to find a flight with Mint onboard.
JetBlue flies its Mint-equipped Airbus A321s on its marquee routes. Typically, that means transcontinental flights from its hubs in Boston (BOS) and New York City (JFK) to cities like Los Angeles (LAX), San Francisco (SFO), and yes, Las Vegas (LAS). You'll also occasionally find Mint available on flights from the East Coast down to Caribbean hotspots like Aruba (AUA).

It's not just the seats and service where JetBlue shook things up. JetBlue's pricing for these seats has forced other airlines to play much nicer on price. To boot: We've seen JetBlue Mint fares under $300 each way – or under $600 roundtrip. Compared to the $1,500-plus other airlines frequently charge, that's a steal.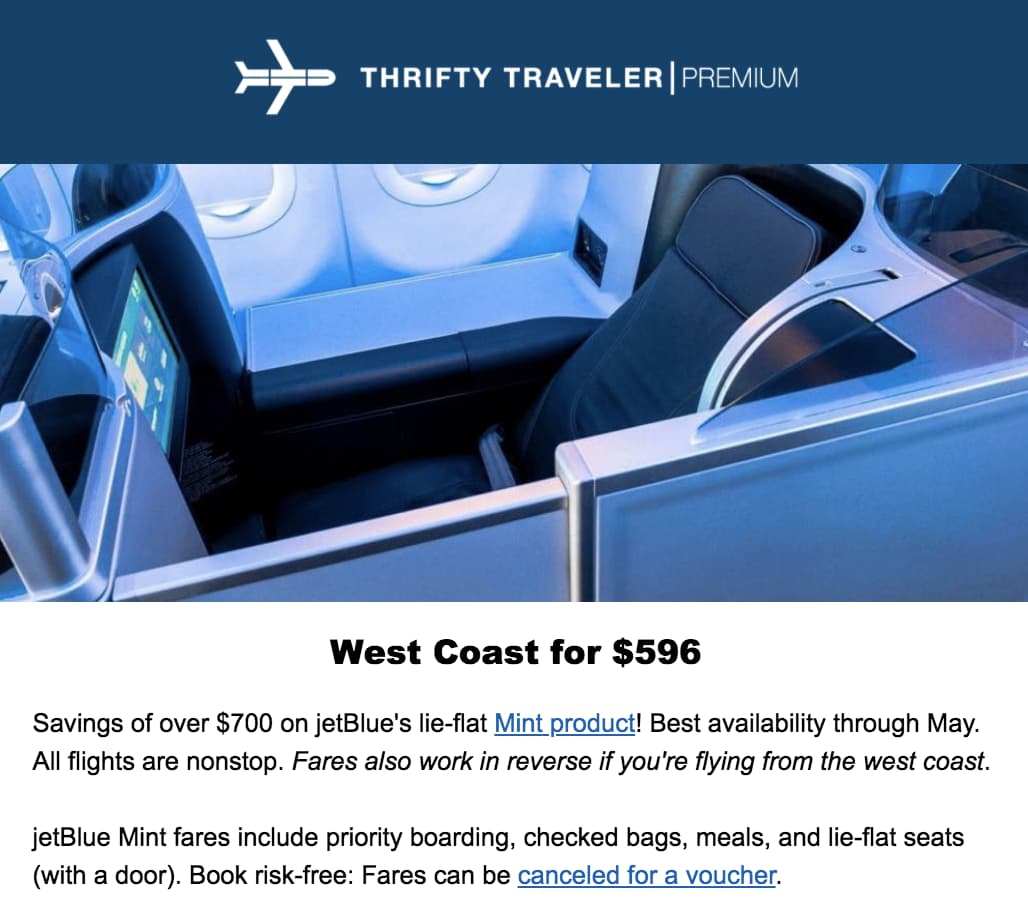 Thrifty Traveler Premium members get alerts for cheap domestic and international flights – and yes, that includes rare business class deals!
You could also use JetBlue TrueBlue points to book, of course. But there's not a ton of extra value there – JetBlue uses a dynamic pricing system, so the number of points you need hinges largely on the cash price. It rarely makes sense to book using JetBlue points.
But far and away the best way to book JetBlue Mint is using points from the Business Platinum® Card from American Express. Among its many perks, one stands out: You get a 35% rebate when booking economy flights using points on one designated and all first and business class cabins. And yes, JetBlue Mint qualifies as business class.
With a great deal on fares, that meant we could book our flights from Boston to Las Vegas in JetBlue Mint for just 19,370 American Express Membership Rewards points apiece. You can't beat that.
After a handful of schedule changes and equipment swaps, we were on our way and ready to fly Mint to Vegas.
The Cabin
Mint passengers are among the first to board the plane. And from the second you cross the plane's threshold, it's clear this isn't your typical domestic flight.

There are 16 Mint seats in all, spread across five rows. But not all seats are created equally: There are seats, and then there are suites. 
Rows 1, 3, and 5 each have two seats on either side of the aisle. Those two-seater sections are great if you know your companion, though there is some additional privacy. But unfortunately, that means not every flyer up in JetBlue Mint has direct access to the aisle – you may have to ask your neighbor to get up or squeeze in if you want to slide by.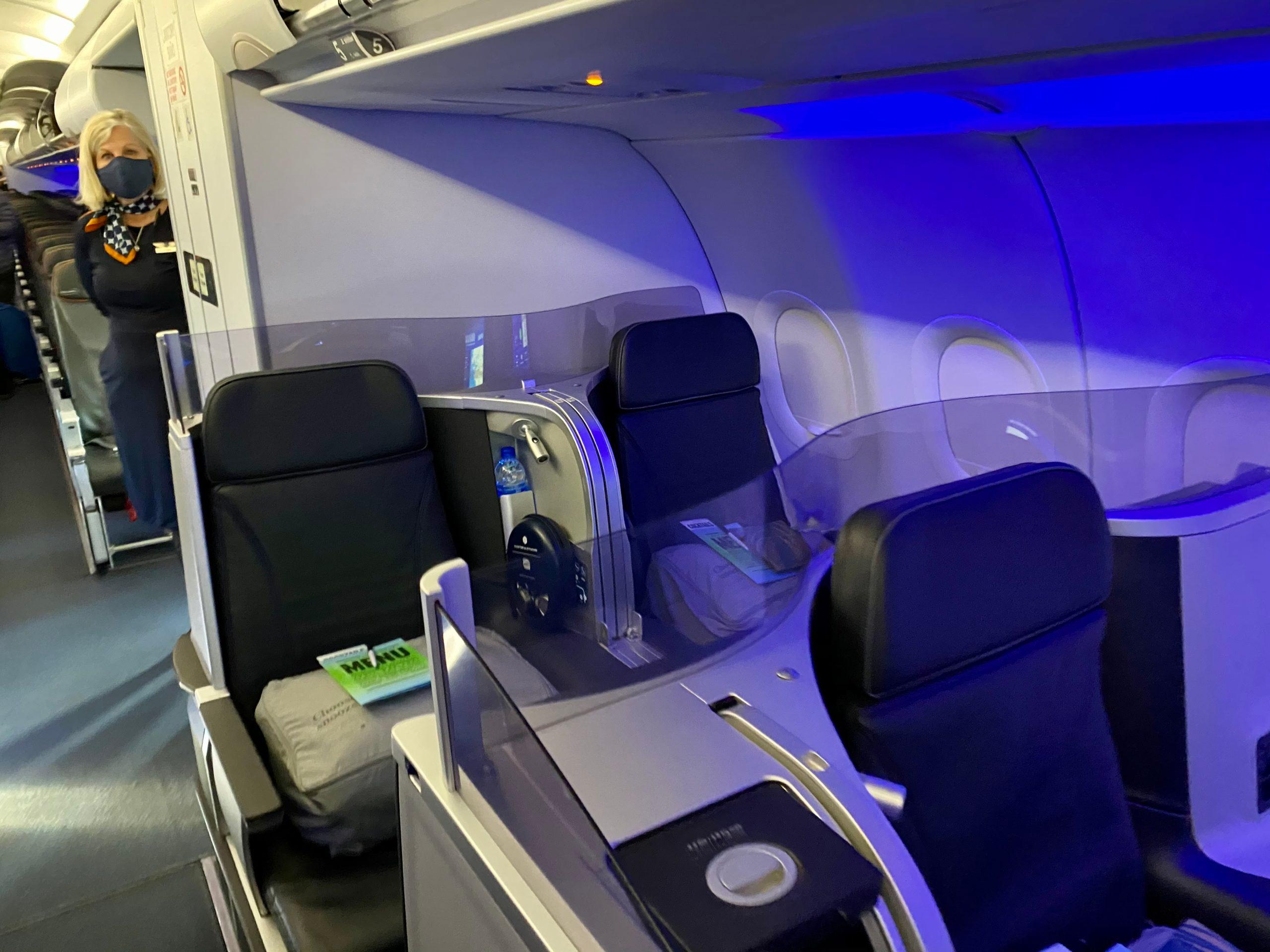 And then there's the star of the show: The throne seats or suites in rows 2 and 4. These solo seats are each equipped with sliding doors, which can be opened and closed after takeoff. You've got direct access to the aisle, and plenty of storage thanks to surface space on either side of the seat itself.
They're clearly the best choice on the plane if you can get one. Here's another look.

There are just four suites in all – and they're available on a first-come, first-serve basis. Book early enough, and you can easily snag one for no additional fee.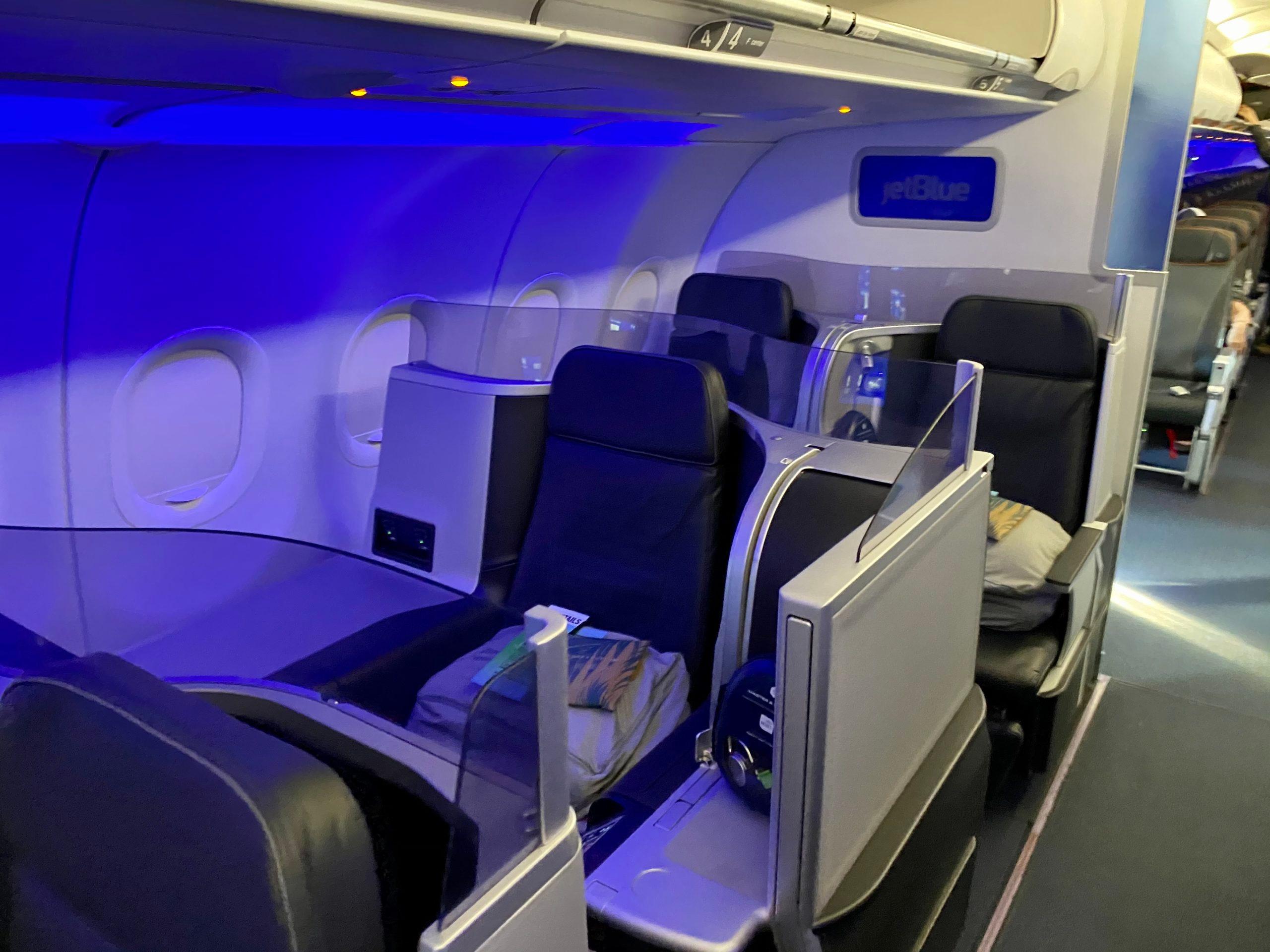 Unfortunately, all four throne seats were taken ahead of our flight. JetBlue is introducing a brand new, all-suite Mint seat for its service to London. And we'll start to see those seats on some transcontinental flights, too.
The whole cabin was bathed in blue light throughout much of the flight. And there are small plexiglass partitions dividing each row.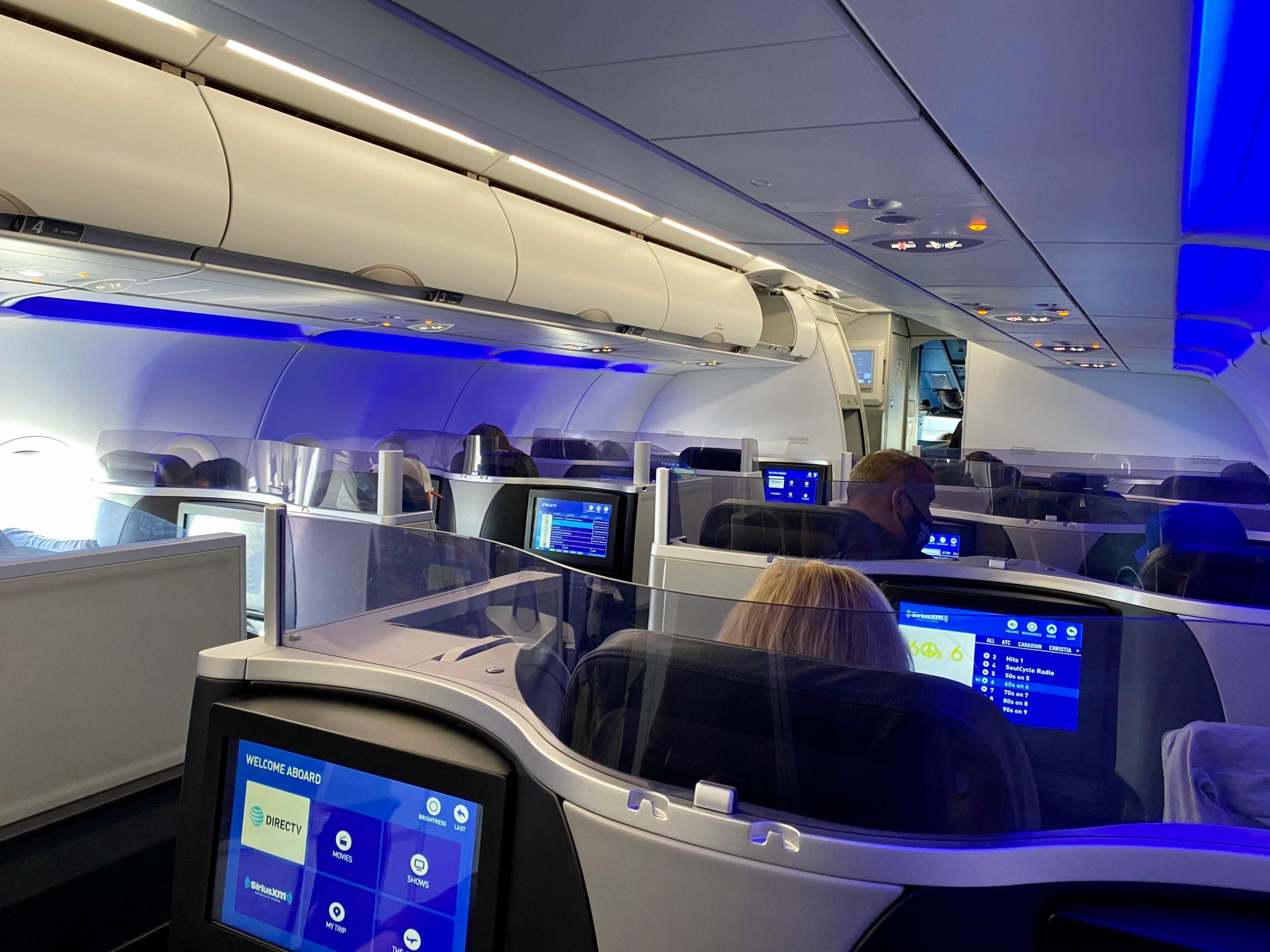 There are also lavatories at the front of the plane as well as at the back-end of the cabin. Neither were very impressive nor very large – in fact, there was really nothing to differentiate them from a standard lavatory. But they were kept clean throughout the flight.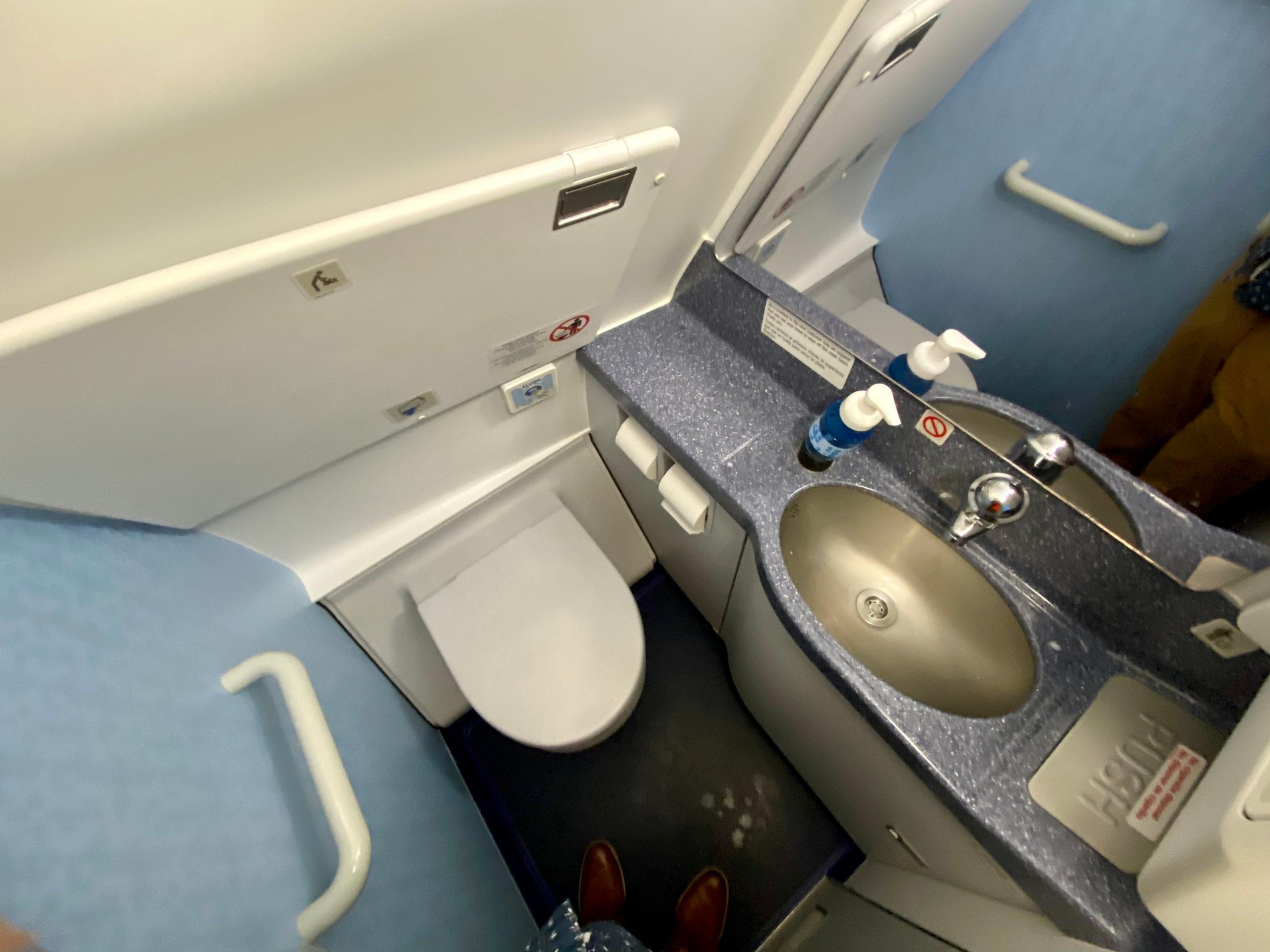 JetBlue Mint Seats
Having missed our chance at our own suites, Thrifty Traveler Premium flight deal guru Jon and I made our way to the last row of the cabin for our seats: 5D and 5F.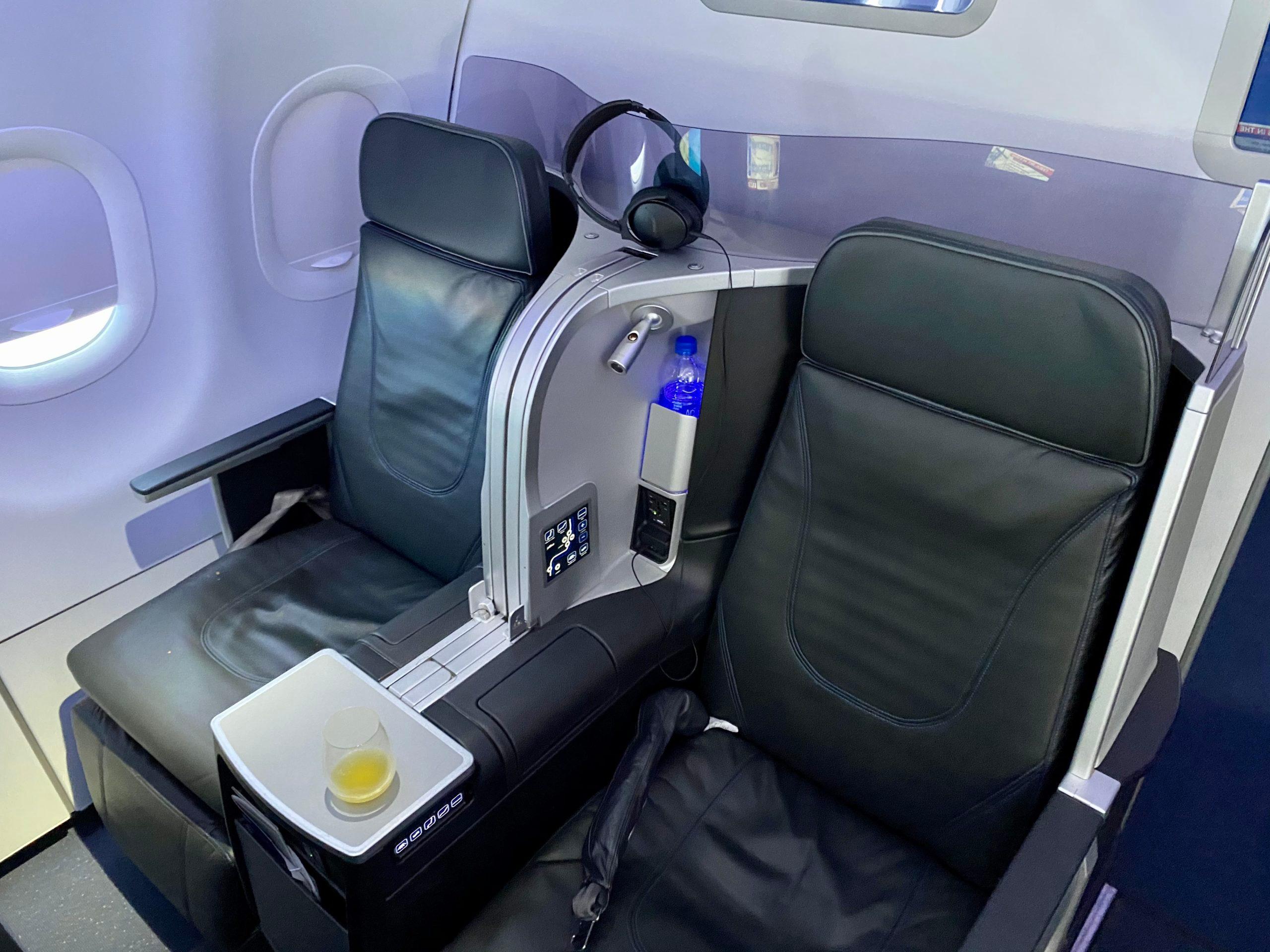 As you can see, each seat in these odd-numbered rows is separated by a fairly large console, drink tray, as well as a small but effective partition. There's no way to extend this partition to give yourself some additional privacy from a neighbor.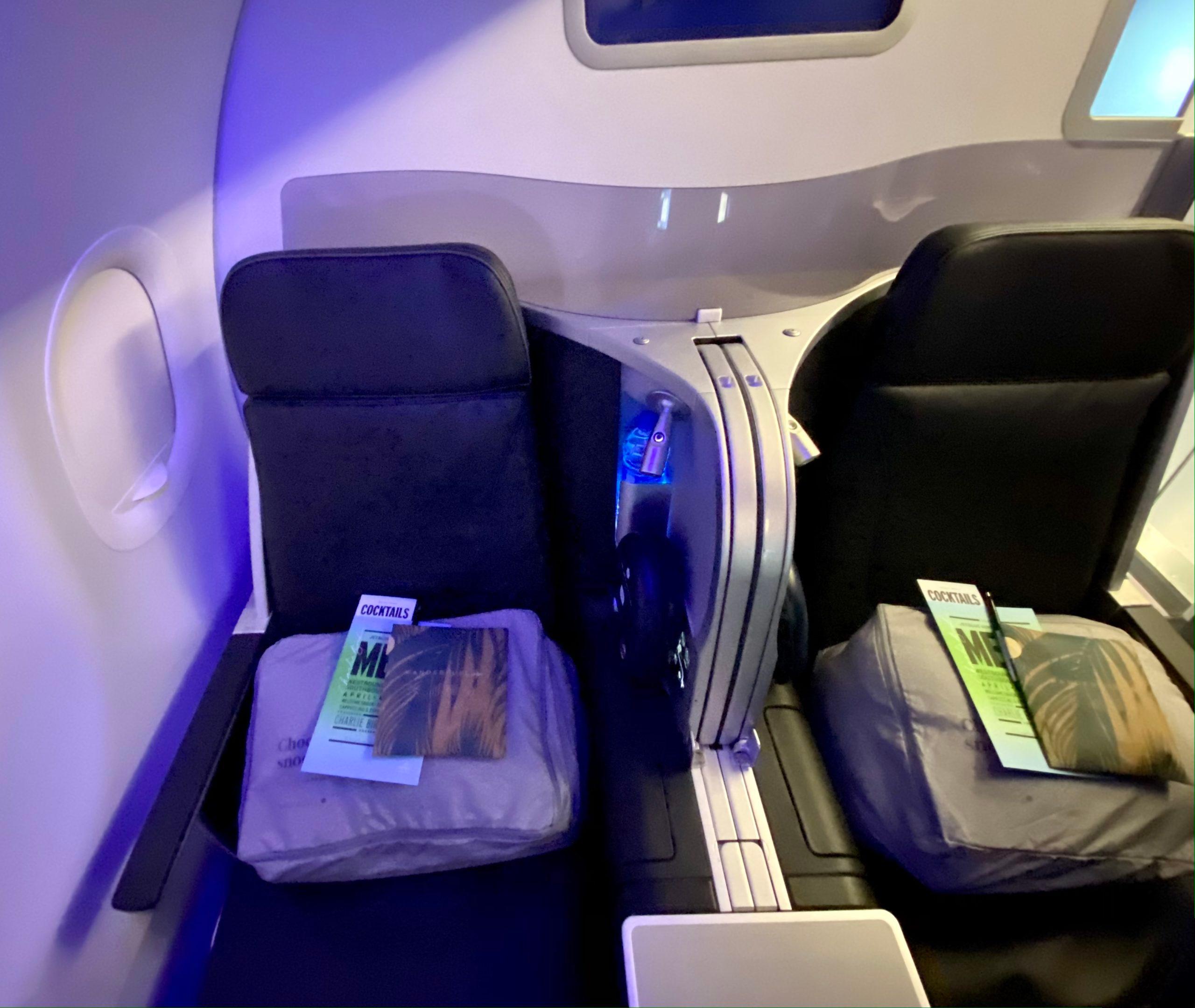 Each seat is just a hair under 21 inches wide, which is on par (or better) with what you'll get flying up front on most U.S. airlines. Personally, I found the seat itself to be a bit on the hard side, but Jon said he found it to be plenty comfortable.
One thing that's not up for debate: There's a whopping 58 inches of legroom – and even more than that when you eventually recline back into lie-flat mode.
No matter your height, I can't see anyone needing more legroom in JetBlue Mint.

There's a large cubby underneath the seat in front of you as well, with plenty of room to stretch out when you're ready to recline back and lay down. It's not nearly as restrictive as the foot cubbies you find on similar business class seats.

One shortcoming of these seats – at least if you're not able to grab a throne seat – is storage. That slope up to the foot cubby means you can't store a bag at your seat during takeoff and landing: It'll have to go up in the overhead compartment. There's a small, pullout compartment underneath the monitor and a smaller pocket for a pair of shoes or goodies near the floor, but that's about it.

Towards your head, there's a small reading light as well as a water bottle holder – stocked upon boarding, of course.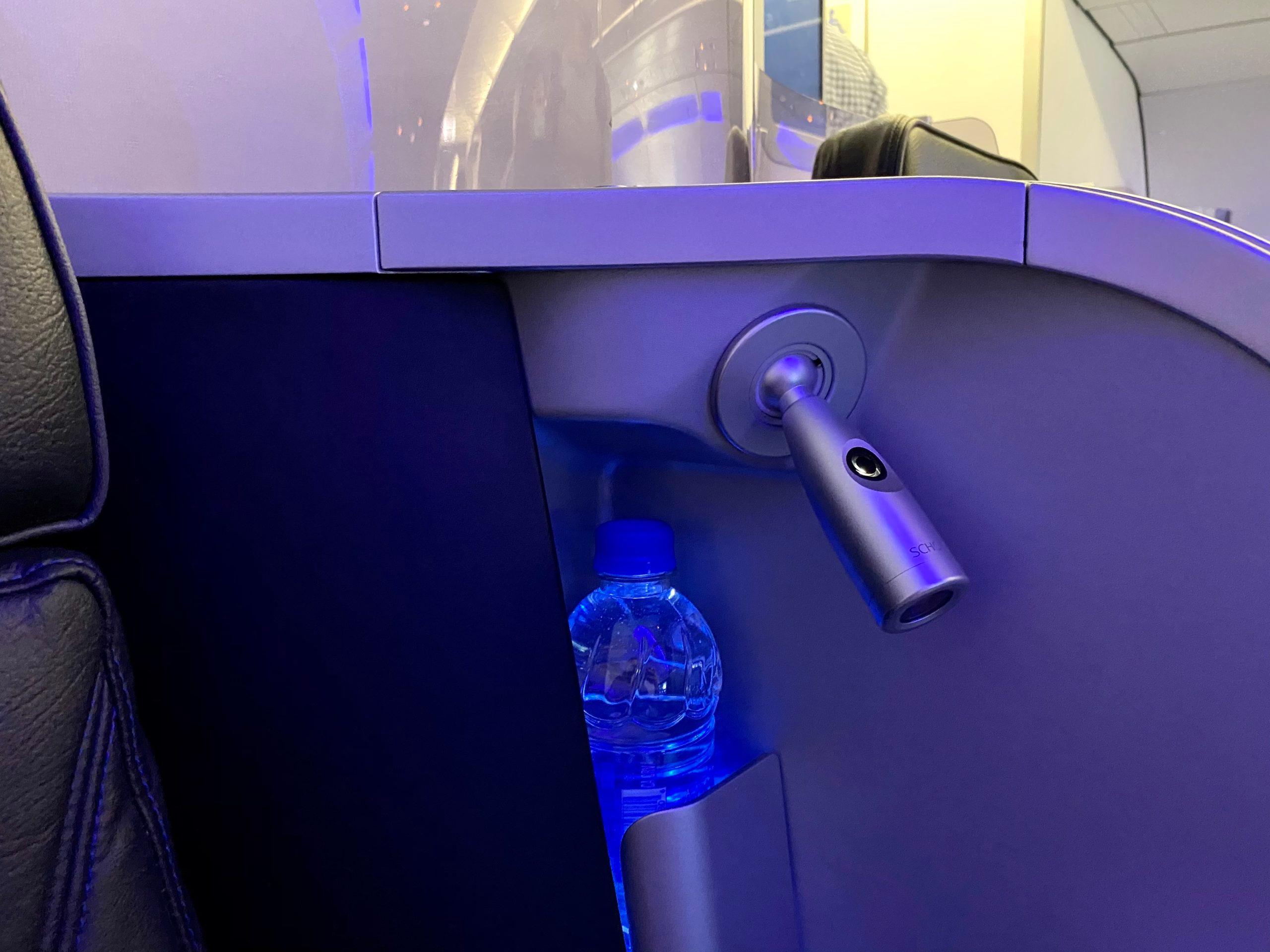 At the center console, you'll find a set of detailed seat controls, which allow you to adjust the seat's hardness, lumbar support, turn on a fairly weak massage function, as well as the leg rest. It also has some quick buttons to push for bed mode, relax, and upright for takeoff and landing. There's also a power port as well as USB sockets here.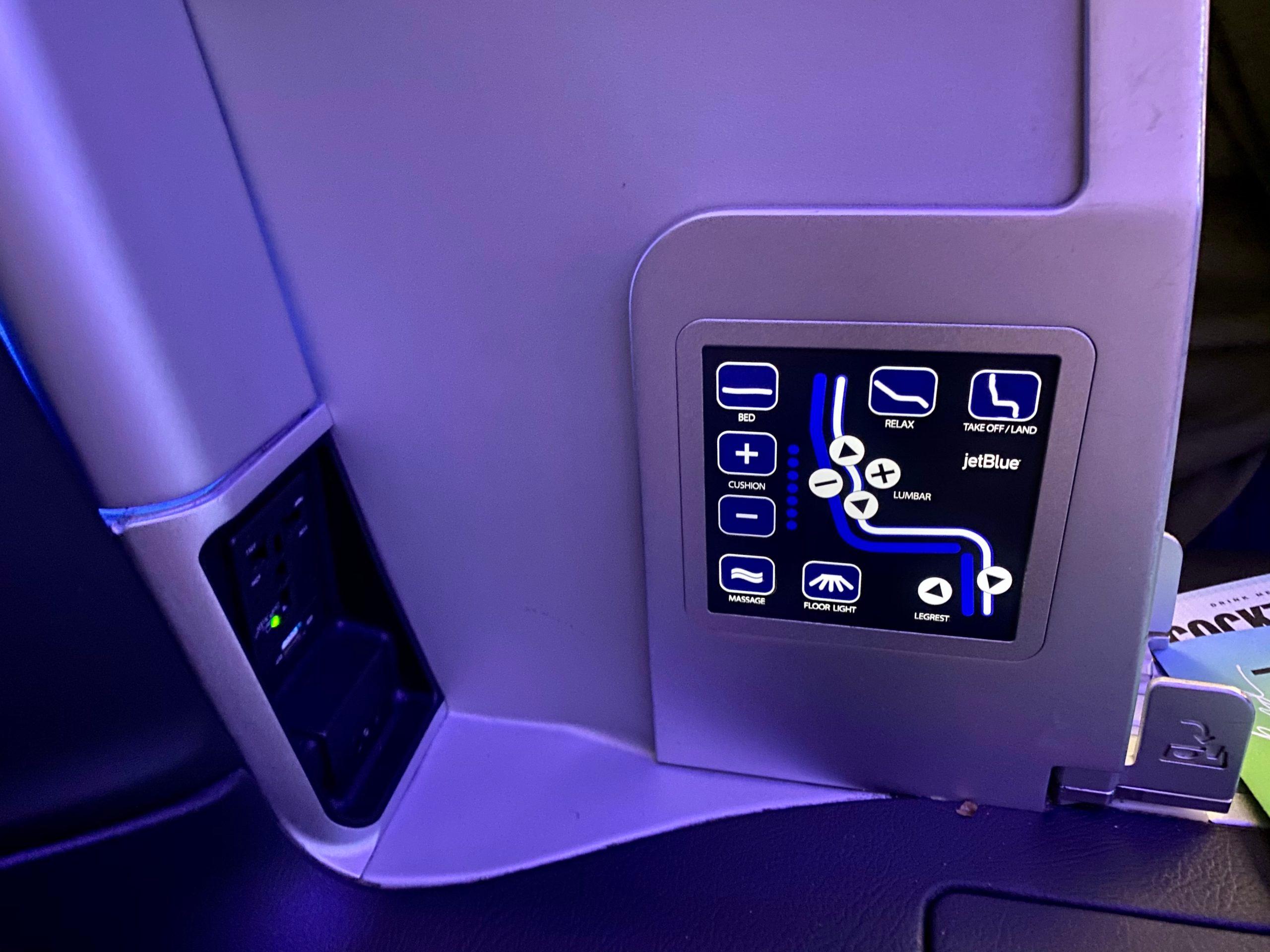 Lift up the flap at the console to find a wired remote control for the inflight entertainment, which is also touchscreen.

There's another set of seat controls along the center console, too.

Finally, there's another set of power ports toward the bottom of the center console itself as well as a literature pocket.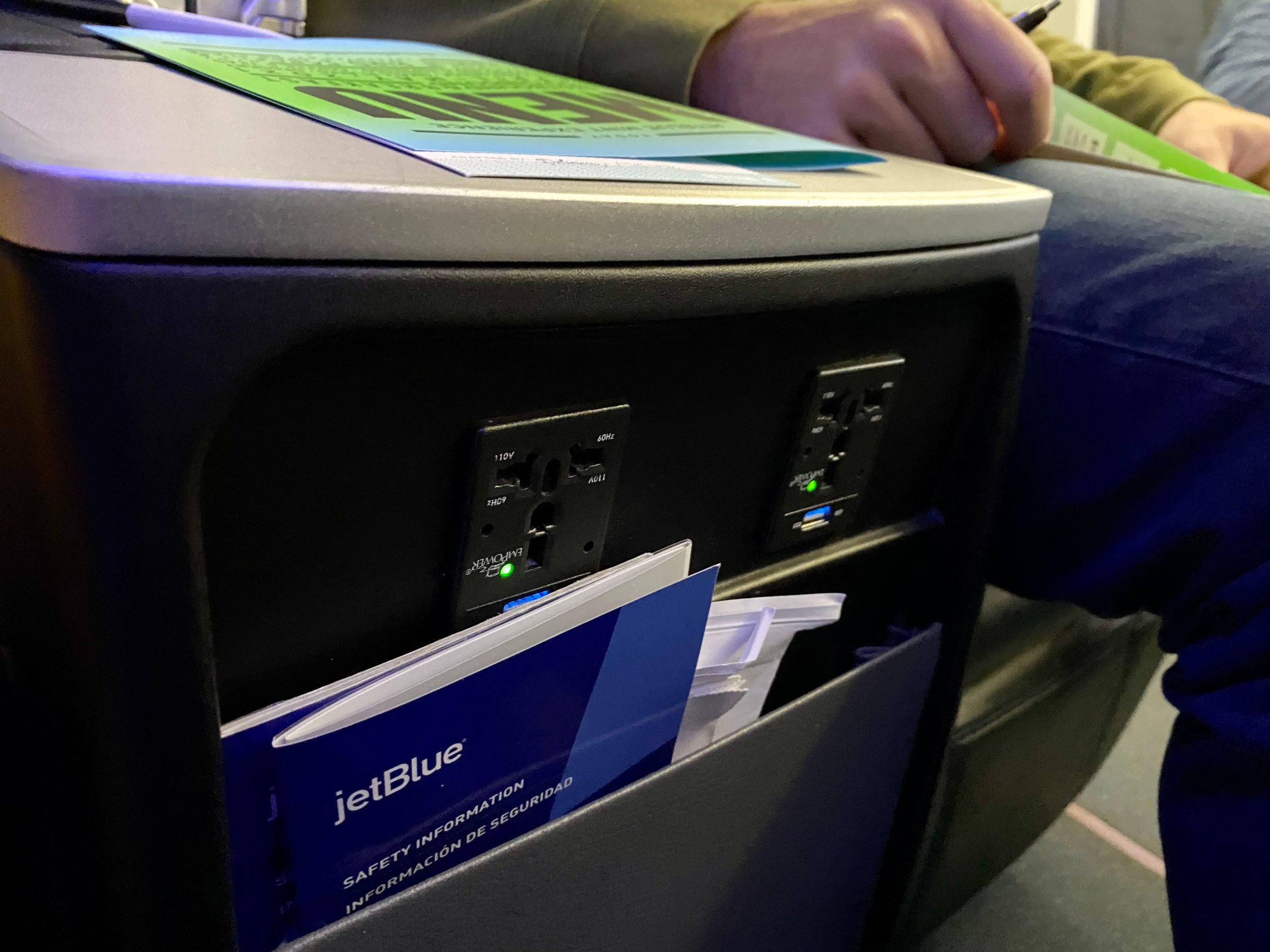 If there's one area where these JetBlue Mint seats are showing their age, its the TV screens. At 15.4 inches, they're neither tiny nor massive. But they're definitely not high-definition screens: The display is far from crisp. And the touchscreen wasn't exactly responsive, either – that wired remote came in handy.

In all, JetBlue Mint seats themselves are great – but not without some flaws. No matter what seat you get, they're still a step above most of what's flying in the skies across America. And there's no question that sneaking into a throne suite with closing doors is on another level entirely.
Food and Service
This is it. This is why you fly JetBlue Mint. The seats are one thing, but the food and service flying Mint are second-to-none, in my experience.
Throughout the pandemic, other airlines have cut inflight food and beverage service back to the bone. On many flights in the U.S., that service is still prepackaged snacks and drinks even up in first class. While things have certainly changed on JetBlue (think plastic food covers), they refreshed their service in late 2020, finding a way to deliver top-notch inflight service safely without making big sacrifices.
Simply put: There's no service like JetBlue Mint service.
What's more, the flight attendants working our cabin were delightful from start to finish. Lynne, the flight attendant working our seats throughout most of the flight, was cheeky, fun, and personable. She gladly welcomed us aboard for our first Mint flight, showed us around our seats, and explained some of the perks of flying JetBlue Mint.
JetBlue does meals a bit differently up in Mint. You've got a menu of five choices, and you pick three. We were on an 8 a.m. departure, so it was breakfast time. Rather than read out our order, our flight attendant asked us to circle each option on the menu and also write in our drink order, too.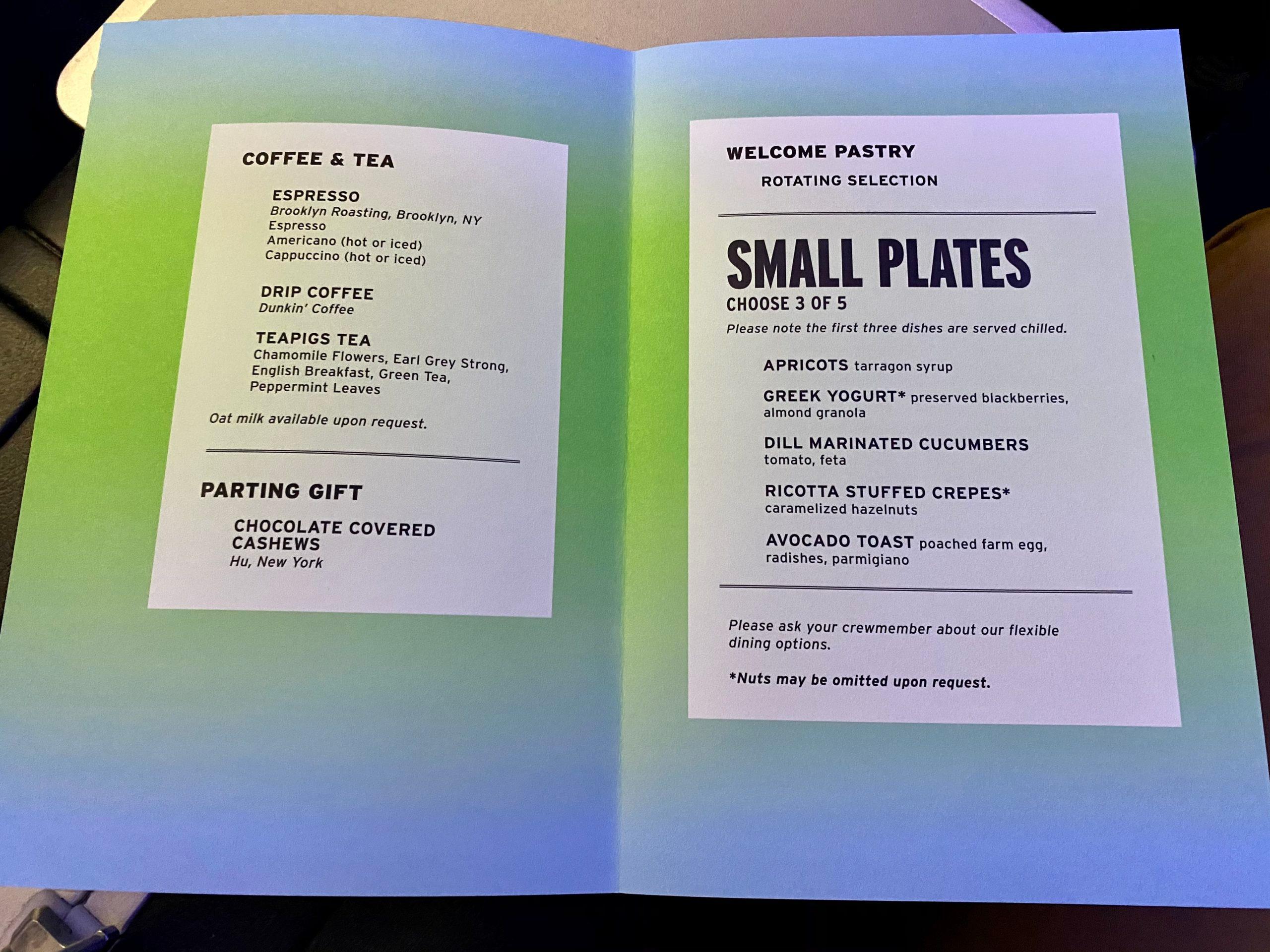 You can order drinks at any time throughout the flight, and both flight attendants in Mint were stellar about checking in to see if we'd like anything else. In addition to coffee and tea, there's also a pretty good wine list.

Then there were some beer and liquor options in addition to two specialty cocktails: A Black Maple Old Fashioned and the Mint Condition, a refreshing gin- or vodka-based drink.

To start, I ordered an iced Americano and a glass of champagne, which came out with a flaky croissant.

While many airlines are still using plastic cups, things are back to normal in JetBlue Mint. I really loved this glassware.

For breakfast, I ordered the avocado toast, ricotta-stuffed crepes, and apricots in tarragon syrup – and Lynne heavily encouraged me to ask for a side of bacon, too. It all came out on a single tray, with each plate covered individually and a neat dish with sea salt and chili oil in the center.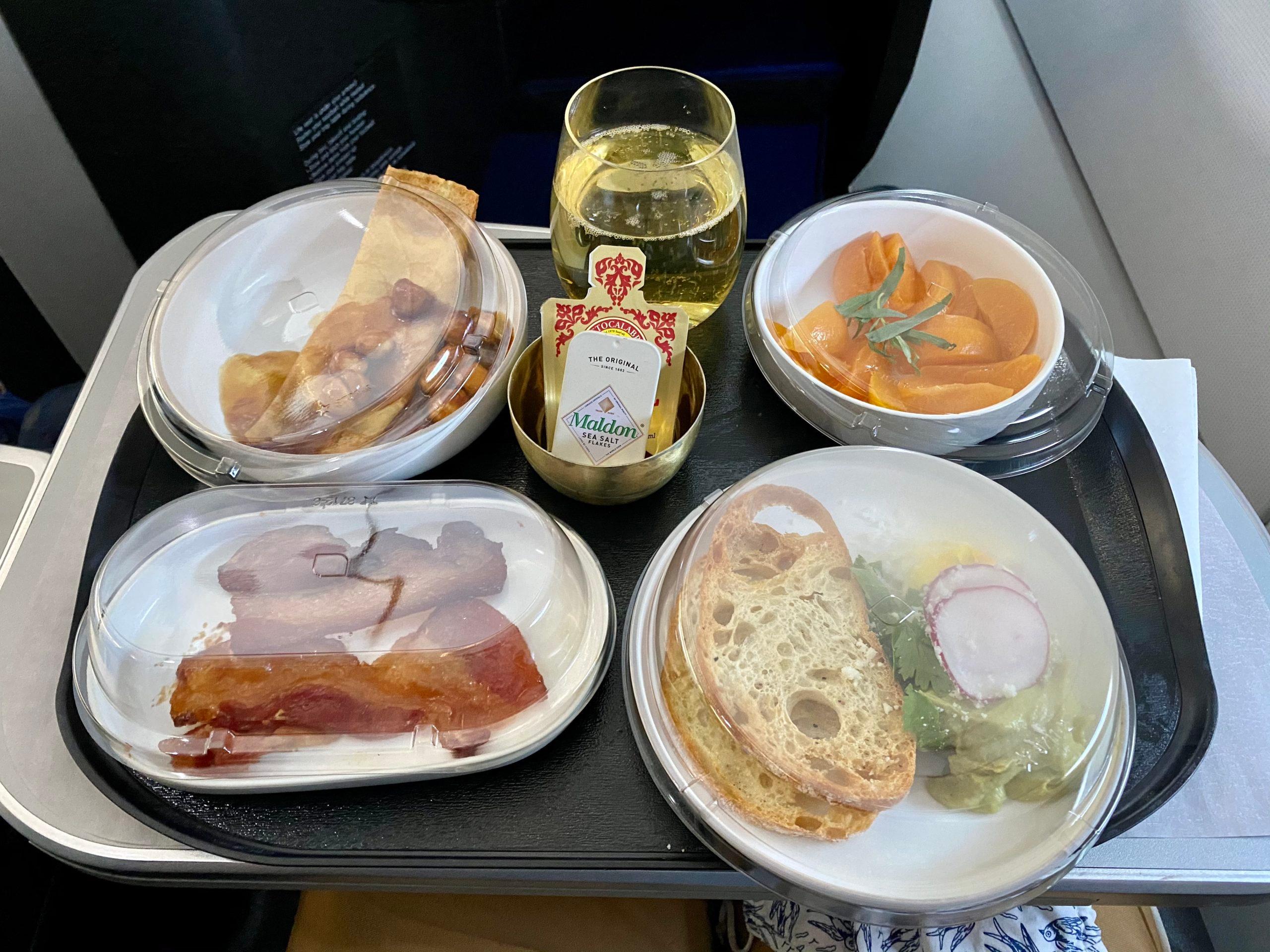 Every single bite was delicious. This breakfast was on par with some of the best business class meals I've had flying the likes of Qatar Airways and Singapore Airlines. And the pick-three-dishes concept is just so different. From start to finish, JetBlue feels like a breath of fresh air.
The ricotta-stuffed crepe with caramel and hazelnuts was particularly excellent.

An hour or so after cleaning my plate, I tried out the maple Old Fashioned while watching Tenet. That, too, was great – a tad smoky and topped off with an orange peel.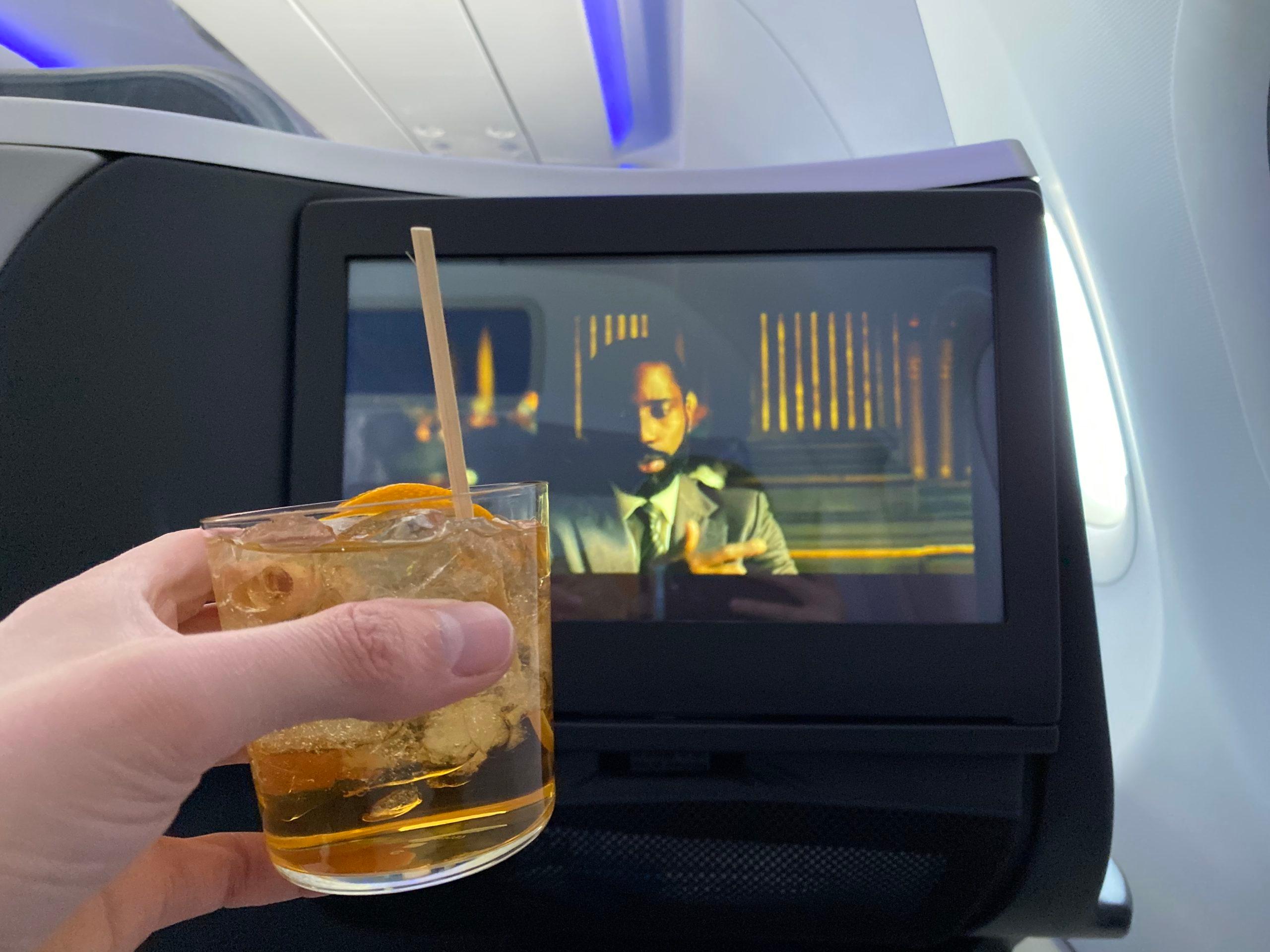 After almost six hours in the air, it was time to land. As our flight wrapped up, Lynne chatted with us extensively, sharing her excitement with us about the upcoming service to London. Then she dropped off a final treat and a thank you note. It's the little things like this that can really make a difference.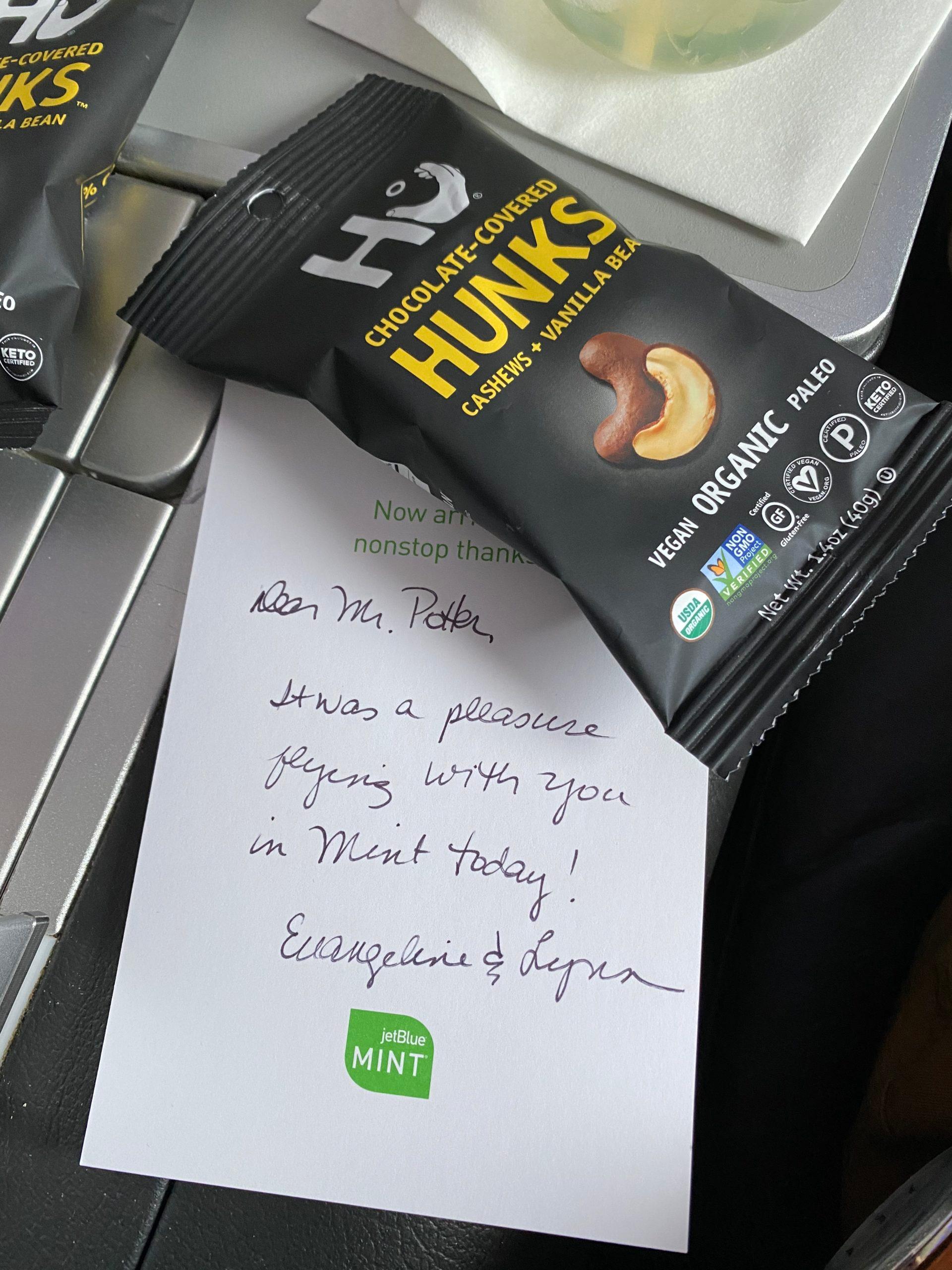 Amenities
You'll get a lot of goodies flying JetBlue Mint.
JetBlue partners with some fun vendors to keep planes stocked up in Mint, and it shows. Waiting for us at our seats were an amenity kit, menus, and bedding.

The amenity kit is a collection of goodies from Wanderfuel designed specifically for wellness inflight. Just what you get will depend on whether you're on a morning, daytime, evening, or a Caribbean flight. For our morning flight, the Awake kit came with a face wipe, oxygen skin mist, a collagen drink mix, therapy balm, caffeinated mints, and a pair of socks.

There was also a set of headphones waiting at our seats from Master & Commander. While they weren't noise-canceling headphones, they were very comfortable.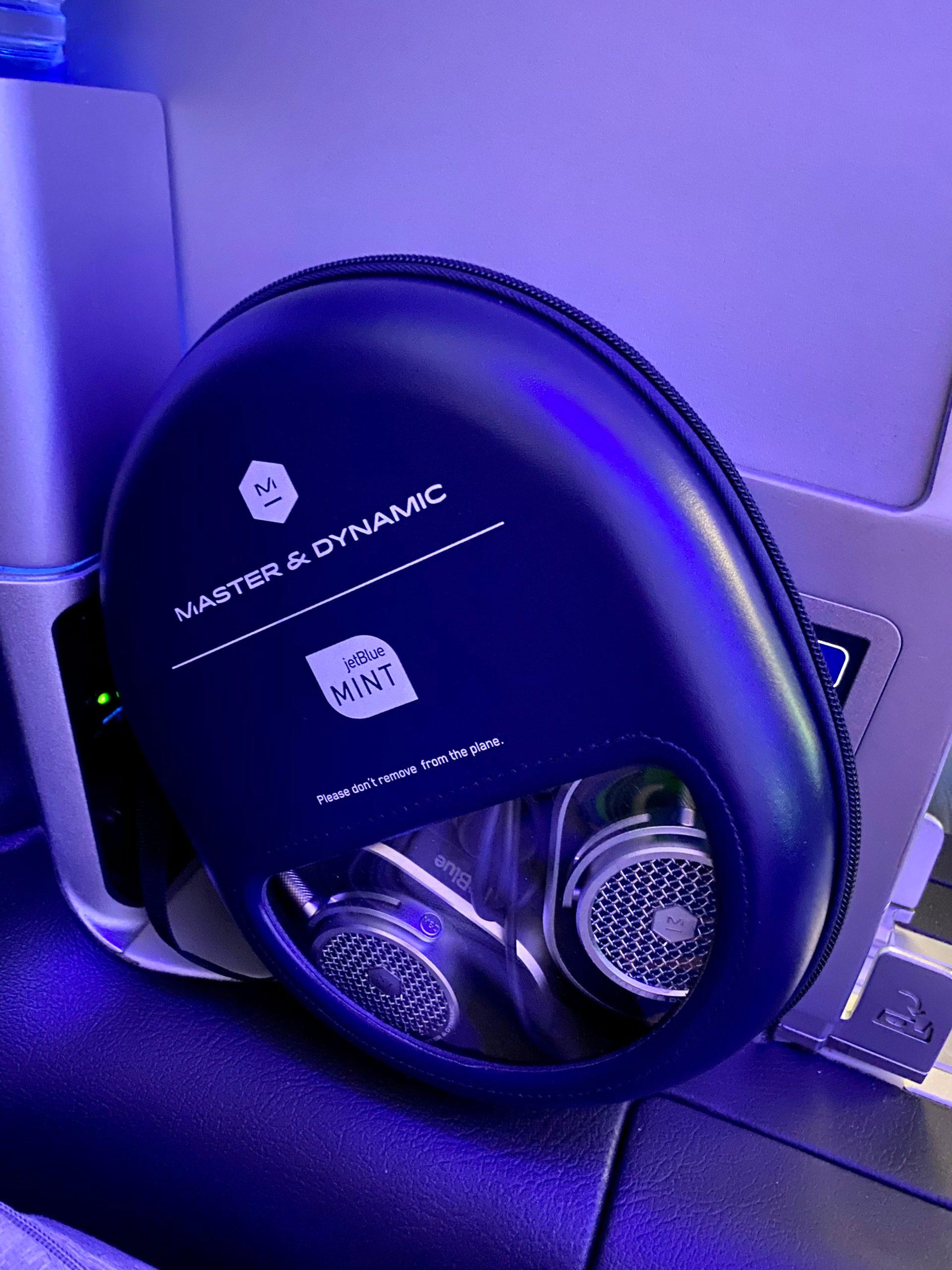 And I really loved the pillow-and-blanket set from Tuft and Needle. While small, the pillow was comfortable. And the duvet was high quality – not too heavy, not too light.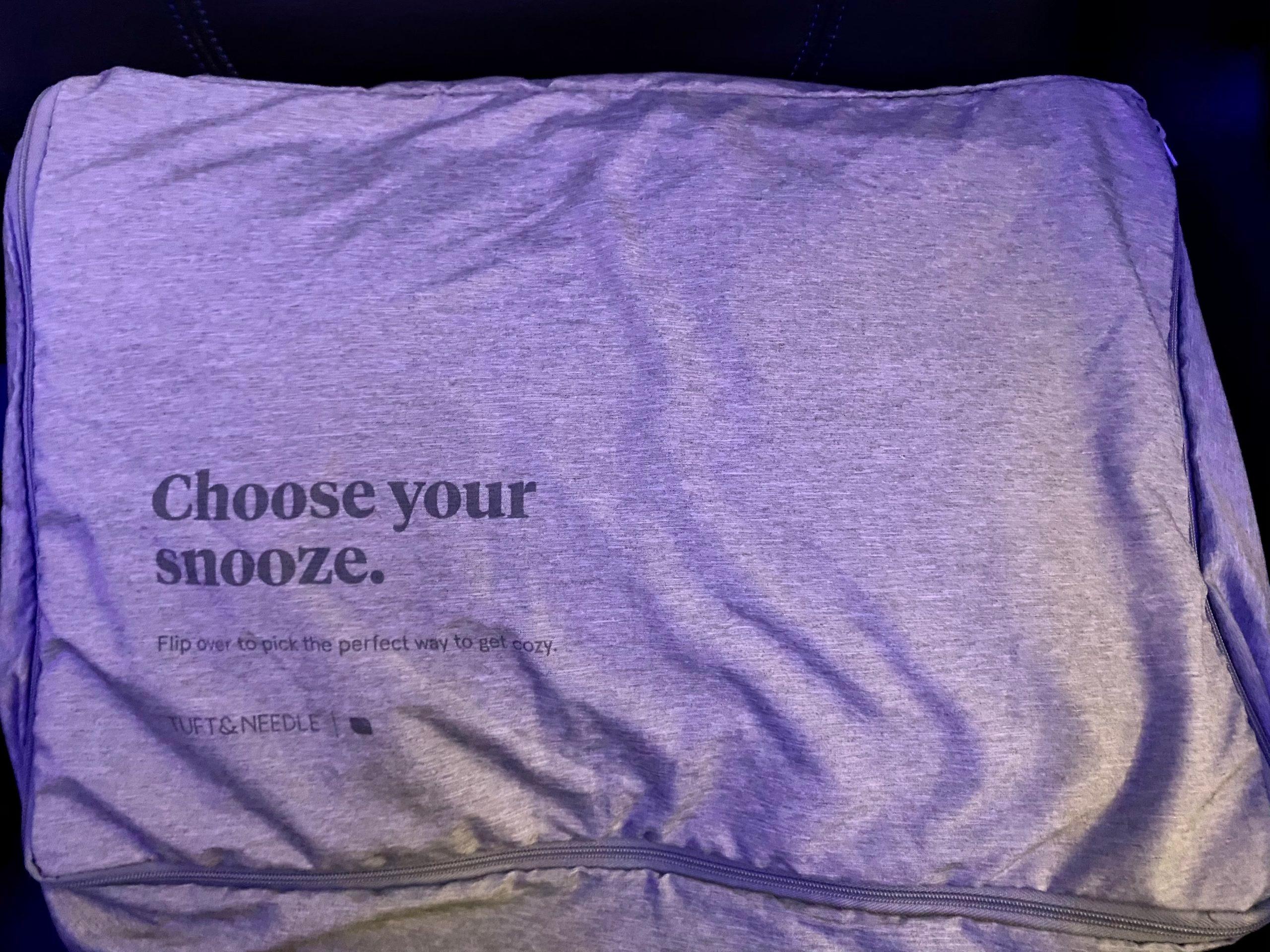 It helped transform an otherwise fairly hard seat into a cozy bed, perfect for a quick nap after breakfast.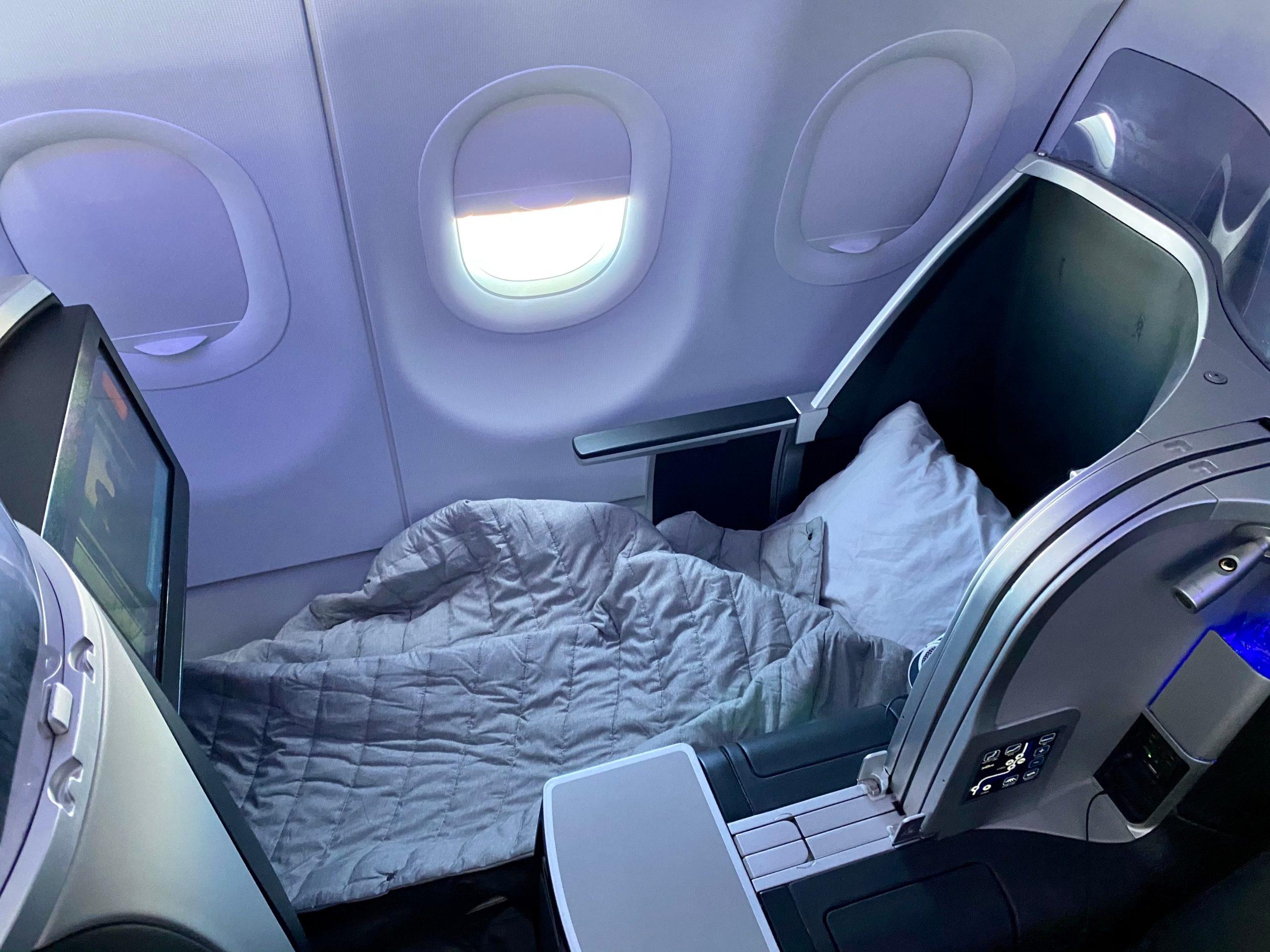 Bottom Line
Is JetBlue Mint perfect? No. But if you ask me, it's about as close to perfect as you'll find flying in the U.S.
The seats could use some work, and I'm eager to try Mint again flying in a suite. But the service and food flying JetBlue Mint are second-to-none in the country. JetBlue has truly set itself apart with Mint.