Earning points and miles to fly for pennies on the dollar is the easy part. Using those miles wisely is another issue, and finding award availability – seats that you can actually book with those miles – can be the hardest part.
Most airlines handle award redemptions completely separate from their cash fares. It's up to each airline to open up their seats to be redeemed with miles, and some are stingier than others … especially if you're aiming to fly in business or first class. That's why you might see award seats available only on select dates – or none at all.
The biggest trick to finding the flights you want is searching in the right place: Not all websites are created equal when it comes to searching for award availability. The best sites give you a calendar view to see a month's worth of availability at once, let you filter for nonstop flights, and sort the results to hone in on what you're looking for. And as you'll see, that means it's often best to start searching through a U.S. airline's website, even if that's not whose miles you're using.
Let's dive a little deeper into the best websites to search for award redemptions on each airline alliance as well as a few third-party websites that can help you find award availability.
Oneworld Award Availability Sites
The Oneworld alliance counts 13 airlines as members, including American Airlines, Alaska Airlines, and several more.
Want to book a cheap American Airlines flight to Hawaii or the Caribbean? Fly Qatar Qsuites? This is where you need to look.



Alaska Airlines
American Airlines
British Airways
Cathay Pacific
Finnair
Iberia
Japan Airlines
Malaysia Airlines
Qantas
Qatar Airways
Royal Air Marac
Royal Jordanian
Sri Lankan Airlines
If you're looking for award flights on any of these airlines, whether it's Qatar's world-best Qsuites or Iberia business class for as low as 34,000 Avios one-way to Spain, you'll want to use the following tools to find the availability.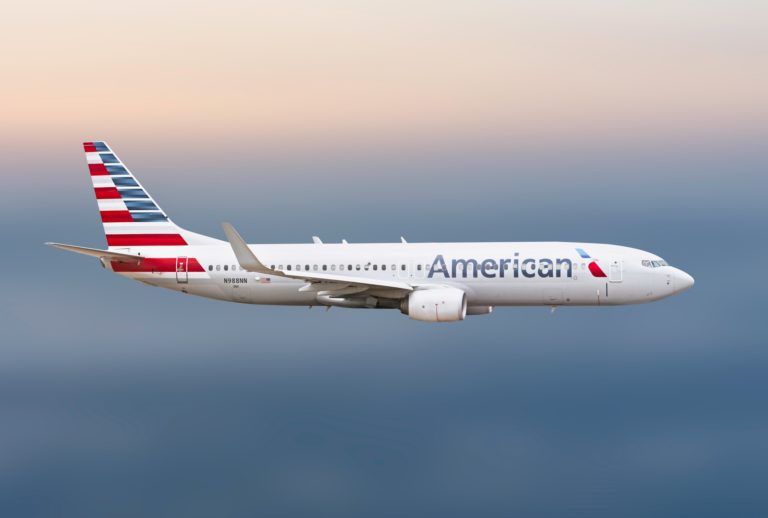 American Airlines
Hands down, the best way to find award availability on Oneworld airlines is to head to straight to aa.com.
You'll be able to start your search with more filters if you start out on its advanced search page. Here, you can choose to search for roundtrip, one-way, or multi-city flights, select the number of passengers, and you can choose to show only "Business / First" class awards under "Options."
But it's after you hit search where the most powerful features come up. On the list of results, you'll be able to filter by number of stops, airlines, and nearby airports. And you can also sort your results by departure time, arrival time, duration, or price.
Best of all, you can open up a calendar search tool: a big reason American's search tool is better than the rest.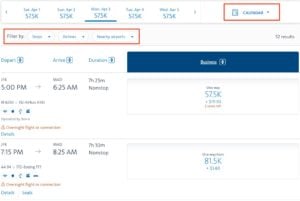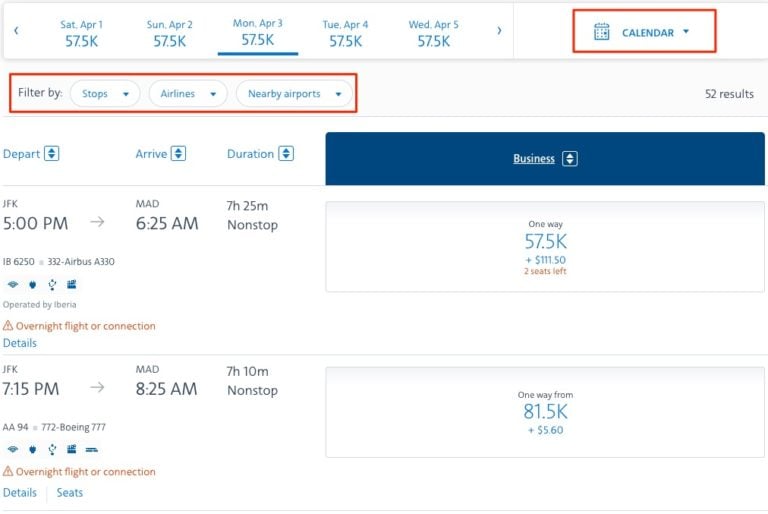 Once you open the calendar view, you can also filter by number of stops and class of service. This is the biggest difference between American's search tool and others, including Alaska. While Alaska allows you to view fares on a monthly calendar, you cannot filter the calendar-view results by number of stops, making it difficult to pinpoint award availability on nonstop flights. With American, you'll get a clear view of nonstop availability. And you can easily toggle from month to month.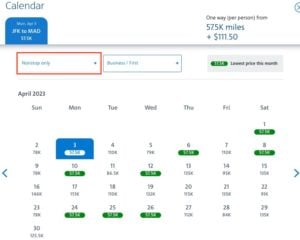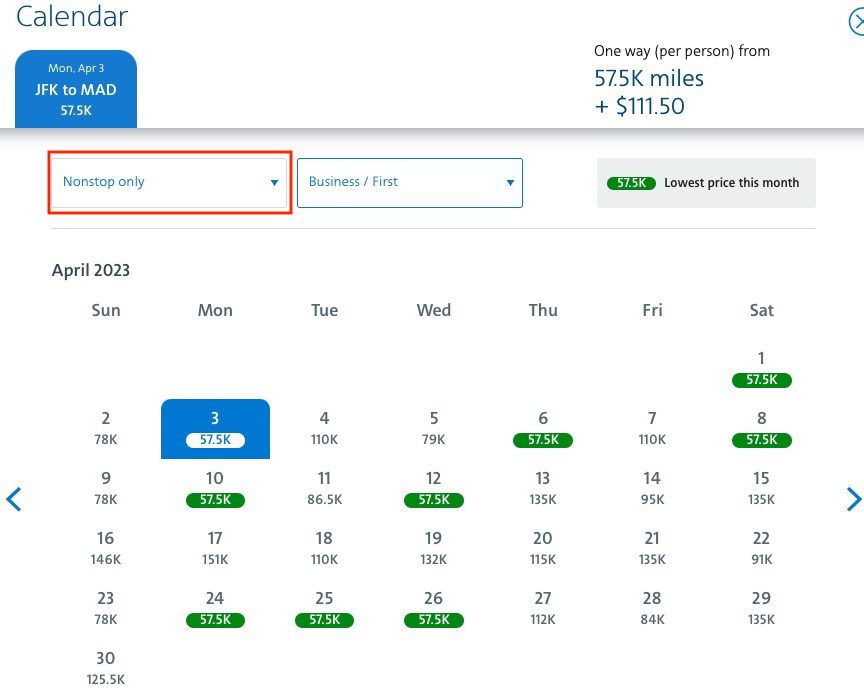 As a general rule of thumb, it's best to first search for availability on the nonstop, long-haul flight you wish to take and then try to find availability on connecting options afterward, if possible. American's ability to filter for nonstop flights on its calendar search makes this task much easier.
You'll also be able to use American's search tool to find award availability on non-alliance partner airlines such as Air Tahiti Nui, Fiji Airways, and JetBlue. American lists all the airlines you'll be able to search for on its website.


Alaska Airlines
Alaska Airlines has a robust search tool that allows you to view award rates in a calendar view – the most important feature of any award search tool. This allows you to find rates over a range of dates.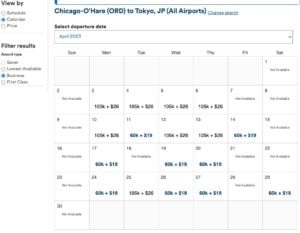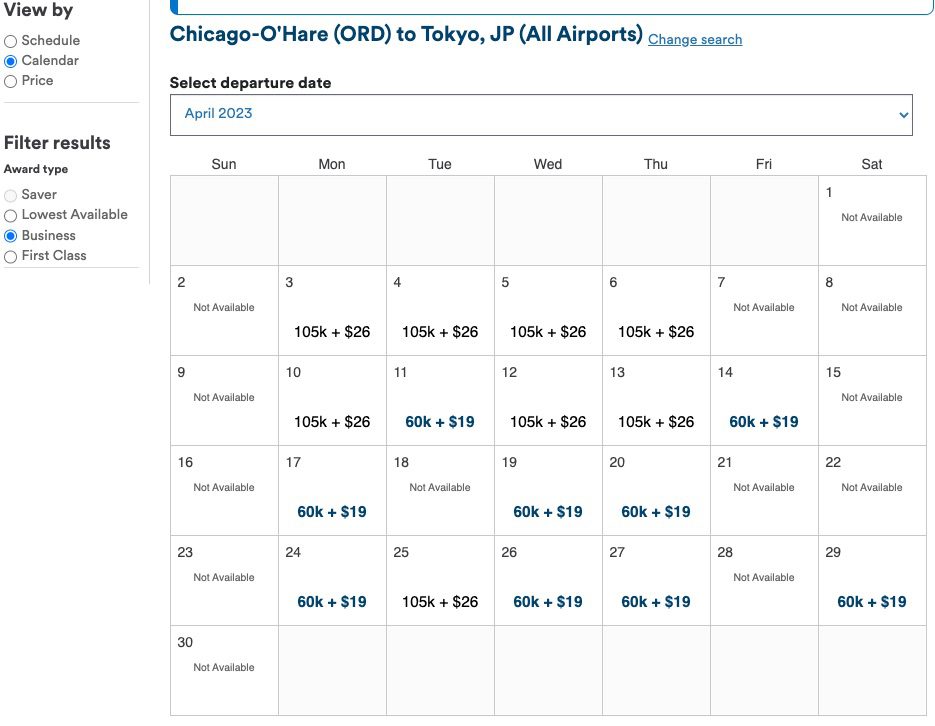 However, a major flaw in Alaska's calendar search is that you are unable to filter this view to only show nonstop flights. While you can filter for class of service, you may sometimes wonder why there are so many dates if you filter for "First Class" when searching for a long-haul route such as flights to Tokyo.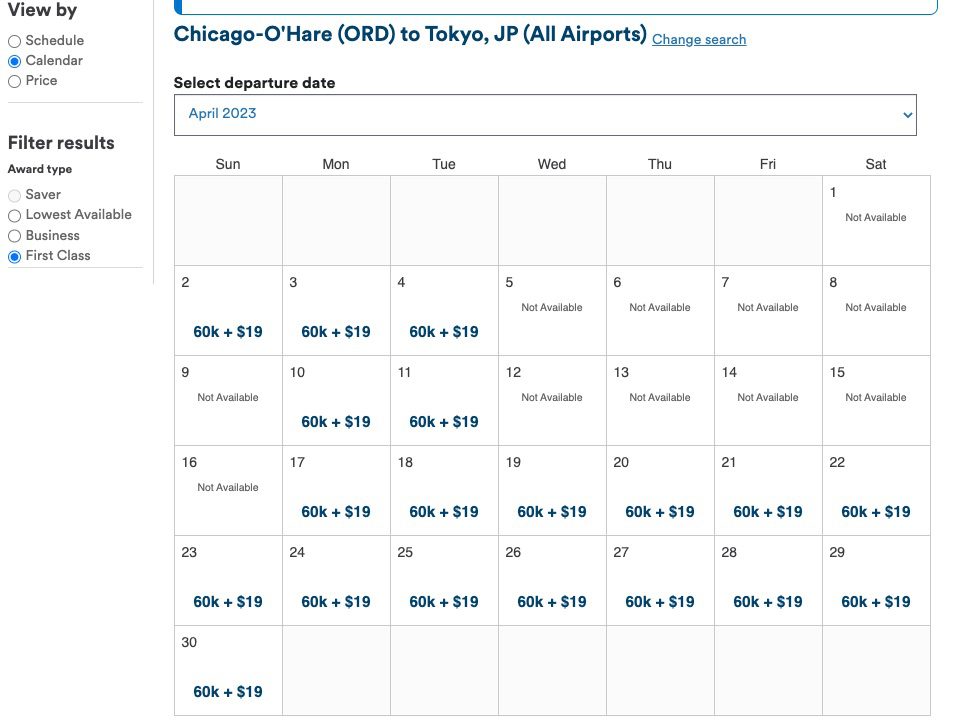 After clicking through, you'll see the flaw. Those dates with "First Class" seats you saw on the calendar may only have availability in first class on a short domestic hop. You can pick out mixed-cabin awards on Alaska's list of fares by an airplane seat icon next to the rate.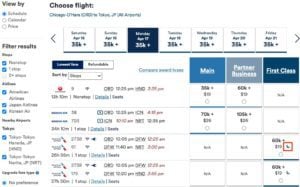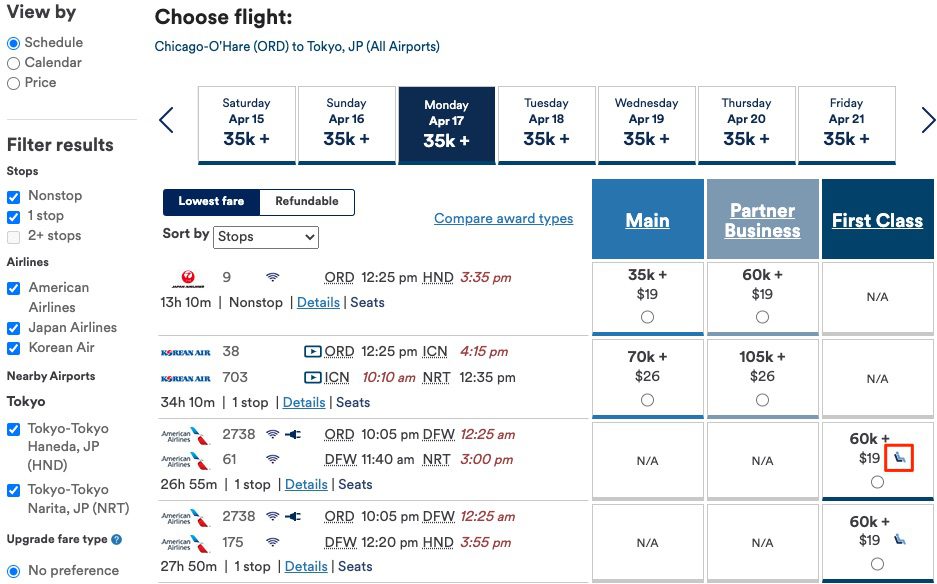 If you click on that icon, you'll most often see that it is just a short connecting flight in domestic first class and the long-haul in coach. Do not book these awards: It's a horrendous deal.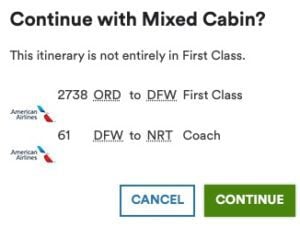 Nonetheless, Alaska's search results list does allow you to filter and sort for number of stops, airlines, nearby airports, departure and arrival times, duration, and price. You'll just want to watch out for mixed-cabin awards on connecting itineraries and the fact that you can't filter for nonstop flights in calendar view means Alaska's search tool is best used to confirm availability after finding it on American's website.
British Airways
British Airways' website won't win any awards for being user-friendly.
First, you need to create an account and log in to be able to search – an annoying step that's not required with every airline program. You can only view award rates for exact dates and you'll only get a week-long view to choose other dates.
But British Airways has its place. It's most useful to confirm space on the exact dates where you found availability on American or elsewhere, just to make sure it can be booked by another partner airline.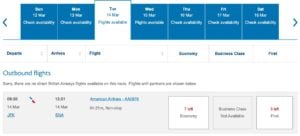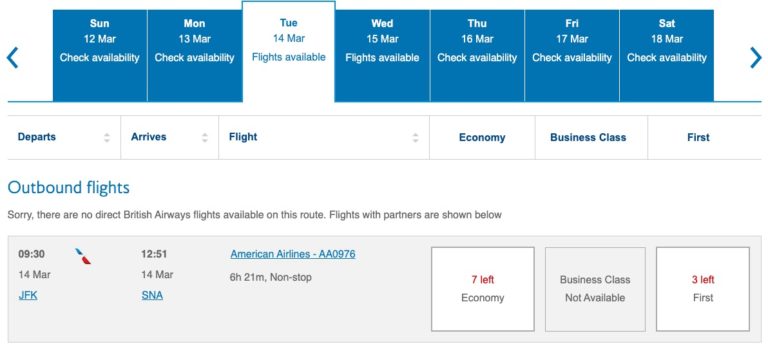 If you are looking for award space on British Airways flights in business or first class, British Airways does have a handy Reward Flight Finder where you can search for up to one full year to find award availability on flights operated by British Airways. One important note is that you'll need to start typing in the city name rather than the airport code for some cities (i.e. London instead of LHR).
If you choose to search for full-year availability, you'll see a bar graph showing the availability throughout the year and a calendar with dates you can choose below that.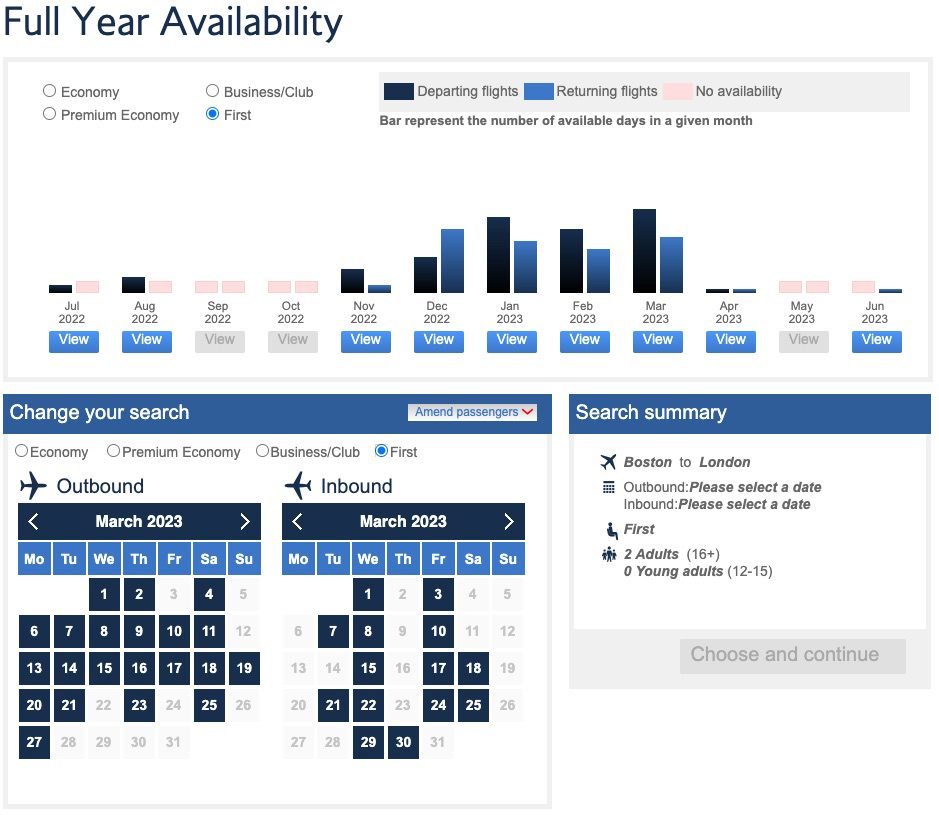 But this tool will only work for nonstop flights operated by British Airways so it's a bit limited in its scope. Plus, you'll always get hit with extremely high cash fees when redeeming points and miles for British Airways flights. Still, if you're dead set on flying British Airways First Class, this is a great way to find the availability and it's a lot cheaper than booking a first class ticket with cash.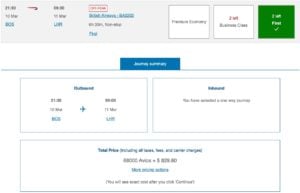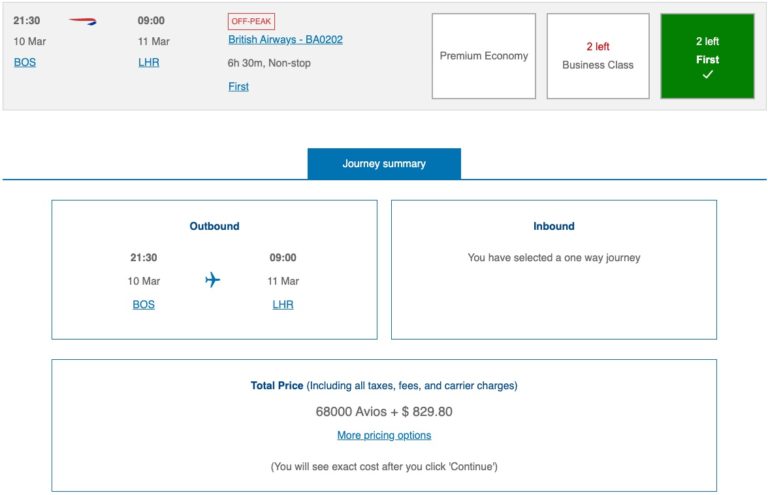 SkyTeam Award Availability Sites
Delta, Air France, and KLM are the top three airlines in the SkyTeam alliance. In total, you can choose between 18 SkyTeam airlines.



Aerolineas Argentinas
Aeromexico
Air Europa
Air France
China Airlines
China Eastern
Czech Airlines
Delta
Garuda Indonesia
ITA Airways
Kenya Airways
KLM
Korean Air
Middle East Airlines
Saudia
TAROM
Vietnam Airlines
Xiamen Air
Looking to fly Delta One or Air France business class? You'll want to use the right tools to find the availability. Here are some of the best.

Delta
Delta's website has some of the best features you're looking for when searching for award availability and it's incredibly easy to use.
Simply start your search from the homepage and select "Shop with Miles." In general, Delta reserves its lowest SkyMiles rates for roundtrip purchases so you'll often need to search roundtrip to find the best deals on Delta-operated flights.
You can also expand the "Advanced Search" options to include nearby airports and search for a specific class of service. The ability to filter out basic economy fares and only search for main cabin tickets is a great feature since Delta is the only major U.S. airline to sell basic economy award tickets. Our advice: Avoid basic economy whenever possible. It's often only a few thousand more SkyMiles to book main cabin.
If you're looking for long-haul business class flights, regardless of which airline you want to fly, choose "Delta One." While the rates for business class flights using SkyMiles are usually through the roof, using its search tool can be a good way to pinpoint which dates are available using miles from other SkyTeam partners and non-alliance partners such as Virgin Atlantic.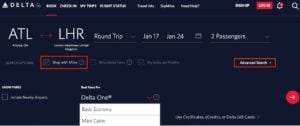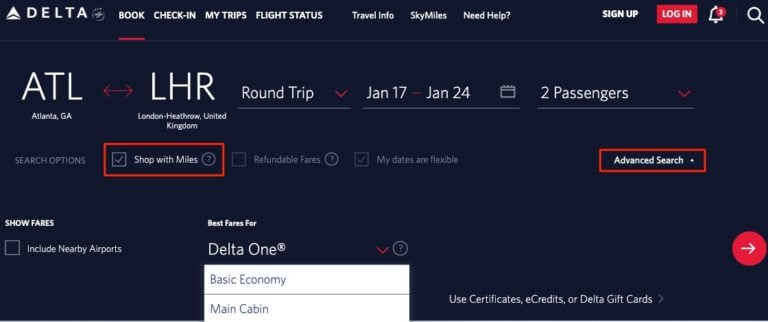 Once you've started your initial search, you'll be able to toggle between a "Flexible Dates" view, which shows a grid of availability within seven days of your search date, or a "Price Calendar" view, which shows a full month of travel dates for your desired trip length. We prefer the price calendar view as it allows you to see a wider range of travel dates and you can easily switch between months using the arrows on either side.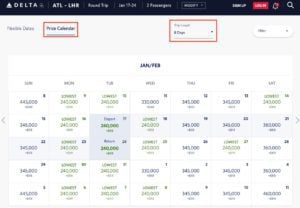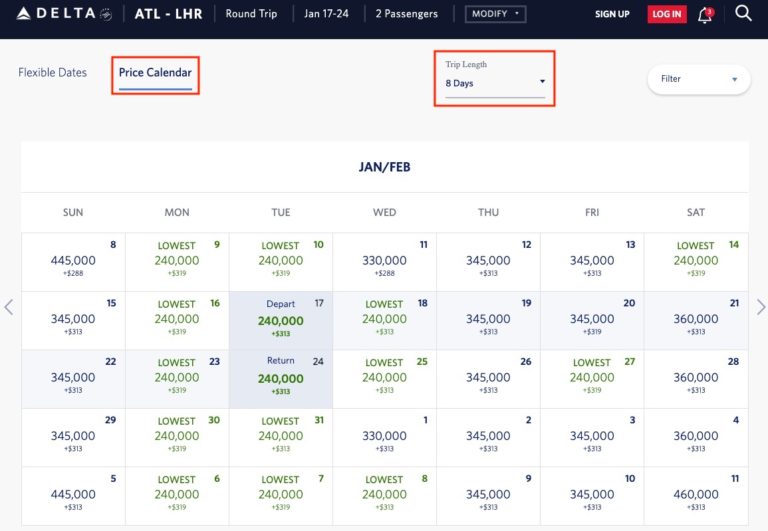 Looking for nonstop flights only? One of the keys to finding award availability is to first nail down the long-haul nonstop route and Delta's filter makes this easy to see on its monthly calendar view. Just click the "Filter" dropdown to display only nonstop flights. Note: If there are no nonstop flights available on the route you're searching, you'll get an error that brings you back to the homepage to search again.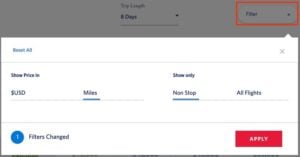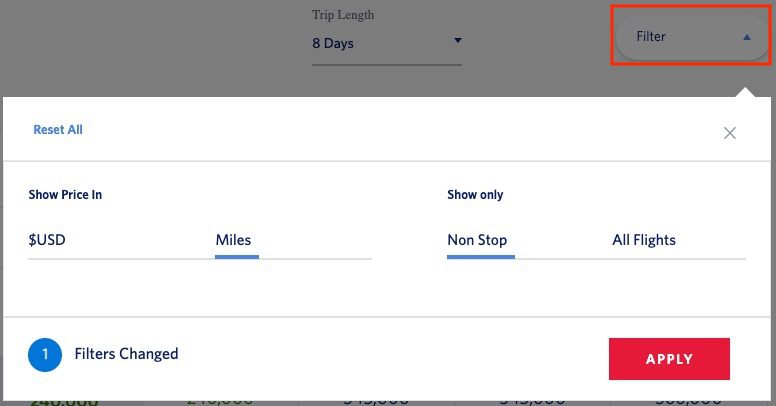 You may not want to book a business class flight using your SkyMiles, but Delta's search tool can help you find the availability on partner airlines, which you can then turn to book with another program that has cheaper rates. For instance, Virgin Atlantic business class between Atlanta (ATL) and London (LHR) will cost 120,000 SkyMiles each way, but it's only 83,500 Air France Flying Blue miles. Depending on the route and travel dates, it can be even less.


Virgin Atlantic
Virgin Atlantic may not be a member of the SkyTeam alliance, but it's a close partner airline with Delta as well as Air France-KLM. So if you're looking to fly these airlines, Virgin Atlantic's search tool is often the best way to pinpoint availability that can be booked by other partner airlines.
This comes into play whether you're looking to book flights to Hawaii for just 17,500 miles each way from anywhere in the U.S., hop on an Air France or KLM flight over to Europe for 15,000 points each way, or if you want to fly up front in Delta One business class for just 50,000 miles one-way to Europe.
Virgin Atlantic's search tool is nearly identical to Delta's. The two airlines share the same IT so you'll notice a similar experience as you do when searching Delta's site – with some British terminology mixed in. For instance, "Upper Class" is what you'll want to search for when looking for business class seats.



The one glaring difference you'll notice is that Virgin's "Price Calendar" has been hidden, but there is a sneaky way to view Virgin's price calendar by editing the URL in the address bar. Using the price calendar and filters will be the best way to pinpoint availability on partner airlines when using Virgin's search tool.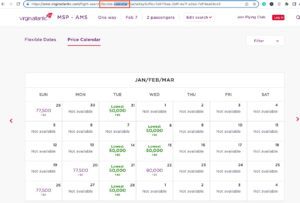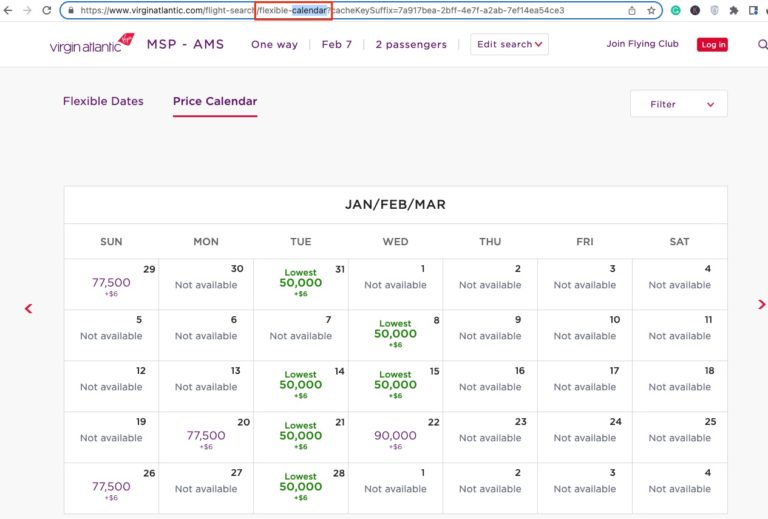 Air France-KLM
Finally, you may want to turn to Air France-KLM's Flying Blue search tool if you are looking for flights operated by these carriers. Although it has variable pricing, you'll find the most inventory directly on its website and the lowest rates are pretty reasonable.
Plus, there is also a trick you can use to get a price calendar when searching for flights – but only when they're operated by either Air France or KLM.
You'll need to create an account and log in to search with either Air France or KLM. The key to getting a price calendar is to use this link, input your departure and arrival cities, and choose your cabin, but leave "passengers" set to "1 adult" and "departure date" blank. Then, click "Search Flights". It's easiest to search for availability one-way at a time.



If you do this, you'll open up a calendar search tool as long as either Air France or KLM operates a flight on the route you're searching. You can then navigate between months and click through on the dates to verify availability. You'll sometimes find that the rates listed on the calendar are incorrect and there isn't a way to filter for nonstop flights so this will take a bit of trial and error.
Nonetheless, it can be a useful tool as long as you know its limitations. Of course, after you find some dates, you'll want to go back and search those exact dates for the total number of passengers traveling to ensure there are enough seats for your party.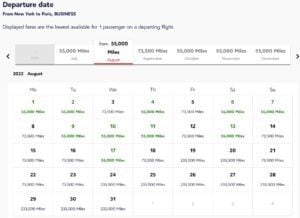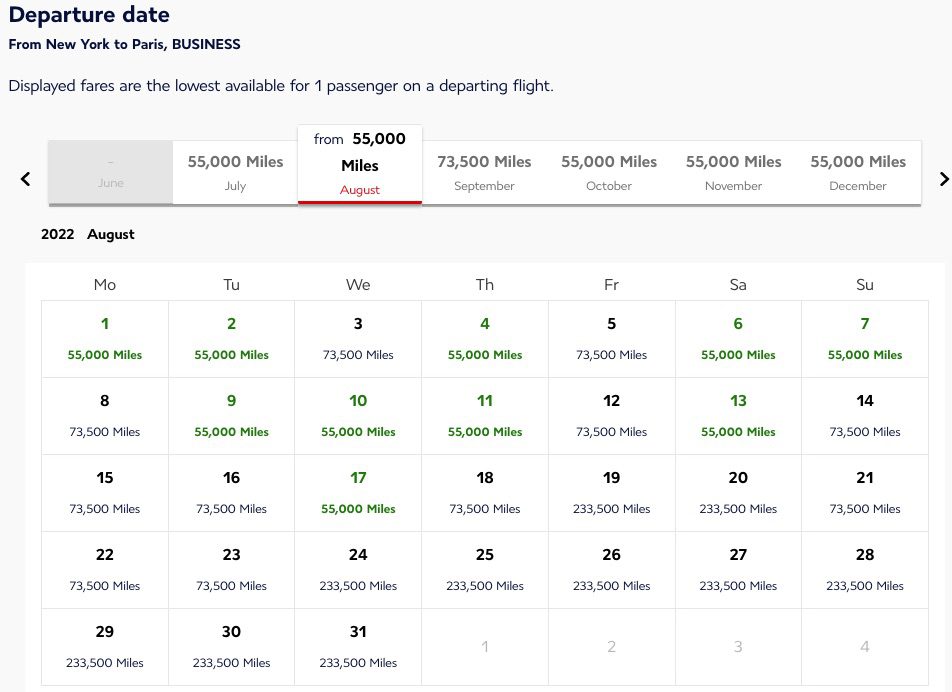 Star Alliance Award Availability Sites
The Star Alliance is the largest airline alliance in the world, with a total of 27 members, including United, Air Canada, and more.



Aegean
Air Canada
Air China
Air India
Air New Zealand
All Nippon Airways (ANA)
Asiana Airlines
Austrian Airlines
Avianca
Burssels Airlines
Copa Airlines
Croatia Airlines
Egyptair
Ethiopian Airlines
Eva Air
LOT Polish Airlines
Lufthansa
Scandinavian Airlines (SAS)
Shenzhen Airlines
Singapore Airlines
South African Airways
Swiss International Air Lines
Tap Air Portugal
Thai Airways
Turkish Airlines
United Airlines
If you're looking to fly on any of these Star Alliance carriers, odds are your best bet is to start your search with United's search tool and then confirm availability with another program such as Air Canada's Aeroplan, or the frequent flyer program you're using to book the flight.
One major exception to this rule is Singapore Airlines, which doesn't allow almost any partner airlines to book first or business class award tickets on the vast majority of its long-haul routes. That means you'll need to search directly with Singapore Airlines to find award availability if you want to fly Singapore business class or first class.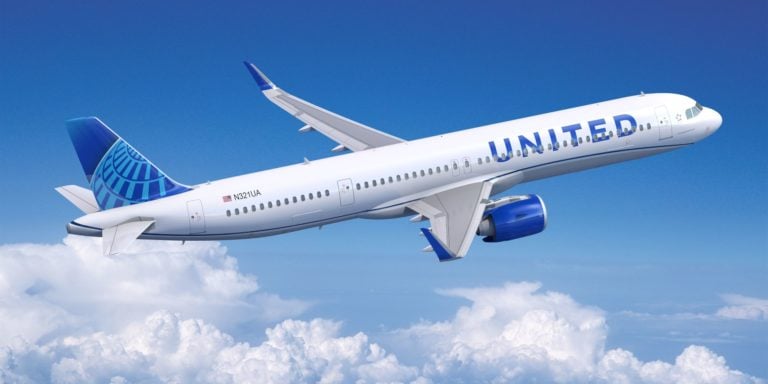 United Airlines
Whether you want to fly Lufthansa first class, Swiss business class, or Turkish Airlines business class, you'll likely want to start your search for award availability using United's advanced search tool.
If you start your search from United's homepage, you'll get a new interface, which is not as user-friendly. Therefore, I highly recommend using these step-by-step instructions in order to pull up the old interface in your search results.
You can start filtering your search right off the bat with United by selecting "nonstop only" and choosing "flexible dates." Always make sure you're searching for the exact number of travelers you wish to book together.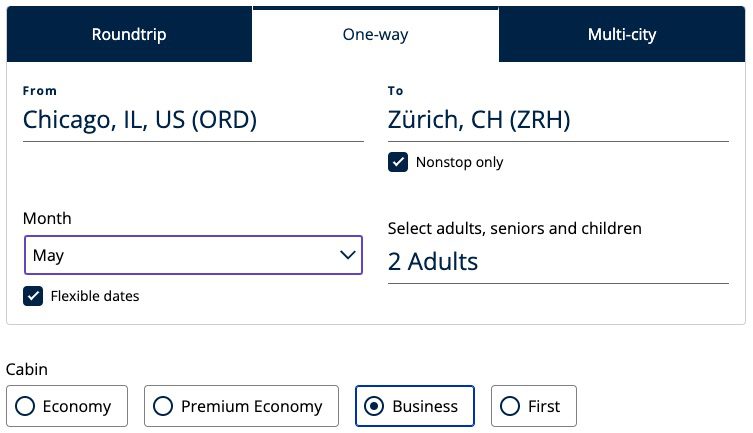 After searching, you'll be able to expand your view to a 30-day calendar, which is the best part of United's award search tool. You can easily toggle between months by using the arrows on either side at the top of the calendar. You can also filter for nonstop flights or flights "with stops" to be displayed on the calendar.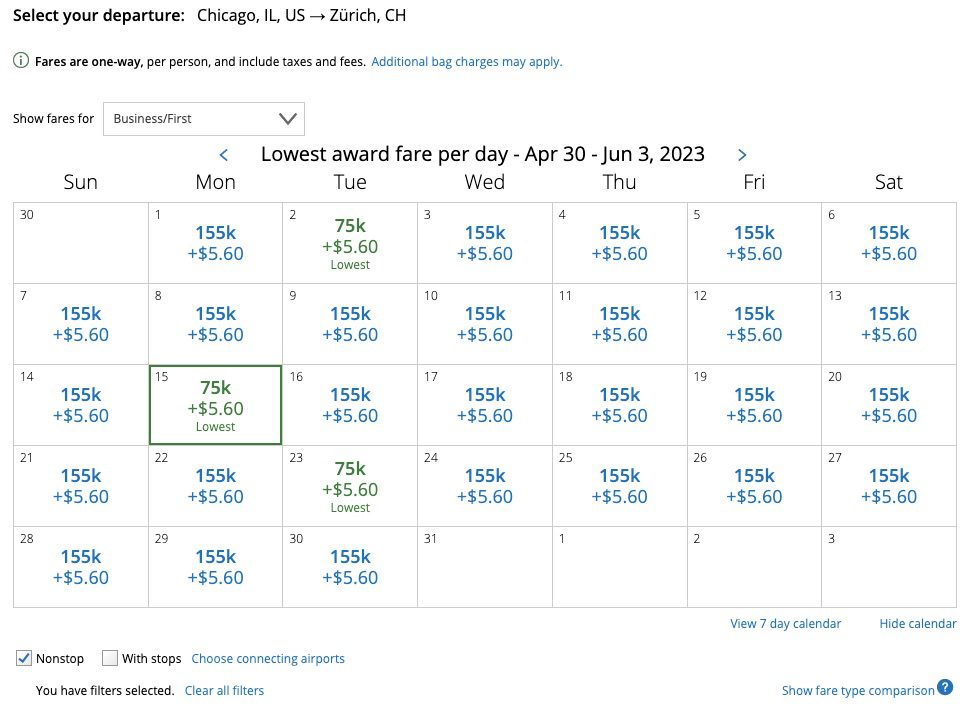 Below the calendar, you'll see a list of flights for your date. You can filter this list to only include or exclude specific connecting airports and can also sort your results by departure/arrival time, number of stops, duration, and price by class of service. These tools help you pinpoint award availability on the best flights.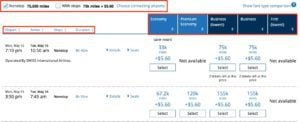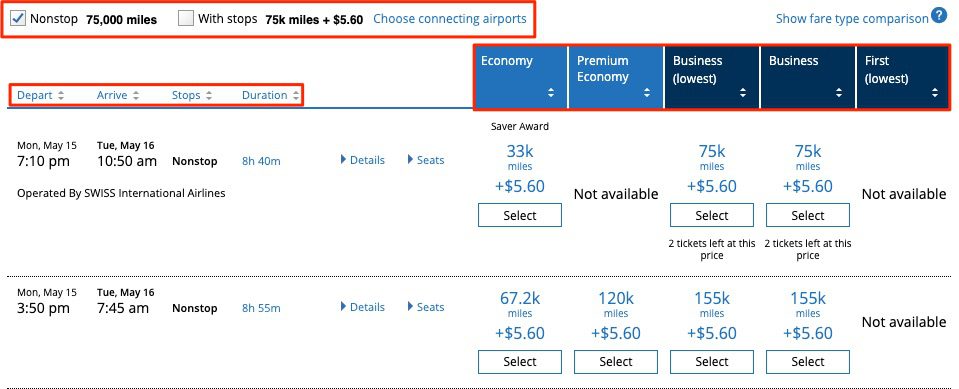 While United's tool stamps "Saver Award" for economy flights that are available at the saver award level, it doesn't do this for business or first class. This means you'll have to expand the details and check the fare class letter code in parenthesis to know if it's a saver award. (X) for economy, (I) for business, (O) for first.
In this example, you'll see that the Swiss Air flight has saver award space, but the United flight doesn't.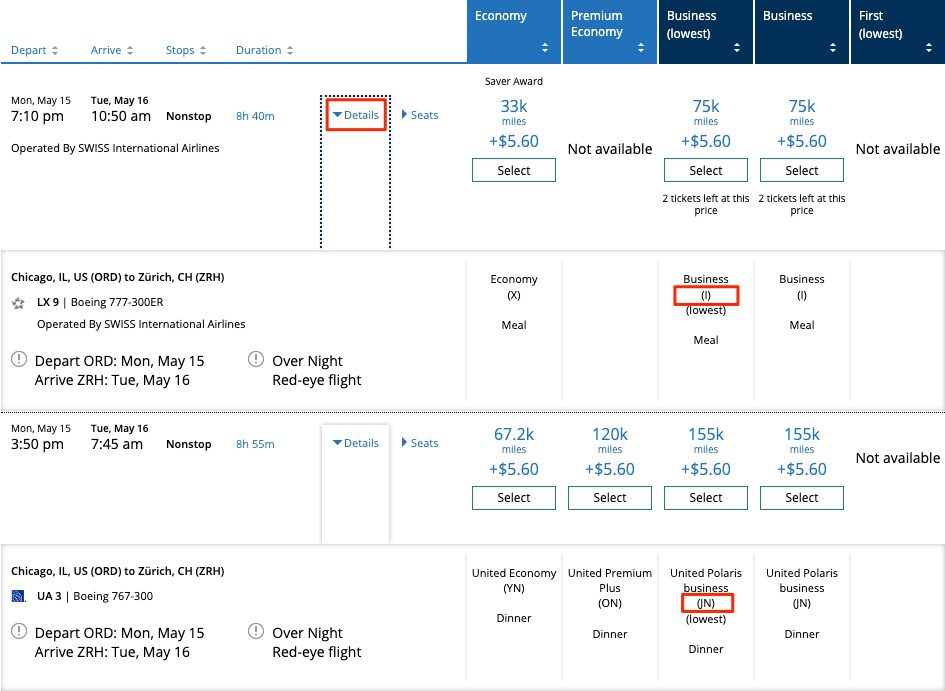 Finding "saver award" space is key as it is the only award space that can be booked by partner airlines. United's search tool is also useful for searching non-alliance partners such as Aer Lingus. United lists all of its non-alliance partners on its website.
Air Canada Aeroplan
Another great tool for verifying award availability on Star Alliance carriers is Air Canada's Aeroplan search. You can simply search directly from the homepage by selecting "Book with points."
Unfortunately, you can't pull up a monthly calendar view with Aeroplan's search, but it is a good way to cross-check availability on exact dates that you found on United's site. Plus, you'll have several filters and sorting options available on the list of results.


While Aeroplan doesn't require you to log in to search, it does require you to log in to see prices on its five-day calendar displayed above the search results. This seems to be hit or miss if it actually works though. It may only be for Air Canada-operated flights.
Other Sites & Tools That Help You Find Award Availability
There are also a handful of third-party websites dedicated to helping you find award space. Some give you free trials to test out their services, but you'll often need to pay a subscription fee to get the most useful information.
Here are some of our favorites:
Flexible with travel dates and destinations? Just looking to use your points and miles to go wherever there is a deal? We may be biased, but we think the best subscription for this type of traveler is Thrifty Traveler Premium+.
With a Premium membership, you'll not only get flight deal alerts, but also award availability alerts across all airlines and alliances. And we only send deals that have good availability and can be booked for at least two passengers.
For example, Thrifty Traveler Premium+ members recently received an alert for a ton of availability flying Qatar's Qsuites all the way down to Cape Town, South Africa.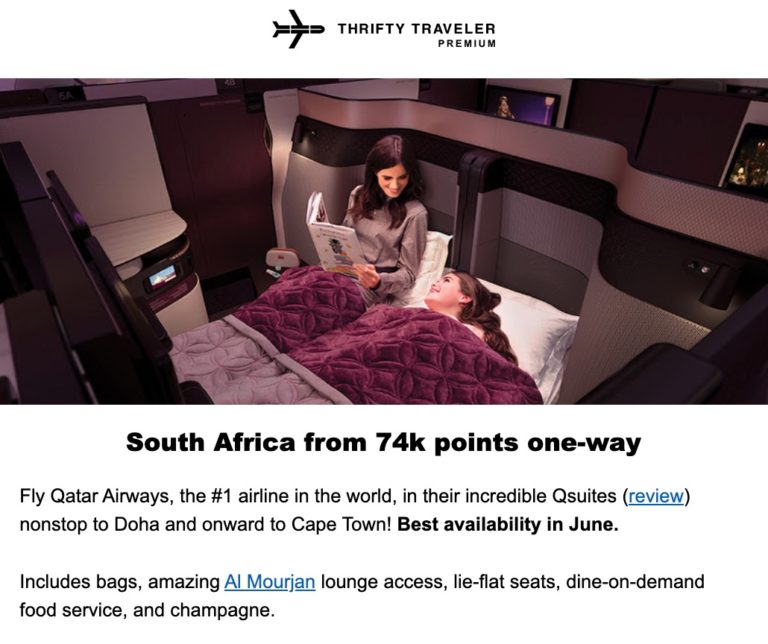 Some flights are harder to find than others – and there's no greater unicorn award than this deal we unearthed for two passengers to fly Qantas business class flying nonstop to Australia.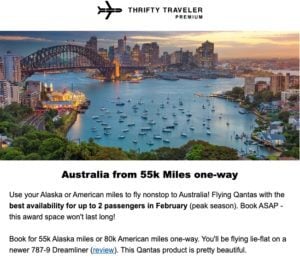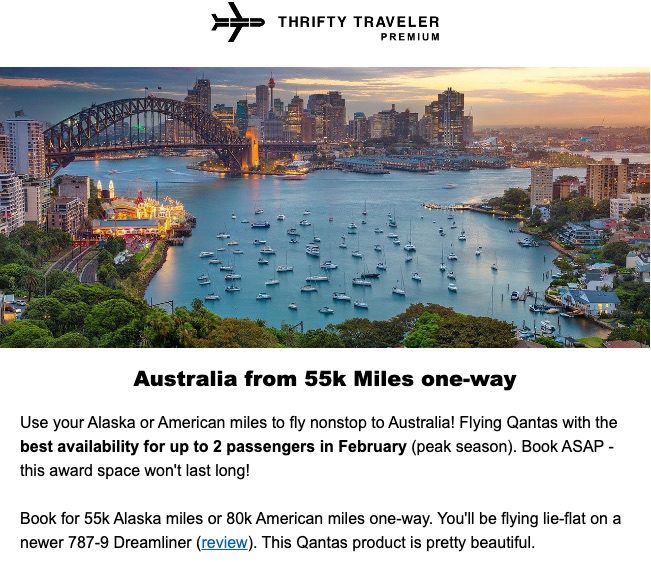 Alerts also include a rough estimate of the taxes and fees as well as detailed booking instructions so you don't need to be an expert in points and miles to book these deals.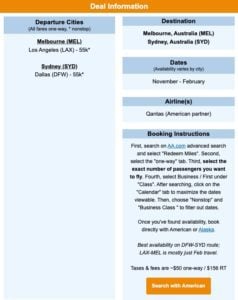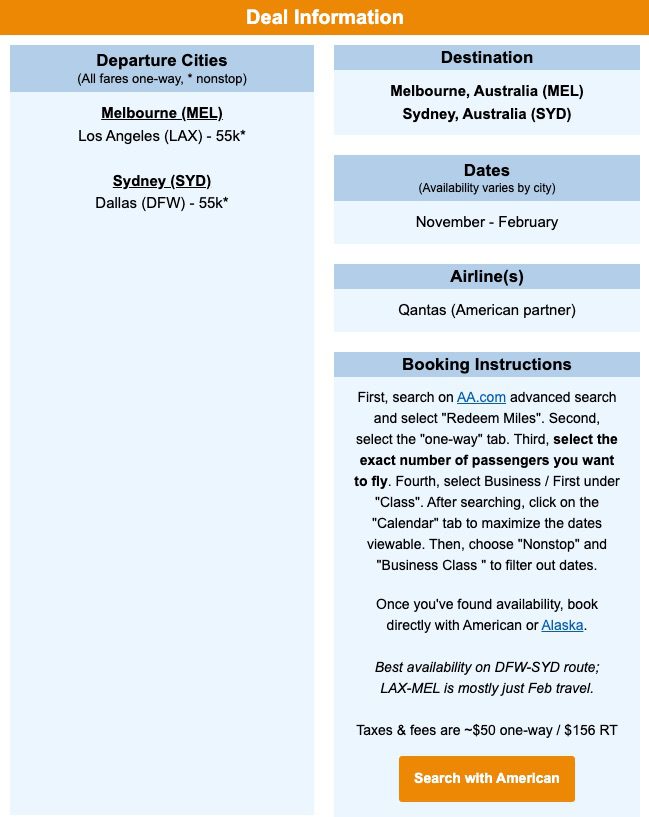 This rare award availability on Qantas flights to Australia is gone now, get the next deal with Thrifty Traveler Premium+!
Bottom Line
Searching for award availability can be a daunting task. But if you use the correct tools and know where to search, you'll have a much easier time pinpointing the dates where you can book those elusive "saver" award seats.