If you're looking to score the best deal on domestic flights when using your miles, you're in the right place.
Generally, shorter domestic flights aren't the best way to get the most value out of your miles. If you're considering whether to use points or pay in cash, it often makes more sense to save your points when booking an average domestic fare … especially with domestic flight prices dropping recently.
But not always. From flash sales to the discounted web specials that come with new dynamic award pricing models on all the major domestic airlines, you can often find a great deal using miles from a U.S. airline program. While it's hit or miss, you can occasionally find outsized value by booking a U.S. flight through a partner airline's frequent flyer program. And when domestic flights are cheap, the easiest (and cheapest) way to book is often just using your credit card points to make those flights free.
Here are some of our favorite ways to book domestic flights within the continental U.S.
Looking to get to the Hawaiian islands? We've compiled a separate guide on the cheapest ways to fly to Hawaii using miles!
Use Chase Points to Book Cheap Flights
We saved the best for first.
There are plenty of dedicated airline mileage programs out there you can use to book domestic flights, and some are better than others. But in our minds, the simplest and most valuable way to book domestic travel using points is by using Chase Ultimate Rewards points in the Chase travel portal.
Because of how airlines set their rates when using miles, you typically get the best bang for your buck for long-haul flights – especially flying in business or first class. That's why it's generally not the best use of miles: There's simply not as much value flying domestic.
But when you use credit card points like Chase, it works differently. These points act like cash, and the amount of points you need to book a flight (or cruise or hotel) is based entirely on the cash price. Simple, right?
And Chase points shine because you get a bonus when using your points to book travel through the Chase travel portal.
With the Chase Sapphire Preferred® Card, every point gets you 1.25 cents when redeemed towards travel. When you use your points this way, you get 1.25 cents per point no matter whether you're booking a cheap domestic fare, an international trip, a hotel for a long weekend, or an exorbitantly expensive first class ticket.
So a $138 roundtrip basic economy fare with United from Atlanta (ATL) up to Chicago-O'Hare (ORD) would cost you just over 11,000 Chase Ultimate Rewards points.
Upgrade to the Chase Sapphire Reserve®, and you get 1.5 cents per point. That means you could book the same flight above for around 9,200 points.
The simplicity really shines here – but so does the value. In this example, United is charging nearly 23,000 MileagePlus miles for the same flights in Main Cabin. So you could transfer your Chase points to United … or you could book those exact same main cabin tickets for 13,400 Chase points directly through the portal.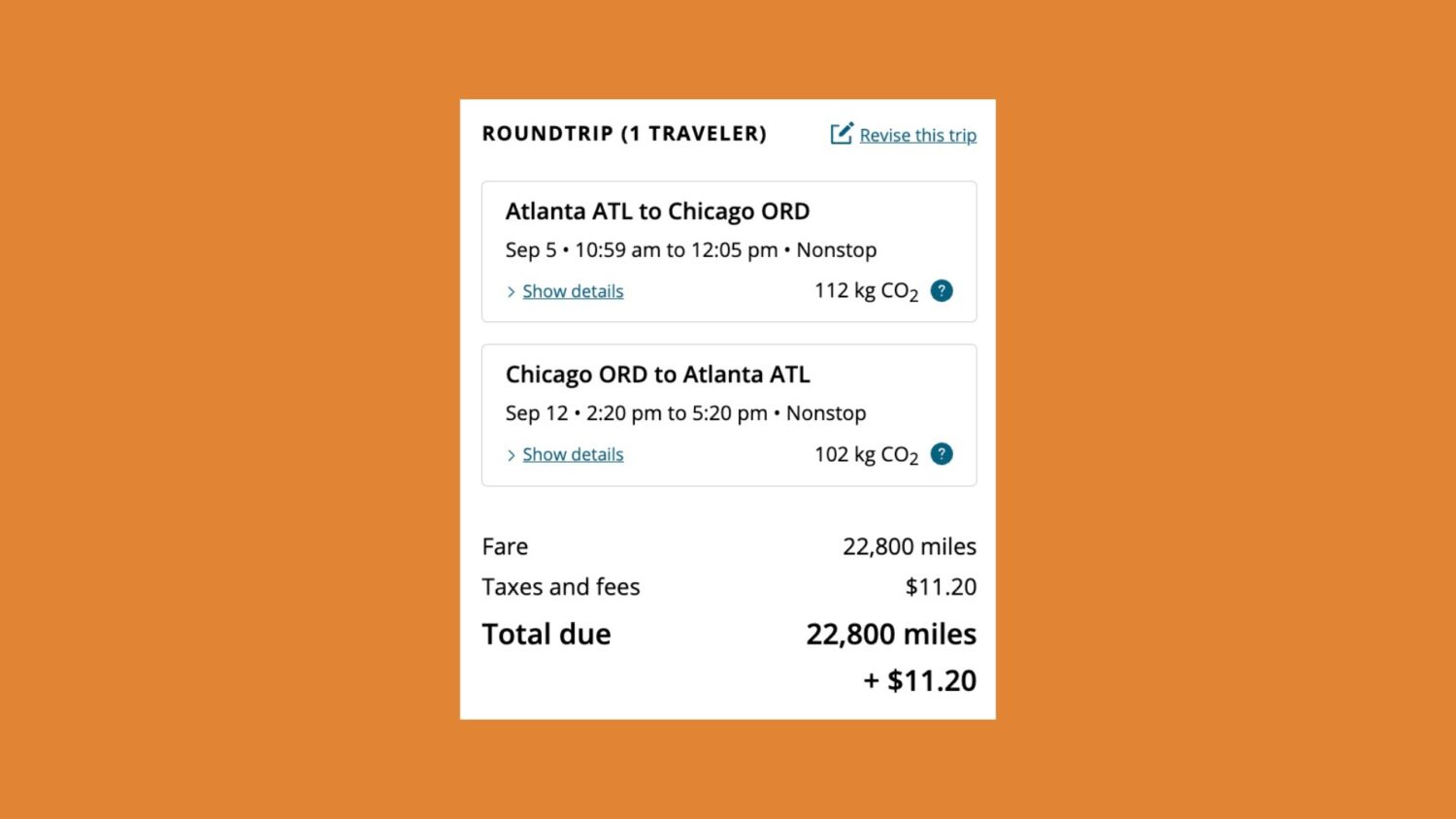 It gets better. See that $11.20 charge when using United miles? You don't have to pay that when booking directly through Chase. While you'll always pay a small (and sometimes large) fee when using airline miles, using credit card points is the only way to book flights for completely free. And unlike using airline miles, you'll still earn miles on your flight when you use Chase points to book.
Of course, this doesn't always work out. When flight prices get as high within the U.S., you'll wind up using far more points. But if you can find a cheap fare, it's always worth considering booking through the Chase travel portal first.
Use Capital One Miles to Erase Your Purchase
The easiest way to use points and miles for flights is by simply covering travel purchases with Capital One Venture miles.
Simply book a cheap flight directly with the airline and pay with your Capital One Venture X Rewards Credit Card or Capital One Venture Rewards Credit Card. Then, you can log in to your Capital One account and cover the purchase on your statement using your Capital One miles.
You've got 90 days to "erase" a travel purchase from the time it appears on your credit card statement. And every mile is worth 1 cent.
This means you can book a flight like this nonstop Alaska Airlines flight from San Francisco (SFO) to Spokane (GEG) for $188 roundtrip and erase the charge from your card using 18,800 Capital One miles.

It's that easy. There are no blackout dates, you'll get to earn frequent flyer miles, and perhaps most importantly, you can book directly with the airline.
Delta SkyMiles: Flash Sales
Delta no longer publishes an award chart that lets you know how many SkyMiles a flight should cost you. It's just a fact of life with the frustrating yet misunderstood SkyMiles program. 
But while the airline doesn't make it obvious, Delta often offers the cheapest way to get around the U.S. using miles. You just have to find the deals.
Thrifty Tip: Use Delta's Price Calendar search function to see five weeks' worth of flights and zero in on the cheapest rates.
And there are plenty of deals out there. On routes long and short, you can regularly snag a roundtrip flight for 10,000 SkyMiles or less. That's a steal for flights like Boston (BOS) to Chicago-O'Hare (ORD), Seattle (SEA) to Denver (DEN), and many more. We've even seen Delta SkyMiles flash sales on domestic flights go as low as 4,000 SkyMiles roundtrip!


Even transcontinental routes like BOS to Los Angeles (LAX) or San Francisco (SFO) can be regularly booked starting at just 12,000 to 15,000 SkyMiles. Both American and United would typically charge at least 25,000 miles for those flights.

This is the beauty of Delta's variable award pricing system. While it sometimes means Delta wants a boatload of SkyMiles, the upside is these ultra-cheap domestic flights and other Delta SkyMiles flash sales.
One big caveat to keep in mind: Unlike all the other major U.S. airlines, the cheapest awards are typically Delta basic economy fares. Delta began selling basic economy award tickets on nearly all domestic flights in 2019 – and they've steadily spread all the way around the world.
Unfortunately for flyers living in Delta hub airports, you can often miss out on the best of these deals. It's the downside of what we call the SkyMiles Hub Penalty, in which Delta charges more miles on flights in and out of airports like Atlanta (ATL), Minneapolis-St. Paul (MSP), Detroit (DTW), and more.
But there are still great deals to be had. Thrifty Traveler Premium+ members continually receive alerts for Delta SkyMiles flash sales, like this sweet deal to Las Vegas (LAS) with fares as low as 7,000 SkyMiles roundtrip.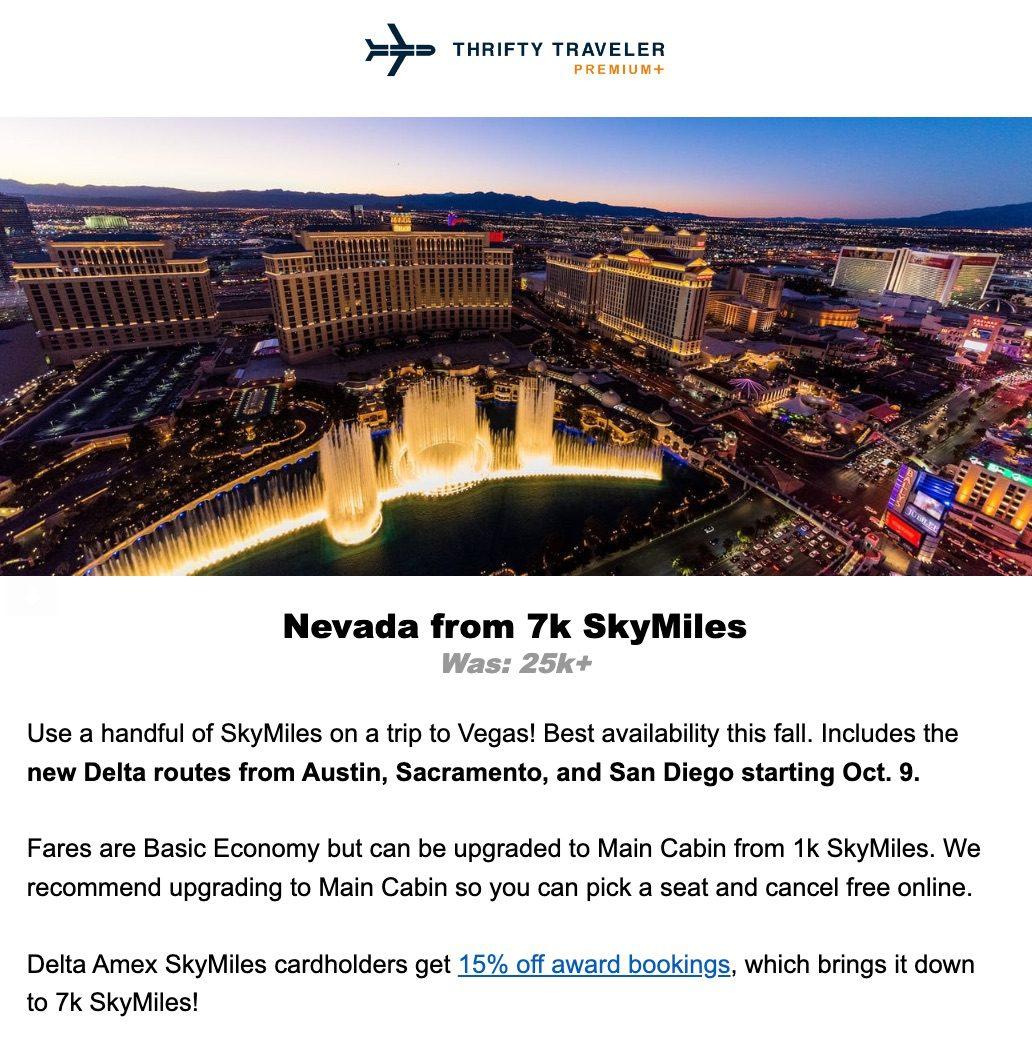 Get dirt-cheap Delta SkyMiles deals like this one sent straight to you with Thrifty Traveler Premium+!
If you need SkyMiles, Delta and American Express frequently offer up to 100,000 SkyMiles on their suite of co-branded Delta credit cards. And you can also transfer American Express Membership Rewards points from cards like the The Platinum Card® from American Express Platinum or American Express® Gold Card instantly to your Delta account.
American Airlines: AAdvantage Web Specials
For years, a typical domestic flight on American would set you back 25,000 AAdvantage miles roundtrip, with some cheaper rates for short flights. Those prices are nothing to write home about.
But American has shaken things up in a big way in 2023 as it follows Delta's lead with dynamic pricing when using AAdvantage miles to book its own planes … often with deeply discounted awards for economy flights. That means it's fairly easy to find domestic flights starting at just 6,000 AAdvantage miles each way.
If you're flexible with your travel dates, it's not difficult to snag these dirt-cheap domestic awards on many routes nationwide. If you're inflexible, prepare to pay much more. You have to take the bad with the good when it comes to dynamic award pricing.

Thrifty Tip: Use American's award map search tool to find out where you can fly for the lowest rates. You'll need to choose the exact dates and number of miles you'd like to use. Input 6,000 miles and choose an off-peak one-way travel date for the best results. Then, click through to find more dates on AA's calendar search.

These cheap fares are the new normal and they're not as restrictive as they used to be. Although these fares can't be changed after booking, you can still cancel all AAdvantage award tickets free of charge. Your miles will be redeposited into your account and any taxes and fees paid will be refunded. Then, simply rebook new flights.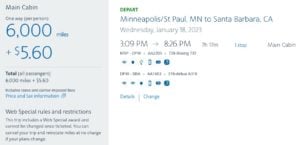 A handful of credit cards will let you book these cheaper flights and also pad your AAdvantage miles stash. In fact, you can quickly earn up to 100,000 American miles by opening just two cards.
Your best bet is the Citi® / AAdvantage® Platinum Select® World Elite Mastercard®, which comes with a $99 annual fee, though that's waived in the first year. Another solid option is the Barclaycard AAdvantage Aviator Red World Elite Mastercard, which currently offers a 50,000-mile bonus after making a single purchase within three months and paying the $99 annual fee.
Another unique way to earn AA miles is to earn points on rent with Bilt Rewards and transfer points from Bilt to American Airlines.
Alaska Airlines Mileage Plan: Great for Stopovers
While Alaska miles are not the easiest to earn, it can be a great way to hop around the U.S. on the cheap if you've got some stashed away.
One benefit of booking Alaska flights with miles instead of cash is the fact that you'll avoid Alaska Airlines basic economy fares and always get a Main Cabin ticket when redeeming miles. This means you'll have more options for a free seat assignment and you'll be able to make free changes to your flight – or cancel it altogether and get your miles right back.
For flights within the continental U.S, Alaska, and Canada, Alaska Airlines has variable pricing, which depends on the distance of your flight.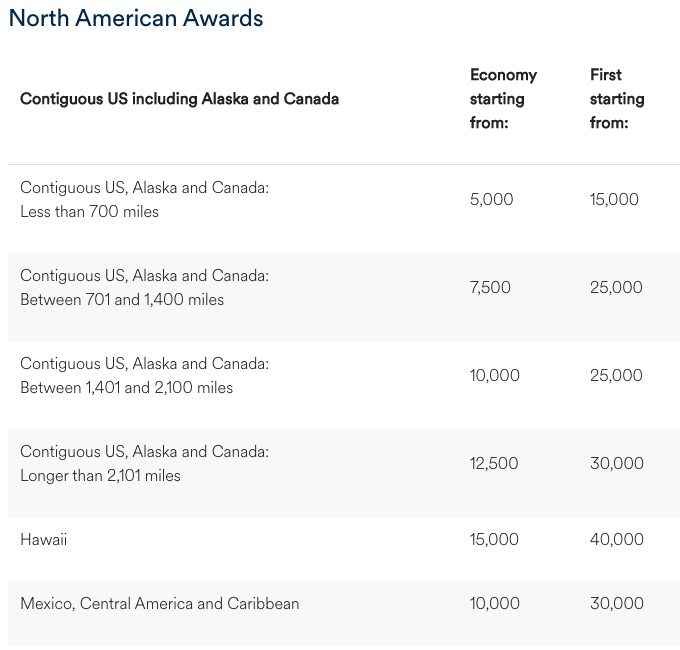 Not sure how long your flight is? Plug in the route at GCmap.com!
One example of a way to maximize this award chart is to fly from Minneapolis (MSP) to Seattle (SEA). The flight distance clocks in at 1,399 miles, which is just under the 1,400-mile threshold. This means you can often find Main Cabin flights for just 7,500 Alaska miles one-way.

Or, book a multi-city domestic trip. Say you live in New York City (JFK) and want to visit all that the West Coast has to offer on one trip. You're in luck: Alaska Airlines Mileage Plan offers easy and free stopover flights on any award ticket. By booking a stopover in each direction, you could get to see San Francisco (SFO), Los Angeles (LAX), and Portland (PDX), all for just 25,000 miles total … roundtrip!

Read more: 7 Sweet Spots to Use Alaska Airlines Mileage Plan Miles
Southwest Rapid Rewards: The Most Flexible Fares
For those who like to fly with checked bags and have the most flexibility with changing plans, Southwest Airlines is your ticket. And its Rapid Rewards frequent flyer program is the most straightforward of almost any U.S. airline.
You can book any flight and the cost in miles always correlates directly to the cash price of a ticket. This means the lower the fare, the fewer points you'll need to book. Simplicity at its finest.
The rates can sometimes be incredibly cheap, such as these nonstop flights from Baltimore (BWI) to Miami (MIA) for just over 9,000 Rapid Rewards points plus $11.20 in taxes and fees, roundtrip.

Thrifty Tip: Use the Southwest low fare calendar to view dates across a monthly calendar and select "points" when booking to see the price in points.
And if the price happens to drop after you book, you can rebook and get some miles back. Want to cancel the trip altogether? You can change plans or cancel any time up until 10 minutes prior to departure. All your miles will be redeposited and any taxes and fees can be refunded to your card.
Want to take it to the next level? If you earn the Southwest Companion Pass, you can book flights using points and still get your companion's flight for free – just pay the taxes and fees!
You can earn a ton of Southwest points with a bonus on a Southwest credit card, but Southwest is also a Chase transfer partner. This means you can instantly transfer points earned from either the Chase Sapphire Preferred® Card or Chase Sapphire Reserve® to Southwest.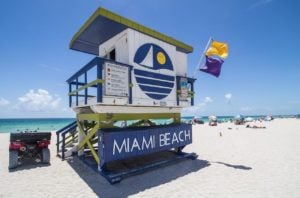 United MileagePlus: Avoid Basic Economy
When it comes to basic economy, United is the worst of the big-name U.S. airlines. United mimics ultra-low-cost carriers and doesn't even include a carry-on for basic economy passengers. One solution: Book your flight with United miles.
You'll always book into a main cabin fare when booking a flight with United miles. That means you'll be able to bring a carry-on bag and have the ability to change plans for no extra fees.
While you won't find as many widespread deals like you can with American and Delta, there are some routes where you'll find cheap domestic redemptions on United. For instance, these flights between Denver (DEN) and Dallas-Fort Worth (DFW) for 7,800 United miles each way aren't too shabby.

For the most part, it will make more sense to book a cash ticket when flying United, but you may find some cases where booking with points makes sense – especially if you want to avoid United basic economy.
You can transfer Chase Ultimate Rewards instantly to United if you wish to book directly with the airline. And if you're earning points on rent with Bilt Rewards, you can also transfer those points to United.
Thrifty Tip: Similar to American, United also has a destination map where you can explore how far your miles can take you. Just click on "refine search" and check the "Book with miles" box. This map seems to have some bugs and is not as intuitive as American's, but it's a neat tool that will hopefully be improved in the future.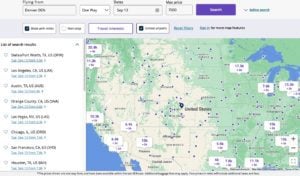 JetBlue Points: Cheaper than the Chase Portal
JetBlue basic economy fares, dubbed "Blue Basic," also don't include a carry-on bag. That's why we always recommend booking one of JetBlue's standard "Blue" fares or higher.
When booking with JetBlue's TrueBlue points, you'll always be booking at least a "Blue" fare. And while its dynamic pricing model means that the price in points tends to follow the cash price of a ticket, booking with JetBlue points is often a cheaper option than booking through the Chase travel portal if you want to book a fare that includes a carry-on.
For instance, looking at one-way flights from San Diego (SAN) to New York (JFK) this fall, Blue fares are going for $154 for a standard Blue fare. This would require around 12,300 Chase points for Sapphire Preferred cardholders when booked through the Chase travel portal.

But if you were to transfer Chase points to JetBlue instead at an even 1:1 exchange, it would require only 9,800 points plus $5.60 in taxes and fees. The 2,500 points saved are well worth paying a few extra bucks.


Of course, it's not an apples-to-apples comparison since you'll earn frequent flyer points when booking the cash-priced fare through the Chase portal and Sapphire Reserve cardholders would get slightly better value (about 10,300 points). But if you're interested in using the fewest number of points and want to book directly with the airline, you may want to consider transferring your points to JetBlue.
Chase points transfer to JetBlue at an even 1:1 ratio. This means 1,000 Chase points = 1,000 JetBlue points. You can also transfer Citi points and Amex points to JetBlue, but you may not get an even exchange. Citi Premier® and Prestige® cardholders can transfer 1:1, while other Citi cardholders and Amex Membership Rewards transfer at a 1:0.8 ratio. This means you'll only get 800 JetBlue points for every 1,000 transferred.
Thrifty Tip: You can use JetBlue's best fare finder to search for flights on a flexible calendar. Just click the "Use TrueBlue points" to view the fares in points.
British Airways Avios: Nonstop AA Flights
Looking for a short nonstop flight on American Airlines? Booking the flight with British Airways Avios may be a cheaper option than American's own AAdvantage program.
While American has some great Web Special rates, it doesn't always sell these specials on nonstop flights from its hub cities. Turning to partner British Airways, which has a distance-based award chart, can be a great way to score a deal on nonstop AA flights under 650 miles.
For example, American is currently selling one-way flights from Philadelphia (PHL) to Charleston (CHS) for 12,000 miles … and sometimes much more.

This flight clocks in at 550 miles, which means you can often book the same exact flights for just 7,500 British Airways Avios.


Keep in mind that British Airways charges per segment, so this deal only works on nonstop flights.
You can transfer points from American Express Membership Rewards, Capital One, or Chase to British Airways. And, in a roundabout way, you can also transfer Citi ThankYou points to British Airways by first transferring to Qatar and then from Qatar to British Airways thanks to their Avios partnership.
Virgin Atlantic Points: Nonstop Main Cabin Delta Flights
Similar to its U.K. counterpart, Virgin Atlantic points are a great way to book shorter nonstop Delta flights within the U.S. In fact, it might just be our favorite way to book short Delta flights, period.
Virgin also has a distance-based award chart when booking Delta flights outside of Europe. As you can see, it's just 7,500 miles for flights under 500 miles.

But the best part is that you'll be booked into a Delta main cabin fare when using Virgin points. Of course, you can also book main cabin tickets with SkyMiles but you may get a better deal booking with Virgin points.
For instance, if you're looking to fly from Fargo (FAR) to Minneapolis-St. Paul (MSP), Delta is charging nearly 20,000 SkyMiles for a one-way in main cabin.

But you can book the same Delta flight with Virgin Atlantic Flying Club points for just 7,500 points!


Plus, Virgin is a transfer partner with all of the major banks. That means if you have transferrable points with Amex, Bilt, Captial One, Chase, or Citi, you can instantly transfer them to Virgin for booking.
Read more: Save Your SkyMiles, Book Delta Flights via Virgin Atlantic!
Bottom Line
Compared to big international trips and glamorous first class cabins, using miles to book short domestic hops may not be sexy. But sometimes you just need to get somewhere or take a quick getaway – and want to do it on the cheap.
Give these options a hard look when you're booking domestic travel with points and miles. If you want to cut down your travel costs, this is the way to do it.