Want to fly business class to Europe on the cheap? Look no further.
Iberia business class offers the cheapest way to get to Europe in style using miles. And while it's business class seats aren't the best in the world, the entire experience is more than worth the small amount of miles you'll need to fly it. The seats are plenty comfortable, the food is good, and you can sip on delicious Spanish wines as you cross over the Atlantic Ocean.
Read on for our full Iberia Business Class review.

How to Book Iberia Business Class
We sing the praises of Iberia's Avios mileage program all the time. And that's not changing.
You won't find a cheaper way to get Europe using miles than with Iberia. OK flying economy? You can get there for just 34,000 miles round-trip if you fly during the offpeak season. In business class, you're looking at just 68,000 miles round-trip. Considering most airlines charge at least 70,000 miles for a one-way ticket in business class, that's an absolute steal. But it can get even cheaper.
Iberia occasionally runs promotions, slashing the amount of miles it takes to fly in economy or business class to get to Europe and back. Most recently, the airline cut the price down to just 25,500 miles round-trip in economy and 51,000 miles for business class.
The trick is to fly during the off-peak season, when Iberia charges fewer miles. Luckily, Iberia is insanely generous with how it defines "off-peak." Only July and August are roundly considered peak season, with some occasional weeks and weekends throughout the year also blocked out for peak travel. Check out Iberia's full calendar to scope out the dates.
Flights to Madrid (MAD) from Boston (BOS), New York City-JFK (JFK), and Chicago-O'Hare (ORD) qualify for the lowest pricing. Thanks to Iberia's distance-based award chart, flights from its other outposts will cost more.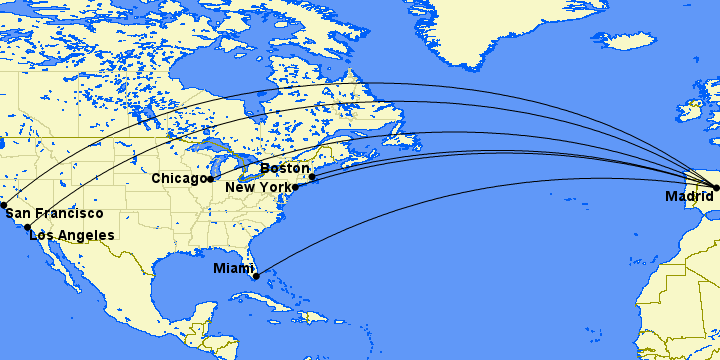 Now, Iberia does pass on some sizable fees on award tickets booked using Avios – expect to pay about $180 for an economy ticket and $200 or so on a round-trip Iberia business class fare. But compared to flights in and out of other major European hubs like London-Heathrow (LHR) or Paris-Charles de Gaulle (CDG), those fees are insanely reasonable. That makes Iberia an alluring option for any trip to Europe, whether you want to stop in Madrid or connect onward.
Don't have a stash of Iberia miles to capitalize on these great deals? Don't worry, as Iberia Avios are some of the easiest to earn through credit card transfer partners.  You can transfer points from American Express, Chase, and Marriott Bonvoy directly to an Iberia account.
But in this case, I used one of the most insane airline promotions we've ever seen to get the miles necessary to book these flights. Long story short: I booked 10 cheap flights within Spain and  earned 90,000 Avios – more than enough to book these flights along with some connecting flights within the U.S. on American Airlines. In the end, I paid 68,000 Avios and about $210 in cash fees each for my wife and me for these round-trip tickets. 
Lounge Access in Chicago
As an international business class passenger on a Oneworld airline, you get access to American Airline's Flagship Lounge at Chicago-O'Hare (ORD). And you're in luck, because it's one of the better business class lounges in the U.S.
By U.S. standards, this lounge is positively massive. There's a variety of seating, from seats with two-person tables to high top tables. There are high-backed chairs that are great for relaxing as well as a dedicated office space to work in peace.

There's also a "quiet room" – a cordoned-off area with loungers for jet-lagged travelers or passengers on long layover to grab a quick rest. From front to back, the entire lounge is decorated with a simple yet elegant style. It's far from the fanciest lounge in the world, but the space as a whole is impressive. And even at peak departure times, it never feels busy or crowded. That's all you can ask for.

While it's smaller than other Flagship Lounges like the one in Dallas-Fort Worth (DFW), this one stands out. And that's due in part to a fairly impressive spread of food, including hot entrees like chicken and peppers and ginger roasted lamb chops. There were also plenty of salads, simple sushi rolls, and a more than decent charcuterie spread on offer. Oh, and did I mention the full fridge of craft beer and the wine and champagne bar?

Iberia Business Class Cabin & Seats
Let me just say it: The Iberia business class cabin is boring.
Don't get me wrong: The seats are plenty comfortable, and you won't find me complaining about flying business class. But in the looks department, it's all pretty … grey.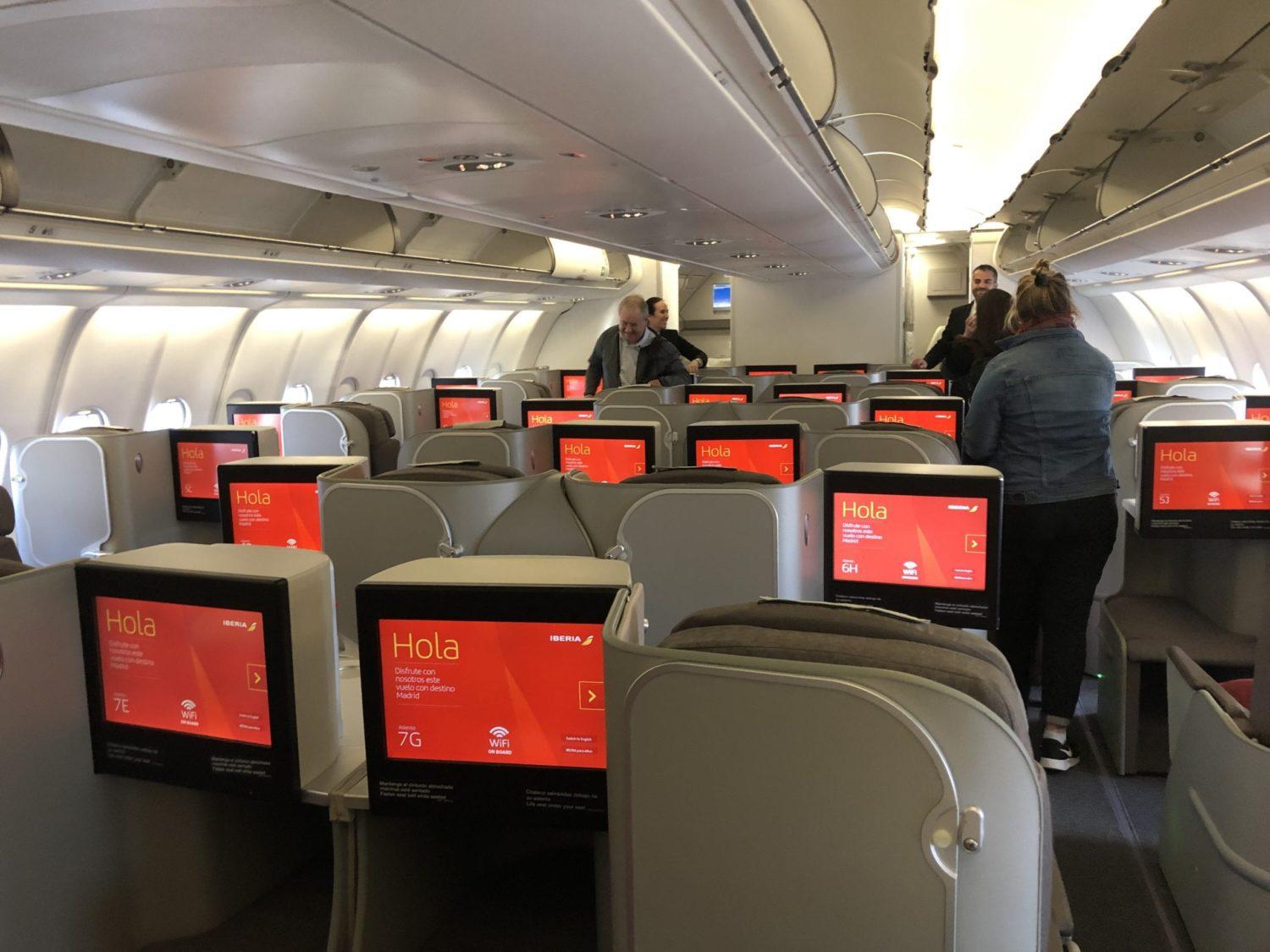 Outside of the screens emblazoned with Iberia's signature red color, the cabin is pretty monotoned. The whole business class cabin on our Airbus A330-300 was in one cabin, though others have a small, mini-cabin in the rear. These planes are fairly old and showing their age, with lots of scuffs and dings throughout the cabin and seats. But nothing major.
On the bright side, some of Iberia's flights between the U.S. and Spain the airline's new Airbus A350 planes. Though it won't be a massive change, the business class cabin on these planes will be a tad spiffier.
After meal services, Iberia turns on the mood lighting and casts the whole cabin in a nice, purple-ish hue. It's a nice touch.

There were just two lavatories for our business class cabin – one at the front left of the plane, and another on the left side of the galley separating business class and premium economy. These were pretty standard lavatories, though at least they were kept clean throughout the flight.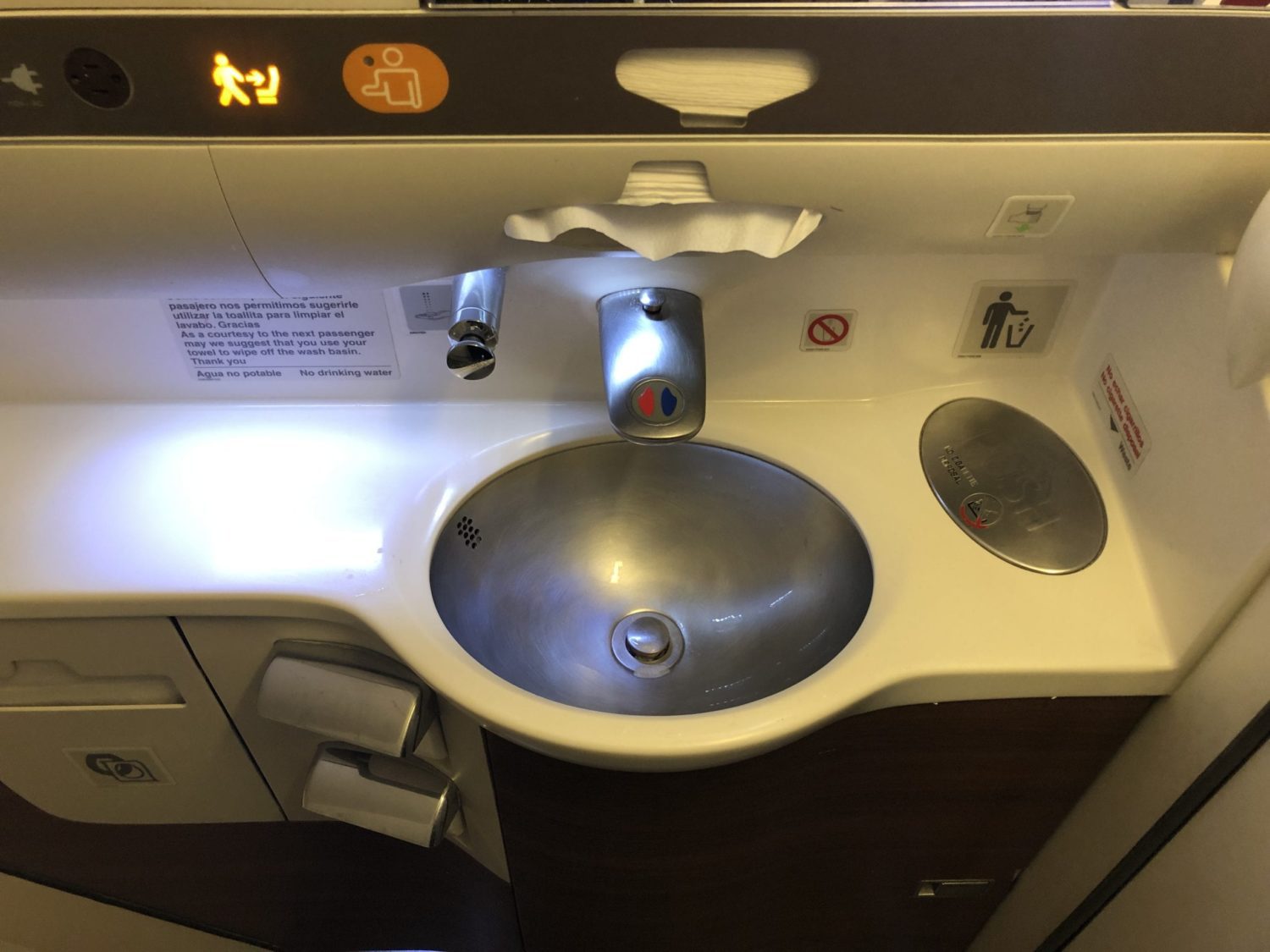 Much like the cabin as a whole, Iberia's business class seats aren't flashy or fancy. But they certainly get the job done.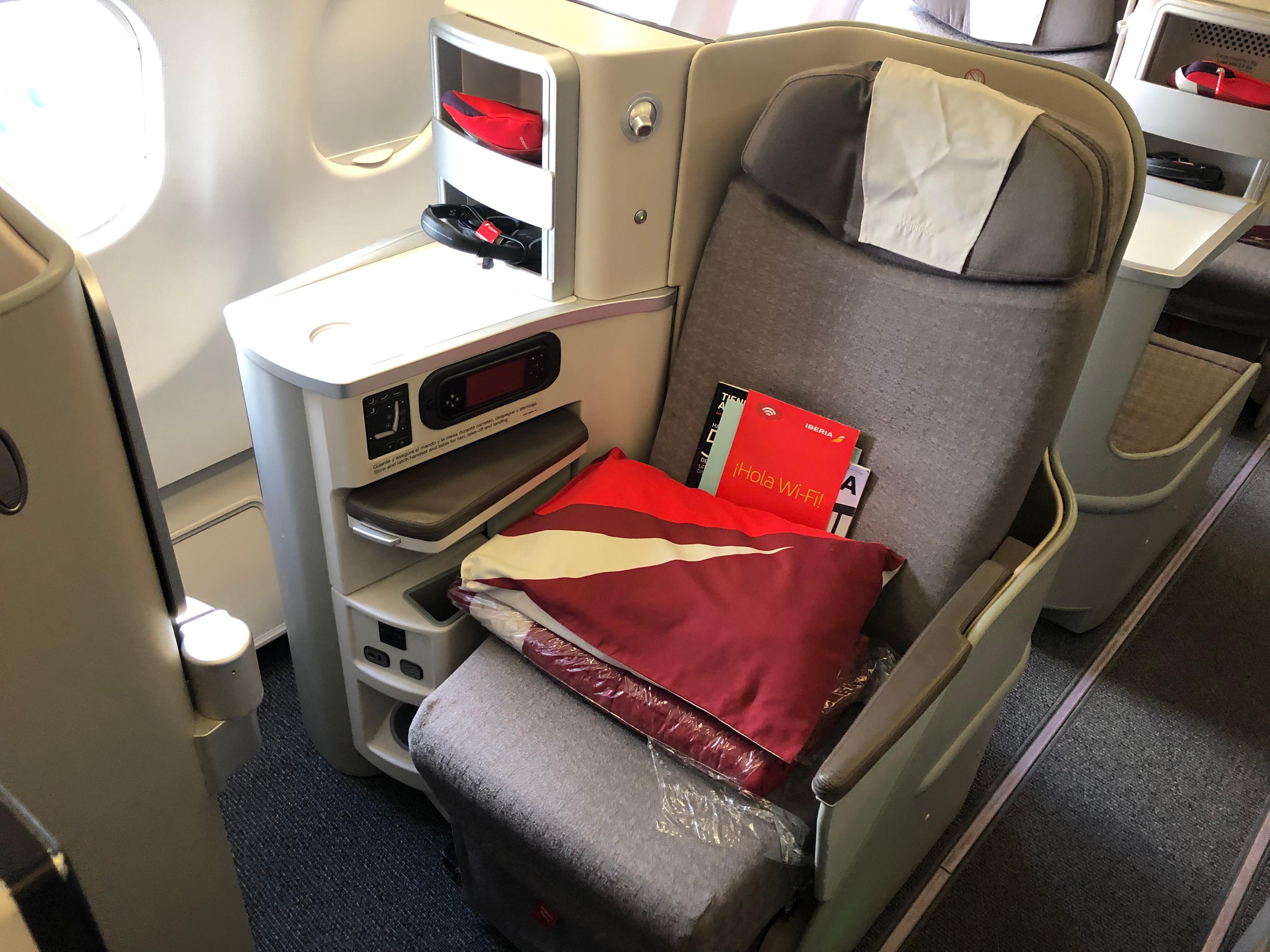 The seat itself might seem familiar. It's a pretty standard business class seat. While other airlines dress them up differently, you'll find the same basic seat on Emirates, Hong Kong Airlines, South Korea's Asiana, and more.
Seats are arranged in a 1-2-1 fashion, so every passenger has direct access to the aisle. But the way each seat is laid out alternates by row in a staggered arrangement, with some seats close to the aisle and others separated from it. So you'll want to pick your seat carefully, because there are winners and losers. 
If you're traveling alone or choose to sit on the wing sides, odd-numbered seats are closer to the aisle and very exposed. Do your best to avoid these seats. Even-numbered seats, meanwhile, get some additional privacy from the aisle. I sat in one of these seats on the way from Chicago-O'Hare (ORD).

The center section is a different story. Even-numbered seats are positioned closer to the aisle, with a pair of console tables separating the seats in the middle.
Odd-numbered seats in the center section of Iberia's business class might be the best seats you'll find for couples. These so-called "honeymooon seats" get some additional privacy with the console tables on the aisle. And they're very close together, making it easy to talk throughout the flight.

The seats are so close together, you can almost play footsie with your neighbor – just make sure you know them. My wife and I were seated in these honeymoon seats on the return flight to Chicago.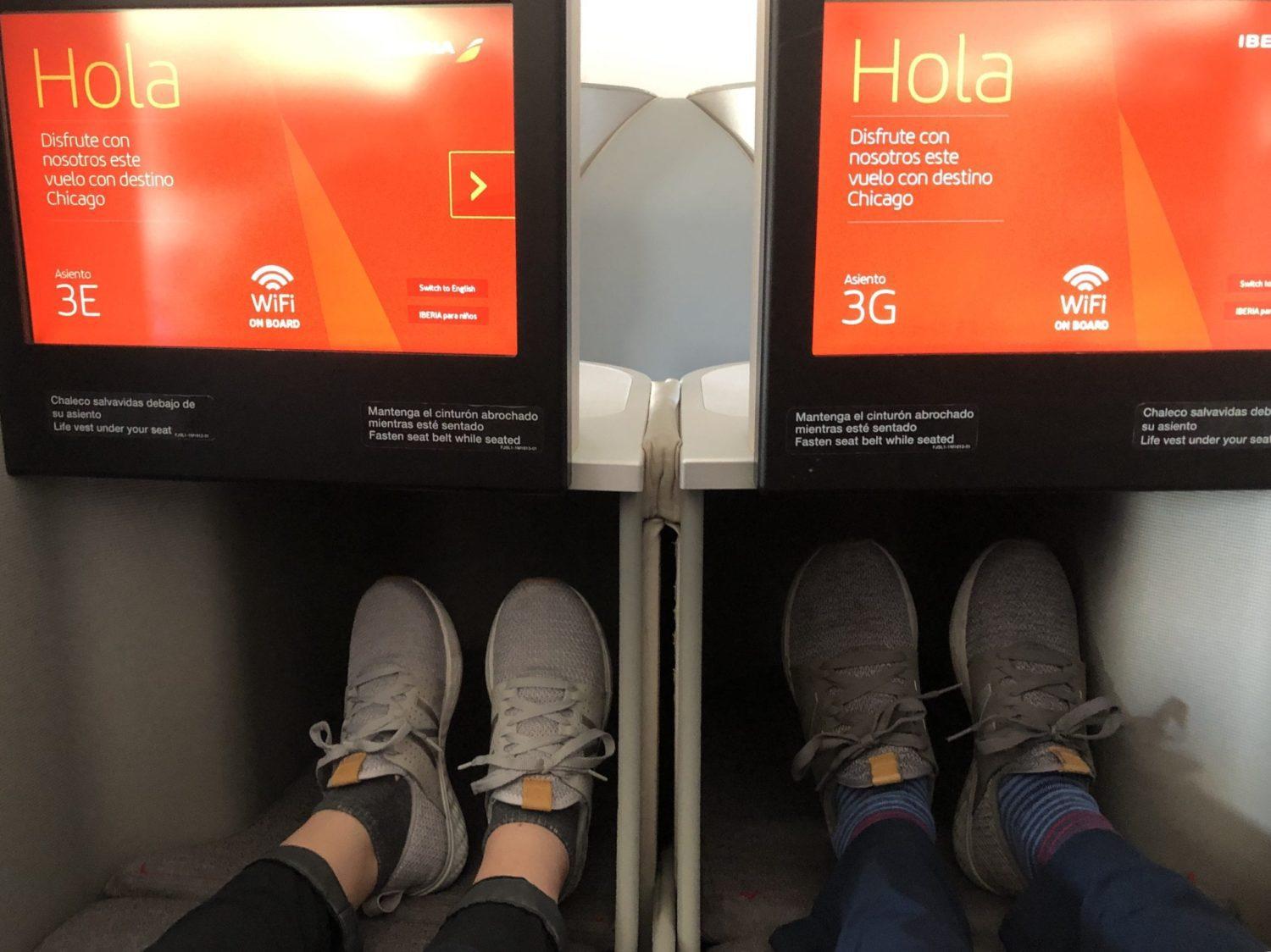 The seat itself is reasonably comfortable and plenty spacious. At 26 inches across, it's plenty wide to sit and sleep in. And there is seemingly endless legroom. I'm 5 feet 10 inches and had no issues stretching out, but I can't imagine the space being an issue for anyone under 6 feet 6 inches or even taller.
Critically, there's no constraining footwell on the single seats. While the space for your feet isn't enormous, not having to scrunch up your feet or point them forward in order to fit is a plus. It makes it much easier to find a comfortable angle come bedtime. It's honestly one of the best features of these seats.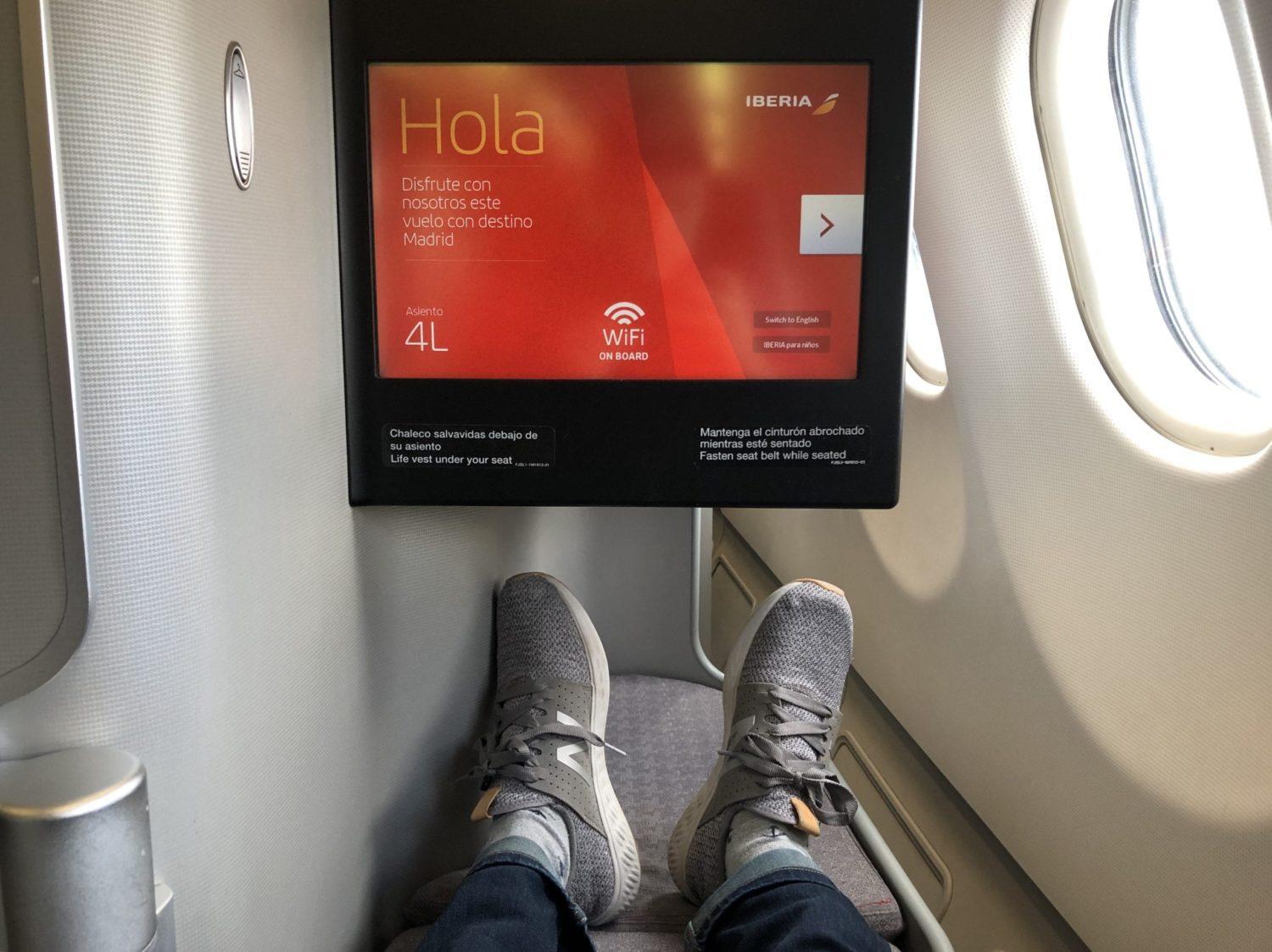 The armrests at each seat are rather thin, but they do the job. On the console side, there's a small leather rest butting up against the area where you'll find both a wired entertainment controller along with the seat controls. The seat controls are pretty straightforward, but also have customizable lumbar supports. And oddly, there's a massage function on the seat. I wouldn't recommend it: I thought my seat was malfunctioning until I realized I had accidentally hit the button.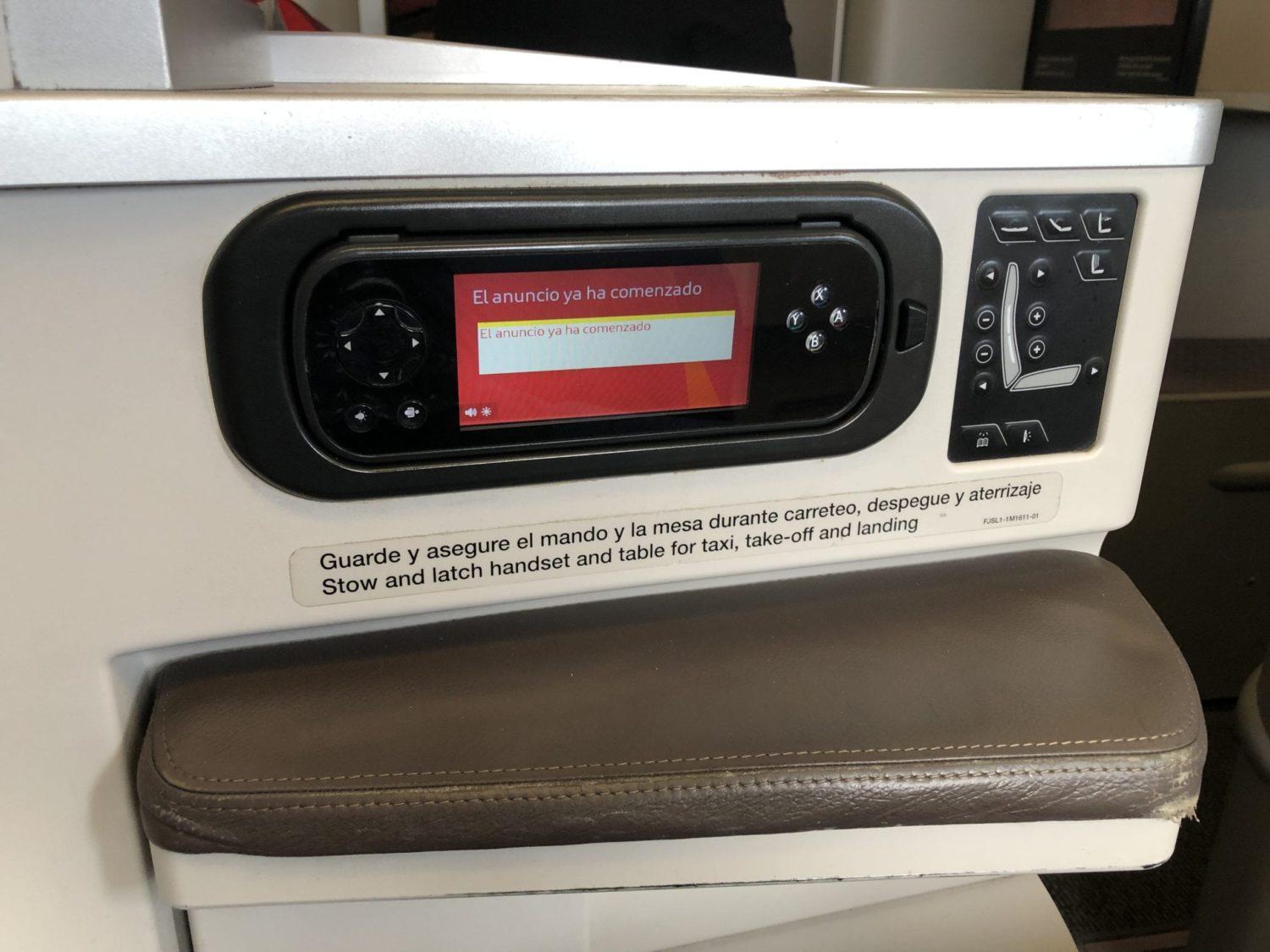 Using a button, you can manually raise and lower this console-side armrest. Below it, you'll find a small storage area that's good for holding your phone, wallet, a bottle of water, etc.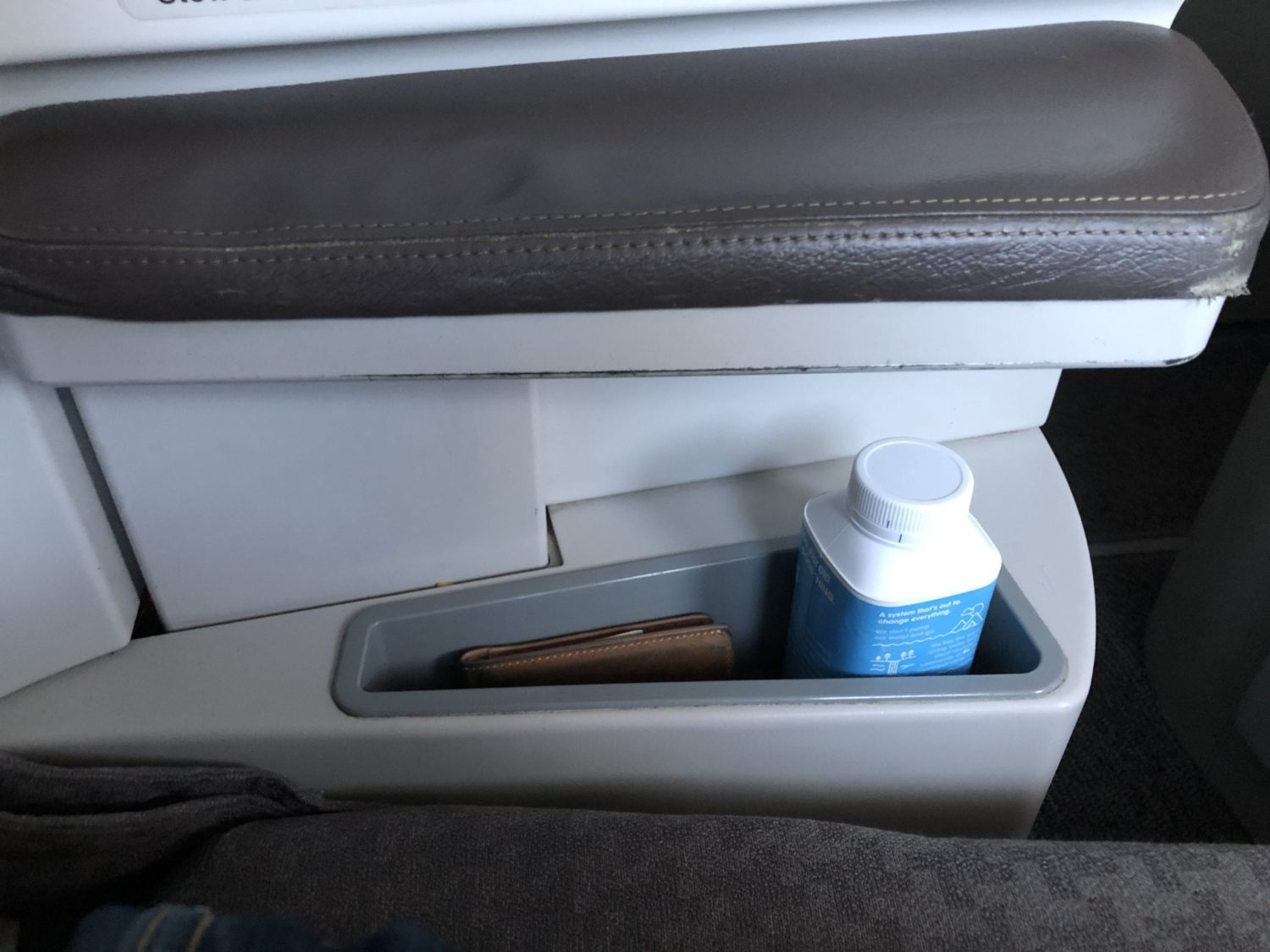 Even farther below that, you'll find the headphone jack, a universal power port, USB plug-in, and an S-video jack. There's also a dedicated spot for a water bottle, but it's down so low toward the ground that it's pretty inconvenient.

By your head, there's a small reading light.

And then there's the console table itself, which has a small storage area. It's divided into two small compartments, capable of holding just a pair of headphones, your amenity kit, and not much else.

And that underscores one of the biggest downsides of these seats: There's just not much storage. There's not enough room to stow a laptop. And the space underneath the ottoman isn't large enough to accommodate anything larger than a pair of shoes or a small bag. Even a small backpack will have to be put in the overhead compartment.
At meal times, there's a tray that folds down and rotates out from the back of the seat in front of you.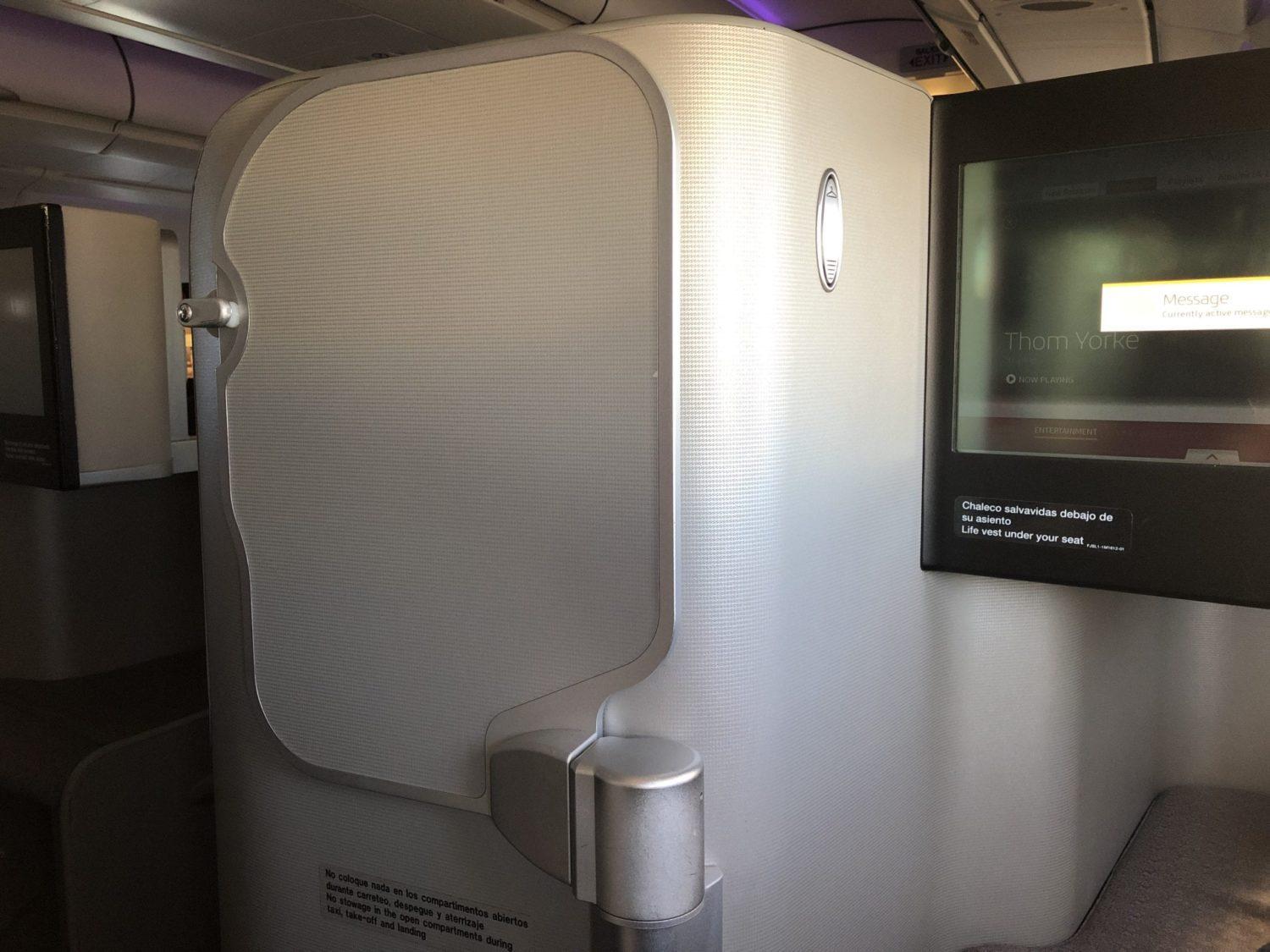 Even with the extra privacy you get from the console in this wing-side seat, these seats are still fairly exposed. Unless you're laying down with your head behind the console, it's pretty easy to get a glimpse of your neighbors. And if you're in a seat closer to the aisle, it's even worse.

When it's time for bed, it's easy enough to recline all the way back into bed mode. It turns the seat into a fairly spacious sleeping surface, more than comfortable enough for the short trip across the Atlantic Ocean.
Iberia Business Class Amenities
A sealed duvet and pillow were waiting on each seat as we entered the plane.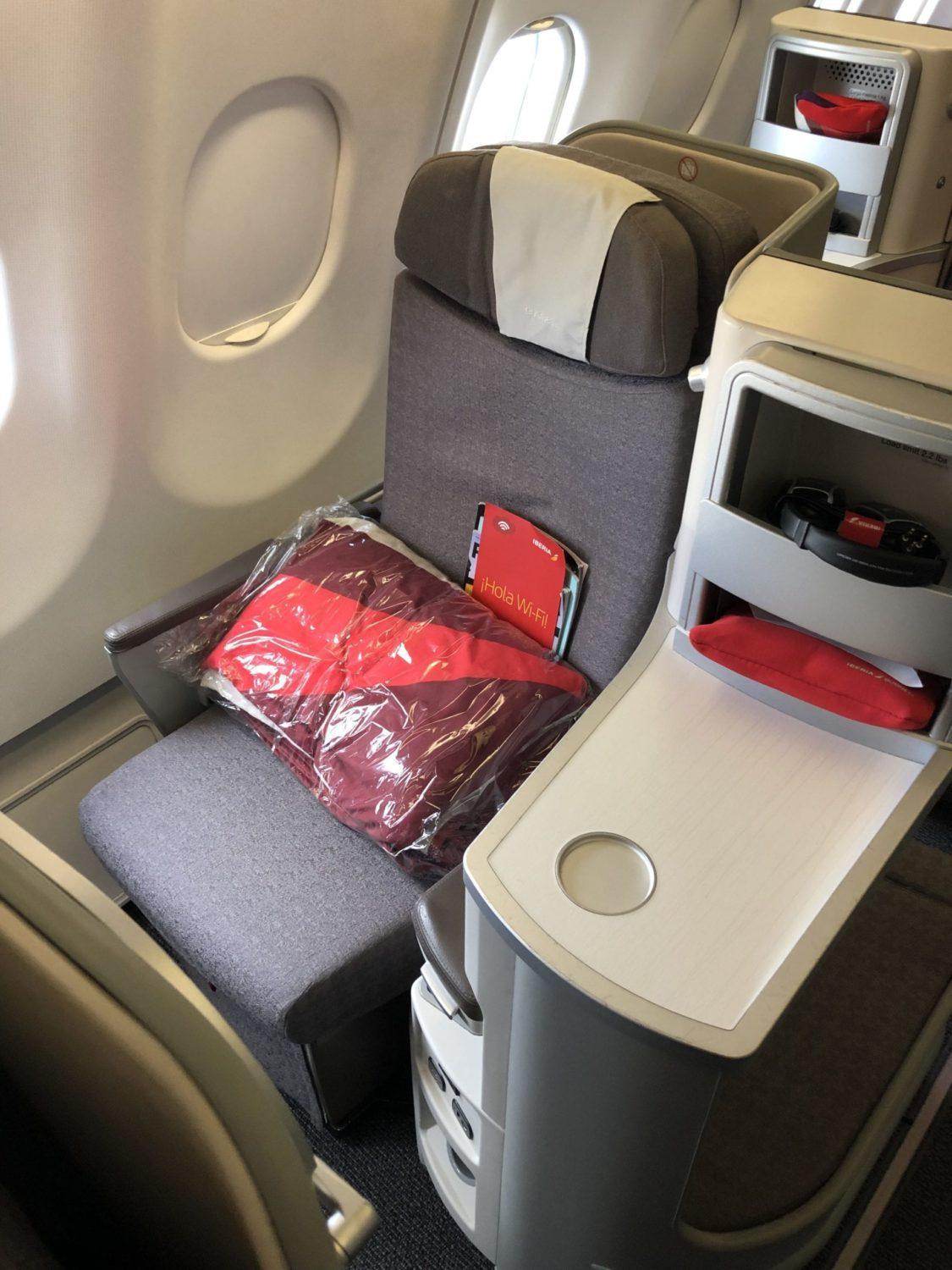 Both the duvet and pillow are on the thin side, though they were plenty comfortable. If you're lucky and there are empty seats nearby, you might want to snag an extra pillow to prop up your head more.
There was also a pair of slightly uncomfortable but very noise-canceling headphones at the seat, along with an amenity kit inside a plush red pouch.
Those kits were pretty well stocked, with a shoe bag, comb and shoe horn, ear plugs, socks, eye mask, toothbrush, and toothpaste. There was also a trio of lip balm, hand cream and facial mist spray from Germaine de Capuccini, a company I'm not familiar with. Until recently, Iberia was putting L'Occitane amenities in these kits, so they've apparently been downgraded. Still, it was nice.

Service and Dining
Service throughout the seven-hour flight was good, from start to finish. Every single request and interaction I had was met with a quick smile and a nod – somewhat curt, but polite.
But don't expect to be waited on hand and foot. As is the case on nearly all transatlantic flights, Iberia flights are fairly short. Service is centered on getting passengers fed and put to bed. Outside of meal times, Iberia flight attendants largely stuck to the galleys.
Service began about 30 minutes after takeoff in a classic Spanish way: with small dishes of nuts and olives and a drink of choice. Cava for me, thanks.

About 20 minutes later, flight attendants came out with the starter. There was a tray with prosciutto (the irony of serving Italian ham on an airline from a country that prides itself on its jamon iberico was not lost on me) with pesto and mozzarella, a small side salad, cheese and jam, and some chicken consomme – a fancy word for "broth." It was all quite tasty.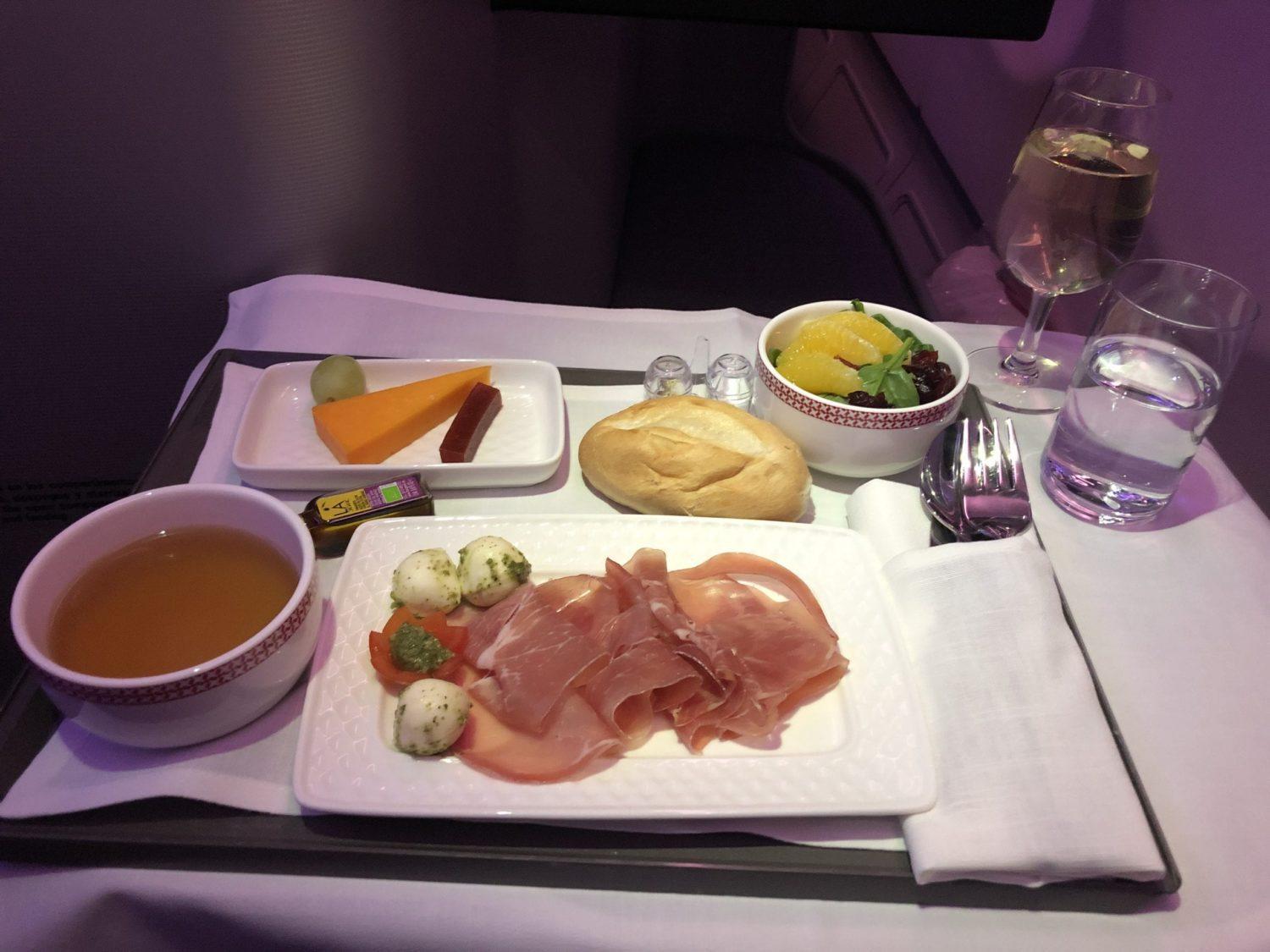 For the dinner entree, there were three choices. I went for the shrimp and scallops in saffron sauce with rice.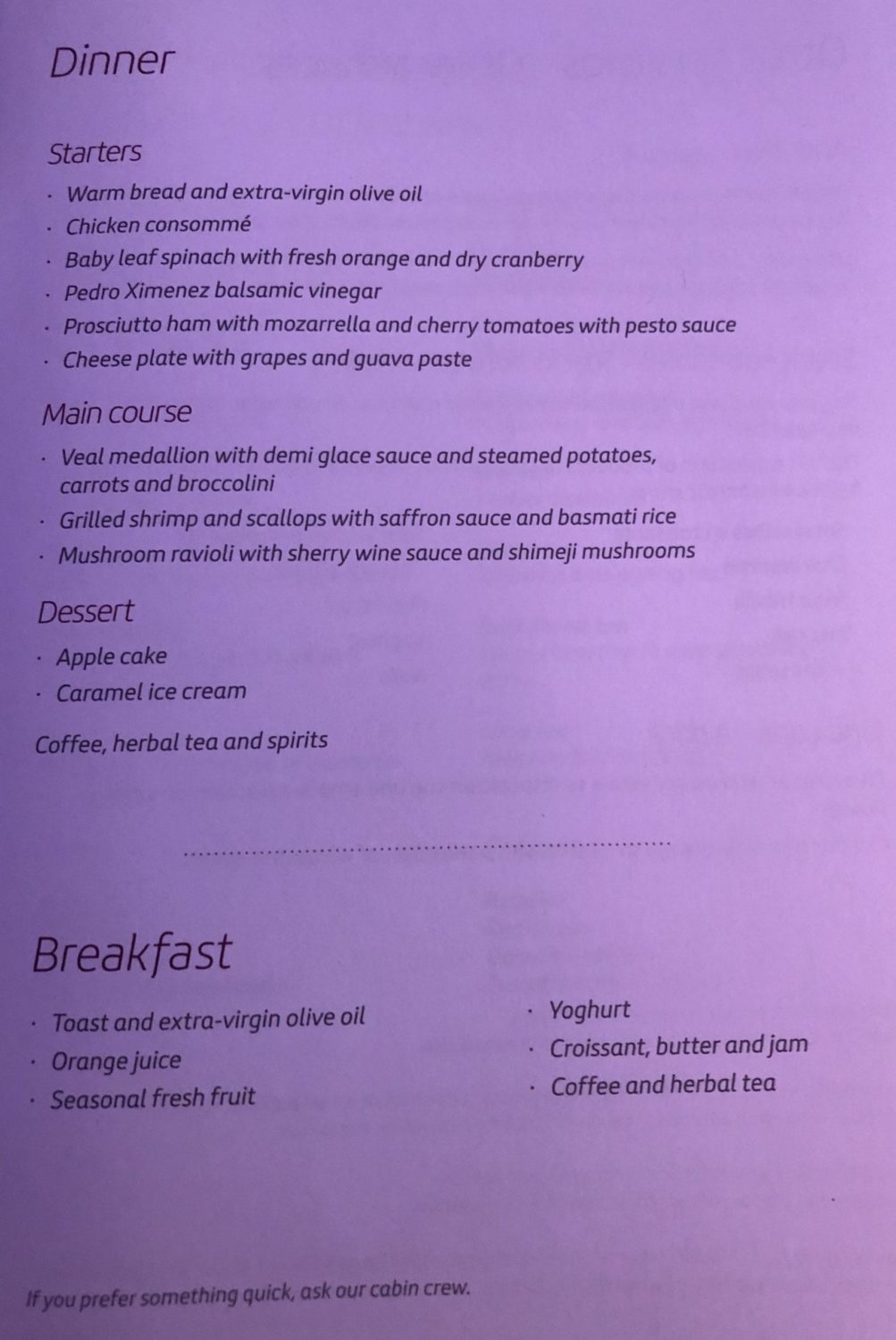 And though the portions were small, it was absolutely delicious. The shrimp and scallops were both cooked perfectly, and I wanted to drink that sauce. Seafood may not always be a safe choice on a plane, but this was a home run.

For dessert, there was a choice between caramel apple cake and a small dish of ice cream. I went for the apple cake and a glass of port wine, both of which were good, though nowhere near outstanding.

From start to finish, the meal service took more than 90 minutes. And while that's not horrible, it eats into valuable sleep time on the short, seven-hour flight across the Atlantic Ocean. But on the whole, dinner definitely exceeded my expectations. I wasn't sure how much I'd enjoy the meals in Iberia business class, but everything was either good or delicious. Color me impressed.
In the drinks department, Iberia really prides itself on its wine menu, which is full of Spanish wines. I'm not a white wine drinker, so I passed on those. But the few red wines I sampled were delicious.
Less impressive, however, was the breakfast. The cabin lights came up about 90 minutes before landing. Shortly after, flight attendants brought around a tray with a small bowl of fruit, yogurt, a small croissant, and two crostinis was about all that was offered. Luckily I wasn't very hungry, but it really seemed skimpy – where is the meat and cheese to make this a European breakfast?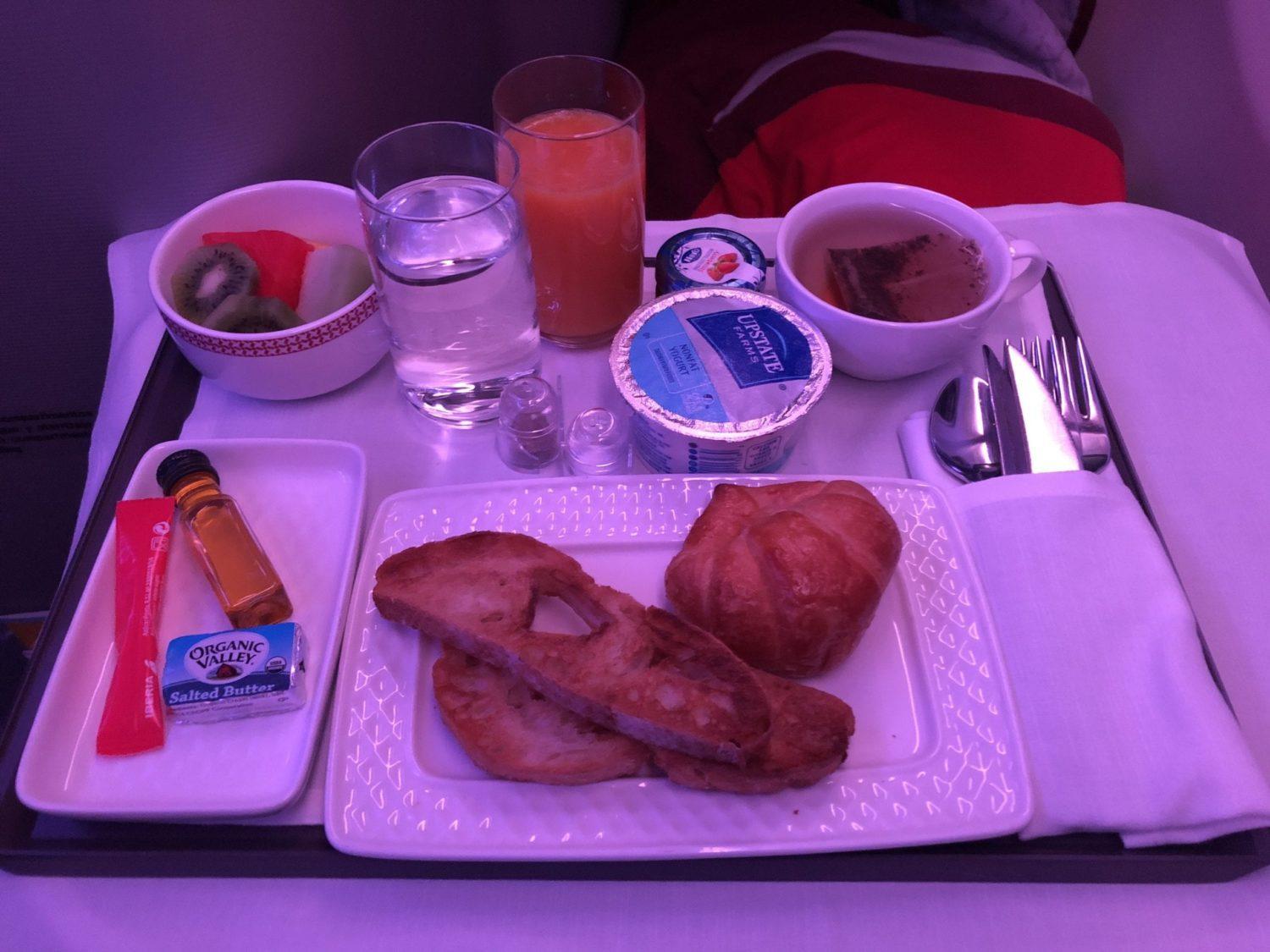 In all, it was maybe the biggest downside of the entire Iberia business class experience. Not a dealbreaker by any means – just something to be aware of.
Entertainment
Every Iberia business class seat is equipped with a 15.4-inch screen. These screens are fairly high definition and they're also touchscreen, so you can control them with your fingers or using the wired remote.

And the selection of movies was pretty great. There were plenty of new Hollywood releases on board, along with a mix of some recent hits and a few classics as well. The TV selection was great as well, including a full season of Modern Family, The Handmaid's Tale, and Brooklyn Nine-Nine.
Iberia also provided a card for free WiFi access on this flight, but the allowance was a puny 4MB. It was enough to refresh Instagram a few times, and that was about it. Iberia's normal WiFi costs are pretty exorbitant: A 50MB pass cost $39.99. Considering many airlines charge less than $20 for a full-flight pass, that's very steep.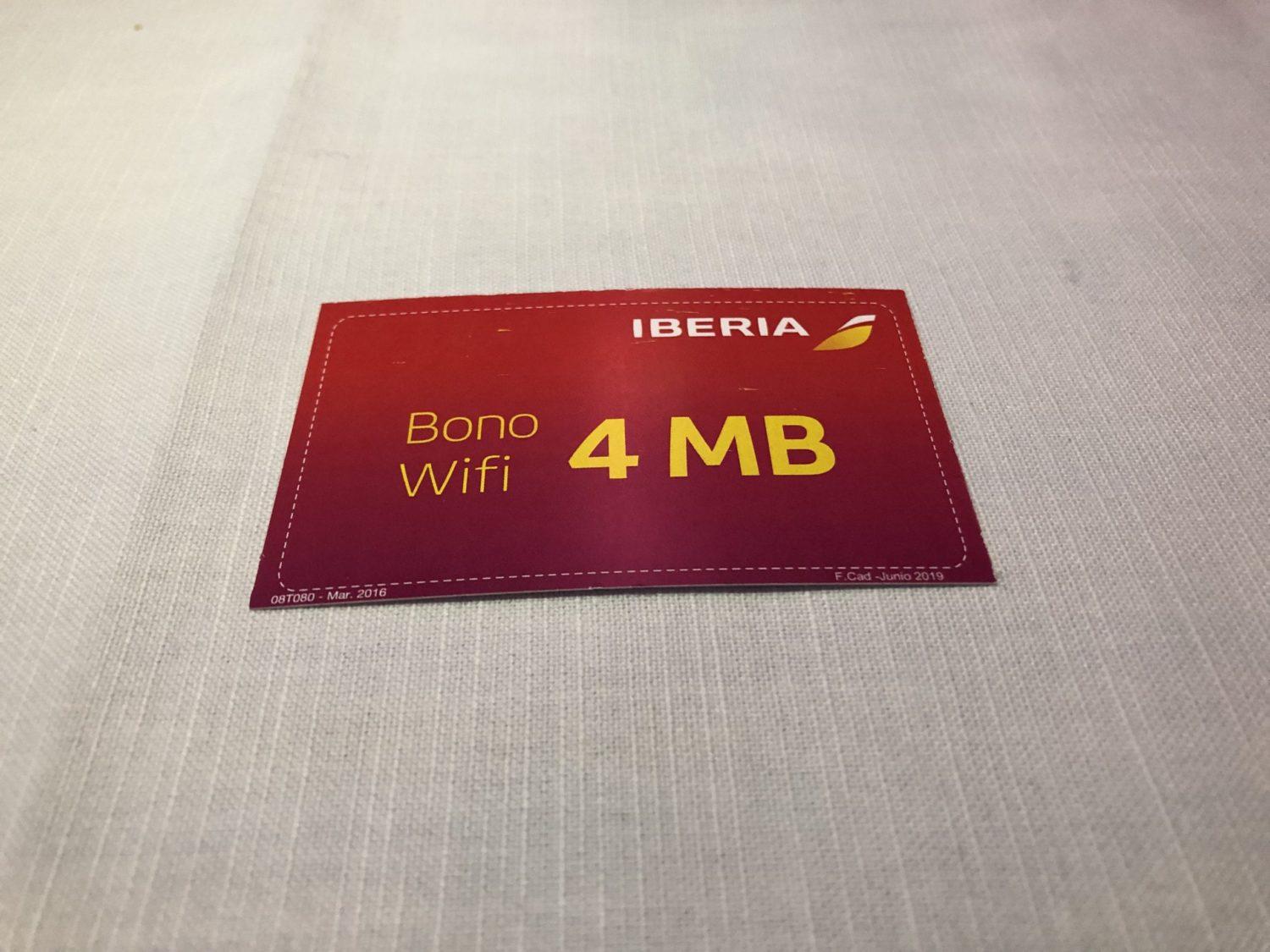 Oddly, Iberia handled WiFi much differently on the return flight from Madrid (MAD) to Chicago-O'Hare (ORD). Every business class passenger got a free hour of WiFi.
Bottom Line
Iberia is not the world's best business class. It's probably not going to win any awards anytime soon.
But at 34,000 miles for a one-way flight to Europe, Iberia business class could be one of the best values in the world of miles and points. It's comfortable, the food and service are good to great, and it has everything you need to arrive in Europe feeling refreshed.
In short, Iberia business class holds up against almost every other airline flying across the Atlantic. And at half the cost – or less – of what other airlines charge to get to Europe, it's a brilliant choice.