Nearly a year ago, Virgin Atlantic nixed its powerful price calendar that allowed you to scroll through a month's worth of award availability when trying to use points, although a backdoor method made it fairly easy to still use. But now, the cheeky British airline is apparently replacing it with something far more powerful.
It's called the Reward Seat Checker. And while Virgin Atlantic says it's still in beta mode for testing, it's already a potential game-changer. With just a bit of fine-tuning, you can even zero in on Delta flights bookable via Virgin Atlantic … including the incredibly hard-to-find Delta One business class seats for 50,000 points on flights to or from Europe!
After pulling this functionality for Delta flights shortly after launching the tool, you can once again search for all nonstop Delta flights – whether they're flying to or from the United Kingdom or anywhere else in Delta's network!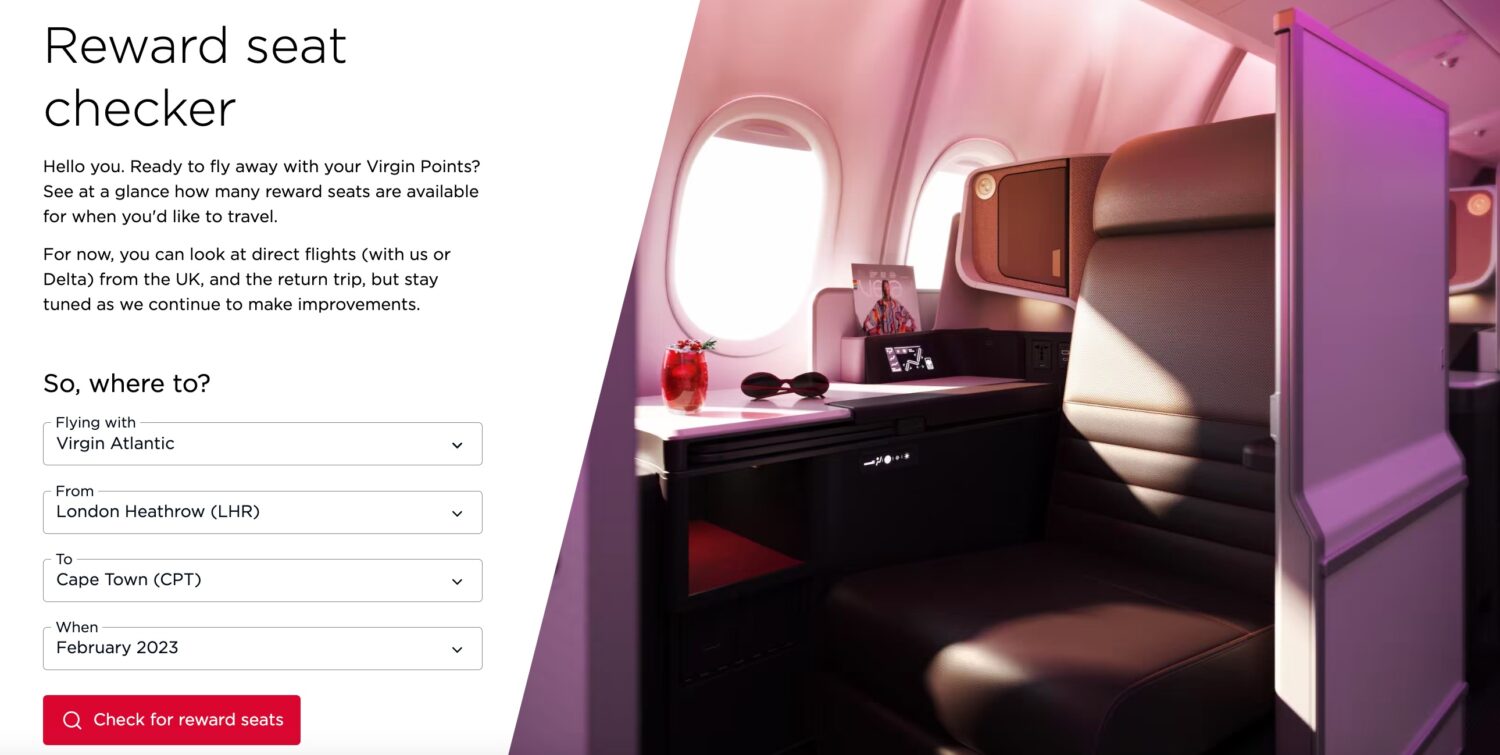 How the Virgin Reward Seat Checker Works
First things first: Head to the new Reward Seat Checker page on Virgin Atlantic's website. Just pick whether you're looking to fly Virgin Atlantic itself or Delta, enter the route, and month you want to travel, and you can easily see if flights are bookable with Virgin Atlantic Flying Club points from economy up to the airline's Upper Class suites, including how many seats are available each day.
That's helpful if you're aiming to fly Virgin Atlantic. But, that's fairly easy to book with points to begin with: Virgin Atlantic tends to release plenty of award availability even for its business class seats to be booked using points, though you'll be on the hook for $700-plus in taxes and fees. Here's a look at flights from New York City (JFK) to London-Heathrow (LHR) as an example.
Where this tool will really shine, though, is when you're hunting for deals flying Delta…
Using the Reward Seat Checker for Delta Deals
Whether you're booking a quick domestic trip, heading to Hawaii or Japan in economy, or trying to score a lie-flat seat to Europe, you can often save thousands (or hundreds of thousands) of miles by skipping Delta's exorbitant SkyMiles rates and booking with Virgin Atlantic points instead.
But actually finding those flights through Virgin Atlantic is another matter – especially Delta One to Europe, which has all but disappeared lately. Unless you're getting Thrifty Traveler Premium+ award alerts when these ultra-rare deals pop up, this is what you'll likely see any time you search for one of these Delta business class routes overseas on the Virgin site.
That's right: A big, fat error. Unless you luck out and search for a flight that has award availability sometime that week, that's what you'll get. It can be a frustrating trial-and-error process.
Enter the Reward Seat Checker. On its face, Virgin Atlantic only allows you to search for a handful of Delta routes from London-Heathrow (LHR) back to the states. But with a little trick, you can dive into any Delta route by manually editing the URL to search for any cities with nonstop Delta service. 
So while you start off by searching for flights from London to Atlanta (ATL)…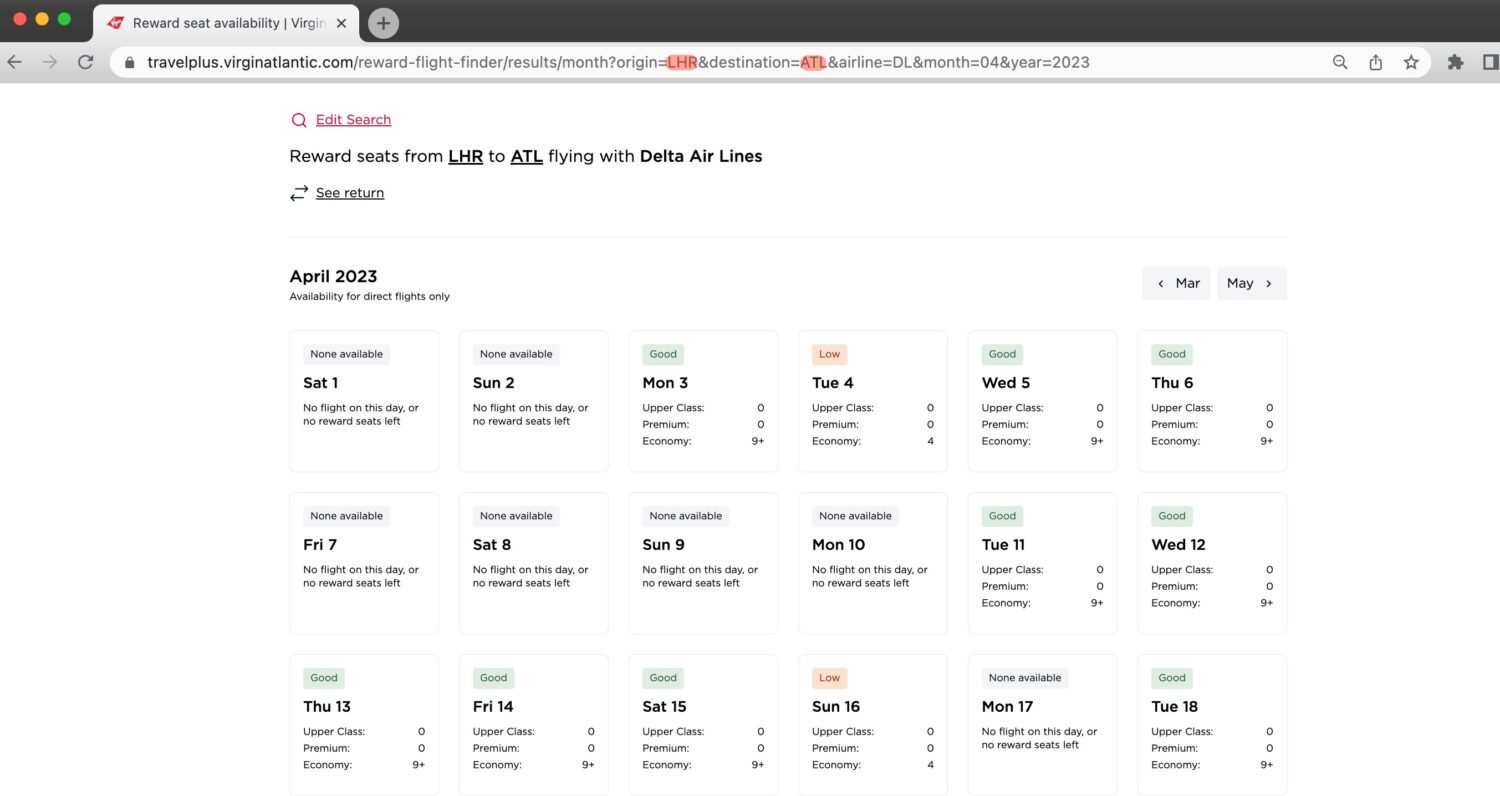 You can easily search for nonstop flights from Detroit (DTW) to Amsterdam (AMS) – which isn't currently an option when starting your Reward Seat Checker search – by simply changing the origin in the URL bar to DTW and the destination to AMS. Hit enter and voila: A monthlong look at all the Delta seats on this route you can book through Virgin. Plus, you can easily page from one month to the next.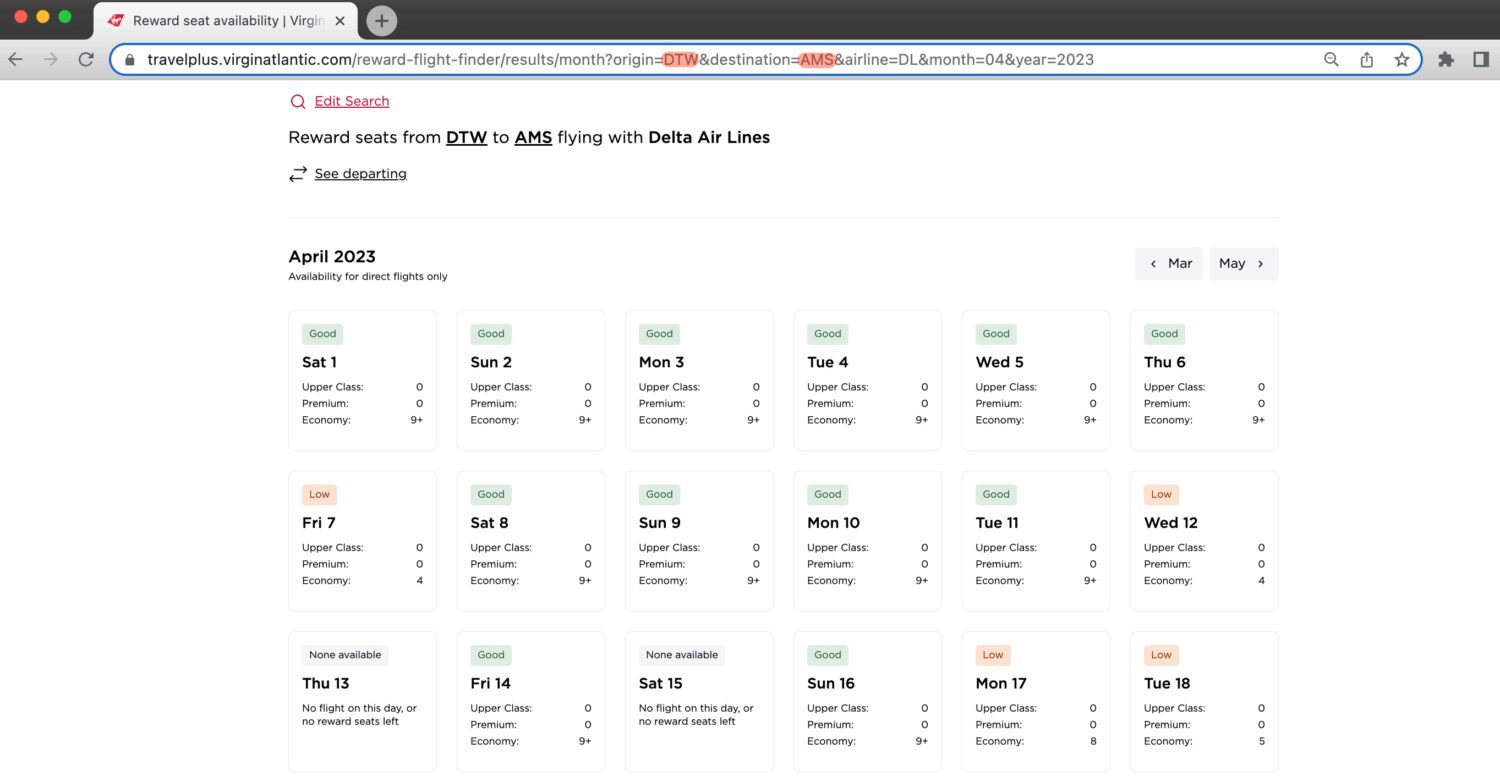 To be clear, this doesn't make booking a Delta One suite across the pond a slam dunk. It still hinges on Delta releasing the award availability to Virgin Atlantic, and Delta has been incredibly stingy with that lately. But whenever it does happen, this new tool makes it far easier to find.
There are a few things to keep in mind when putting Virgin's new feature to use looking for Delta deals:
You can only search for nonstop Delta routes
Be sure to enter airport codes in capital letters – lowercase returns an error
You'll never see "Premium" seats for these Delta searches because the airline doesn't allow Virgin to book awards in Delta Premium Select
But, the value goes far beyond just flights to Europe. You can also use this tool to search for Delta nonstop flights from the mainland to Hawaii, like Minneapolis-St. Paul (MSP) to Honolulu (HNL). Virgin Atlantic charges just 45,000 points roundtrip compared to the 100,000-plus SkyMiles you'll need to book through Delta.
With just a few clicks, Virgin's Reward Seat Checker shows you exactly which dates are bookable for the flight to Hawaii. Then, you can easily find flights back to Minnesota by clicking "See departing" to reverse the search.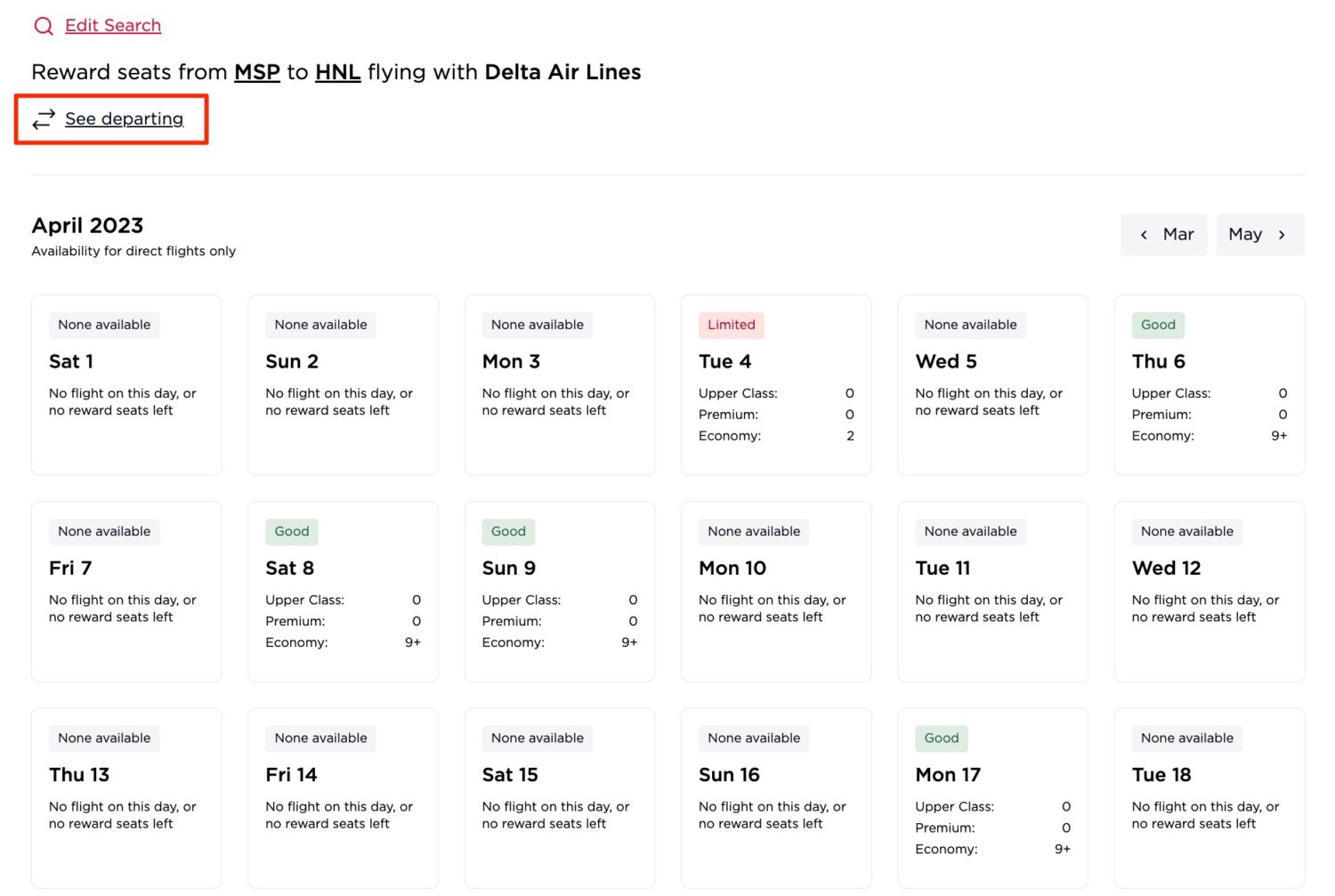 Unfortunately, you can't simply click through to a date and book. But using this handy tool as a roadmap, you can zero in on the dates and head back to the main Virgin Atlantic homepage to replicate what you've found and search.
Bottom Line
Bravo, Virgin Atlantic.
This is one of the best new features we've seen an airline roll out to make it easier to use points. It instantly makes Virgin Atlantic one of the best sites for finding award availability. And luckily, you can even use it to find those tough-to-book Delta deals.