Flying business class is always special. But doing it on a new airplane with a brand new seat? It doesn't get much better.
I recently hopped on the flight from New York City (JFK) to London-Heathrow (LHR) to give Virgin Atlantic Upper Class on its new Airbus A350-1000 a shot. They call it the Upper Class suite, marking what's supposed to be a major step up for Virgin Atlantic.
Virgin Atlantic is near and dear to my heart – I vividly remember flying the much older Virgin Atlantic Upper Class seats way back in 2004, when I moved to the U.S. as a child. More than 15 years later, Virgin Atlantic still does all the right things but has upped its game. A lot.
Keep reading for our full review of how the airline does business class.
Booking Virgin Atlantic Upper Class
Paying cash to fly business class between New York and London isn't cheap. It's one of the most competitive routes in the world, with tons of business travelers ready and willing to top dollar. One-way flights can easily exceed $5,000.
That's why I used miles instead. Of course, you can use Virgin Atlantic's own Flying Club miles to book an Upper Class Flight. But while Virgin Atlantic miles are one of the best ways to book flights on Delta, it's not always such a steal to book these business class fares – you'll get hit with steep taxes and fees over $600.
So I did the reverse and booked my Virgin Atlantic flight using Delta SkyMiles – which is possible thanks to their joint venture partnership. Although award rates are often steep when using SkyMiles to book Delta business class flights, it's far more stable.
A one-way Virgin Upper Class flight between the U.S. and Europe is almost always 86,000 SkyMiles – unless you book closer to departure when these partner award rates skyrocket. And Delta usually gets plenty of access to Virgin Atlantic award space, which is a critical component when booking business class seats.
Better yet, I paid just $5.60 in taxes. While the mileage is significantly more than what Virgin charges for the same flight, trade-offs like these are a key point of using poitns and miles – and I was happy to keep a lot of extra cash in my pocket.
Thanks to the low fees, reasonable award rates, and solid availability, Virgin Atlantic Upper Class is one of our favorite ways to use Delta SkyMiles.
Read our guide to earning Delta SkyMiles to learn how to pile up enough to fly Virgin Atlantic! 
Lounge
The Virgin Atlantic experience flying out of New York City starts before you step foot in the plane. You get access to the Virgin Atlantic Clubhouse at JFK, which is one of the best lounges you'll find in the U.S., if you ask me.
While not quite to level of Virgin Atlantic's flagship Clubhouse at London-Heathrow (LHR), this lounge does everything right. There's a la carte dining, tremendous drinks, free spa treatments, and plenty of places to sit and relax before your flight. Plus, the whole space just oozes the coolness of Virgin Atlantic.
Read the full review of the Virgin Atlantic Clubhouse Lounge at JFK.
Cabin
I boarded the flight with a spring in my step after an awesome experience in the Virgin Clubhouse Lounge. A pre-flight massage certainly didn't hurt…
My jaw dropped as I turned left upon boarding into a GORGEOUS cabin. The gold and orange accents pair so well with the sleek white cabin interior. The whole cabin has a futuristic feeling but without coming across as gawdy or overdone. It's a delicate balance, and Virgin's new Upper Class cabin does it well.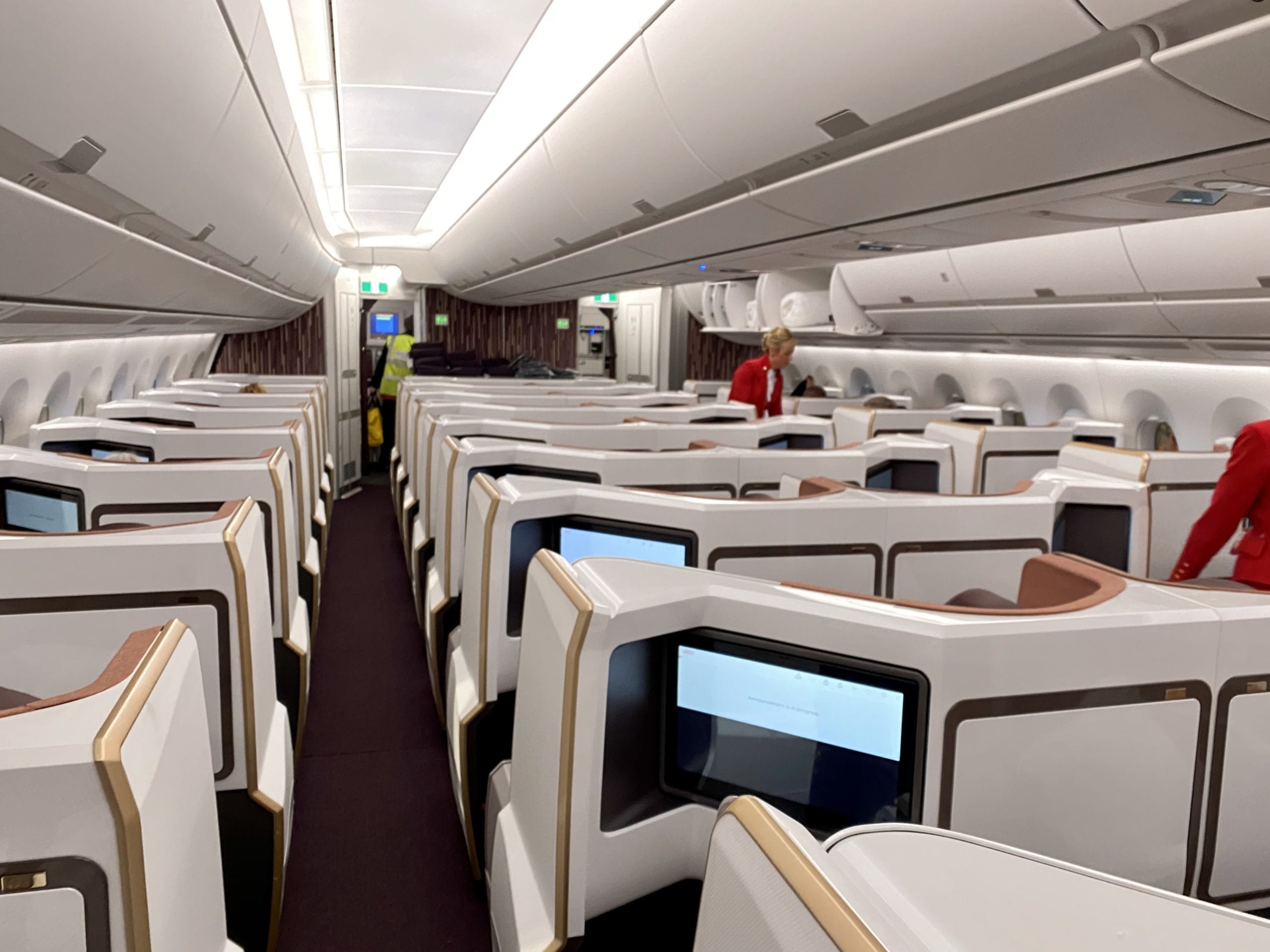 Virgin has filled the A350 cabin with 44 individual suites, all in a 1-2-1 configuration so each seat has direct aisle access. The arrangement is a welcome change from the Virgin's older business class setup, where you'd be stuck facing your fellow passenger across the aisle. These new suites are far more private. And while the 44 suites make Virgin's A350 by far the most densely packed business class cabin in Virgin's fleet, I didn't feel it was busy or cramped at all.
Yet the design is still a bit odd. While seats along the window are pointed away from the aisle to increase privacy, center-section suites still point toward the aisle, leaving them slightly more exposed. That's a major departure from the typical "reverse herringbone" business class arrangement that has become the standard.
Virgin simply can't resist doing things differently, it seems.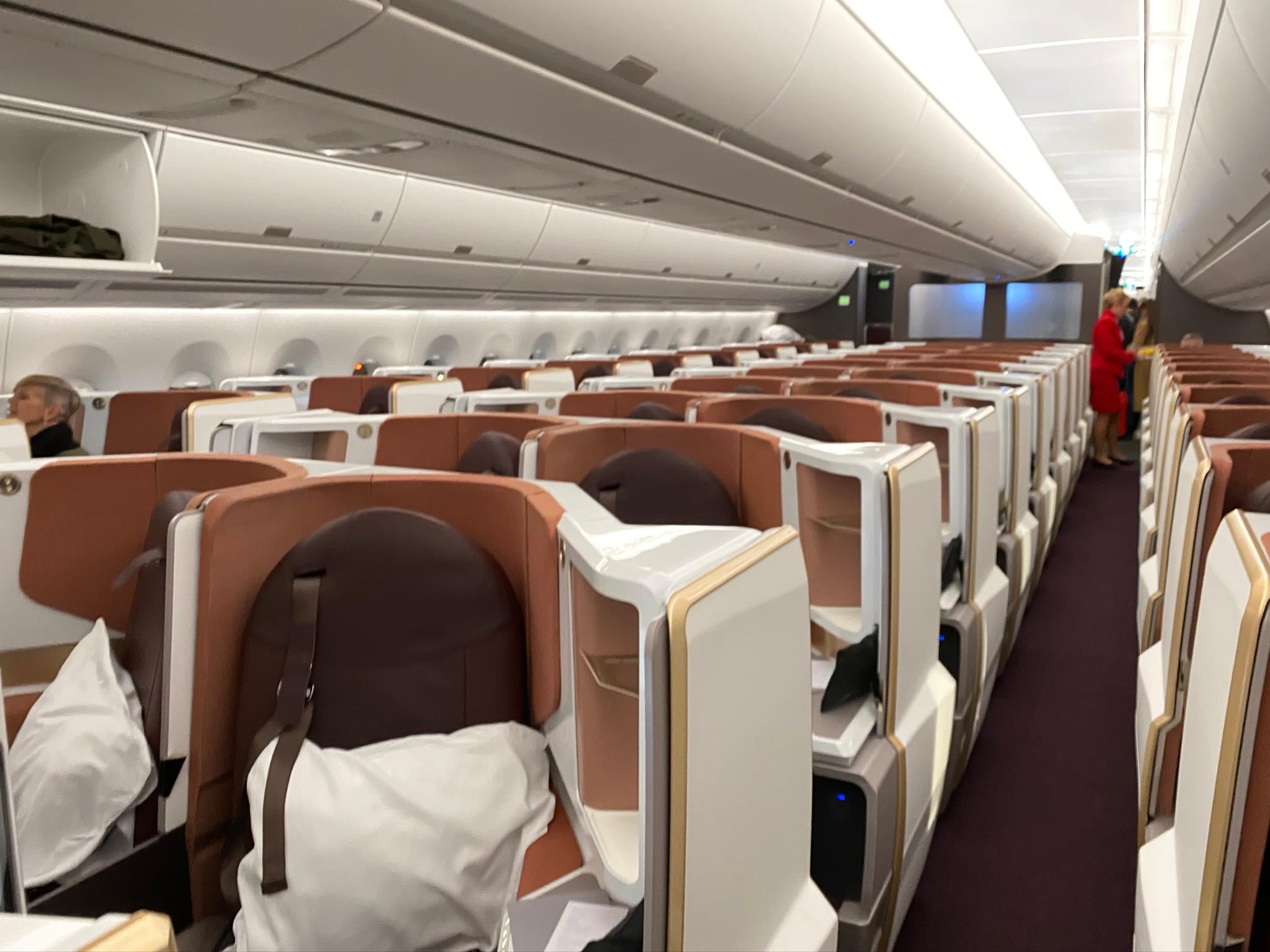 You'll find overhead bins above all suites in the Upper Class cabin, including the center aisle. That's a departure from what many airlines have done on their A350s, removing the overhead bins from the center section to create a more spacious cabin. For example, the newest Delta One Suite arrangement only has bins above the window-side suites. still found Virgin's cabin plenty roomy, and didn't have any trouble stowing my tiny backpack up above.
Virgin Atlantic Upper Class cabins are perhaps best known for their onboard bars. It's a signature touch. But Virgin mixed things up with the A350 with a new communal space called "The Loft." While you won't find any exposed brick or wooden staircases, there's couch-style seating for up to six passengers as well as a large TV.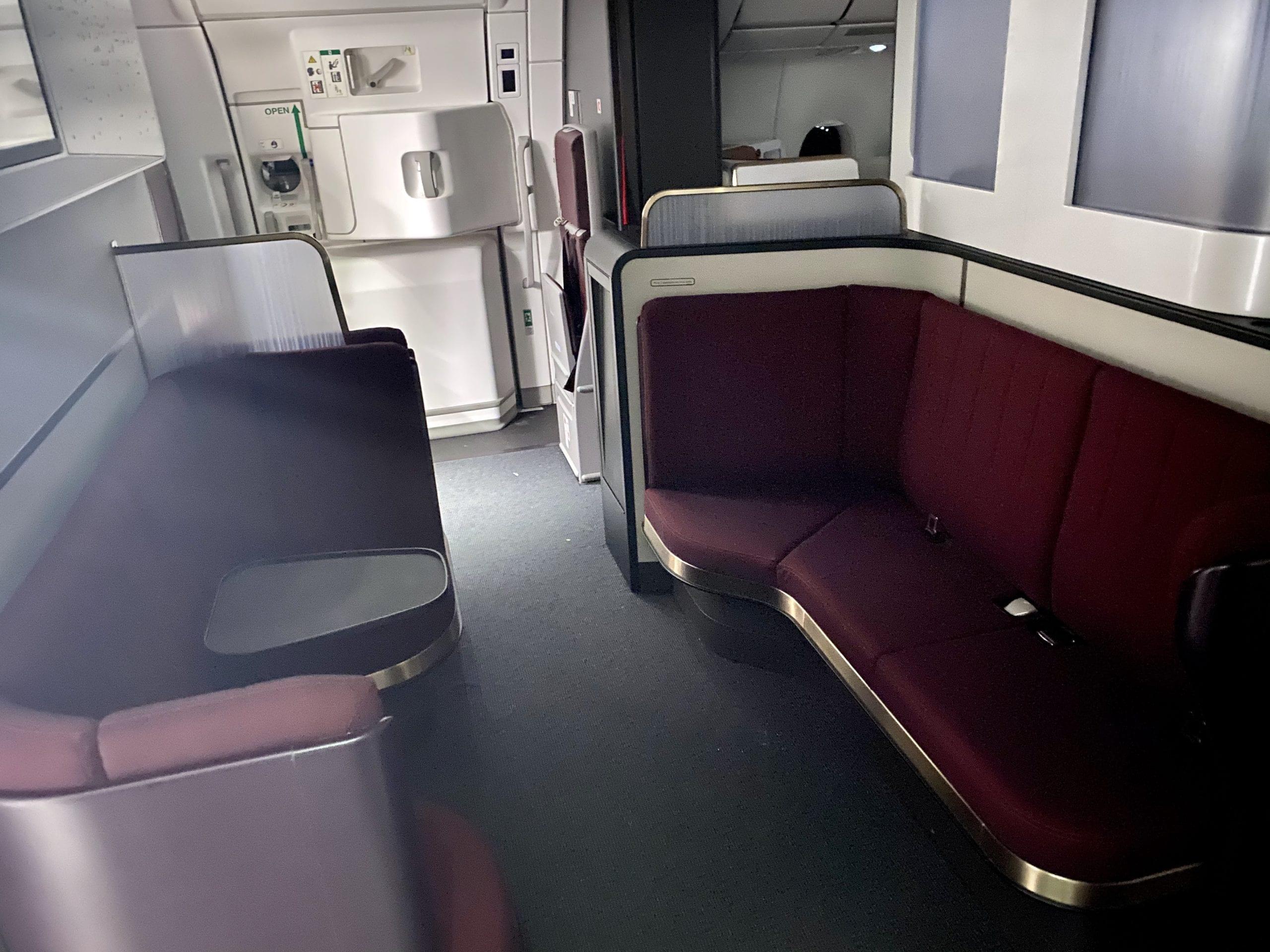 Virgin touts that passengers can connect Bluetooth headphones to this TV to watch shows in-sync, but I didn't try this on my short hop across the pond.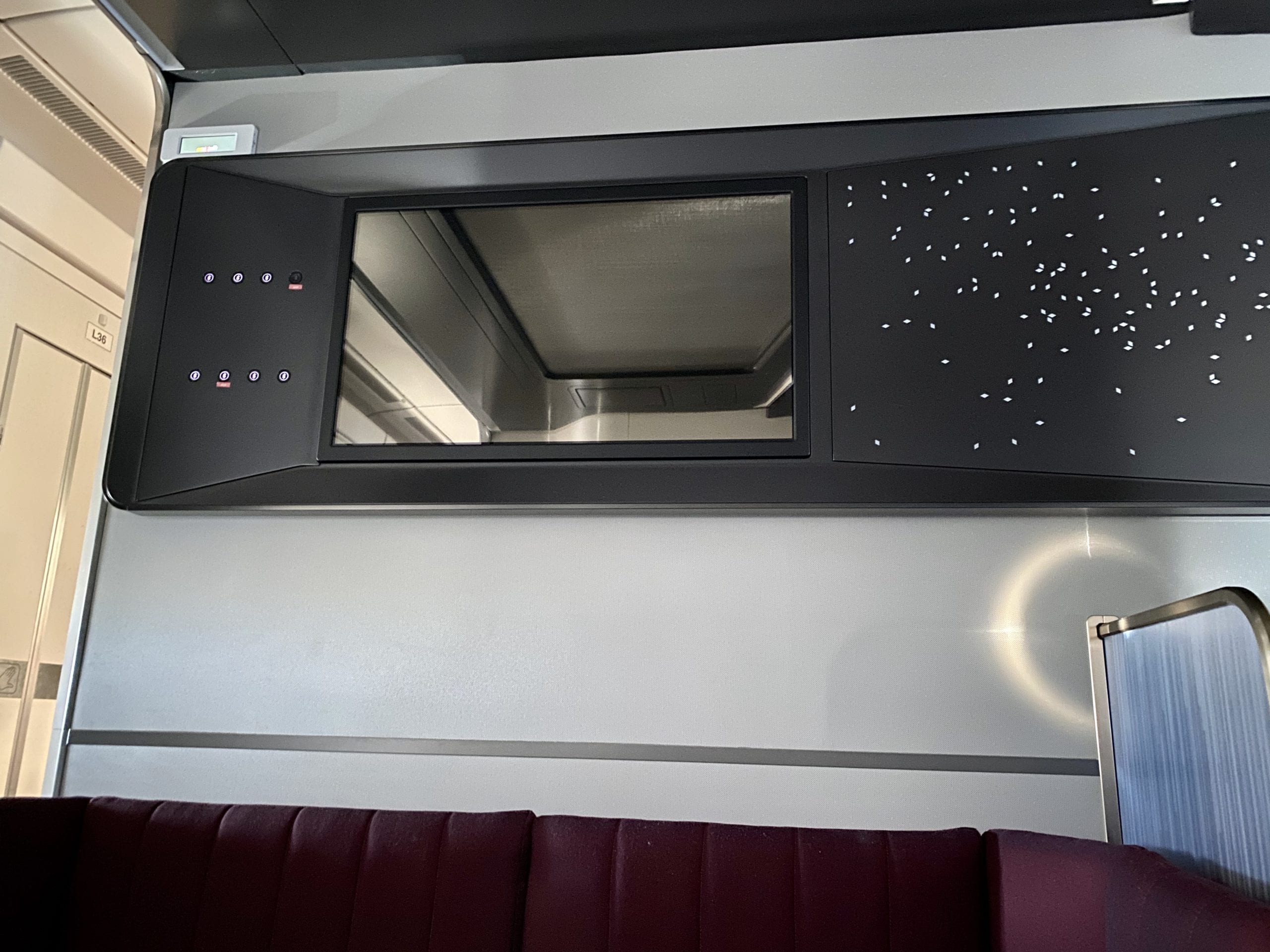 I also checked out a snack basket that was also placed in the space after I woke up the next morning – yum!
There are also two fairly standard-sized lavatories at the front of the Upper Class cabin, with another two at the rear that are shared with Premium Economy passengers. The front loos even feature windows – how cool is that?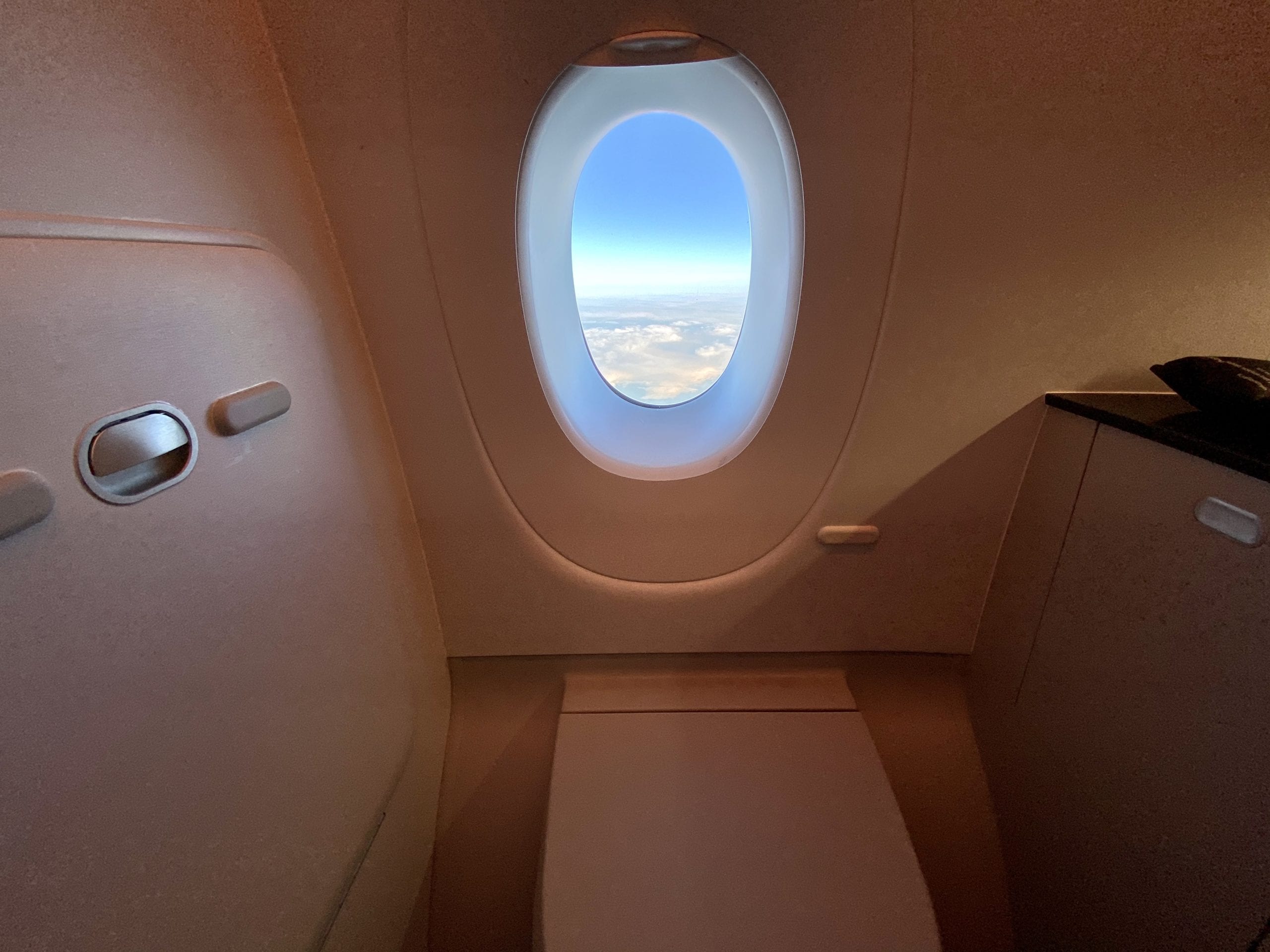 Seats
I could hardly contain my excitement as I headed towards my suite – 1A – right at the front of the cabin.
I specifically chose this suite as it sports a slightly larger footwell thanks to the lack of a suite in front. These bulkhead seats are definitely the right choice if you're looking for a bit more space.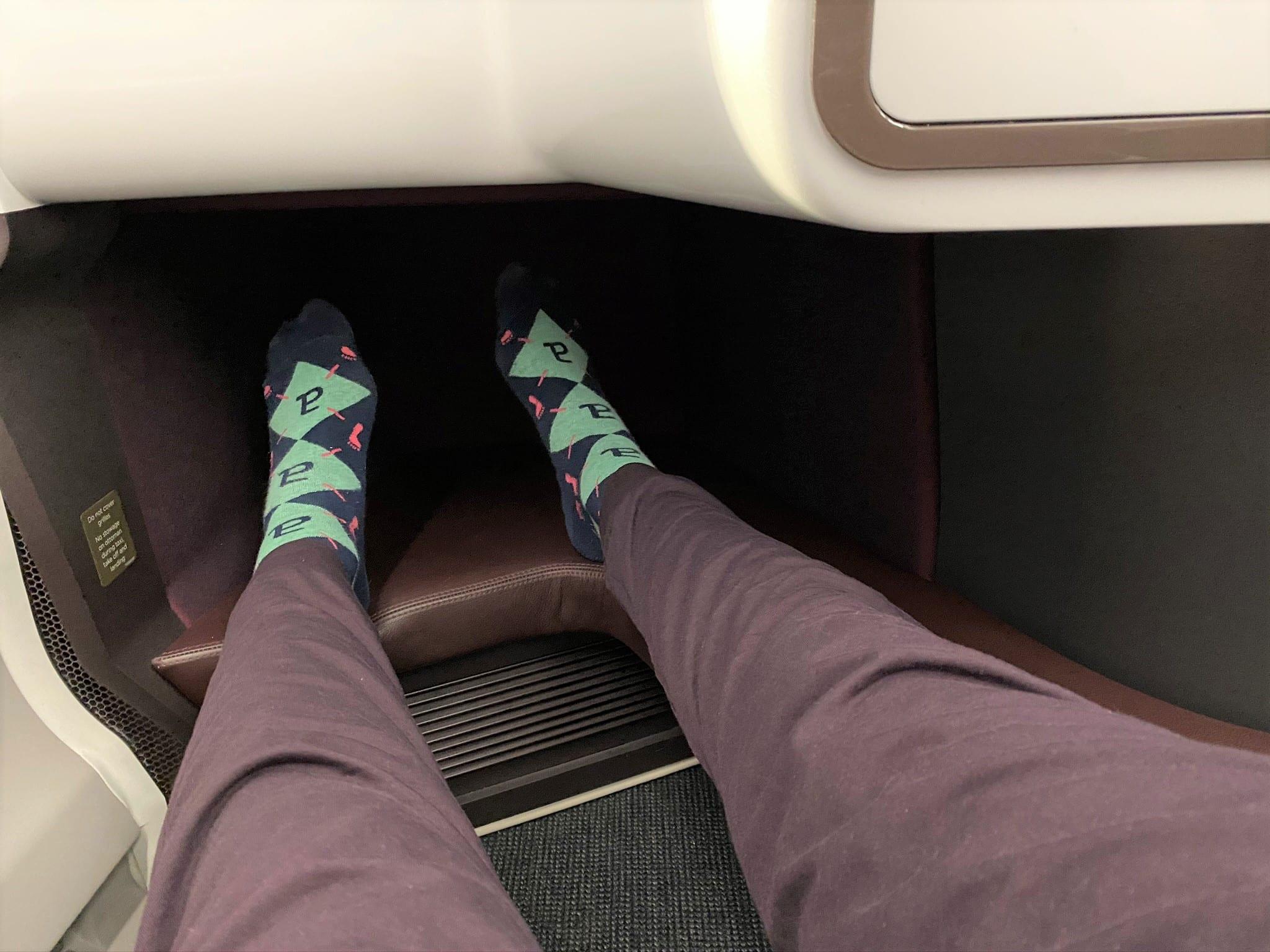 These seats don't have fully closing doors, which are all the rage these days. They do, however, have slide-out partitions that can give you a bit more privacy in your seat. Combined with the new arrangement of these seats, it's a much more sensible setup than Virgin Atlantic's older business class cabin.
If you are traveling single (and not looking to mingle), the A and K seats are your best bet as they sit solo along the windows and are angled away from the aisle. Meanwhile, D and G suites in the center section are a better option for companions – but far from perfect. These suites face away from each other – and toward the aisle – but there's a good gap for you to chat with your partner. You can also slide a privacy partition if you aren't feeling sociable.
You'll find a large shelf on the side of each seat, along with a pocket full of reading materials.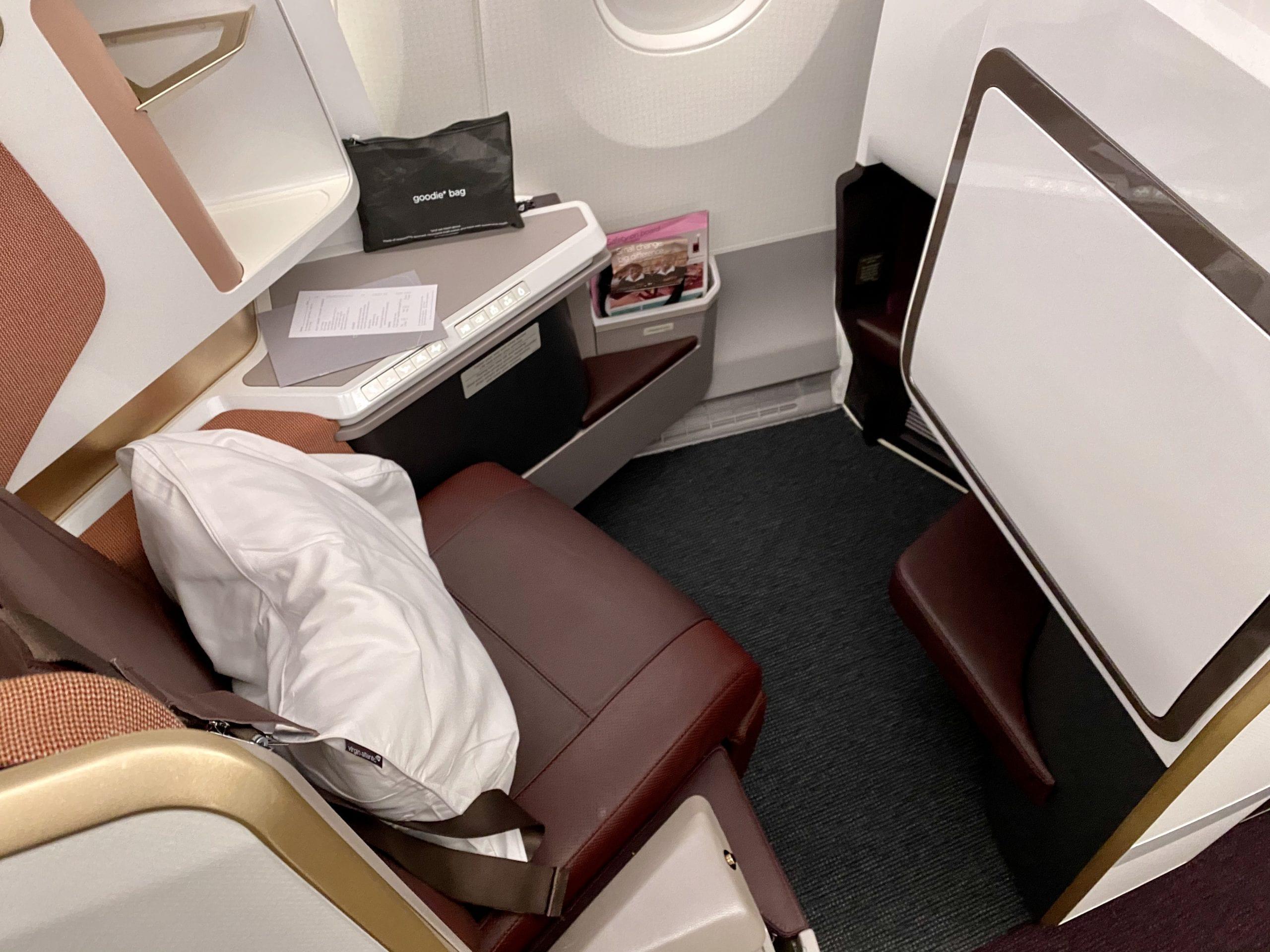 You can also access these easy-to-use buttons to control your seat as well as the in-flight entertainment. I particularly like that there is a handy play/pause button right there!
If you want to get some work done or charge your devices, you're covered with a power outlet and USB port under the shelf.
I also loved the shelving located next to my shoulder – it was the perfect place to keep my headphones and cell phone during a nap.
You'll find a massive table on the right, which folds down from a wall panel featuring an additional storage area and a water bottle. And so we've arrived to perhaps the most controversial part of these new business class seats.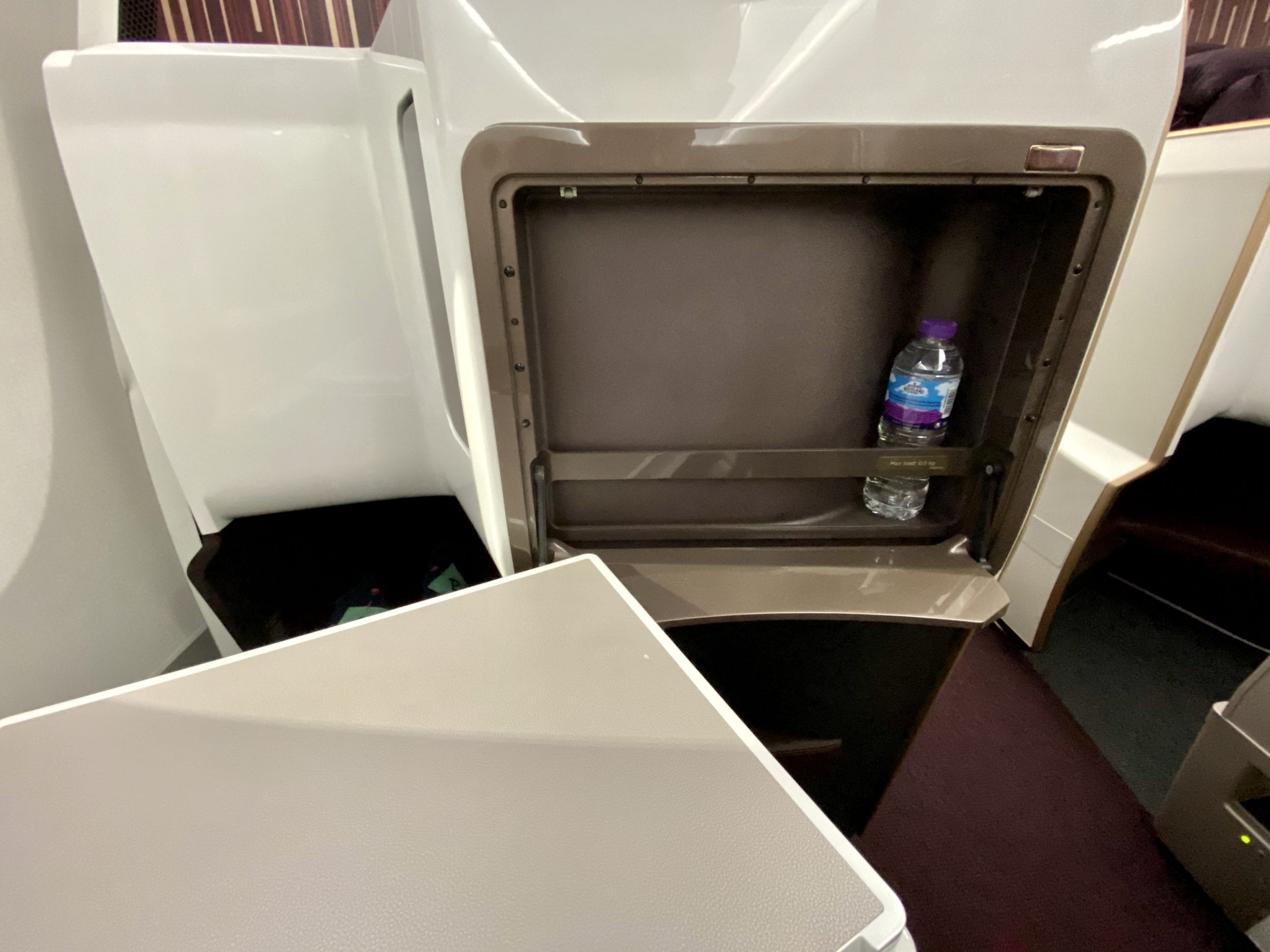 Virgin has come under scrutiny for the way these tables slide in front of passengers, as some have complained it doesn't leave enough space. I didn't find that issue, but I'm on the slimmer side. Virgin is retrofitting these tray tables with a new mechanism on their A350 fleet.
Finally, you'll find an adjustable armrest on the aisle-side, which can be raised or lowered as desired. There's even another small storage area below it to stash a charger or other small item!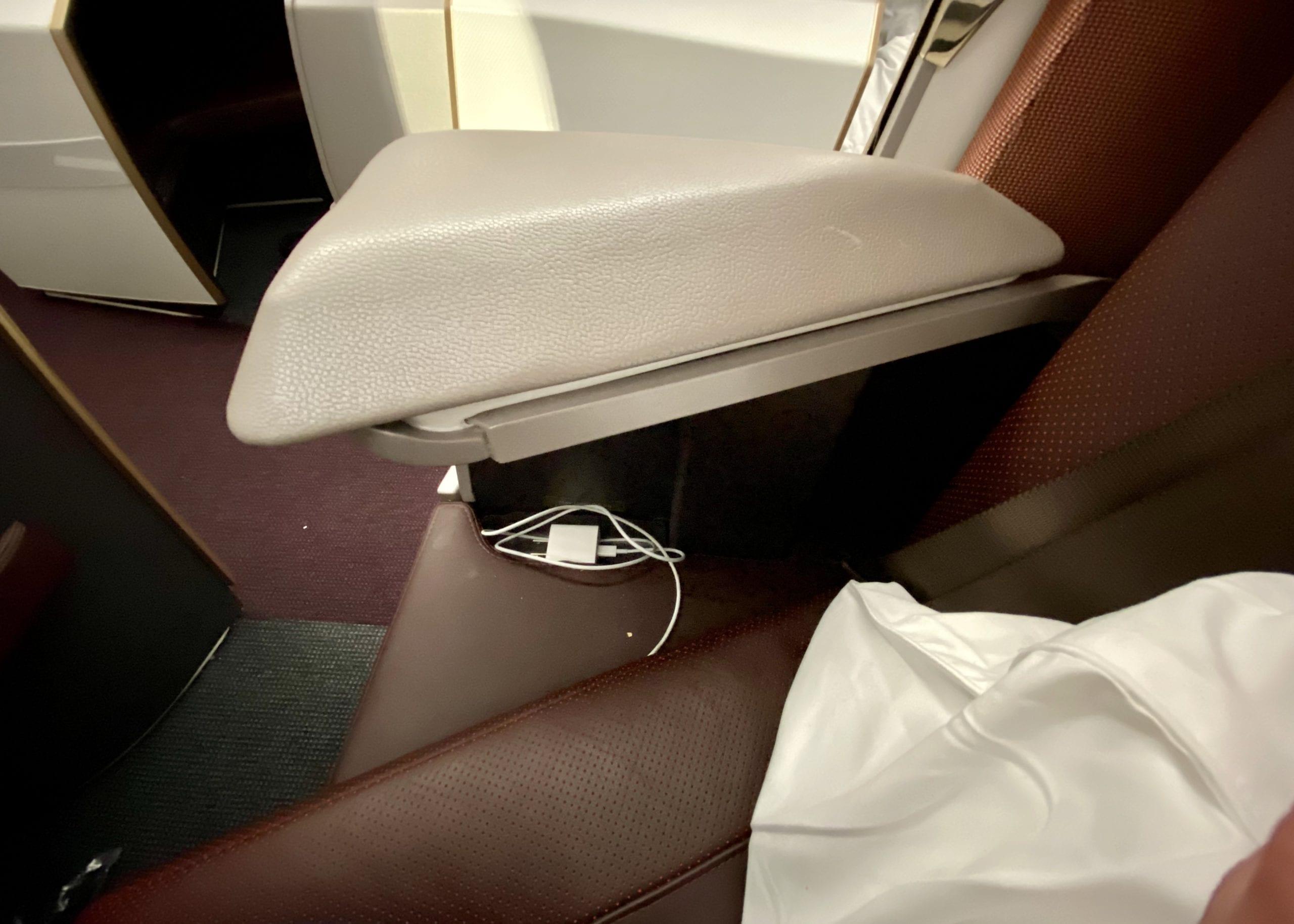 All Virgin Atlantic Upper Class passengers receive a mattress pad and duvet, and the crew will be happy to make your bed if you ask. Feeling brave, I decided to try and have a go myself.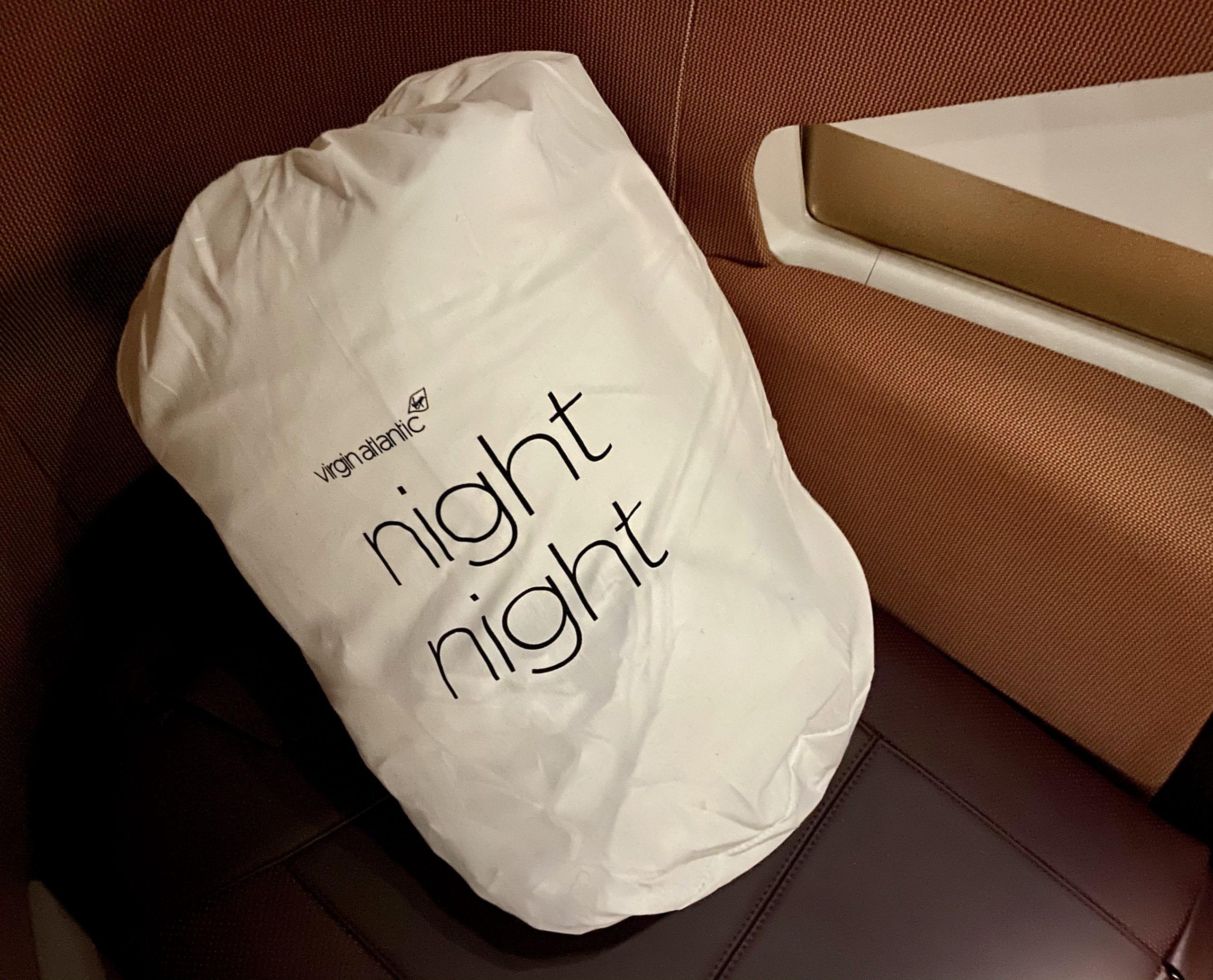 I think it turned out alright – that's a pretty cozy looking bed to me!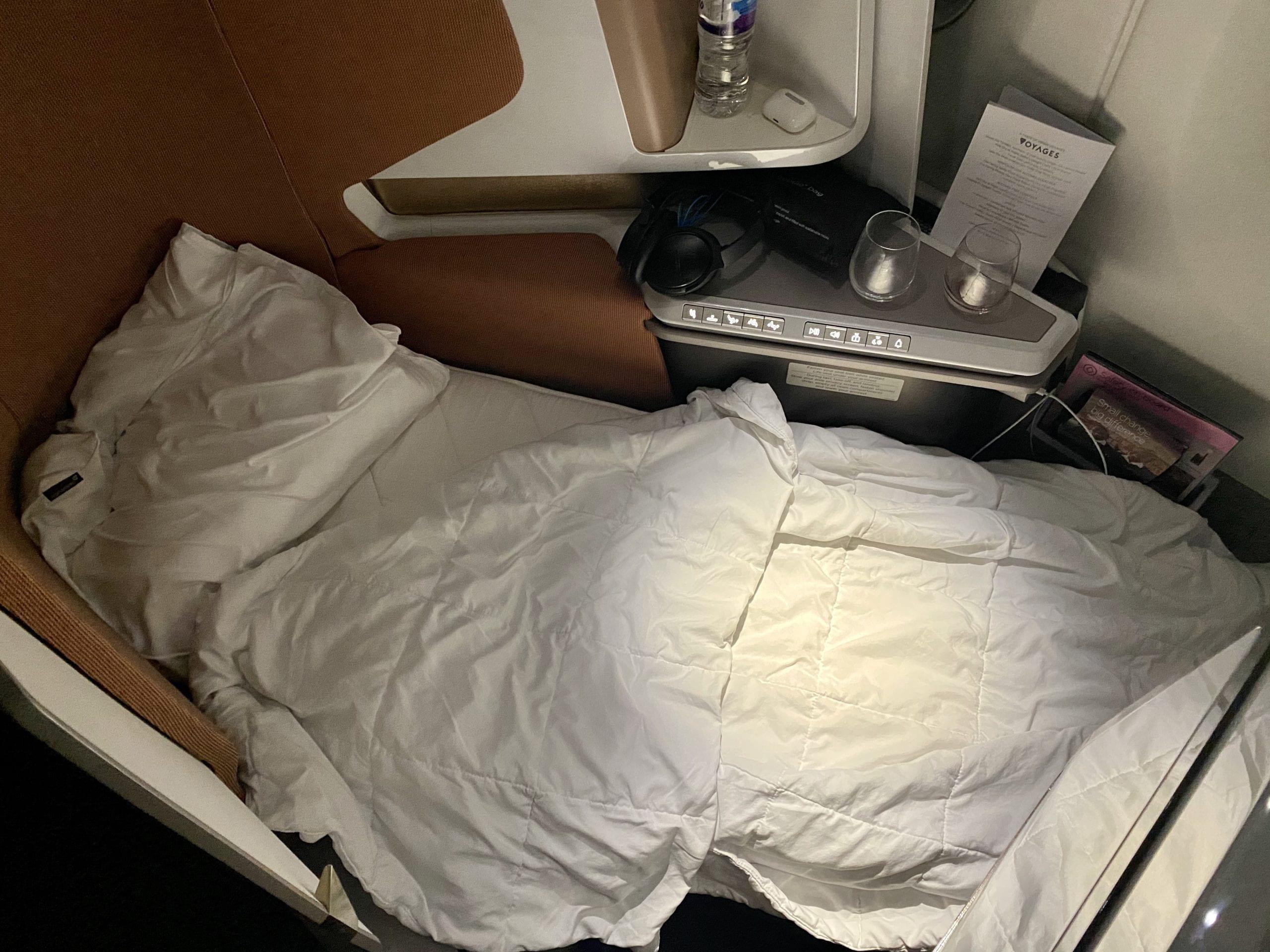 I managed to grab about three hours of sleep as we shot across the Atlantic. To me, these east coast transatlantic flights seem to be too short to get much more than that.
Amenities
I was particularly excited to try out Virgin's new amenity kits and pajamas, which Virgin refers to as "sleep suits" – how British!
Virgin now offers sustainable amenities in Upper Class which are designed to be reused. I love the "goodie bag" amenity kit made of recycled paper – so cool!
I opened the kit to find all the basics you need for a short transatlantic flight, including a bamboo toothbrush, high-quality socks, and REN skincare products.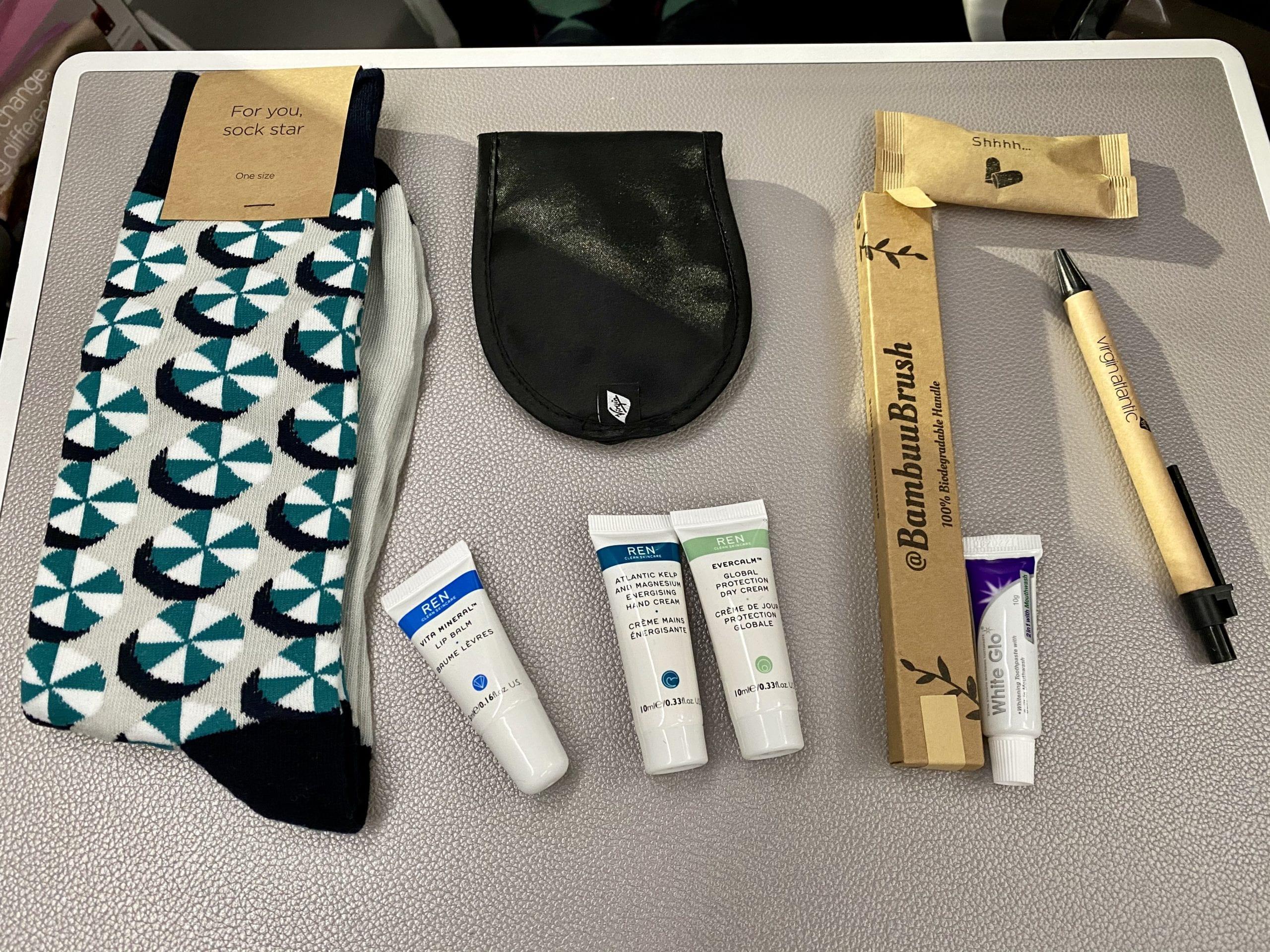 Virgin is also one of the only airlines that offer pajamas on all of their overnight flights across the Atlantic Ocean. The kit comes in a nifty drawstring bag which I am sure I will use again.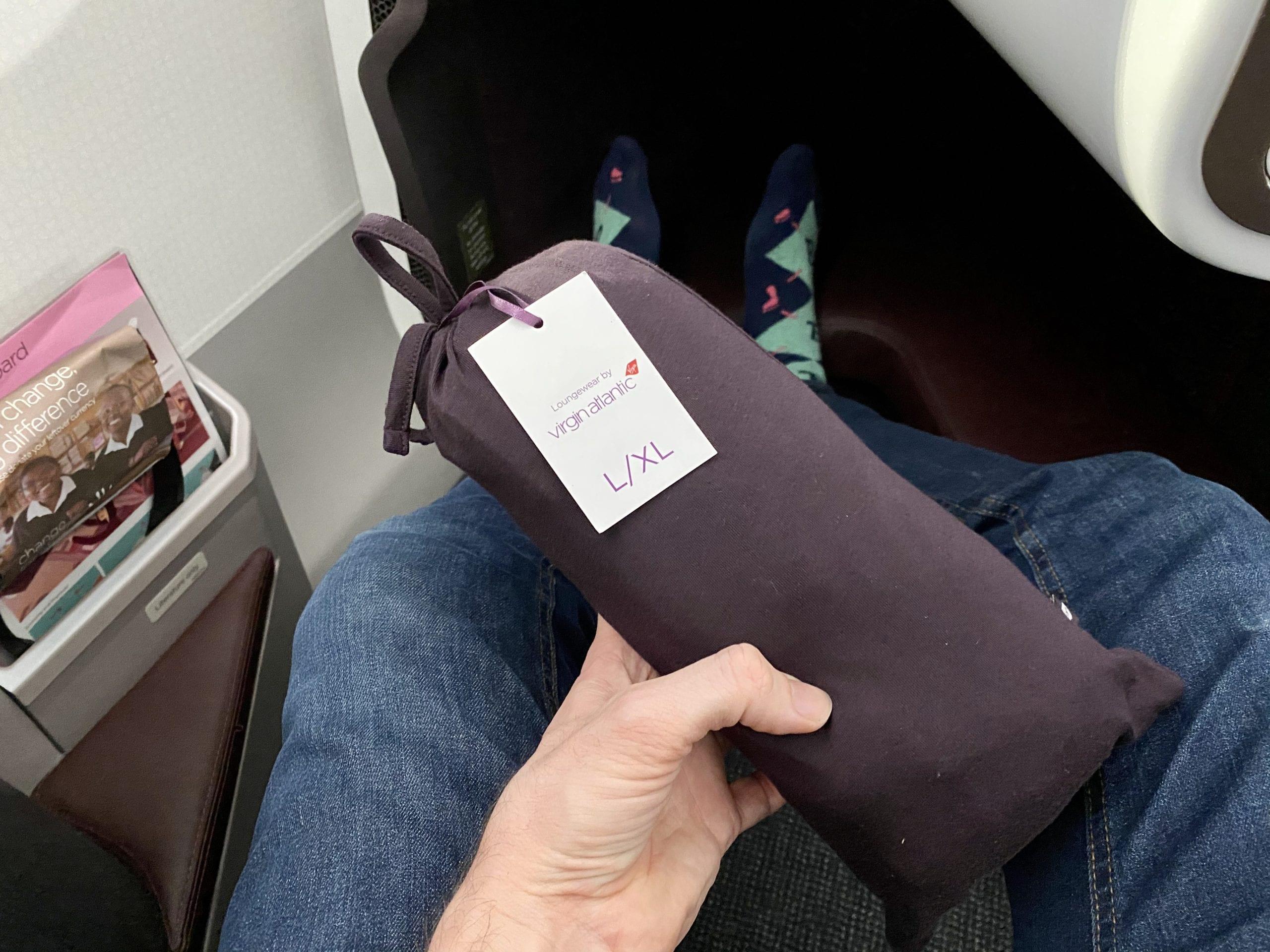 Sizes do run on the large side – I ended up asking nicely to switch to a Medium/Large size from the Large/Extra Large size the flight attendant initially handed me.
A rather basic pair of headphones were located in the seat pocket, wrapped in a collection envelope for Virgin's Change for Children charity. I didn't try them, but they are there if you need them.
Food & Service
Virgin Atlantic is known for its cabin crew. It's one of the best-known selling points and a defining feature.
I've always thought of the airline as a little bit cheeky, a little bit fun, and a little bit classy. And I can happily announce that service was all three on my flight, making it one of the  highlights of the experience.
As I sat down, a flight attendant offered me champagne, orange juice, or water. I imagine I probably could have asked for something else but champagne was fine by me!
This flight featured a choice of bubbles: Hambledon Cuvee or Champagne Ayala. My parents used to live across the street from the Hambledon Winery, and it's pretty tasty for English sparkling wine!
Soon after sitting down, a flight attendant handed out sleepsuits and menus. Inside the menu was a separate breakfast card that I filled out and handed in before takeoff. While somewhat formal, I love that Virgin has these touches maximize sleep for passengers.
This flight featured a "supper service," which is Virgin speak for light dining – another effort to maximize sleep. With the great food selection in the Clubhouse, I imagine many passengers eat before the flight to sleep more on the plane. Despite the abbreviated service, there was still plenty to choose from on the menu.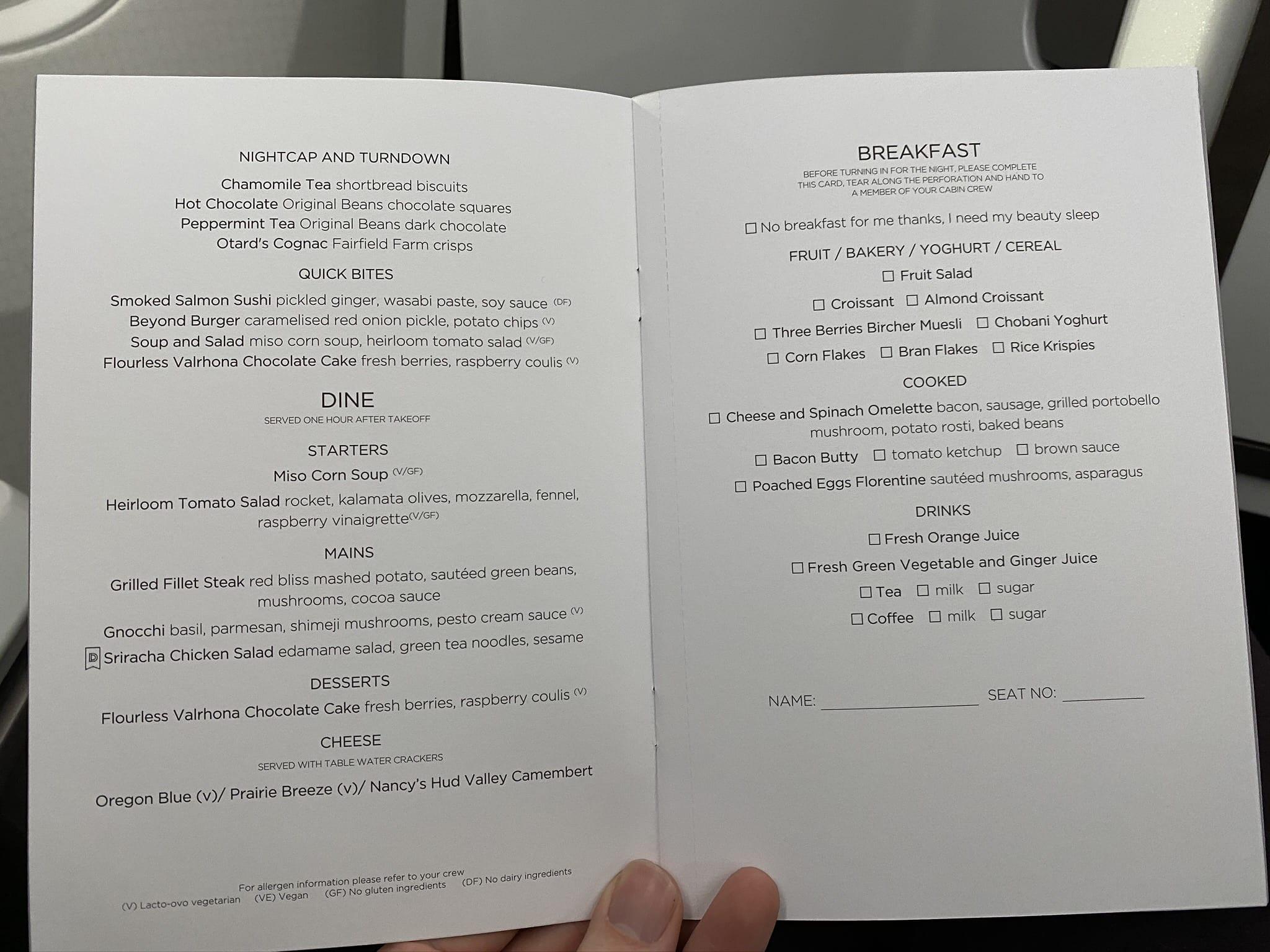 A generous choice of coffees, teas, soft drinks, and alcoholic beverages is also available!
Virgin even highlighted their new cruiseline, Virgin Voyages, on the cocktail menu.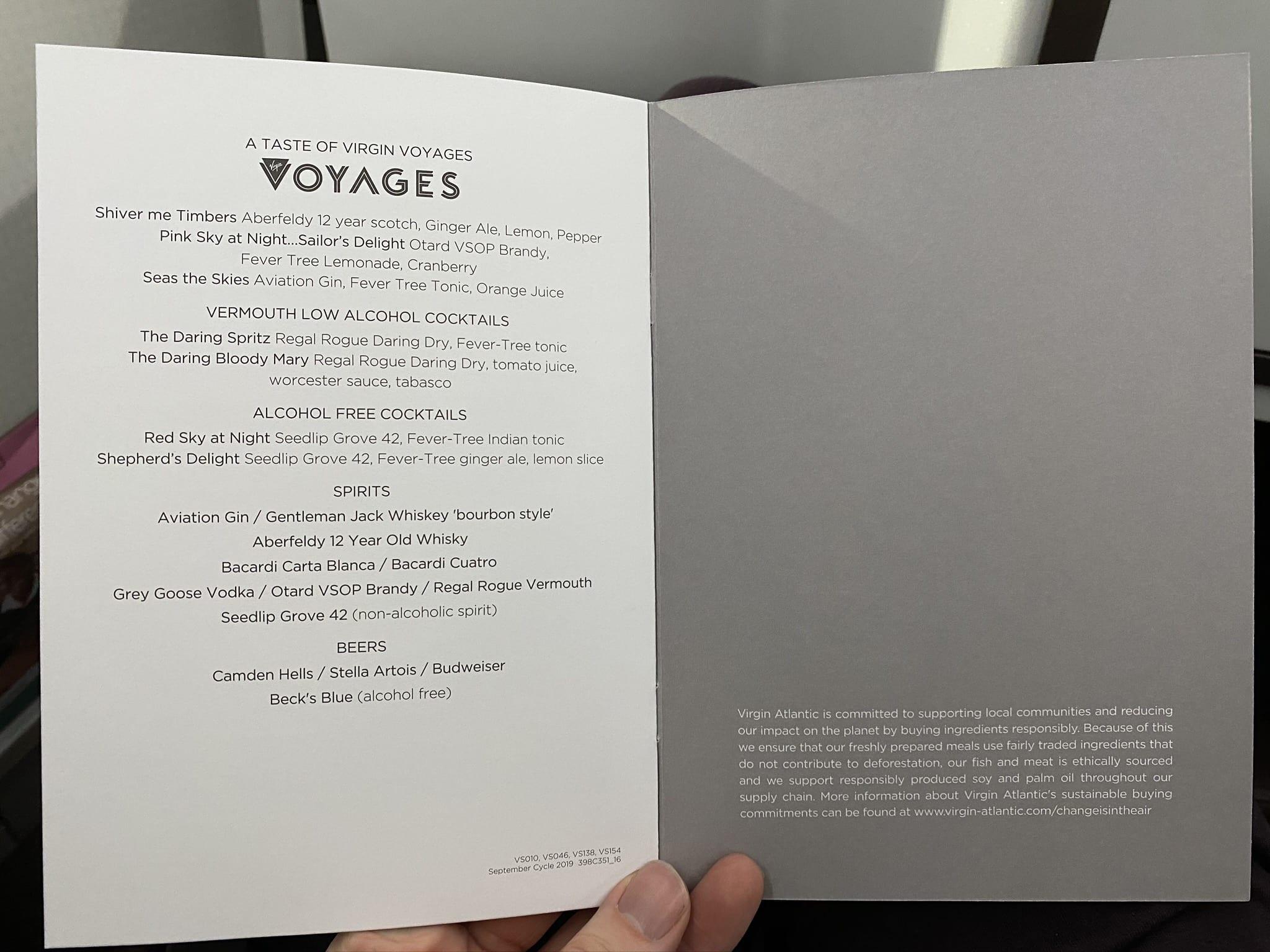 As we climbed out of New York JFK, we hit some moderate turbulence which kept the cabin crew seated for a little longer than normal. Despite this, they were extremely quick at serving passengers as the bumps allowed.
I started my meal with a glass of french wine and some crisps (potato chips to the American readers!)
A few minutes later, a flight attendant placed the most amazing salt and pepper shakers down along with bread and butter.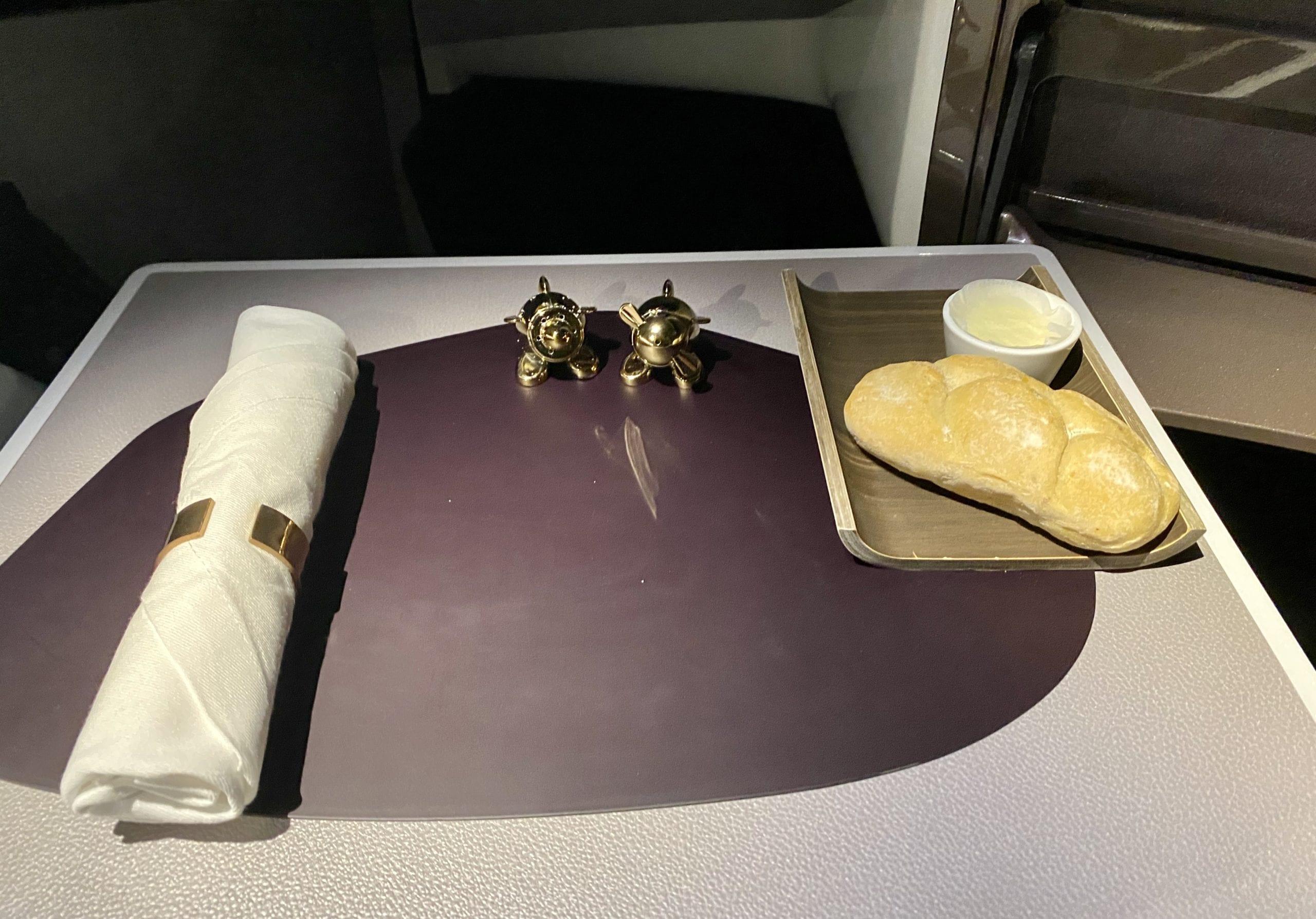 I mean seriously, how could you not steal these! They even have the words 'pinched from Virgin Atlantic' embossed on the feet, so I didn't feel so bad stashing them in my backpack.
To start, I slurped down a bowl of the Miso Corn Soup. This was actually the highlight of the meal, and a perfect way to start.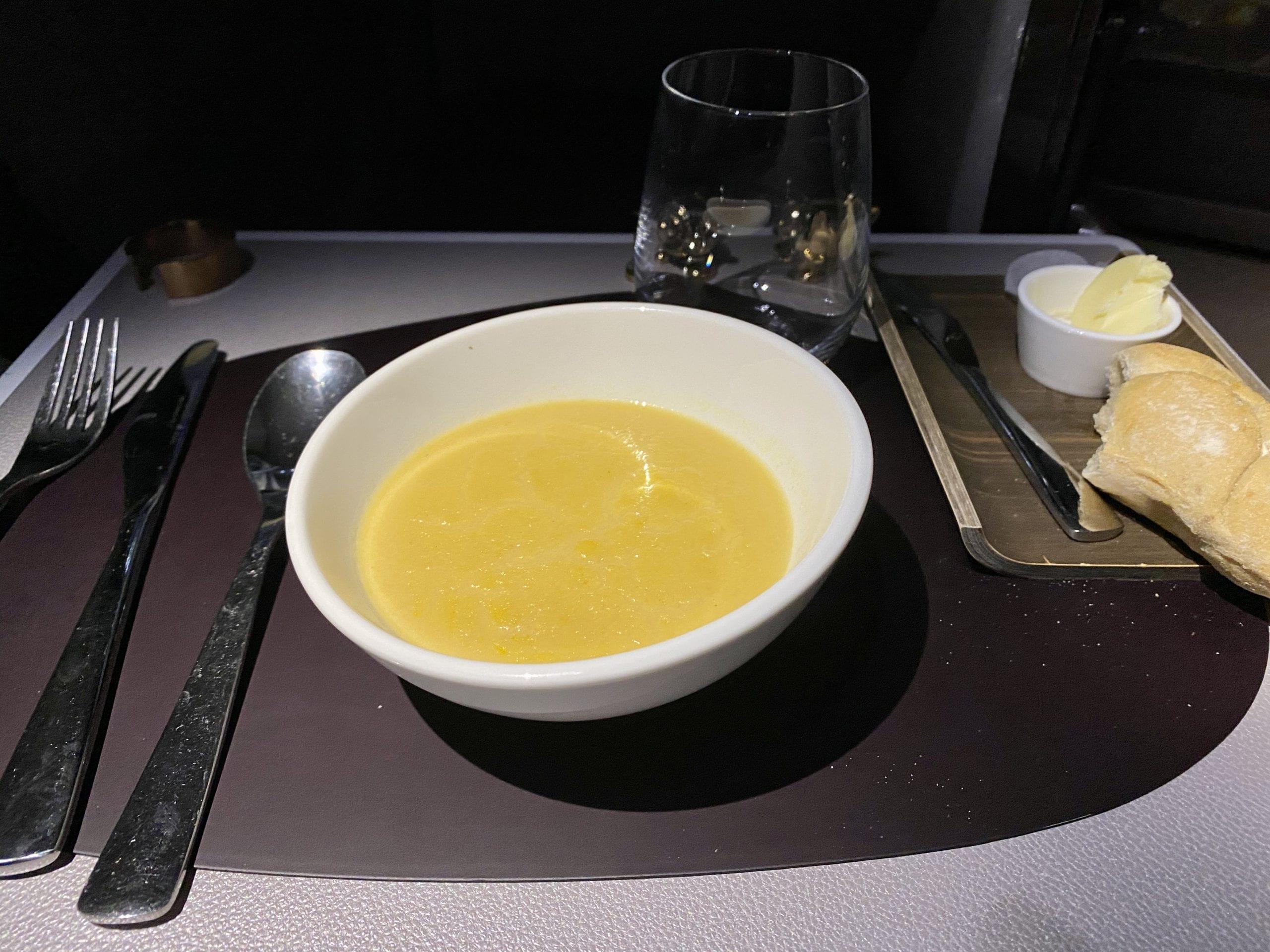 I followed this up with the filet of steak. This was one of the let-downs of the entire flight, as the beef was overcooked and quite tough, and the cocoa sauce had a slightly funky flavor.
I finished my meal with a cheese plate, which is my go-to on airplanes. Unfortunately, the plate was drowning in chutney, which gave everything a sweet flavor.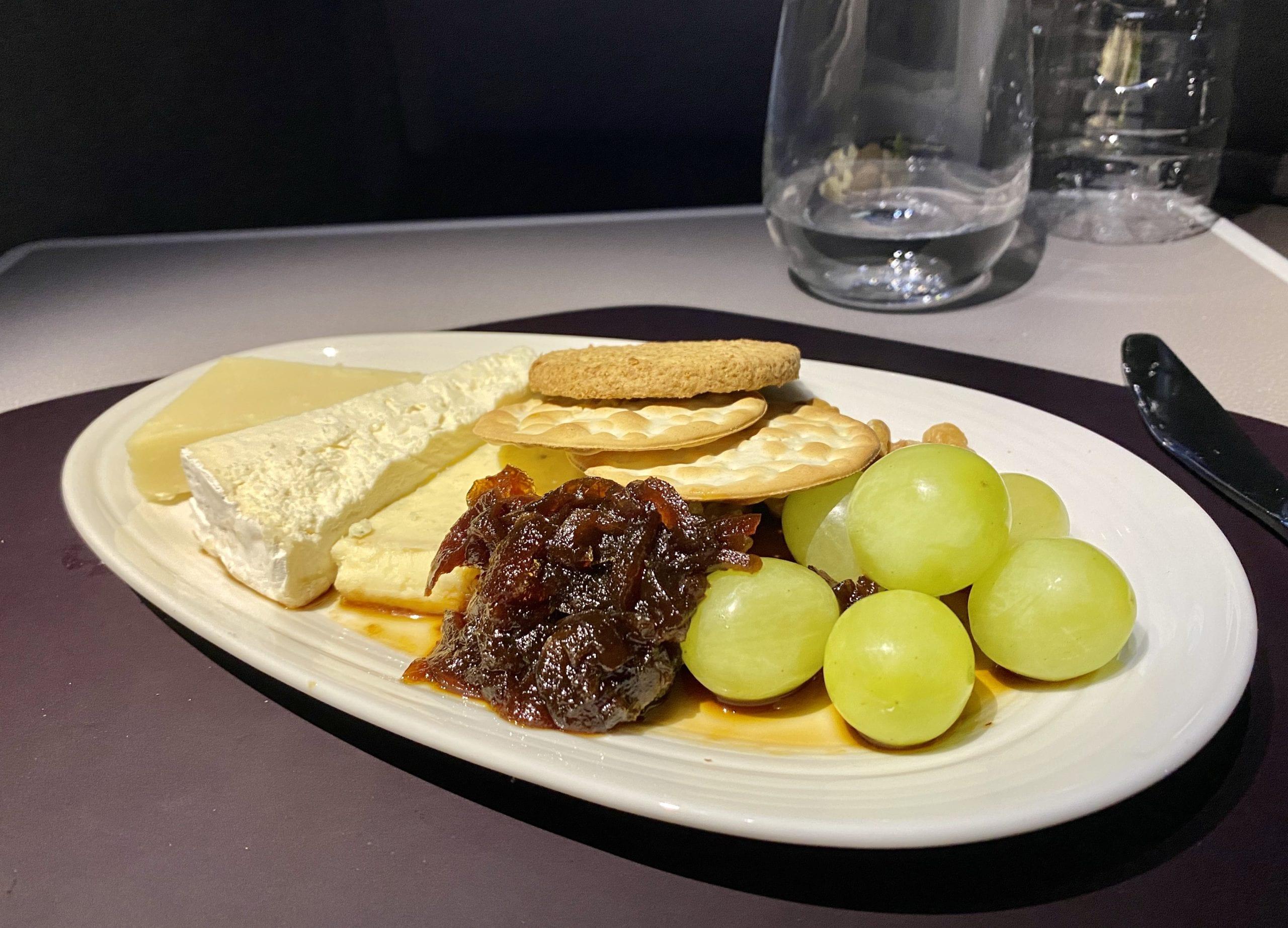 Despite the somewhat underwhelming food, the service was fantastic. The flight attendant greeted me by name and chatted with me throughout the meal service. And I have to commend the crew for the speed during the meal – I finished my cheese a little under 90 minutes after takeoff.
A friendly flight attendant woke me about 90 minutes before landing to serve my breakfast. She quickly brought out my selections from my breakfast card.
Or almost. I'm fairly certain I marked "Rice Krispies" and not "Bran Flakes" on my breakfast card. I didn't ask, but I'm sure I could have sent the cereal back if I'd wanted.
Throughout the flight, the crew seemed to be ecstatic to be working a new flight – especially the purser. She was really enjoying showing passengers the features of each seat and entertainment system. That kind of attitude is the difference-maker between a good crew and a great one, and it made for a fun flight.
Entertainment
You can access Virgin's excellent in-flight entertainment system using the touch screen at every suite. The 18 1/2-inch screen can be folded back to be stowed, but you can still use it during takeoff and landing – unlike many other airlines.
You'll find an excellent choice of movies and TV shows, both old and new. The screen was bright, vivid, and sharp.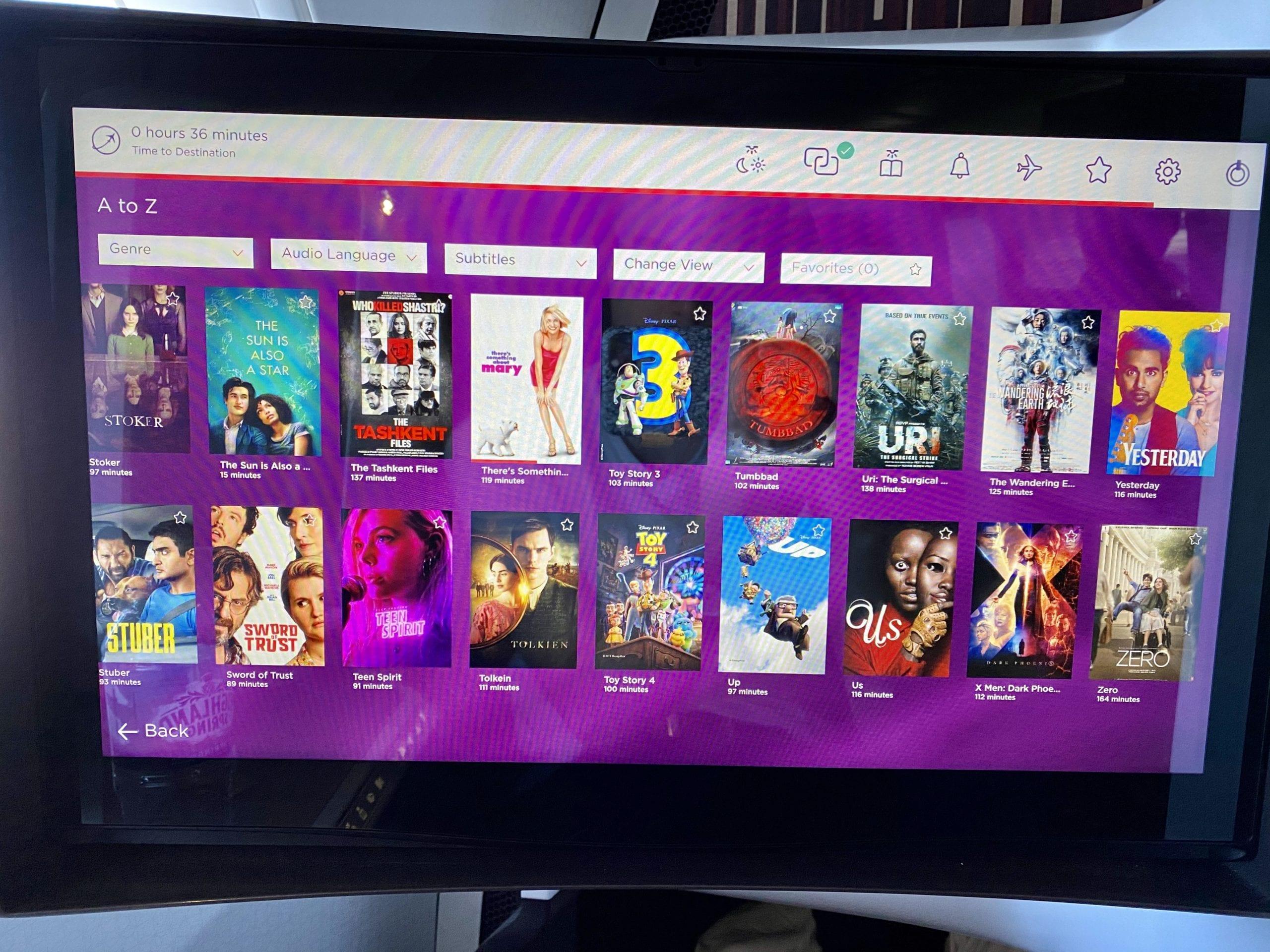 You can also control the content on the screen by connecting a mobile device, which is a cool feature. After joining the aircraft Wi-Fi,  on-screen prompts guide you to pair the device with your specific seat.
This also opens up the ability to look at the moving map on your phone while watching a movie on the main screen!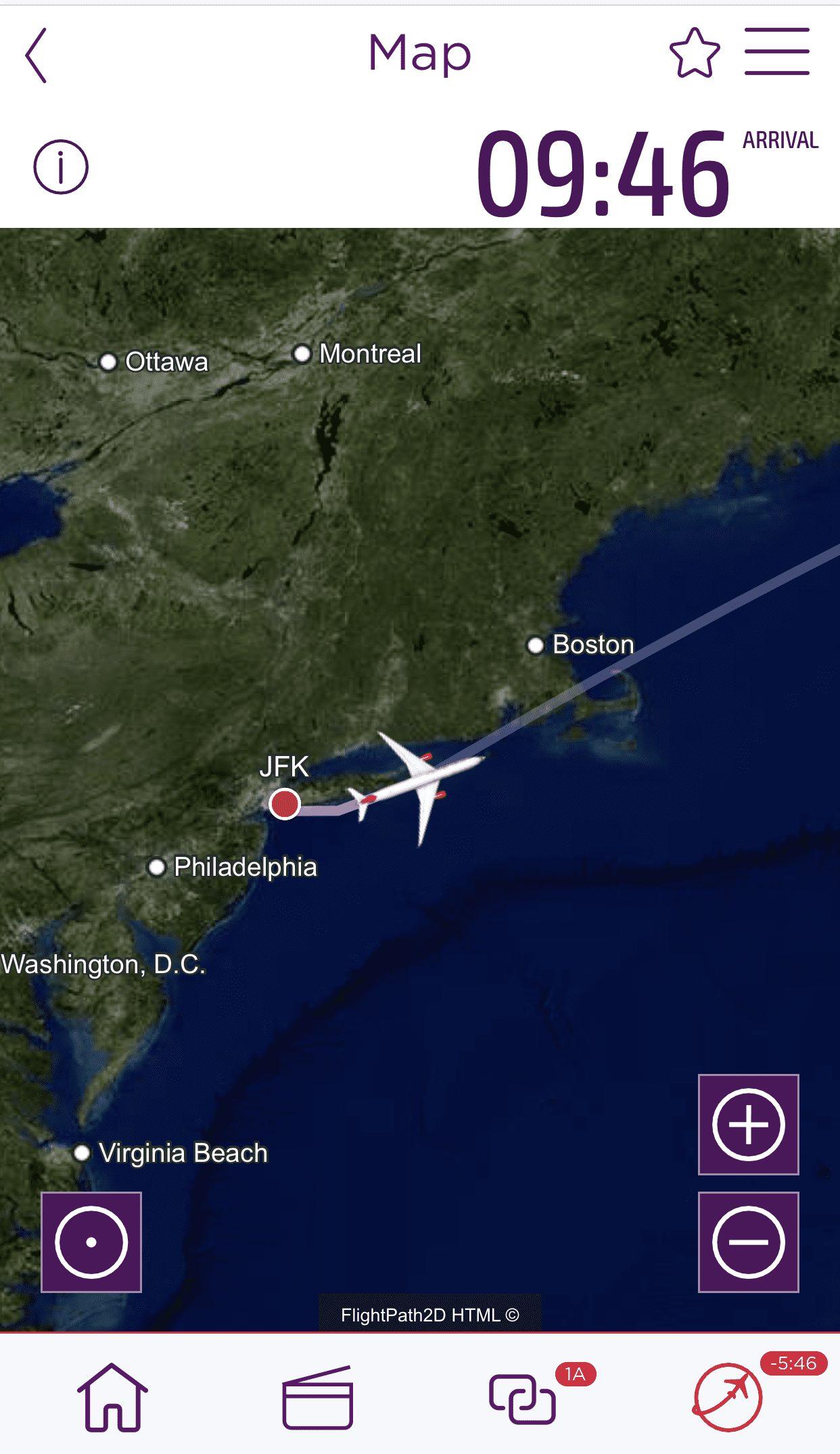 The A350-1000 also features two external camera feeds. The nosewheel camera provided some excellent views as we departed JFK! Unfortunately, the tailcam wasn't working.
Virgin offers WiFi on the A350, with a full flight pass costing $26.95, which is a decent price but not outstanding. I connected to a "messaging only' plan for about $4 towards the end of the flight, and everything worked as expected.
Bonus: AvGeeks Rejoice!
After boarding, I made a special request: Could I visit the flight deck?
My timing wasn't great, as the crew were quite busy getting ready for departure. But they agreed to let me return after the flight for a longer chat. The first officer even came back to my suite before takeoff to apologize for not having longer to chat – very nice!
After landing, I headed back up to the flight deck and enjoyed a great view of the panel and cockpit. The crew even took a photo of me in the first officer's seat!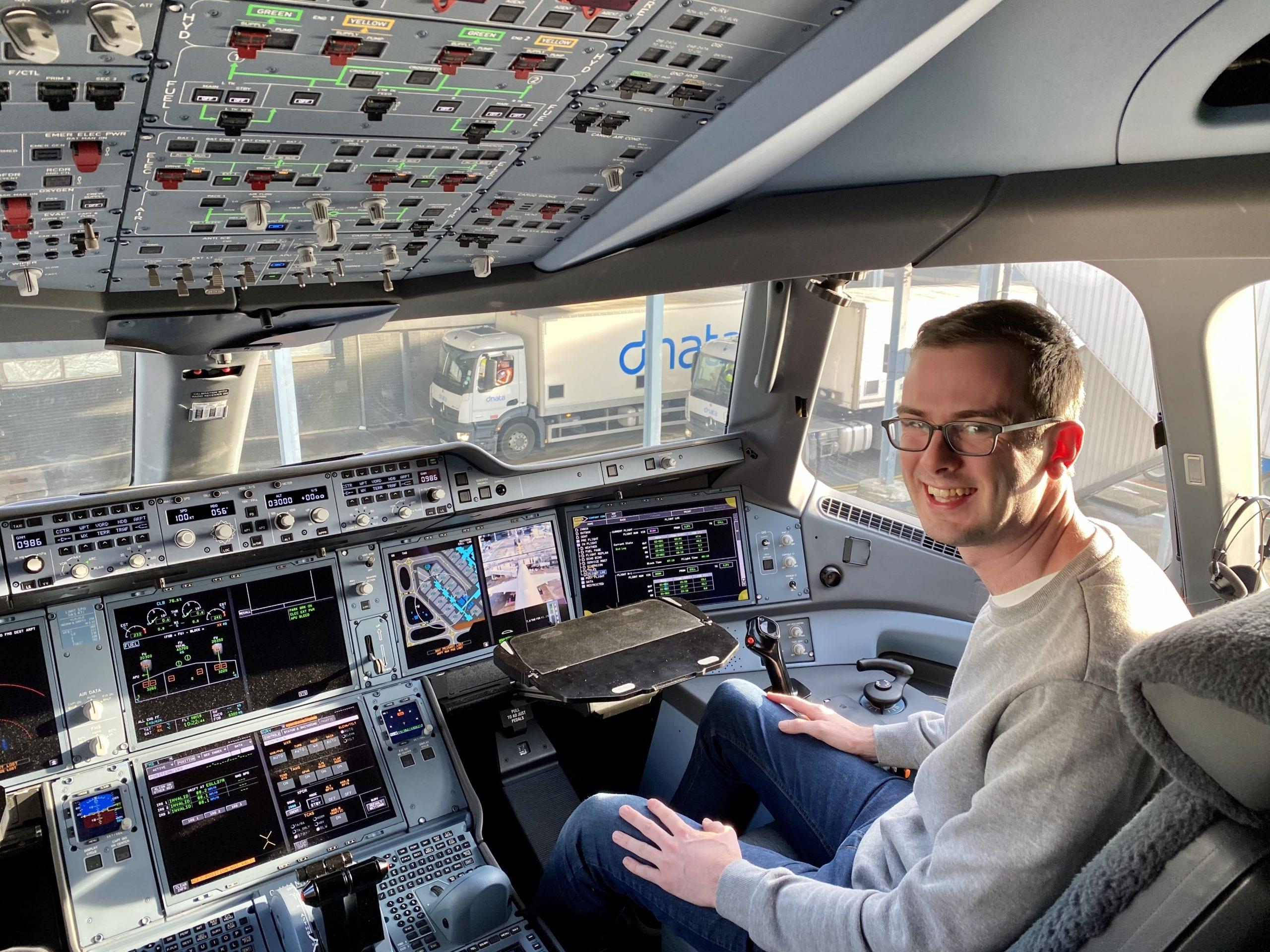 Both pilots were incredibly friendly and you could tell they were excited to operate Virgin's newest aircraft – and this specific plane was actually the newest A350 added to Virgin's fleet.
Bottom Line
All in all, this was a fantastic flight. The new Virgin Atlantic Upper Class suites are a massive step up for Virgin that instantly makes their business class competitive with other top airlines. While the food was disappointing, the crew's fantastic service more than made up for it.
I can't wait to try out Virgin again when they begin flying the A350 even farther to Los Angeles (LAX) and San Francisco (SFO) later this year!