Last month, Chase rolled out a new way to get even greater value out of Ultimate Rewards points from cards like the *chase sapphire preferred* or your *chase sapphire reserve* by offering a 25% bonus on transfers to Air France/KLM Flying Blue.
Flying Blue is a great mileage program for getting from the U.S. to Europe using fewer points – and this transfer bonus makes it even better. But if you've been scheming up a way to make use of this bonus, you'll need to act fast – it's set to end this Thursday, Nov. 30! 


Not sure where to start? Read our guide on Chase transfer partners and how to make it happen!
Using transfer partners like Air France/KLM is one of the best ways to use Chase points for even more value. And these transfer bonuses make it even better – think of it as a way to get some free airline miles.
We typically see Chase roll out a big transfer bonus to Air France/KLM once or twice a year, and now it's back. No matter how appealing this 25% bonus might be, it's rarely a good idea to transfer credit card points without a plan to use them. This is a one-way street: Once you send your credit card points to an airline account, you can't get them back.
Fortunately, there are some great ways to put this bonus to use…
Read more: All the Current Transfer Bonuses to Get More From Your Points & Miles
Best Ways to Use This Bonus
We'll never turn down some free Flying Blue miles.
This is the combined mileage program for Air France and KLM, and it's one of the best ways to book flights with SkyTeam airlines including Delta, Korean Air, and Air France or KLM, of course.
This is just the start – read our full guide on the best ways to use Flying Blue miles!
Fly Air France or KLM to Europe for Less
Whether you want to get to Paris-Charles de Gaulle (CDG), Amsterdam (AMS), or connect almost anywhere in Europe, you can regularly fly business class to Europe for as low as 50,000 miles each way.
Factor in this transfer bonus, you'd need just 40,000 Ultimate Rewards points to make it happen. With low rates and fairly solid availability to actually book these flights with your miles, this is one of the best ways to book business class.
Just keep in mind that Flying Blue's dynamic award pricing means award rates can be all over the map, so you won't see these lowest rates every single day – especially in business class. But we occasionally see even cheaper award rates thanks to Flying Blue Promo Rewards, the airline's monthly specials with lower prices.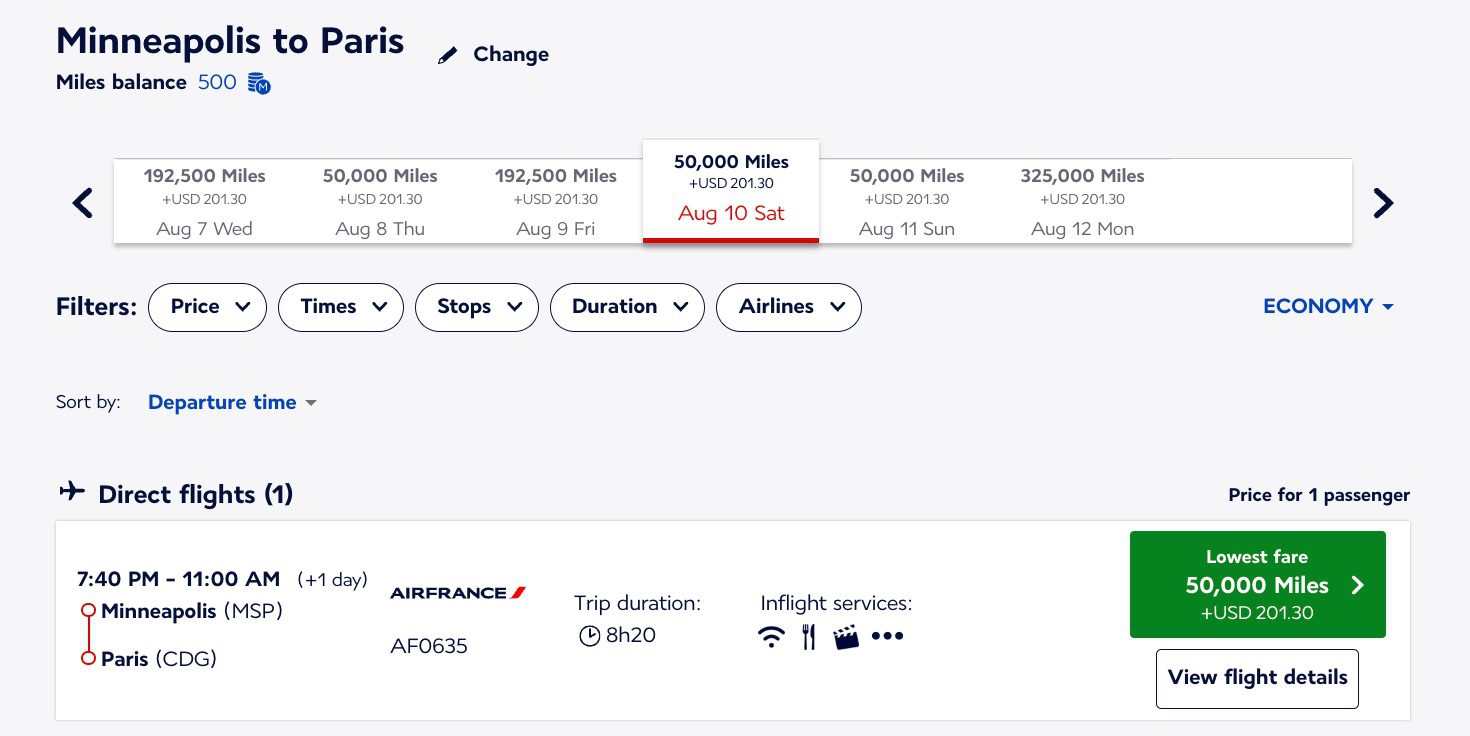 Again, finding flights at these low rates may require some flexibility, as you won't find them one very single date. Luckily, Air France and KLM allow you to easily scroll through up to a month's worth of flights to find the best deals.
Thrifty Tip: Leave your date(s) blank when searching for award tickets to pull up a monthly calendar.
Flying Blue typically tacks on about $200 for a one-way business class award to Europe – and about $380 or more for the way back. That's a small price to pay for $6,000-plus flights. And it's a great ride across the Atlantic ocean whether you're flying with Air France or KLM.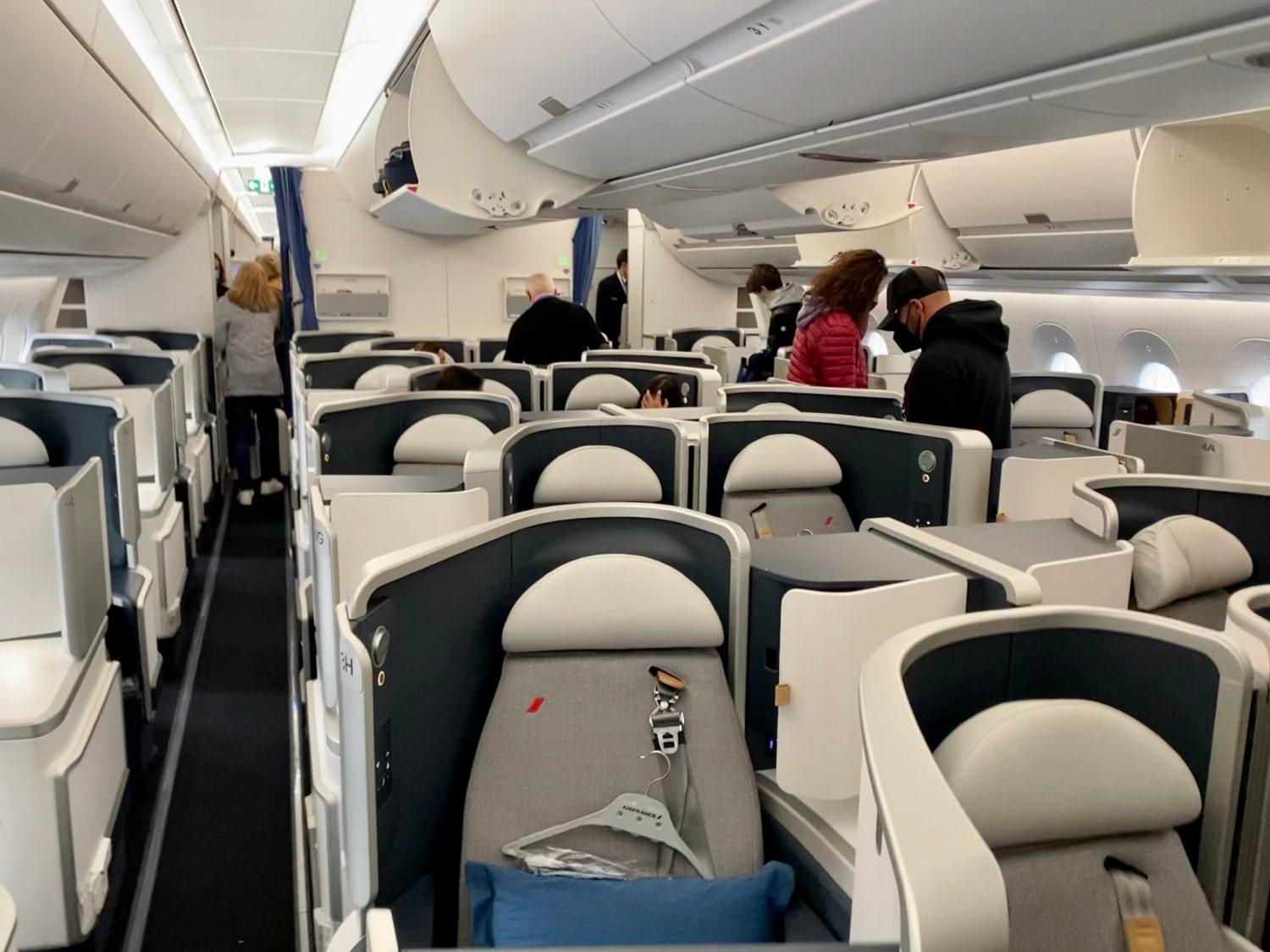 Read our full Air France business class review!
You can also book economy awards to Europe using Air France and KLM miles – including one-way trips from most U.S. cities for 20,000 miles. But Flying Blue also passes on some hefty cash surcharges on economy award tickets that make it less appealing. While it can easily be worth paying $200 or so for a one-way business class ticket to Europe, that's less competitive when it comes to economy class pricing.
But that doesn't mean booking economy is always a no-go with Flying Blue miles. The airlines' latest set of monthly Promo Rewards offers 25% off economy award rates to Europe through April 2024 from a handful of North American cities, including:
New York City (JFK)
Los Angeles (LAX)
Miami (MIA)
Seattle (SEA)
From Seattle, that 25% discount means you can fly almost anywhere in Europe for just 15,000 miles each way. Factor in this transfer bonus, and all you need is 12,000 Chase points to make a flight to Rome (FCO) a reality.


Fly to Taipei in Business Class
One of the best ways to get to Taiwan – or connect elsewhere in Southeast Asia – is in China Airlines' spiffy business class seats. And using Air France/KLM Flying Blue miles is the best way to make it happen.
Whether you fly from San Francisco (SFO), Los Angeles (LAX), or all the way from New York City (JFK), you can get to Taipei (TPE) for just 89,500 Flying Blue miles or a bit more.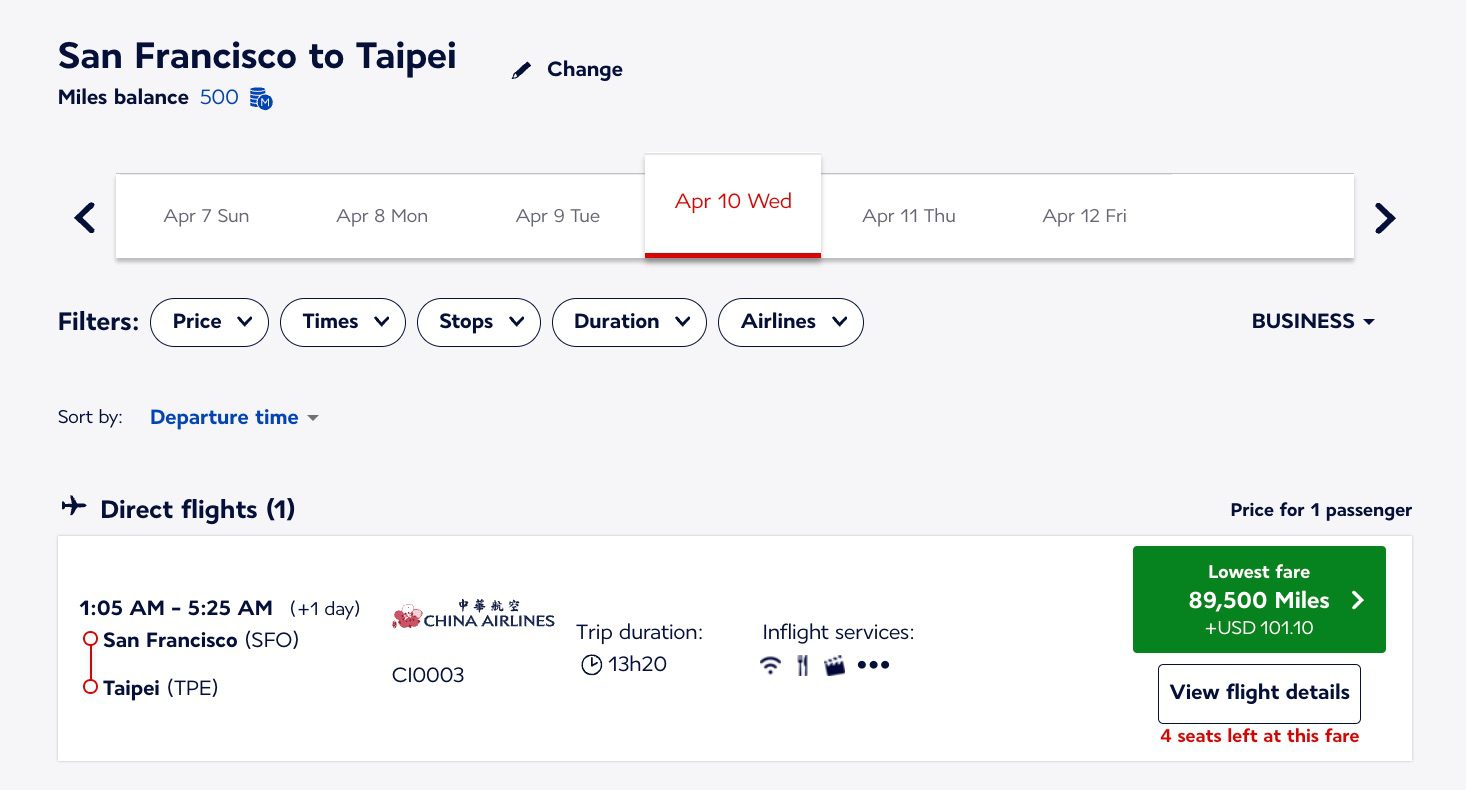 Factor in this 25% transfer bonus, and you'll need to transfer just 72,000 Chase points or more. Not bad for a 15-plus hour flight in seats like these, right?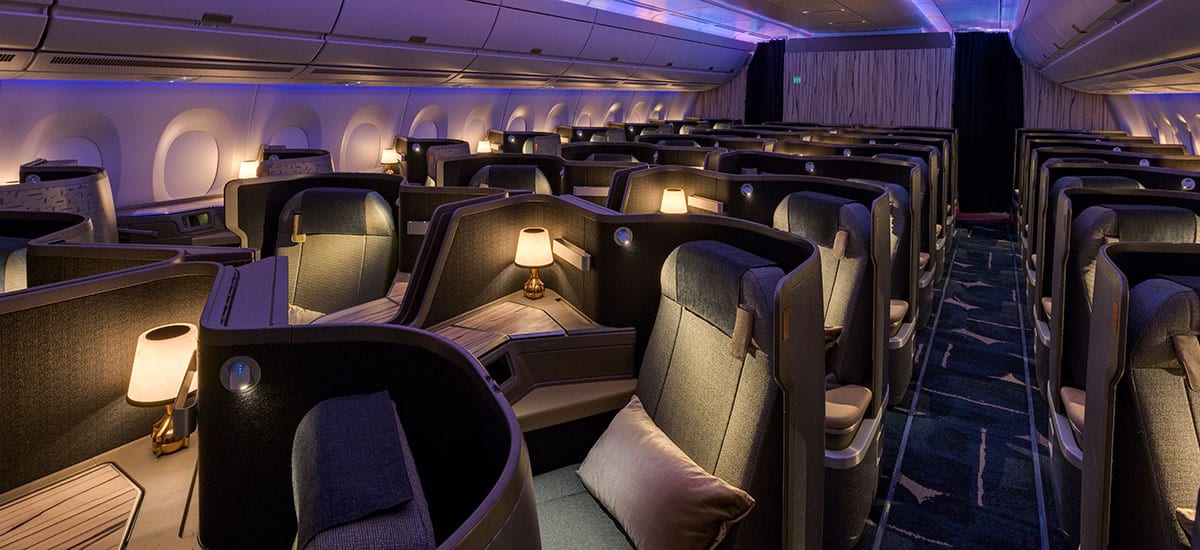 Bottom Line
Transfer bonuses like this one are great – it means you need fewer points to book your next getaway. And a 25% bonus when transferring Chase points to Air France/KLM Flying Blue is a great one.
Just be sure to use it by Thursday, Nov. 30 when this promotion expires.
Lead photo courtesy of Chris Lundberg via Flickr