Just last month, award rates spiked 20% for flights to and from its hub in Dubai. Luckily, Emirates' unique fifth freedom routes from the U.S. to Europe were unscathed … until now.
One of the best sweet spots to get to Europe in Emirates business class and a great way to book its first class have finally taken a hit. As of Monday, we're seeing a 20% increase in award rates on the airline's routes connecting Newark (EWR) and Athens (ATH) as well as New York City (JFK) to Milan (MXP).
Here's what it looks like:
A roundtrip saver award in business class has increased from 90,000 miles to 108,000 miles roundtrip – as always, you must book roundtrip to see this pricing.
A one-way standard award, which Emirates calls a "Business Flex Plus" award will now cost 87,000 miles one-way – up from 72,500 miles previously.
Flying Emirates First Class on either route has gone from 85,000 miles one-way to 102,000 miles one-way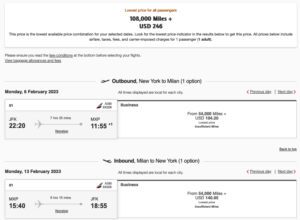 On the bright side, that's far less-punishing than the 100% increases Emirates' handy award calculator suggested were coming. Still, a 20% increase stings.
Fortunately, taxes and fees still appear to be reasonable on these flights from NYC to Europe. Expect to pay around $100 one-way or $250 roundtrip in taxes and fees when flying Emirates business class to Europe. While those fees have crept up over the last year or so, they're nowhere near as bad as the drastic increases in fees we've seen on Emirates' routes to and from Dubai.
Booking Emirates business class to either European city for as low as 108,000 miles roundtrip is still one of the best ways to get to Europe, period. That hinges on booking roundtrip and finding saver award rates both ways – you'll know you're getting a saver award rate in business class if you see it priced out as 54,000 miles each way. If you're just searching one-way, you'll only see the higher-priced "flex" award pricing at 87,000 miles one-way.
But Emirates also allows you to combine these two award rates on a roundtrip ticket – which will now come out to 141,000 miles roundtrip.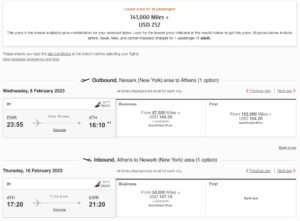 Keep this in mind when searching for award availability on Emirates' flexible search tool when you see different rates on different days. The variance is simply due to whether or not saver-level awards are available or not. This means you'll see award rates between 108,000 miles to 174,000 miles roundtrip when searching for one passenger. Since Emirates displays the total, you'll see double the amount when searching for two passengers.

If you're searching for first class, there is no discount for roundtrip tickets. You'll now see rates of 102,000 miles one-way – if there's any availability at all, of course.


Looking to fly economy? Those rates haven't changed as of now. It's still 45,000 miles for a roundtrip saver award in economy or 38,750 miles for a one-way economy ticket booked as an "Economy Flex Plus" award. This is the same whether you're flying Emirates' massive Airbus A380 from New York (JFK) to Milan (MXP) or the Boeing 777 from Newark (EWR) to Athens (ATH). And taxes and fees are only around $150 roundtrip in economy.

Despite these increases, using Emirates Skywards miles remains the best way to book Emirates flights to Europe. While you can now use Aeroplan points to book Emirates flights, it'll cost you more on these routes. With Aeroplan's new separate award chart for Emirates flights taking effect, it now costs 92,000 points each way to fly Emirates business class from the U.S. to Europe.
Long story short, you'll want to stick to using Emirates miles to book these fifth freedom routes to Europe. And it's still easy to earn these miles as Emirates is a transfer partner with all the major transferrable points programs, including Amex Membership Rewards, Bilt Rewards, Chase Ultimate Rewards, Capital One Venture Miles, and Citi ThankYou points.
Bottom Line
Emirates has increased award rates by 20% on its fifth freedom routes from New York (JFK) to Milan (MXP) and Newark (EWR) to Athens (ATH). While it's always tough to see a devaluation and a 20% increase is by no means mild, this one could have been a lot worse.