From spacious economy seats to a cushy business class setup to its unparalleled first class suites, Emirates has earned its spot as one of the world's best airlines. And while it primarily flies to and from its hub in Dubai (DXB), did you know you can also hop on a nonstop Emirates flight from the U.S. to Europe?
Emirates operates two of these so-called fifth-freedom routes to Europe: One to Italy and another all the way over to Greece. It's a great way to cross the Atlantic Ocean – especially if you're using points and miles.
While Emirates raised its rates for business class awards earlier this year, it's still a fantastic deal – and the stellar rates for booking economy haven't changed. Emirates charges just 45,000 miles roundtrip to do it in economy or as low as 108,000 miles for Emirates business class.
Best of all, it's incredibly easy to earn Emirates Skywards miles even if you've never flown Emirates: It's a transfer partner of all the major credit card points programs, so if you have credit card points with Amex Membership Rewards, Bilt Rewards, Capital One Venture miles, Chase Ultimate Rewards, or Citi ThankYou points, you've got a way to book a flight to Europe on Emirates.
But searching, finding, and booking these fares can be a challenge. That's what you have us for: Here's how it's done.
Emirates Flights to Italy and Greece
Emirates flies two "fifth-freedom" routes – flights between two countries where the operating airline is not based in either of them – connecting the U.S. and Europe. If you're looking for flights to Italy or Greece, you'll want to have these two routes on your radar.
New York (JFK) to Milan (MXP)
Newark (EWR) to Athens (ATH)
Emirates now flies its popular A380 aircraft on the route to Milan, where you'll get lie-flat seats in business class and can even head for a drink at the onboard bar. Between Newark and Greece, Emirates currently uses its Boeing 777, where its business class seats aren't quite as good.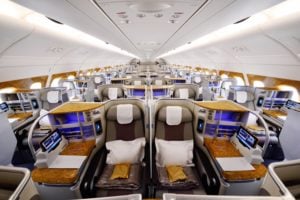 The Emirates Skywards Sweet Spot to Europe
There's been some bad news lately when it comes to using Emirates miles. But bad news doesn't mean you should forget about this deal.
In early 2022, Emirates started charging far more miles for a one-way ticket on many routes. Then, it increased the mandatory surcharges on nearly all of its award tickets – not once, but twice. What once cost just $180 in additional taxes and fees now costs more than $600. Ouch.
Yet all along, this sweet spot to Europe has escaped largely unscathed. The cash cost for these award flights only saw a modest increase. And so long as you book a roundtrip ticket, it's still a bargain using miles – even after Emirates hiked business class award rates by 20%.
At 108,000 miles roundtrip plus around $250 in taxes and fees for business class seats, it's one of the best ways to fly to Europe using points and miles. And if you prefer to just fly economy and save some miles, it's only 45,000 miles roundtrip plus about $150 or so.
That's outstanding. You'll have a hard time finding a better deal to Italy or Greece using miles, as many airlines charge around at least 70,000 miles for a one-way ticket in business class and 30,000 miles one-way for economy.
Book Roundtrip for the Best Deal
To get these incredible deals on Emirates, you'll need to fly roundtrip.
The five-star airline only offers its lowest "Saver" award rates for roundtrip purchases. If you search and book one-way flights instead, you would only be able to book a "Flex Plus" award … and that requires 87,000 miles in business class and 38,750 in economy.
You can easily check how many miles Emirates charges for specific routes at the different award levels by using its calculator tool.
With substantial savings, we're big fans of the business class saver award rates on nonstop flights to Europe for just 108,000 miles roundtrip. But let's go into more detail on how you can do it for yourself.
How to Book Emirates Flights to Europe with Skywards
These cheap award rates are only half of the equation to booking a trip to Europe using Emirates miles. The other half is arguably even more important: You need to find the award availability.
In order to book these roundtrip award flights for 45,000 miles in economy or 108,000 miles in business class, Emirates has to actually release seats to be booked with miles. And that's not always a slam dunk – especially in business class.
Sometimes, you'll find seats wide open for two or more travelers to fly either route in business class. Other times, you won't find a thing while searching through Emirates – or you may only see flights at much higher award rates. Fortunately, economy is much easier to book using miles so that shouldn't be a problem.
We're constantly searching these routes to let our Thrifty Traveler Premium+ members know if there's a good chance to lock in business class seats to Europe. In our experience, the flights from Newark (EWR) to Athens (ATH) are easier to find award seats – especially right now. As with almost every airline, booking business class seats to Europe for a summer trip using miles can be incredibly difficult.
It comes and goes, as Emirates seems to release business class award seats in waves. We've found great availability for two (or more), like this award alert we sent our Thrifty Traveler Premium+ members a few months back.
If you're starting from scratch, there aren't really any tricks to book these awards other than hunting for award seats at the lowest rates. To book an award ticket with Emirates, you'll first need to log in to a free Skywards account. Once you're logged in on the Emirates website, you'll see the option to book a classic rewards ticket. Make sure that box is checked.

Use Flexible Search to Find the Deals
When you go to select your travel dates, you'll see a calendar of dates appear. Mark the checkbox labeled "My Dates are Flexible" to get a view of award rates on a grid covering a full week of different travel dates. And remember to search for roundtrip flights to find saver award space.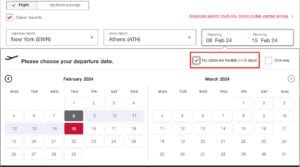 The number of miles and taxes shown on this grid will be the total you need for your entire party. If you're traveling with two, it will be double, and so on. If you're searching for business class seats, saver awards come out to 108,000 miles plus about $250 in taxes per person. So if you're searching for two, the lowest price you'll see is 216,000 miles and about $500.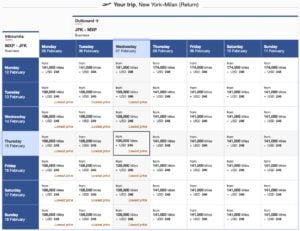 Not finding business class flights at 108,000 miles roundtrip? That means the award space isn't there, so you'll need to try some different dates. If you want to search for another range of dates, you can quickly change the dates by clicking on the "Change search" link in the upper-left corner of the screen.
A pop-up will then appear where you can change cities, dates, number of travelers, or fare class.

After picking your flights, you'll see that Emirates breaks it down by direction as 54,000 miles each way for business class awards.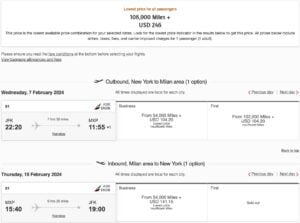 If you were booking economy flights, it requires less than half the mileage: 45,000 miles total, or 22,500 miles each way. The taxes and fees come out to around $150 or so.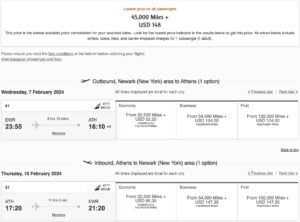 You can also combine different cabins in each direction. This can help if you're a little short on points for a roundtrip business class award or are having trouble finding saver awards for business class in both directions.
For example, you could combine a saver award in business class over to Europe with a saver award in economy class on the way home (or vice versa) for 76,500 miles plus around $200 total.
Likewise, you can combine a business class Saver award in one direction with a higher-priced Flex Plus award in the other direction for a total of 141,000 miles roundtrip. If you see this rate in your initial calendar search, this is why: It's a mix-and-match of Emirates' cheapest award rates with a slightly more expensive fare type.
Want to fly Emirates first class to Europe? Unfortunately, first class awards are only available as Flex Plus awards so it will always be 102,000 miles each way between the U.S. and Europe or 204,000 miles roundtrip. Finding first class award space on these routes can be even tougher – especially for more than one traveler.
But if you can make it work, there's a great deal to be had: You can combine a first-class award in one direction with a business or economy award in the other. Just be sure to do a roundtrip search in order to get the lowest Saver level rate on the business or economy portion of your itinerary.
You'll need to seek out the award availability in each cabin separately and then do a roundtrip search in a single cabin to book this type of award online. Once you get to this screen, just choose the different cabins in each direction.
So long as you're making a roundtrip booking, you'll be able to get the Saver award rates if you can find the award space to make it work.
Not finding any availability in first class? You may be able to upgrade a business class award ticket to first class at check-in using your miles.
Read more: How to Score an Upgrade Into Emirates First Class
Transfer Credit Card Points to Emirates Skywards
Once you've found the flights you want at the price you want to pay, it's time to transfer your credit card points to Emirates Skywards miles. It couldn't be easier.
You can transfer points from all the major travel rewards programs at a 1:1 ratio. That means 1,000 points = 1,000 Emirates miles.
No matter which points you've got, most transfers should be instant. To avoid any hiccups, you'll want to make sure the name on your credit card account matches the name on your Emirates account exactly. For instance, if you use a middle initial (or don't), make sure both accounts have the exact same spelling and format. If the names don't match exactly, this can cause delays when transferring points.
To be on the safe side, you can call Emirates at 1-800-777-3999 to put award seats on hold if you're worried that your points won't transfer instantly. Emirates agents will usually hold award space for 72 hours. The only downside to this is that you will have to complete the booking over the phone, which can be more time-consuming than simply completing the booking yourself online.
Finish Your Booking
Once you've confirmed that the points have been transferred to your Emirates account, simply complete the booking online (or over the phone if you've put seats on hold). Soon enough, you'll be enjoying one of the world's best airlines on a nonstop flight over to Europe.
How to Earn Emirates Skywards
You don't need to fly Emirates in order to rack up a bunch of miles to book these award tickets. Since Emirates is a transfer partner with all major transferable points currencies, you can simply earn points by spending on certain credit cards, some of which have some pretty incredible welcome offers and sign-up bonuses that could be enough for a business class flight to Europe on Emirates.
If you're just starting out with points and miles, we consider the Chase Sapphire Preferred® Card the best travel rewards credit card for beginners. Especially right now, as you can currently earn a welcome bonus of 60,000 Chase Ultimate Rewards points after spending $4,000 in the first three months.
And with 3x points per dollar spent for dining and 2x points for travel purchases, it's really easy to rack up a ton of Chase points that can be instantly transferred to Emirates Skywards miles.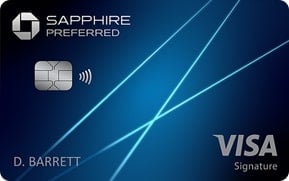 Click Here to get more information about the Chase Sapphire Preferred Card. 
One of our favorite options is the Capital One Venture X Rewards card. It's truly one of the best cards out there for travelers. Currently, you can earn 75,000 Venture Miles after spending just $4,000 in the first three months of opening the card.
Considering you'll earn at least 2x Venture Miles for every dollar you spend, you'll actually accumulate 83,000 miles once you earn the bonus. That's just shy of the 108,000 miles required to fly Emirates business class to Europe and back.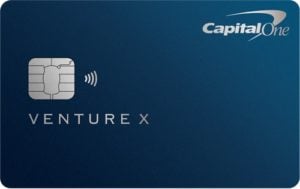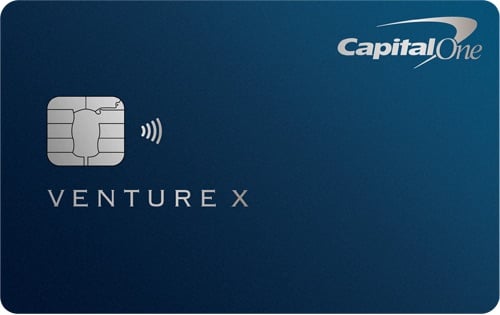 Click Here to learn more about the Capital One Venture X Rewards Credit Card
You can also earn Amex points to transfer over to Emirates. One of the best ways to earn a ton of these points is *amex platinum card*, on which you can currently earn at least an 80,000-point welcome offer after spending $8,000 within the first six months. Better yet, check to see if you qualify for a 150,000-point bonus via CardMatch.
Learn more about *amex platinum*.
If you have a card that earns Citi ThankYou points or Bilt Rewards, you can also transfer points at an even 1:1 ratio. And Marriott Bonvoy points can be transferred to Emirates Skywards miles at a 3:1 ratio with a 5,000-mile bonus for every 60,000 points transferred. Of course, you'll earn Emirates miles when flying Emirates on paid tickets as well.
Bottom Line
There are many ways to fly to Europe using points and miles. One that might be under your radar is flying Emirates on its nonstop routes from the New York City area to both Greece and Italy.
With easy-to-earn points and roundtrip flights in business class for 108,000 miles for a trip to Italy or Greece, or in economy for less than half that cost, you'll want to consider booking one of these Emirates flights for your next trip to Europe.