Qatar Airways Qsuites has earned a reputation (and many awards) as the world's best business class – and rightfully so, if you ask us.
When it launched back in 2017, it became the first suite-style business class pod in the sky, complete with a fully closing door. That alone revolutionized business class, setting the bar for every other airline not just with immense space and privacy but great service and onboard dining, too. It's become a bucket list item for many travelers. And it should be: There's nothing better.
Fortunately, there are a handful of ways to use points and miles to book Qatar Qsuites. We're focusing on the best of the best ways for travelers to hitch a ride in Qsuites.
Read our full review of Qatar Qsuites on the A350-1000!
What Routes Can You Fly in QSuites from the U.S.?
Qatar Airways flies to about a dozen different U.S. cities from their hub in Doha, Qatar (DOH). Of course, you can also connect onward to any of Qatar's many destinations throughout Europe, the Maldives, South Africa, Thailand, and many more.
But before you start the booking process, it is important to know where you can hop on a Qatar flight in the U.S. Fortunately, you've got plenty of options.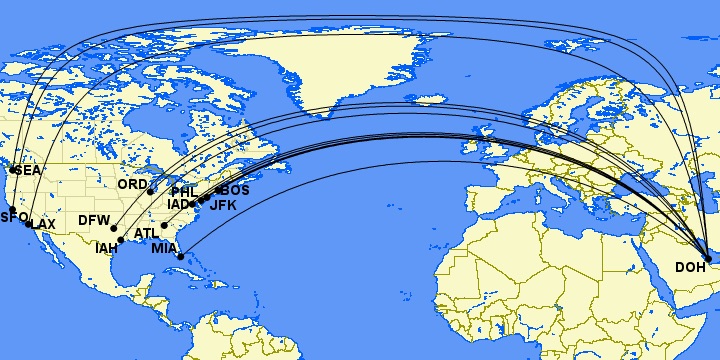 As of publication, Qatar Airways flies to the following 12 U.S. cities:
Atlanta (ATL)
Boston (BOS)
Chicago (ORD)
Dallas (DFW)
Houston-Intercontinental (IAH)
Los Angeles (LAX)
Miami (MIA)
New York City (JFK)
Philadelphia (PHL)
San Francisco (SFO)
Seattle (SEA)
Washington, D.C.- Dulles (IAD)
Generally, Qatar flies planes equipped with Qsuites to all these U.S. gateways. But that's not always the case. And to make matters worse, Qatar Airways has a knack for unannounced equipment swaps that could leave you on a Qsuite-less plane.
That means you'll want to double-check before booking anything.
Ensure Your Qatar Flight is Equipped with Qsuites Business Class
First things first: Check the plane type.
All of Qatar Airways' new Airbus A350-1000s have Qsuites on board, so that's a safe bet. You'll find these birds flying to Dallas-Fort Worth (DFW), New York City (JFK), San Francisco (SFO), Los Angeles (LAX), and a few other U.S. gateways.
Almost all of the Boeing 777-300ERs and 777-200LRs that Qatar flies to and from the U.S. have Qsuites onboard, as well. And many – but not all – of their A350-900s now feature Qsuites. Still, you'll want to confirm.
To ensure you are booking a flight with Qsuites, head to Google Flights. If the route that you are looking at has Qsuites, you'll see that indicated with the text "individual suite."
But if you don't see that text listed, you may need to do a little more digging. You'll want to grab the flight number which is listed in the red square below. In this example, it is QR 744.
With that information in hand, you will want to head to either SeatGuru or ExpertFlyer. From here, you will enter the name of the airline, your travel date, and the flight number. ExpertFlyer will require you to enter the city pairs as well as choose a specific cabin.
From here, it will pull up your specific flight. Just select "View map" to view the seat layout for the flight.

As you can see, the Boston (BOS) to Doha (DOH) flight on Nov. 6 is being operated by an Airbus A350-900 that does have Qsuites on board. First, you'll want to make sure that the cabin is in a 1-2-1 layout… but the arrangement looks a bit different than a normal business class cabin.
As you can see, rows 1, 3, 5, 7, and 9 are rear-facing. And in the middle section of each row – also referred to as the couples or honeymoon suites – the partitions can be opened up so a group of up to four traveling companions can have their own pod.
This is what to look for to ensure you'll have Qsuites on your flight.

Here's what an older, non-Qsuites seat map looks like.
Now you know what to look for, it's time to actually book Qatar Qsuites. Here are the best ways to do it with a few different points and miles currencies.
1. Use American Airlines AAdvantage Miles
There are a lot of great ways to use American AAdvantage miles – even if you never plan on stepping foot on an AA plane. And it's one of the absolute best ways to book Qatar Qsuites. There are rumors lingering of a potential AAdvantage program devaluation which would surely impact this Qsuites booking. But for the time being, it's a great option.
You'll need 70,000 AAdvantage miles to book a one-way flight from the U.S. to Qatar's hub in Doha (DOH), or vice versa. You can also continue onward elsewhere in the Middle East – to Muscat (MCT) in Oman, Dubai (DXB), or Amman (AMM) in Jordan- and still pay just 70,000 miles. Best of all, you can easily search and book Qatar Qsuites on the American Airlines website.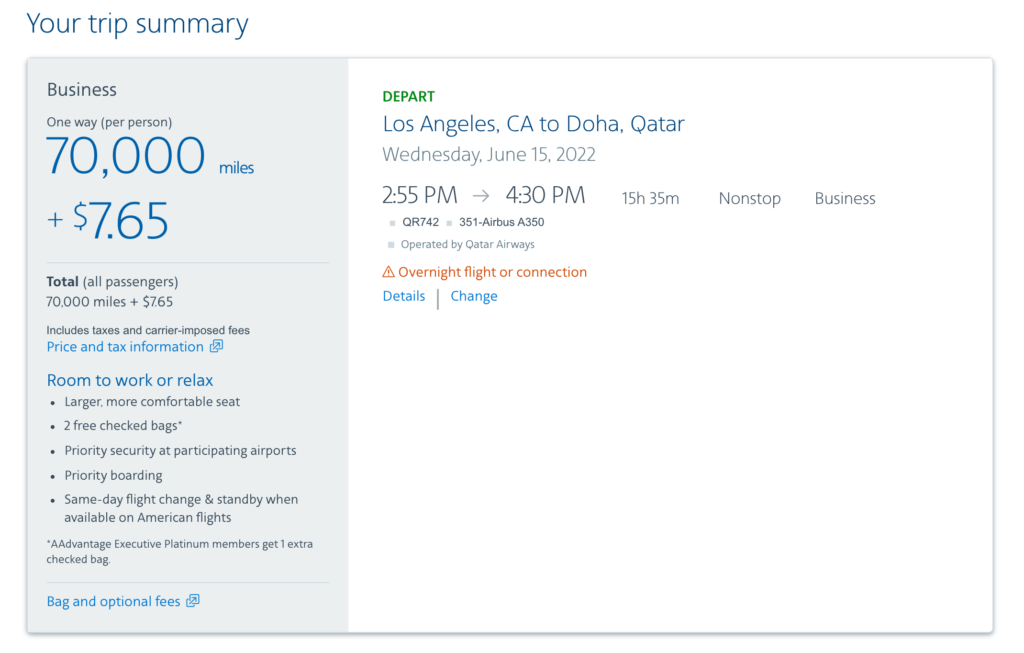 Want to get to the Maldives or Seychelles? Or even as far as India or Sri Lanka? It's still just 70,000 AAdvantage miles, with a connection in Doha on your way.
Or you could head from the U.S. down to South Africa (or anywhere else on the continent) and pay just 75,000 AAdvantage miles each way. It's a massive sweet spot on the American Airlines award chart, and one of the best deals in points and miles.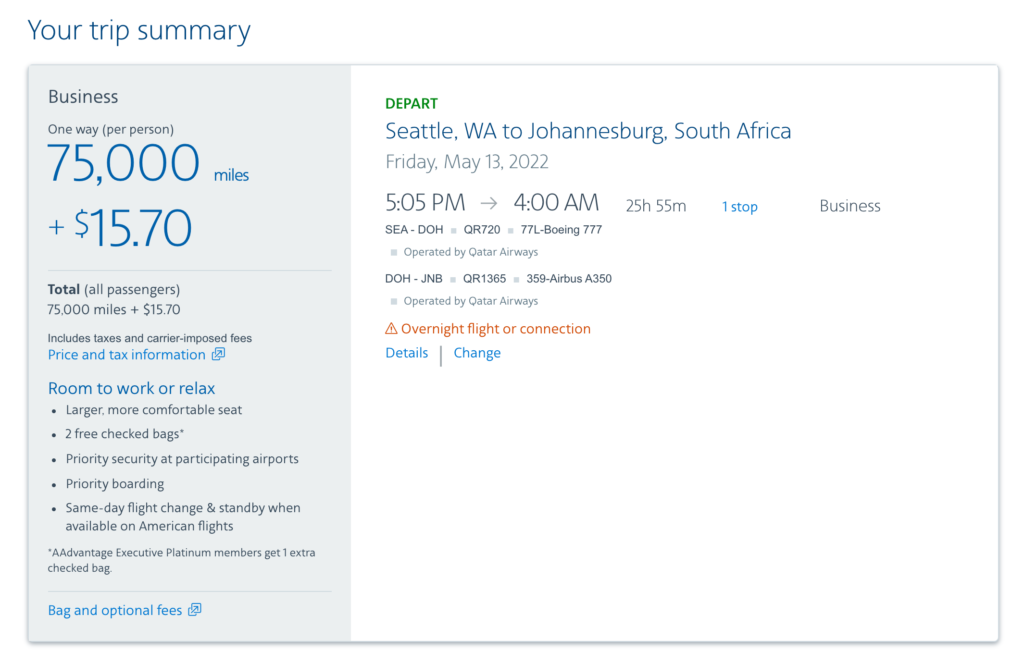 For the time being, American Airlines has one award chart for all redemptions on its partner airlines. Select your departure region to determine the number of points required. As you can see from the chart below, flying Qatar Qsuites from the U.S. to the Middle East or the Maldives (defined as part of "Indian Subcontinent") would also cost just 70,000 AAdvantage miles.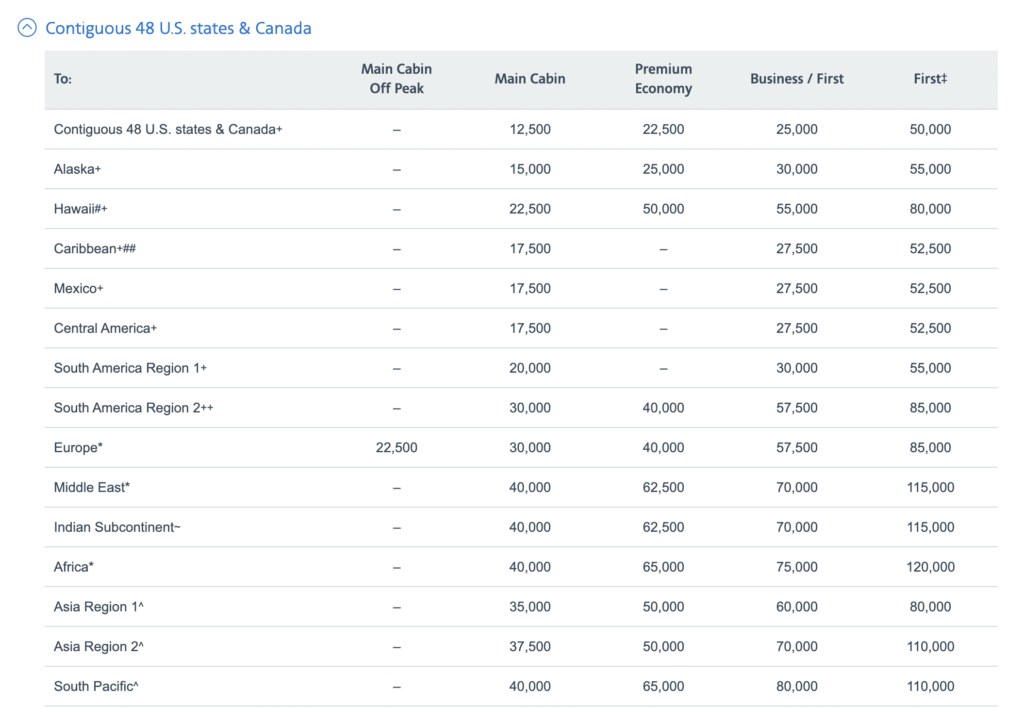 Qatar Airways has a massive network so it's easy to get just about anywhere in the world if you have American Airlines miles. But, as is often the case in the world of points and miles, just because it is possible, doesn't mean you'll be able to book it. There needs to be award availability to book, which often comes in waves.
We send award alerts for Qatar Airways Qsuites availability to our Thrifty Traveler Premium members!
American's website makes it fairly easy to zero in on award space. Just search a nonstop Qatar Airways route, like Dallas-Fort Worth (DFW) to Doha (DOH), on AA.com and be sure to click "Redeem miles." From there, click the calendar view, and filter for only nonstop flights in business class. All the dates in green have availability to fly Qsuites to Doha.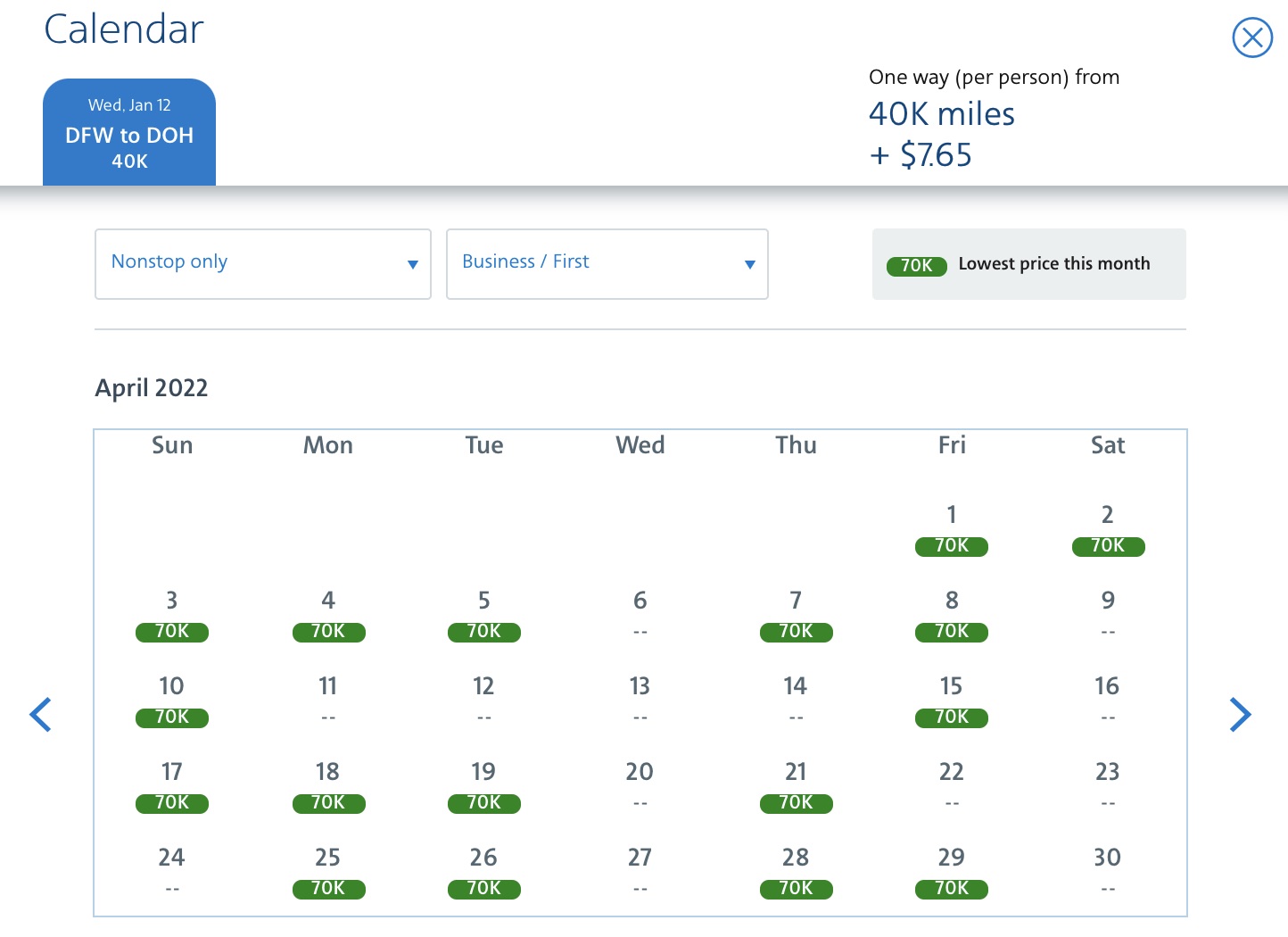 Your best bet is to be flexible with your dates if you want to book Qatar Qsuites with American Airlines AAdvantage miles – or any points and miles, for that matter.
How to Earn American Airlines Miles
Few credit cards offer a better, more lucrative welcome offer bonus than the AAdvantage® Aviator® Red World Elite Mastercard®. Just for opening the card, making a single purchase, and paying the $99 annual fee, you can earn 60,000 American Airlines AAdvantage miles. These are some of the easiest miles you will ever earn.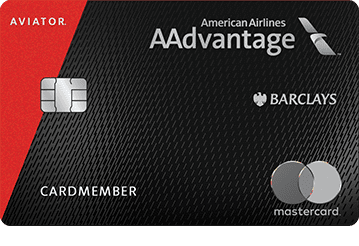 Click Here to apply for the AAdvantage Aviator Red World Elite Mastercard (this is not an affiliate link).

Additionally, American Airlines is unique in the fact that they have co-branded credit card relationships with both Citi and Barclays thanks to the merger of American and U.S. Airways a number of years ago. And American has made the decision to continue the relationship with both banks.
That means you can also apply for the Citi® / AAdvantage® Platinum Select® World Elite Mastercard, which is currently offering 50,000 AAdvantage Miles after spending $2,500 within the first three months. The card's $99 annual fee is waived in the first year.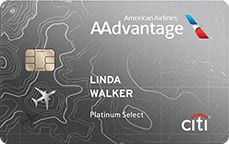 Click Here to apply for the Citi AAdvantage Platinum Select World Elite Mastercard
(this is not an affiliate link).
This is significant because you can earn the welcome offer bonus on each card, netting you at least 110,000 American Airlines miles after paying one annual fee (the Barclays AAdvantage Red Aviator Card) and spending $2,500 on the Citi AAdvantage Platinum Select Card in the first three months of card membership. And that's more than enough to get you a one-way Qsuites flight anywhere Qatar flies them.
Read More: How You Can Quickly Earn 110K American Airlines Miles (And Why You Should)
Transfer Citi ThankYou Points
This is a limited-time opportunity, but it's too good to pass up.
This summer, Citi rolled out the ability to transfer Citi ThankYou points to American. But unless it's extended, this transfer partnership will only last through Nov. 23.
Transfers to American are on a 1:1 basis, so you'd need just 70,000 Citi ThankYou points to book a one-way flight in Qsuites.
Transfer Points from Marriott Bonvoy
You can also transfer Marriott Bonvoy points to American Airlines AAdvantage at a 3:1 ratio. That means you'll get 1 American AAdvantage mile for every 3 Marriott Bonvoy points you transfer. So a transfer of 30,000 Bonvoy points gets you 10,000 American Miles. That's not a great deal, but it could make sense – especially if you're flush with Bonvoy points.
But there's a sweetener: You'll get a 5,000-mile bonus when you transfer at least 60,000 Marriott points. That means 60,000 Bonvoy points get you 25,000 miles. A transfer of 120,000 Bonvoy points nets you 50,000 airline miles. You get the picture.
Transfer Points from Bilt Rewards
Lastly, Bilt Rewards, the program that lets you earn points on rent payments, is a 1:1 transfer partner of American Airlines. You can simply transfer Bilt points to American Airlines AAdvantage to book Qatar Qsuites.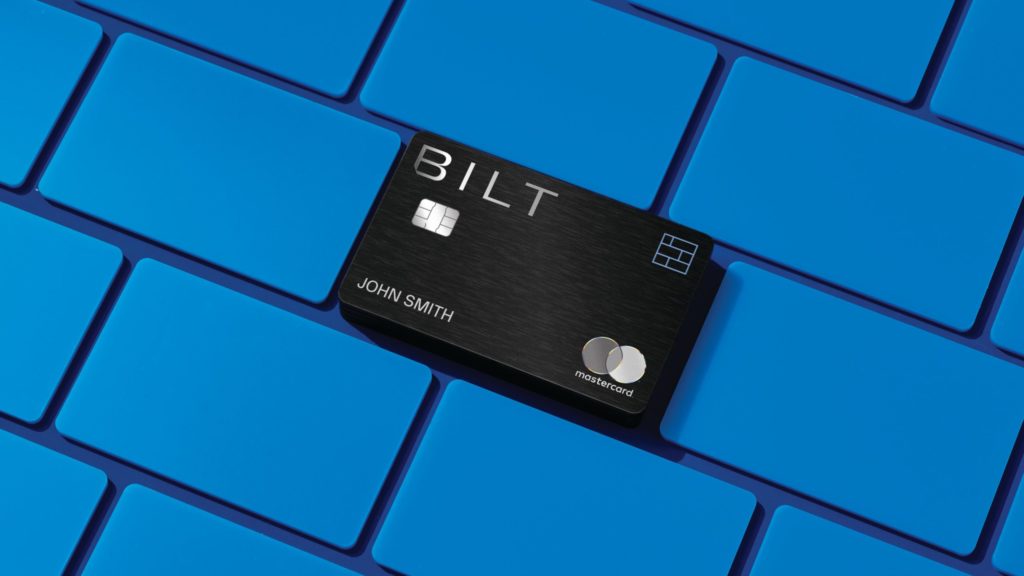 If you have a monthly rent payment, Bilt is a no-brainer way to earn valuable transferrable points for that monthly expense.
Read More: Bilt Rewards Overhauls Rewards Program to Earn More Points on Rent Payments
2. Book with Qatar Privilege Club QMiles
Another great way to book Qatar Qsuites is with their own mileage program – Qatar QMiles. If you have Citi ThankYou points, you are in luck. Citi ThankYou points are the only 1:1 transfer partner with Qatar Airways.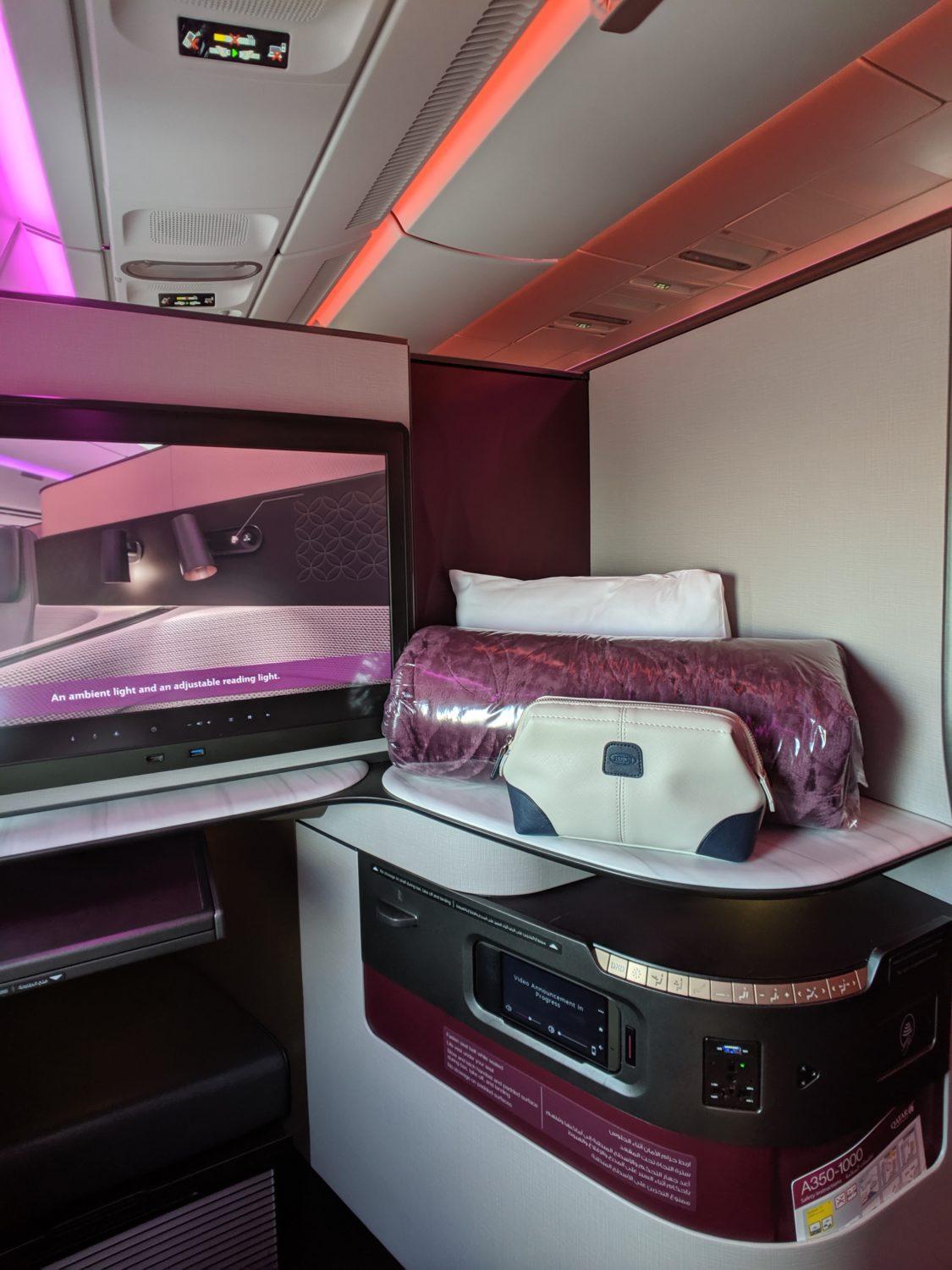 Qatar charges a reasonable 70,000 miles (the same amount you'll pay through American Airlines) and reasonable fees under $30 for a one-way flight from the U.S. to the Middle East.

Connecting onto Africa, Asia, Australia, and the Maldives will require additional miles – and it's not quite as economical as AAdvantage miles. The easiest way to determine how many QMiles you will need is by using their QCalculator on the Qatar website.

How to Earn Qatar Privilege Club QMiles
You can of course earn Qatar QMiles by flying cash flights on Qatar. But by far the easiest way to quickly earn enough miles to book the Qatar Qsuites is by transferring points from the Citi ThankYou points program. Currently, Citi is the only 1:1 transfer partner with Qatar. That means each Citi ThankYou point will be worth one Qatar mile.
If you have Citi points and want to get them into a Qatar account, you'll first need to make sure you have a Qmiles account. They are free to create and if you don't have one, you can join the program here. Just remember, as with all credit card points transfers, they are one-way. That means once you send your points to Qatar, you can't get them back in your Citi account.
Don't have Citi ThankYou points? The easiest way to earn a bunch of them quickly is by opening the Citi Premier® Card. Just for opening the card and spending $4,000 in the first three months of card membership, you'll earn 80,000 Citi ThankYou points. That's more than enough for a one-way flight in Qsuites from the U.S. to the Middle East.
Related Reading: 6 Great Ways to Use Citi ThankYou Points
Click Here to learn more about the Citi Premier Card.
Also, if you have the Premier Card, you can transfer cashback earned from cards like the Citi® Double Cash Card or the Citi Custom Cash℠ Card directly into your Citi ThankYou points balance.
3. Use Alaska Airlines Mileage Plan Miles
Alaska Airlines recently joined the OneWorld airline alliance and ended their free agency. And With that came the ability to book Qatar Qsuites with Alaska Airlines Mileage Plan miles.
Alaska added a series of brand new award charts to fly Qatar Airways on a handful of routes, including flights between the U.S. and the Middle East, India, and Africa.


If you're aiming to fly Qsuites business class, it'll run you 85,000 miles each way, plus reasonable fees of around $20. Compared to the 70,000 AAdvantage miles or 70,000 Qatar Qmiles you'd use to book the exact same flight, that's a decent option – though certainly not the best.

But there's a quirk with the pricing here. In some cases, you'll see much higher award rates, like this option to book a flight from Seattle (SEA) to Doha for a whopping 170,000 Alaska miles each way. It appears that Qatar is giving Alaska Mileage Plan members a crack at booking its higher-priced awards – if they're willing to pay much more for it.
Avoid these if you can as you should be able to find book Qatar Qsuites with Alaska miles for only 85,000 miles to the Middle East.

How to Earn Alaska Airlines Mileage Plan Miles
Unfortunately, outside of Marriott Bonvoy transfers at a 3:1 ratio, Alaska Airlines is not a transfer partner of any of the major credit card points programs. That means outside of flying on Alaska Airlines, the best way to earn Alaska Miles is through their co-branded credit cards issued from Bank of America.
First, there is the Alaska Airlines Visa® Credit Card. And if you own a small business, there is the Alaska Airlines Business Credit Card.
4. Book a Cheap Fare Through the Chase or Amex Travel Portal
Business class fares are rarely cheap, but you can occasionally find a great deal flying Qatar Qsuites. Why not take that deal and make it free?
If you are sitting on a pile of Chase Ultimate Rewards points or American Express Membership Rewards points, it can make sense to book through Amex Travel or the Chase Travel Portal if cash prices are cheap.
Here's an example of how this works. Using Google Flights, I was able to find a round-trip, business class ticket from Atlanta (ATL) to Duba(DXB) for $2,233. The flight from Atlanta connects in Doha (DOH), flying Qsuites the entire way.

If you hold the Business Platinum Card® from American Express you will get a 35% points rebate when you book a business class flight on any airline through Amex Travel – in addition to economy fares on your airline of choice. That's a great deal.
Normally, your Membership Rewards points are worth just 1 cent apiece when booking through Amex Travel. So as you can see, the flight costs $2,288 through Amex Travel or 228,767 points. But once you factor in that 35% rebate (getting 80,068 points back into your account), that brings the cost down to 148,699 Membership Rewards points – or just 74,350 points each way.
Read more: My Favorite Benefit of the Business Platinum Card from American Express

If you hold the Chase Sapphire Preferred® Card your points will be worth 25% more when you book travel through the Chase travel portal. If you hold the Chase Sapphire Reserve® they'll be worth 50% more.
So if you hold the Sapphire Preferred Card, you can book this fare for 183,013 points round trip – or 91,506 points each way. 

If you hold the Reserve Card, your points will go further. You can book the flight for 152,511 points round trip – or 76,255 points each way. 

We've seen even cheaper prices on Qsuites fares over the years through our Thrifty Traveler Premium service, including roundtrip flights from New York City (JFK) to Kyiv (KBP) in Ukraine for just $1,663. At that price, you could book with less than 111,000 points from the Chase Sapphire Reserve – or just over 108,000 points with that rebate from the Amex Business Platinum card.
And there's one big reason why you might want to book this way: Unlike normal airline awards, you'll earn miles booking with your credit card points like this. You'll even earn towards elite status!
Since Qatar is a part of the Oneworld alliance, you could credit those miles (and status) toward American or Alaska Airlines.
Other Options for Booking Qatar Qsuites with Points & Miles
The four options we've laid out above are the best of the best ways to book Qsuites with points and miles. But that's not the end of the list.
There are other options to book Qsuites, whether you've accumulated miles with another airline or have points from Chase, Amex, Citi, or Capital One that you can transfer. But these options come with some serious cons that should make them a last resort rather than your go-to.
Japan Airlines MileageBank: JAL's mileage program has great rates to fly Qsuites, starting at just 110,000 miles roundtrip between the U.S. and Middle East. But these miles are nearly impossible to earn unless you've got a huge stash of Marriott Bonvoy points to transfer.
Cathay Pacific AsiaMiles: This is a decent option for redeeming Qsuites if you've got Amex points at your disposal – especially for mixed-cabin redemptions with a mix of business class and Qatar Airways First Class. But Cathay Pacific passes on some hefty fees of $500 or more on these awards, which makes other options more compelling.
Qantas Frequent Flyer: Miles from Australia's flag airline are another option, but it just keeps getting worse. Expect to pay 120,000 miles or more each way to fly Qsuites, with some extra taxes and fees, too.
British Airways Avios: We saved the worst for last. With high taxes and fees and sky-high mileage rates, this is a terrible option. As you can see below, booking this routing from Los Angeles (LAX) to Doha (DOH), you would need 154,500 miles plus $497.25 in taxes and fees … for a one-way flight.
Bottom Line
There are a handful of great ways to book Qatar Qsuites with points. Some are far better than others.
Do your homework and figure out the best way for you to scratch Qsuites off your bucket list. There's no one right or wrong answer. Just make sure you confirm the flights you want are available before transferring any flexible credit card points – those transfers are a one-way street, and you won't be getting them back.