You want to fly Qatar Qsuites. That's not an opinion, it's a fact: They're the world's best business class seats for a reason, after all. But if flying these suites using points and miles is on your to-do list, you need the right strategy. We've got one for you.
No matter what airline you're trying to fly or whose miles you're using, planning ahead can be key, especially if you're aiming to book first or business class. Many airlines will release some award availability – seats that can actually be booked using those miles – right when flights initially go on sale. Booking 10 months or more in advance means you can snap up open seats before they're gone … maybe even gone for good.
With Qsuites, booking as soon as possible is practically a necessity these days. While booking for 70,000 American AAdvantage miles and a few bucks in fees has long been the go-to way to score these suites, there's now a much better way to ensure you get the flights you want – with even easier-to-earn miles thanks to credit card transfer partnerships.
Keep reading.
Get alerts to book Qsuites and other business class flights with your miles with Thrifty Traveler Premium+!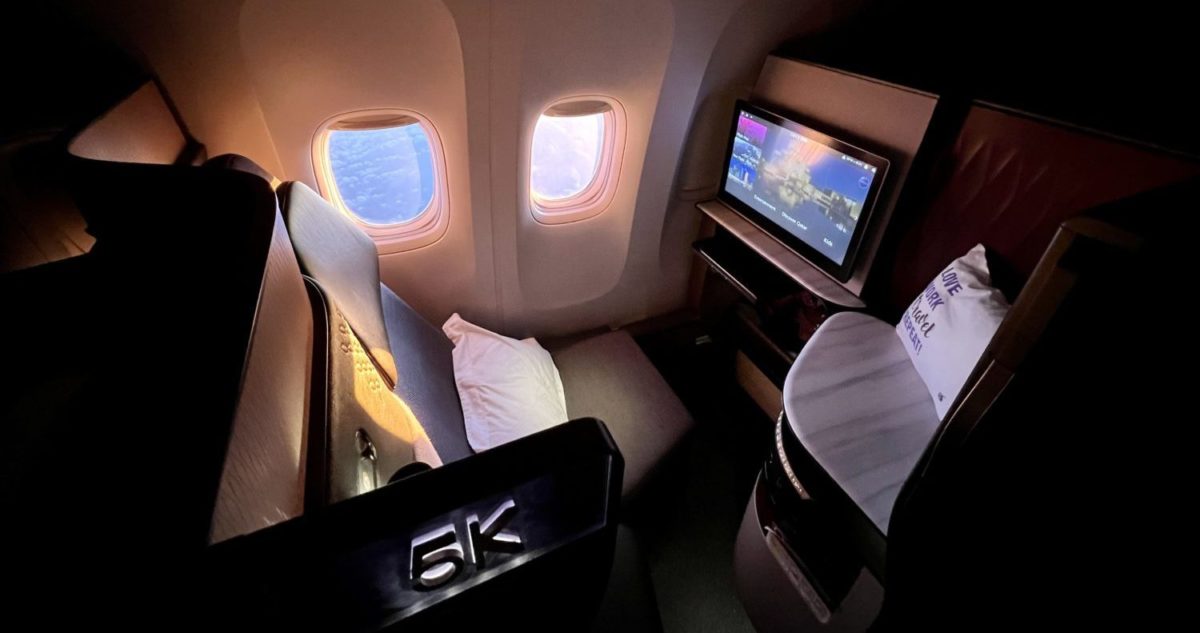 Read our full review of flying Qsuites from Dallas to Doha!
The Shifting Landscape to Book Qatar Qsuites
We've got good news, bad news, and then some more good news.
Over the years, it's gotten much, much easier to book Qatar's vaunted business class suites using miles. Here's just a brief glance at your options:
You can use American AAdvantage miles to book Qsuites between the U.S. and the Middle East starting at 70,000 miles. You can search and book these flights online at AA.com.
You can also book nonstop flights to Doha (DOH) for 70,000 Avios from either Qatar Airways or British Airways, though the airlines charge more miles if you make a connection and also pass on $100-plus in taxes and fees
Alaska Airlines Mileage Plan is another relatively option, with Qsuites starting at 85,000 miles each way … but you're more likely to see flights for 170,000 Alaska miles.
Cathay Pacific Asia Miles and Qantas Frequent Flyer are also options, but they charge fare more miles while also tacking on hundreds in taxes and fees.

Read our full breakdown on all the ways to book Qsuites with your points and miles!
For years, American miles have been our favorite way to book Qsuites. It's got both the lowest fees as well as the lowest rates, whether you want to fly nonstop to Doha or connect onward to the Middle East or even the Maldives. Want to head all the way down to South Africa in Qsuites? It's just 5,000 miles more: 75,000 AAdvantage miles to get to Cape Town (CPT), Johannesburg (JNB), or practically anywhere in Africa. That's one of the best deals in points and miles, period.
Thanks to how American prices these awards, you might even be able to work in a domestic connection on American before making your way across the Atlantic (or on the way home) – still for as low as just 70,000 miles. That means you can fly Minneapolis-St. Paul (MSP) to Chicago-O'Hare (ORD) and onward to Doha (DOH) for the same price as the nonstop on Qatar.

But those low rates are just half the equation … and honestly, maybe even less. To actually book at those rates, you need to find award availability. And that's where things get tricky.
As Qsuites have gotten more popular and easier to book, finding that availability has gotten harder and harder. And unlike many other airlines, Qatar doesn't typically release empty seats to book with miles in the last few weeks before departure. So even frequent fliers' tried-and-true method of waiting until the last minute to book seats using miles rarely pays off.
So while you can book these amazing flights using your American Airlines miles on paper, here's what you'll likely see searching to or from many U.S. gateways on AA.com these days: Just one or two dates available … even when looking out as far as spring 2024.

… if not this.

Unless you're incredibly flexible – both on your travel dates as well as which U.S. city you'll depart from or fly into – you'll often have a hard time finding Qsuites availability through American Airlines these days, period.
And that's where British Airways and Qatar Airways come in to save the day to plan your trip in Qsuites – at least so long as you plan far ahead.
Why Avios Are Key for Qsuites
There's a simple reason why it's gotten so much harder to book Qsuites using American AAdvantage miles lately: Travelers using British Airways or Qatar Airways Avios probably already booked them.
It's all about timing. But let's back up.
Most U.S. airlines only allow you to book flights up to 11 months in advance. But with many international carriers, you've got a booking window of a full year (give or take a few days) in advance. 
Booking through American Airlines, you can book flights up to 331 days in advance – or through June 8, 2024, as of publication
Book through British Airways, you can book flights up to 355 days in advance: Through July 2, 2024, as of publication
With Qatar and using Qatar Avios, the booking window is 361 days in advance, going as far out as July 8, 2024, as of publication
In the cutthroat, first-dibs world of booking Qsuites, those extra three-plus weeks have become absolutely critical – especially if you're on the hunt for two or more seats. In fact, it can be fairly easy to find and book Qsuites for two for 140,000 Avios total by searching more than 11 months in advance.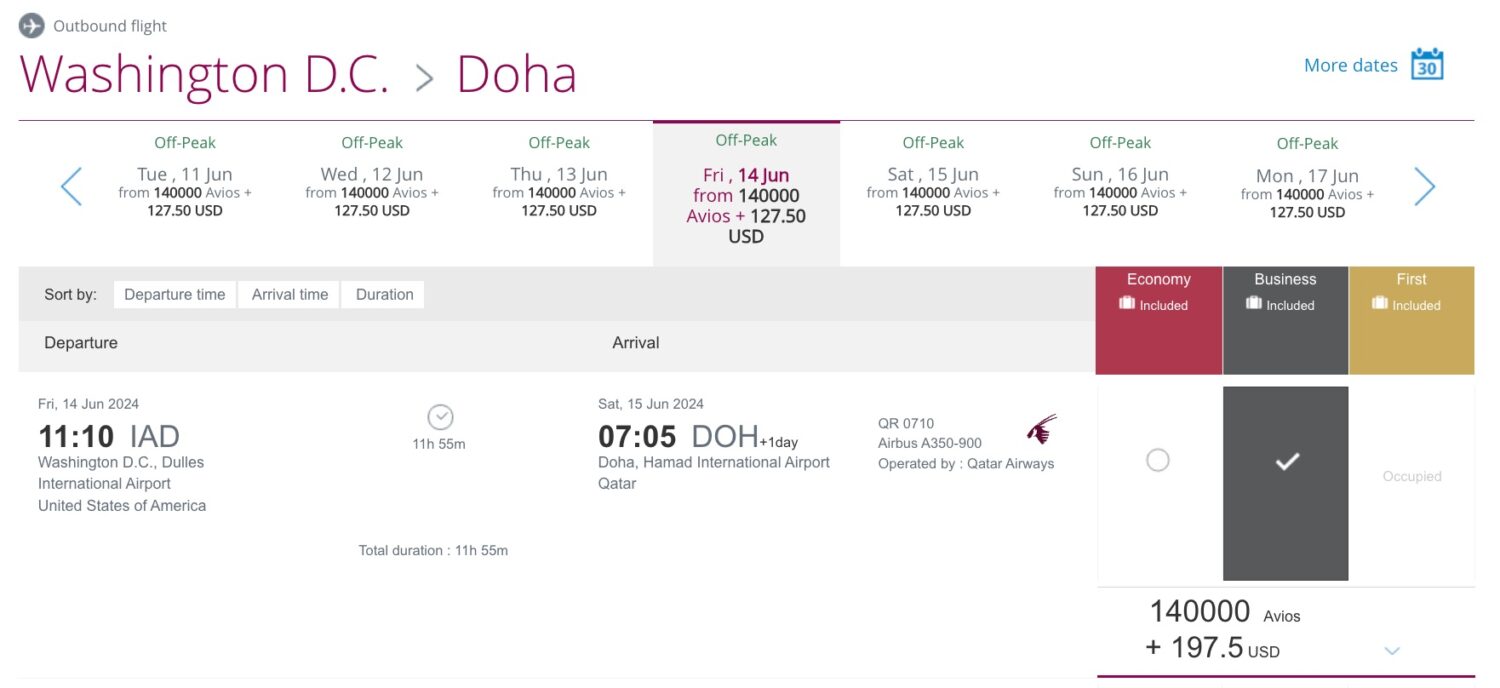 One warning: You may not find the flights you want searching right when the calendar opens with Qatar itself 360-ish days in advance. Instead, you may only get Qatar "flexi" award … at double the price. No thank you.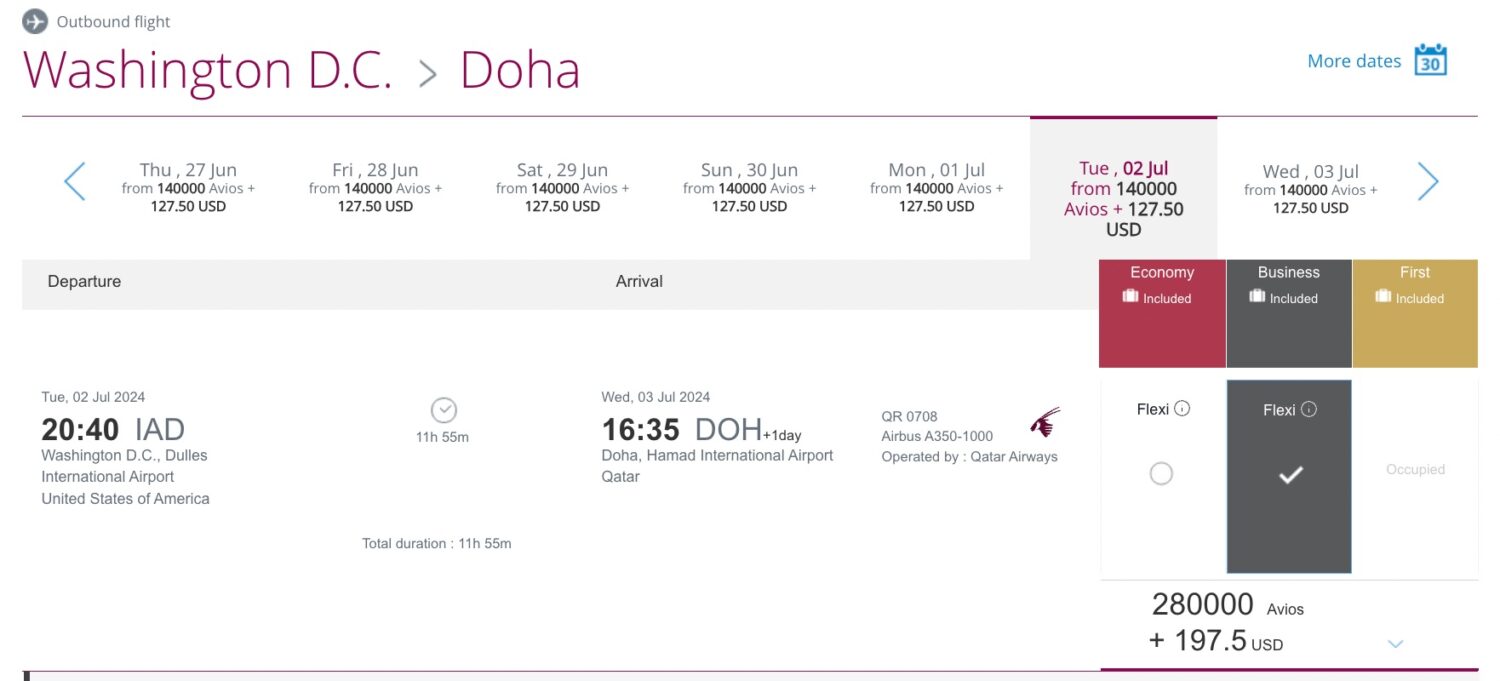 Based on our research (and constant searching for Thrifty Traveler Premium+ members…), the sweet spot seems to be booking roughly 331 days and 355-ish days in advance through either British Airways or Qatar. That's your best bet for getting the exact flights you want.
You can also book Qsuites on the nonstops between the U.S. and Doha (DOH) through British Airways for 70,000 Avios, just like Qatar.

You'll pay more in fees booking with Avios compared to AAdvantage miles: about $100 for nonstop flights and double that if you're making a connection. And you'll wind up using more miles, too, if you head somewhere else other than Doha.
But considering booking with Avios 11-plus months in advance often means the difference between finding the Qsuites you want … or nothing at all because they've already been booked, that's a small price to pay.

Plus, the rates when booking Qatar Qsuites with a connection are still reasonable – especially when booking through Qatar itself:
Flying to Middle Eastern destinations like Dubai (DXB), Abu Dhabi (AUH) or Muscat (MCT) costs 75,000 miles.
Other destinations like Amman (AMM) and Cairo (CAI) as well as major Indian cities go up to 80,000 miles each way.
Getting to the Seychelles (SEZ) or Maldives (MLE) will run you 85,000 miles each way.
Both Southeast Asia and South Africa typically cost 95,000 miles each way.
Read our full guide to booking flights with Qatar Avios!

How to Earn Avios
Think earning American AAdvantage miles is easier than miles with a British or Qatari airline you've never flown? Think again.
Avios are incredibly easy to earn because you can simply transfer some credit card points to either Qatar or British Airways. British Airways is a Chase transfer partner, Amex transfer partner, Capital One transfer partner, and a Bilt Rewards transfer partner, too. Qatar, meanwhile, is a Citi transfer partner. No matter what credit card points you've got, they all transfer to Avios on a 1:1 basis – and sometimes even better.
That means points from cards like the Capital One Venture X Rewards Credit Card, the Chase Sapphire Preferred® Card, or The Platinum Card® from American Express are the key to get the Avios you need to book a 13-plus-hour flight in Qsuites. But right now, some American Express Membership Rewards points could be your best friend.
That's because there's a 30% transfer bonus from Amex to British Airways, which means you can book these flights with as few as 54,000 Amex points! You can easily link and combine Avios between Qatar and British Airways, so even connecting flights booked through Qatar can be much cheaper. This transfer bonus runs through Aug. 31.
Get Alerts When You Can Book Qsuites
Don't want to scour the calendar for your chance to score a ride in Qsuites? Let us do the work for you.
We're always searching for Qsuites availability to tip off our Thrifty Traveler Premium+ members when they can book … and we're always finding it. Case in point: We've sent Thrifty Traveler Premium+ subscribers more than six alerts so far in 2023 alone to book Qsuites to Doha, the Middle East, the Maldives, and beyond.
Here's the most recent one, when we spotted wide-open availability in May and June 2024 a few weeks back.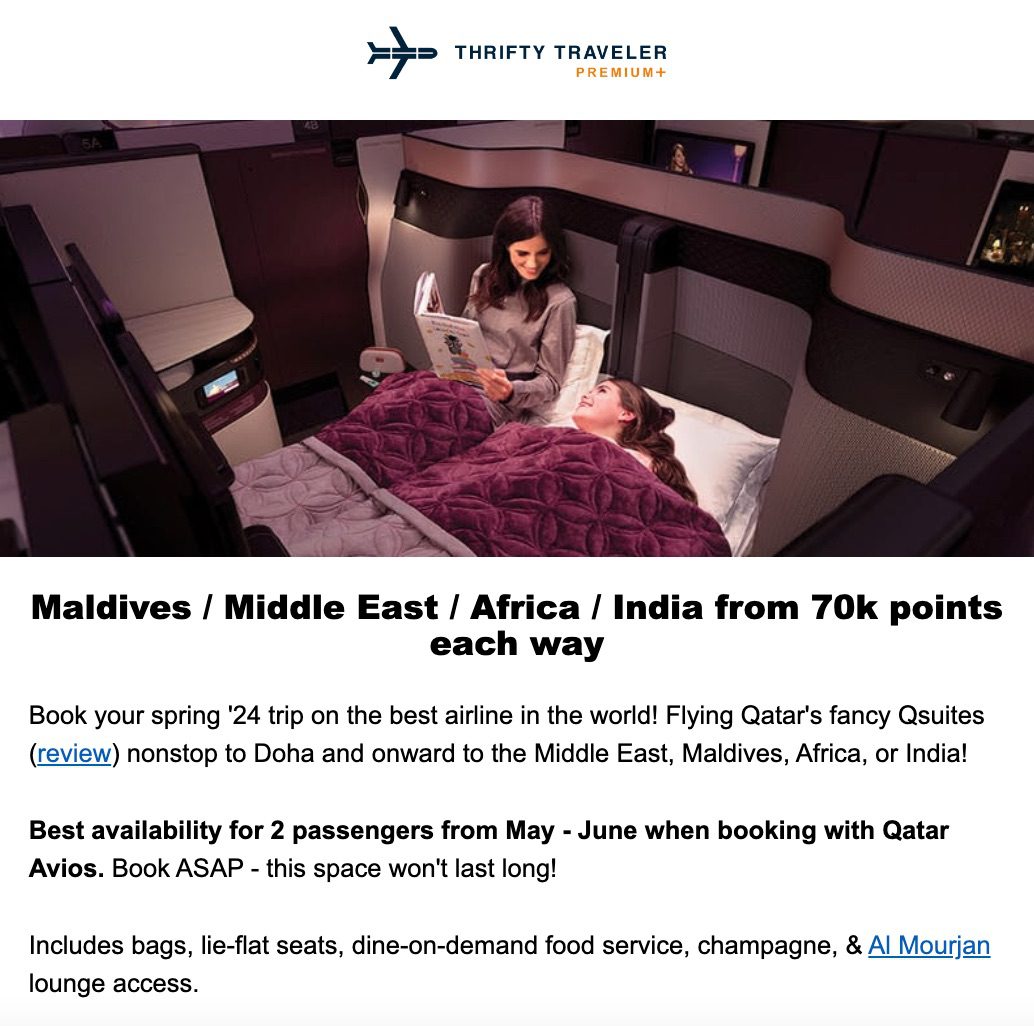 These dates all got gobbled up – get the next award alert with Thrifty Traveler Premium+!
Every deal we send includes in-depth booking instructions so you can get your ticket with just a few clicks. We also include links to our reviews and helpful tips like this one: Thanks to a quirk with how Qatar sells its fares, if you book a connection within the Middle East you can still use your business class ticket to visit Qatar's incredible Al Safwa First Class Lounge!

Every alert includes a breakdown of all the departure cities you can currently find Qsuites availability along with destinations and the mileage you'll need to make it happen. This is just a small, small sample.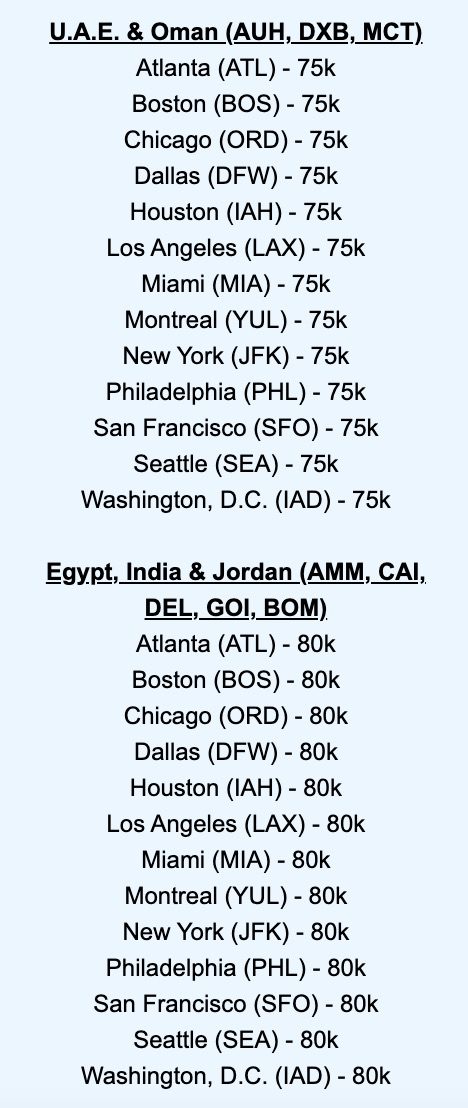 We find flight deals and award alerts from 200+ airports in the U.S. & Canada – more than any other flight deal service!
Bottom Line
Qatar Qsuites are the world's best business class, bar none. Booking seats this good isn't always easy … but it can be done.
These days, planning far ahead is absolutely essential to score the flights you want with Qatar. And that means you'll want to book using Avios from either Qatar Airways or British Airways, which give you a three- or four-week exclusive window to snag Qsuites before others get the chance.