Despite the bad headlines and doom and gloom, much of Europe remains open to Americans – especially vaccinated Americans. So whether you're ready to return next month or not until next year, now's the time to start planning your trip.
When it comes to using points and miles to get to Europe, there are plenty of options. And some are much, much better than others. But no matter which route you go – or when – it's time to lock in your plans before other travelers snap up seats.
Whether you're good flying economy or want to class things up a bit with a business class redemption, we've rounded up the absolute best ways to travel to Europe on points and miles.
Curious what's open? Read our guide to where Americans can travel in Europe today – and what you need to get in. 
Book a Cheap Flight with Credit Card Points
One of our favorite ways to use credit card points like Chase Ultimate Rewards points is to book flight deals directly through the Chase travel portal. Rather than paying cash, you're using your credit card points as if they were cash.
And that's a goldmine when you can harness a cheap fare you find using Google Flights or get straight to your inbox from Thrifty Traveler Premium. And unlike when you use airline miles, you won't have to pay any additional taxes or fees – they're covered by your points.
Read more: What's the difference between points and miles?
Cheap flights to Europe disappeared throughout much of the pandemic, but they're back – and cheaper than ever. We've been sending Thrifty Traveler Premium members a slew of fares under $300 roundtrip for later this fall and even into spring 2022. Sometimes, they even drop under $300, like this incredible flight to Madrid (MAD) for just $287 roundtrip.
With this deal, you could have booked flights from Chicago-O'Hare (ORD) to Spain's amazing capital city for just $280 total – or elsewhere in eastern Europe or Scandinavia for just a few bucks more. But if you've got the Chase Sapphire Preferred® Card, you can book that same flight for less than 23,000 points total. That means the card's 100,000-point bonus after spending $4,000 within three months can get you four round-trip tickets … with points leftover to spare.
It gets even better with the Chase Sapphire Reserve, as the points with that card are worth even more when booking travel. You could book the same flight for roughly 19,000 points.
How to do it: First things first, you need some Chase points.
We think the Chase Sapphire Preferred Card is easily the best travel card in these times for a few reasons. It's got a reasonable annual fee of just $95. But most importantly, you can quickly earn 60,000 Chase Ultimate Rewards points after spending $4,000 within three months.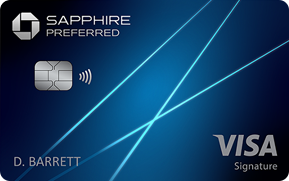 Click Here to get more information about the Chase Sapphire Preferred Card.
Still, there's no denying the value of the Chase Sapphire Reserve – especially if you're using points to book flights, as each point is worth 1.5 cents toward airfare and other travel expenses. Add in the free lounge access via Priority Pass, $100 credit toward Global Entry or TSA PreCheck, and an annual $300 travel credit, and your next big trip to Europe could be even cheaper – so long as you're OK with the card's $550 annual fee.
Click Here to get more information about the Chase Sapphire Reserve.
Get to Madrid for 34,000 Miles … Round-Trip
Most airlines charge about 60,000 to 70,000 miles to fly from the U.S. to Europe and back. One airline can get you there and back for half that price.
It's Iberia, the Spanish flag carrier whose Avios mileage program is second-to-none when it comes to getting to Europe on the cheap. Depart from the right cities and at the right time, and you can score round-trip flights straight to Madrid (MAD) for just 34,000 miles plus some taxes and fees.
The trick? Iberia's distance-based award pricing system means you have to start your journey from the East Coast hubs of Boston (BOS), or New York City (JFK). Luckily for Midwesterners, Chicago-O'Hare (ORD) still works at this price, too – despite some recent troubling signs. Departing from other Iberia outposts like Miami (MIA) or Los Angeles (LAX) will cost you more miles.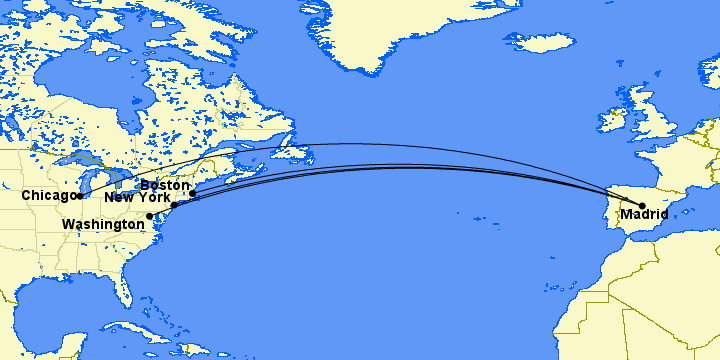 Thrifty Tip: Don't live in one of these cities? Use a positioning flight to get there and then book your flights to Spain separately.
You also need to time it right. Iberia uses peak and off-peak pricing, which means getting these cheap flights at 34,000 miles requires traveling during the off-peak season. Luckily, Iberia's definition of "off-peak" is typically quite generous: It means you can fly at the lowest rates for nearly 2/3 of the year. Mid-June through mid-September are generally considered peak summer season, with some scattered weekends and holidays blocked off, too. Check out Iberia's full calendar to scope out the dates.
Read more: These are the cheapest times to travel
In all, it's not hard to find dates in the spring or early summer of 2021 for 34,000 miles round-trip. Iberia passes on some unavoidable cash fees on these tickets. But at $150 or so for economy, it's far more reasonable than what you see on other airlines.

Oh, and one of the best parts about booking with Iberia miles? You can book flights almost a year in advance! Hello, summer 2022 plans! Make plans to explore Madrid, head to Barcelona, or hop onward throughout Europe using Madrid as your starting point.
Read more: How to Fly to Europe for Just 34K Miles RT with Iberia Airlines
How to do it: Iberia miles couldn't be easier to earn, and you don't even have to step foot on an Iberia flight to get them.
It's easy to earn Iberia Avios, as they're one of the many Chase transfer partners, Citi transfer partners, or Amex transfer partners. That means you can easily earn the miles you need with cards like the Chase Sapphire Preferred Card or the American Express® Gold Card, among other options.
The best part? It's cheaper than ever. With a 30% transfer bonus from Chase to Iberia Avios, the cost to book these flights drops to just 27,000 Chase points. With a 40% Amex transfer bonus, you need to transfer just 25,000 points to make it happen.
Click Here to learn more about the American Express Gold Card.
… Or Fly Business Class for 68K Miles!
Double the price, double the fun. Just as with economy, there's absolutely no cheaper way to fly business class to Europe than using Iberia Avios. You can do it for just 68,000 miles round-trip – less than most airlines charge for a one-way ticket. 
The same rules apply as you follow when booking a dirt-cheap economy award ticket with Iberia Avios. Fly from New York City, Boston, or Chicago. Then focus on off-peak travel dates to book your eight-plus hour flights in business class for just 34,000 Avios each way. If you ask us, it's one of the best deals in the world of points and miles, period.
You'll pay less than $200 in fees for a round-trip flight, which is a steal compared to what many other airlines charge. While it may not make the cut for one of the world's best business class cabins, Iberia business class is plenty good – and the price is definitely right.
Read our full review of the Iberia business class flight from Chicago-O'Hare (ORD) to Madrid (MAD)!
The seats are spacious and comfortable, easily reclining all the way back into a lie-flat bed to catch some Z's as you cross the Atlantic Ocean. So-called "honeymoon seats" in the center of the cabin are perfect for traveling couples. The food and service are equally solid, and you'll be able to get into American's excellent Flagship business class lounges before taking off for Europe.
How to do it: Second verse, same as the first.
Factor in the $4,000 spending requirement within three months to earn the 100,000-point bonus on the Chase Sapphire Preferred Card, and you'll have more than enough to book this business class flight to Spain in one fell swoop … with plenty of points left over. Or if you qualify for the outstanding 75,000-point bonus on the Amex Gold Card via Cardmatch, you're set.
Just transfer those points over to Iberia (but not before scoping out award availability first!) and you'll be on your way to Europe in business class in no time. And considering some ongoing transfer bonuses from both Chase and Amex to Iberia, it's cheaper than ever right now.
You need to transfer just 53,000 Chase points to your Iberia account to book roundtrip flights in business class. With Amex points, all you need is 49,000!
Hop on a Delta SkyMiles Flash Sale
This is why you earn and save those Delta SkyMiles.
Like many airlines, Delta often charges 70,000 miles or more for a round-trip flight to Europe. But Delta SkyMiles flash sales shake that up in a big way.
Delta frequently slashes award rates on select flights, making it cheaper to fly to Europe than what you'll find through any other airline or mileage program. Here's a small sample of what we've seen through Delta over the years:
This is the beauty of Delta SkyMiles. While flights using your SkyMiles are often expensive, these amazing SkyMiles flash sales we've found over the years are unbeatable. You won't find these rates on any other airline.
Want award space alerts like this, along with dirt-cheap domestic and international fares? Try Thrifty Traveler Premium for the price of a cup of coffee a month!
How to do it: Patience. Flexibility. And a healthy stash of SkyMiles.
The trick with using Delta SkyMiles is waiting for the right deal, and being flexible enough to wait for it to come to you. That means this option likely won't work if you've got a specific time period.
Sign up for Thrifty Traveler Premium and you'll get all the best SkyMiles flash sales – to Europe and elsewhere – delivered straight to your inbox. Then you'll just need some Delta SkyMiles to book the next big deal. We've got you covered there, too.
Otherwise, check out the Platinum Card® from American Express. You can earn up to 150,000 points after spending $6,000 within six months via CardMatch.
Read more: The 13 Best Ways to Earn Delta SkyMiles in 2021
Fly Delta One (But Not with Delta SkyMiles…)
Unless you come across a barnburner of a flash sale, flying Delta One business class isn't cheap even using your Delta SkyMiles. Paying 120,000 SkyMiles for a one-way ticket is the norm. In fact, 120,000 SkyMiles is quite decent compared to the exorbitant rates we sometimes see for Delta One.
A whopping 285,000 SkyMiles for a one-way flight from Atlanta (ATL) to Amsterdam (AMS) in Delta One – or even more?! Please don't do this. Instead, you can book the exact same flight in a Delta One Suite using Virgin Atlantic miles. It's a slightly better deal…

That's right: You can book the exact same Delta flight for just 50,000 Virgin Atlantic miles – less than one-fifth what Delta itself is charging in SkyMiles. This is one of the best workarounds in the world of points and miles, and one of the best deals overall, too.
Finding award availability to book Delta One can be difficult – especially lately –  so be sure to read our guide to using Virgin Atlantic miles. And you may have a hard time snagging a flight with Delta One Suites, as Delta isn't flying many of its newest planes to Europe – you may have to settle for business class in a refurbished 767-400 or an older Airbus A330, instead.
But you'll relish that 50,000-point price tag even more if you get to cross the Atlantic Ocean in this…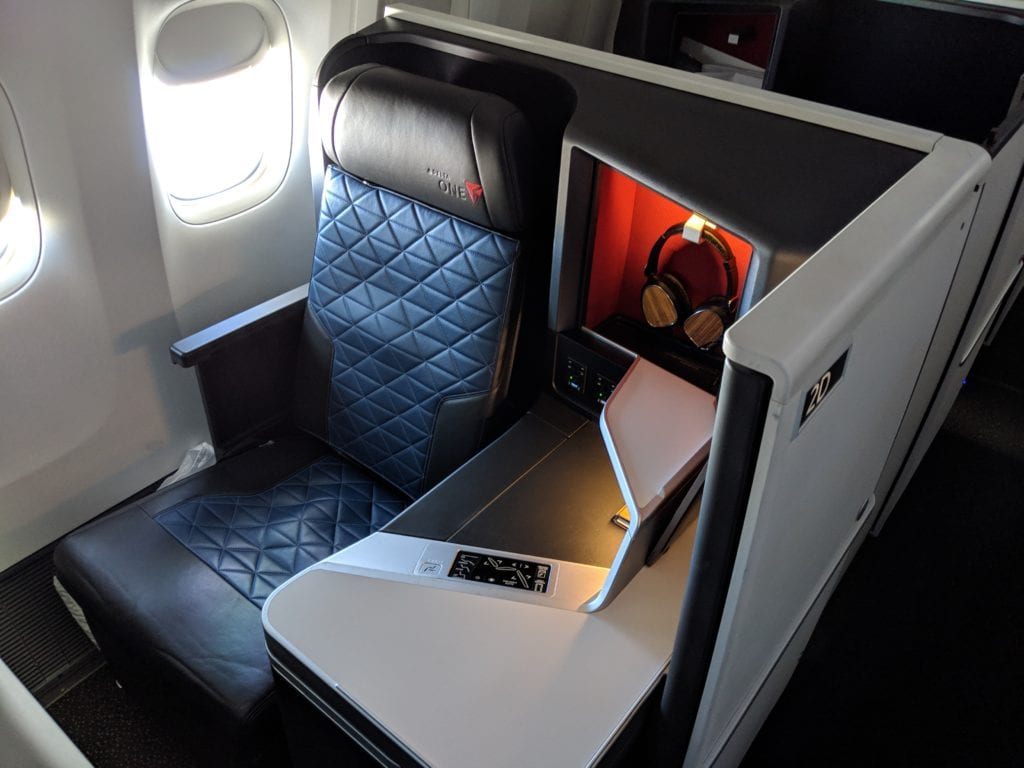 Read our review of Delta One Suites from Tokyo-Haneda (HND) to Minneapolis-St. Paul (MSP)!
How to do it: Earning the 50,000 Virgin Atlantic miles you need to book one of these flights is a piece of cake.
That's because you can transfer points to Virgin Atlantic from Chase, American Express, and Citi. But these banks have frequently offered transfer bonuses of 30% or more to Virgin Atlantic, which could bring down the cost to just 39,000 credit card points. It doesn't get much better than that!
In fact, American Express currently has a transfer bonus of 30% to Virgin Atlantic. That means a ride across the Atlantic in business class could be yours for just 39,000 Amex points!
Thrifty Tip: Never transfer credit card points to your airline account until after you've confirmed the flights you want to book are available.
LifeMiles to Lisbon for Just 35K
LifeMiles is the quirky mileage program of South America's Avianca. On the negative side, its IT is wonky and customer service can be spotty at best. On the bright side, you'll pay few cash surcharges when using LifeMiles and there are a metric ton of sweet spots.
No matter how you slice it, paying just 63,000 miles to fly business class to Europe is nice. But one sweet spot stands out even more: You can fly to Lisbon (LIS) in TAP Air Portugal's business class for just 35,000 miles one way. 
It's a bit of a unicorn in LifeMiles' options, as it only works on one single route: New York City (JFK) to Lisbon. Oddly, the return flight will cost you the full 63,000 miles.

Still, it's worth highlighting – especially since it costs just 5,000 miles more than taking the exact same flight in economy. If you can, snag a flight on TAP's shiny new Airbus A330-900neo with the airline's best business class seats.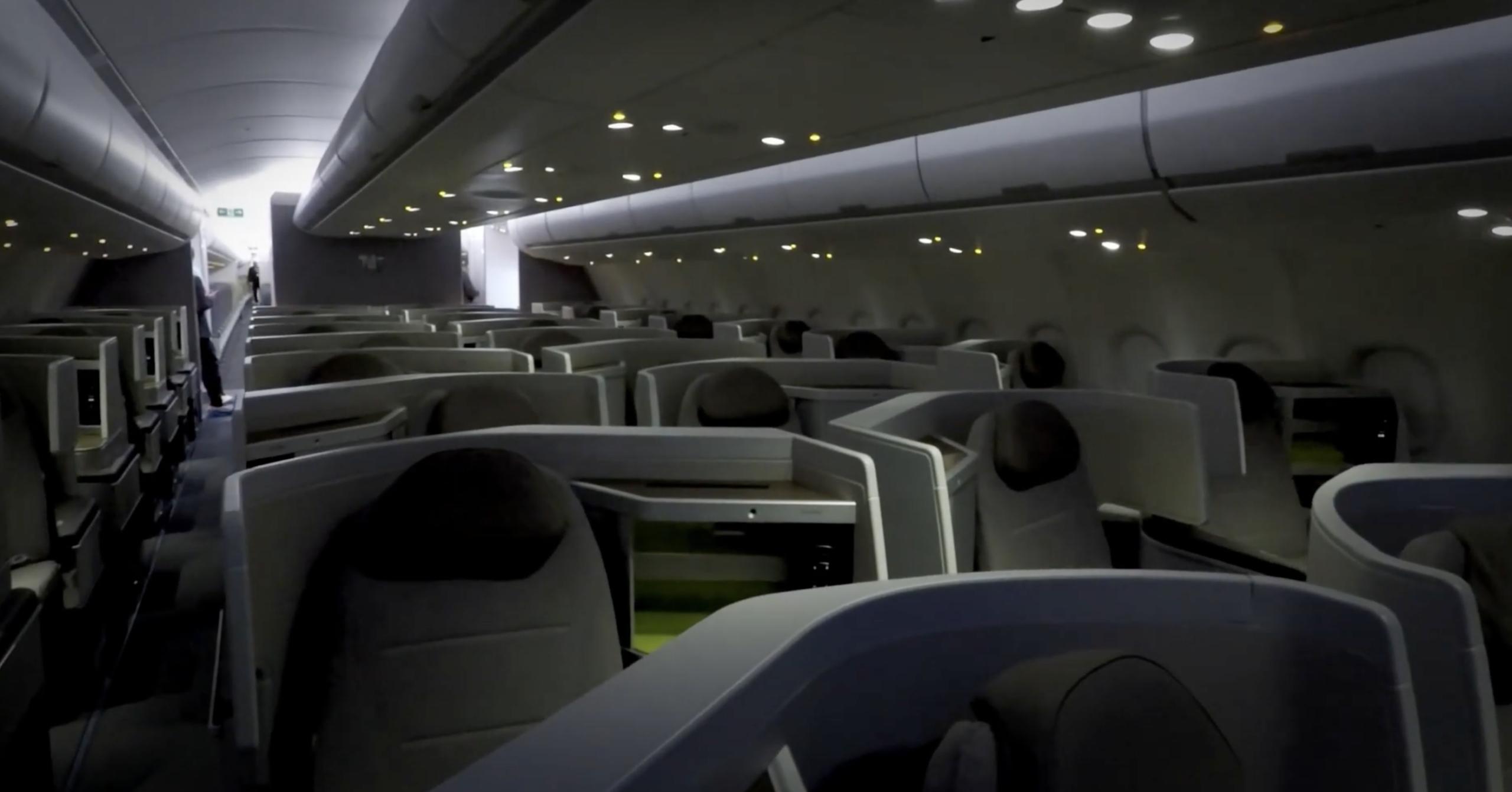 How to do it: For years, LifeMiles were fairly difficult to earn – other than frequent bonuses to buy their miles on the cheap.
But that has changed. A few years back, American Express added LifeMiles as a transfer partner. That means you can transfer points from your Platinum Card® from American Express or the American Express® Gold Card to your LifeMiles account – and these transfers are typically instantaneous.
Capital One added LifeMiles as a transfer partner, too. And most recently, that got a big boost: After a few years of poor value, those transfers are now 1:1. That means for every 1,000 Venture Miles you transfer, you'll get 1,000 LifeMiles.
You can also transfer points to LifeMiles from your Marriott Bonvoy account as well as Citi ThankYou points.
88K Miles Roundtrip in Biz Class with ANA
We saved the best for last.
ANA's Mileage Club is easily one of the best ways to book flights to Japan, allowing you to fly business class to Tokyo for the price of economy. So go figure it's also one of the best ways to fly business class to Europe.
For just 88,000 miles roundtrip, you can fly business class on almost any Star Alliance carrier from North America to Europe and back. That's almost unbeatable. Alternatively, you can also book economy flights for just 55,000 miles roundtrip.
While your options for airlines are long, you'll want to focus on a handful of carriers for which ANA won't pass on hefty cash fees and surcharges. Your best bets are United Airlines, Turkish Airlines, Air Canada, LOT Polish, and SAS.
For example, you can book this ticket from Chicago-O'Hare (ORD) to Brussels (BRU) for just 88,000 miles and less than $61 USD. United itself would charge at least 120,000 miles for this exact same itinerary – if not substantially more.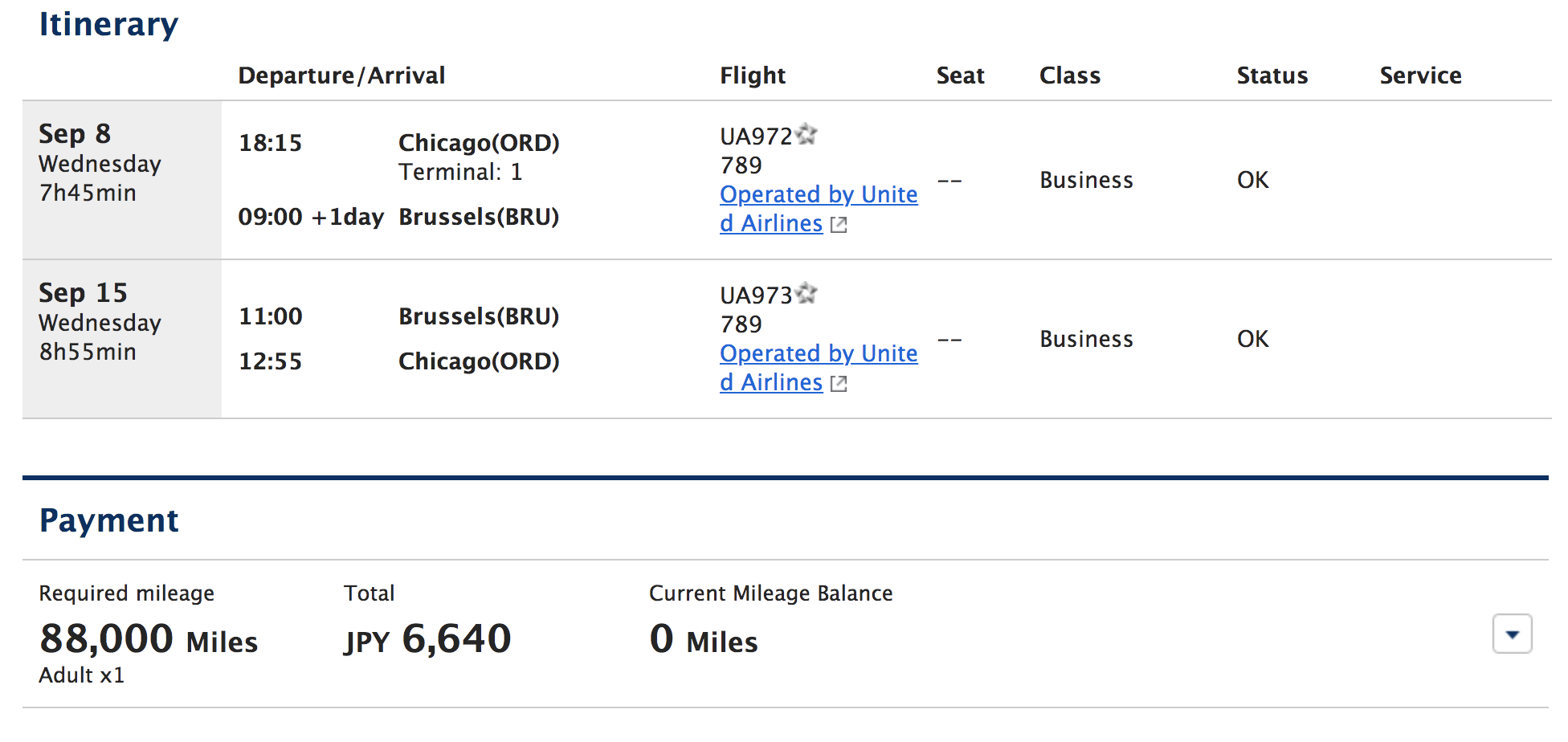 Not bad, right? Especially if you can snag a fancy new United Polaris seat for your trip across the ocean.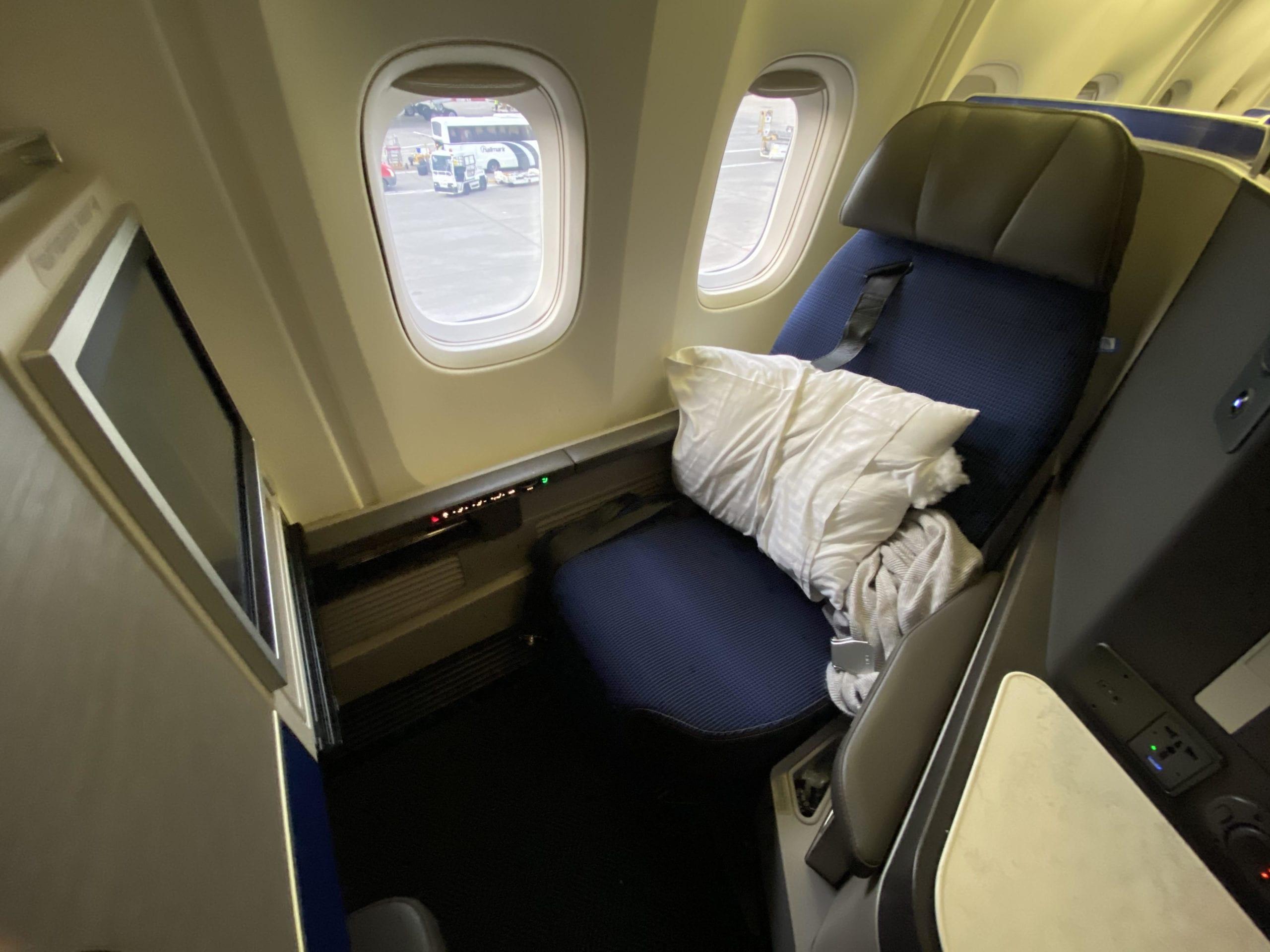 While one-way bookings are not allowed when using ANA miles, you can see two European cities for the price of one by booking open-jaw flights – still for just 88,000 miles total. This means you could fly into London-Heathrow (LHR), train it down to Amsterdam or Paris, then fly home for the same price as a standard roundtrip.
That said, there's one other big hitch to keep in mind when using ANA miles. You can only book flights for yourself and family members. So don't count on booking these flights for you and a travel buddy.
How to do it: ANA miles are fairly easy to come by with the right credit cards.
ANA is one of the absolute best transfer partners of American Express Membership Rewards. That means you can transfer the points you earn from the Platinum Card® from American Express or the American Express® Gold Card straight to your ANA account.
With record-high bonuses of up to 75,000 points available on the American Express Gold Card after spending $4,000 within six months available via CardMatch, that's a strong option.
One thing to beware of: These transfers can take a day or two to hit your account. That could put you in a time crunch if you're looking to book award space that could disappear.
Bottom Line
The world is your oyster when it comes to getting to Europe and back on points and miles. These six redemptions are just the tip of the iceberg.
But they're undeniably some of the best ways to get to Europe on the cheap … especially if you want to do it in style.