Flying to Europe, you can't do better than Lufthansa First Class. The German airline has set the bar high with one of the most sought-after and luxurious first class seats.
And then there's Lufthansa business class, where it's a different story. Lufthansa business class has a reputation for being underwhelming, with an outdated seating configuration that can leave you feeling crowded even in business class with little-to-no privacy from your neighbors.
I put Lufthansa business to the test on a recent trip to Germany, flying on an Airbus A350 from Newark (EWR) to one of the airline's hubs in Munich (MUC). It's the airline's newest and best business class seat you can find flying Lufthansa today … but is its best good enough?
Read on for the full review.

Booking
Here's the good news: When it comes to flying business class to Europe, it's not too hard to find a Lufthansa business class seat.
Other airlines are stingy with releasing award seats far in advance – and up in Lufthansa first class, the airline is incredibly protective with allowing seats to be booked using miles. But that's not the case back in business class: You can almost always count on finding one (or more) seats in Lufthansa business class – though it varies from city to city.
Unlike most European airlines who from the U.S. to a single hub city, Lufthansa has got two: Frankfurt (FRA) and Munich (MUC). The airline primarily flies its Boeing 747s in and out of Frankfurt, while more-modern Airbus A350s operate out of Munich (MUC). Between those two hubs, the airline has plenty of flights to the U.S. to choose from.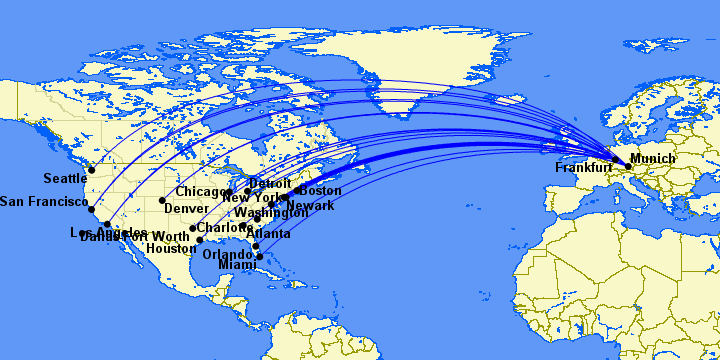 I had no problem finding a seat from Newark (EWR) to Munich (MUC) about three months in advance. And because Lufthansa is part of the Star Alliance, there are no shortage of ways to book. Some strong options include booking for 77,000 United miles or 70,000 Aeroplan miles.
But for a one-way trip, one of the best ways to book is using Avianca LifeMiles. The airline charges a reasonable 63,000 miles each way, plus less than $25 in taxes and fees for the one-way flight to Europe. That combination of low mileage and low cash fees is tough to beat. Plus, you can easily earn LifeMiles as it's an Amex transfer partner, Capital One transfer partner, and a Citi transfer partner, too.

Read more on some of the best ways to fly to Europe using points and miles!

Checking In & Lounge Access
These days, checking in for any international flight can be a major headache. Luckily, that wasn't the case here.
With requirements for proof of vaccination, a recent negative COVID-19 test, or both, the days of checking in online are over on many airlines because agents need to make sure you've got the right documentation to enter the country. In most cases, that means a time-consuming check-in process at the airport.
Read more on the current international travel restrictions from country-to-country!
But with Lufthansa, it's different. In typical German efficiency, the airline has brought that verification process online. After check-in opened beginning 24 hours before my scheduled departure, I was able to upload my proof of vaccination along with my completed digital registration form – both were required to enter Germany.
Just a few minutes later, I received email saying my documents had been verified, allowing me to finish checking in online. That meant I could get a mobile boarding pass instead of waiting in long lines at the airport check-in desk. I really wish all airlines had figured out how to do this by now…

After landing in Newark from an earlier positioning flight, I could have headed straight to Terminal B in Newark, the terminal Lufthansa uses. Lufthansa operates its own lounge here that business class can use, though the hours are quite limited.
I did pop in just before departure and … well, let's just say it's a little sad. It's a tiny space, with no more than a 20 or so armchairs, a few high-top tables, and a limited spread of cold food and snacks. During my visit, the airline wasn't serving alcohol due to the pandemic.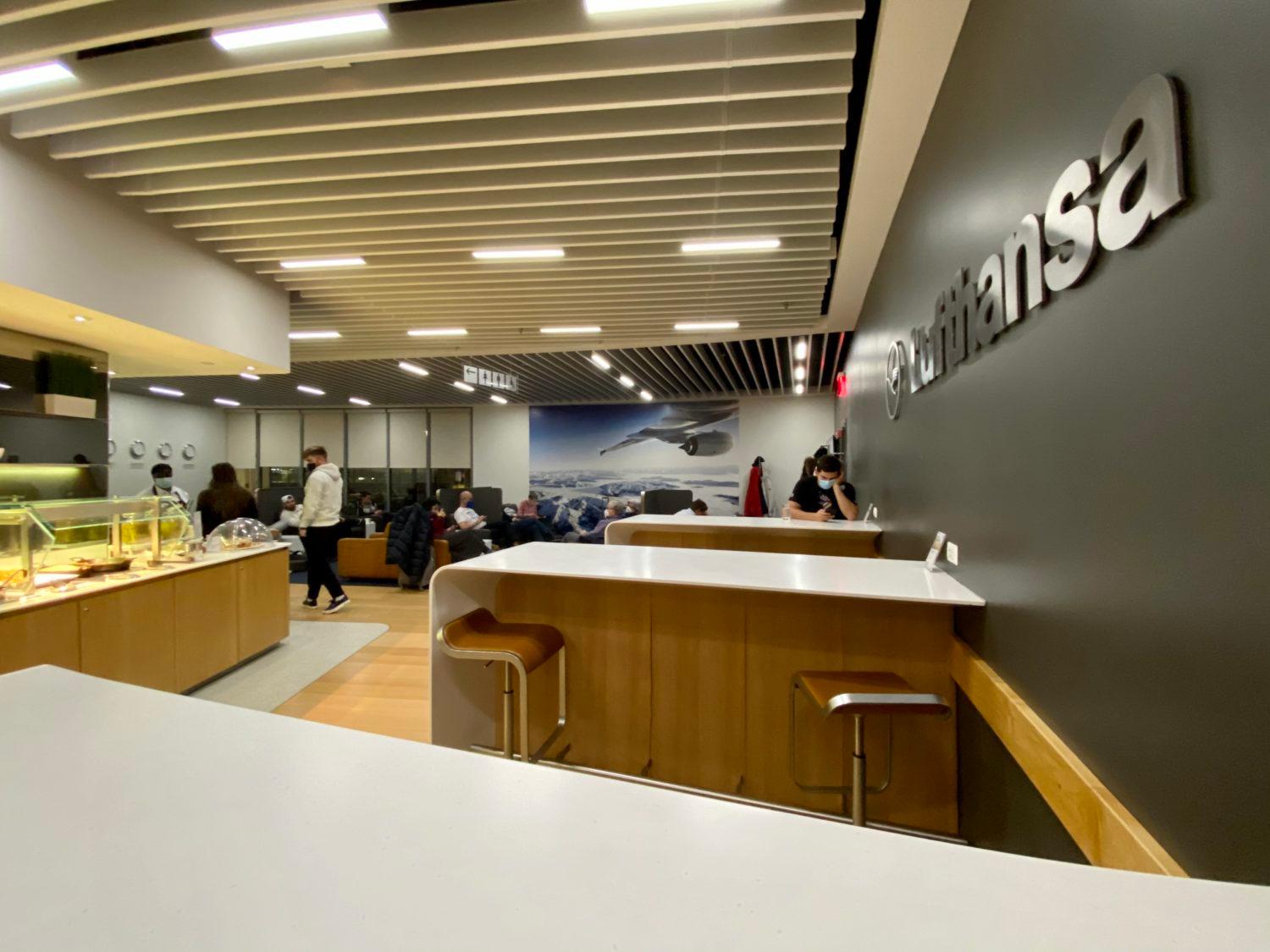 So if you've got more than an hour or so before your Lufthansa business class flight, you should instead beeline it straight for Terminal C and make your way into United's Polaris Lounge at Newark. That same-day Star Alliance business class ticket will get you in just the same.
We've reviewed the lounge in full, so I'll spare you a repeat. But this is an incredible lounge with tons of space, a la carte dining, and great drinks to kill some time before your flight across the Atlantic.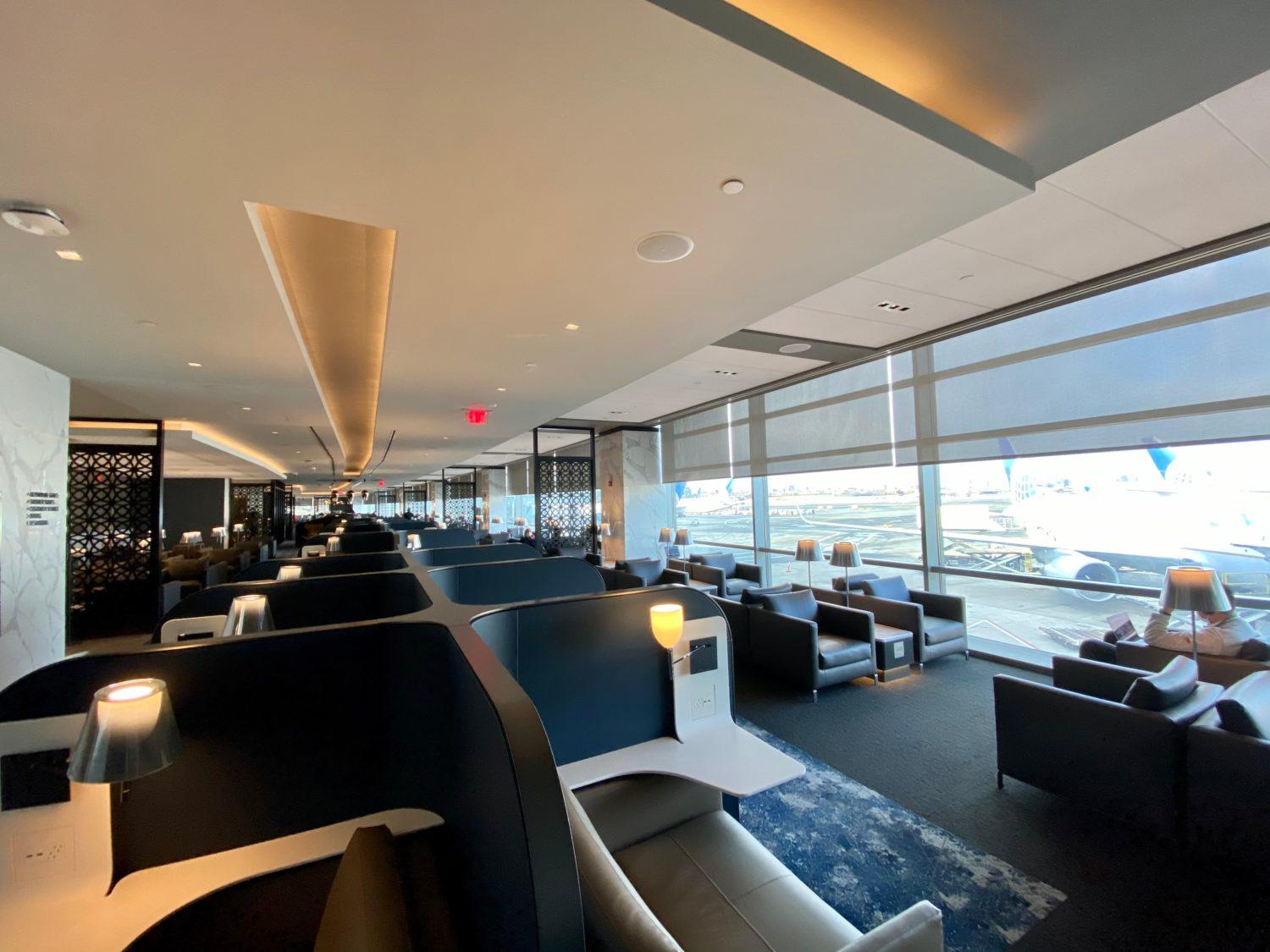 Read our full review of the United Polaris Lounge Newark!
Getting from Terminal B to Terminal C and back can be a bit of a challenge, though it's well worth it. While United runs a shuttle between the two terminals post-security the shuttle running from Terminal B to Terminal C wasn't operating during my visit, which meant I had to take the AirTrain and re-clear security in order to get over to Terminal C. But to make it to my flight, I could hop on the shuttle that picks up near gate C71 for a quick, security-less trip back to Terminal B for my Lufthansa flight!
After a luxurious few hours in the United Polaris lounge and poking my head into Lufthansa's own Newark outpost, I lined up for boarding the relatively short flight over to Munich.
Lufthansa Business Class Cabin
Whether you're on a Boeing 747 or an Airbus A350, what you'll get flying Lufthansa business class is more or less identical. And let's just say it: Compared to other business class offerings out there, Lufthansa falls pretty far short.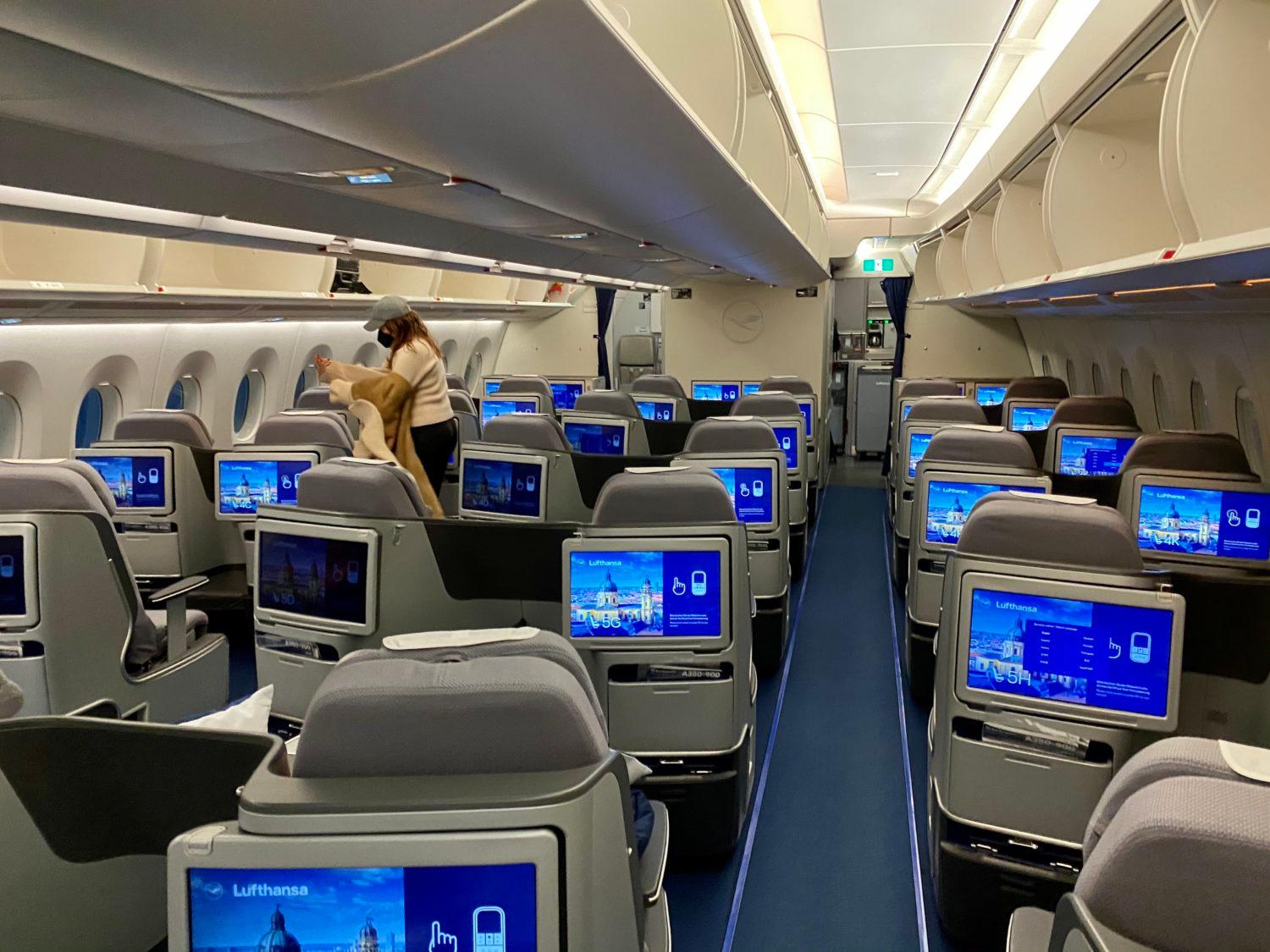 The seats in Lufthansa business class are laid out in a 2-2-2 configuration, which means not every passenger will have direct-aisle access. That's pretty much the standard these days, so it's a glaring shortcoming here. So unless you're traveling with a companion or luck out to have a seat open next to you, it might not be the best experience you have flying up front.
What's more, there's little to no privacy in these seats, either. The cabin is quite open and airy, which can be a great thing … in moderation.
But when that means you see almost all your fellow passengers throughout the flight – including in the seats in front of you – it's another matter. Not only are the seats fairly low-profile, but there's no shell behind each seating section to create some additional division. It's almost as if these seats were intentionally designed to be as exposed as possible.

Perhaps most oddly, there are no movable privacy dividers between seats to get a bit of separation from an unknown neighbor, either. That's something that even far-more private business class seats on other airlines offer. The fact that they're not available onboard Lufthansa business class is a bit of a head-scratcher.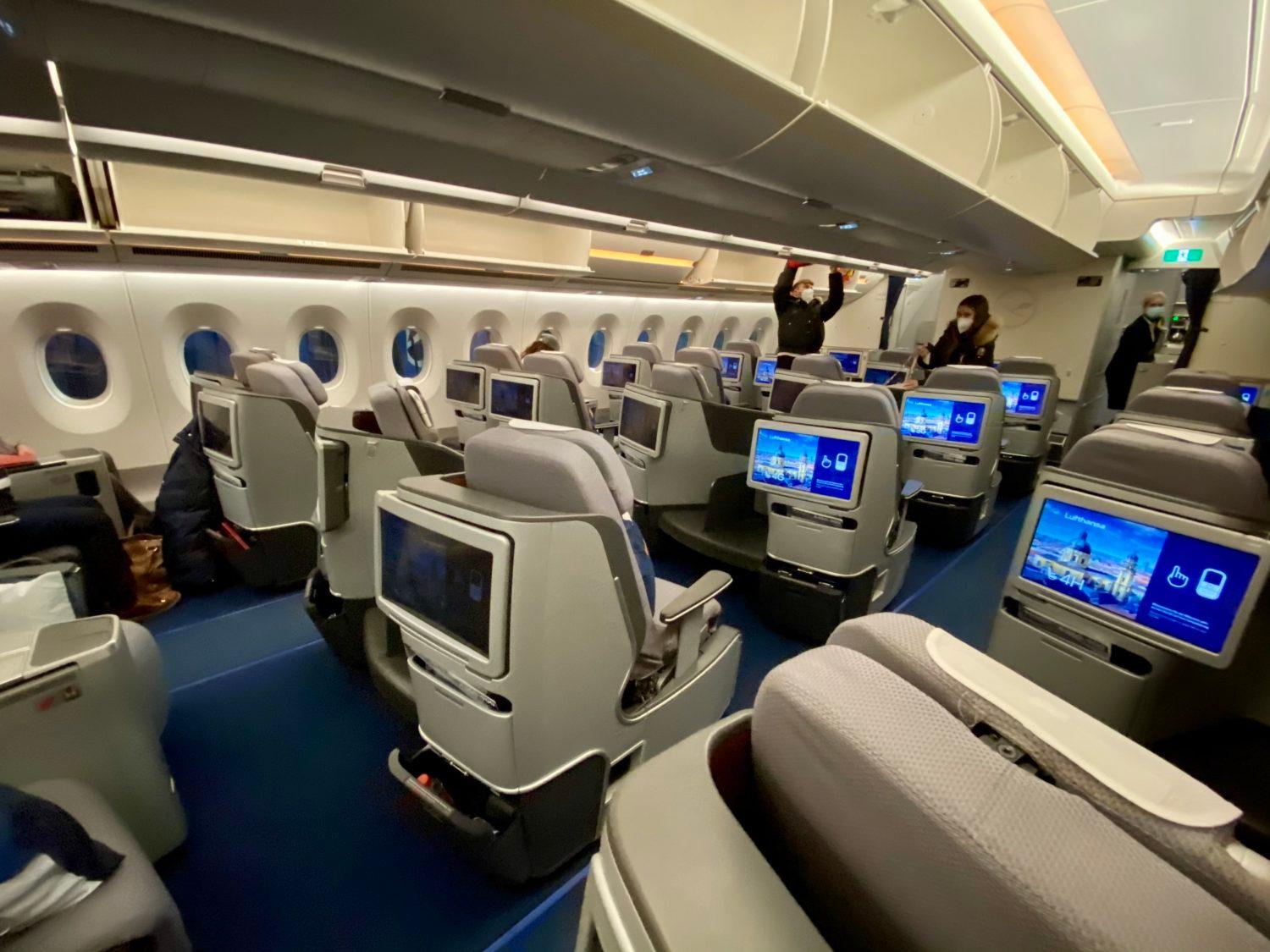 Lufthansa clearly understands it needs to up its game in business class – eventually. For years, the airline has had a brand new business class seat with direct-aisle access for all in the works, destined for new deliveries of the Boeing 777-9. But that jet has been plagued by delays and might not see the skies for at least another year or two.
On the Airbus A350, Lufthansa has a total of eight rows of business class seats, each with six seats for a total of 48 business class seats. It's split into one main cabin in the front with six rows, where I was sitting, and a small mini-cabin at the rear with just two rows of seats.
Fortunately, the business class cabin went out pretty empty on this flight with less than have the seats occupied. That was a huge win, as it meant that I not only had an open seat next to me: I didn't have any neighbors directly across the aisle, either.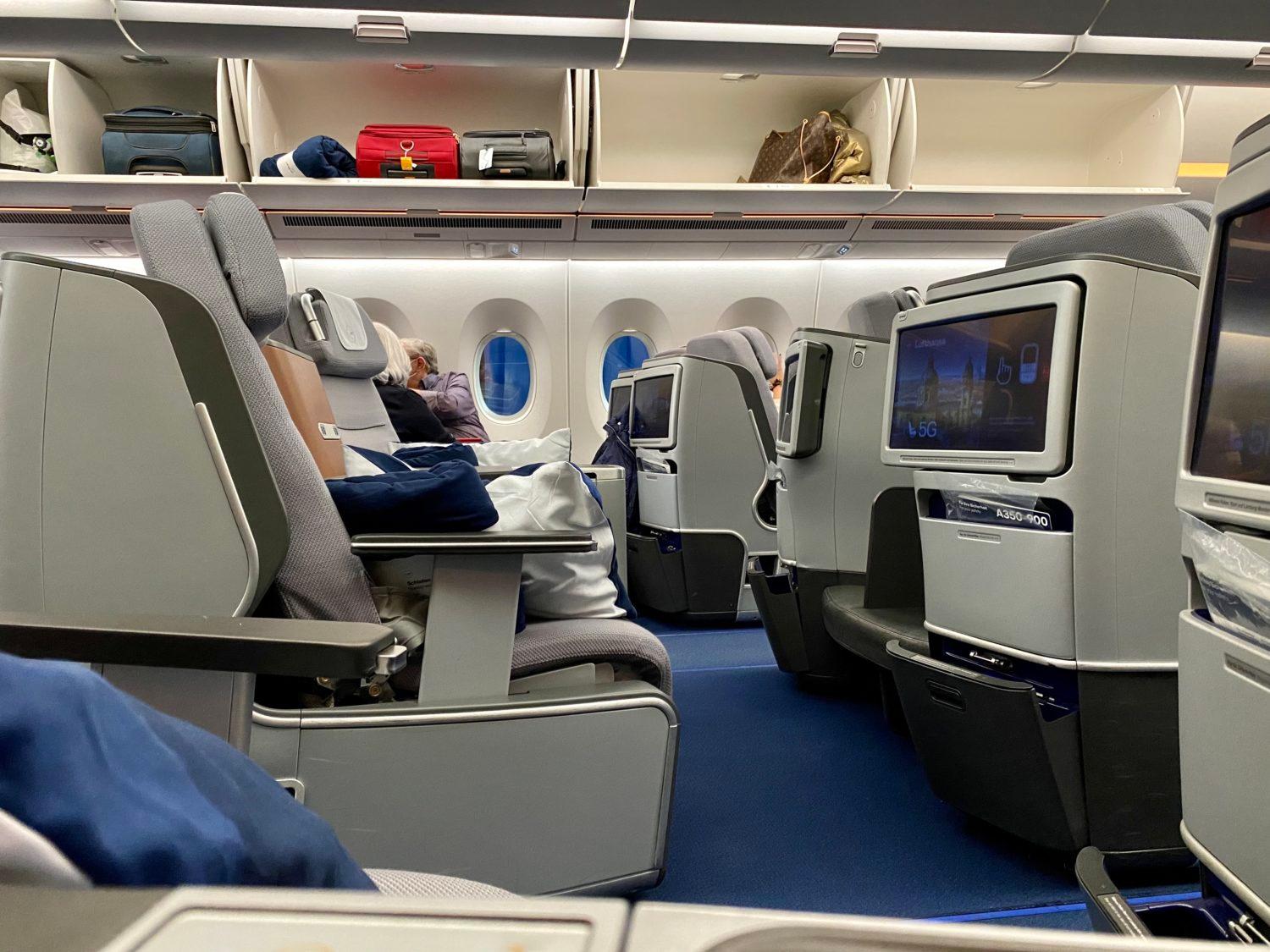 The seats themselves are all pretty much identical, whether you're sitting in the center section or closer to the windows. Two-seat sections along the windows are angled slightly away from the aisle, so you get a bit more (but not much) privacy there.
To Lufthansa's credit, everything looks quite nice with the blues, soft grays and leathery-brown – if a tad boring.

In these window-side sections, the seats are slightly staggered so you're not literally rubbing elbows with a stranger – though still close enough to be a great option for couples or companions.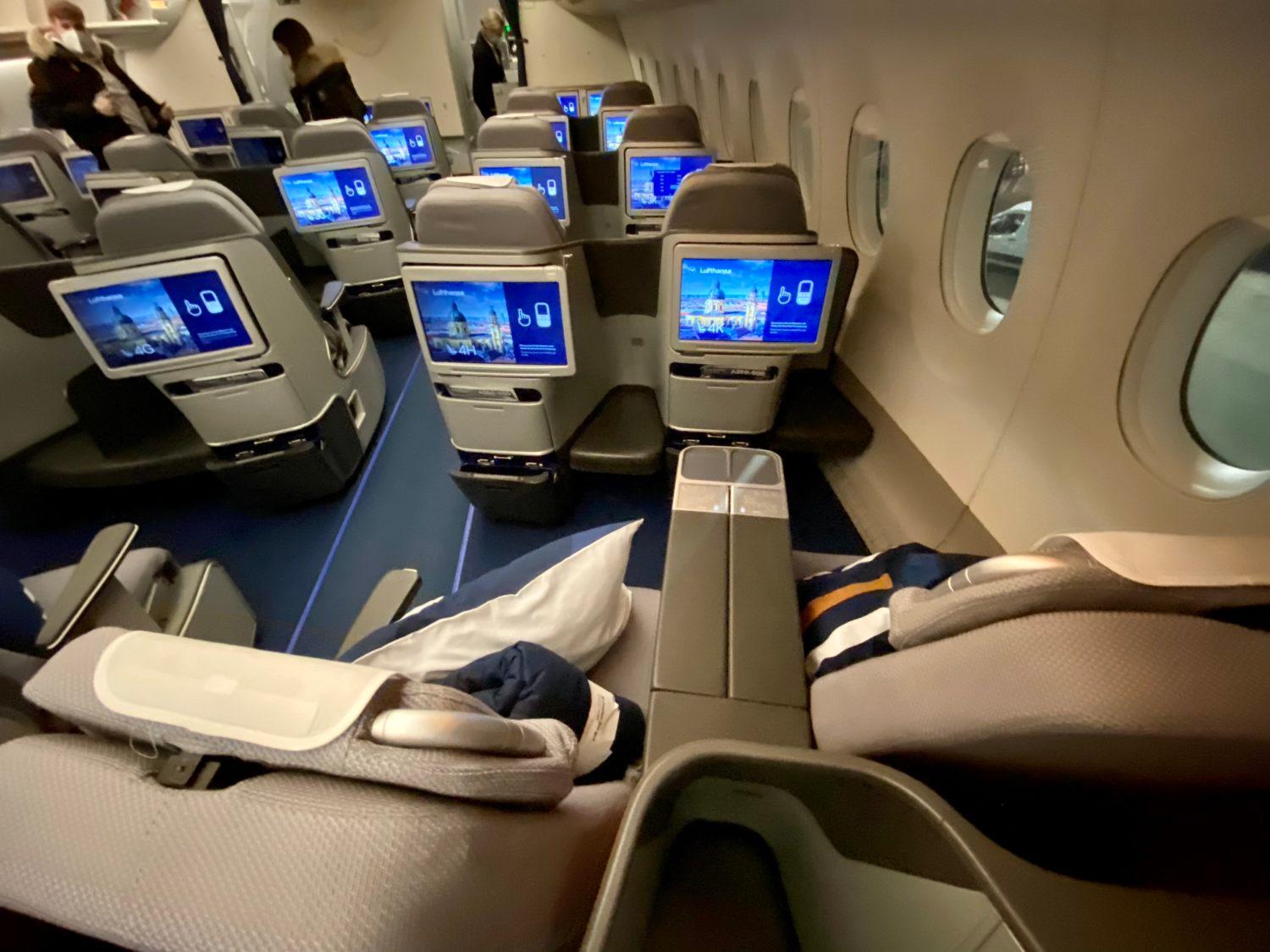 The seats in the center section, meanwhile, are angled toward one another, complete with a shared ottoman with a small divider. The upshot here, of course, is that both passengers can get to the aisle without jumping over a neighbor or asking them to get up.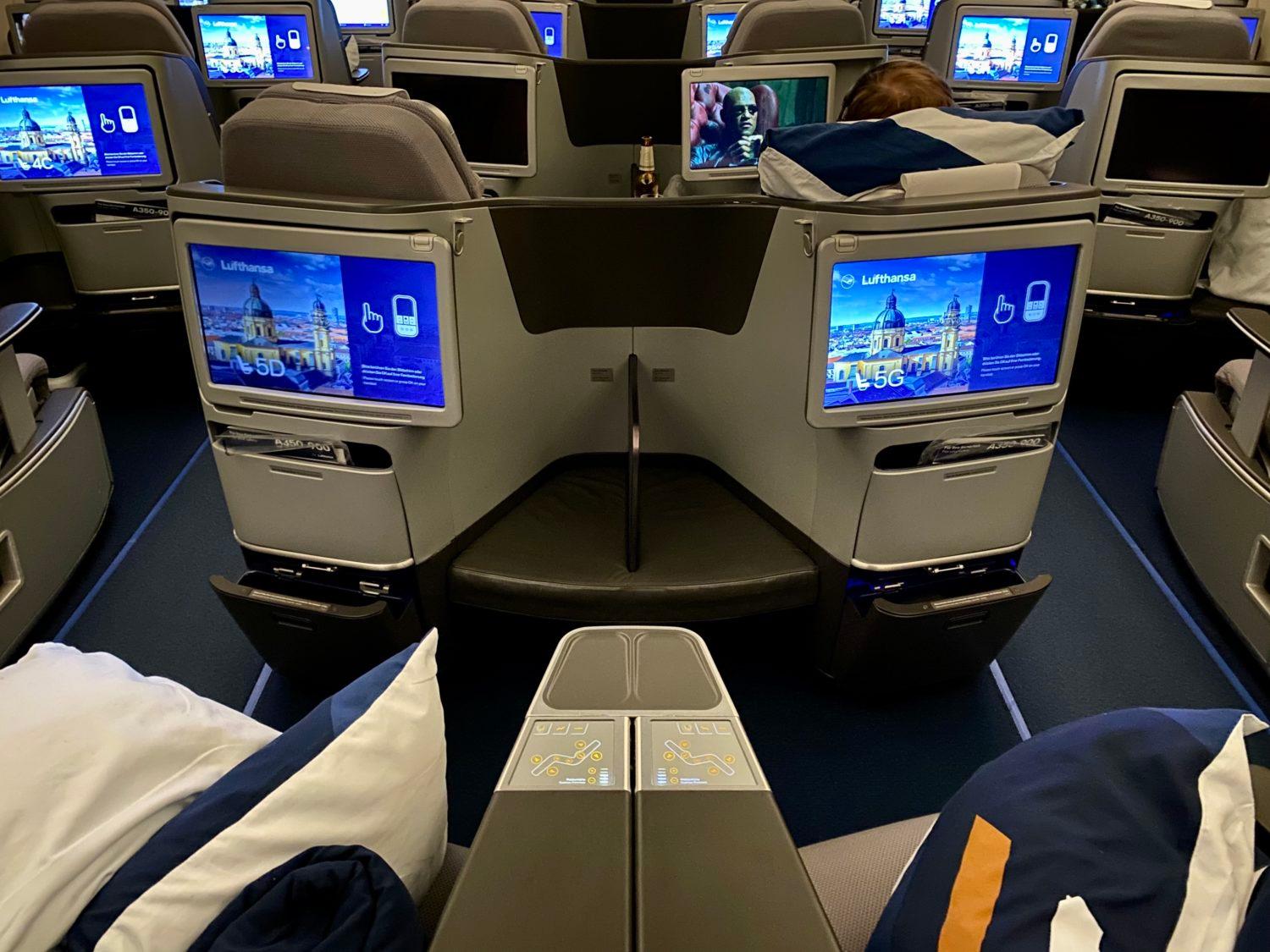 Here's a look back at the cabin as we were deplaning.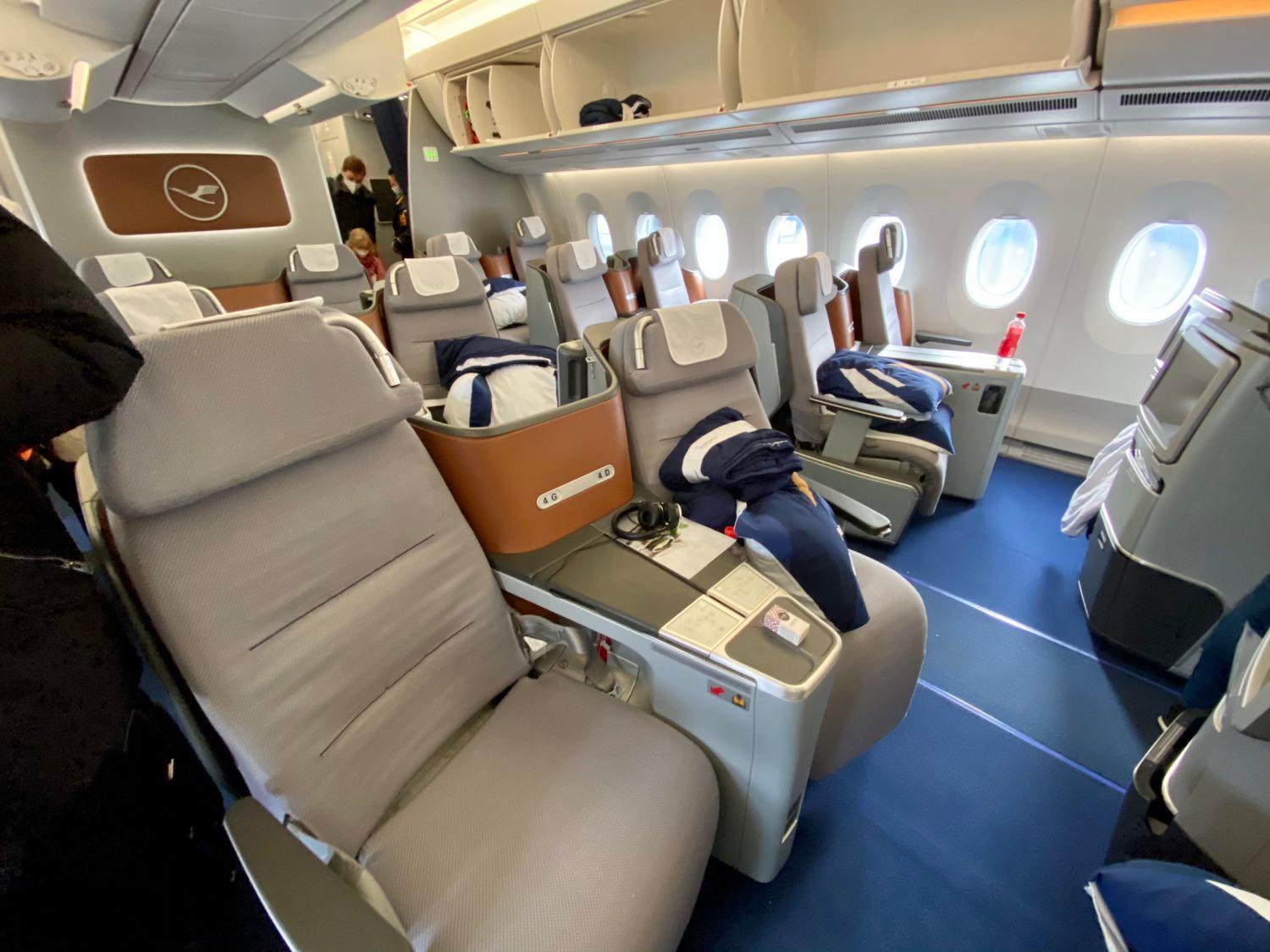 The Lufthansa business class cabin on the A350 has three lavatories total – one at the front of the cabin and in the galley between the forward cabin and rear mini-cabin. Aside from some L'Occitane hand lotion, there was nothing to set these bathrooms apart from any A350 lavatory – though that's not necessarily a bad thing.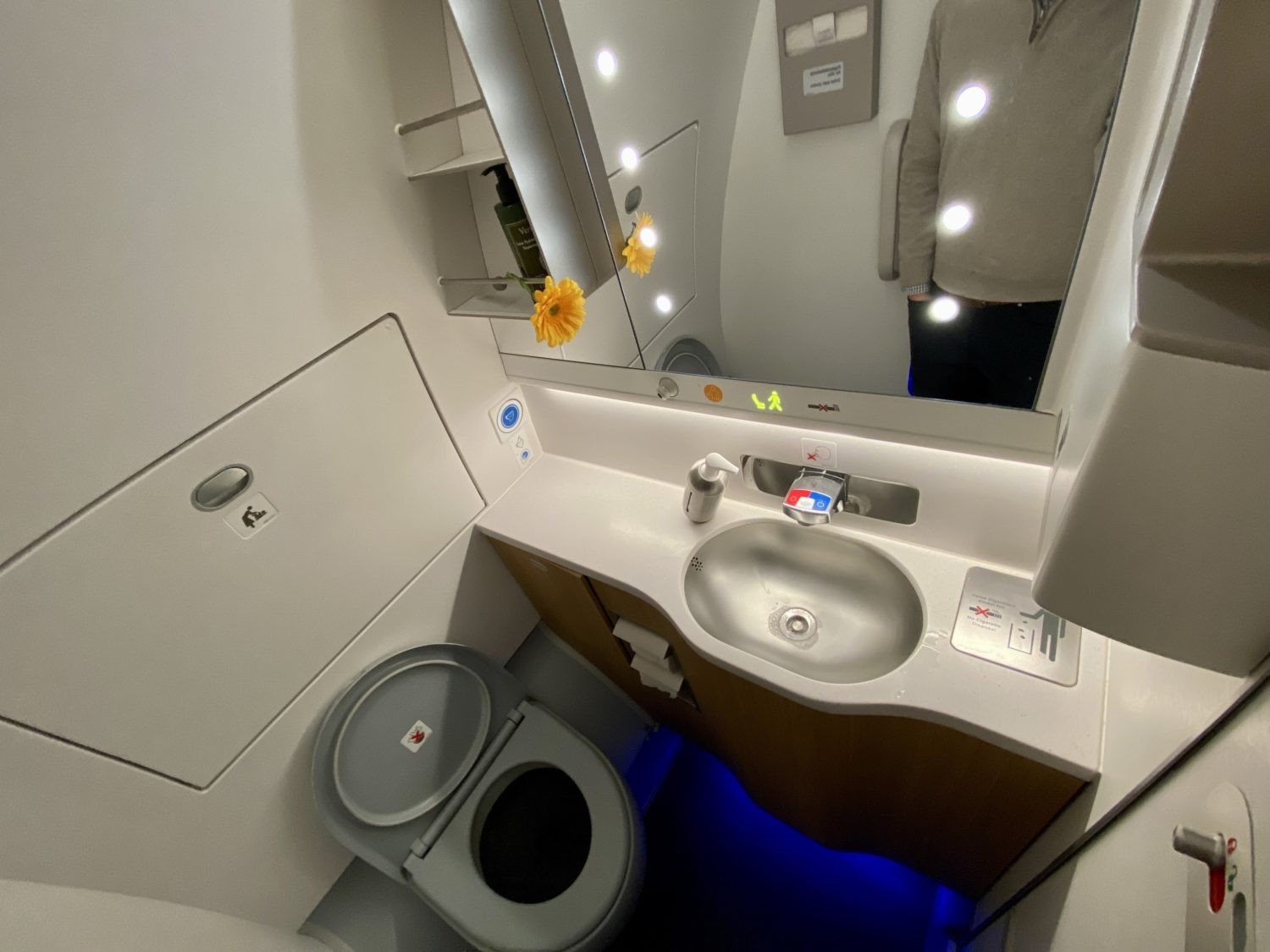 Ultimately, how you feel about your Lufthansa business class flight will probably hinge on how full your flight is – and that's not something you can really control.
If it's fairly empty like mine and you're able to secure an empty seat next to you, it can easily be a great experience. But if that seat next to you is occupied by someone you don't know, it's bound to be a much different story.
The Seat
Lufthansa business class is full of ironies and contradictions. Here's the thing: For as lackluster as the seating arrangement may be, the seat itself is actually quite good!
I sat in seat 5K, a window seat in the second-to-last row of the forward cabin. Thankfully, 5H next to me went out empty.

Perhaps my biggest takeaway was that these seats are incredibly well padded – moreso than most business class seats I've flown, in fact. That makes for a comfortable flight whether you're sitting or laying down. The seats are 20 inches wide, which isn't particularly large … but it never felt too narrow. Of course, the empty seat next to me helped immensely.
It starts with a very nice headrest, which can easily be raised or lowered. You'll see there's a built-in reading lamp here, which can be turned on and off with the press of a button.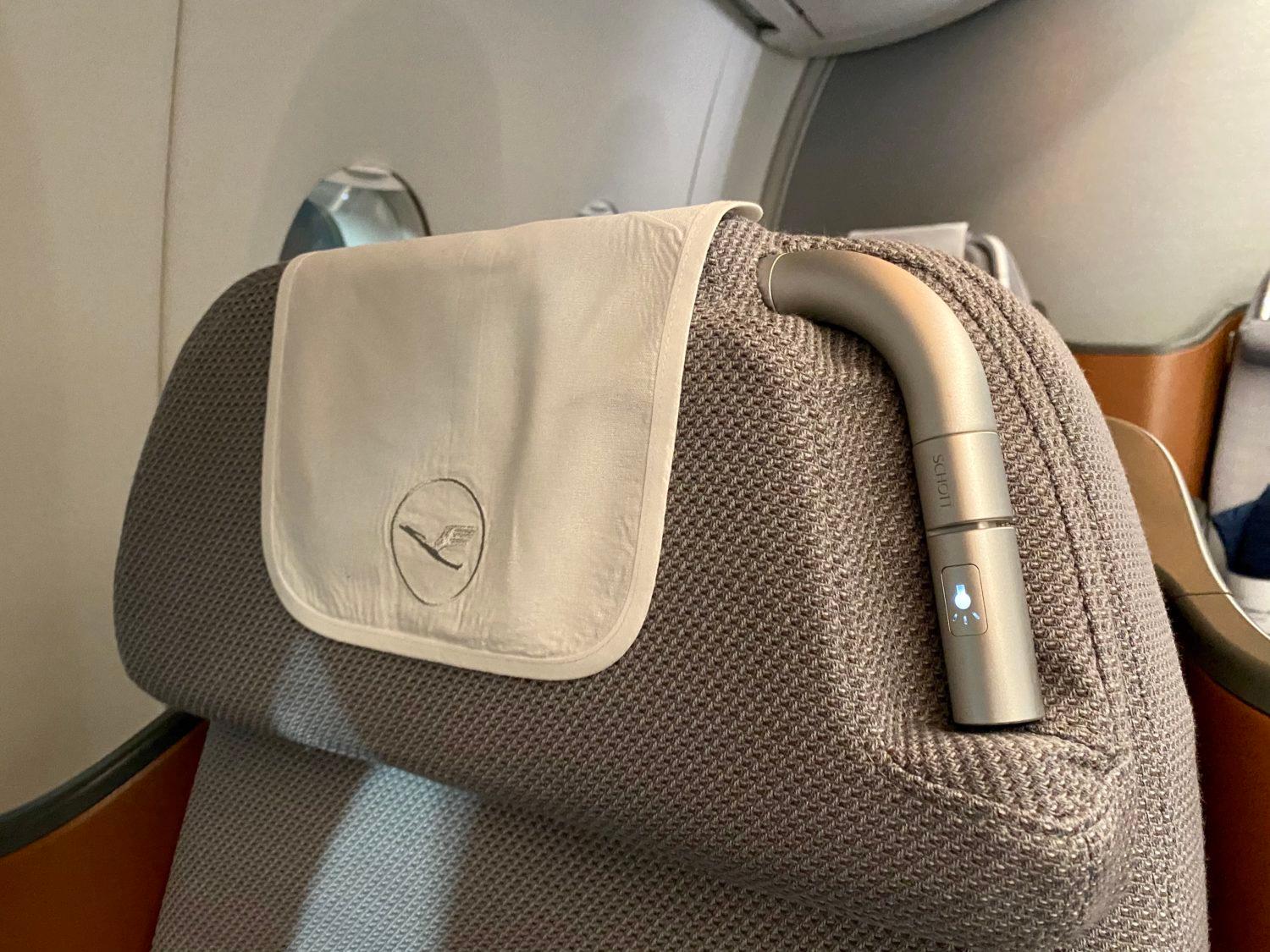 Unfortunately, these seats just don't have much storage. To the side of the seat there's an armrest which can be lowered and raised, revealing a relatively small storage compartment. That's where you'll find the headphones, which are wired in. But beyond that, you can't fit much more than a water bottle.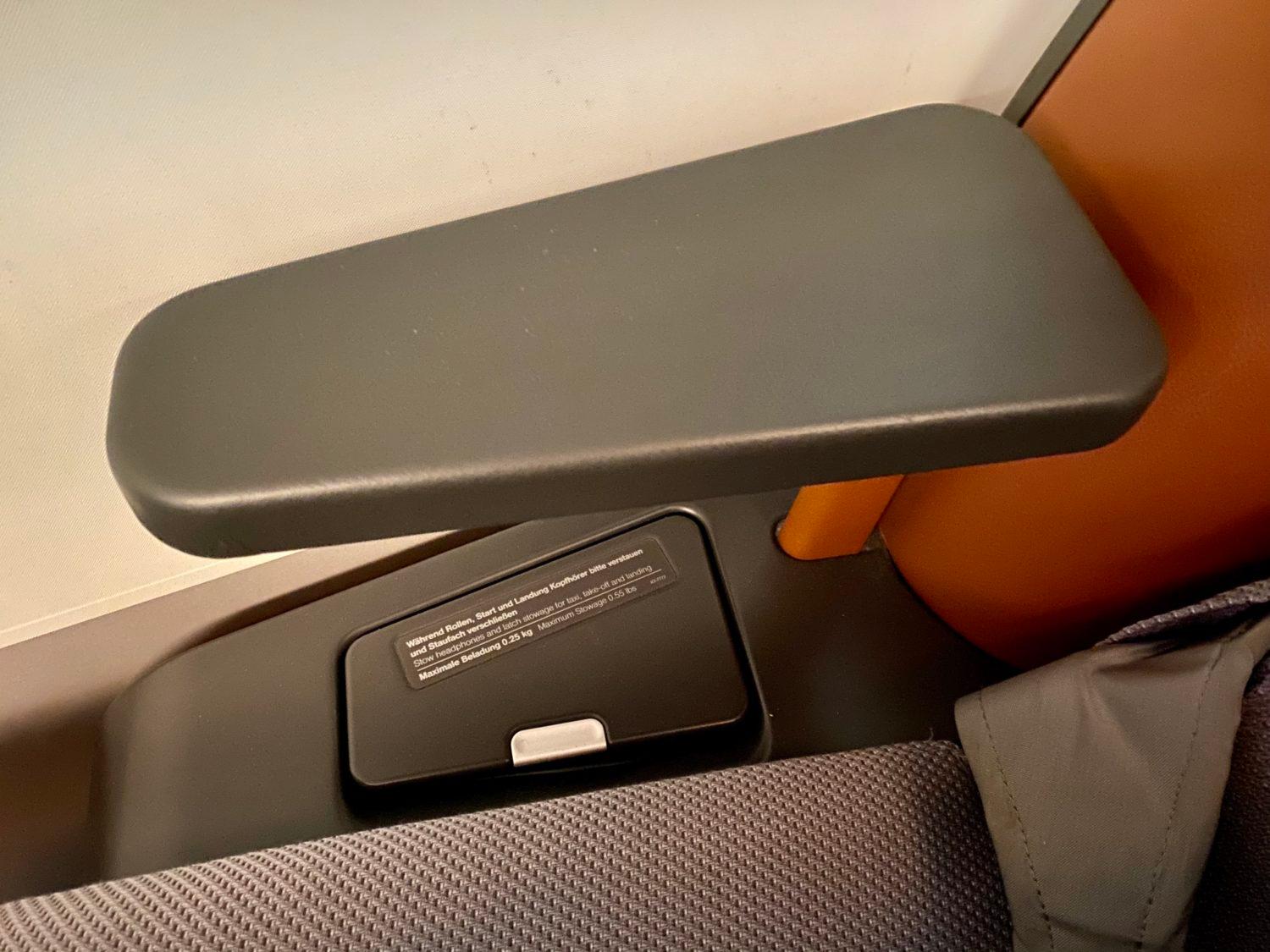 You won't find much storage between the seats, either – though the armrests are at least wide enough that you shouldn't be rubbing elbows with your neighbor. That's where you'll find the seat controls, which are easy enough to operate to lounge or recline all the way back to lie-flat mode.

Lift up a flap in the armrest and you'll find the tray table, which pops out with a firm push and goes back in the same way. That's also where you'll find the wired entertainment remote.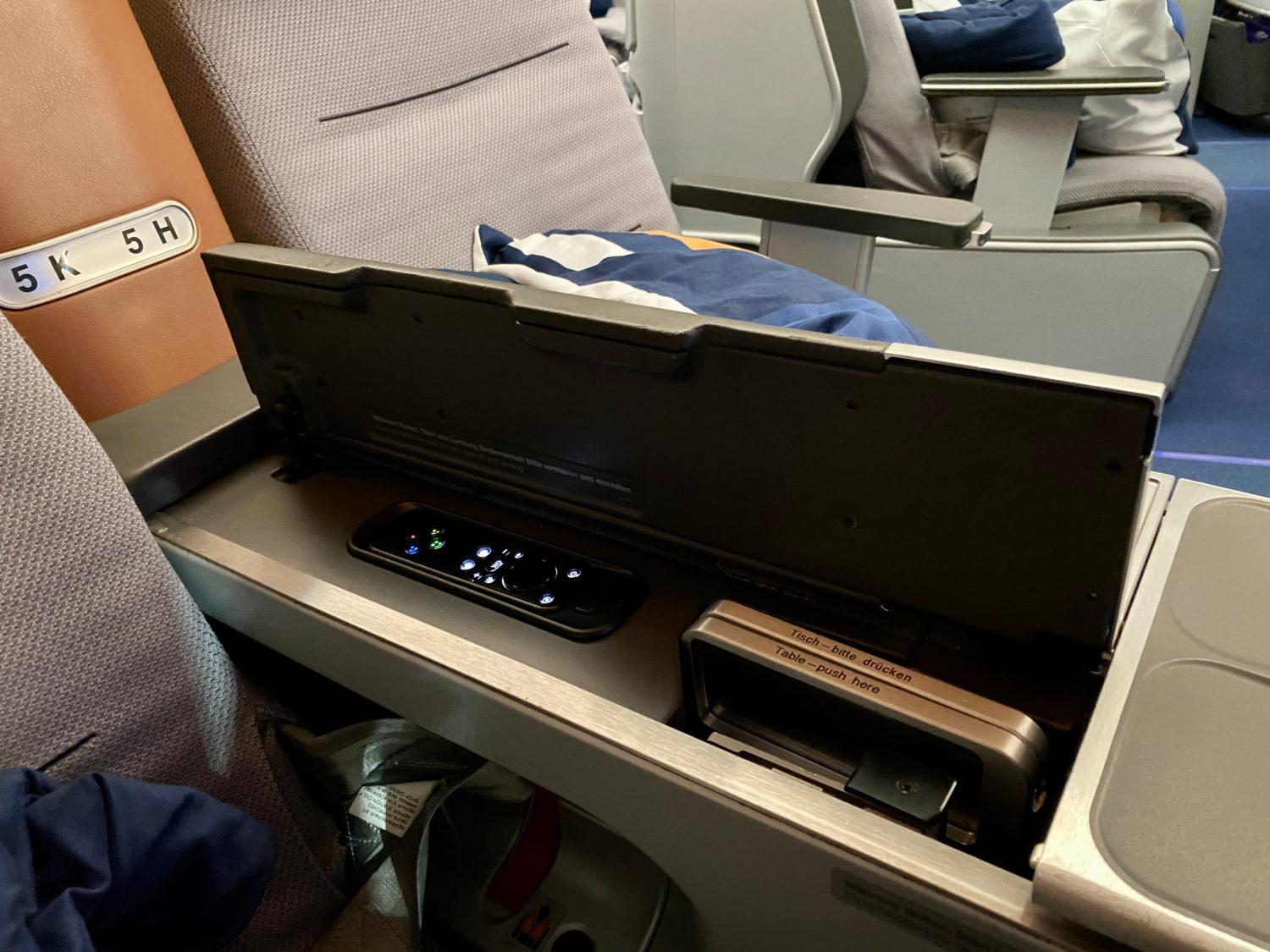 And then in front of the seats in the console, there's a small literature pocket and another small compartment. Mine wouldn't close all the way – something that seems to be a recurring problem for these compartments.

At any rate, they're too thin to be used to store anything more than a few goodies from an amenity kit or a glasses case.

Finally, there's a bit of room underneath the ottoman. But I wouldn't count on storing much more than a pair of shoes here – maybe a purse or very small backpack.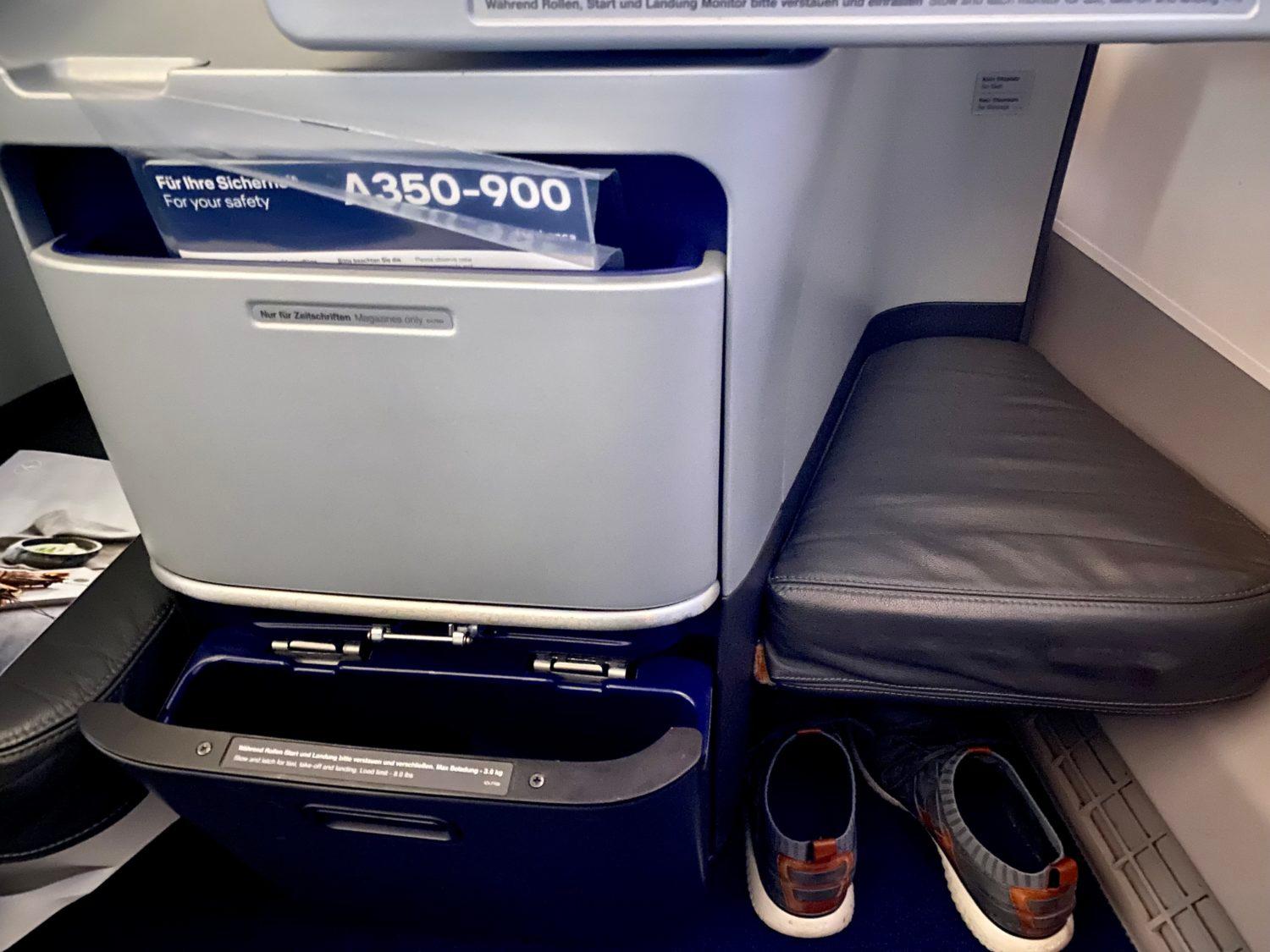 On the plus side, there's plenty of legroom with 78 inches in all. And the exposed design of the seat mean there's no cubby to shove your feet into – just an ottoman, even if it's fairly narrow.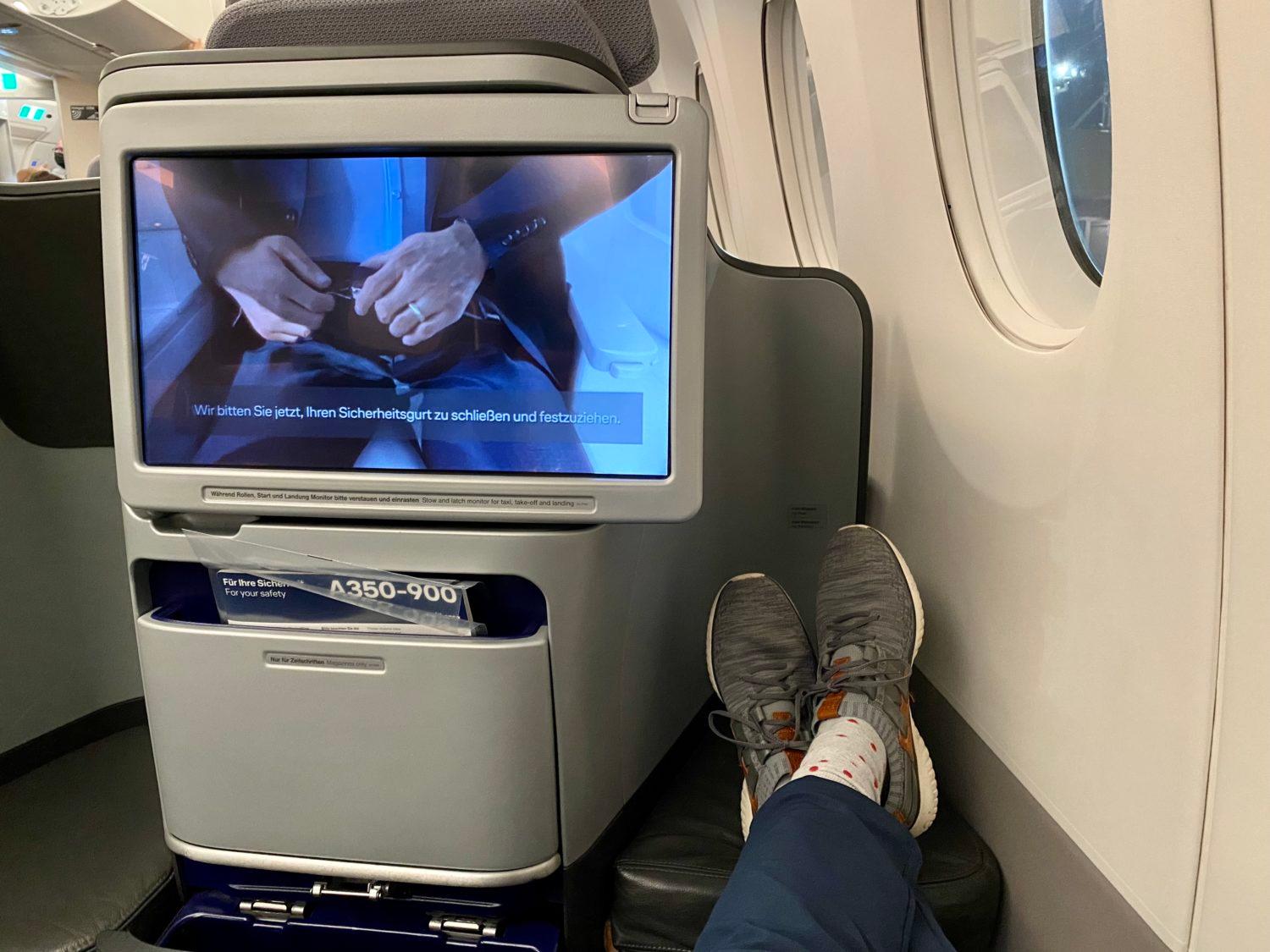 Just above that ottoman you'll find a small-yet-cool feature I haven't seen in many business class seats. Coat hooks are a dime a dozen, but a hook specifically for a pair of glasses? I like it.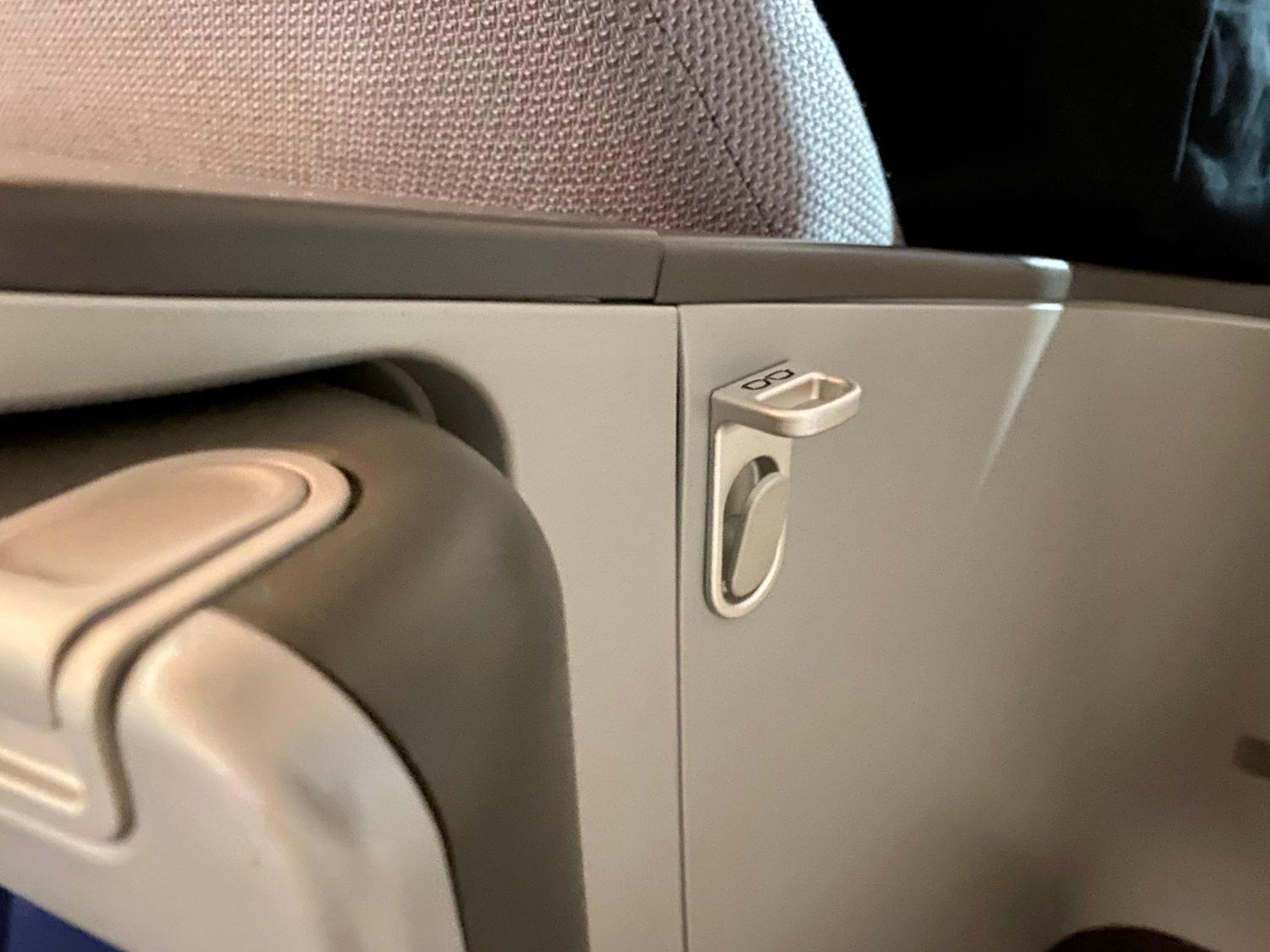 Between the seats near the floor you'll find two universal power outlets. There were also some USB sockets hiding underneath the armrests.

After dinner, I reclined all the way back to bed mode and slept for a solid three hours. For all their faults, these seats are really quite comfortable.
Amenities in Lufthansa Business Class
Unlike up in Lufthansa First Class, doesn't push the envelope when giving business class extra goodies throughout the flight. But they do enough.
For starters, a duvet and pillow were waiting at each seat during boarding.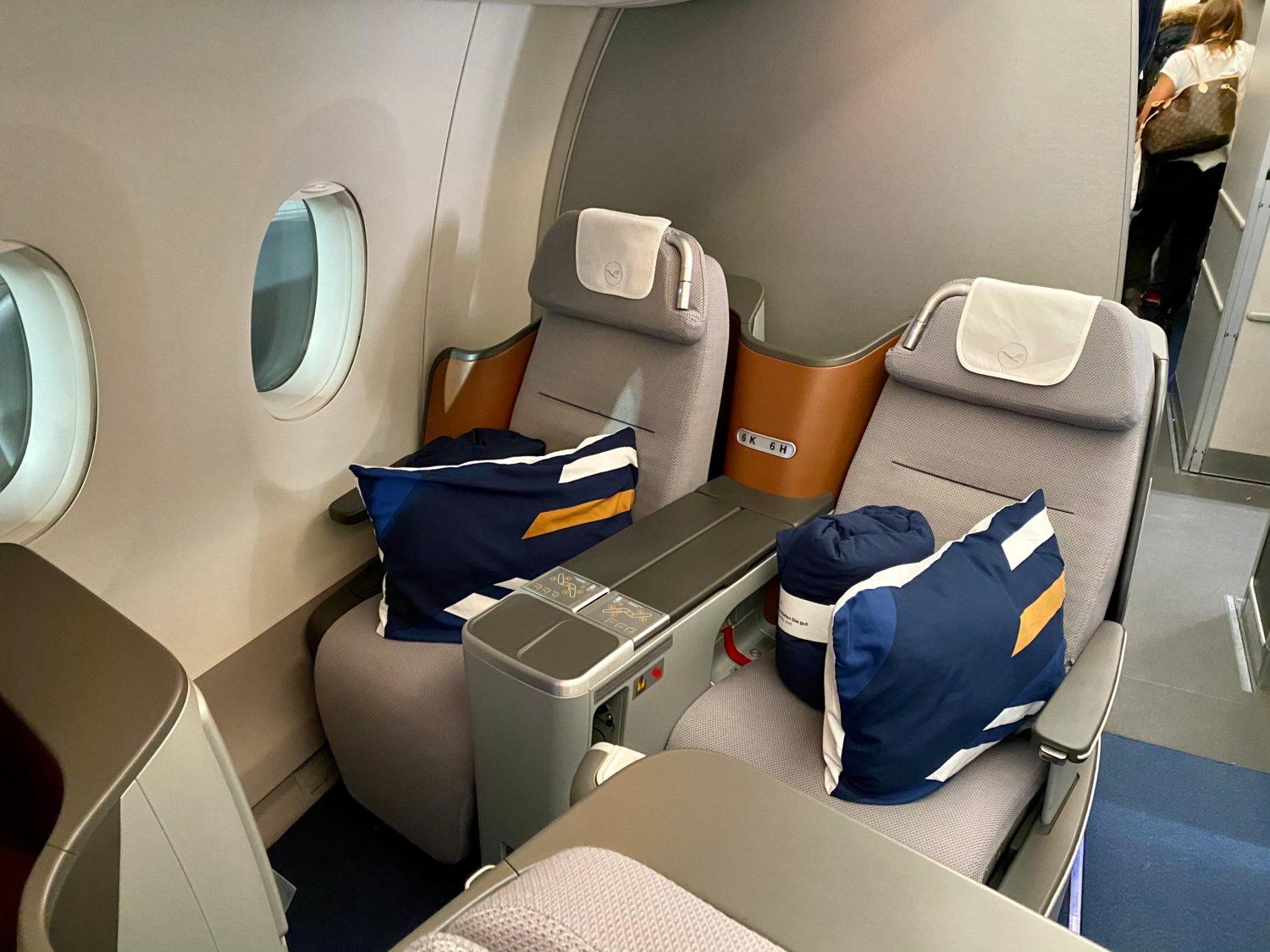 The duvet was right in the Goldilocks zone – not too warm, not too thin. The pillow could have been a bit more substantial, though I was able to grab another from the empty seat to my left.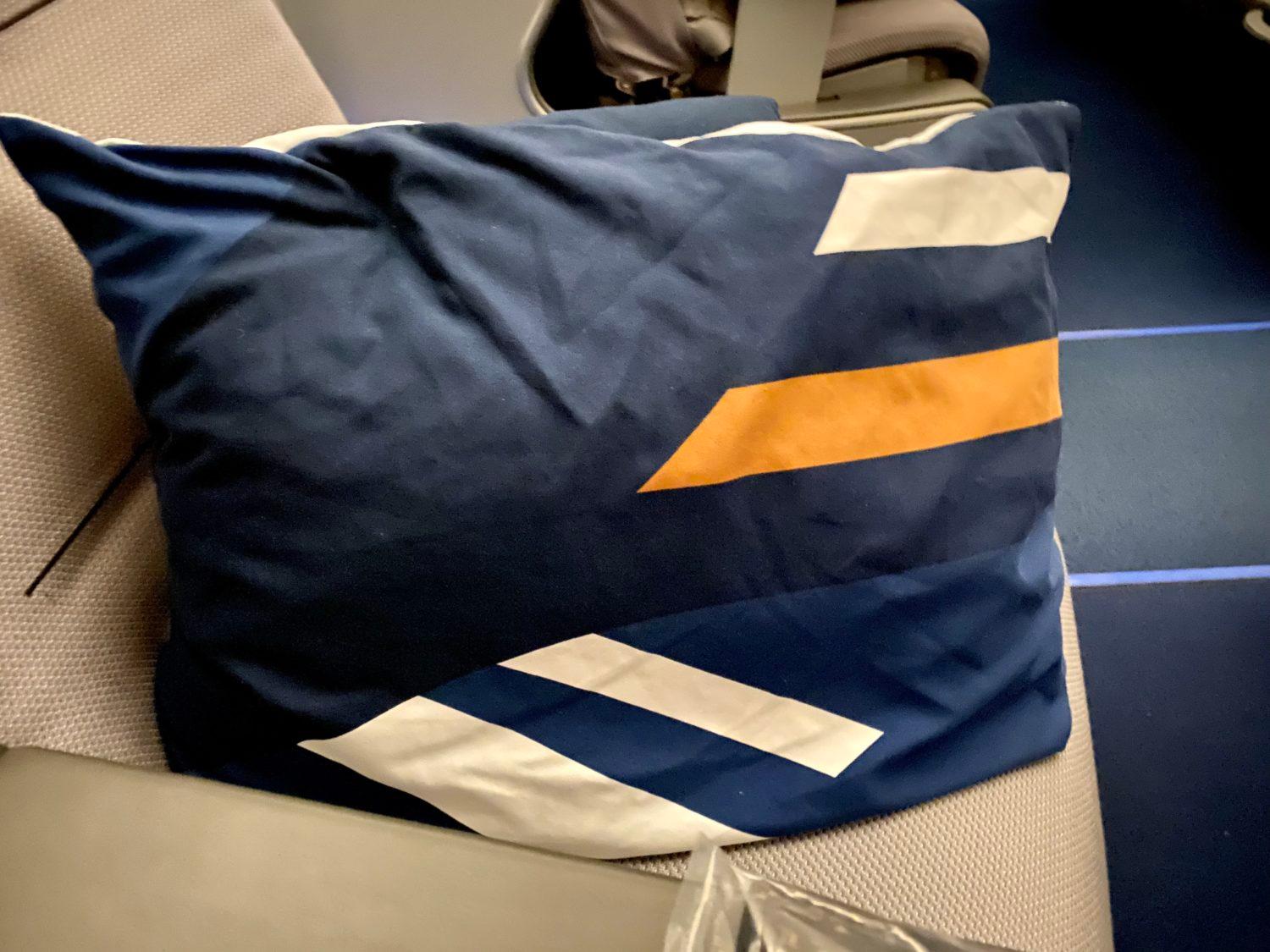 There was also a pair of wired AKG noise-canceling headphones waiting in one of the storage compartments. While they weren't top-of-the-line Bose headphones, they were more comfortable and effective than many headphones you'll get flying business class these days.

There's also a small amenity kit – but unlike the nice luggage-like kits you usually find them in, it was wrapped inside an (admittedly chic) reusable tote bag. The contents were nice though fairly basic: Some socks, an eyemask, toothbrush and toothpaste, ear plugs, and some nice La Prairie toiletries.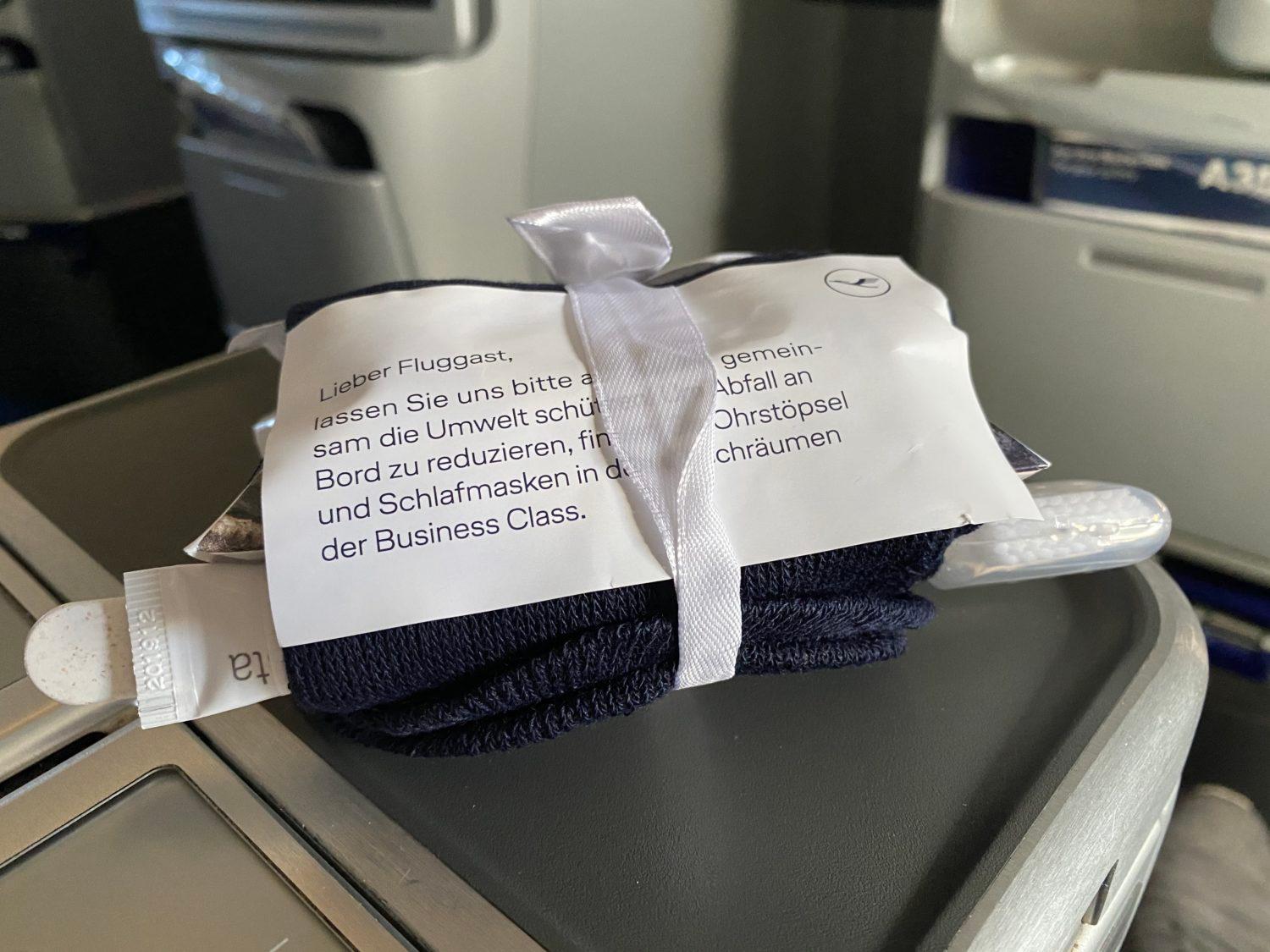 Service and Dining
This was a fairly short overnight flight to Europe, where meals and service are built around getting people fed and put to bed. But the Lufthansa flight attendants working this flight managed to keep things cheery and light while doing things quickly.
Throughout the flight, the flight attendant working my aisle was warm and funny, offering a refill of a glass of wine with a quick joke and a smile or asking if there was anything else he could bring me. Those are the small touches that make service memorable – it's the little things, after all, that separate a great crew from a merely good one.
The food, however, was pretty forgettable.
Service started promptly after takeoff with a small ramekin of mixed nuts and an aperitif – in my case, a glass of champagne, thanks. In business class, Lufthansa serves Duval-Leroy Brut Reserve. I'm no wine snob, but I liked it.

As the flight attendant dropped off drinks, he also took my order for dinner and asked if I'd like to be woken for breakfast or continue sleeping. The menu wasn't expansive by any means – again, transatlantic flights to Europe are all about speed and brevity. I went with the salmon and let him know I'd like to have breakfast before landing.

Dinner was delivered all on one tray, complete with bread and an incredibly crisp salad with flakes of parmesan, artichoke, and roasted peppers. Using packets of Heinz dressing felt a bit … tacky – why not dress up the presentation with a small dish? Nonetheless, it tasted excellent.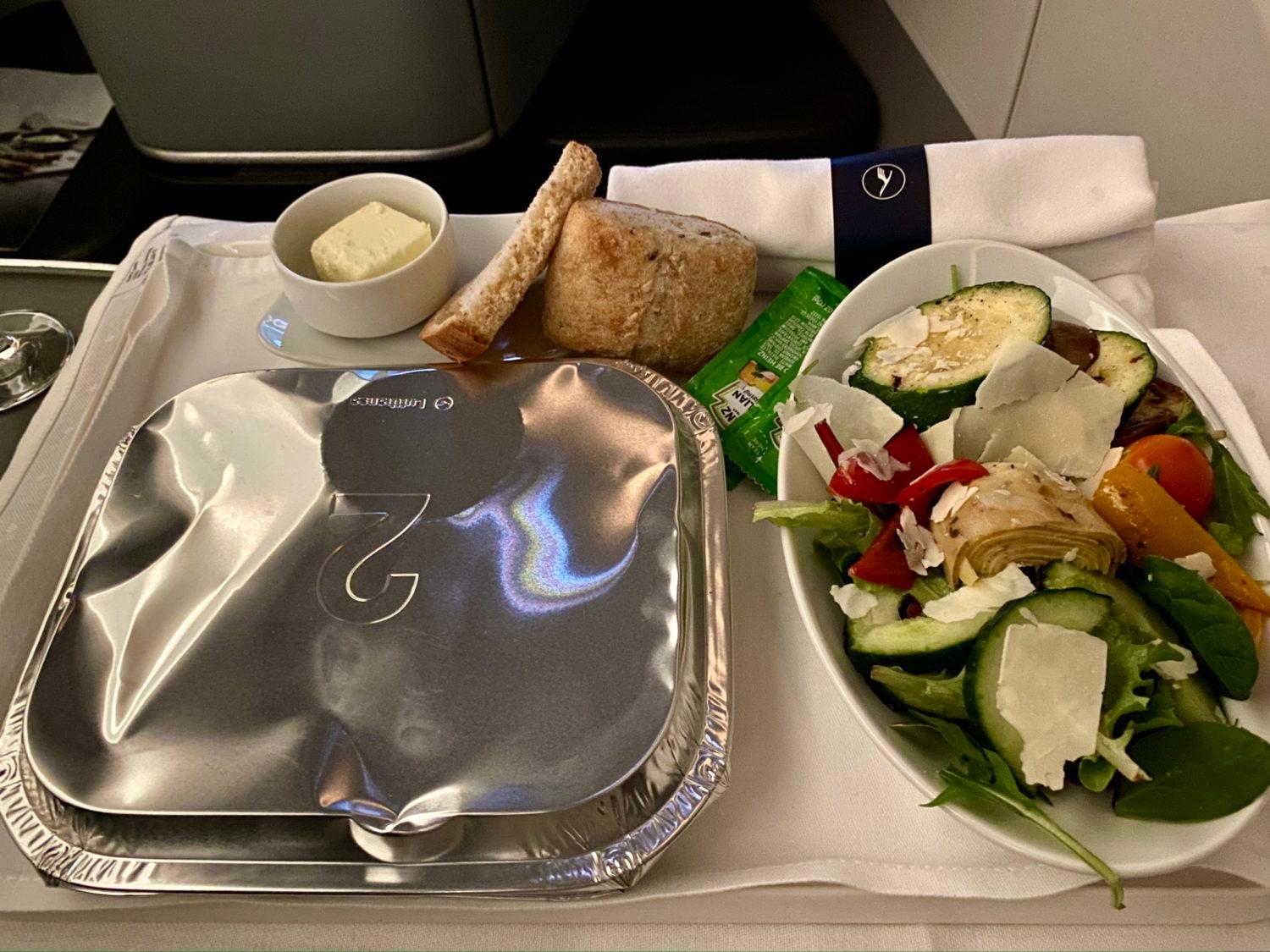 The entree, however, was a bit of a miss. While the salmon looked and smelled great, it was overcooked – the ginger glaze sauce was a necessary savior. The rice was also a bit overcooked and dry. And the vegetables weren't great either.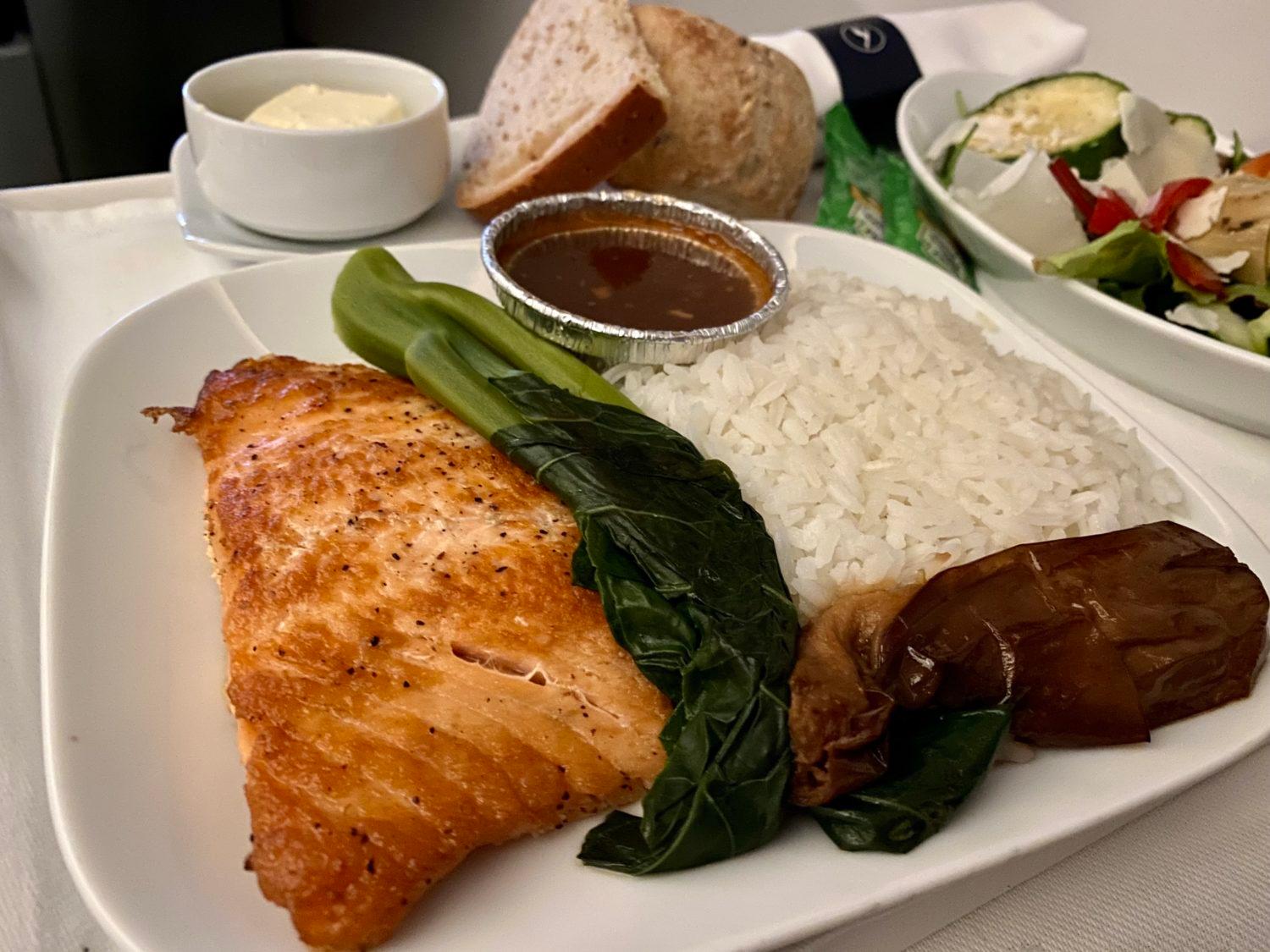 As I wrapped up with the meal, the flight attendant came by and asked if I was interested in dessert. I decided to skip the raspberry pot de creme and just went with a small cheese plate, which was simple but tasty.

After a few hours of sleep, I awoke to the smell of pastries wafting through the cabin. As the flight attendant saw me up, he stopped by to ask if I'd like anything to drink with breakfast – champagne, perhaps? No, coffee and orange juice for me, thank you.
Five or so minutes later, he stopped by with a full breakfast tray. The chia seed pudding was … fine. It was slightly sweet but mostly bland, with just a hint of a flavor of coconut. The side of mixed berries was fresh.

After wrapping up breakfast, I asked for one last cup of coffee. I have to say, I really love Lufthansa's coffee glassware.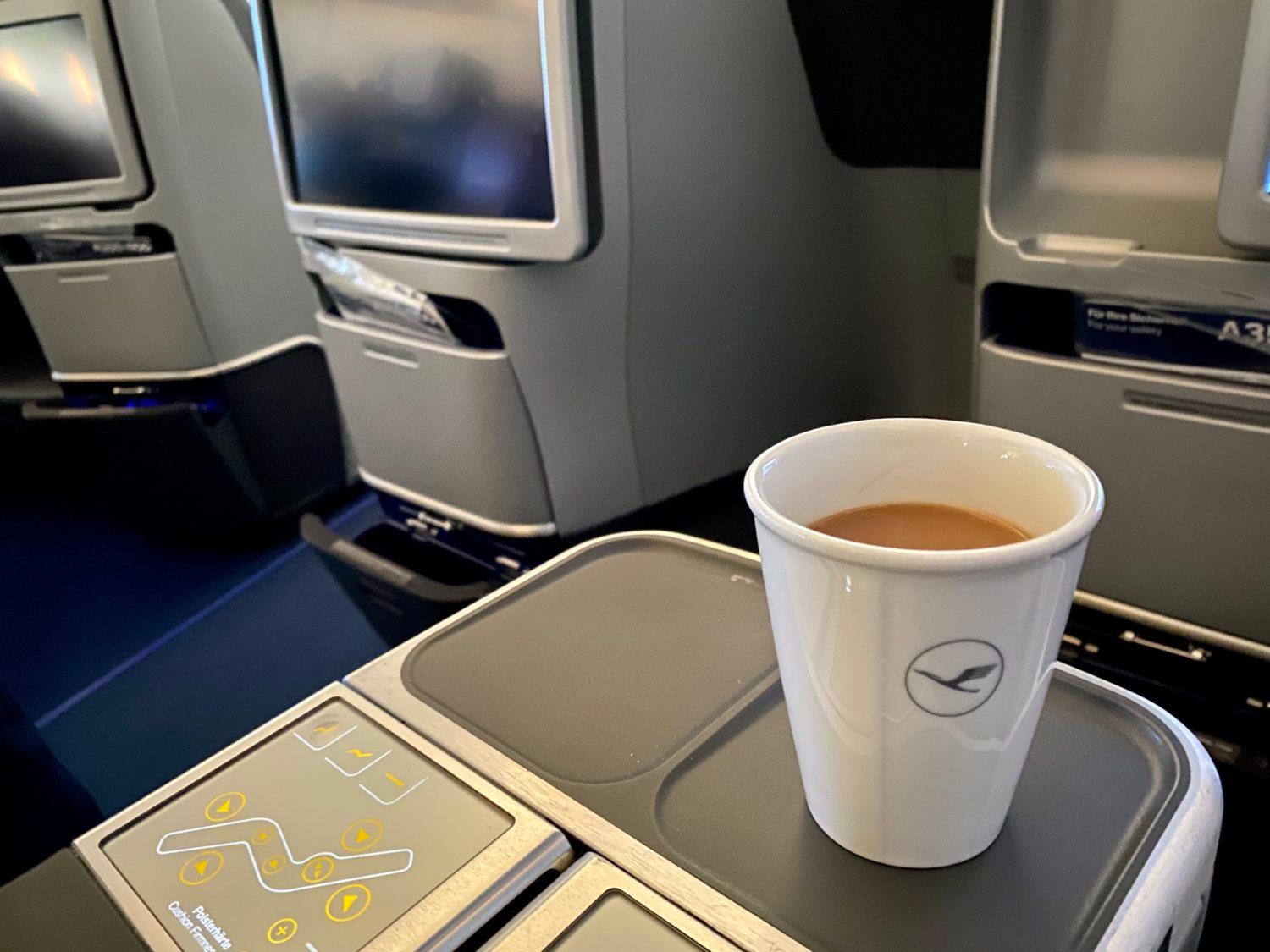 In all, the service was great but the food was forgettable. Was it awful? No, not by any means – I'd gladly eat either of these meals again. But nothing about them stood out, either.
Entertainment
The entertainment onboard Lufthansa business class really shines – at least on these news Airbus A350s.
Every seat is equipped with a large and incredibly crisp monitor – much bigger and nicer than what you'll have in front of you flying Lufthansa first class on the 747, in fact. They're touch screen monitors, which you can also control with the wired remote. A small latch on the top helps pop the monitor out, which makes it a bit easier to watch.

The selection of movies and TV shows was decent but by no means great. It seemed like there were more classic movies than new releases, which might be great for some travelers but seems odd. It's an area where Lufthansa business class could easily improve.

But because this is an Airbus A350, it was also equipped with both a tail camera and a landing gear cam. This view never gets old.

Lufthansa also offers Wi-Fi onboard, with a handful of packages based upon your needs. There's a simple "chat" package available for $8 for the entire flight; a "mail and surf" package with slightly higher speeds for $20; and a "mail and surf plus" with a higher data cap for $34 for the flight. I connected to mail and surf and found the speeds were fast enough.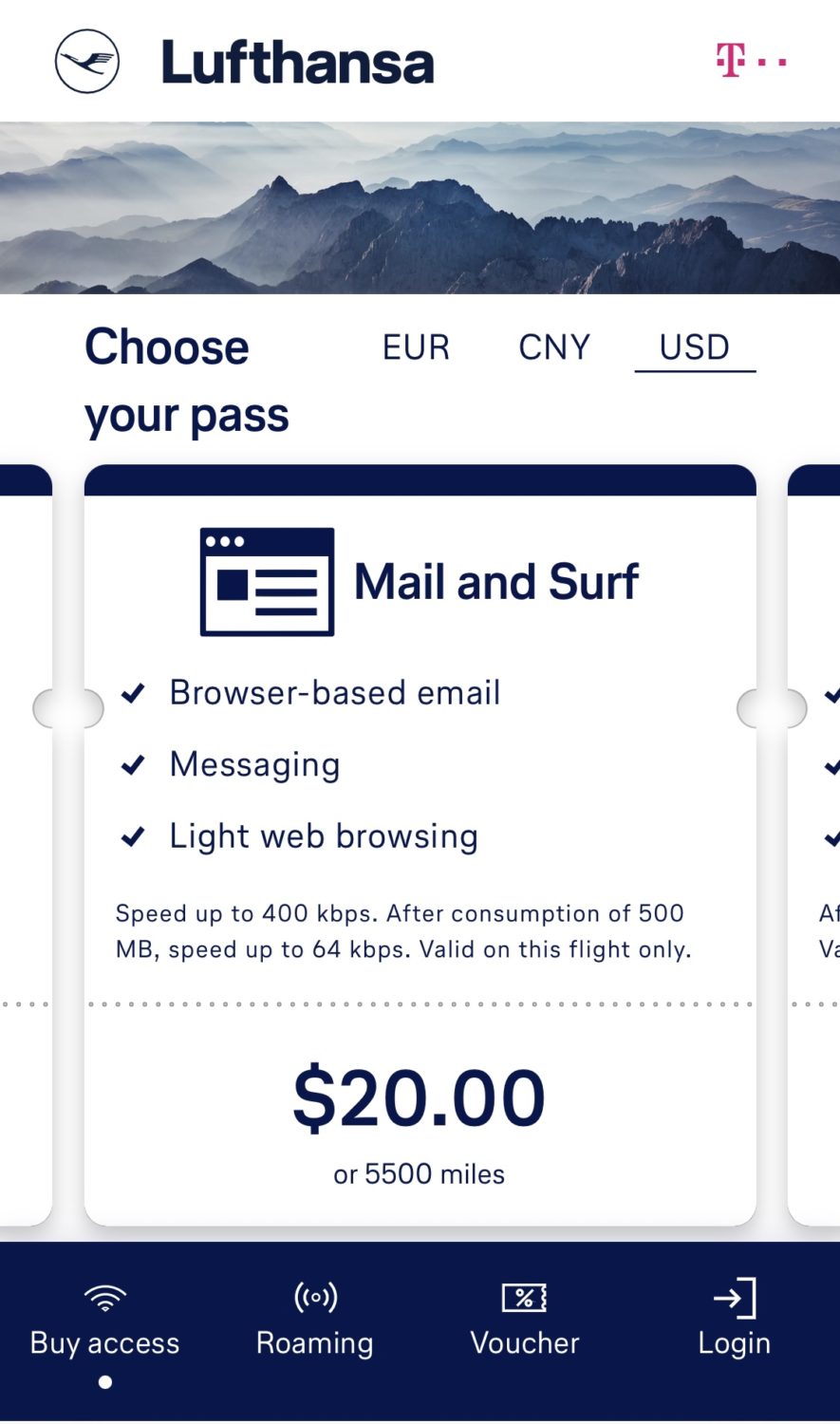 Bottom Line
I'm never going to complain about flying business class. Nothing beats reclining all the way back to a comfortable bed and getting a few hours of sleep on the way to Europe. At the end of the day, everything about this Lufthansa business class flight was fine.
But when you've got choices to use your points and miles, you can – and should – do much better than just fine. For the exact same mileage, you could fly SWISS business class, Turkish Airlines business class, or even United's new Polaris seats and have a much better experience in better, more private seats.
I wouldn't actively avoid Lufthansa, especially if it makes the most sense for a nonstop trip to Germany. But I wouldn't go out of my way to fly it again, either.