There's nothing wrong with flying economy. But if you've ever looked longingly at those business class seats ahead of an overnight flight to Europe, three words could turn an exorbitantly expensive ticket into a reality: Points and miles.
Take it from me: I've gone from writing off business class altogether (those flights cost thousands of dollars!) to taking my first lie-flat flight to Lisbon (LIS), took a honeymoon to Africa with my wife flying some of the world's best business class seats, and soon we're flying the classy SWISS business class for a summer trip in Croatia.
Along with a decent stash of credit card points, many of these deals were possible thanks to Thrifty Traveler Premium+, which alerts members (and Thrifty Traveler employees…) when award space is open to snag these lie-flat seats with miles – and the best ways to book for even fewer points. And our Thrifty Traveler Premium+ members have been treated to some amazing opportunities to book business class seats to Europe this summer.
Here are the best business class deals to Europe we've sent to our subscribers just in the last few weeks for a trip across the pond this summer.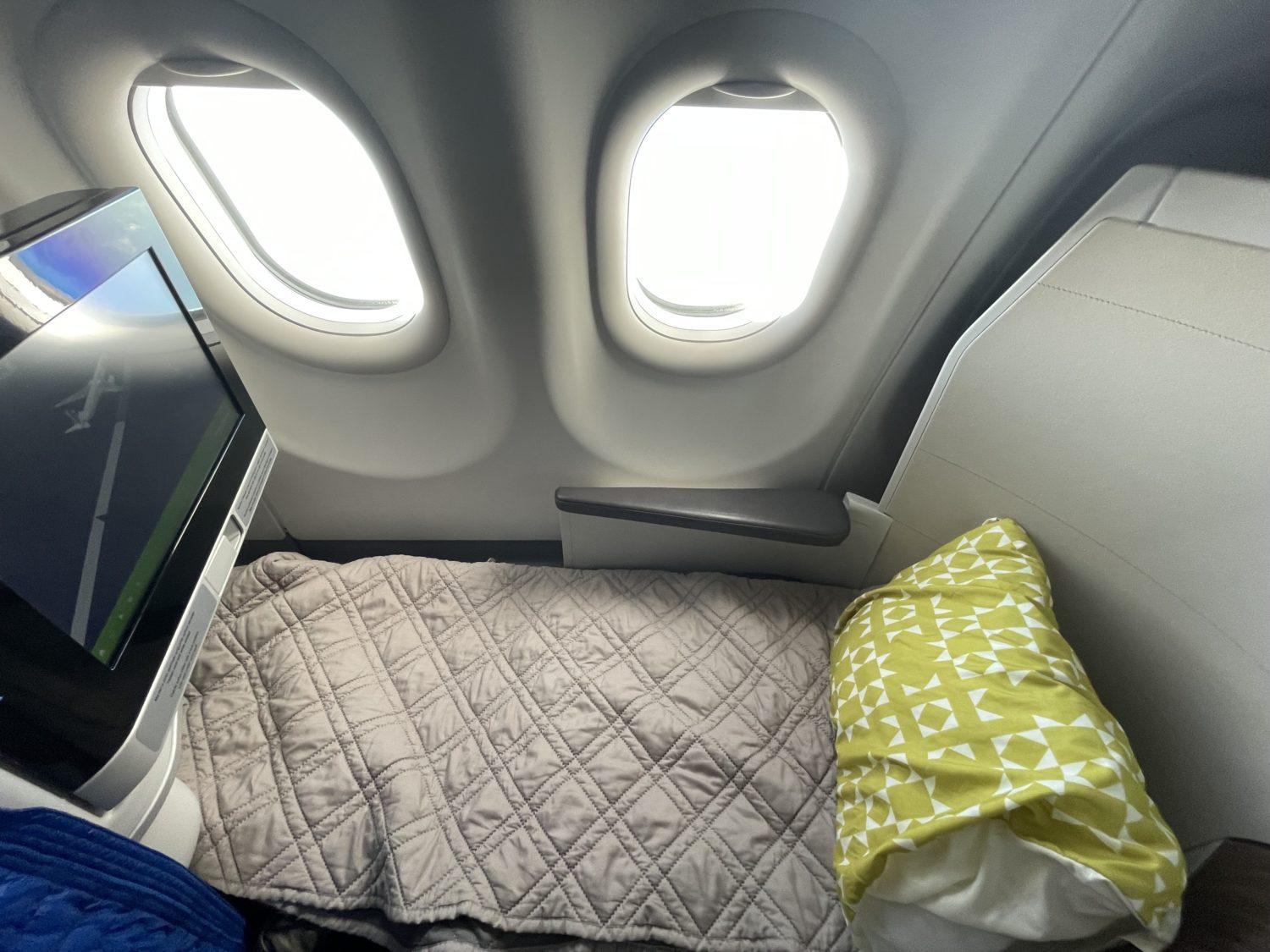 Start getting business class deals straight to your inbox with Thrifty Traveler Premium+!

TAP Air Portugal Biz Class for 55K Points
We'll start with TAP Air Portugal business class, the first time I saw the light that this was possible.

This business class award space for a trip this summer is gone now – get the next alert with Thrifty Traveler Premium+!
We alerted Thrifty Traveler Premium+ earlier this month to some wide-open award space bookable with miles from ANA Mileage Club, Avianca LifeMiles, Air Canada Aeroplan, or United MileagePlus.
You could book these nonstop routes to Lisbon (LIS) from Miami (MIA) and Washington, D.C. (IAD) for as little as 63,000 miles each way – or just 88,000 points roundtrip. And not just for a trip over the fall or winter, but peak summer availability in July and August! And for four or more travelers, too.
Every Thrifty Traveler Premium+ alert includes in-depth booking instructions and advice on the best ways to book for fewer points.

Aer Lingus Business Class to Ireland
If a visit to the Emerald Isle is what you seek, a lie-flat seat on nonstop flights to Dublin (DUB) is the comfiest way to do it.
Luckily, Aer Lingus business class on Ireland's flag carrier is great. Best of all, this recent Thrifty Traveler Premium+ deal could get you to Ireland this summer in business class from Hartford (BDL), Philadelphia (PHL), Seattle (SEA), and Washington, D.C.-Dulles (IAD), too – for just 60,000 miles each way!

Get points deals or deeply discounted business class fares like this one with Thrifty Traveler Premium+! 
With a stash of Alaska miles, Aer Lingus Avios miles, or United miles, (or any credit card points that transfer to any of these airline mileage programs), these 60,000-point fares were at your fingertips.
Lie-Flat Seats to Belgium (Including Summer!)
If you're anything like me, a Brussels Airlines business class flight wasn't really on my radar for crossing the Atlantic this year or next. But this recent deal changed things.

Brussels Airlines has a beautiful-looking business class that would be a more-than-comfortable way to get to Europe and start a multi-city trip across the continent this year or next. And this flight deal included tons of peak summer availability from Washington, D.C.-Dulles (IAD).
At just 60,000 points one-way, this is a really cheap way to fly lie-flat over the Atlantic, too – especially over the summer.

This flight would cost at least $3,000 for peak summer travel if you paid cash, so this is an amazing use of points and miles for our Thrifty Traveler Premium+subscribers.
Three Different Business Classes to England
United, Delta, and … Singapore Airlines? You read that right. Bear with me.
When it comes to business class flights to London (LHR, LGW), competition is steep because everyone wants to fly in those seats on those routes. But we search those routes every day for our members to make sure they can book those seats as soon as they become available.
That includes Delta's business class: Delta One. And we recently found an unbelievable gem to get you to London this summer in Delta business class.

These seats all got booked! Get the next deal in your inbox with Thrifty Traveler Premium+!
That's right, you could book these Delta One seats across the pond this summer for 54,000 points each way – not using Delta SkyMiles, but Air France/KLM's Flying Blue program. Just 54,000 points could have saved you from spending $3,000 (or 500,000 Delta SkyMiles) on these seats.
If you're more of a United person, we've got you there, too.

We sent Thrifty Traveler Premium+ members this alert just a few weeks ago. Finding any award availability to Europe in business class this summer is a chore, so this option from Boston (BOS) really stood out. Best of all, it was bookable as low as 60,000 miles each way!
OK. I said Singapore above. Here's what that's all about.
Singapore Airlines runs a funky fifth-freedom route between Houston-Intercontinental (IAH) and Manchester (MAN) in the U.K., even though that flight goes nowhere near Singapore. Trust us: It's one of the best ways to get to England.
And thanks to this recent Thrifty Traveler Premium+ alert, that's exactly what our members are doing this summer for just 81,000 miles each way.

Business Class to Europe from Canada
You don't have to live in the U.S. or even have any points and miles to fly some of the nicest lie-flat seats across the Atlantic this year or next, either.
We search for flight deals from more than a dozen Canadian airports every single day for our subscribers up north, and we were ecstatic to dig up these beauties!

Thrifty Traveler Premium+ members get points and miles deals AND deeply discounted business class fares like this one!
These fares, bookable with Delta, were all flying Air France or KLM's business class seats to Europe. Whether you want to fly to Florence (FLR) for $1,600 from Ottawa (YOW) or you want to fly all the way from Calgary (YYC) or Edmonton (YEG) to Europe for under $2,399 roundtrip, you could have found it with this deal.

These are exceptional rates for roundtrip business class fares to Europe, and the deal included peak summer availability, too! That lowest fare from Ottawa to Italy was in July!
We never find July business class flight deals, so this one sent our heads spinning and sent our subscribers in Canada's capital to Italy in peak summer. Amazing!
Bottom Line
If you've promised yourself you'd look into booking a lie-flat seat to Europe, we're here to tell you that your goal is well within reach if you know where to look.
With a Thrifty Traveler Premium+ subscription, you can have flight deals like these sent straight to your inbox the minute we find them, and you can spend less time looking for business class deals and more time traveling in style to the European destination of your dreams.