There's nothing wrong with flying economy, but when you were standing in the passport line after a sleepless night in row 42, you promised yourself you'd look into a lie-flat seat next time, remember? And while you might not have $2,000 to $6,000 laying around to book one of these coveted business class seats, you might have a stash of the three best words in travel: Points and miles. 
Take it from me: I've gone from writing off business class altogether (those flights cost thousands of dollars!) to taking my first lie-flat flight to Lisbon (LIS), booking a honeymoon to Africa with my wife flying some of the world's best business class seats, flying the classy SWISS business class and booking some last-minute United Polaris business class award space flying to Frankfurt, too.
Along with a decent stash of credit card points, many of these deals were possible thanks to Thrifty Traveler Premium, which alerts members (and Thrifty Traveler employees…) when award space is open to snag these lie-flat seats with miles – and the best ways to book for even fewer points. And our Thrifty Traveler Premium+ members have been treated to some amazing opportunities to book business class seats to Europe this year and next.
Here are the best business class deals to Europe we've sent to our subscribers just in the last few weeks for a trip across the pond this summer.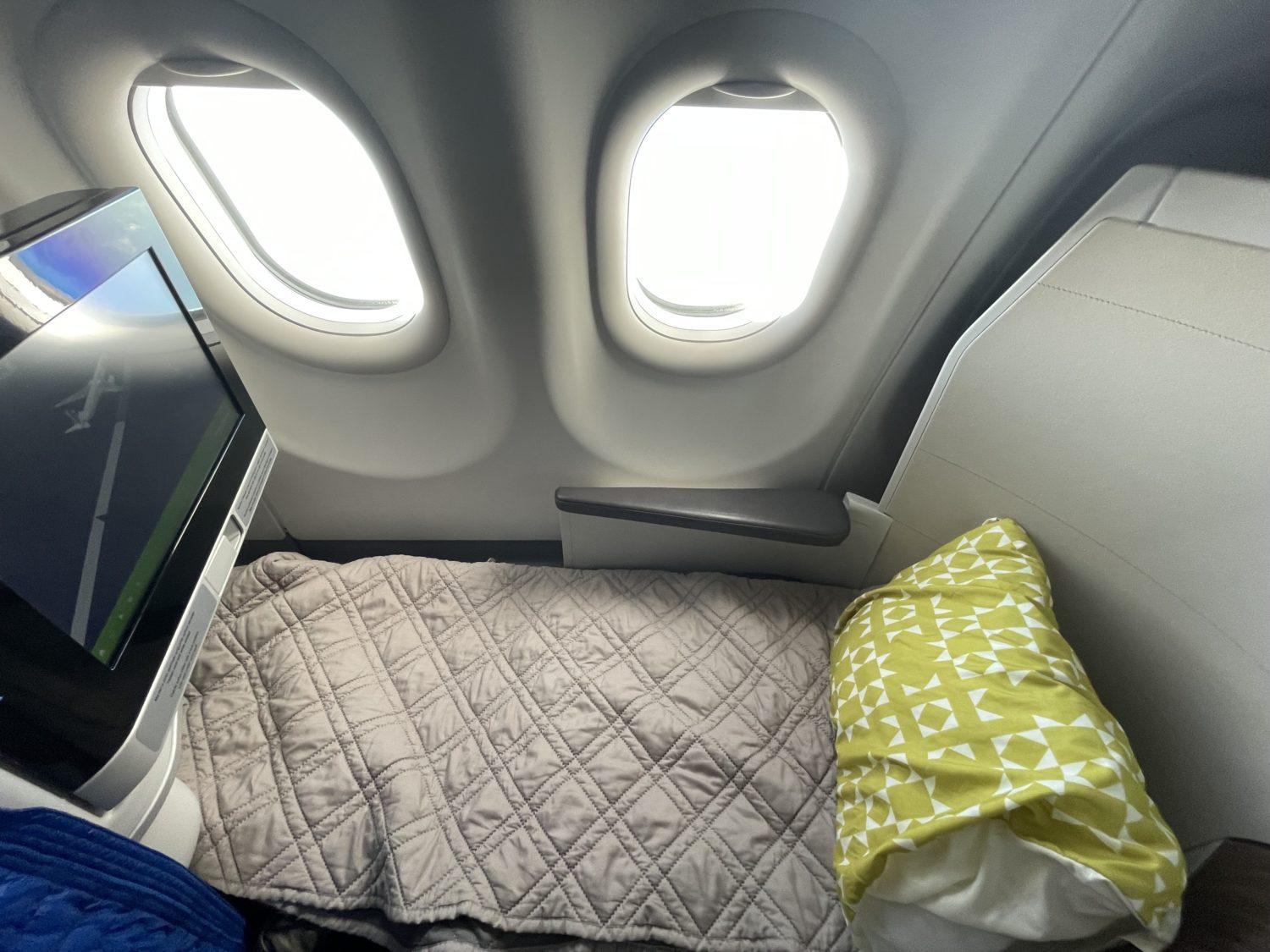 Attention, Thrifty Traveler Premium (or Premium+) members: You've likely already received these deals! If not, you might want to log into your Premium account and adjust your departure airport settings – or select "All Cities" to see every deal!
TAP Air Portugal Biz Class for 55K Points
We'll start with TAP Air Portugal business class. A TAP Air Portugal business class flight deal was the first time I saw the light!
This business class award space is gone now – get the next alert with Thrifty Traveler Premium!
We alerted Thrifty Traveler Premium members a few months ago to this wide-open award space bookable with miles from ANA Mileage Club, Avianca LifeMiles, Air Canada Aeroplan, or United MileagePlus.
You could book these nonstop routes to Lisbon (LIS) from Miami (MIA) and Washington, D.C. (IAD) for as little as 63,000 miles each way – or just 88,000 points roundtrip. And not just for a trip over the fall or winter, but peak summer availability in July and August! And for four or more travelers, too.
Every Thrifty Traveler Premium alert includes in-depth booking instructions and advice on the best ways to book for fewer points.
Aer Lingus Business Class to Ireland
If a visit to the Emerald Isle is what you seek, a lie-flat seat on nonstop flights to Dublin (DUB) is the comfiest way to do it.
Luckily, Aer Lingus business class on Ireland's flag carrier is great. Best of all, this recent Thrifty Traveler Premium deal could get you to Ireland for just 50,000-63,000 miles each way! And with a 30% transfer bonus from Chase that was running at the time, you could book it with just 39,000 Chase Ultimate Rewards that transferred to 50,000 Aer Lingus Avios. Pretty amazing!
Get points deals or deeply discounted business class fares like this one with Thrifty Traveler Premium! 
With a stash of Alaska miles, Aer Lingus Avios miles, or United miles, (or any credit card points that transfer to any of these airline mileage programs), these 50,000-point fares were at your fingertips.
Virgin and British Airways Business Classes to England
When it comes to business class flights to London (LHR, LGW), competition is steep because everyone wants to fly in those seats on those routes. But we search those routes every day for our members to make sure they can book those seats as soon as they become available.
And there's little that's more British than…well, British Airways.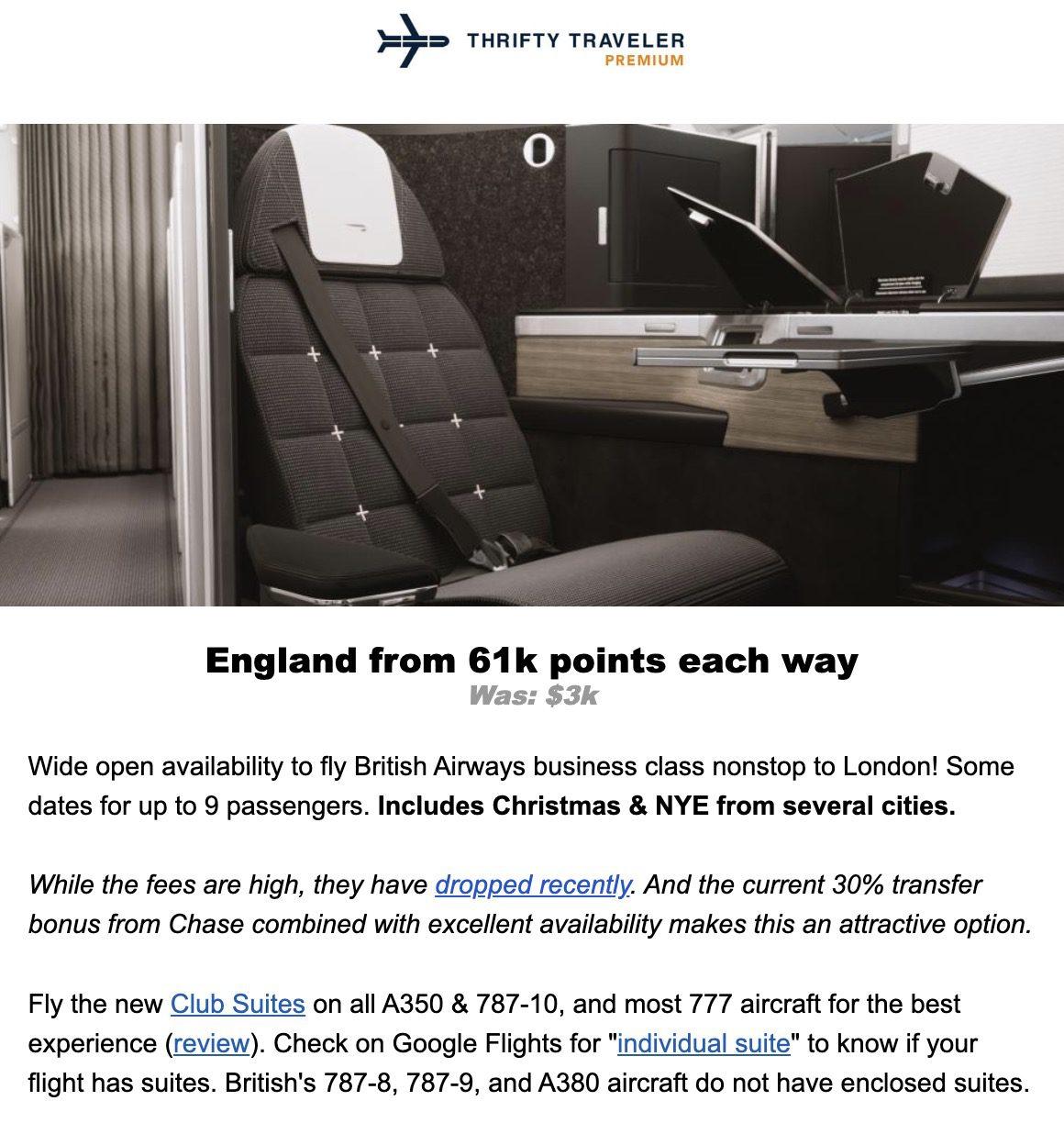 These seats all got booked! Get the next deal in your inbox with Thrifty Traveler Premium+!
The best part about flying British Airways is how incredibly well-connected the carrier is all over the U.S. Just look at how many nonstop flights B.A. operates between London-Heathrow (LHR) and the U.S.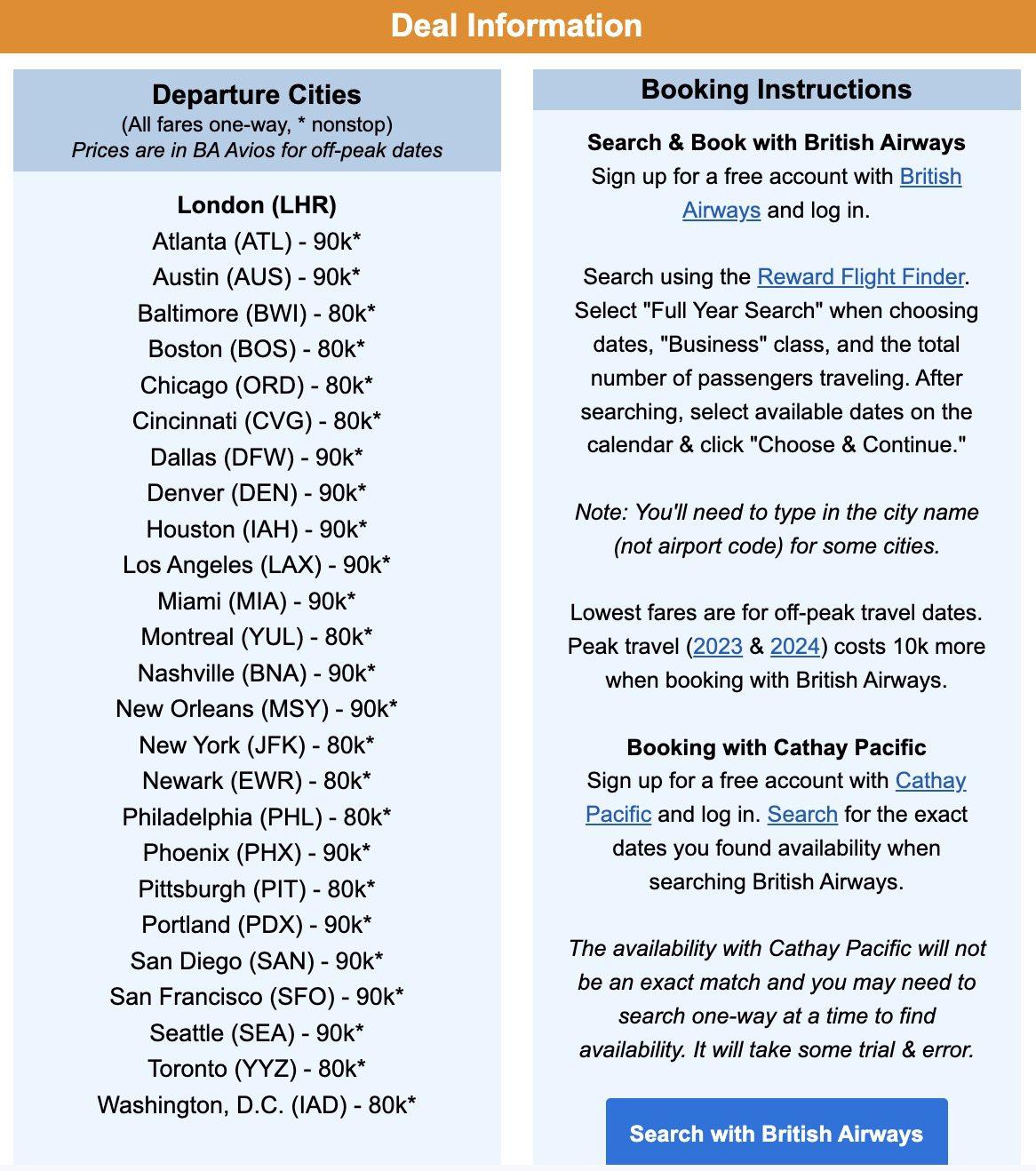 It's a pretty staggering list, and that much availability doesn't come around very often in places like Cincinnati (CVG) or San Diego (SAN).
B.A. isn't alone, though. We sent Thrifty Traveler Premium members this alert just a few weeks ago.
From just 71,000 Air France/KLM Flying Blue miles (which transfer instantly from Amex, Bilt, Capital One, Chase, or Citi), you could book these Virgin Atlantic "Upper Class" seats flying to LHR, too.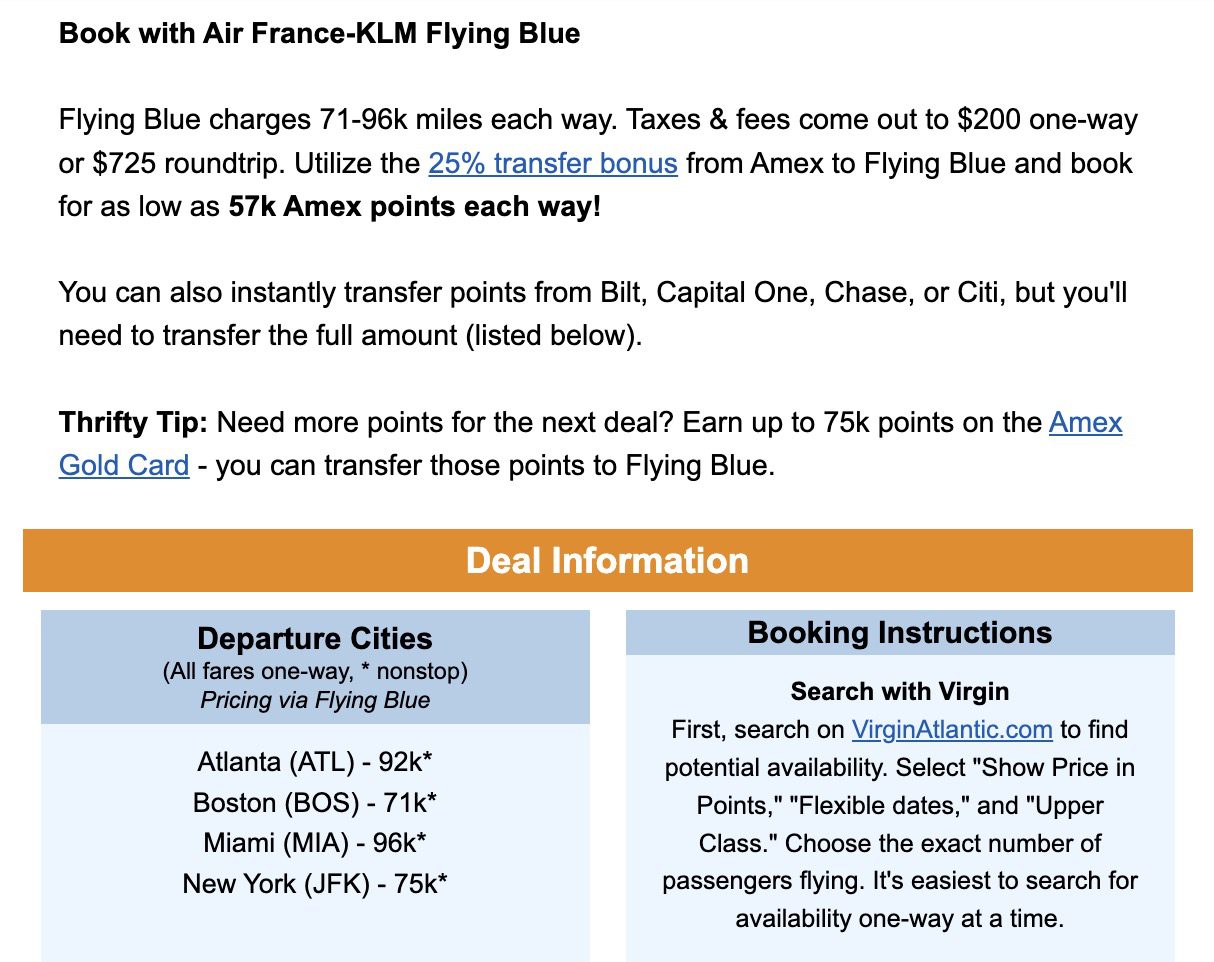 A transfer bonus that was alive at the time we sent the deal made your Amex points more valuable, too, meaning only 57,000 Amex points were required to get to 71,000 FlyingBlue miles!
Air France and KLM Business Class
Speaking of Air France/KLM Flying Blue, those two airlines also have their own comfy business class options for flyers. And if you know where to look (like our Thrifty Traveler Premium flight deal analysts do), you can find those seats on sale from time to time.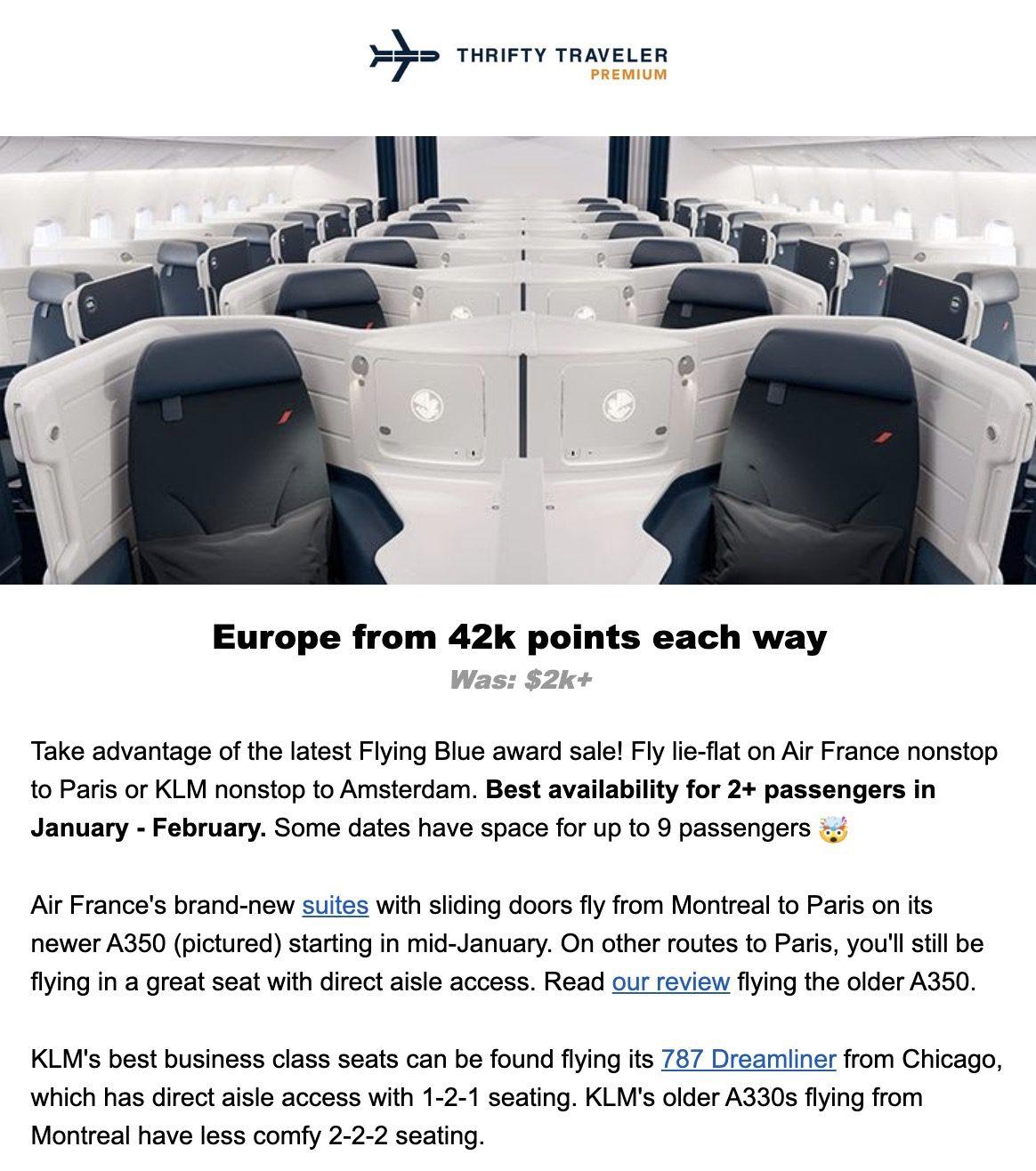 This most recent deal opened the doors to these fully enclosed Air France business class suites from just 53,000 points each way. And for KLM's business class, you only needed 43,000 from New York City (JFK).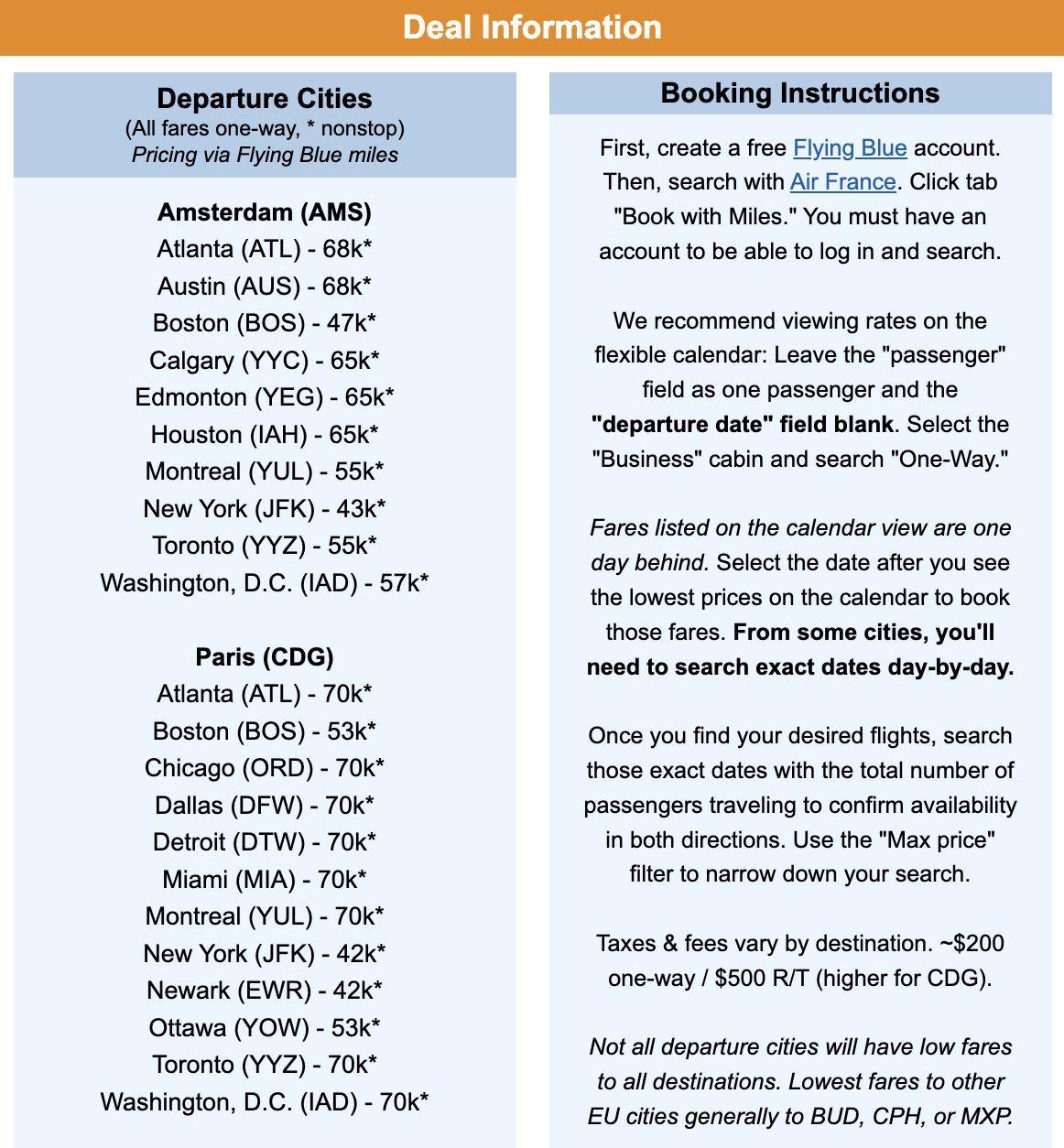 Air France Business Class is an extremely comfortable way to fly across the ocean: Take it from us! And that goes for KLM Business Class, too.
Lufthansa Business Class to Germany
Lufthansa made a big splash in both Minneapolis (MSP) and Raleigh (RDU) a few weeks ago when it announced brand new nonstop service between those cities and Frankfurt (FRA). The news also meant something huge for flyers in those regions: More transatlantic business class seats!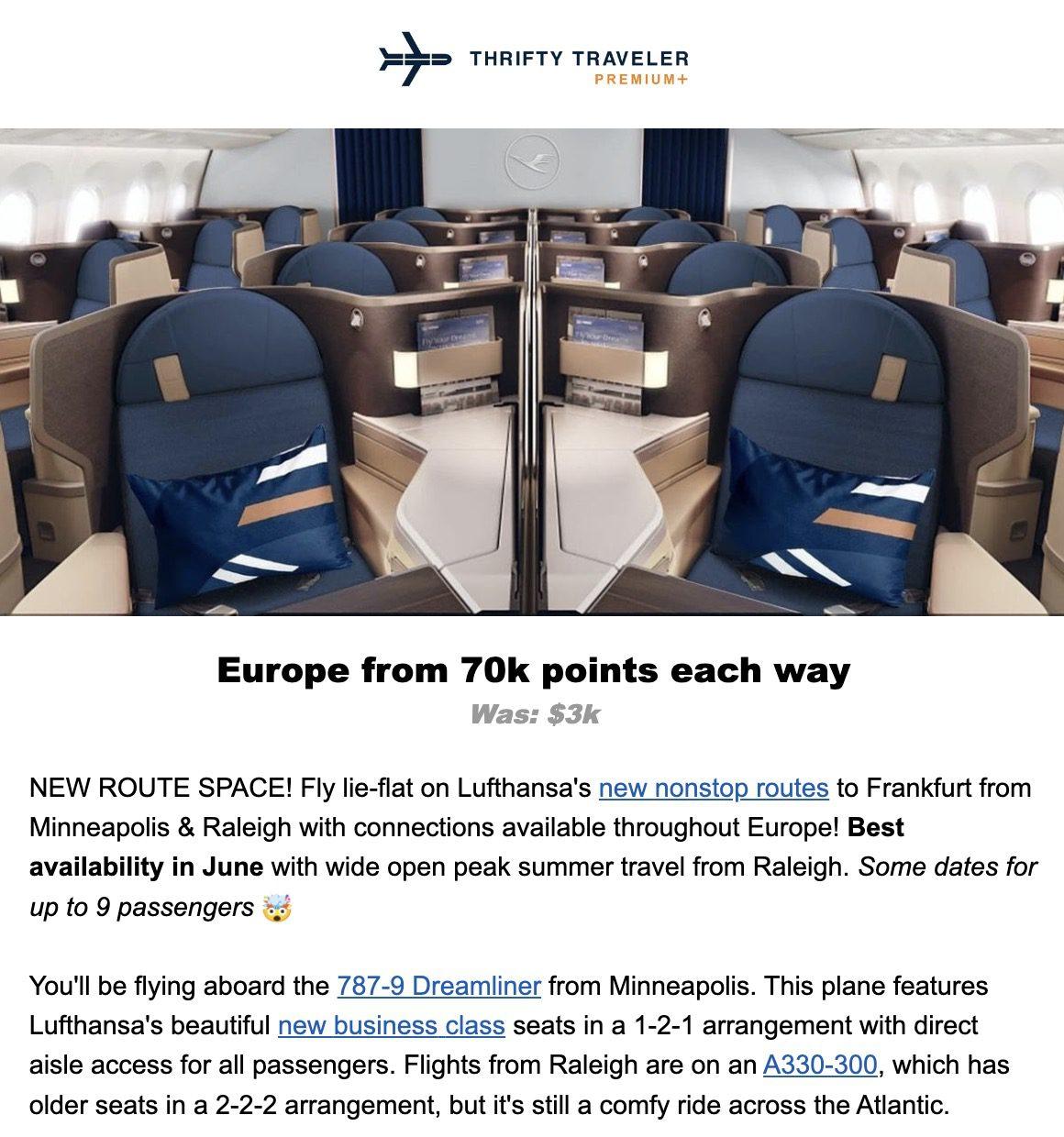 The Lufthansa business class offering is one of the fastest ways to fly lie-flat to Germany from the U.S., and because the routes were brand new, the availability on those seats was wide open!
With just 70,000 Air Canada Aeroplan points or 88,000 United miles, these seats could be yours if Germany is on your list.
SWISS Business Class to Switzerland
I'm a little biased here, because I just flew SWISS Business class a few weeks ago myself, but this is one of my favorite air travel experiences ever.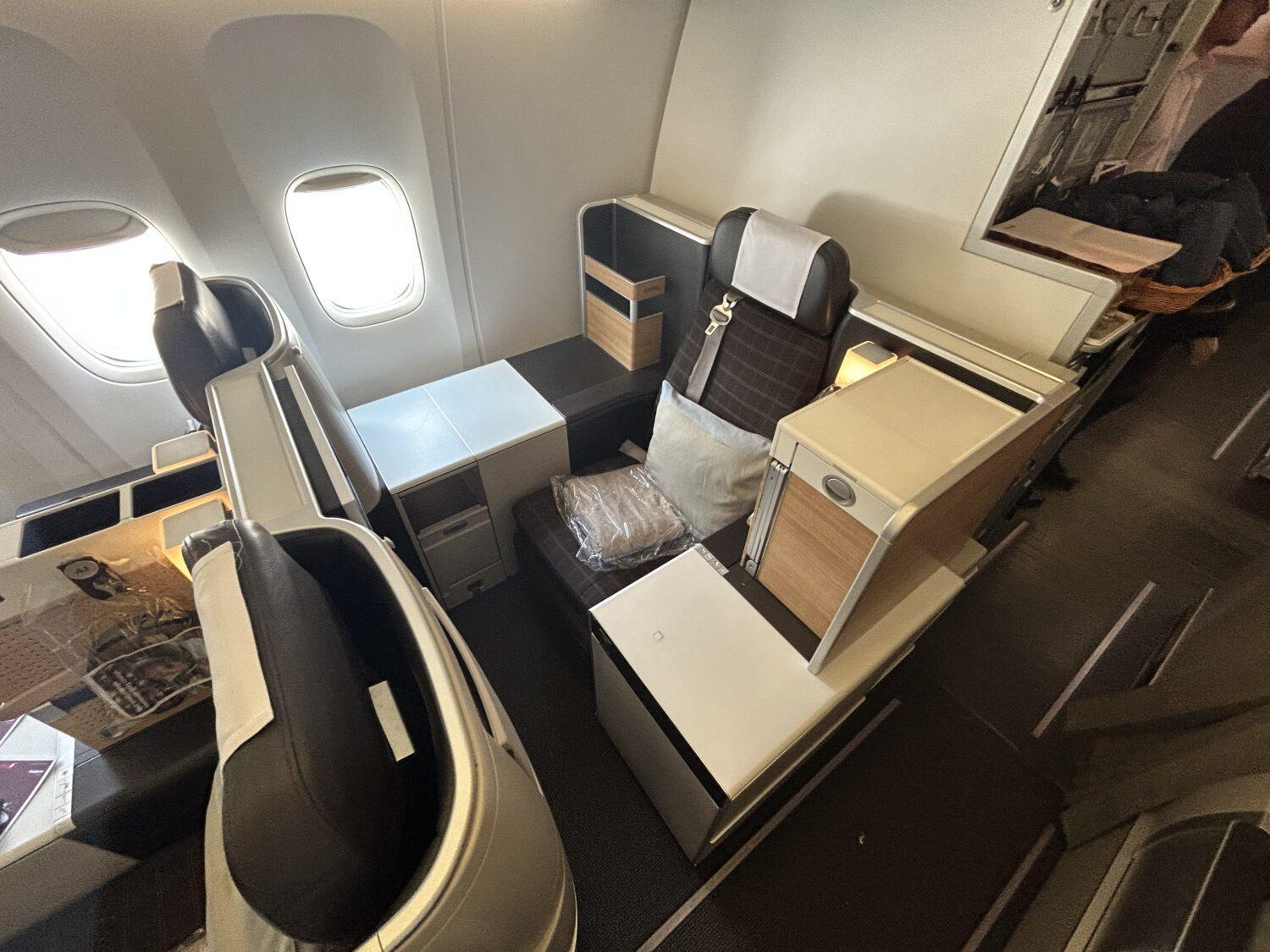 Whether you're flying with a friend or partner like I did in the two-wide seats or are flying in the solo throne seats (pictured), the service, amenities, and comfort of SWISS business class is wonderful.
And the seats are sold at a wonderful rate, too.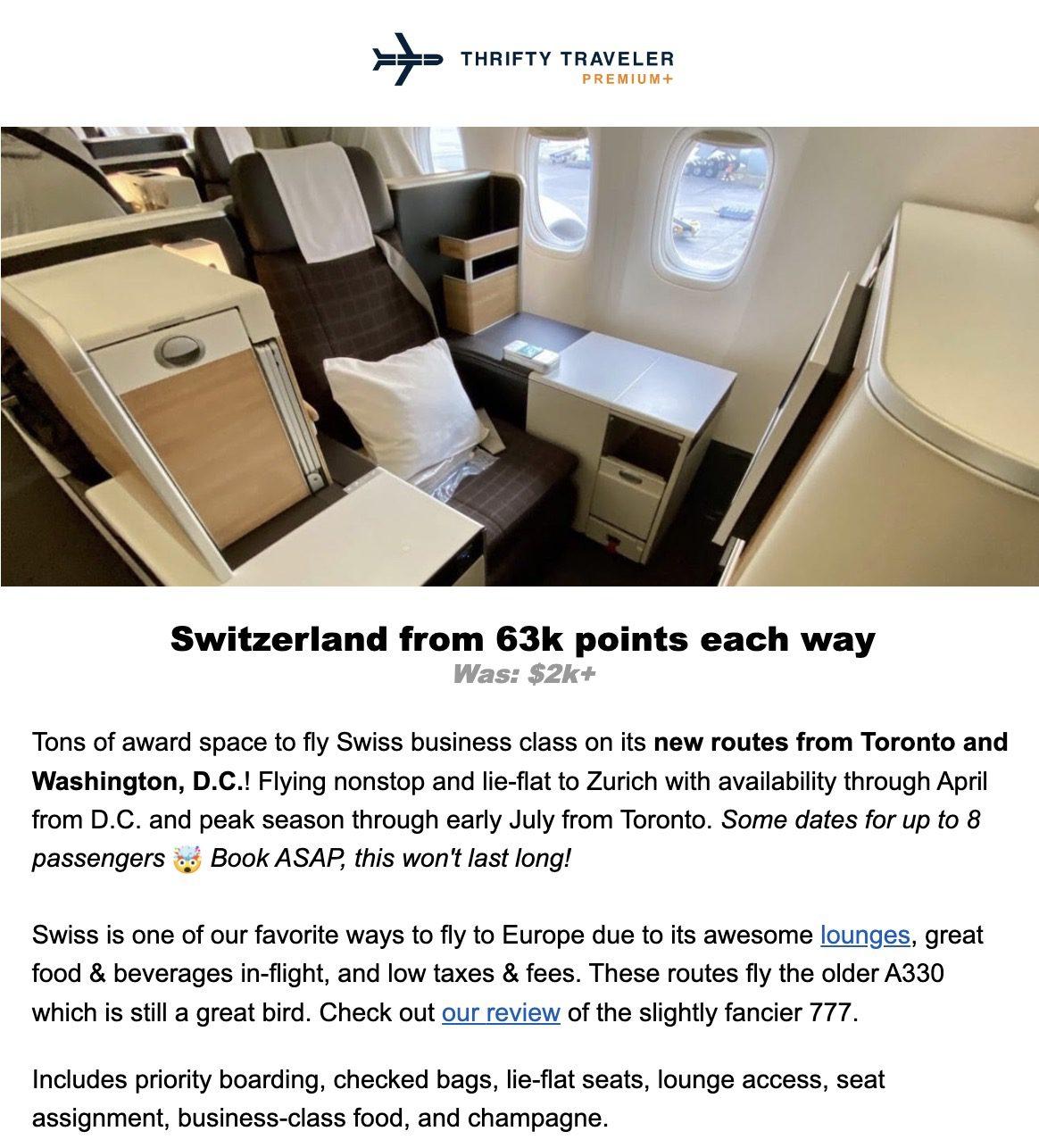 Only 63,000 Avianca LifeMiles are required to acquire one of these amazing seats. In this latest deal, we highlighted two new routes from SWISS into Toronto (YYZ) and Washington, D.C. (IAD).
Emirates Business Class to Greece
OK, the United Arab Emirates is not in Europe, so why would I book an Emirates flight to fly there?
Well, there are these funky routes called Fifth Freedom Routes, which my colleagues Peter outlines perfectly in this explainer. But all you need to know is that you can fly this luxurious carrier between Newark (EWR) and Athens, Greece (ATH) nonstop!
And that includes Emirates' fancy business class seats.
When you book roundtrip, you can get these seats for just 108,000 points, too! It's probably our favorite way to fly to Greece from the U.S. and is actually the perfect honeymoon booking for those looking for an island-hopping adventure.
Turkish Business Class to Istanbul
Sometimes you don't have to overthink it: The best business class flying to Turkey…is Turkish.
And our favorite part about Turkish Airlines Business Class is how few points you can book it for.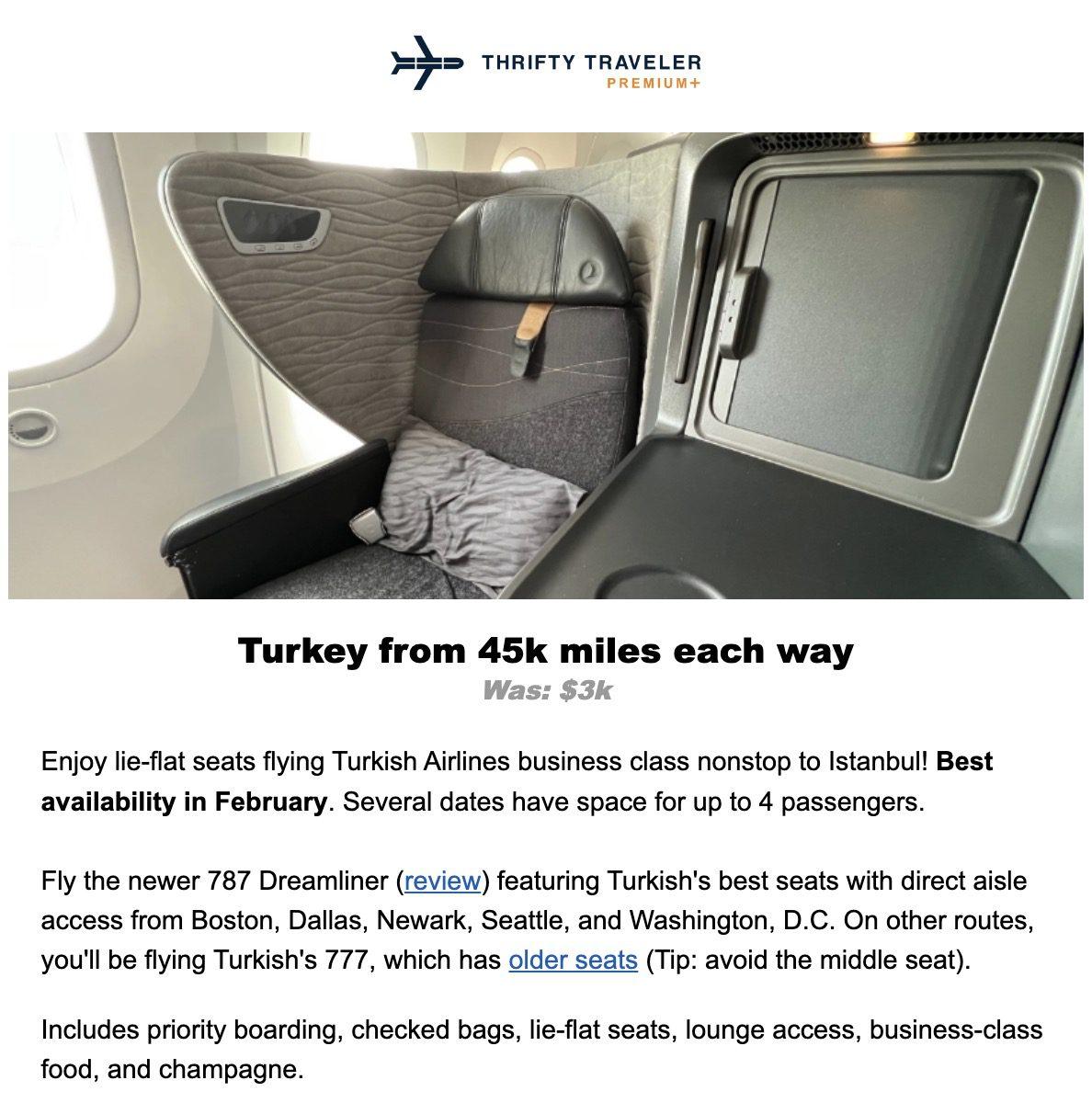 Plus, for just 45,000 miles each way, this is one of the most affordable business class offerings flying across the Atlantic. And according to Thrifty Traveler Managing Editor Kyle, Turkish Business Class is fantastically comfortable, too!
Bottom Line
If you've promised yourself you'd look into booking a lie-flat seat to Europe, we're here to tell you that your goal is well within reach if you know where to look.
With a Thrifty Traveler Premium+ subscription, you can have flight deals like these sent straight to your inbox the minute we find them, and you can spend less time looking for business class deals and more time traveling in style to the European destination of your dreams.