Points and miles should be used for an experience you couldn't otherwise afford. And maybe that's a few more trips each year, but perhaps it's flying in style – like, $20,000 per ticket style – for nearly free.
Whether you're sipping on champagne and tucking into some caviar or just stretching out in a bed at 33,000 feet for a snooze, there are some seriously luxurious first class seats out there. From Singapore Airlines to Emirates and beyond, these tickets generally cost more than an arm and a leg. But points and miles make it possible for even us 99%ers to fly first class.
Here are five of the very best first class flights in the world and how to book them once this coronavirus crisis passes. Fly these, and you'll feel like a million bucks – even if you're only 80,000 miles.
Singapore A380 Suites
Go figure that one of the world's top airline, Singapore Airlines, tops this list. Its latest and greatest First Class offering is called the Singapore Suite, but the name is misleading. It's more like a studio apartment.
We're all used to measuring our legroom in inches, doing all we can to avoid bruised knees from the seat in front of us. In a Singapore First Class Suite, you measure in feet. Fifty square feet of space, to be precise.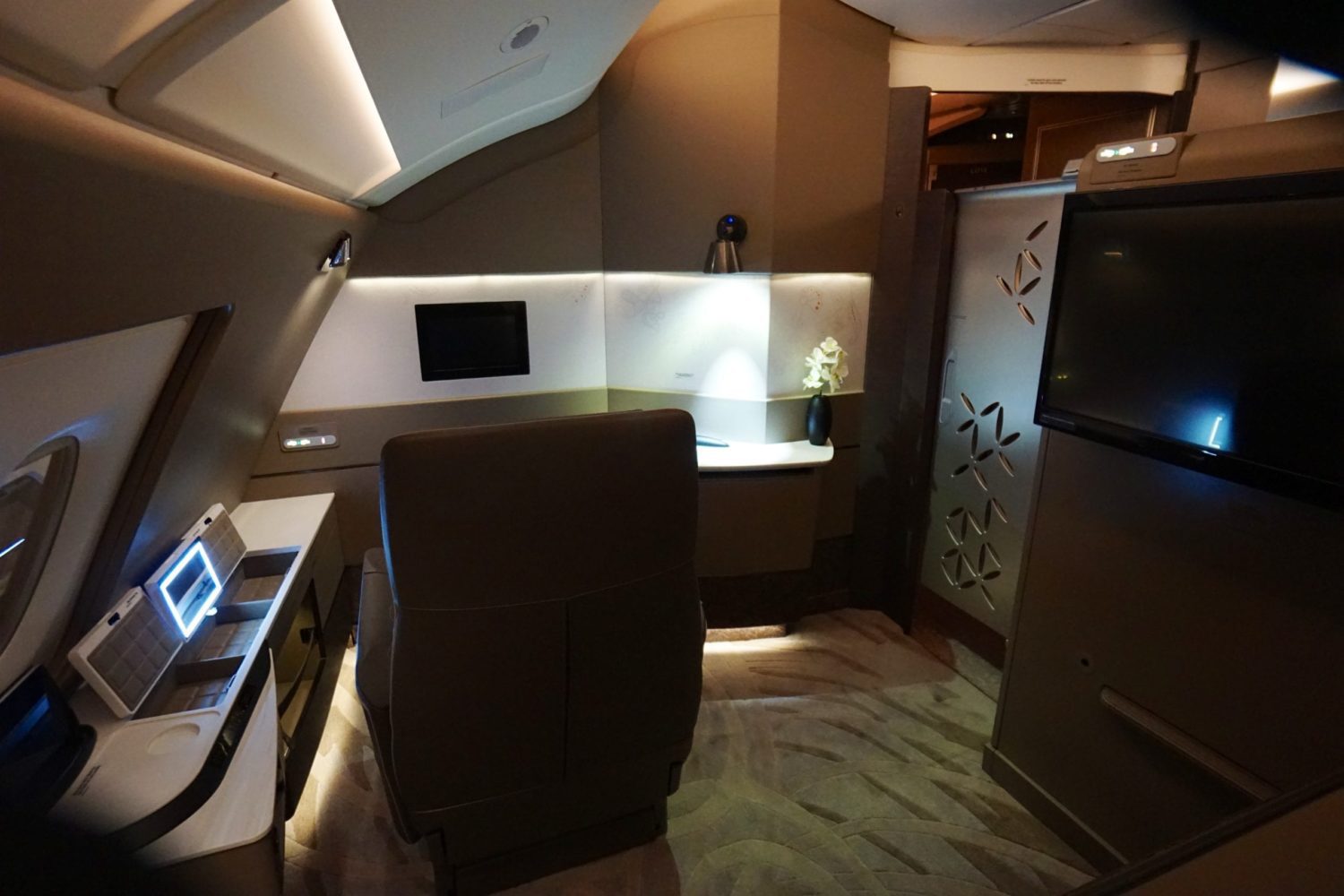 With all that square footage, it's easy to declare Singapore's suites the most spacious first class seats in the skies. Singapore introduced these new suites on their massive Airbus A380s in late 2017, instantly vaulting up the list of the most luxurious ways to fly.
You get a separate leather recliner and a fold down bed, with a 32-inch HD flat screen TV controlled by a tablet. While you're watching your favorite movies, choose between two of the world's best champagnes: Dom Perignon and Krug. When it's time to eat, expect some of the best meals you'll ever eat in the air. And Singapore's Book the Cook pre-selection service means you'll have an expansive list of meals to pick from.

But it gets even better. If you're traveling with a companion – or luck out and no one is in the suite next door – ask a flight attendant to drop the wall between the suites. Voila: You've got a double bed and 100 square feet of space to share.

Once you're accustomed to all that space, you can't expect to squeeze into a tiny airplane lavatory. No worries, Singapore has you covered with some enormous and ritzy bathrooms, complete with a separate, sit-down vanity to freshen up.

How to Book: Whether you want to fly in a 50-square-foot suite or back in business class, the only way to book these premium flights is with Singapore KrisFlyer miles.
On the bright side, those miles are insanely easy to earn. You can transfer them to your Singapore account from any of the major credit card points like Chase, American Express, Citi, and Capital One.
On the flip side, securing a ticket in suites when using miles can be difficult. Only a handful of flights in and out of their Singapore (SIN) hub are equipped with these new suites. And you may have to settle for joining the waitlist for a seat and crossing your fingers that it clears.
One of your best shots is flying between SIN and Sydney (SYD), an eight-hour flight that should allow you to soak in all that the Suites have to offer. After Singapore's recent price hikes for premium cabins when using miles, these flights will cost you 85,000 Singapore KrisFlyer miles each way at the lowest-priced saver level.

Another option is the shorter, five-hour flight between SIN and Shanghai (PVG). You can book those flights for just 53,000 miles each way.
Emirates First Class A380
You've seen it in the Jennifer Aniston commercials. But it might be even better in person.
Yes, you can actually take a shower when flying First Class with Emirates on their Airbus A380. In fact, you can take two, five-minute showers during your long flight from the U.S. to Dubai (DXB).

Or head back to the bar to stretch your legs and get a cocktail.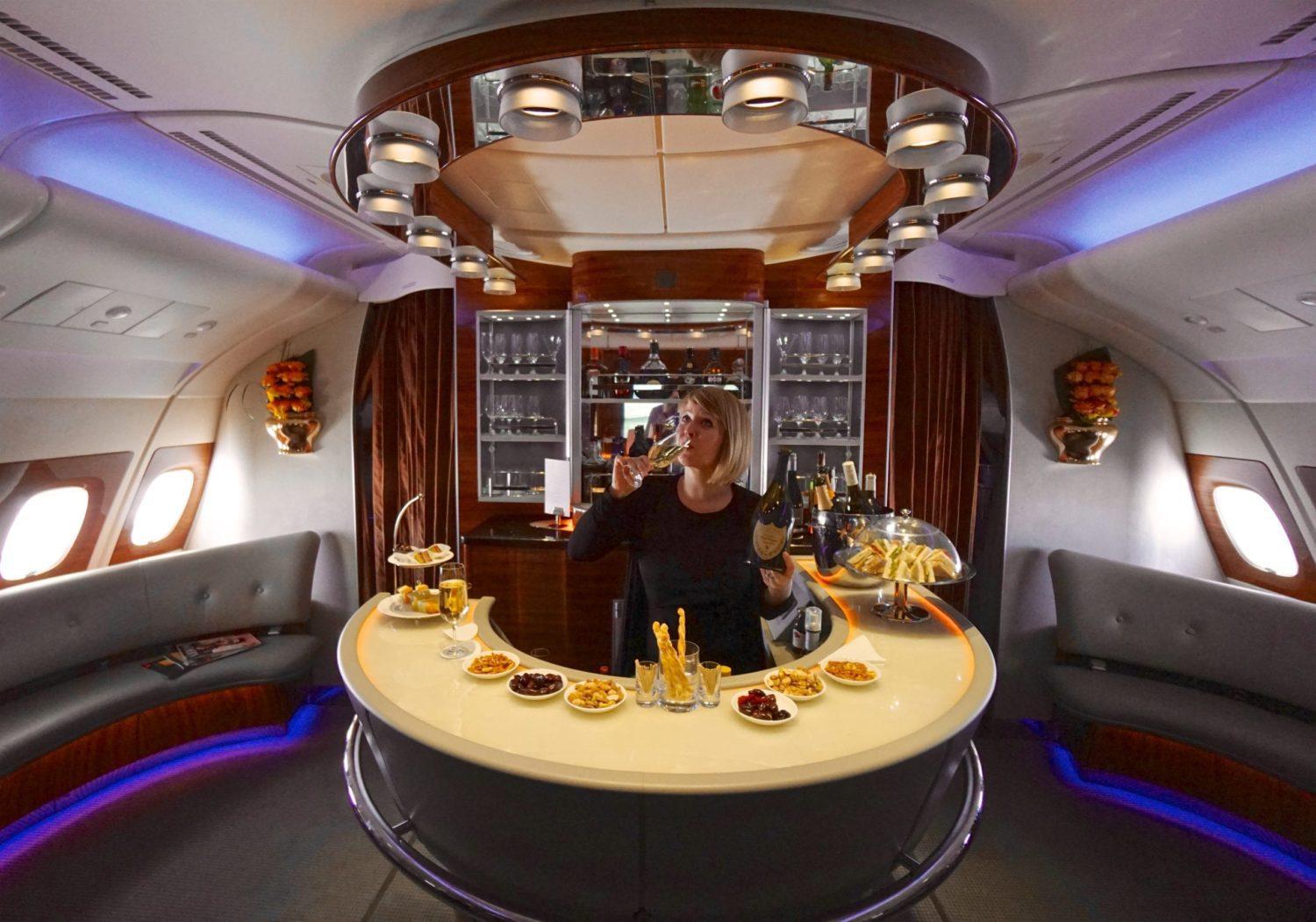 While small compared to the likes of Singapore and other airlines, there's no denying the suites on Emirates' A380 are luxurious. Between the glitzy golden and wooden finishes, a comfortable bed in your own suite with doors, and the seemingly endless supply caviar and top-notch champagne, you'll feel like you have it all.

Read our review: Emirates First Class from Los Angeles (LAX) to Dubai (DXB)
It's no wonder these tickets generally cost at least $20,000 round-trip. 


Few have that kind of money. You can book one of these flights with miles, instead.
How to Book: There's no spinning this one – it's gotten harder to book Emirates First Class seats with miles in recent year. The go-to had always been Alaska Airlines, which charged just 90,000 miles for a one-way flight in first class until it jacked up the price in 2016.
Nowadays, it will run you 150,000 Alaska Mileage Plan miles to book one of these first class suites each way. And while there are some other options, including using Japan Airlines miles, Alaska is still your best bet to get book.

And there are plenty of options across the U.S. to hop on an Emirates A380 on your way to Dubai.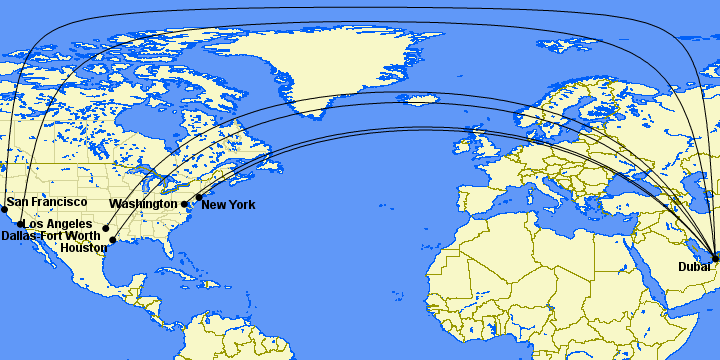 Want to go even further – and in even more style? Yes, it gets more stylish. You can typically find flights from Dubai onward to the Maldives (MLE) in Emirates' amazing new first class on the Boeing 777, with six fully enclosed suites. And because Alaska's award chart treats the Maldives as an extension of the Middle East, you can tack on this flight to your itinerary and still pay just 150,000 miles!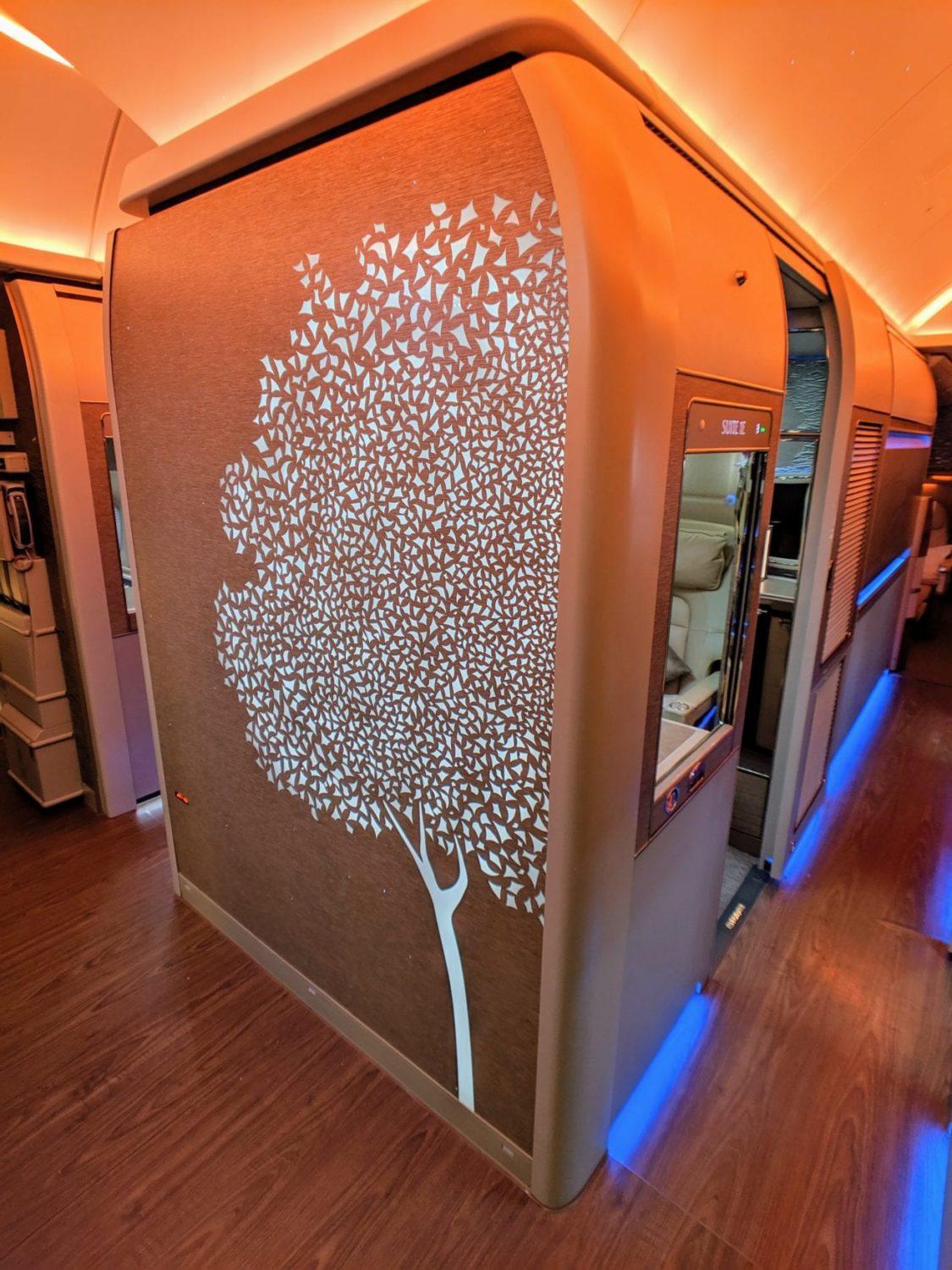 Etihad Apartment
A fellow airline from the United Arab Emirates, Abu Dhabi (AUH)-based Etihad Airways is the only other airline that offers flyers in first class seats a shower at 33,000 feet.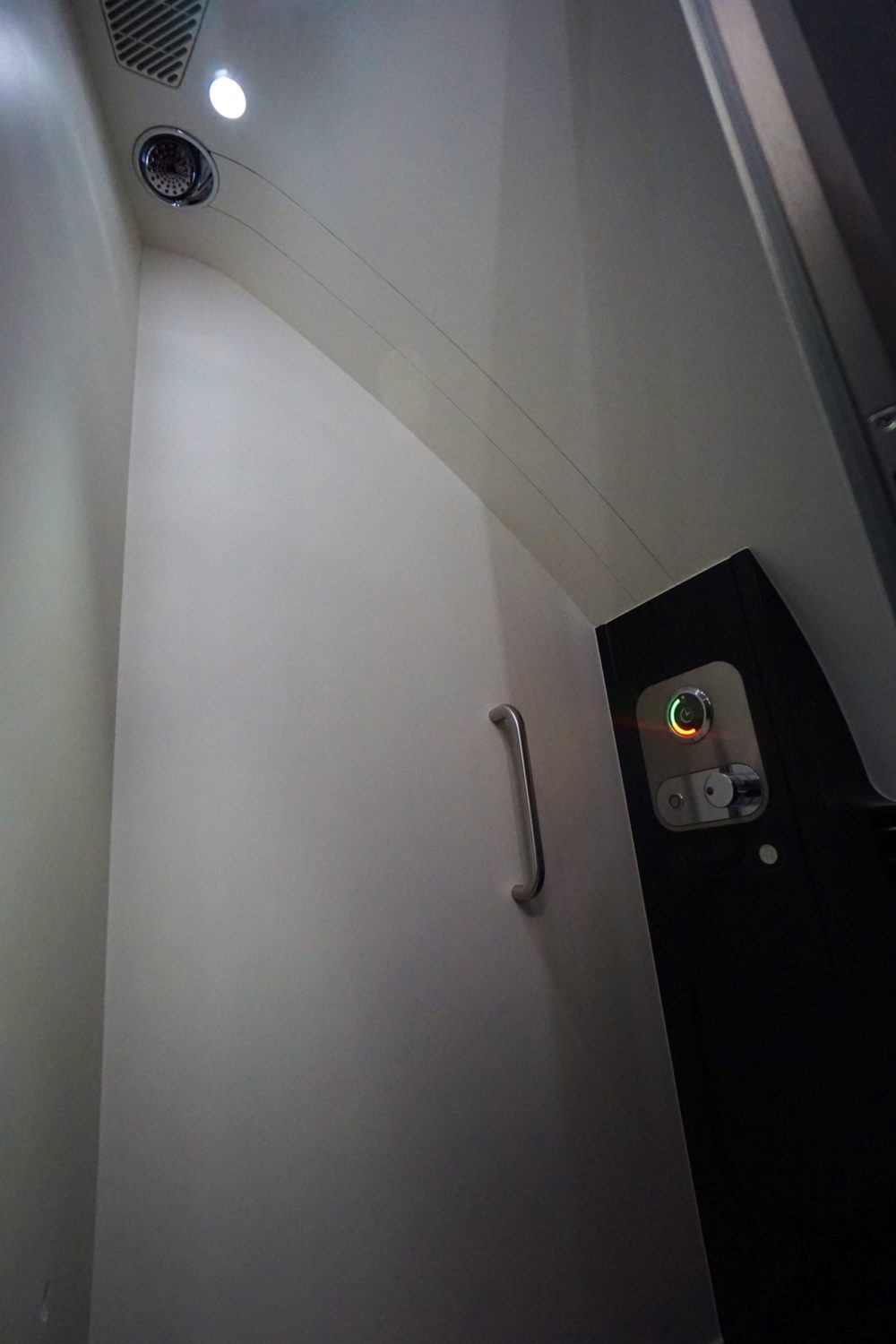 But the main event is all about the space you get in Etihad's first class on the Airbus A380. It's called an Apartment, after all. And it lives up to the name.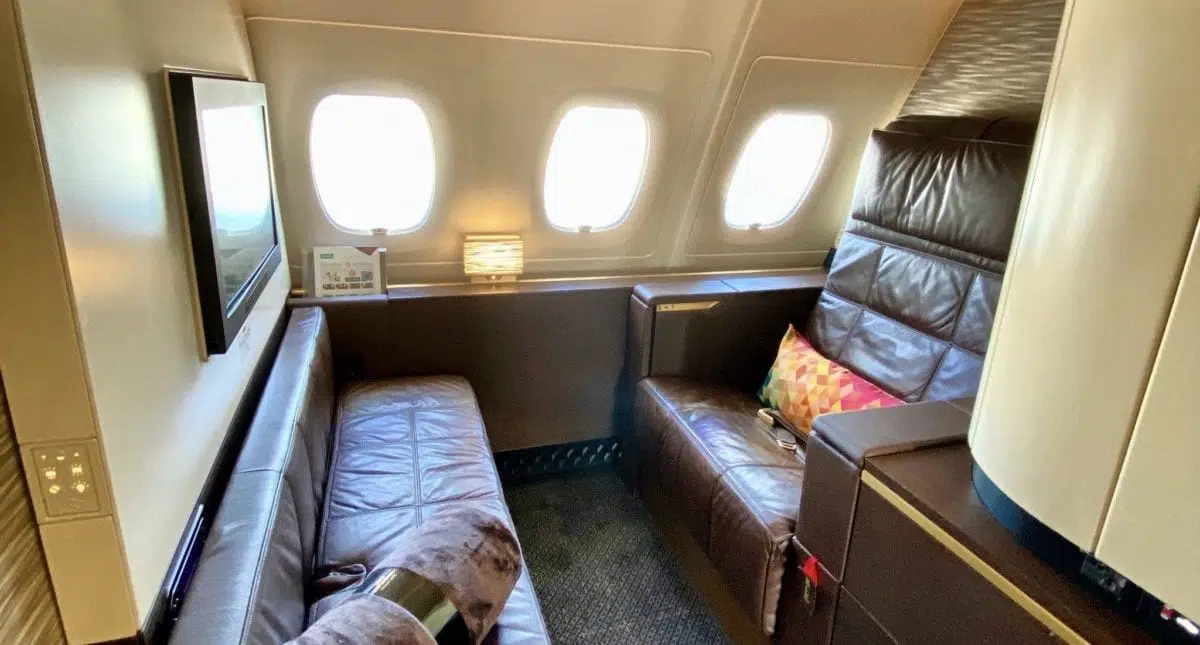 Read more: Our full review of the Etihad Apartment, flying from Abu Dhabi (AUH) to New York City (JFK).
For starters, there's a plush leather recliner and a separate fold-out bed that measures 6 feet, 10 inches long. No joke – that's how much space you have inside your own Apartment. And if you're traveling with a special someone, you can select two adjoining Apartments and lower the dividing wall to snooze sleeping next to each other.
To call the Etihad Apartment "extra" would be an understatement. Each suite has its own dedicated vanity, a crisp, 24-inch TV screen. There's even a dedicated chef on board who will work with you to customize your meals however you'd like – and whenever you'd like them. When your meal is ready, eat in your own Apartment or head out to the onboard lounge.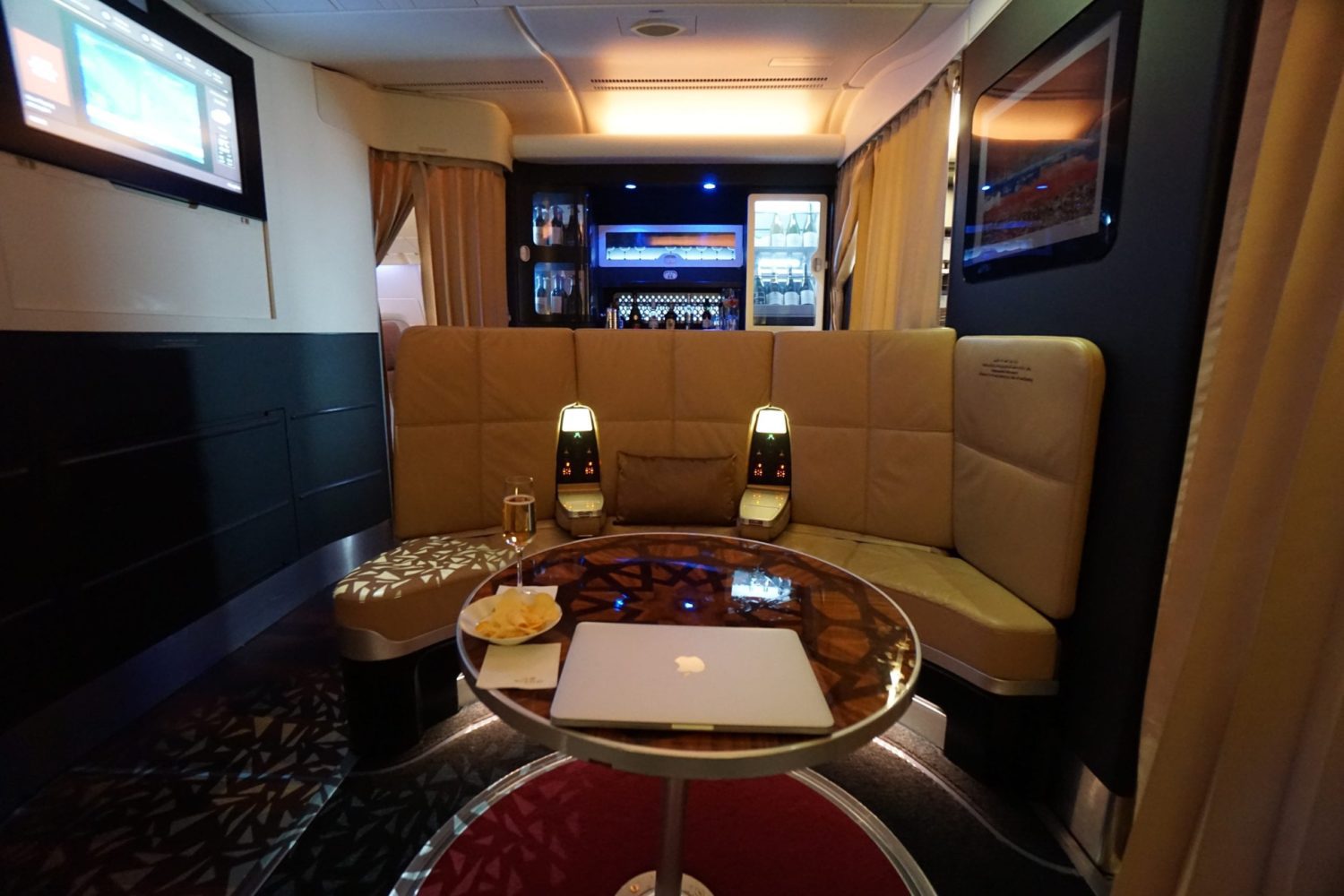 And the whole setup just oozes class. While Emirates goes for the bling factor, Etihad is more elegant and understated. From the soft leather tones to the intricate designs on the door to each Apartment, you'll be hard pressed to find a more beautiful seat on a plane.
How to Book: Believe it or not, it's actually pretty easy to book a flight in an Etihad Apartment. You just need some American Airlines AAdvantage miles.
Read our guide to booking the Etihad Apartment with AA miles. Etihad only flies the Airbus A380 equipped with these Apartments on a handful of routes, and just one U.S. destination – New York City-JFK (JFK). And unfortunately, those award seats are in high demand and can be difficult to grab. And at 110,000 AAdvantage miles, they're not cheap.
So consider booking a flight between either London-Heathrow (LHR) or Paris-Charles de Gaulle (CDG) and AUH. These flights clock in at almost seven hours, plenty of time to take a shower and stretch out. Better yet, they cost just 62,500 AAdvantage miles.
Cathay Pacific First Class
Want to sleep like a baby as you cross the Pacific Ocean? Cathay Pacific will do the job.

Hong Kong (HKG)-based Cathay Pacific doesn't have the flashiest first class seats. But what it lacks in polish and glamor, it makes up for it in comfort. Once converted into a bed, you won't find a cozier or wider bed on an airplane.
Their first class seats are enormous, at a whopping 36 inches wide. Come meal time, you can even ask a flight attendant to set up one of your suites so you can dine face to face. And while these suites aren't equipped with doors, there are just six of them. So yeah, privacy shouldn't be a problem.
If you're leaving HKG or catching a layover there, you're in for a treat. Cathay Pacific has some of the world's best airport lounges. Yes, that's plural: There are several to choose from.
You can head to The Pier, an elegant and refined respite from the craziness of the terminal. Belly up to the noodle bar for an amazing meal, get a free foot massage, then catch some Z's in your own private cabana. If you need some zen time, you can even pop in for a quick yoga or meditation session at the Pier.

How's a champagne bar sound? Yes, I said champagne bar. It's all yours at The Wing, another of Cathay's flagship lounges. Once you've had a glass or six, you can reserve your own shower cabana, a massive space with your own shower, bathtub and space to nap.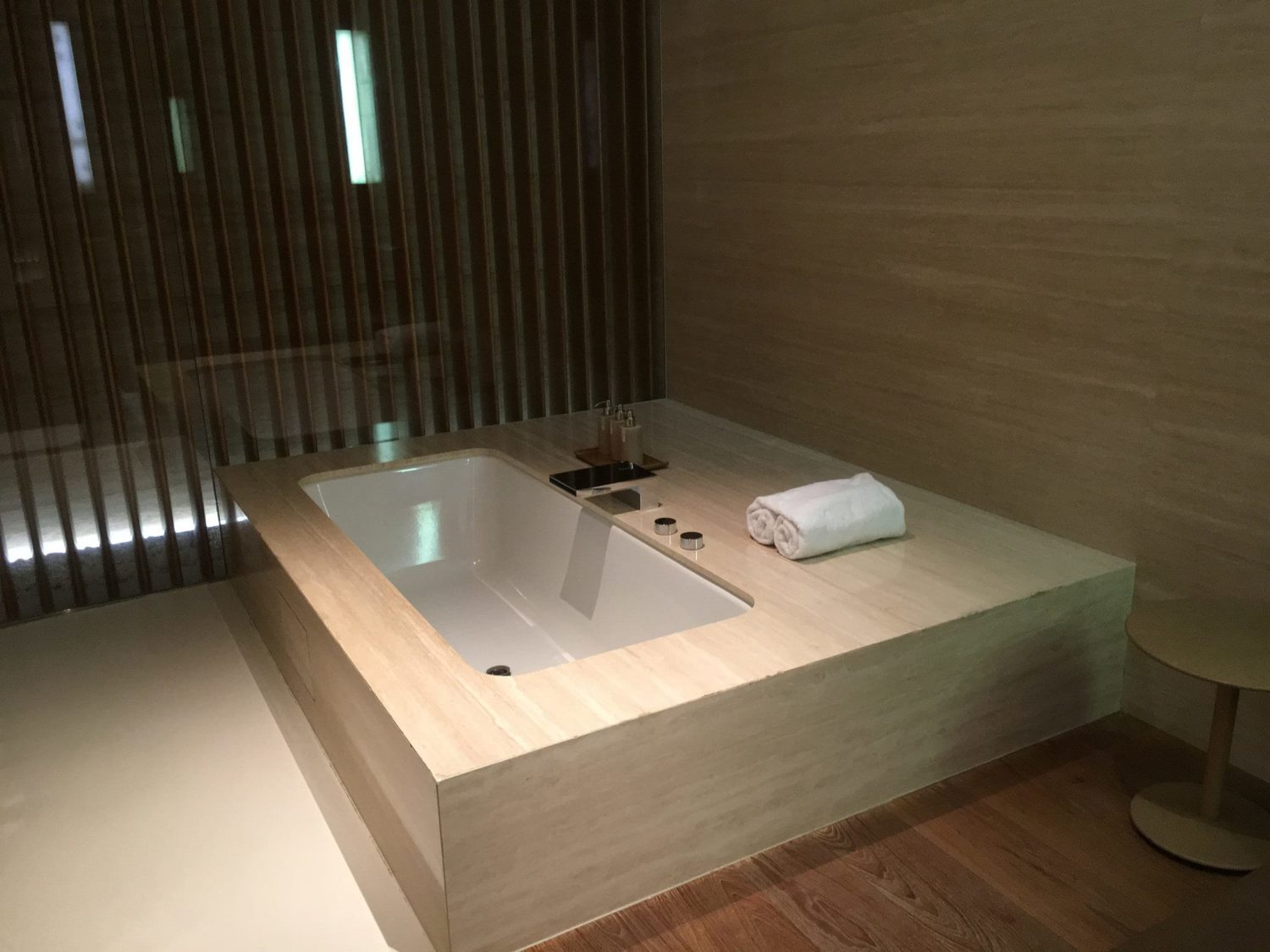 And that's not even all. Cathay also has two other lounges available at HKG: The Bridge and The Deck, two more great spaces to grab a bite and a chair during your layover.
How to Book Cathay Pacific First Class: At more than $10,000 each way, cash is out of the question. Unless, of course, if you snagged the deal of a lifetime and booked Cathay's mistake fare to fly in first class for just over $1,000.

It's time to use some points and miles. You have options.
At just 70,000 miles to fly from the U.S. to HKG, Alaska Airlines Mileage Plan is a solid choice. You can't book these flights on AlaskaAir.com, so head to British Airways or use AwardNexus.com to scope out award availability before calling Alaska to finalize the booking.
Another option is using American AAdvantage miles. In this case, you'd need 110,000 AAdvantage miles to book a Cathay Pacific first class seat. 
Qatar Airways First Class
When you fly Qatar Airways First Class out of its Doha (DOH) hub, you get into this lounge. Or is it a museum?

Welcome to the Al Safwa First Class lounge. And as a bonus, you can get access to this lounge even when flying business class so long as you're connecting onward to other Middle Eastern cities like Amman (AMM) or Muscat (MCT).
There's no other airport lounge like it in the world, and it sets the tone for Qatar Airways' outstanding first class seats.
Elegant and refined with wood panels and its signature purple color all around, Qatar's first class seats are a different beast. Instead of private suites for each passenger, you get a spacious, open-air feel throughout the cabin.

These first class seats are only available on the Airbus A380. But the main event on Qatar's whale jets is the bar. There is no better way to pass the time on a flight than to sip on a cocktail on the world's largest and best airplane bar.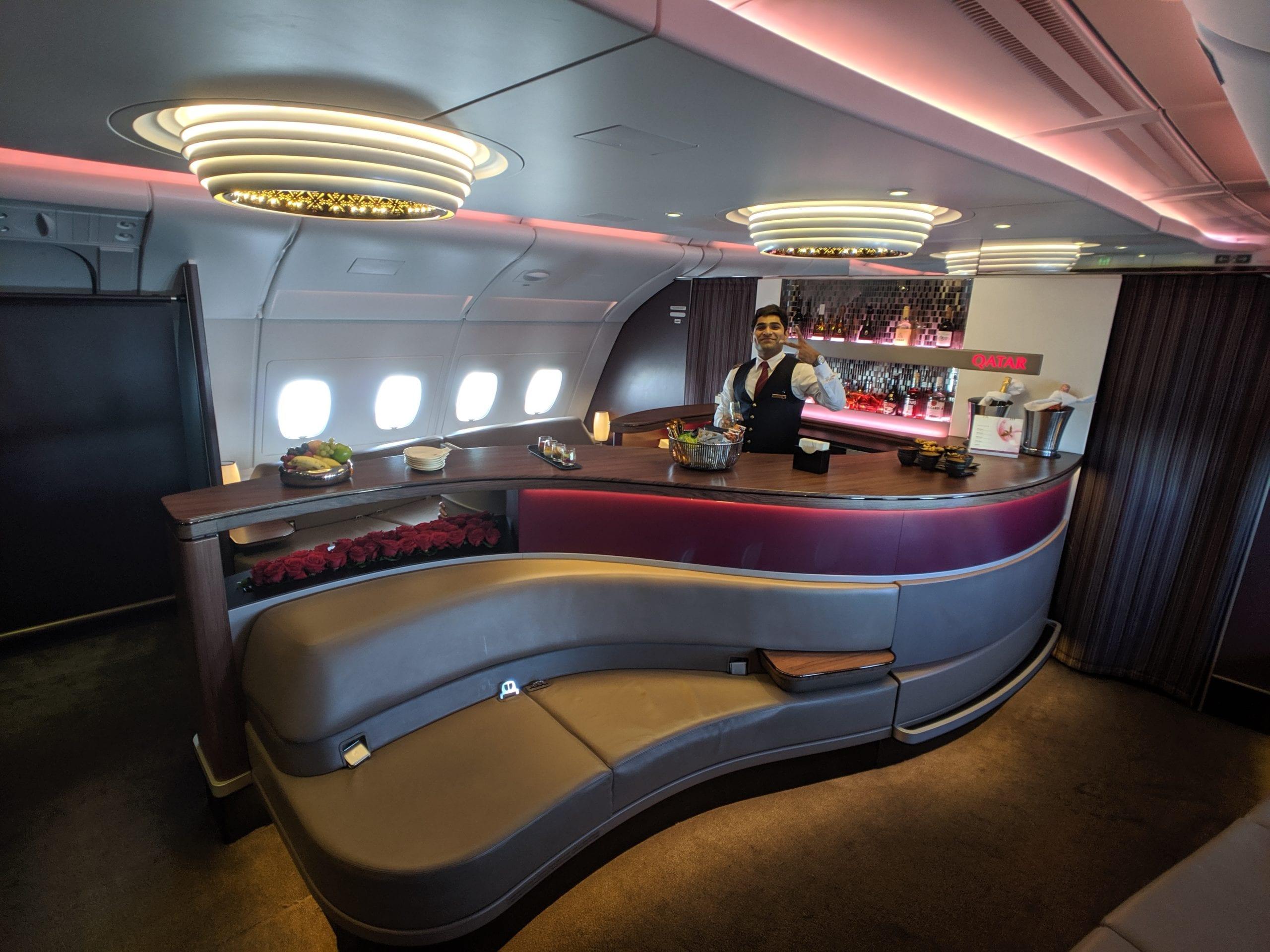 Read more: Our full review of Qatar First Class from Doha (DOH) to Guangzhou (CAN)
Now, booking a first class flight on Qatar Airways isn't easy for U.S. travelers. Qatar doesn't fly the Airbus A380 to the U.S., so you'll have to hitch a flight to or from cities like London-Heathrow (LHR), Paris-Charles de Gaulle (CDG), or Guangzhou (CAN). It may get even harder, as Qatar Airways could put these planes into retirement before the coronavirus crisis ends.
Luckily, it's getting easier and easier to book Qatar's outstanding business class called Qsuites. Qatar keeps sending these planes to more U.S. cities, including Chicago-O'Hare (ORD), Los Angeles (LAX), Washington, D.C.-Dulles (IAD), Philadelphia (PHL), and many more.
With private pods for each passenger, it's easily the world's best business class seat. And it's clearly meant to serve as a hybrid between first and business class.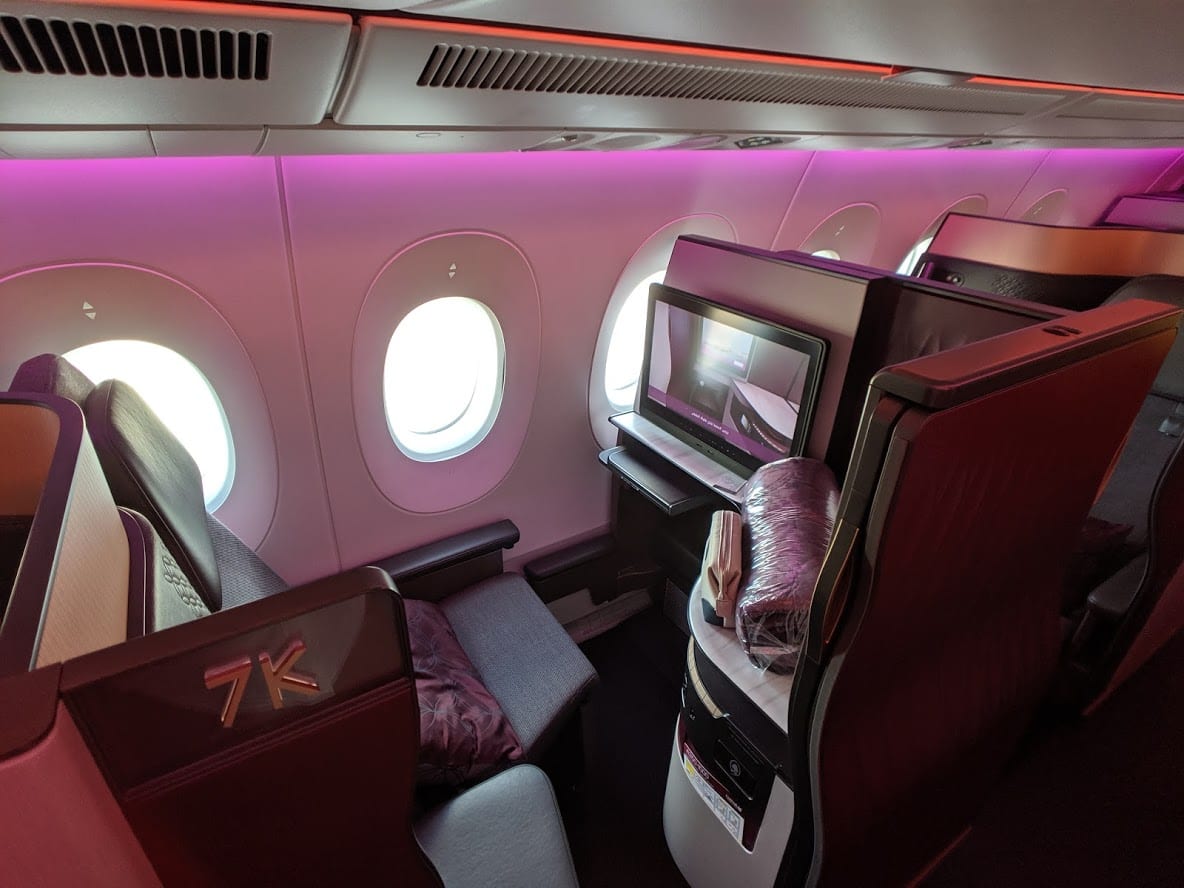 How to Book: Whether your heart is set on first class or you've got your eye on the Qsuites, American AAdvantage miles will do the trick. It's one of the best ways to use your AAdvantage miles.
A first class ticket between Europe and Doha will run you 62,500 AAdvantage miles. You can fly between the Middle East and China in first class for just 50,000 AAdvantage miles – a major sweet spot.
If a Qsuite to the Middle East sounds good to you, you can book one for just 70,000 AAdvantage miles from the U.S.

And here's the best part: It's simple as can be to book these flights. After years of forcing customers to call in, you can now book Qatar Airways flights online at AA.com!
Bottom Line
You don't need to resign yourself to squeezing into cramped airplane seats to get to your destination. Flying can be fun, and even luxurious. And using points and miles, these experiences typically reserved for the 1%'ers can be yours when it's time to travel again.