Singapore Airlines is one of the best airlines in the world, renowned for its service and hospitality flying in and out of Southeast Asia. But you can also hop on a Singapore flight across the Atlantic – and do it in one of the world's best first class suites, to boot.
From the moment I began collecting airline miles and credit card points, flying Singapore Airlines was at the top of my list. But while a long-haul flight to or from its Singapore (SIN) was an option, the easiest (and cheapest) way to make it happen was by taking Singapore's quirky fifth-freedom route connecting New York City (JFK) and Frankfurt (FRA).
And here's why: Singapore operates its latest and greatest Airbus A380s on this route, equipped with just six massive suites in first class on the upper deck. It's the most spacious first class seats in the world, period, with a separate chair and sleeping surface … and even the option to set up a double bed with a companion! These nonstop flights to and from Germany are the only U.S. routes you'll find Singapore's best seats.
Add in the airline's top-notch service, dining, and drinks onboard, and Singapore Airlines first class could just be the most luxurious way to cross the Atlantic.

Booking Singapore Airlines First Class
Booking a seat in Singapore Airlines First Class suites is no small feat … unless you have a mountain of expendable cash on standby.
Case in point: Our flight home from Frankfurt back to JFK would have cost an eye-watering $5,600 each!


But this is Thrifty Traveler, and we don't do that. Instead, we turned to a stash of Singapore KrisFlyer miles. Even if you've never set foot on one of their planes, Singapore miles are incredibly easy to earn through transferrable credit card points. Singapore pairs up with them all: Singapore is a Chase transfer partner, an Amex transfer partner, a Capital One transfer partner, and a Citi transfer partner. That means a stash of points from cards like the Chase Sapphire Preferred® Card, the American Express® Gold Card, the Capital One Venture X Rewards Credit Card, or the Citi Premier Card® is all you need.
After a price hike earlier this year, the airline now charges 97,000 miles each way for a Singapore first class suite over to Europe.

But all the points and miles in the world won't do you any good if you can't find award space to book these Singapore Airlines first class seats – and that can be a challenge. There's a lot working against you:
Flying from the U.S., you'll only find these new first class suites flying between New York and Frankfurt – none of the routes to Singapore (SIN) or elsewhere in Asia.
There's just six first class suites on each plane, so Singapore can be incredibly stingy releasing them to book with miles
You'll have to use Singapore KrisFlyer miles, as Singapore doesn't release premium cabin award space to partners so using miles like Air Canada Aeroplan or United MileagePlus is a no go
You can scroll through months worth of first class award flights at SingaporeAir.com and not see a single award seat at the lowest saver rates. You might only see the ability to "waitlist" a first class award, which is never a sure thing.
But it can be done! Late last year, Thrifty Traveler Premium members got the heads up on wide-open space for two passengers to fly from Frankfurt back to New York in this flashy new first class all throughout 2022.

Get award alerts for the best ways to use your points and miles with Thrifty Traveler Premium!
That's exactly what we did, securing two seats for 86,000 miles apiece long before Singapore increased award rates by 13% in July. We also each paid just under 120 euro in unavoidable taxes and fees.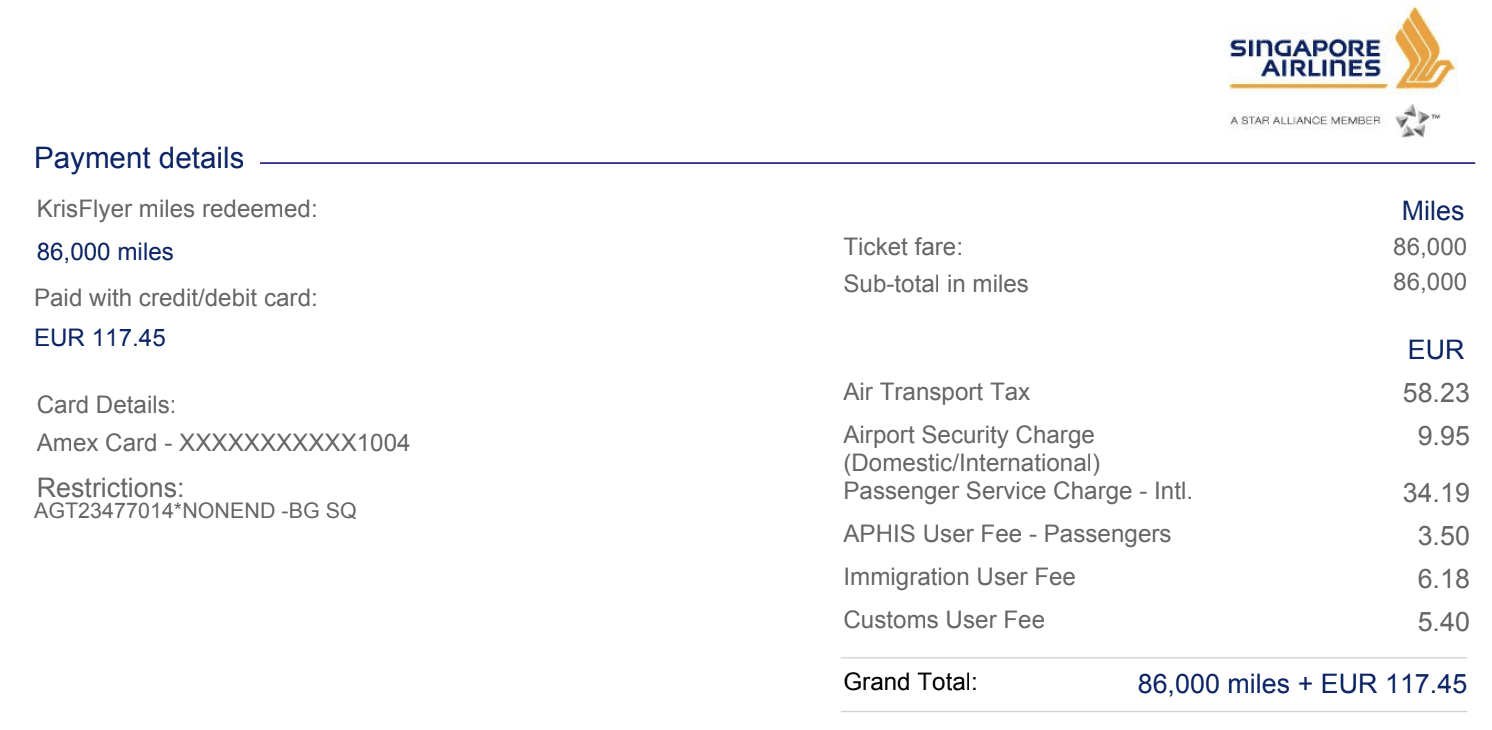 At Thrifty Traveler, we don't accept freebies. We use our own points, miles, or cash to pay for every single flight or hotel you see reviewed here – including this one.
Ground Experience & Lounge
Frankfurt is not Singapore Airlines' hub – not even close. It's an outstation airport, which means everything from check-in to lounges are typically contracted and operated by another company – not an airline itself. That can make your experience on the ground lackluster, but we were pleasantly surprised.
We started our journey off by checking in at the dedicated Suites lane in Frankfurt Terminal 1, where there was no wait.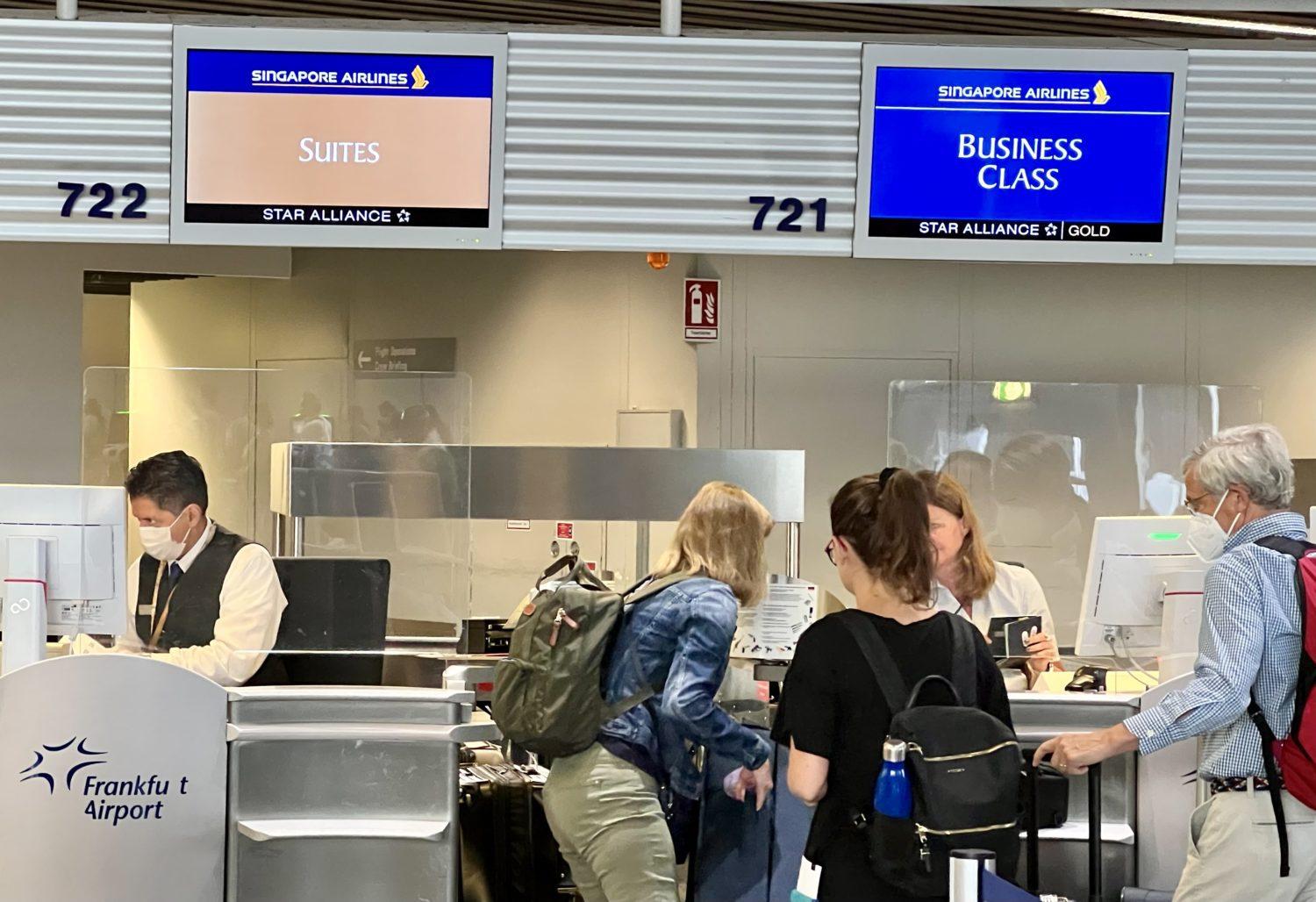 I love the gold-trimmed boarding passes we were given after dropping our bags!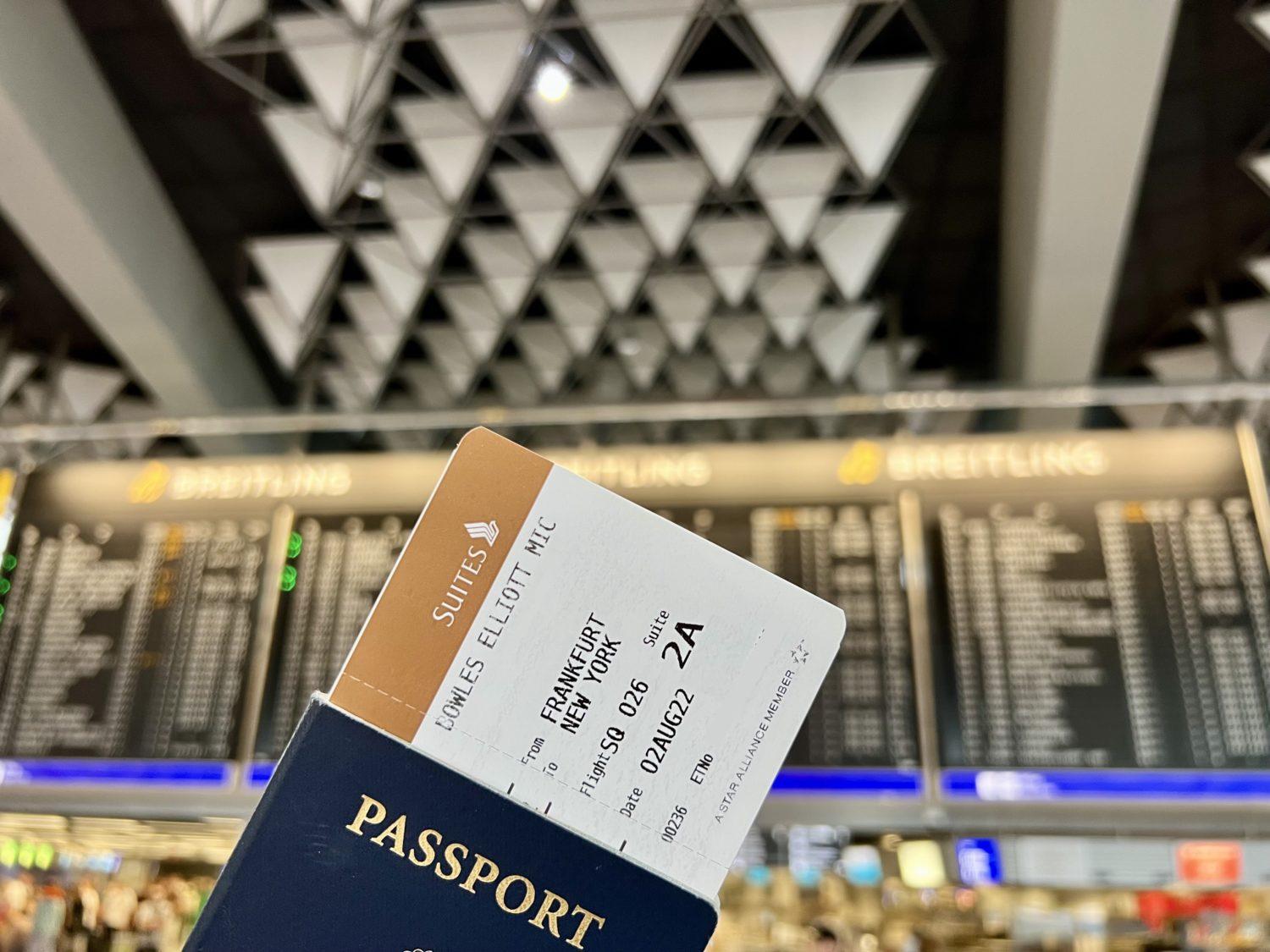 From there, we headed to an alleged "fast track" security, which seemed to move about the same speed as the regular line. After a passport check and a long walk, we made our way to the lounge. Singapore Airlines first class and business class passengers (plus travelers with Star Alliance Gold status) can all use the Air Canada Maple Leaf lounge. The lounge was … fine. It's nothing special, but was a comfortable place to wait a while before heading to board the plane.
But as we headed to the gate, the gap between first class and business class emerged. An agent noticed our boarding passes and immediately escorted us to a roped-off area in front of all the lines where we sat until boarding started. This was a nice touch which made for a relaxing start to the trip.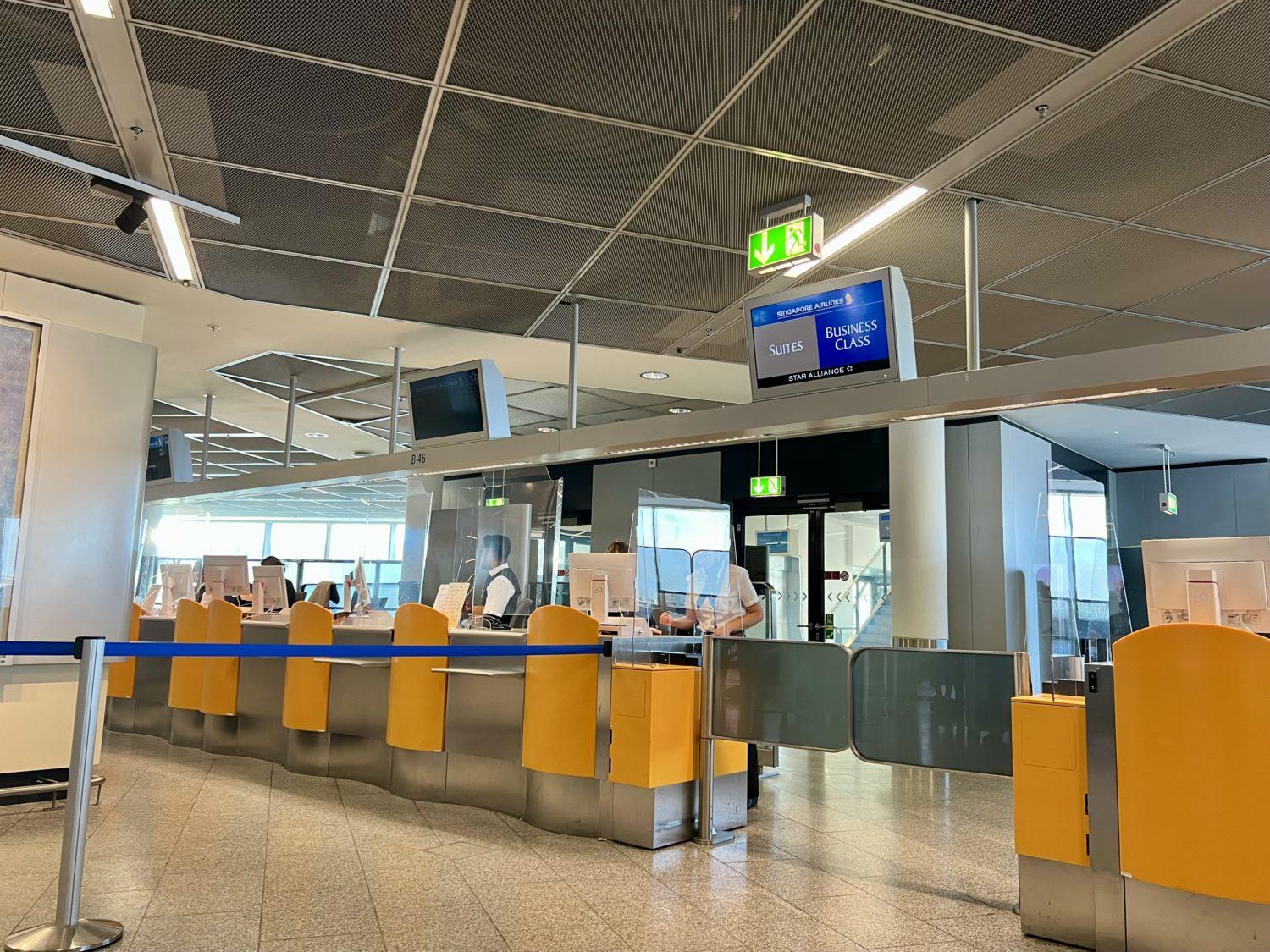 After a short wait, we were directed to board the massive Airbus A380 on the upper deck. Before we'd even made it within six feet of the door, a cabin crew warmly welcomed us by name. It was impressive, and a great preview of the personalized service we'd be treated to for the next eight hours.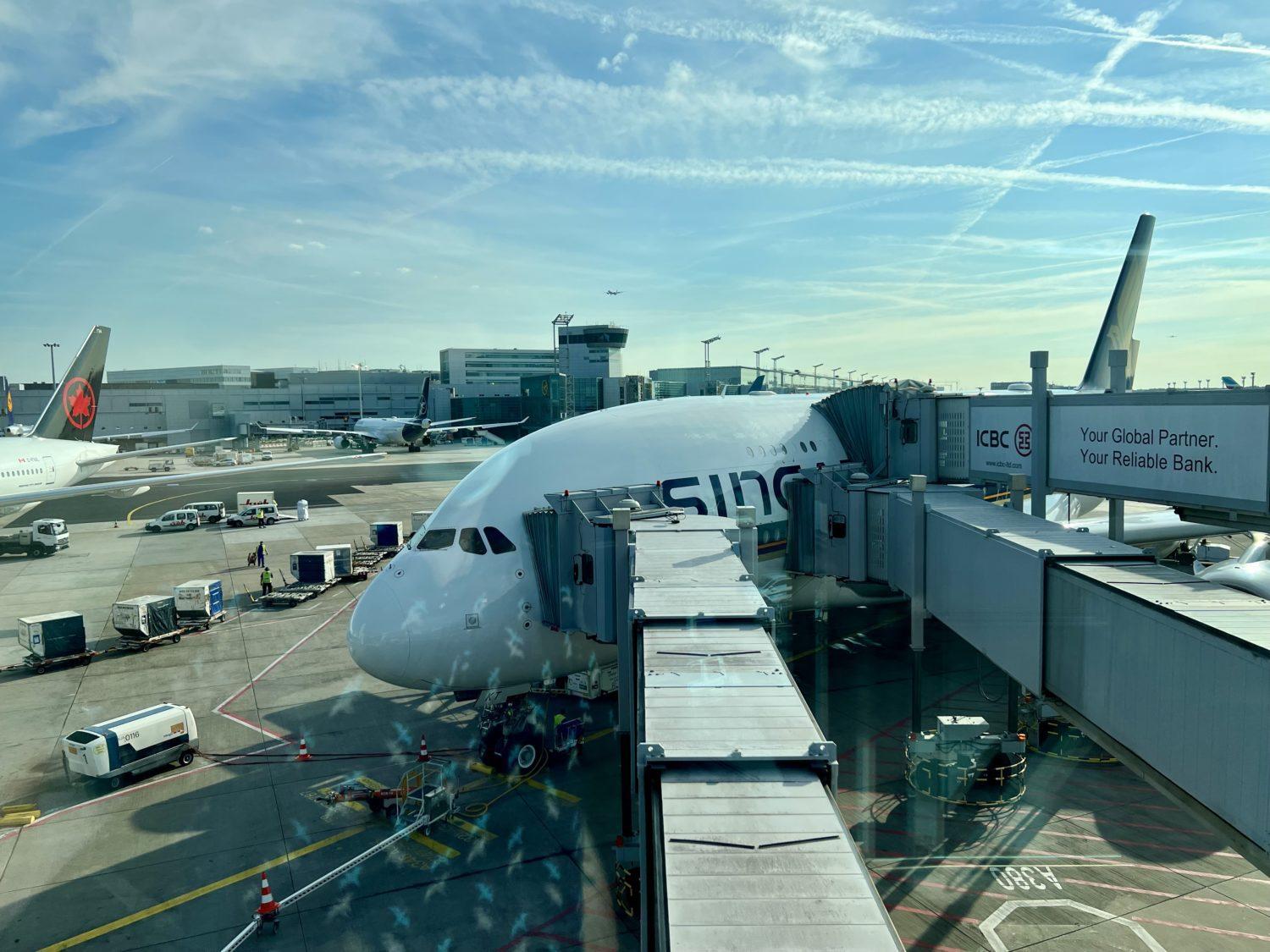 Singapore Airlines First Class Cabin & Seats
We were escorted past a galley and into a stunning cabin at the front of the Airbus A380's upper deck … of just six suites.
While other airlines flying the Whale Jet pack in more seats up front, Singapore has among the most generous configurations you'll find, with the lowest-density first class cabin. Though it's dubbed "The Apartment," even Etihad put nine first class suites on its A380s. That means more space for Singapore Airlines first class passengers.
And the cabin is gorgeous, with sleek metal finishes and high walls at each suite, each adorned with a flower motif.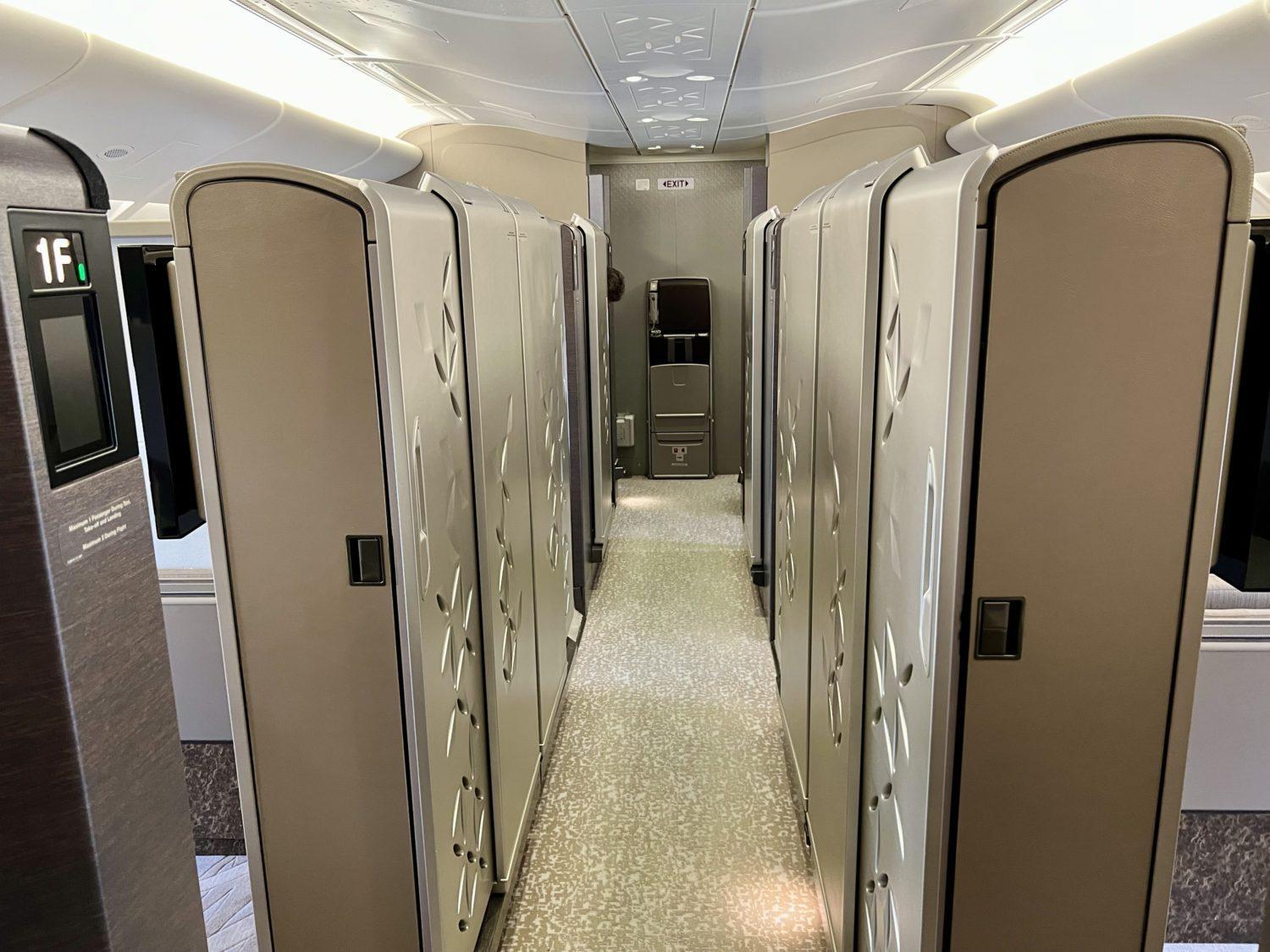 Our seats, 1A and 2A, had a very special added feature: The privacy wall could be lowered to create a huge 'two room' space. Is it a room? Is it a seat? I'm not really sure, but with each suite already measuring around 50 square feet, it created a unique experience – not to mention a massive space. Seats 1F and 2F can also form adjoining suites, while suites 3A and 3F are probably best for solo travelers.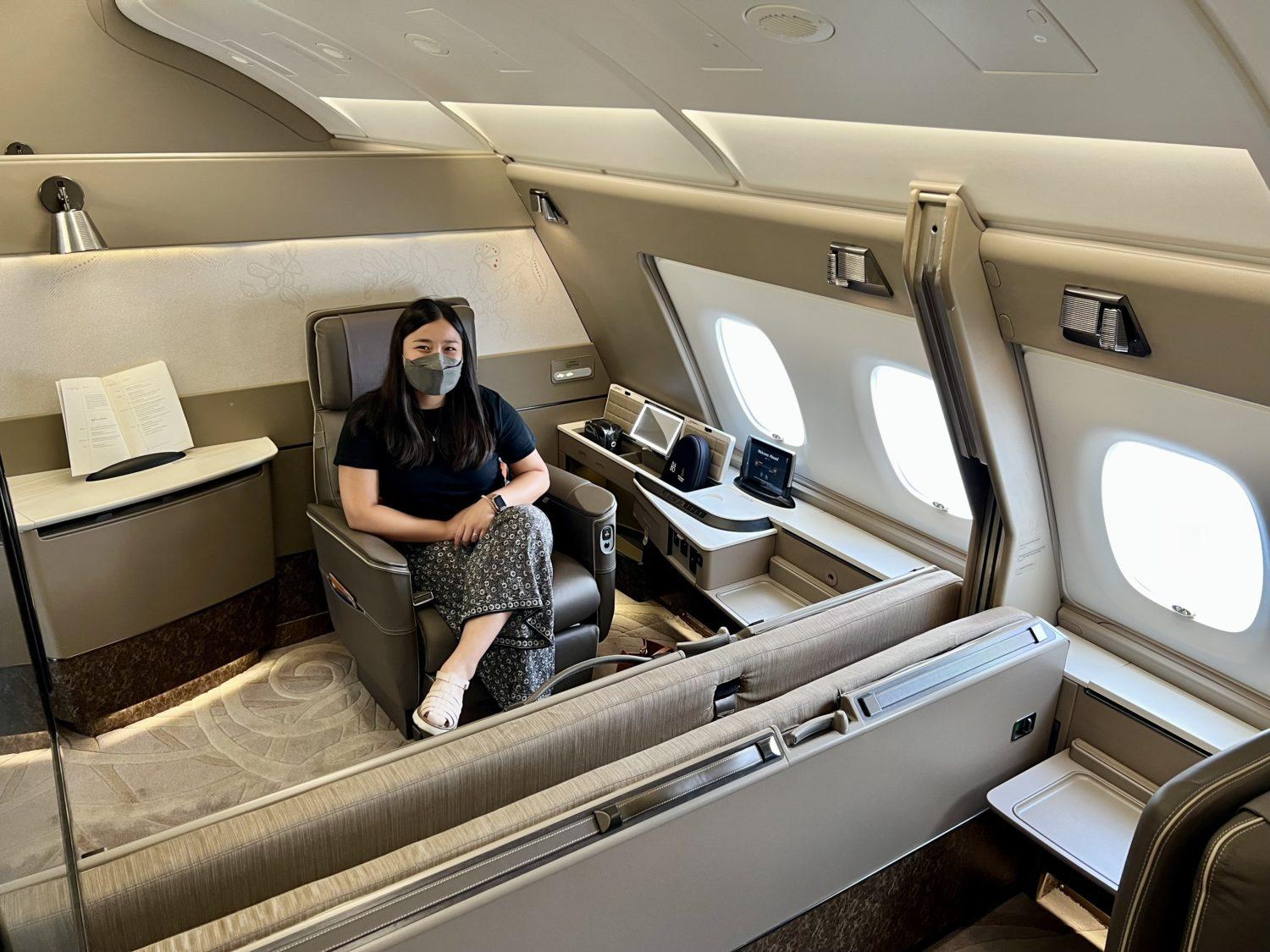 The centerpiece of each suite is a large armchair recliner. The seat faces forwards during takeoff and landing, but can be rotated a full 360 degrees throughout the rest of the flight. This made it easy to chat with Monica, who was sitting behind me, as well as to watch movies and TV on the large, 32-inch video monitor – which could also be angled out for a better viewing angle.

After noticing that I'm tall, one of the cabin crew offered me my own personal ottoman. That's the first (and probably last) time I'll be given one of those on an airplane!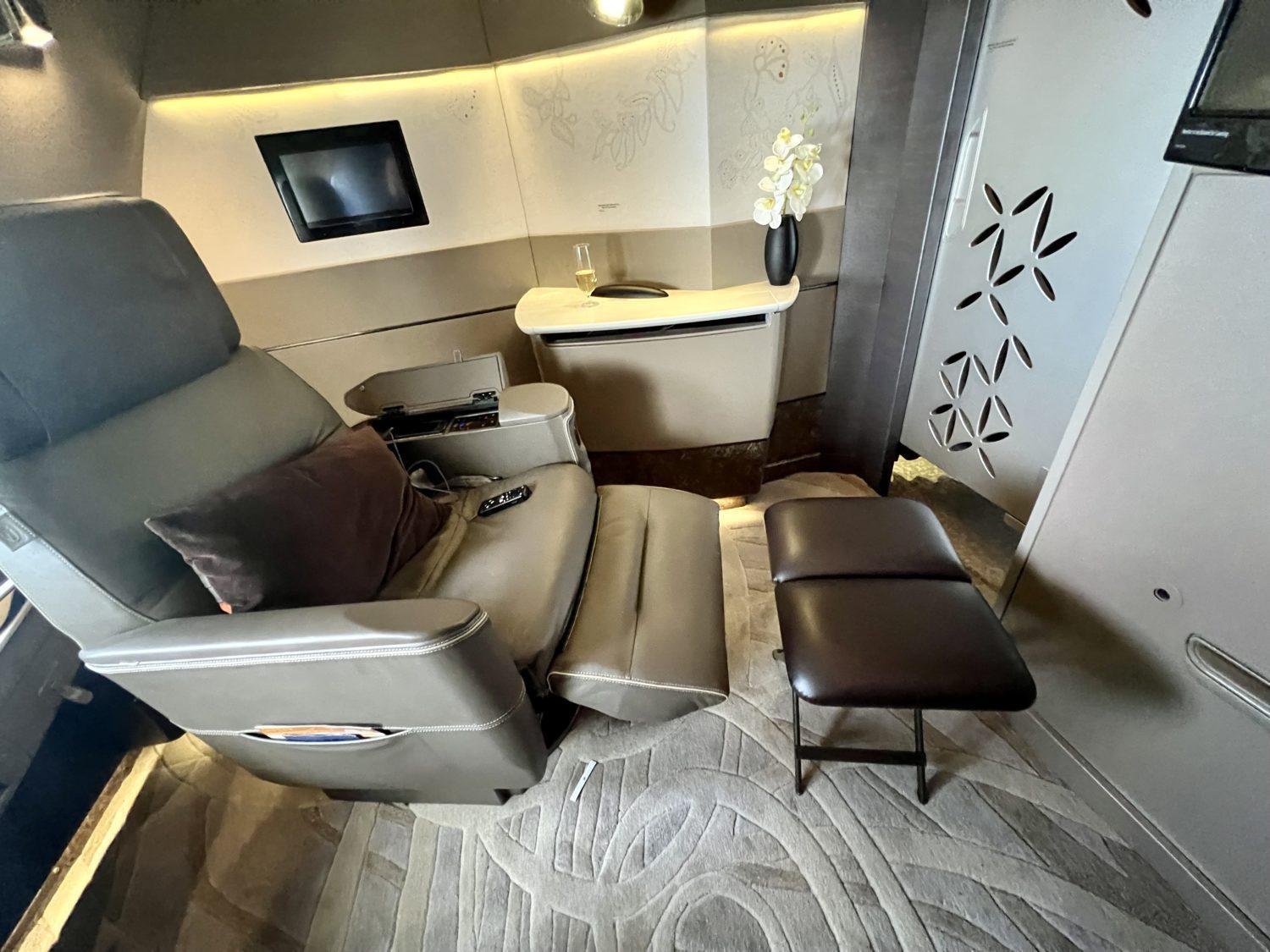 The suite also featured plenty of storage, starting with a closet that could fit a carry on bag and a change of clothes, with hangers available. It also contained a small mirror.

Next up were three cubbies at the back of each suite, one of which featured a light up mirror. These were perfect for storing small items such as phones and wallets.

But as if that wasn't enough storage, there was also a large stowage area underneath that could fit a large handbag or even a small backpack!

Back at my seat, there were plenty of buttons underneath the armrest to control the entertainment system, as well as to swivel the chair into various positions in order to eat, relax, or even swing all the way around to look out the window. You can also recline a fair bit in these recliner seats to relax, though it doesn't go all the way back to a full bed – Singapore Airlines first class has something else in store, there.

The suite also offered a universal outlet and USB charger as well as an HDMI port that could be connected to the TV monitor. I'm not sure what the contactless payment device was for, but it wasn't active during our flight.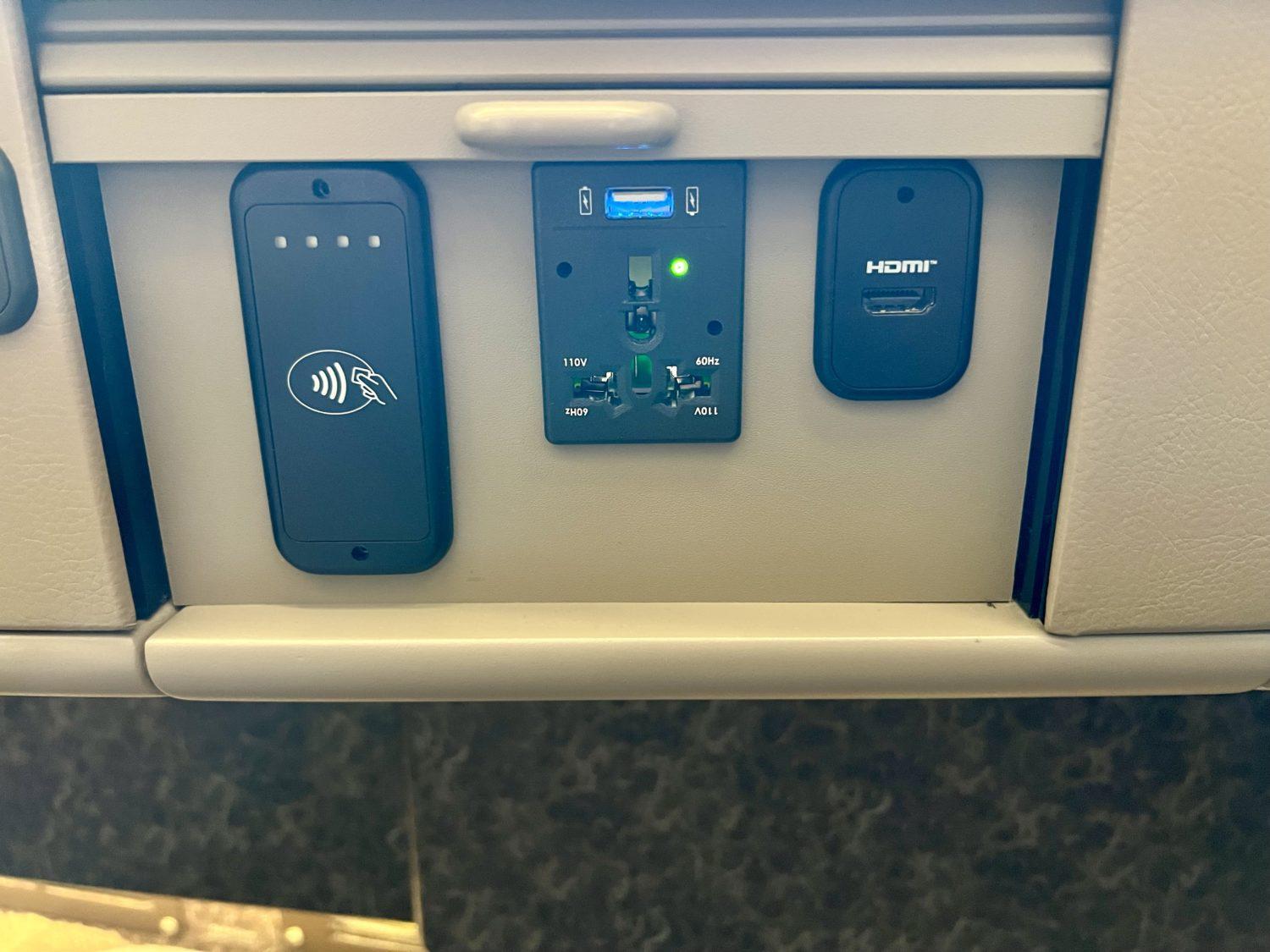 There was also a second outlet and USB port to charge additional devices.

Everything in the suite could be controlled using the removable tablet docked on the console table next to the windows. I had some trouble getting mine to work at first, but after a reset the crew were able to activate it. This was a nice way to interact with the entertainment screen, as well as track the progress of our flight.

For added privacy, there's a door which can be closed to the single aisle on the upper deck. This really did add to the exclusive feel of the cabin, and the crew consistently closed it between visits. That solved one of the biggest complaints of the design of these suites: Each suite faces each other, so you can get a good glimpse at your neighbor across the aisle if the doors are open.

First class has two lavatories at the front of the cabin. And while Singapore Airlines doesn't offer showers like Etihad or Emirates First Class on their A380s, there is no arguing this is one of the largest bathrooms in the sky.

After takeoff and a great meal, we were both tired and ready for a nap. And this is where we arrive at what really sets Singapore Airlines first class on the A380 apart … and the single best part of this flight – or should I say double? While I changed into my pajamas in the bathroom, the cabin crew turned our already-incredible suite into a full size double bed!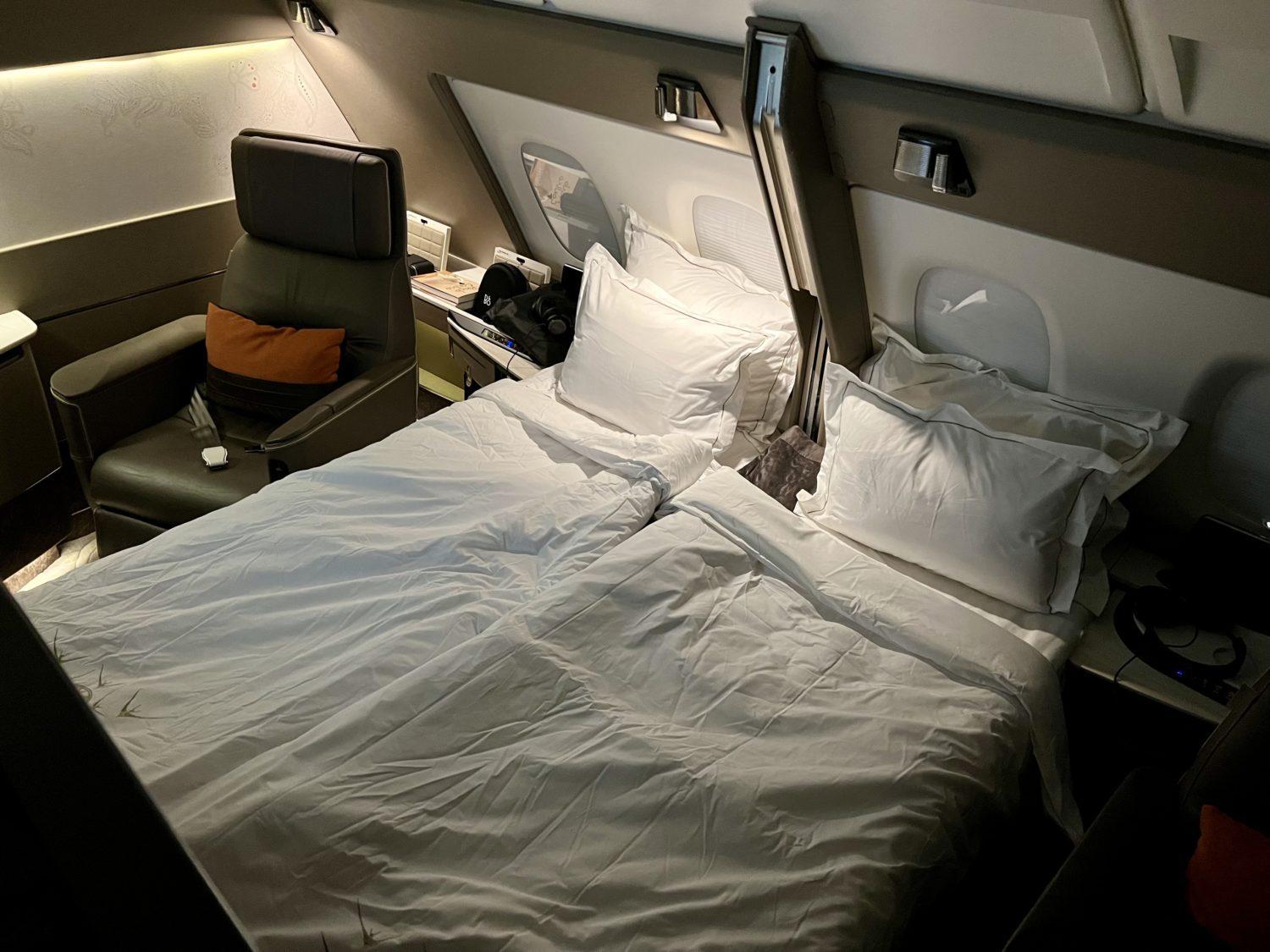 I have never seen such a large space to spread out and relax in the sky. While others have argued that these beds are too firm, I found it was every bit as comfortable as it looked. The crew even gave us a couple of cute teddy bears!

We were able to grab a couple of hours of very good sleep. Its so nice not having a footwell to restrict your legs, and being able to spread out made this feel almost as good as a hotel room. Separating the bed from the seat makes this level of comfort possible, and is something I wish more airlines would try to work into their cabins.

Food & Service in Singapore Suites
Shortly after sitting down, the signature Singapore service really began. When it's good, no airline provides better service than Singapore … and in this case, it was great.
We were greeted by one of the lead cabin crew, who introduced us to the features of the suite, even playing a short demo video which explained how everything worked.
While this was playing, it was time for champagne. Singapore doesn't cut back here: They had both Dom Perignon and Krug available during boarding and throughout the flight. Singapore doesn't skimp on bubbles, as both bottles retail for close to $300. And while even some five-star airlines pour a cheaper bottle on the ground to avoid paying taxes, that's not the case with Singapore.

As the flight finished boarding, we were also presented with a variety of amenities starting with Bang & Olufsen headphones, which are some of the best you'll find in the sky.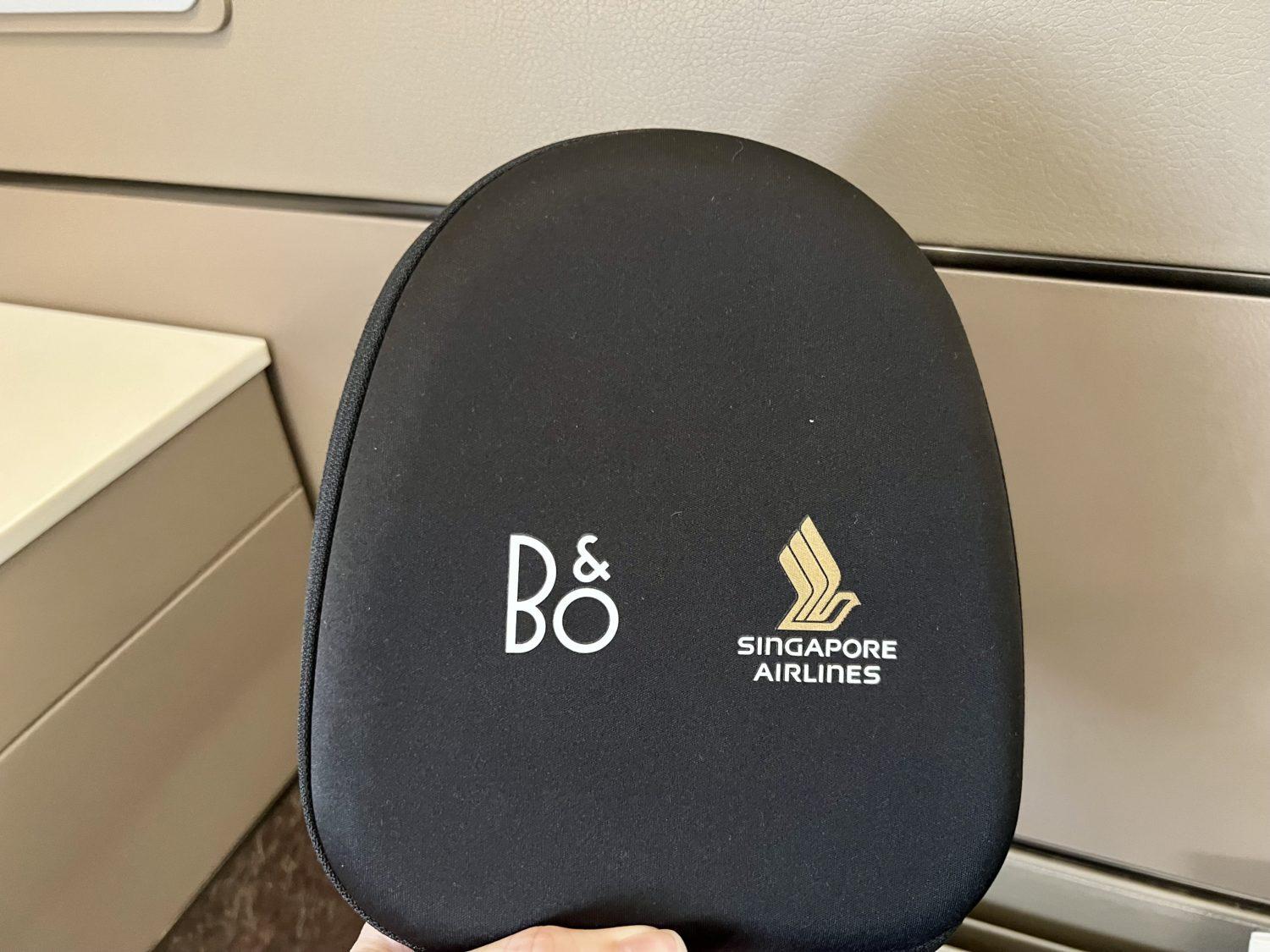 Singapore Airlines has a slightly strange take when it comes to amenity kits as they don't offer them proactively. Everything is available on demand, with a large range of products available in the bathroom.

They do, however, give everyone a "beauty kit," which included some lotions and balms from Lalique as well as a candle. Yes, a candle! Don't try to light it onboard.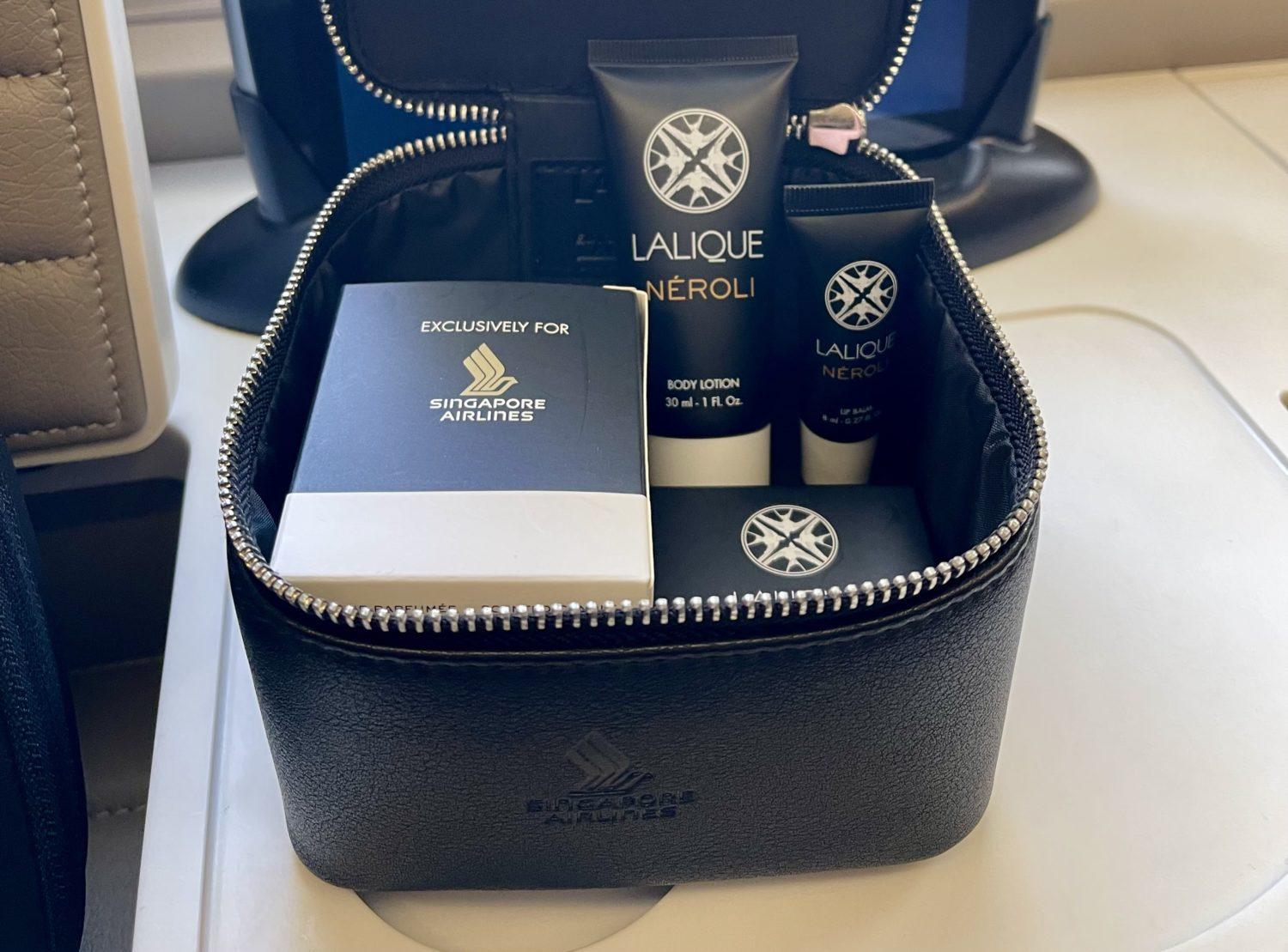 I didn't grab a photo, but we were also offered Lalique pajamas and some very comfortable slippers. As a quick reminder of how over-the-top Singapore service can be, a member of the cabin crew removed and stowed Monica's shoes before takeoff!
A menu was also already on display at Monica's seat when she sat down. I had to ask for one, which was quickly delivered.

Come mealtime, Singapore Airlines does things a bit different. On top of the printed menu, Singapore offers "Book the Cook" service in both first class and Singapore business class, allowing flyers to pre-select from an even wider array of dishes before departure. Despite leaving Frankfurt around 8:30 a.m., our first meal was lunch service – and I'm not complaining about that!
Cabin crew took our orders before takeoff. Despite making a "Book the Cook" selection, the crew gladly allowed Monica to change her lunch order to one of the catered on-board options.

Once airborne, lunch started with another drink from the bar – a Singapore Sling cocktail for Monica and a glass of Dom for me.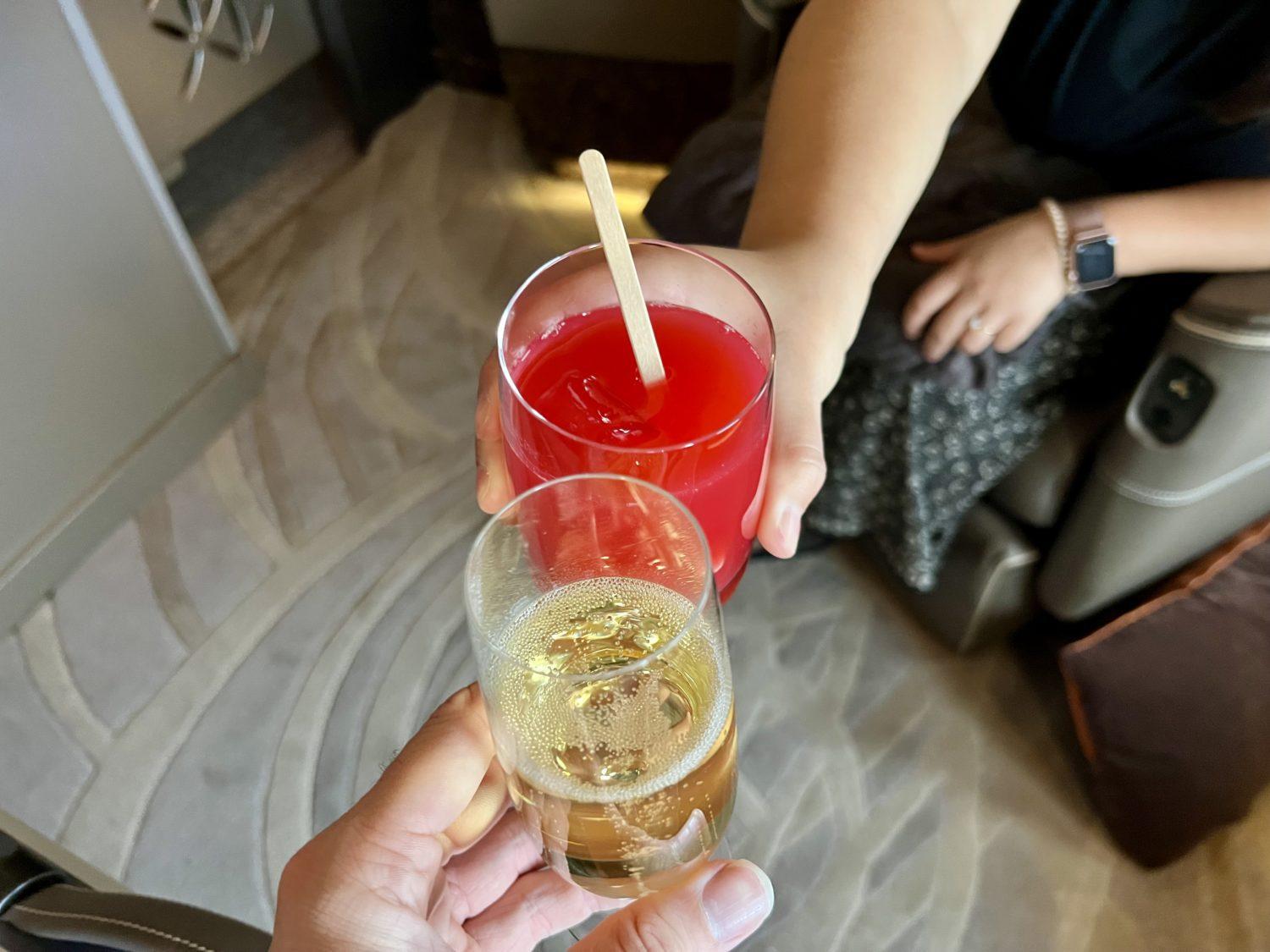 To kick off meal service, we enjoyed some oh-so-good chicken satay with peanut sauce. This is a must when flying Singapore.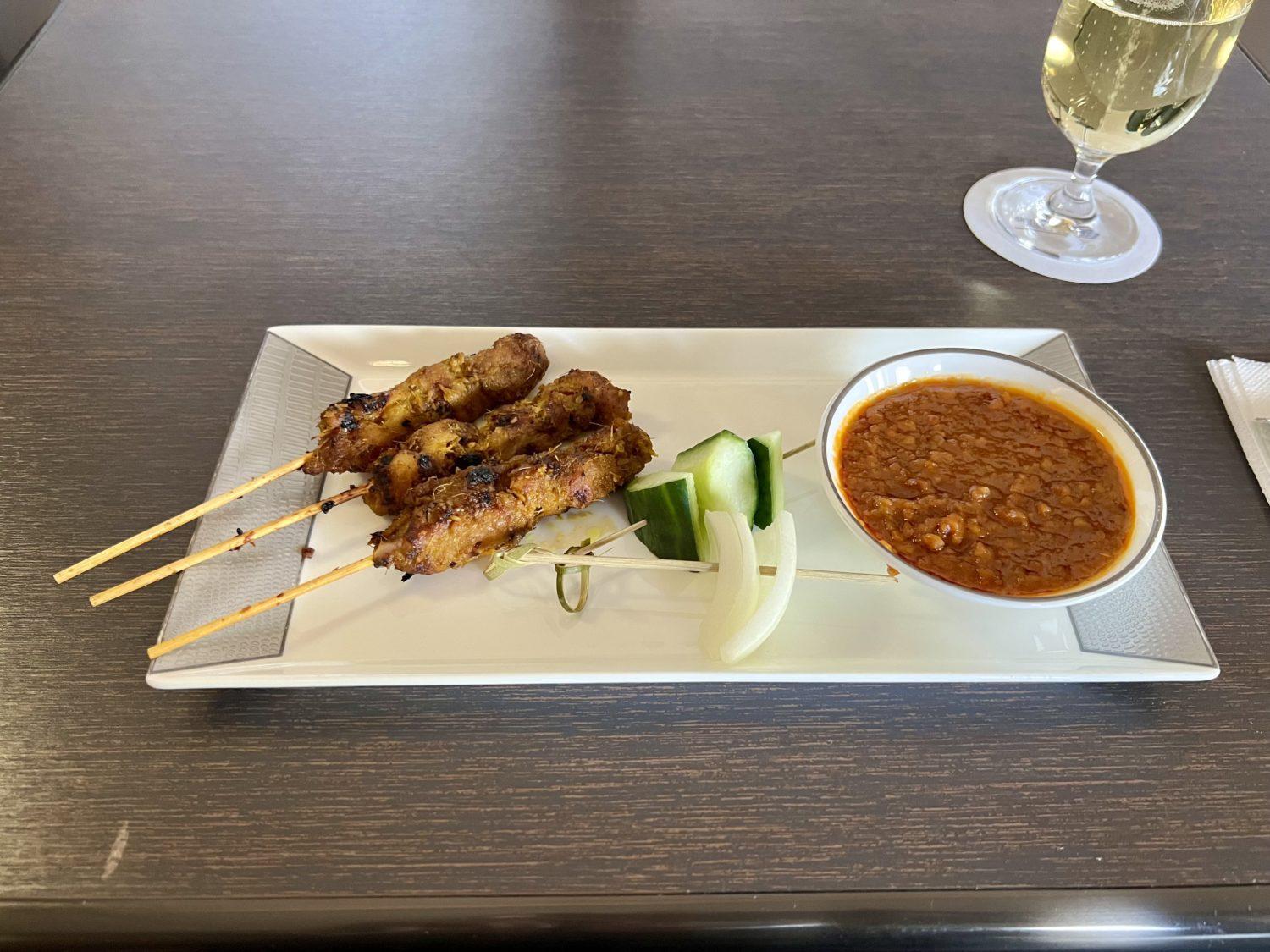 Dishes were then meticulously set on the large table built into the armrest of the chair.

Bread was next, and I went for two pieces of very tasty garlic bread. Just like the satay, always take the garlic bread when it's offered! Always.

Caviar service followed, with the classic accompaniments alongside blinis. I also enjoyed a glass of vodka, a must with caviar service.

Next up: soup. Regrettably, I can't remember exactly what it was … but I do remember it being creamy and delicious!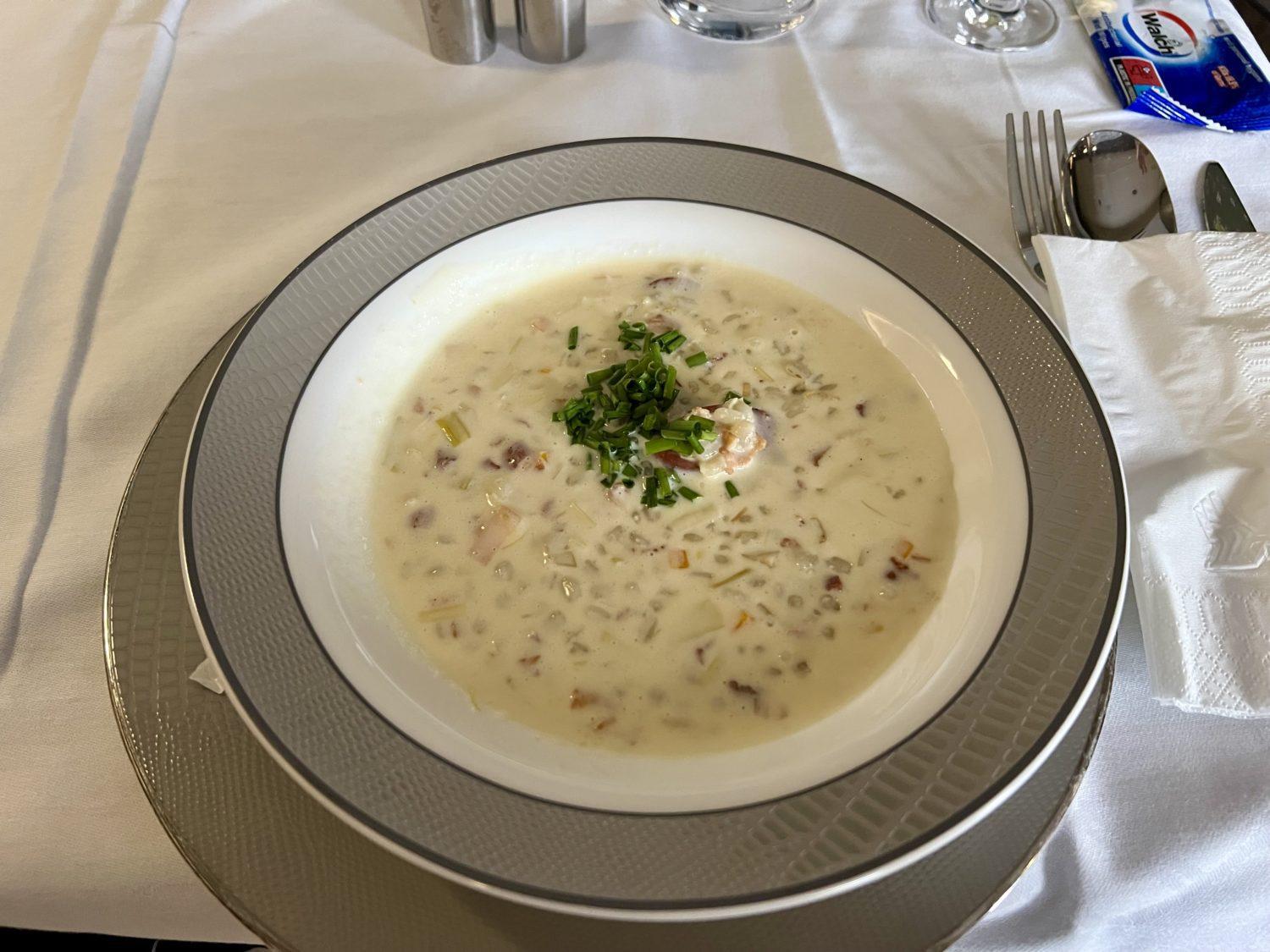 For my entree, I went with the chicken massaman curry, which was very tasty. It had the perfect amount of spice and was a generous (but not too big) portion.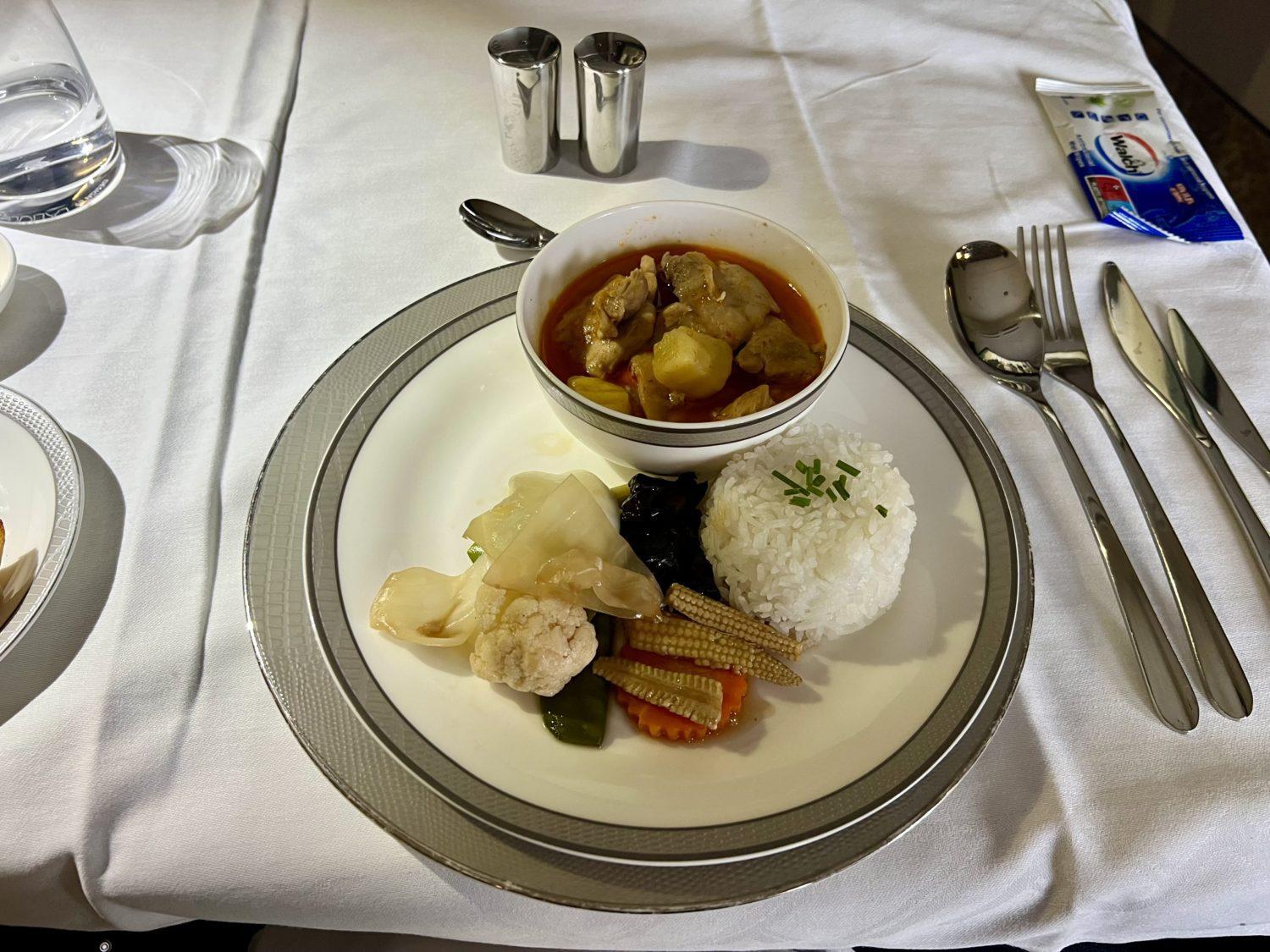 Monica enjoyed a perfectly cooked beef short rib.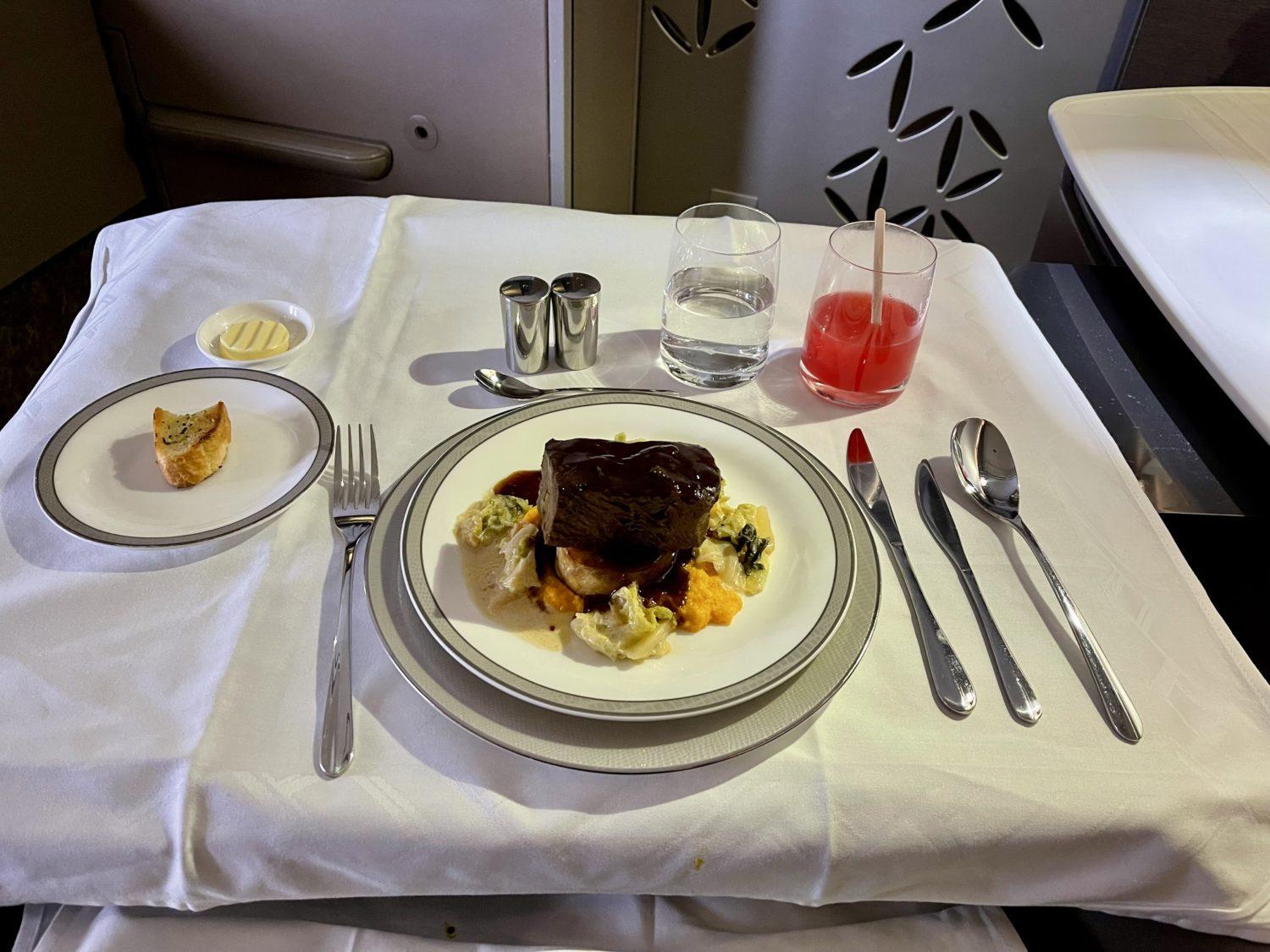 To wash down these courses, I sampled some of the incredible wines Singapore Airlines caters, including this very nice French red from the Burgundy region of France.

Equally tasty was a glass of this Pauillac. I was shocked to look these wines up and discover they both retailed north of $200 a bottle. I have never had wine this expensive in my life – and more importantly, I enjoyed every drop!

To round out the meal, I indulged in a chocolate cake, which hit the spot.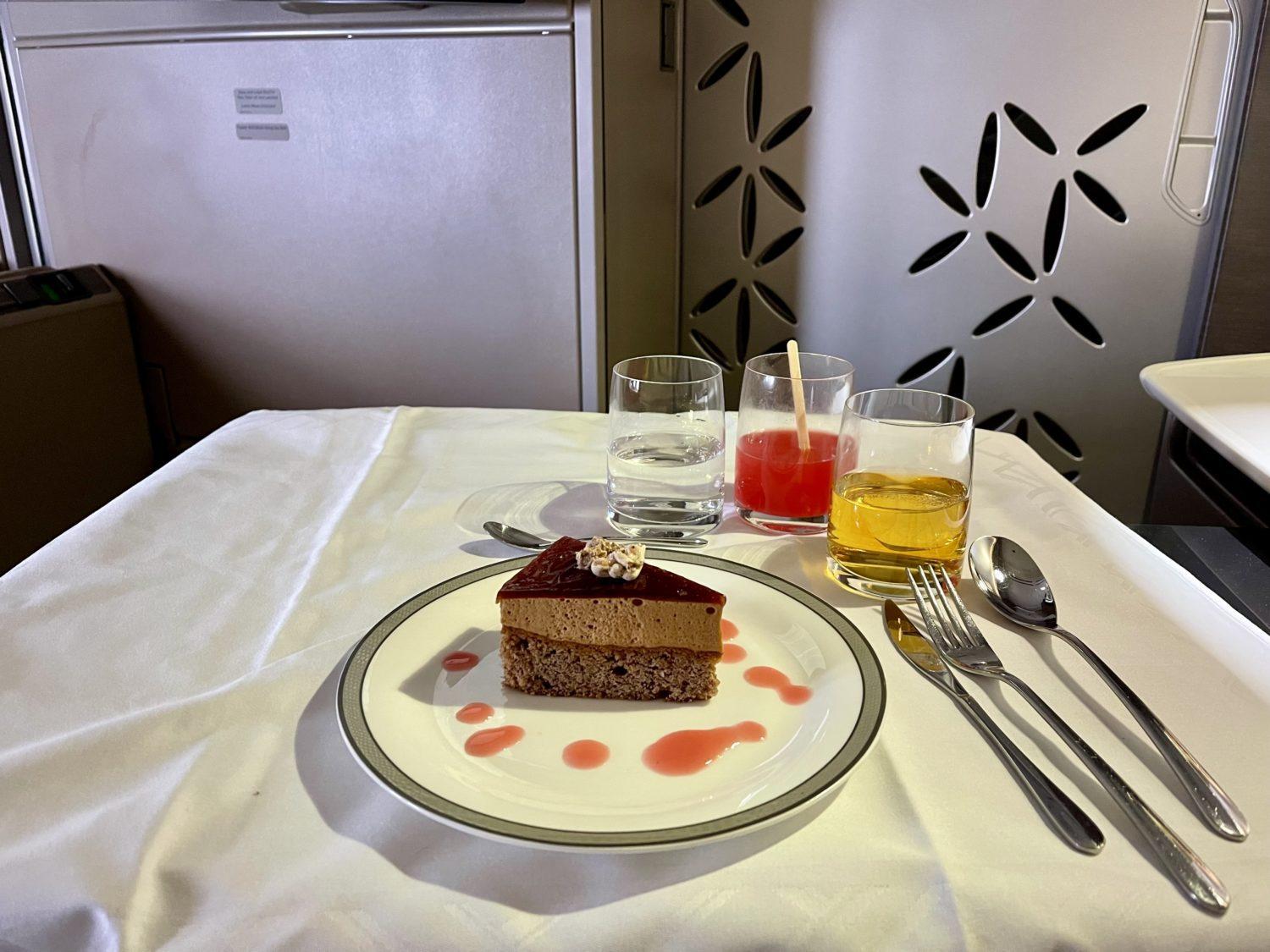 And as if that wasn't enough food, this was followed up by a cheese plate and a glass of Graham's 20 Tawny Port.

To finish, more food: I enjoyed some fresh fruit, which acted as a nice palate cleanser.

After a great nap, we eventually closed in on New York City. I ordered the savory congee as a light snack as we began our descent.
Service throughout the meal was incredible. It was personal and friendly yet still polished. I enjoyed chatting with the cabin crew about our recent trip to Barcelona, and I appreciated their proactiveness throughout the meal. Glasses stayed full and dishes were cleared promptly (but not too quickly).
Entertainment
The flight's entertainment system featured a huge amount of movies, TV shows and music options to pass the time.
I went with Crazy Rich Asians, which is set in Singapore and brought back fond memories of Monica and mine's first trip together when we started dating. We'll be back there next year as part of our honeymoon!

Complimentary Wi-Fi was also available for Suites passengers, which is a nice touch. Although it was a little slow and unreliable, I appreciated that there were no data caps.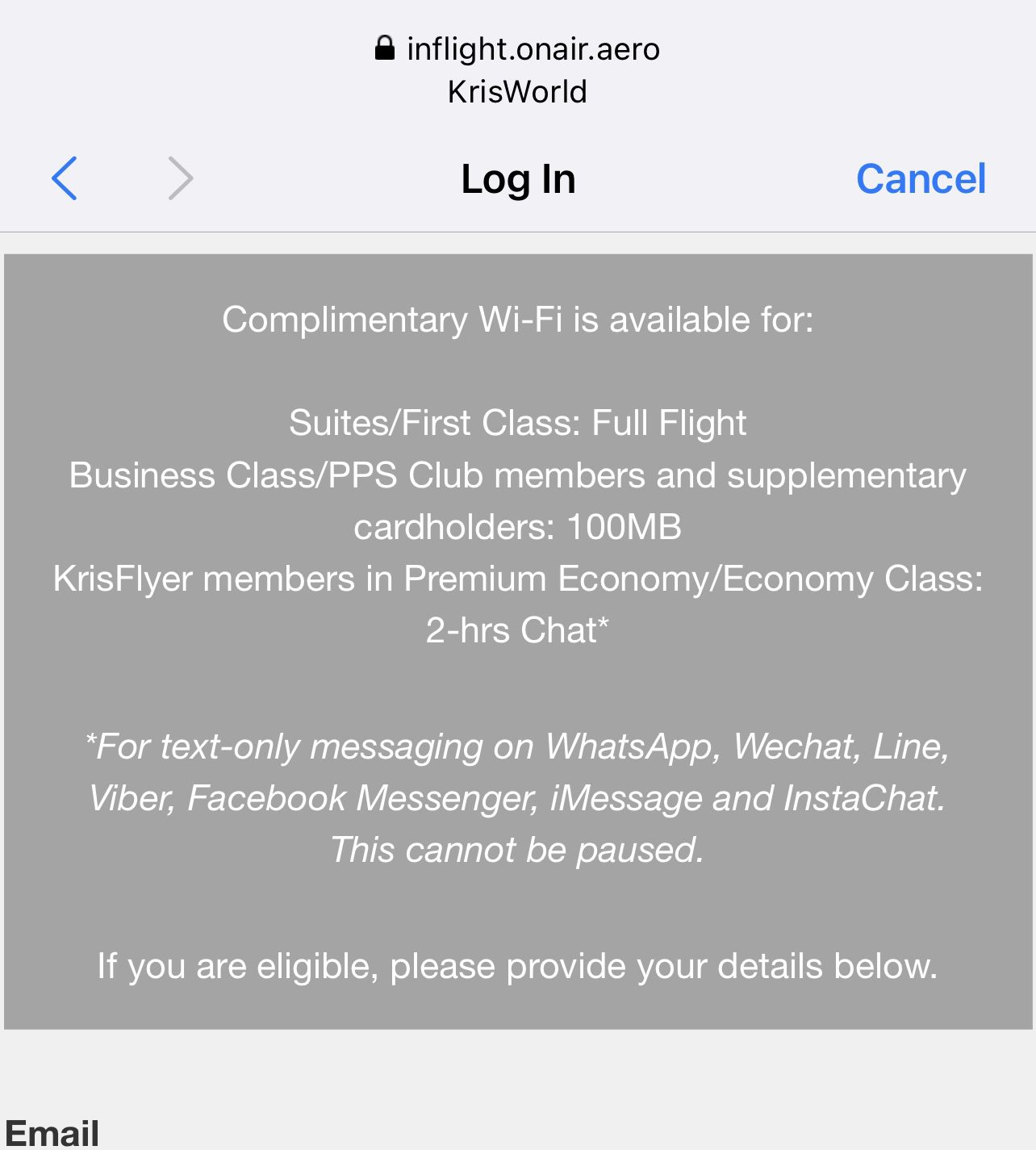 Bottom Line
This was an absolutely incredible flight, and one I am so grateful to have been able to take with my fiancée.
From the perfect service to the amazing food, to the huge double bed, I wouldn't hesitate to fly Singapore Airlines first class suites again. I can't think of a better way to cross the Atlantic in style.