For the first time in nearly three years, Hong Kong's Cathay Pacific is set to resume flying its world-famous first class seats to and from the U.S.
New schedules from the airline show it will begin flying Boeing 777s equipped with a first class cabin as of March 27 between Los Angeles (LAX) and Hong Kong (HKG). Los Angeles is the only U.S. route currently set to get first class service from Cathay, with flights running across the Pacific Ocean five times a week.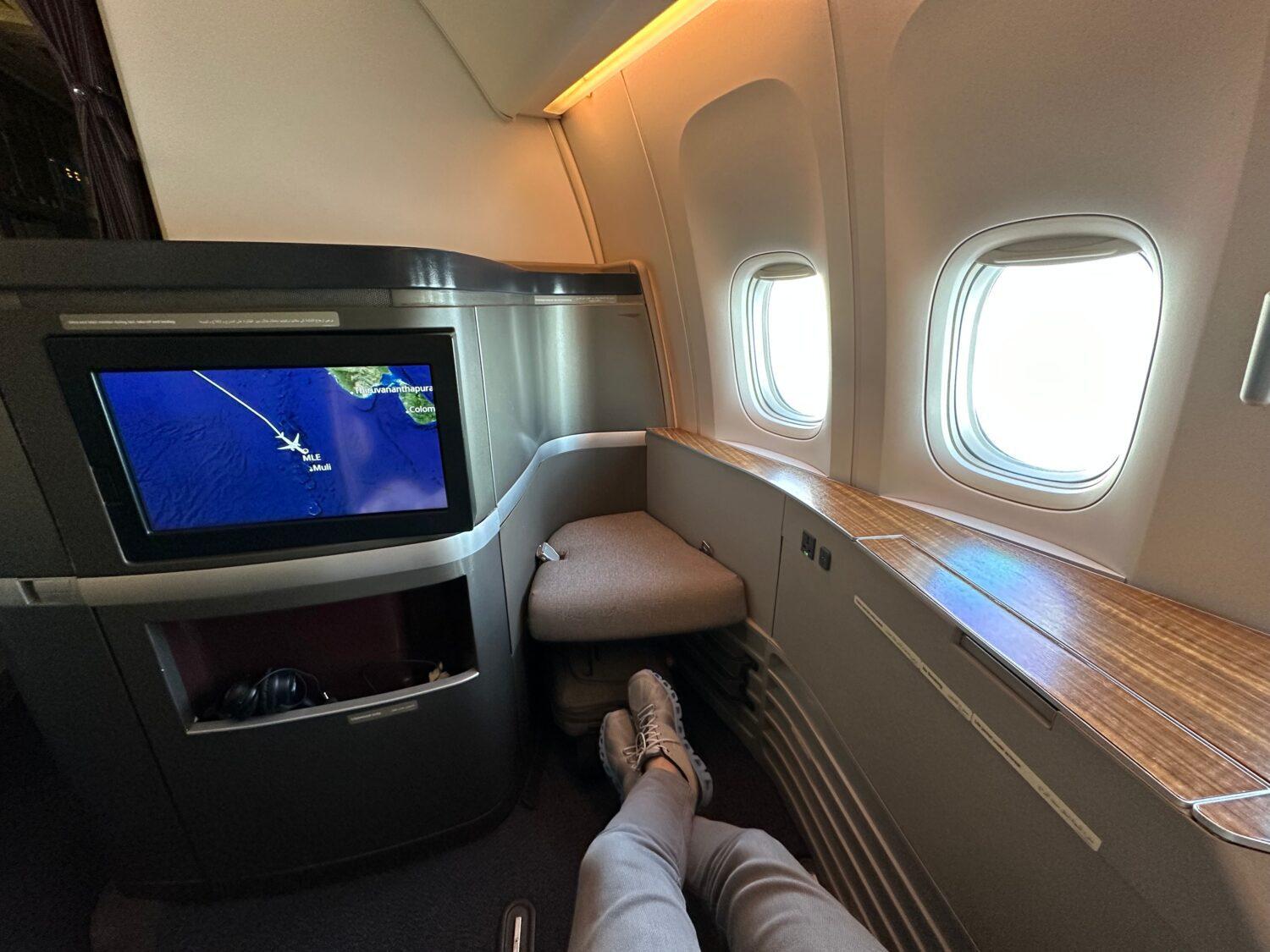 It's a long time coming and a big moment for frequent flyers who've had Cathay Pacific first class on their bucket list for years. With a cabin of just six seats, these first class seats are some of the widest you'll find in the sky – with the most comfortable beds, too. Caviar service and champagne are a given.
As the world shut down in early 2020 and Hong Kong banning almost any travel, Cathay flew a skeleton schedule and grounded its entire fleet of 777s. The airline eventually leased a handful of these 777s to Qatar Airways, opting to fly its Airbus A350s with no first class cabin to the states instead. The return of Cathay first class seemed iffy – and for a while, it felt like the airline might not even survive.
But in 2023, things have turned around. International travel demand is soaring, and Hong Kong has dropped its onerous entry restrictions. Cathay is reopening many of its flagship lounges in Hong Kong and has already resumed flying first class to other major hubs like London-Heathrow (LHR) .
Soon, the U.S. will be back on the map, too. And it's likely only a matter of time before we see Cathay Pacific jets with first class flying to other big airports like New York City (JFK) or San Francisco (SFO).

Traveling to Hong Kong might have lost some of its luster after the city-state's repressive lockdown during COVID-19 and years of mainland China's encroaching influence. But beyond its undeniable status as a global city and a magnet for foodies, flying Cathay Pacific through Hong Kong is also a great way to get almost anywhere in Southeast Asia.
While the Biden administration dropped its testing requirement for international flights last year, the Centers for Disease Control and Prevention (CDC) issued a separate order in early January requiring anyone flying to the U.S. from China, Hong Kong, and Macau to provide a negative COVID-19 test taken no more than two days before departure. As of publication, that requirement remains in place.
Booking Cathay Pacific First Class
It's one of the best first class seats you can book with points. And that means it can be a challenge.
Flying from the U.S., you can score Cathay Pacific first class with 110,000 AAdvantage miles and a few bucks in taxes and fees. Using miles from British Airways, Qantas, and Cathay Pacific's own Asia Miles program is an option too – but you'll need to fork over far more miles and pay some hefty surcharges.
The best deal by far is cobbling together just 70,000 Alaska Mileage Plan miles for a seat in Cathay Pacific first. Aside from the huge, 70,000-mile bonus currently available on Alaska's credit card, those miles can be fairly hard to earn.
But the real challenge is finding award availability. Unless you're OK sweating it out last-minute and booking a seat just a few days before departure, finding seats that are actually bookable with miles is tough. There are just six first class seats, after all, and Cathay doesn't just hand them out.
Just last night, we sent our Thrifty Traveler Premium+ members an award alert for a chance to book these seats later this year – with two seats available on many dates!

Get rare award alerts to use your points and miles with Thrifty Traveler Premium+!
Bottom Line
After a three-year absence, Cathay Pacific First Class is heading stateside soon.
Come late March, the Hong Kong airline will resume flying its flagship Boeing 777s equipped with first class to and from Los Angeles (LAX).