The best things in life are worth some extra work. And that applies to Qatar Airways first class.
While other airlines double down on luxurious first class cabins, Qatar is quietly removing its own as it ditches the mammoth Airbus A380. There are just a handful of routes where you can fly Qatar first class. It will disappear entirely within the next four or five years.
So can a first class flight on an airline that's giving up on first class really deliver? And can it really stand up to Qatar's world-best Qsuites business class, which dubs itself "first in business"?
Yes, but also no. It wasn't perfect, but Qatar Airways first class still shines even on its way out the door. Read on for our full review.
Booking Qatar Airways First Class
It's getting harder and harder to find a plane with a true first class on Qatar Airways.
Qatar Airways is doing away with first class altogether – and with how good its Qsuites are, we can't blame them. So the only planes on which you'll find first class are the Airbus A380, which Qatar is also phasing out along with many airlines.
You won't find it flying to or from the U.S. As of publication, Qatar flies its A380s from its hub in Doha (DOH) to just six cities total, in Europe, Asia, and Australia.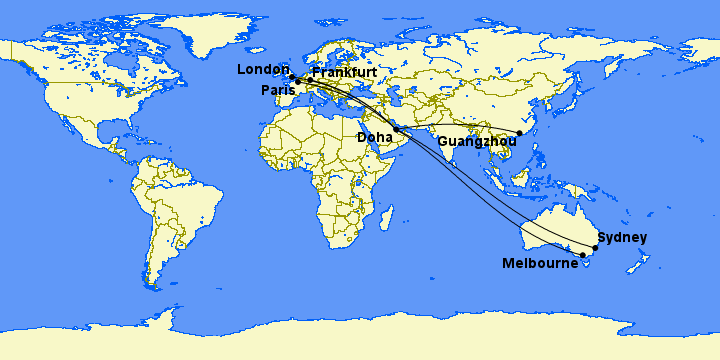 One of the best ways to book flights on Qatar is with American AAdvantage miles. And if you're looking to get the best bang for your buck, this flight from Doha to Guangzhou (CAN) is the standout option. That's because you can book this nearly eight-hour flight in first-class for just 50,000 AAdvantage miles. 
These flights from the Middle East to Asia are a serious sweet spot. Compare that to the 62,5000 AAdvantage miles you need for the shorter flights to and from London-Heathrow (LHR), Paris-Charles de Gaulle (CDG), or Frankfurt (FRA). Or the whopping 100,000 AAdvantage miles to book flights to Australia.
And while finding award space to fly Qatar business class between the U.S. and Middle East has become a chore, there's no such concern here. You can find these first class awards almost every single day of the year! And they're easily bookable online at AA.com.
We started our journey in Muscat, Oman (MCT). But one of the beauties of using AA miles to book is its region-based award pricing system. Even with that initial flight in regional first class, it still cost just 50,000 AAdvantage miles each for the trip.

In the end, we paid 50,000 AAdvantage miles and roughly $40 in fees each to fly from Muscat to Doha and onward to Guangzhou in first class. Considering these flights typically cost more than $5,000 per person, I'd say we did quite well.
Qatar Airways Al Safwa First Class Lounge
Flying first class on the world's best airline gets you into arguably the world's best airport lounge.
Welcome to the Al Safwa Lounge, Qatar Airways' top lounge reserved only for first class passengers. While the airline has relaxed that policy by granting some top flyers with elite status access and also selling day passes (at about $160 USD per person), it's still an outrageously first class experience. And there's no other airport lounge like it.
The space is so massive yet empty, it feels more like a museum than a lounge. Throughout the course of our long stay in the lounge, we saw just 10 or so fellow passengers – total. There are hundreds of seating options, from rows of chairs along the signature water feature to the dining room and all throughout the lounge.
There's also some great a la carte meals, where you can order a steak, lamb chops, or seafood curry – all delicious, though just shy of restaurant quality. And when they're pouring $150-plus bottles of Veuve Clicquot La Grande Dame, it's not hard to drink more in champagne than you paid for your ticket.
But this lounge goes beyond pure spectacle. There are plenty of great amenities like a media room to watch movies, desks equipped with both Macs and PCs, a private duty-free store, and even a spa – where treatments will cost you, but you can take a jacuzzi for free.
The highlight of Al Safwa is the set of 15 sleeping rooms, which you can use for a long nap for free, so long as you've got a layover. Each suite has its own bathroom with a shower, too.
Read our full review of the Al Safwa lounge.
Qatar Airways First Class Cabin
There's nothing quite like boarding double-decker Airbus A380 – especially when you're flying first class.
It starts with the feeling of exclusivity. Because first and business class on the A380 are on the upper deck, you board through a private jetbridge, walking up to get on board. Turn left, and Qatar Airways first class awaits.
There are just eight seats in Qatar Airways first class cabin, laid out in a 1-2-1 arrangement. While privacy is all the rage these days with suites and fully enclosed doors, there's something beautiful about Qatar's very open cabin.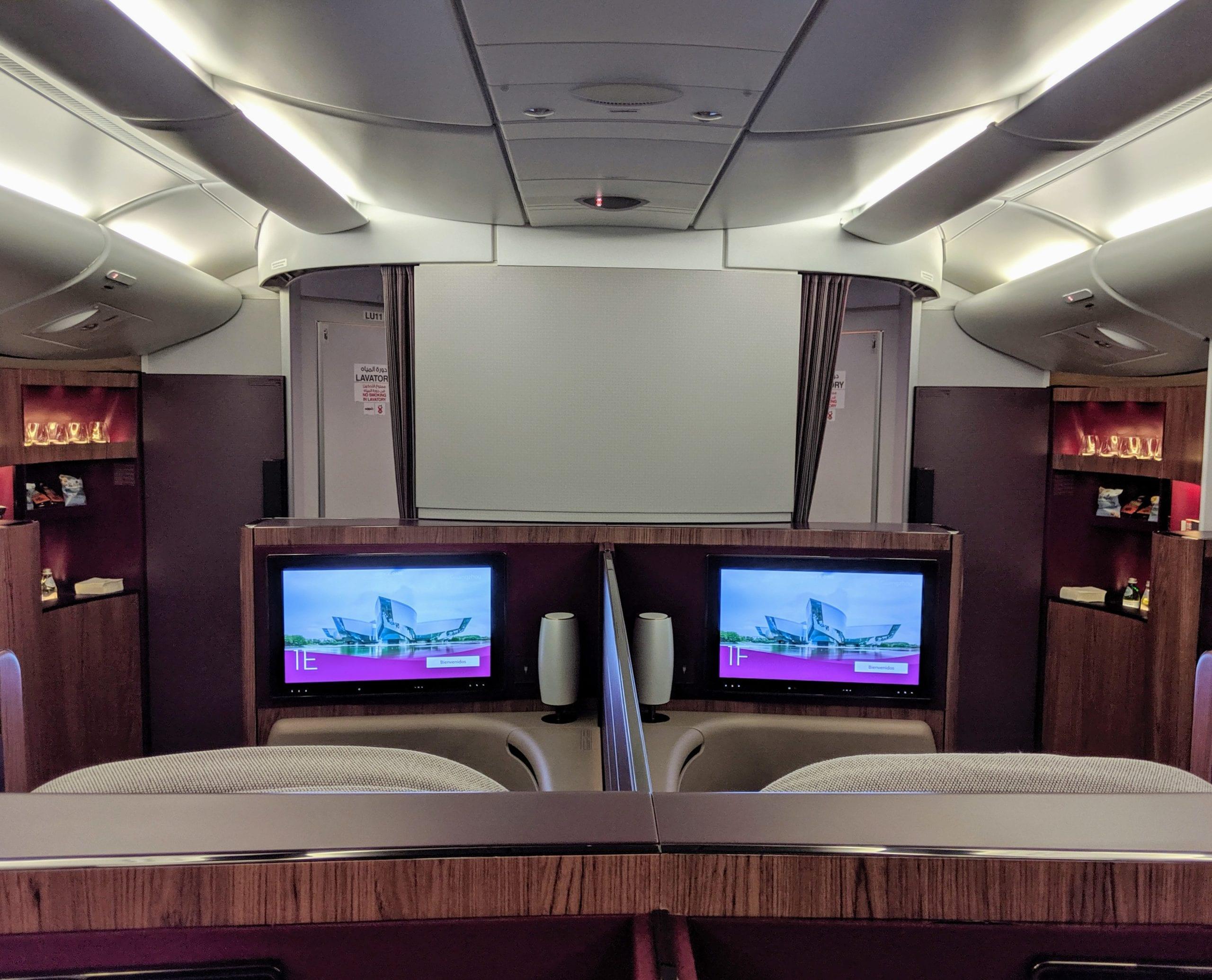 Looking for overhead bins? You won't find any. Instead, our incredible flight attendant, Alexandra, asked to take our bags and put them in a storage locker near the front of the cabin for the duration of the flight. The result is one of the most airy and spacious first class cabins you'll find in the sky.
While the seats are nowhere near as private as Qsuites business class or some of the world's most luxurious first class cabins, it works. It will all come down to personal preference, but I'd gladly sacrifice a bit of privacy for more space. And it's not as though there's no privacy whatsoever.
The two seats in the middle section are great for couples, but you can also raise a large privacy divider between the seats if you don't know your neighbor. And every single seat is equipped with a large shield, which you can raise and lower electronically. Add it up, and it's more privacy than you'll get in Lufthansa First Class, for example.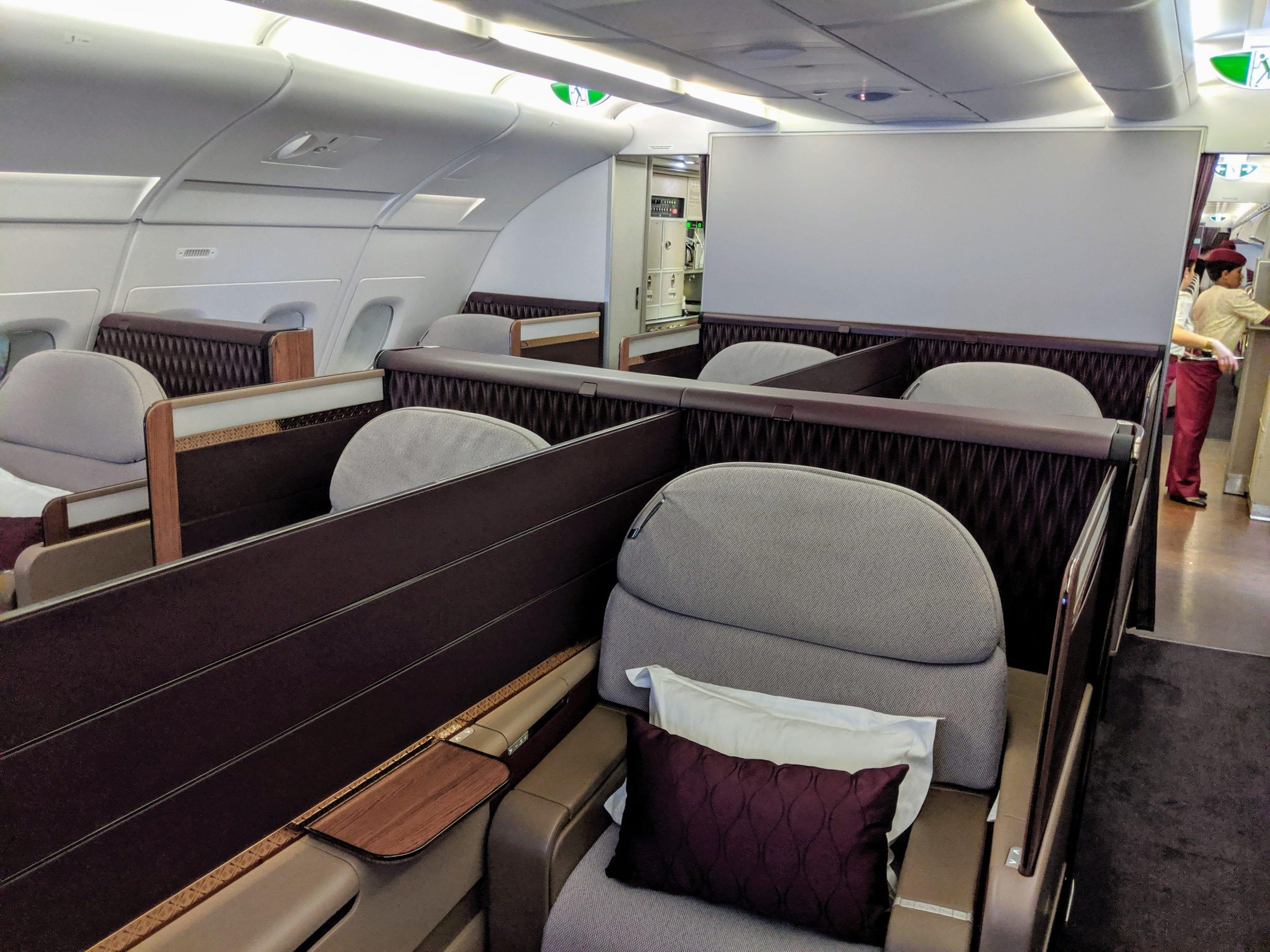 Of course, you don't need to worry about privacy much when you're the only two people flying first class. We watched seatmaps in the weeks and days leading up to our flight, and sure enough, Thrifty Traveler Premium flight deal guru Jon and I had the cabin to ourselves. Alexandra half-joked that we could switch seats every two hours during the flight.
That's another perk of this route between Doha (DOH) and Guangzhou (CAN): both first and business class cabins are typically quite empty.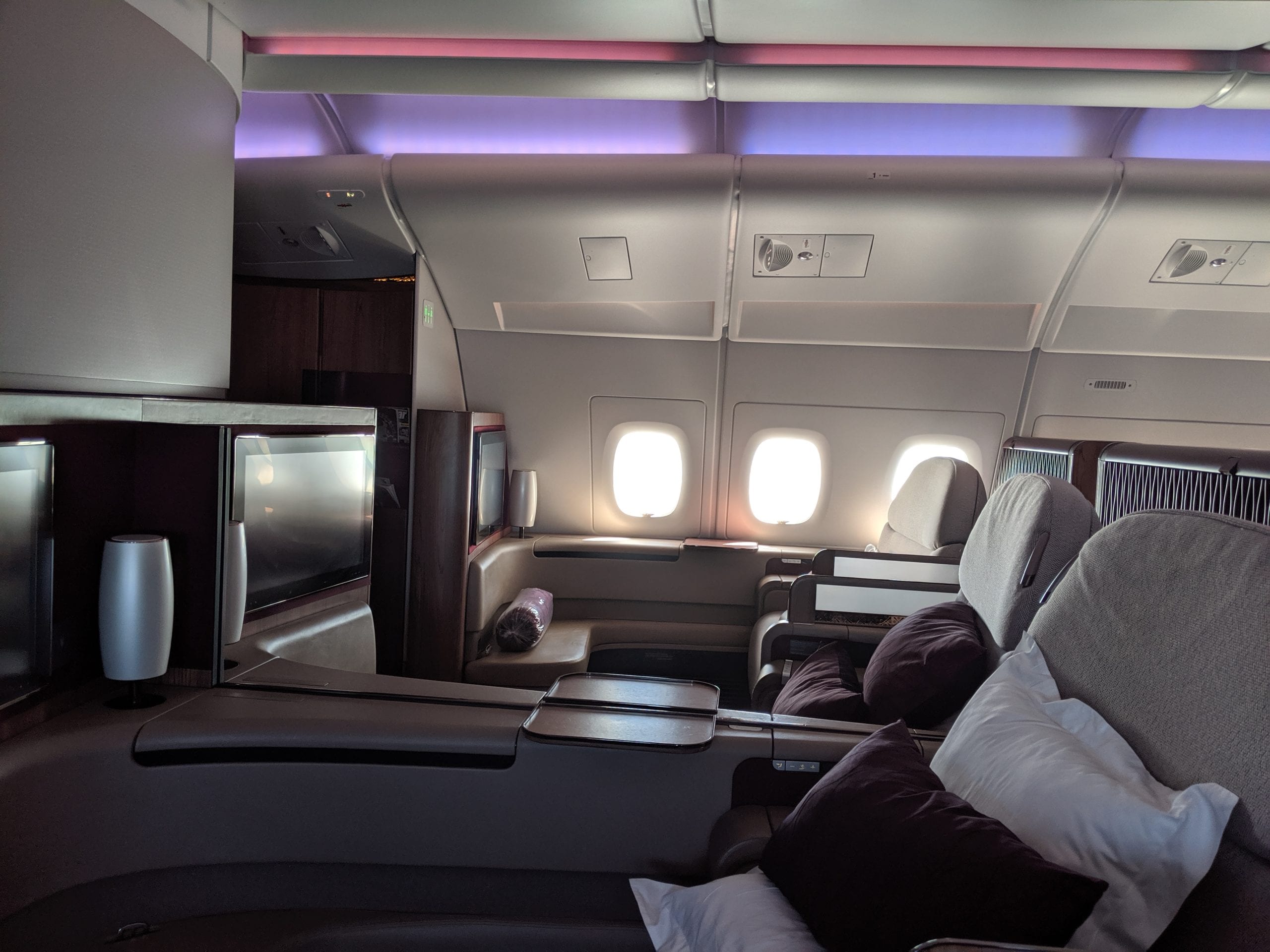 But let's take another second to appreciate the beauty of Qatar Airways first class. It just screams elegance. While other Middle Eastern airlines are flashier, Qatar is more understated. I'd take the deep purples, curving tan leather, gold flourishes, and wood grains of Qatar over the bling of Emirates any day – at least in the looks department.
At the front of the cabin there are two small bars, set up with a handful of snacks and drinks throughout the flight.
Just past these snack bars is where you'll find a forward set of stairs down to the lower deck of the plane. The stairway itself is, in a word, stunning.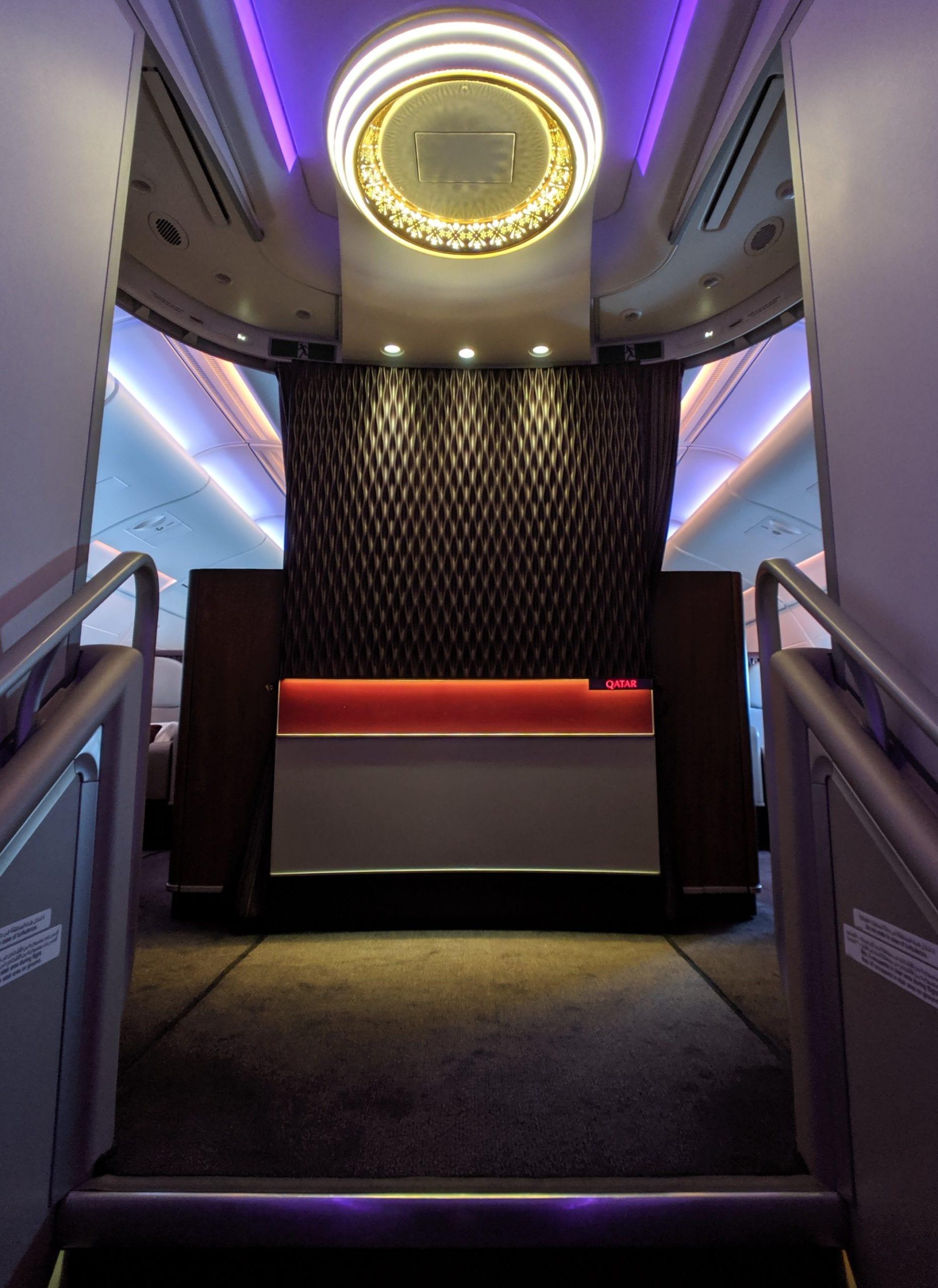 You'll find two lavatories on either side of the stairwell for the eight first class passengers – or in our case, just the two of us. Jon and I each had our own bathroom on board – deciding who would claim each lavatory as their own private space is a truly surreal conversation to have on a plane – and the bathrooms are enormous.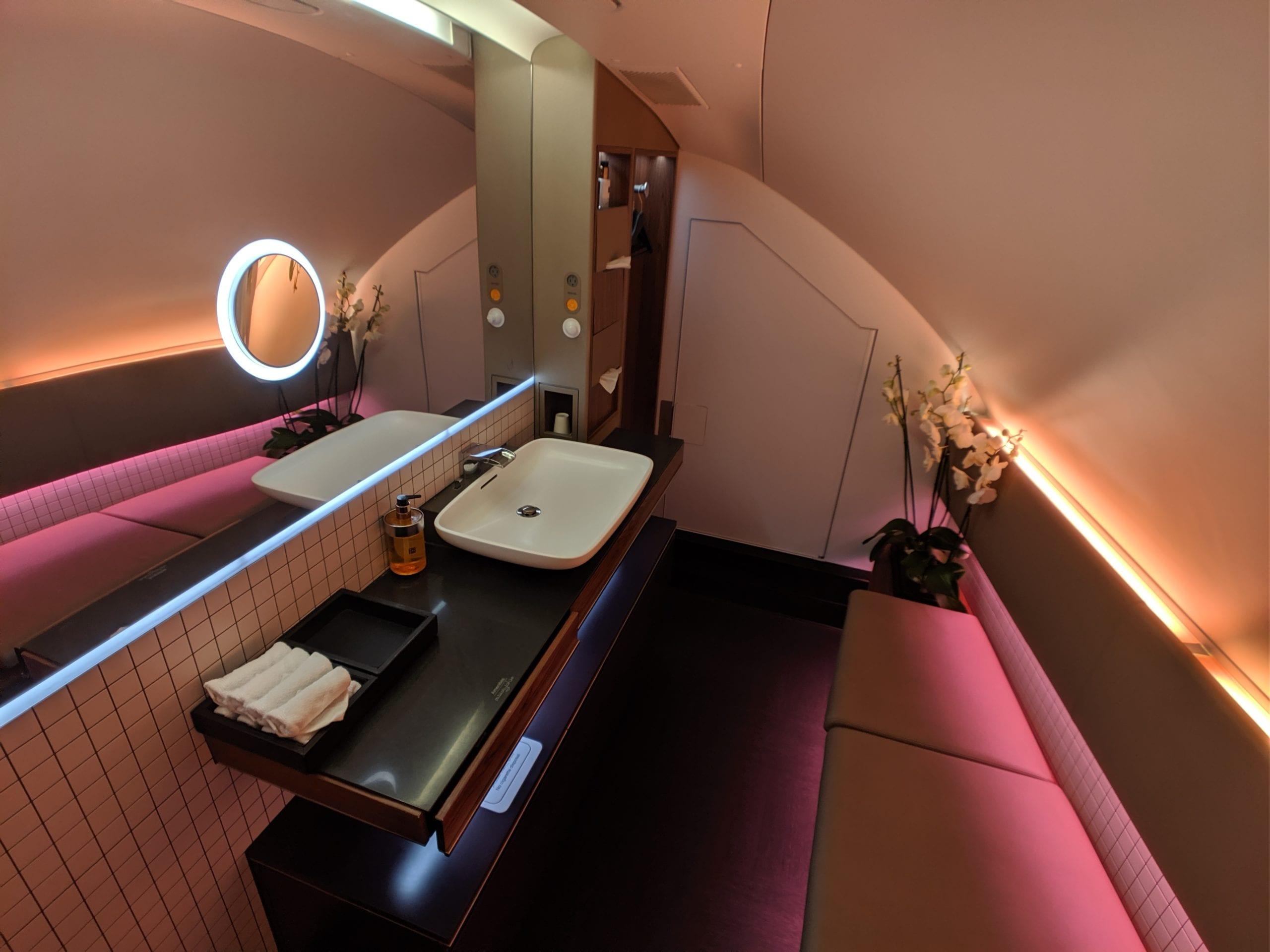 Unlike Emirates or Etihad, Qatar didn't install showers in first class on its A380s. But these bathrooms are still impressive, from the long bench that runs along almost the entire lavatory (hint: lift up to find the toilet) to get changed to the cloth handtowels and well-stocked amenities.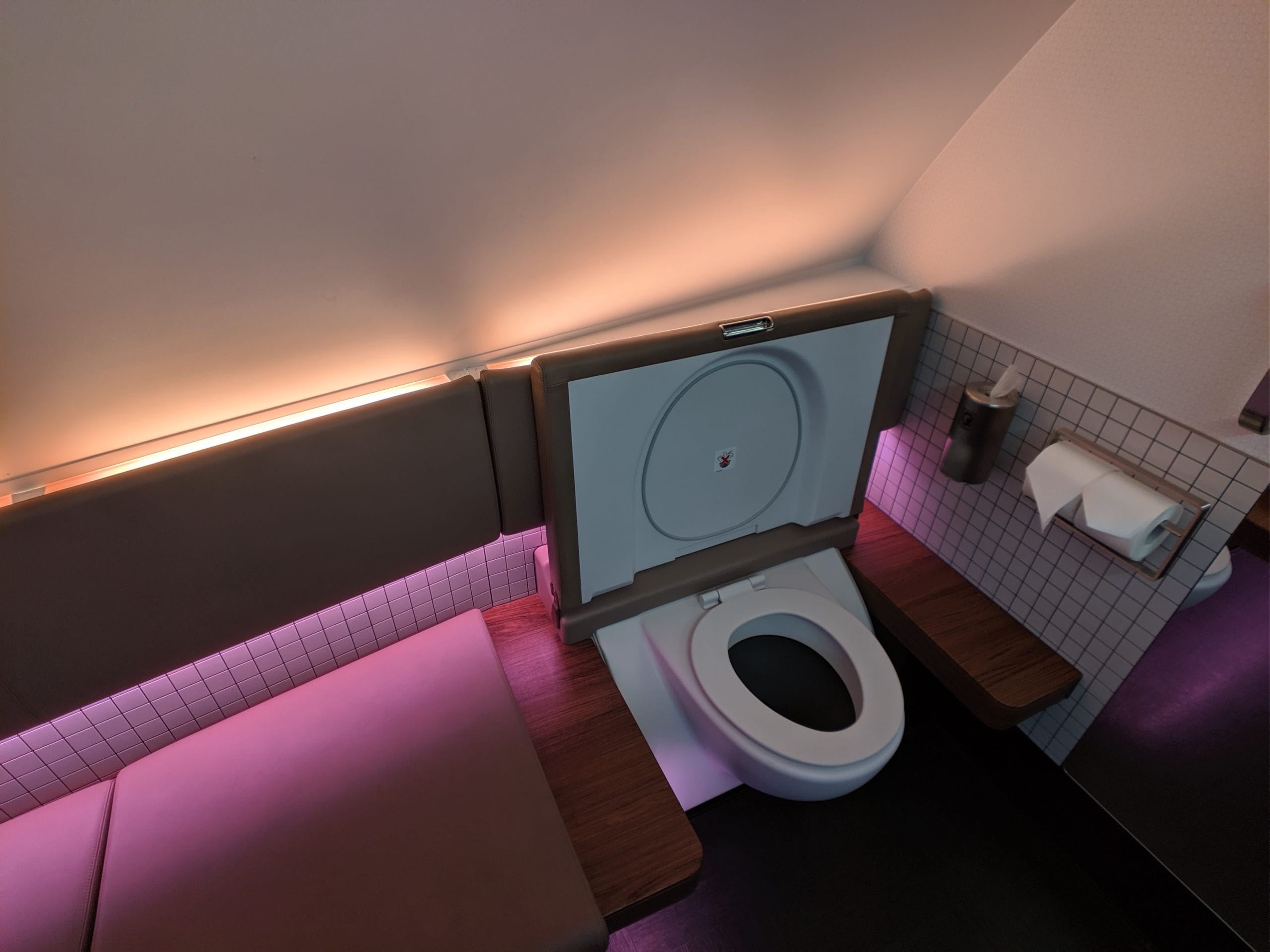 There's even a small closet to the side of the sinks where you can hang up clothes after changing – or, if you're flying solo like us, just leave them there during the flight.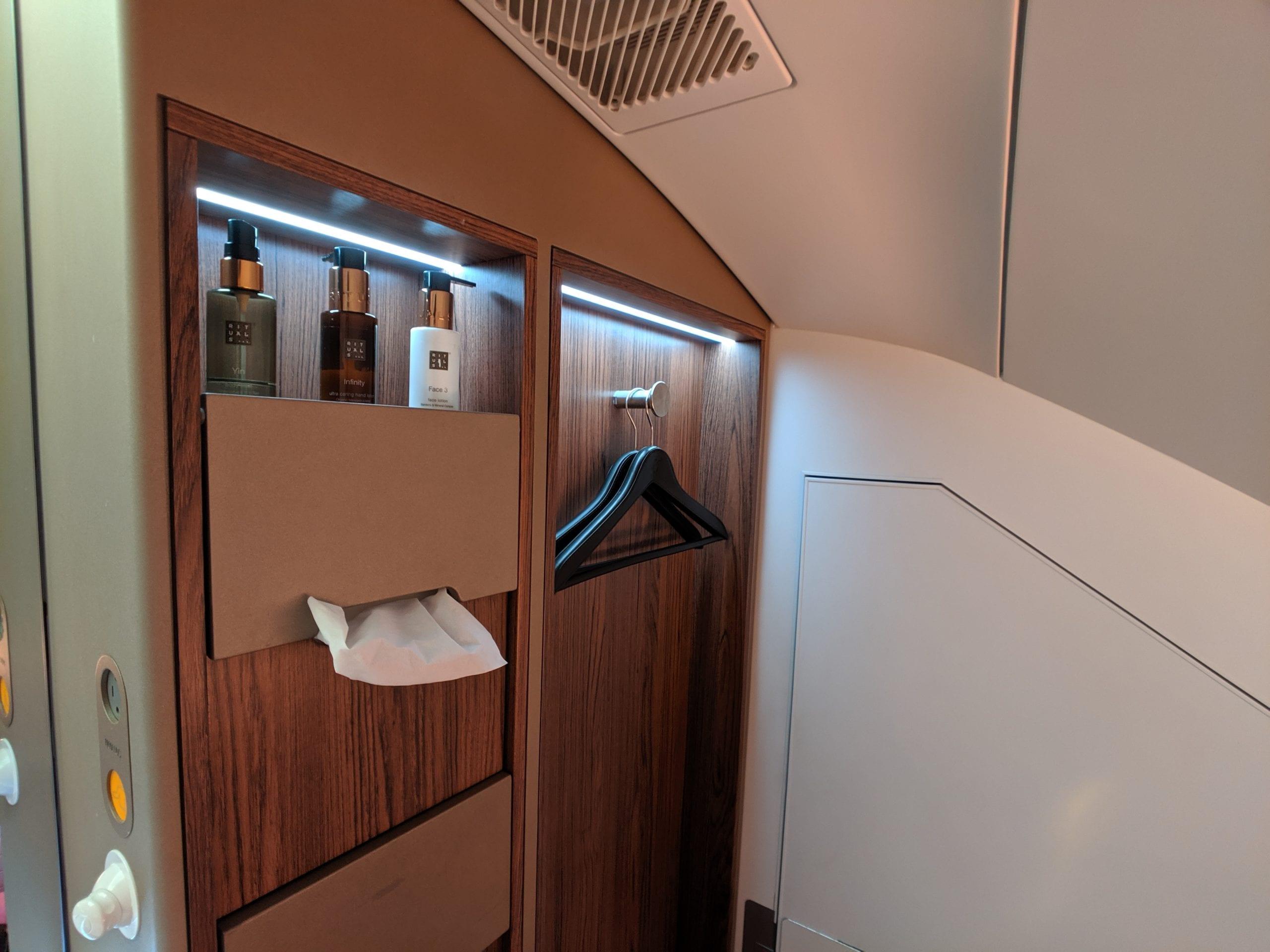 And then there's the highlight of Qatar's A380 – the onboard bar. Alexandra took us through the business class cabin toward the back of the upper deck, which is where you'll find this gem.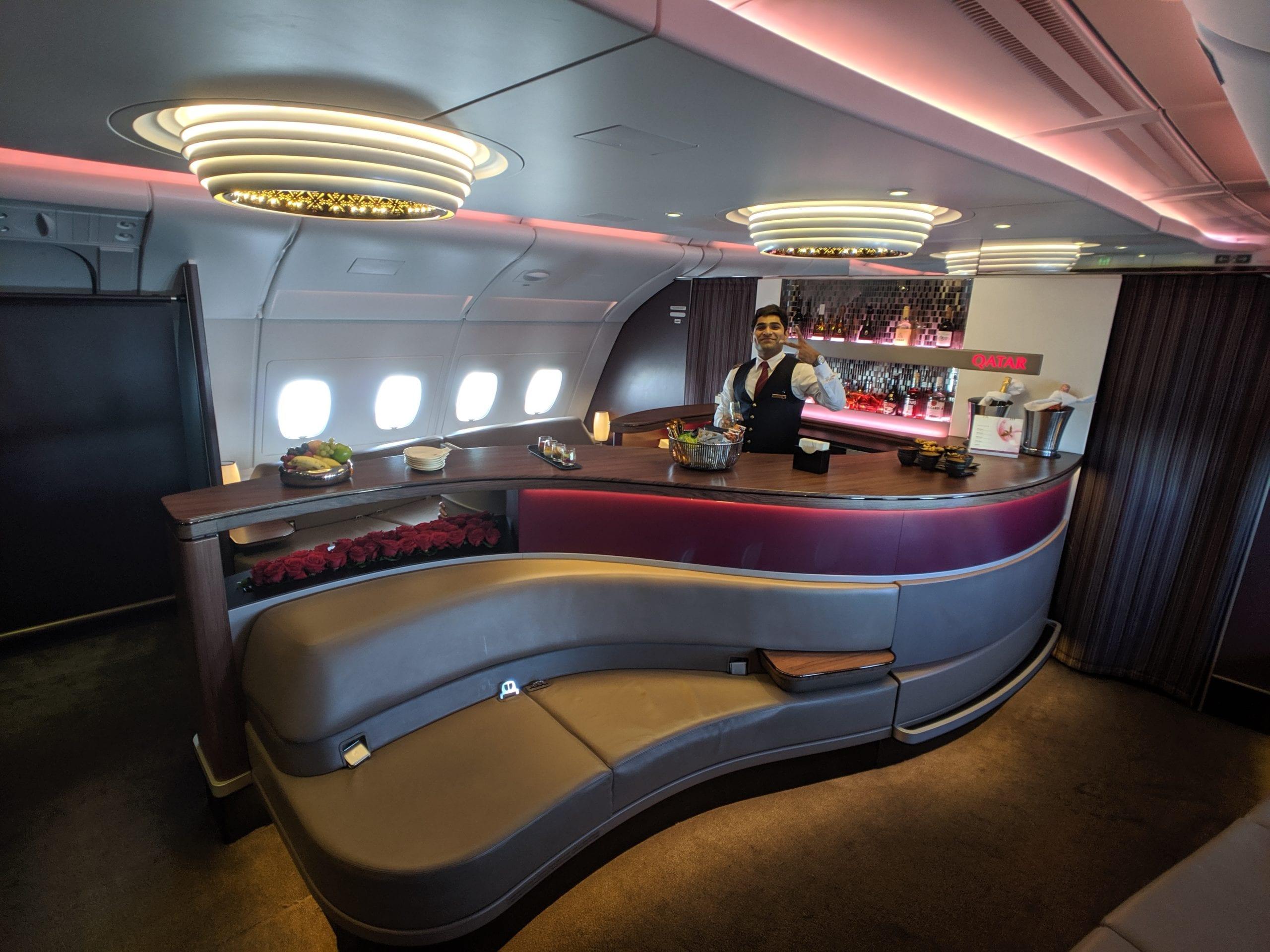 A handful of airlines put bars or lounges on their planes, but Qatar's is the one to beat. For starters, it's gorgeous. The "chandeliers," the purple lighting, the snacks and desserts laid out, the row of roses underneath the bar … it's just so well-designed. But more importantly, it's practical. While many in-flight bars are cramped or get crowded, Qatar's first class bar has plenty of space to lounge.
Any first or business class passenger can relax here, and the drinks are free. Alexandra offered to bring back a bottle of the top shelf champagne (Krug 2004) from first class for us, but we were happy sipping a few cocktails and chatting with the friendly bartender. When he offered to snap a few photos of us behind the bar, we couldn't refuse.

After dying to get on an Airbus A380 and sidle up to this bar, it finally happened. And it lived up to the hype.
First Class Seats
With the cabin to ourselves, the world was our oyster. I sat in Seat 1A, while Jon sat behind me in 2A.
Every seat in Qatar first class is more or less identical. Window-side seats are the obvious choices for solo travelers, while the center section is great for couples and companions. With the dividers down, it's a pretty cozy setup.
There were two pillows and a great duvet waiting at each seat. Whether you're flying first class or business, Qatar's bedding is outstanding. Each seat measures in at about 23 inches across, though it feels much wider. These seats are really massive.
You won't be hurting for legroom either, as each seat has more than 83 inches of pitch. At 5 feet 10 inches, I could barely reach the ottoman while seated.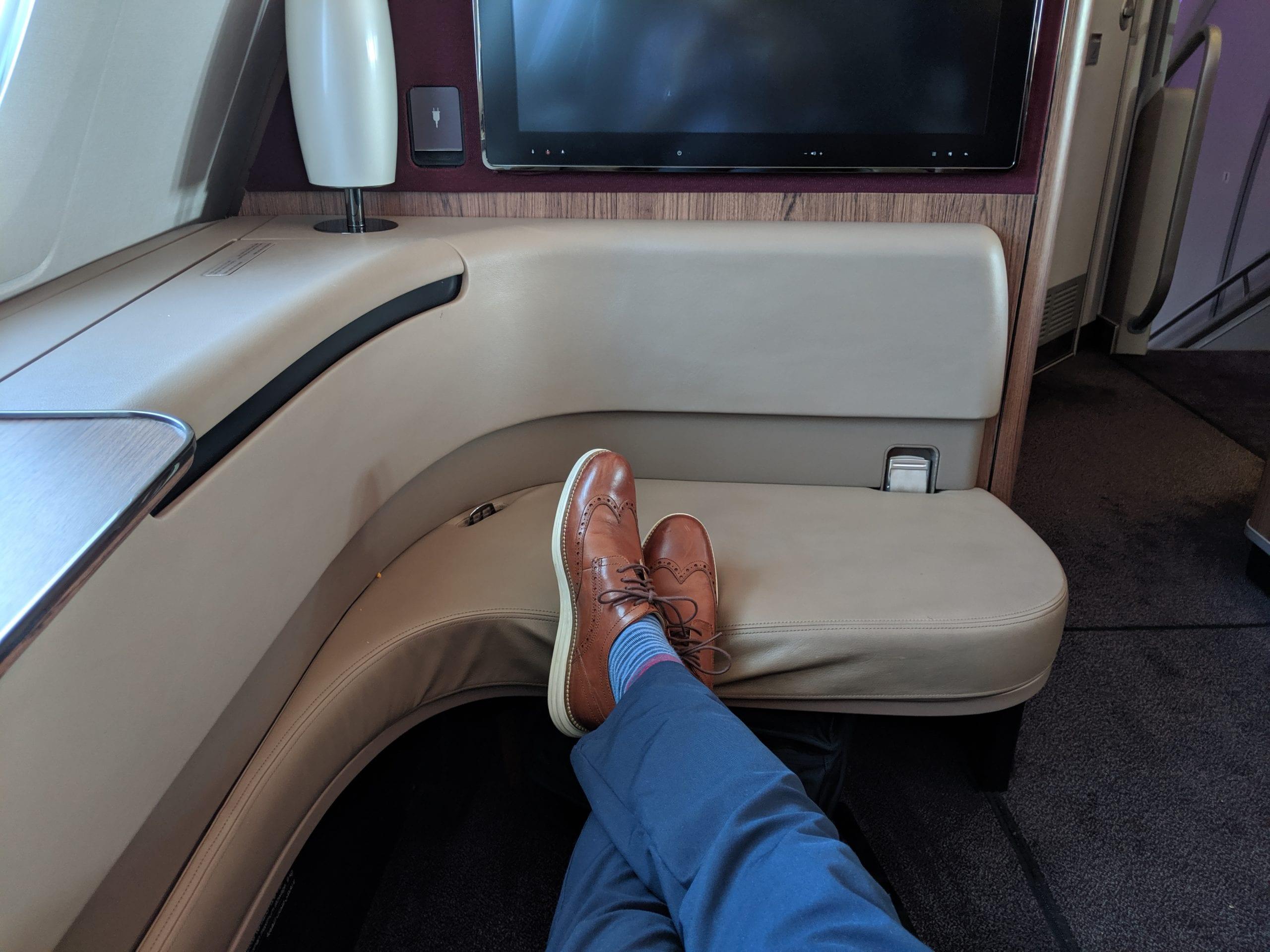 The lack of a cubby for your feet to fit into when reclined just makes these seats even bigger. Underneath the ottoman, there's plenty of room to store a bag.
If there's one shortcoming to these seats, it's the storage. For how much space you have, there just isn't much room to stow your things. Aside from underneath the ottoman, there's a small storage closet at the front of every seat. But these aren't wide enough to hold much more than a coat, change of clothes, or a fairly slim laptop bag.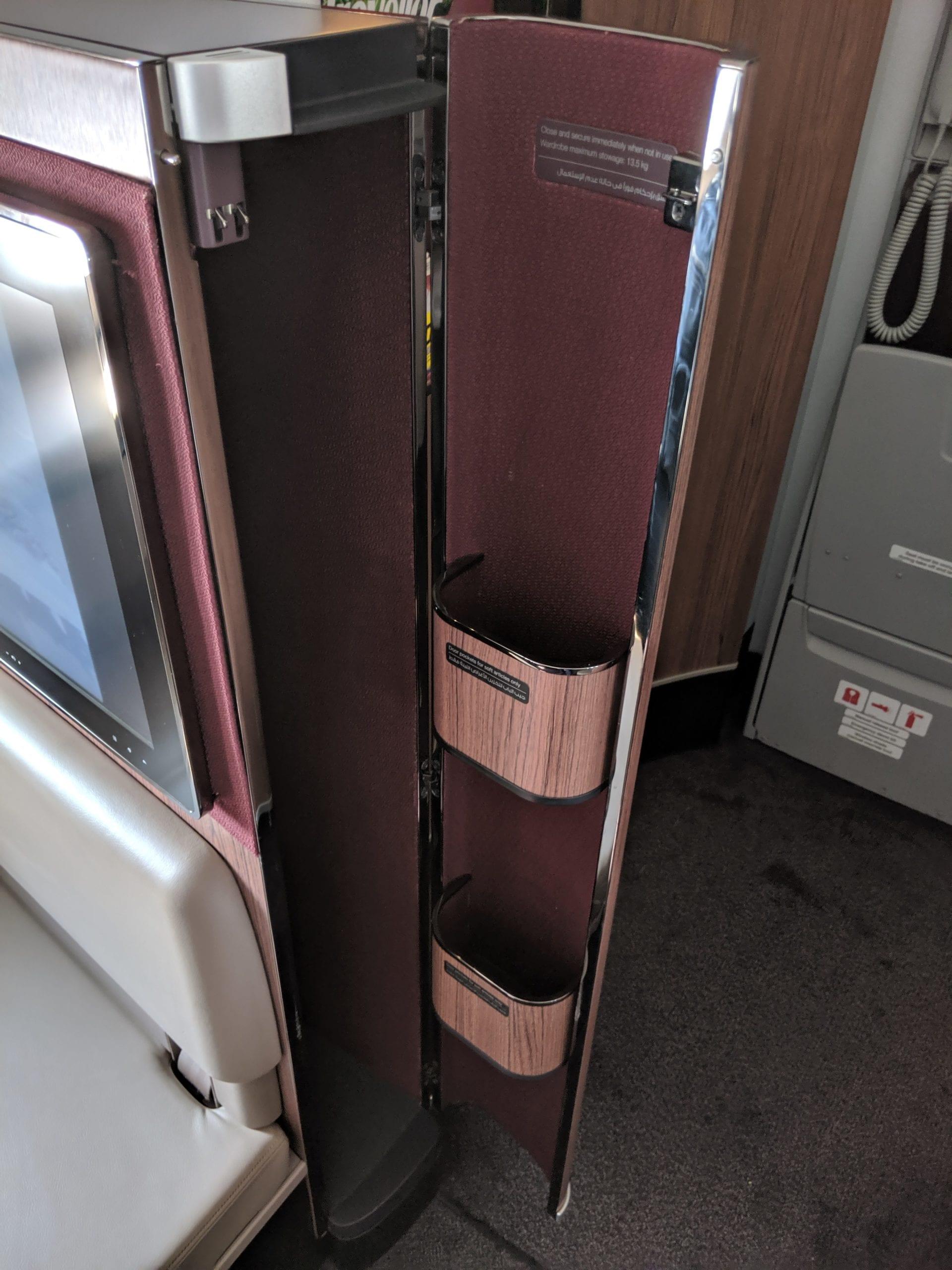 There's a small compartment along the window, but there's not much room there – it's clearly marked "literature only."
There's also a small compartment under flaps on each armrest. On one side, you'll find a bottle of water and the wired in-flight entertainment remote.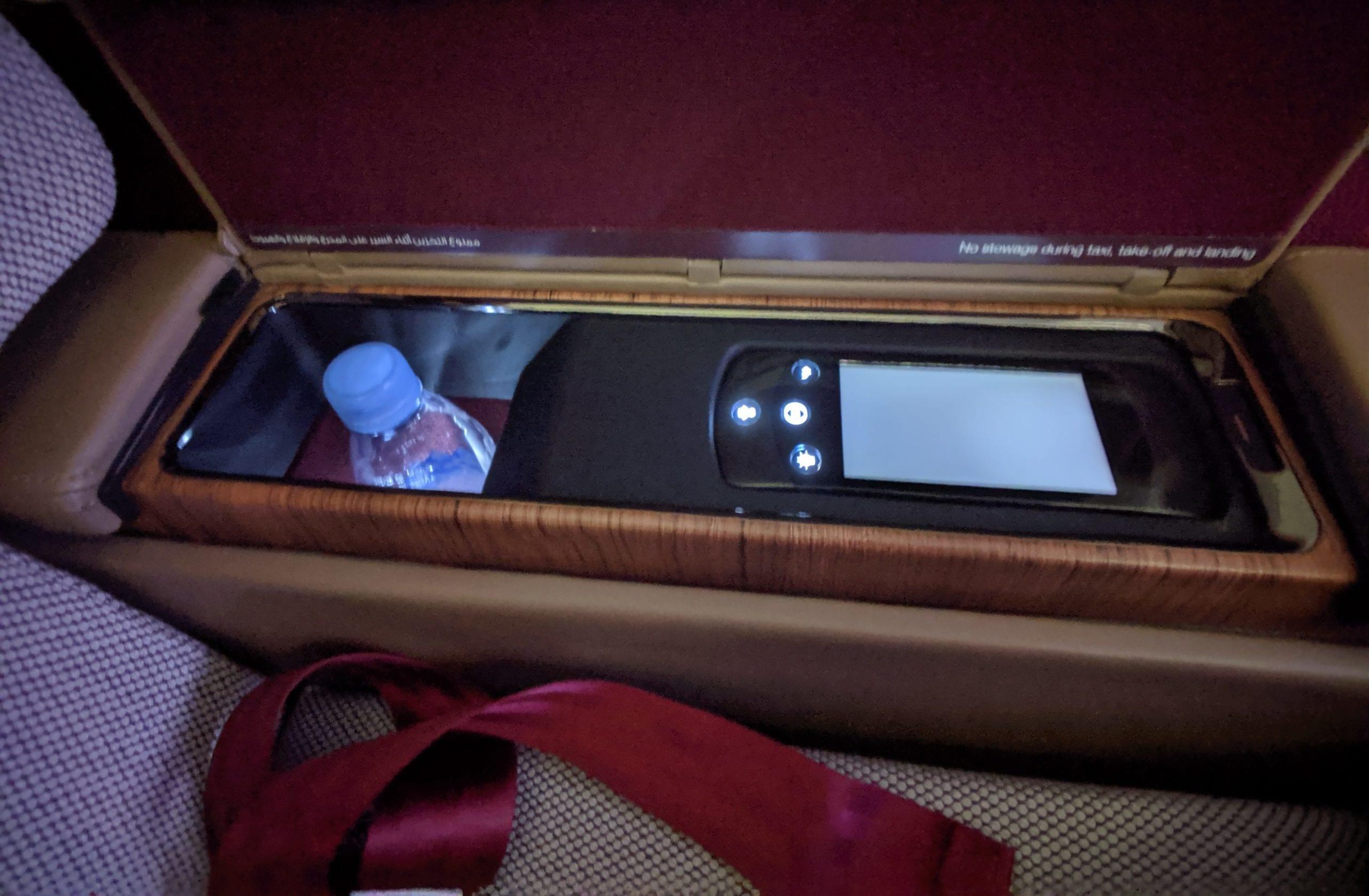 On the other side, there's a small electronic panel to control lighting throughout your seat as well as a decent-sized compartment, which is where you'll find your headphones. As you can see, this compartment is one of few spots where this five-year-old plane was showing its age.
The seat controls are very straightforward and easy to use, whether you just want to lounge or recline all the way back for a nap.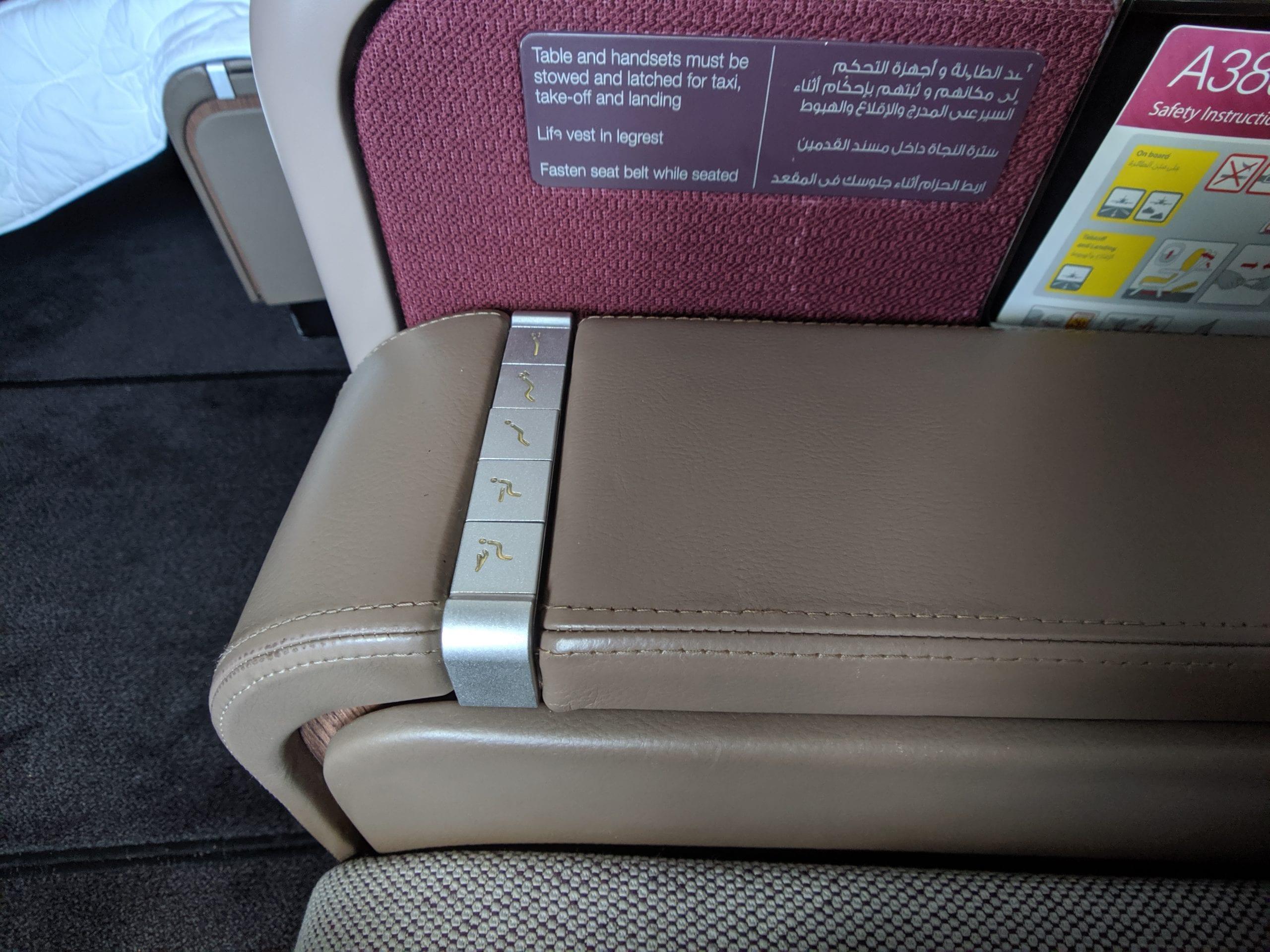 Unless you're in the center section, every seat sits alongside three windows.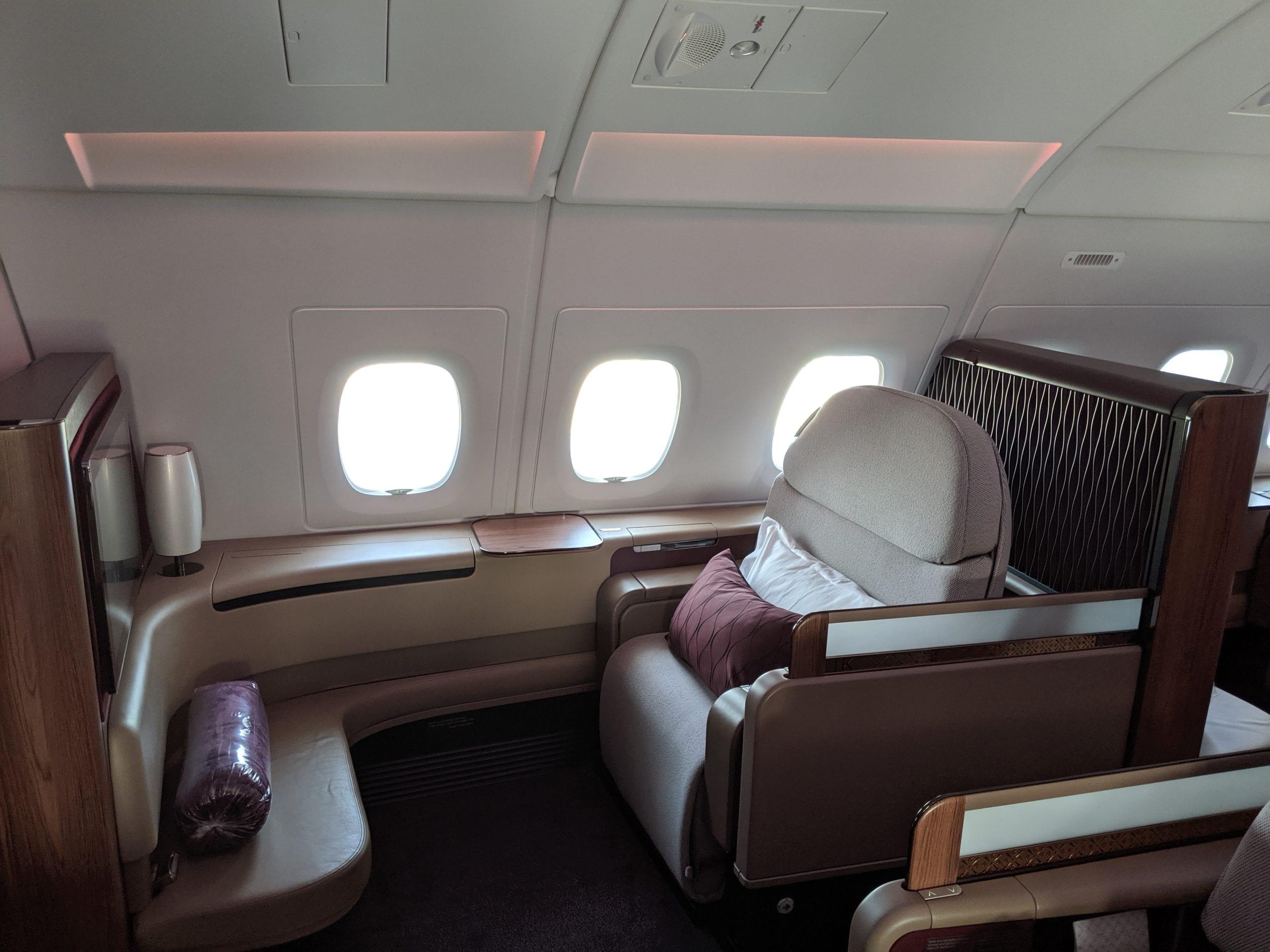 And every window is electronically controlled with two stages – a lighter shade to dim the outside light, and then the full shade to block it out entirely.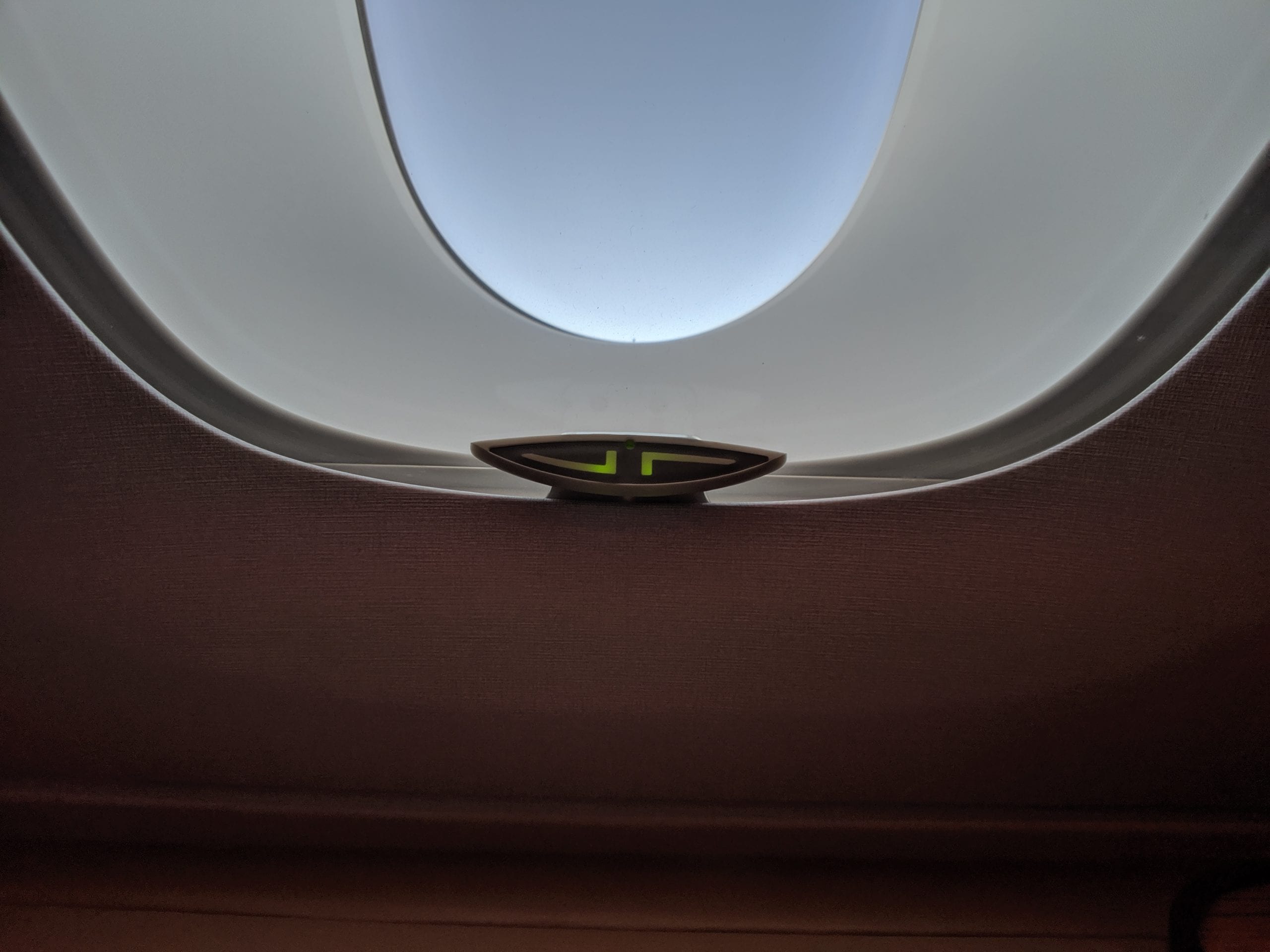 Along the side of the seat there's a small spot for a drink and snacks. While it sticks out like a sore thumb, it also functions well and looks fairly sharp. And check out that lamp – one of my favorite chic touches of this seat. On the downside, you'll also see the power socket, which is placed somewhat awkwardly.
Just past that is where you'll find the truly massive tray table, which pops out from the side. It slides far back and forth, which makes it easy to get up during meal services or while working.
As for the seat itself, it's incredibly comfortable. Most airlines go for leather upholstery on their seats, but Qatar didn't here in first class. And while that might be tough for upkeep, it didn't show – and it made the seats more forgiving.
There's a small reading light that flips out from the headrest – a thoughtful touch.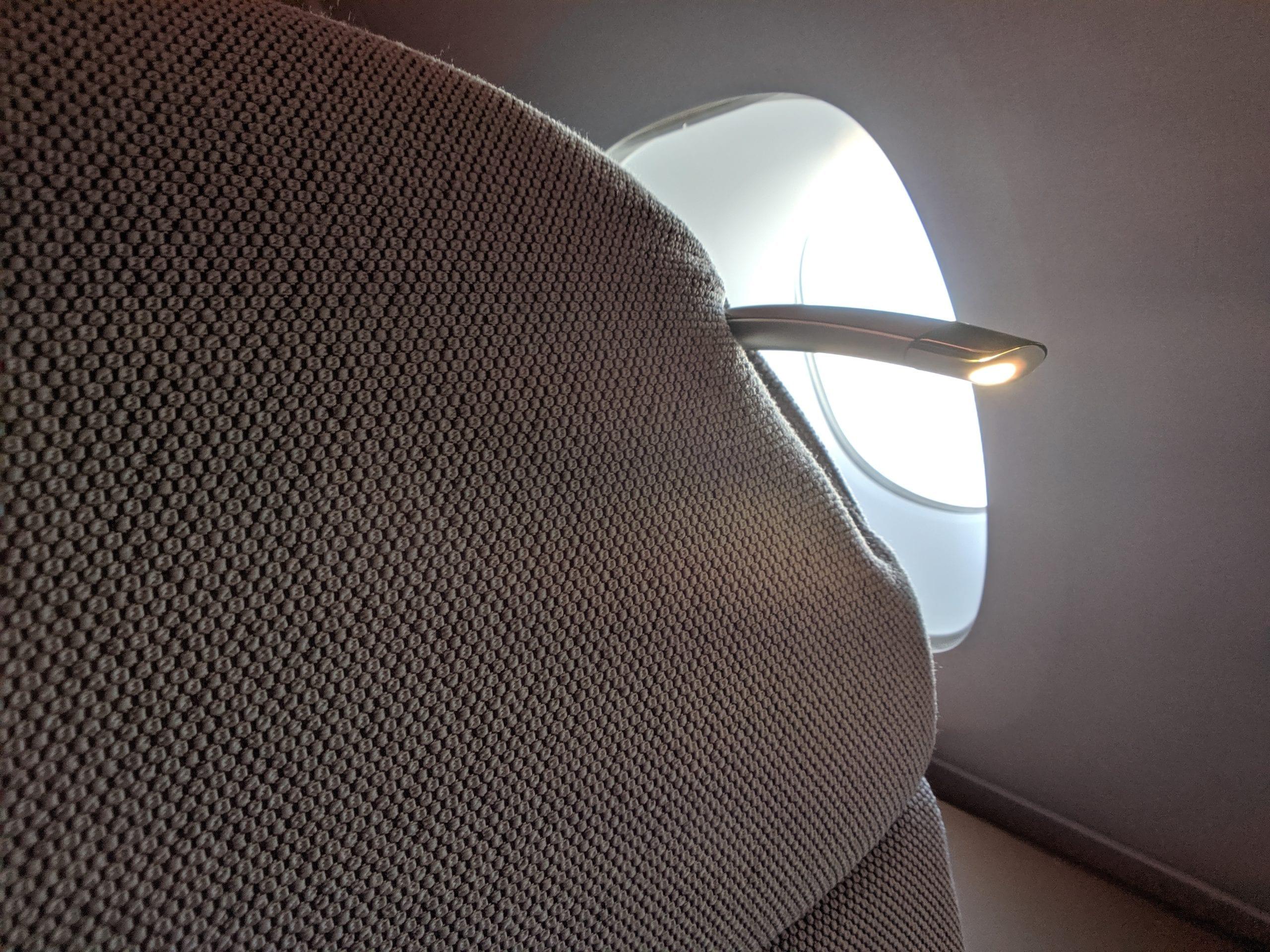 While there's no doubt these seats aren't the most private in the world, it's not as if you're totally exposed. There are privacy shields around every seat, which you can raise and lower with controls near your aisle-side armrest.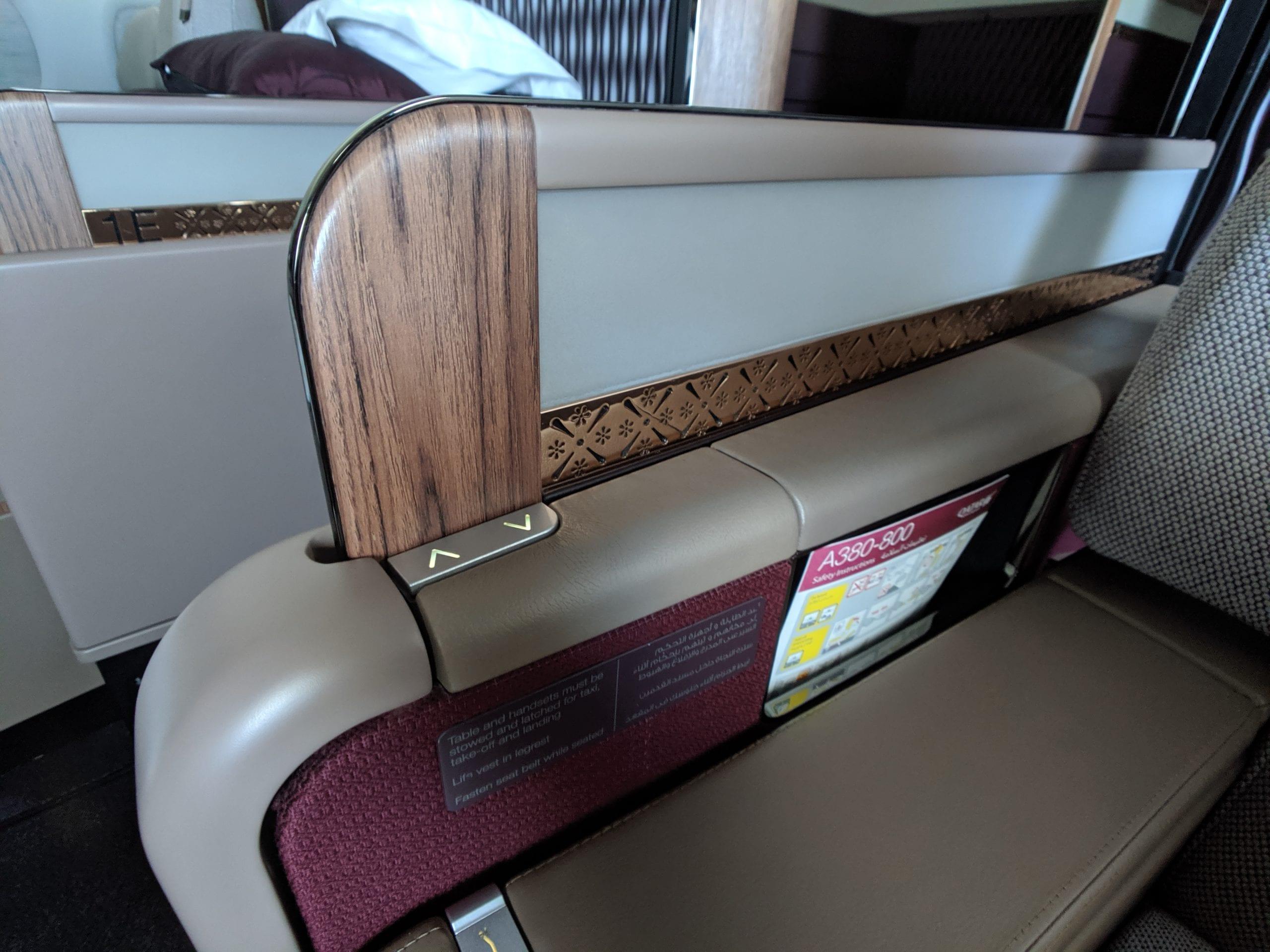 Here's a look across the aisle with one of these shields up.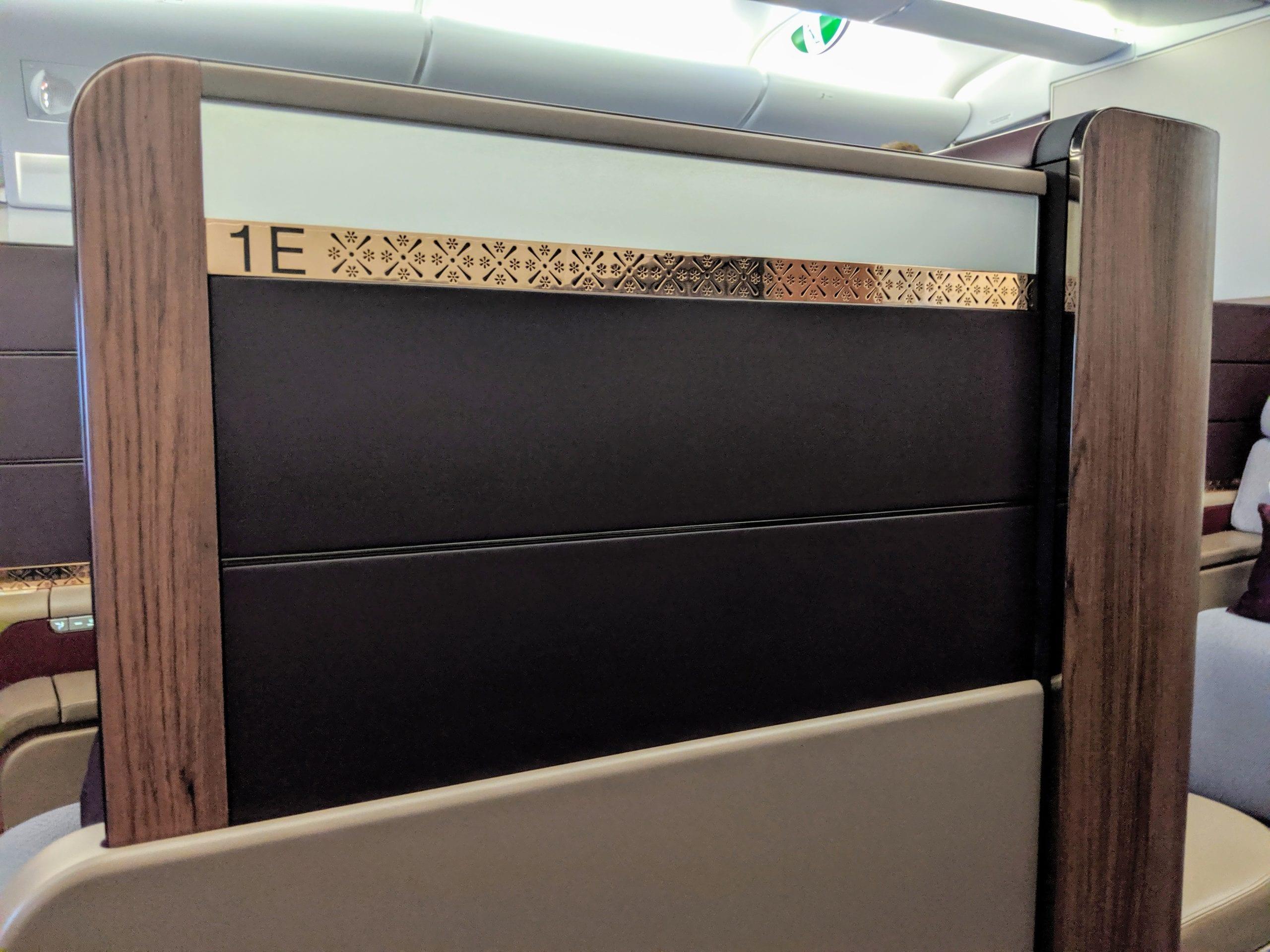 Others will slam these seats for the lack of privacy, but I thought these seats did a great job offering additional privacy without infringing on personal space and protecting the cabin's open feel. That's a tough line to walk. And of course, the need for privacy isn't very pressing when you're flying by yourselves.
After spending an hour or so back at the bar, Alexandra offered to make us some beds across the aisle. And what a bed it was.
A few things stand out about this bed in the sky. Qatar doesn't use a mattress pad, but rather just puts down a nice mattress cover. Honestly, I found the seats were so comfortable that I didn't miss a mattress pad one bit.
While Qatar's first class seats aren't the widest in the world, the bed is even wider. That's because the armrests sink when you recline into bed mode, making an even larger sleeping surface. And Qatar's excellent pillows and duvet were perfect – not too hot, not too cold.
It all combined into something that felt more like a real twin bed than your traditional lie-flat seat. I slept for three hours like an absolute baby.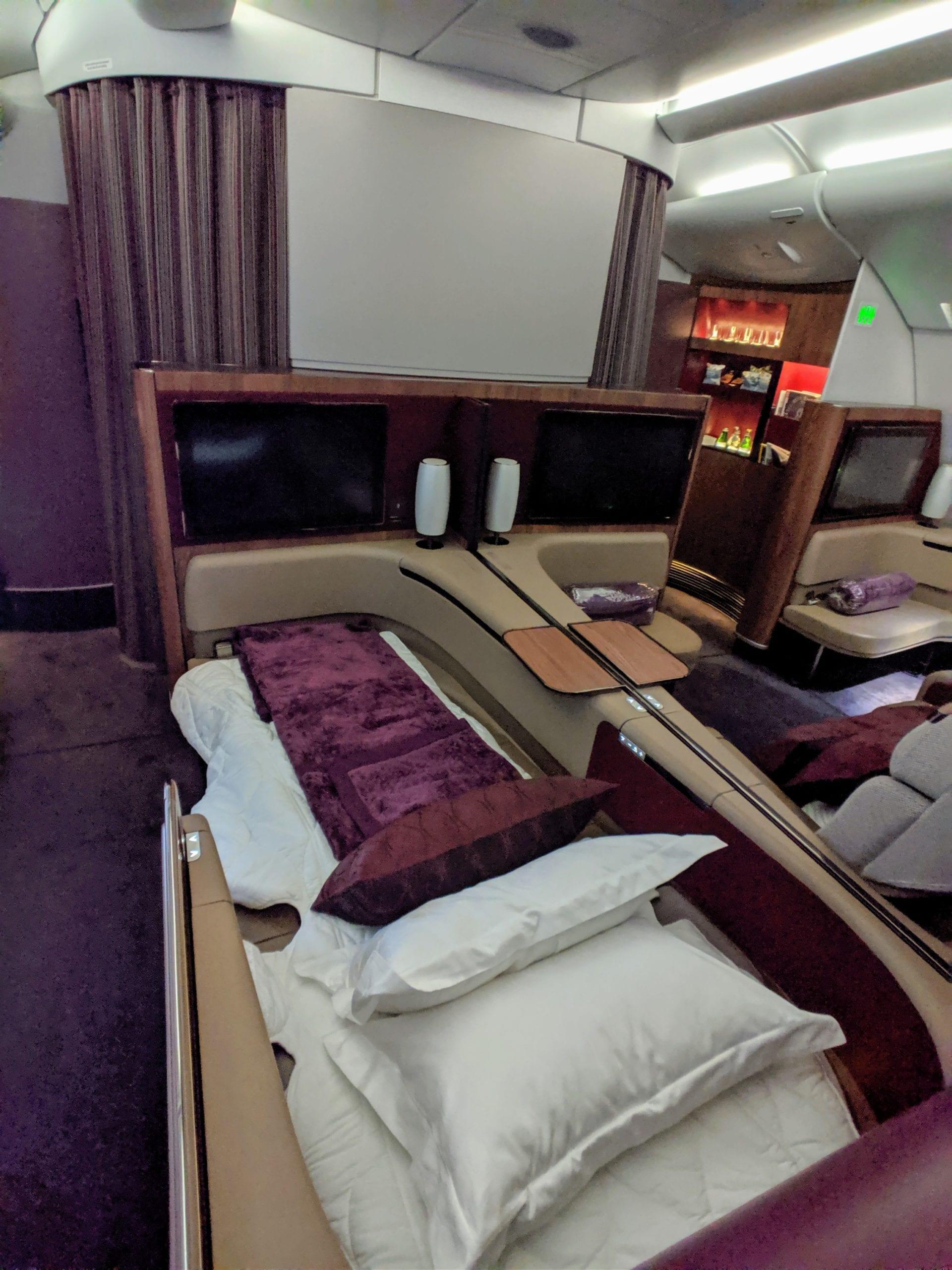 Qatar First Amenities
Qatar first class sets the bar high with its spacious and comfortable seats. Can it keep up with its amenities?
Kind of.
For the 18th time, the bedding is great, and a big step above what you'll get on most airlines.
Soon after boarding, the cabin manager, Sam, came through to drop off an amenity kit. These forest green kits from Bric's are great, made from some very soft pebble leather. Just from looks and feel, it's one of the nicer kits I've seen.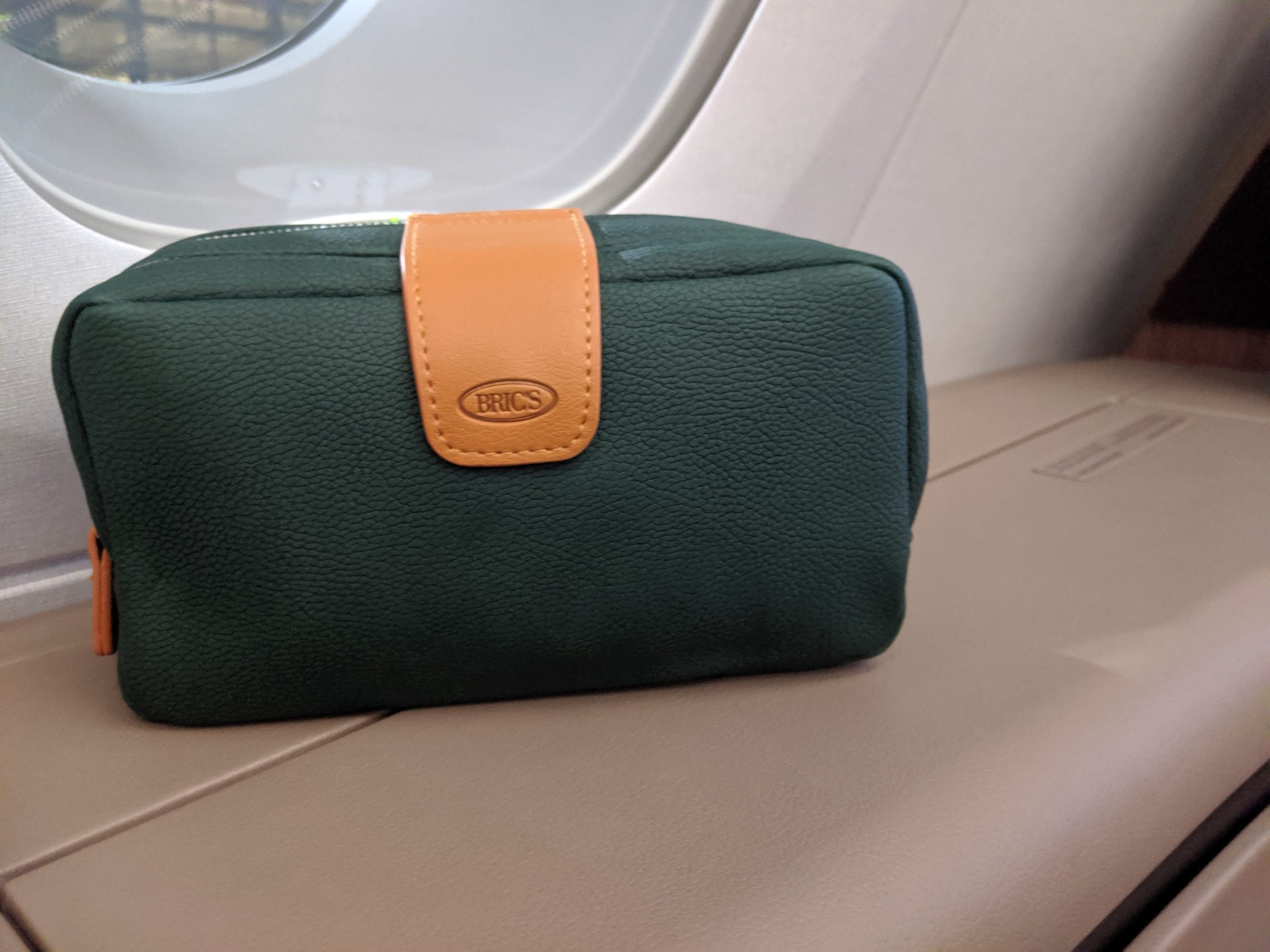 And the contents are quite nice. Inside you'll find an eye mask, socks, a pack of earplugs, and a pebble leather glasses sleeve – all green, of course. There's also a small pouch of goodies from Castello Monte Vibiano: a bottle of facial mist, anti-aging moisturizer, and something called "night anti-aging recovery cream." That's a bit more than you get flying Qsuites business class, but the offerings are largely on par.
Sam also dropped off a set of pajamas from The White Company, which are excellent. They come in a soft cloth bag and are made of equally soft yet light material. Compared to the scratchier pajamas you get flying Qsuites, these are definitely a step up. A nice pair of slippers sweetens the deal.
Headphones, however, are another matter. They're the same headphones you get flying any Qatar business class, and they're not great. Qatar might be doing away with its first class, but when other airlines are handing out Bose in first class, this stands out.
Service and Dining
Can I give service an 11/10? Is that a thing?
If anything elevated this flight to first-class levels, it was the service. Alexandra was pitch-perfect throughout the flight, extremely attentive yet in an almost casual way. She was polished yet personal, eager both to share some stories about her travel while working with Qatar Airways in one breath, then offer another drink or dish to eat in the next.
While some travelers might prefer a strictly professional service, I'm not a fan. And Alexandra couldn't have been more friendly and engaging. The same is true for the cabin manager and the rest of the crew we interacted with throughout our flight.
Our flight departed after 2 a.m. local time, so it felt odd to settle in for drinks and dinner. But we had a job to do. Alexandra let us get settled in and explained the features of the seat before offering a drink. Qatar Airways serves one of the best champagnes you'll find in flight, Krug 2004. Yes, please.
She offered a small ramekin of olives and cheese, which was a novelty compared to the nuts that are standard on planes. And there was a choice between a hot and cold towel.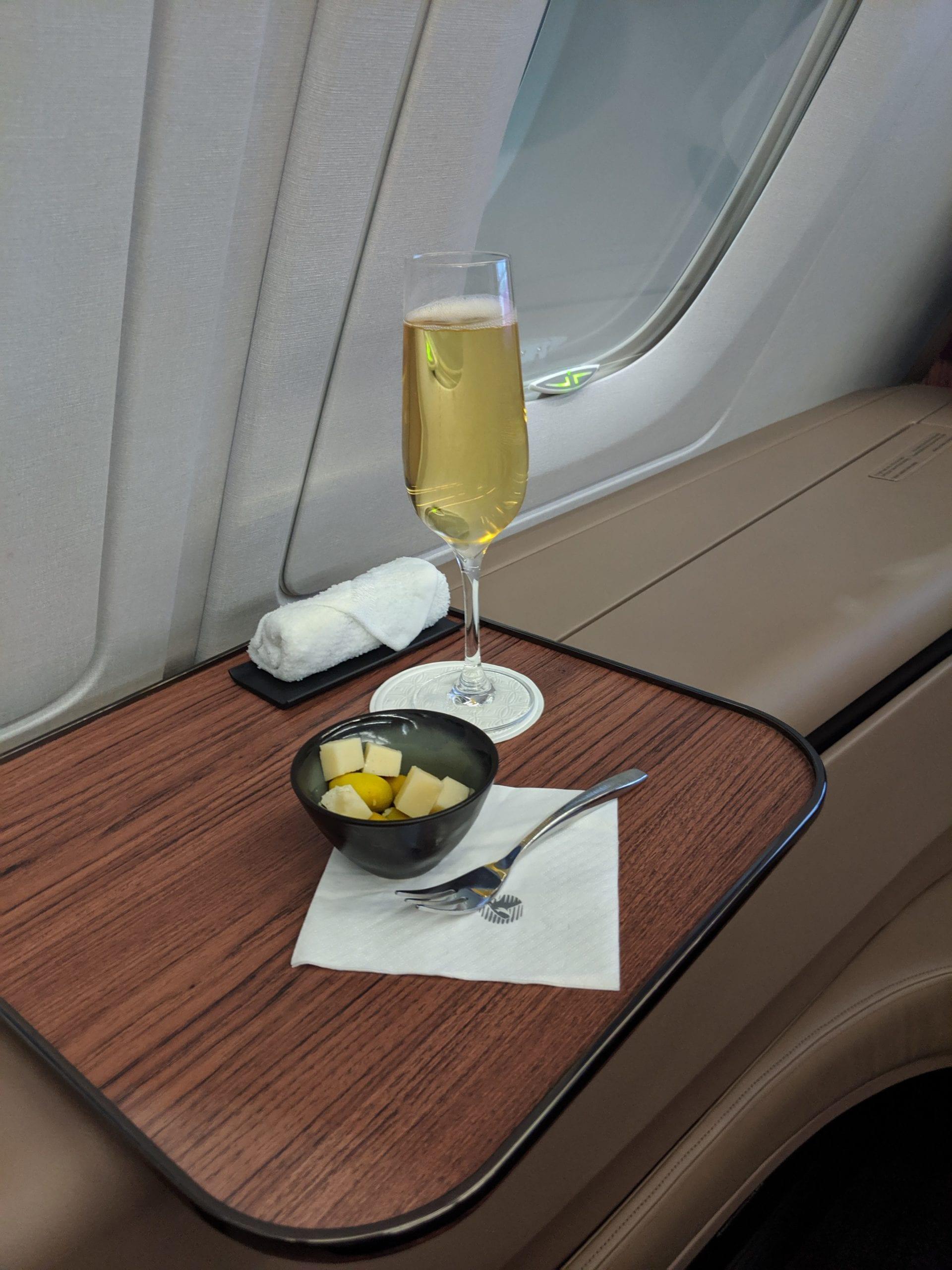 And of course, there were the dates and Arabic coffee, a signature touch on Qatar Airways.
After a drink refill or two, it was time for takeoff. Within about 15 minutes, Alexandra came through to take our dinner orders. For a relatively short flight, Qatar Airways first class has a pretty decent-sized menu. You can order anything from any section at any time.
After stuffing ourselves in the Al Safwa Lounge, a full dinner was out of the question. Instead, there was something special in store. Alexandra offered to set up my seat so that Jon and I could dine together.
The tray table is more than big enough for two gorgeous platters of caviar, which comes with sour cream, smoked salmon, chopped onions, egg, and lemon. Two mother of pearl spoons each help you ladle each bite onto blinis or toast.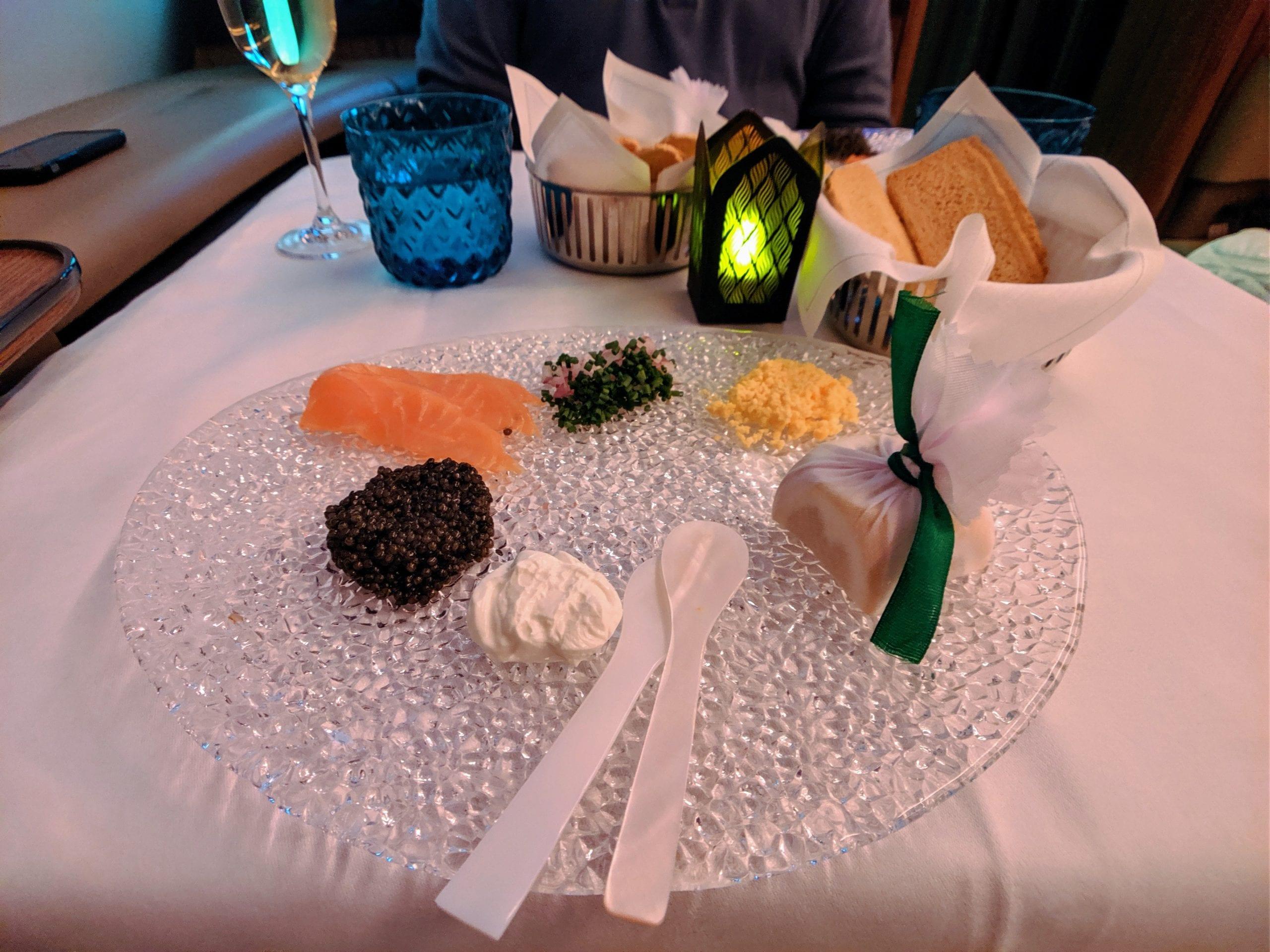 Nothing screams "first class" more than eating caviar face to face. What a cool experience.
I also ordered a bowl of the soup of the day, a tom yum soup. Even at altitude, it was spicy and flavorful. It was easily the best bowl of soup I've had on a plane, and served in some pretty flatware to boot.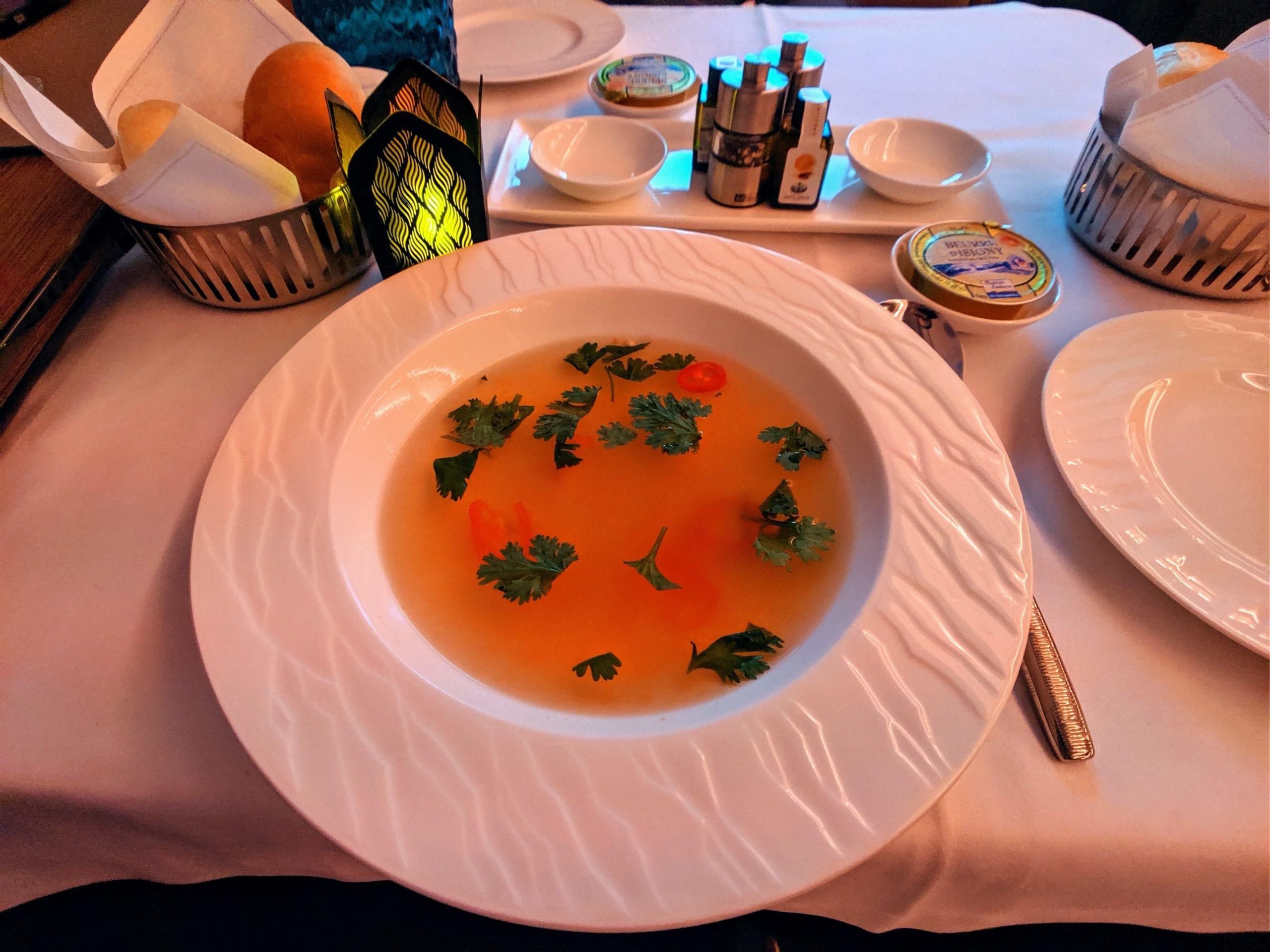 Finally, we each wrapped up our post-takeoff meal with a cheese plate, which had a great variety of some really good cheese along with grapes and some crudite. Alexandra insisted that we pair it with a glass of port wine. Twist our arms, Alexandra.
After sleeping like a rock for a few hours, I ordered an Americano, which was also excellent.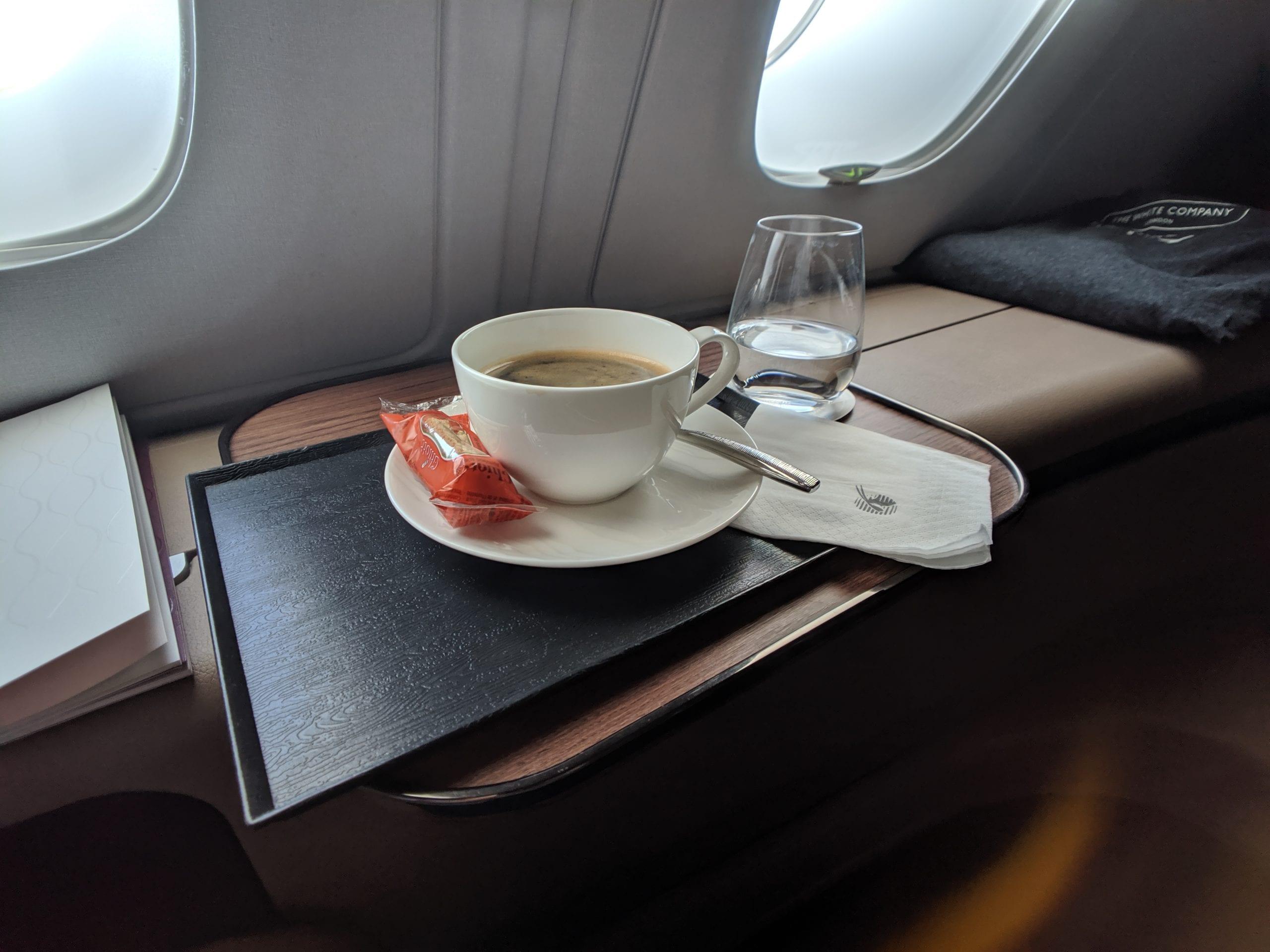 Just look at this massive table setting for breakfast.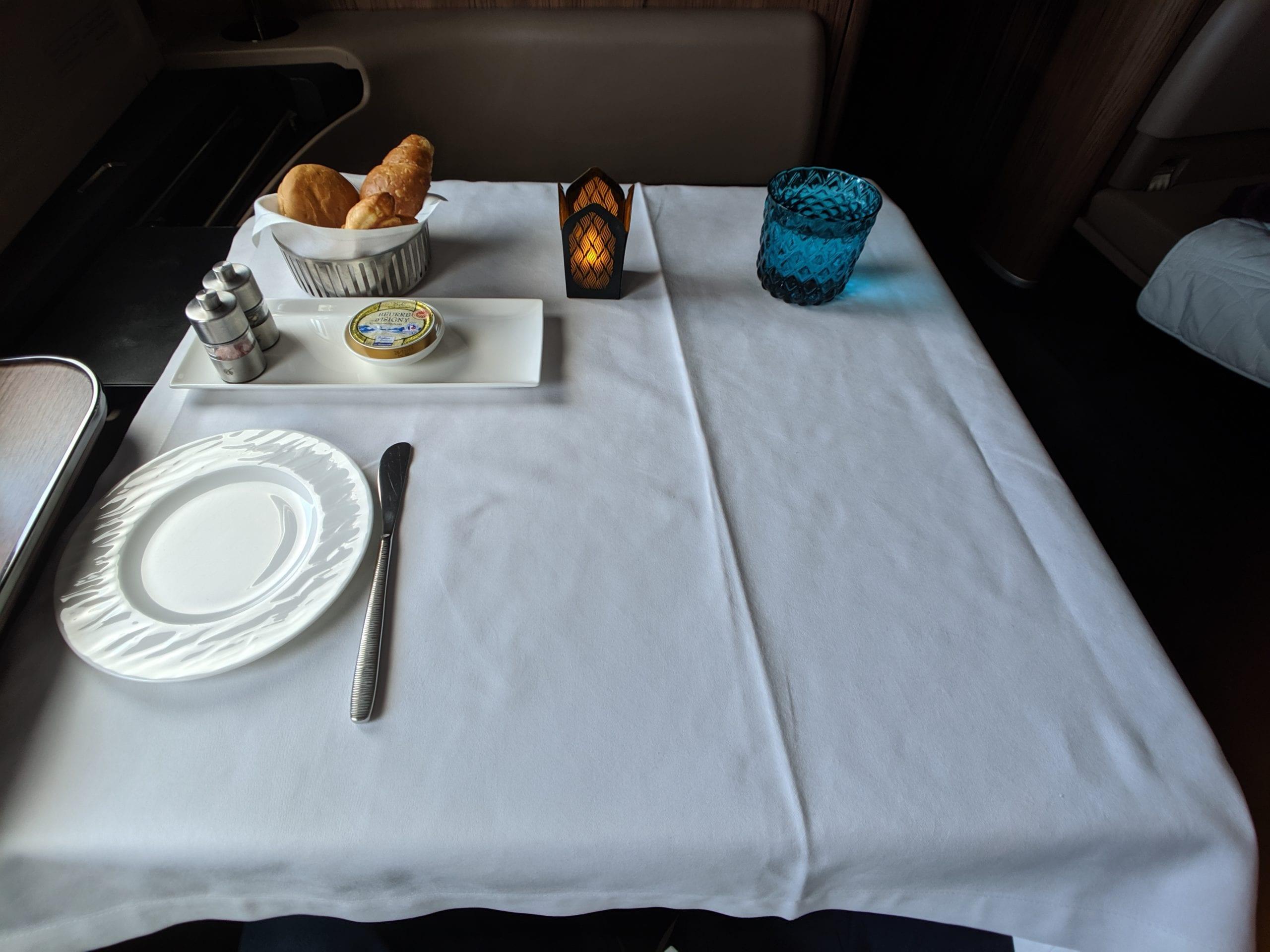 Breakfast began with a cute little glass of greek yogurt, complete with toasted granola and some berry compote.
And for the main breakfast course, I ordered the traditional Arabic breakfast, which is a mixture of zesty beans, onion, and tomato (called foul) served alongside some soft feta, herbs and veggies, olives, and some arabic bread.
All in all, I'm torn about the food on this flight. There's no denying everything was excellent, and the Krug and caviar were undeniably first class. But Qatar first class is also a victim of its business class's success.
Aside from the caviar and top-dollar champagne, there's not much to separate the food offerings between the rear cabin. My breakfast, while delicious, was nearly identical to what I was served in business class from Dallas to Doha – as were many of the options on the menu.
It's clear that as Qatar Airways phases out first class, this is an area where it's not putting as much focus as it once did.
Entertainment
If you get bored at the bar or just gawking at everything around, something may be wrong with you.
Regardless, Qatar Airways first class has you covered. Every seat has a 26-inch screen. It's not the highest-definition or newest TV, but there's nothing to complain about. It's plenty big and sharp enough to keep you entertained.
It's equipped with Qatar's Oryx One entertainment system, which is stocked with about as many movies and TV shows as you could possibly want. But because you're flying on the whale jet, it also has some amazing tail camera views you can watch during takeoff and landing.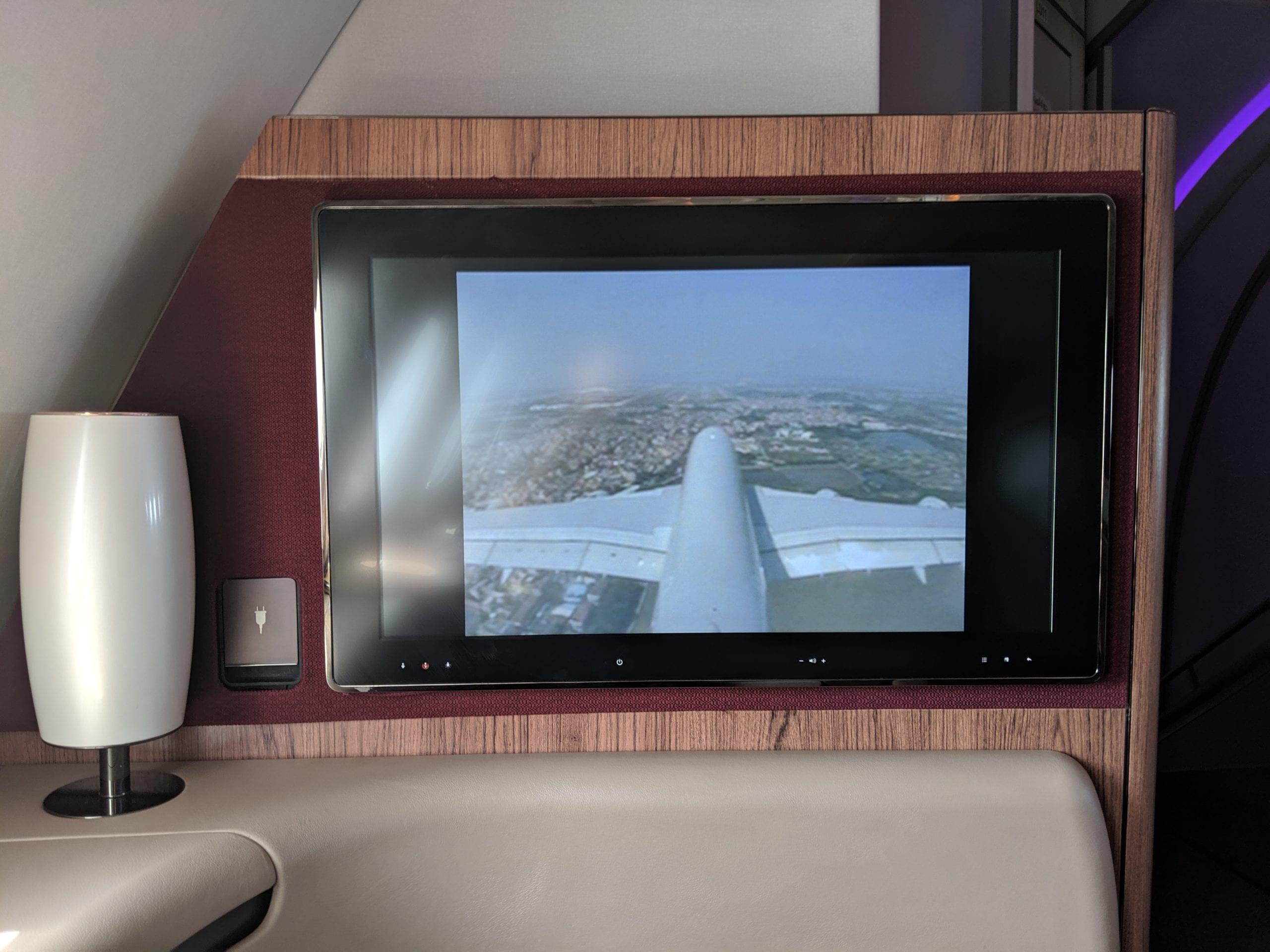 Qatar also gives all its first class passengers a promo code for free Wi-Fi throughout the entire flight. Unfortunately, Wi-Fi on these older planes is sluggish at best – and nearly unusable at worst. Still, it's a nice touch, and you can't complain about a free service not working great.
Bottom Line
You know it was a great flight when nearly eight hours in the air wasn't long enough. I'd have gladly boarded the flight heading straight back to Doha.
Service on this flight was outstanding, as was the seat and the spectacle of one of the world's nicest Airbus A380s. There are a few signs that Qatar Airways is backing away from this first class as it focuses solely on Qsuites business class flights – especially when it comes to the food. But it was still an incredible flight.
While there are flashier first class seats that offer more privacy, Qatar Airways first class is still tough to beat.